Are you the type of truck camper who rises when the mercury drops, loads when the sun is low and takes off in the frigid wonderland of winter? Tell us how you chill out, and camp in the cold.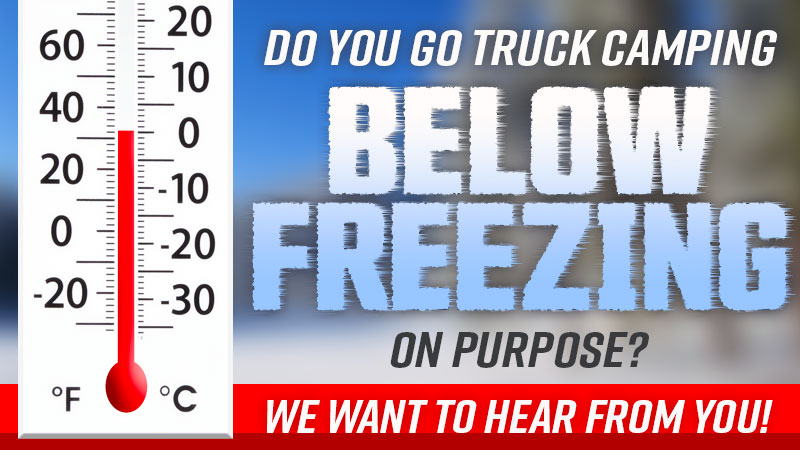 Angela and I are so brave that we have camped in temperatures as low as the teens Fahrenheit. I know, I know. You're so impressed. Of course, you'd be less impressed if I told you we were both wearing winter hats, gloves, thermal underwear (Angela calls them nerd pants), flannel tops and bottoms, and heavy sweatshirts – to sleep! During these cold nights, I honestly don't think I can put my arms down. Still think we're cool? I didn't think so. Neither do we.
Suffice it to say we are not winter campers, at least not by choice. If we're camping below 40-degrees Fahrenheit (4.4 degrees Celsius) it's probably due to an unavoidable event, or a freak cold snap. Our idea of chilly is a 50-degree Florida morning in mid-February. Brrr! That's cold! Where's my winter coat?
Hopefully, a few of you read the above and thought, "What a couple of cold weather lightweights! They have no idea what they're missing." If that was you, (a) you're probably right, and (b) we want to know about your sub-freezing truck camping adventures. The quiet mesmerizing beauty of snow falling, marshmallows melting in hot chocolate by a roaring furnace, sledding, and skiing – the whole winter truck camping en-chill-adda.
With your answers, please include a few pictures of your winter truck camping trips including you, what you do, and your rig. Help us warm up to truck camping in the cold.
Thank you to those who answered our question.  Responses will be shared soon.