The Annual Christmas Party for Midwest Truck Camper and Friends was held from December 1-4, 2019 in Branson, Missouri. Here is the report from the Wagon Masters, Tammi and Doug Baughman.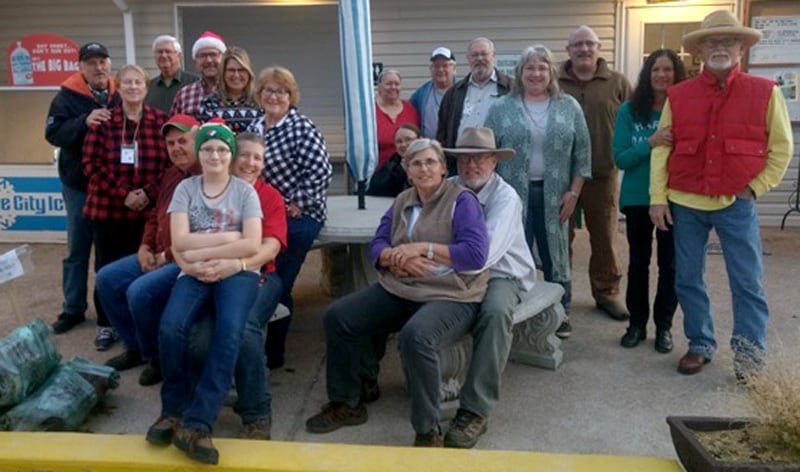 As usual, many rigs arrived early.  There is something about the excitement of getting to be with friends.  Everyone just wanted to hang out and spend time with each other.
There were many old friends and many new couples at this year's Christmas party.  We started out with a rainy week, but then it turned sunny with the highs in the 40s.
On December 1st, the first official night of the Annual Christmas Party, we had an appetizer and snack potluck.  After supper, the clubhouse was bustling with stories from our summer trips and modifications of our rigs.

That evening we all sat around to catch up.   Many played table and card games.
On Monday, everyone went into Branson, Missouri. Some went to shows and some went shopping. We ate at one of the many fine restaurants in town and finally turned in around midnight after a fun night of camaraderie and card games.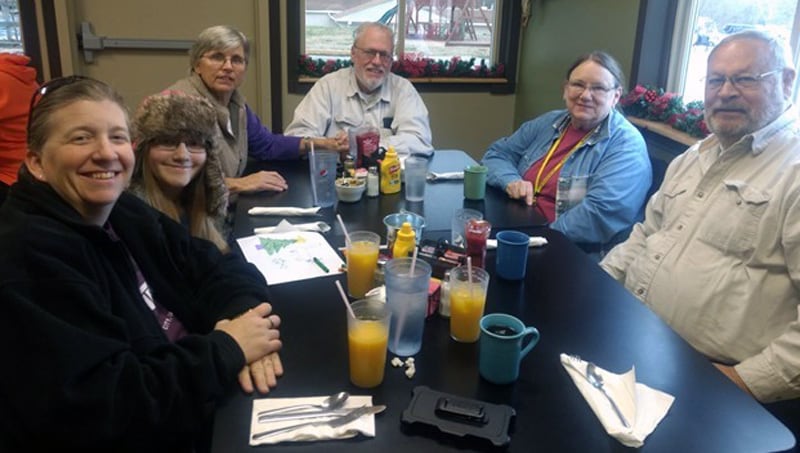 On Tuesday morning a small group of us walked to breakfast at the Hungry Hunter. The restaurant is conveniently located on the campground property.   The Hungry Hunter Restaurant won 2019 Best Breakfast in Branson.  Check them out if you ever stay at the Branson Stagecoach RV Park.   Beware the food is good, and the line can be up to an hour or more on the weekends.
After breakfast we took a small group into town to check out the stores and Christmas shows.   Dick's Five and Ten store was a must.
Wednesday was the Annual Christmas Party.   Starting around 3pm, people started to congregate at the clubhouse.  There were Christmas decorations, smells of Christmas turkey, and Christmas cookies wafting in the air.
Santa hats, Christmas sweaters, and twinkling lights gave a great ambience of the start of the Christmas season. When you're with awesome people you never run out of things to talk about because conversations filled the clubhouse.
We had a Christmas prayer, thanking God for all he has given us in 2019, and we had a wonderful Christmas-style potluck supper.   Shortly after supper we did a white elephant gift exchange.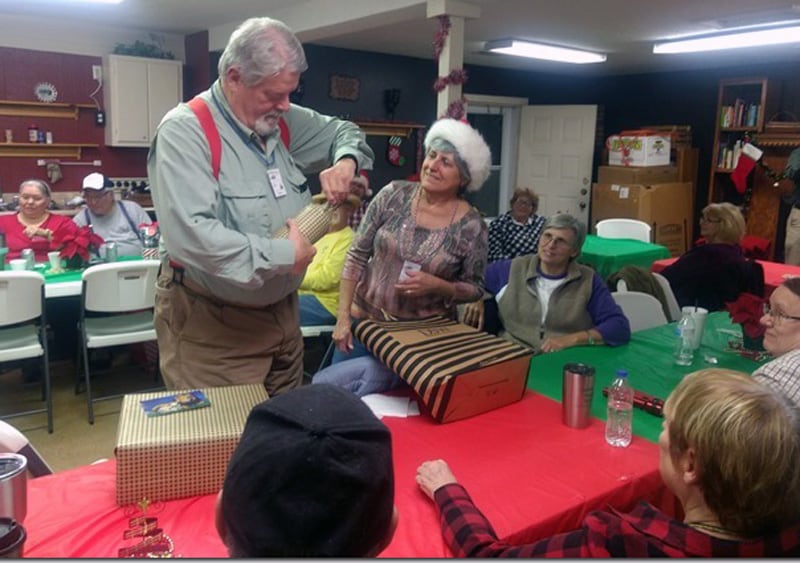 After the gift exchange some people started to say their goodbyes as they were leaving in the early morning to head home. The rest of the group played games for one last evening together until the wee hours of the morning.
The next morning some of us met for breakfast at the Hungry Hunter one last time before we all hit the road. It's hard to leave people you enjoy spending time with, but it was time to head home.
We started the Midwest Truck Camper and Friends back in 2013.  It's hard to believe 2020 will be our seventh year.  My family has made many amazing friends since we started hosting these events. Thank you for allowing us into your lives.
Until we meet down that American road, Happy Trails! Go make some memories!