Tyson D'Acosta, Vice President of Capri Camper, participated in our Manufacturer's Dare 2 and sent in the following report and product evaluation. Tyson took out the 100-percent modular 2022 Capri Lone Star.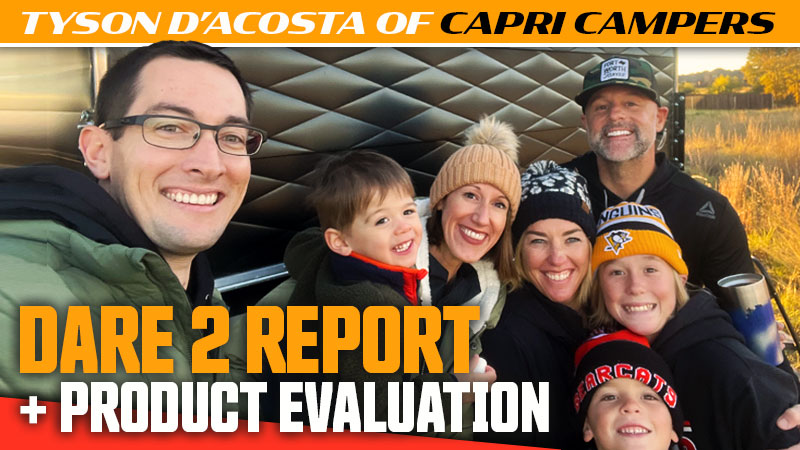 This past spring, we threw down the gauntlet and triple-dog dared industry leaders to go truck camping. The reason for this bit of fun-nudging is to encourage the leadership teams to experience their products – floor plan to features – in real-life camping situations.
There are a good number of industry leaders who are every ounce as passionate about truck camping as we are. Unfortunately, there are too many who don't make the time to enjoy the very campers they design, develop and sell. This can create a disconnect with the consumer experience as well as missed opportunities to improve the product and its presentation. That's the point of our dare.
Tyson D'Acosta is decidedly in the passionate about truck camping camp. When we asked him if he would like to participate in our dare he instantly said, "Absolutely!" Congratulations to Tyson D'Acosta for stepping up to the plate and taking our Dare 2 challenge.
This past weekend, November 11th-13th, Tyson D'Acosta went to Aledo, Texas with a 2014 Ford F-250 and a 2022 Capri Lone Star.
Here is Tyson's Dare Report for Capri Campers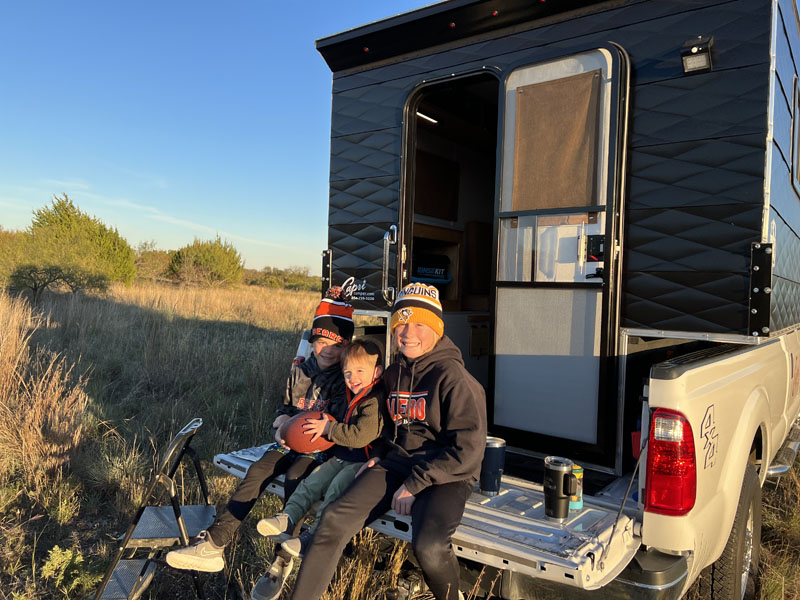 Above: Using the tailgate as a porch with the Lone Star
I went camping with my family and some of our friends in Aledo, Texas. Our friends have a lot of land out there and we all decided to take our kids and camp out together. We had talked about this trip ever since Truck Camper Magazine issued the dare.
We all agreed that camping together would be a lot of fun and we would be able to show our kids what a good time is away from technology and television. Since we didn't go to a typical campsite, we just parked, set up some chairs, and made our own campsite.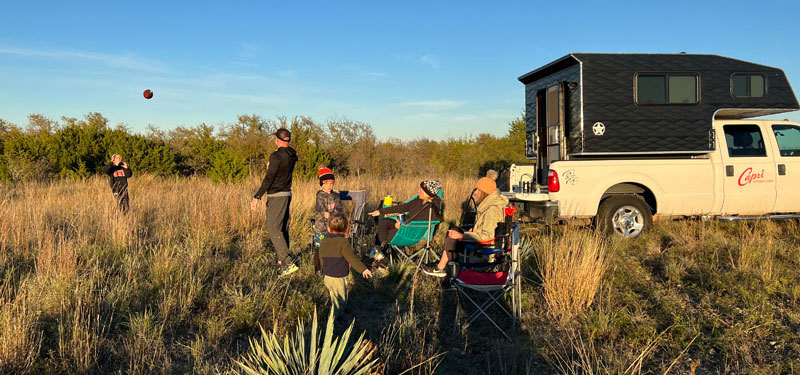 We really enjoyed being outdoors and watching the kids play. We decided to set up camp in an open area that backed up to a lot of trees and trails. We spent most of the days throwing the football, hitting golf balls, and walking the property.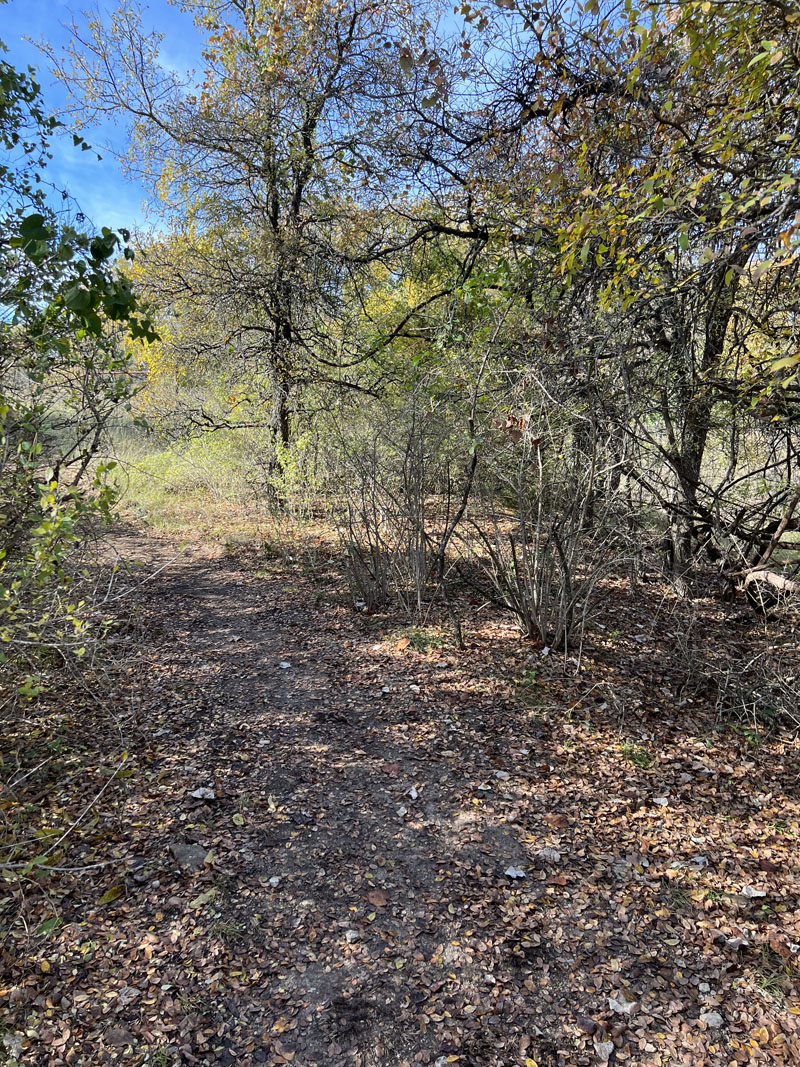 There was a great little trail through the trees and along a creek, so we walked that each morning.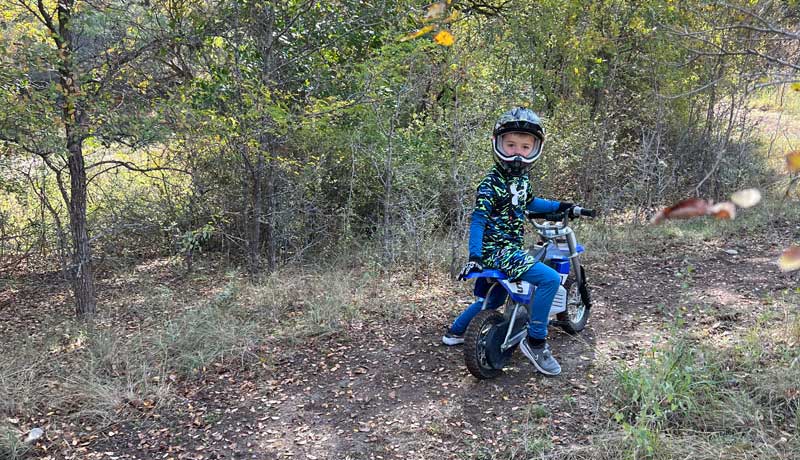 Our friends have their own travel trailer. They brought along a dirt bike for their kids and we combined to bring lots of food. This happens every time I go camping, but once you are outdoors and in your camper, it makes me wonder why I don't do this more often. Being outside and away from technology and everyday things is a great stress reliever and really provides a fun way to recharge and relax.
Capri Lone Star Product Evaluation
I really enjoyed our Lone Star camper. I am a pretty simple person so it doesn't take a lot to entertain me or make me happy. The Lone Star is easy to set up and use. This allows you to not have anything you don't want in the camper.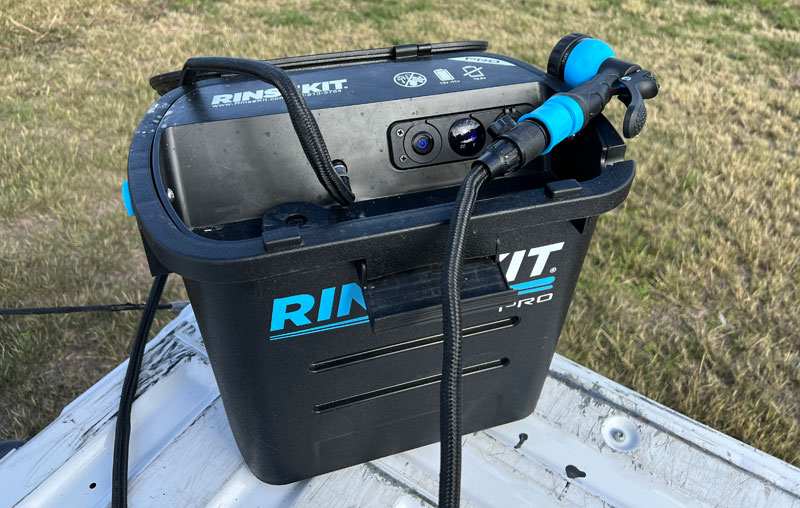 I know this set up isn't for everybody, but the portability of all the items in the camper really does come in handy. We were able to use the RinseKit to wash off the kids' shoes and their sticky hands after they ate. We used the ski closet for muddy shoes and dirty clothes. We spent most of the time outside, so just having the simple things needed to eat, sleep and stay warm was all that we needed.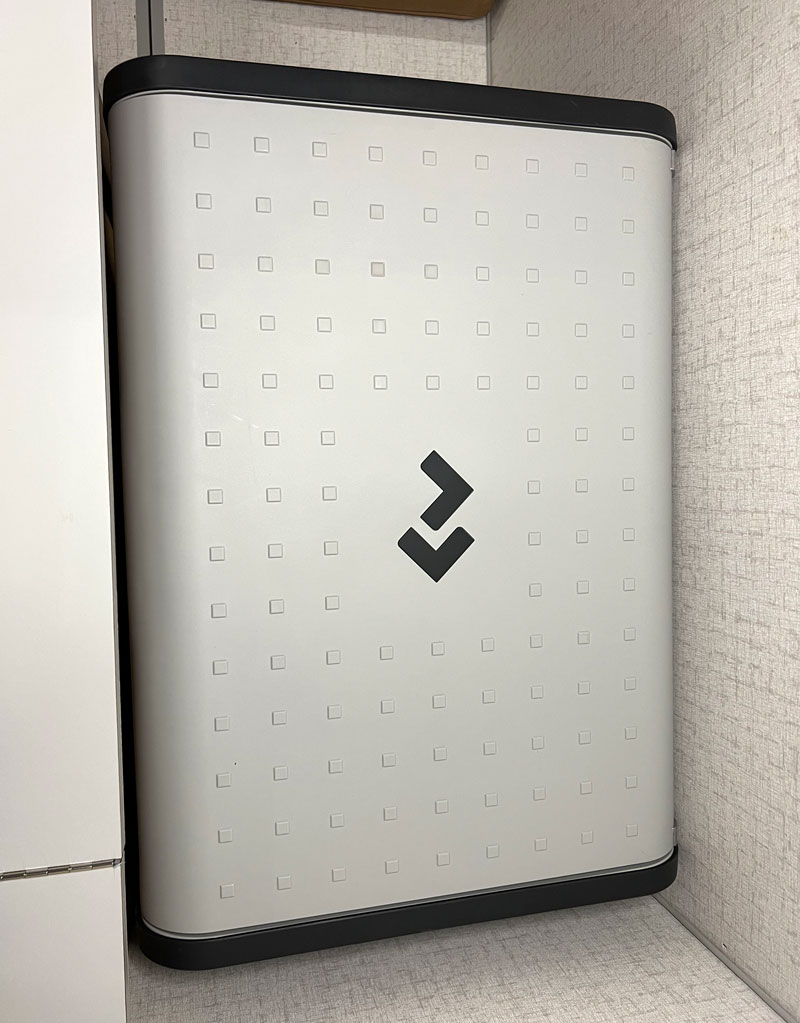 The only thing I can see being a nuisance in the Lone Star is if you are using the refrigerator/cooler all the time. The space we had to fit that in is very tight so there isn't much space for your hand to fit and open the lid. Opening that lid frequently is kind of a pain.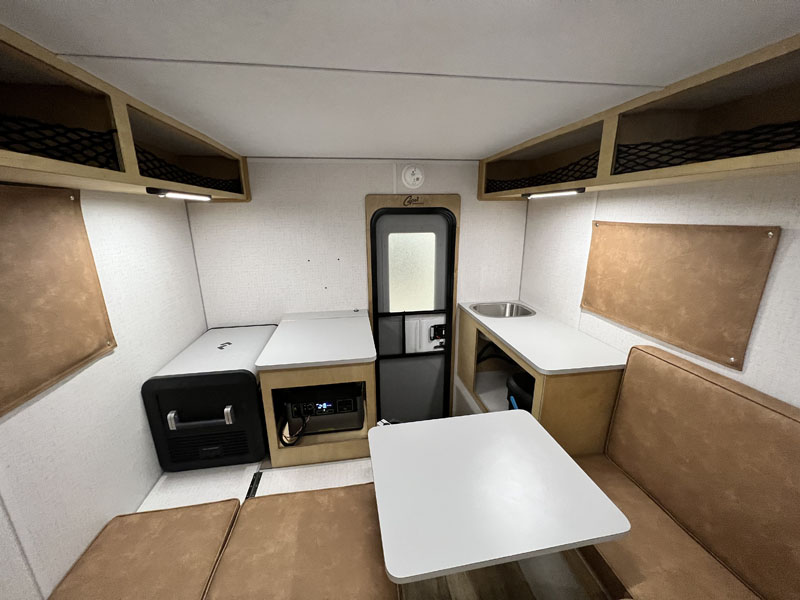 You do have the ability to slide the refrigerator down the bench for easier access if you ever needed to. It is just a product of the limited space. It's a give-and-take in order to have the ski closet because we had to shrink the fridge space.
The floor space in the Lone Star is smaller than our normal campers. This is because we added a ski closet the entire length of the floor so that takes up quite a bit of floor space. If you are trying to fit a lot of people in the camper all at once, it does get a little congested since there isn't a ton of space to stand inside. Depending on the feedback we get after having the Lone Star out in the wild for a year or two, this might be something we change.
The camper I took out was our demo camper, which doesn't have an air conditioner. Depending on the time of year and where people are using the camper, not having an air conditioner option would really limit the versatility of this particular camper. Because of this, we have actually started offering an air conditioner as an option on the Lone Star.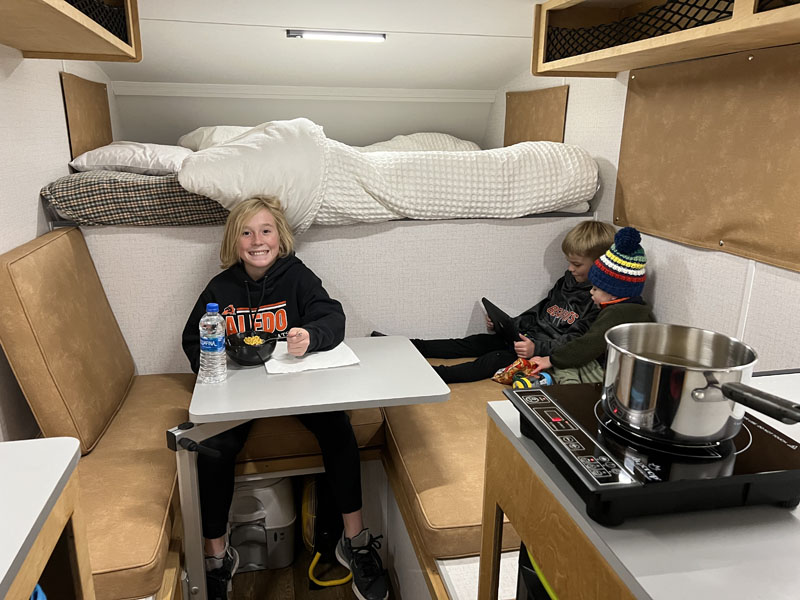 We used our induction cooktop quite a bit to cook pasta at night (pictured above) and it does take a lot of power to use. At some point, we might look at coming up with a propane cooktop option so people don't have to use so much power from their battery to cook a meal.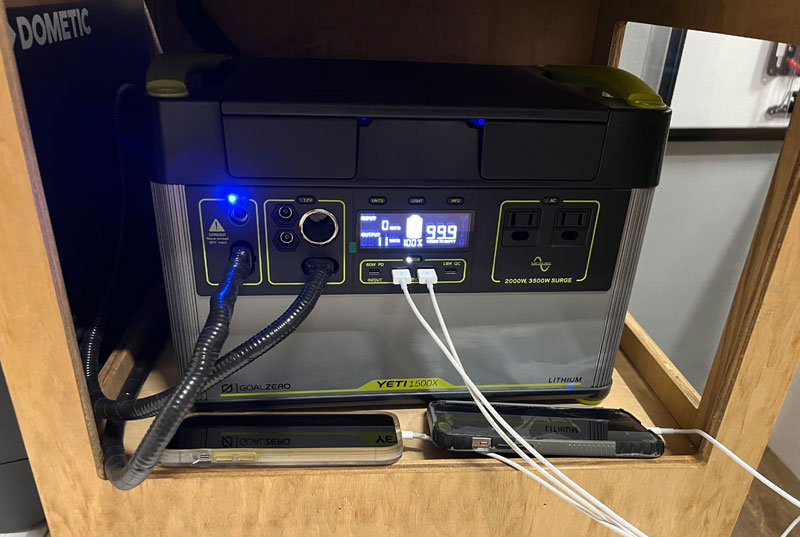 The Goal Zero battery and RinseKit are really versatile to me. They give you the ability to have power and water anywhere you go. It was so easy to put both products on the tailgate and be able to rinse off dirt/mud when needed. Also, everyone was able to plug in their phones to keep them charged while we sat outside.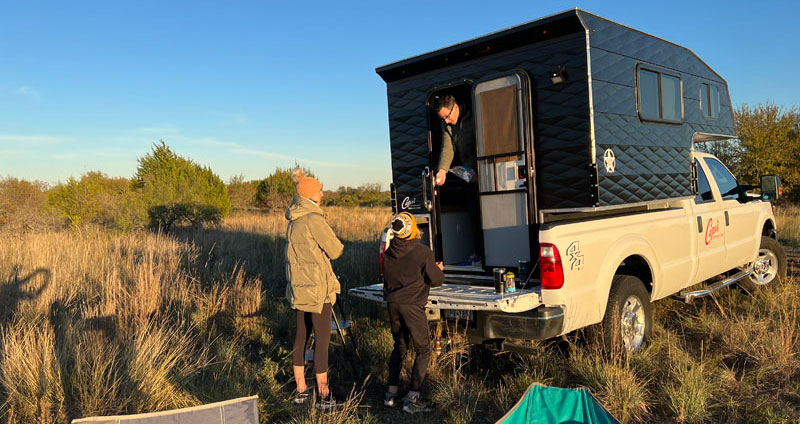 I really love the simple nature of the Lone Star. It is so versatile to me and just allowed us to bring the items we needed for this trip and not bring the others so we could keep room for extra paper towels, jackets, etc.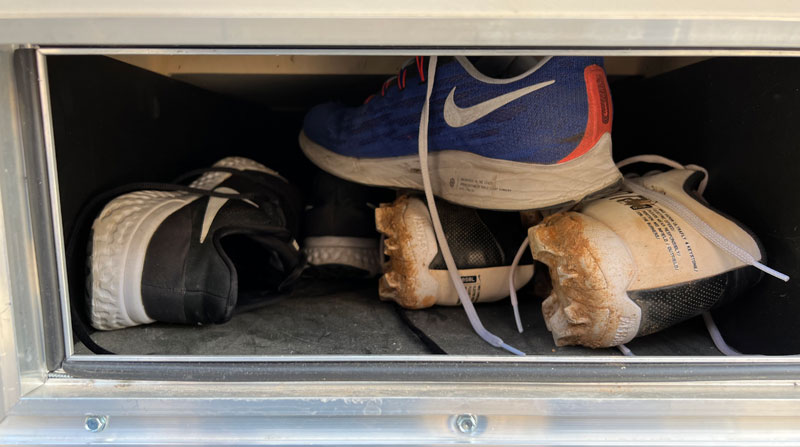 Since obviously there is no skiing in Texas, the ski closet was actually really useful for dirty shoes and clothes. We were able to throw everything in there and not worry about getting the camper dirty. I just think this camper is great for people who love simple and want the ability to make the camper their own.
More Camping Ahead
Yes, my wife and two-year-old son came with me. This was our first time staying overnight in the camper with our son. Because of the dare, we really had a fun time and created a lot of memories that probably wouldn't have been created for another year or two. Trying to get a toddler to sleep while other things are going on around them or trying not to wake him in the middle of the night when you drank too much water the night before was a little tricky, but it was all part of the experience!
My wife and I talked about going out again while we were in the camper over the weekend. I would love to, but the next free weekend we have isn't until February. Maybe we can get a few readers from this article to call her and convince her that camping is more important than what we already have planned…
Our lives are pretty hectic because we have a toddler and a puppy. My wife is on the board of a big volunteer organization so we hardly ever have free time on the weekends, but being able to get out and camp this weekend really made us appreciate camping even more. We have been in the past, but then life kind of gets in the way and you forget how much fun it is to just get outdoors and get away from everyday life. This trip really makes us want to start taking more camping trips and create a lot more memories across the country.
For more information on Capri Campers, visit their website at capricamper.com. Click here to order a free Capri brochure.