The Northeast Truck Camping Jamboree is holding its first gathering of the year at the Gettysburg Campground from April 30-May 2, 2021.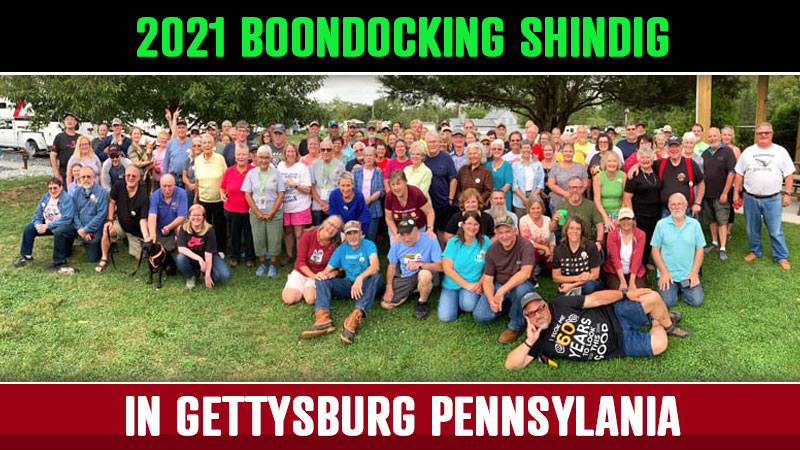 Above: The Northeast Jamboree group at Gettysburg Campground
Lee and Beth Lee send us an update on the Gettysburg Shindig happening later this month. There are still spots available. Please call the Gettysburg Campground at (717) 334-3304 to sign up.
April 30 – May 2, 2021
Boondocking Shindig
Gettysburg Campground, Gettysburg, Pennsylvania
***You need to make a reservation directly with the campground. More information about signing up is on the NE Jamboree's website.  Call the campground at (717) 334-3304.
Organizer: Please contact Charles and Beth Lee if you have any questions or need more information. Please email Beth and Lee if you decide to attend so that they have an idea of who is attending.
Here is the information we received from Beth and Lee:
"You are invited to our Boondocking Shindig.  Come with your tanks prepped and your batteries charged.  There are no formal rally events.  It's just a gathering with good friends; old and new.  Bring your tips and tricks for boondocking for sharing or bragging.
How long can you go?
We recognize that not everyone is planning to boondock, but it is sure to be a challenge for those who do. Since this is an informal gathering, there is no scheduled agenda.
Please note that site #111 is the gathering site for the coffee, campfire, and hanging out.  Coffee will be available for as long as it lasts Saturday and Sunday mornings.
We will have a surprise gift package.  For $5, you will get a single ticket and the drawing will be done on Saturday night at the campfire.
The campfire will begin at 7pm on Thursday, Friday and Saturday night.  On Friday night, we invite you to bring a snack to the campfire to share for an informal meet and greet.  On Saturday night we invite you to bring a dessert to share as some say farewell to leave early Sunday morning.
The theme for the weekend at the campground is Gettysburg 500.  On Saturday, Sprint cars and Jr. Dragsters will be on exhibit for all campers to see.  A FoodTruck is also anticipated on-site Saturday.
We're looking forward to reconnecting and meeting new friends but as always, the choice to participate or not participate is ultimately up to you.  We are all in this to enjoy some time together outdoors doing and learning more about what we love!" – Lee and Beth Lee