For Behind the Shot Part 11, we are featuring photos and stories from Pinery Provincial Park, Arches National Park, Mittry Lake, Yankee Fork Gold Dredge, and many more!
To participate in the 2018 Truck Camper Magazine Calendar Contest and be considered for a Behind the Shot feature, click here.
Glen and Trudy Pritchard
Alvord Desert, SE Oregon
2017 Ram 3500
2017 Northstar Laredo SC
Camera Used – iPhone SE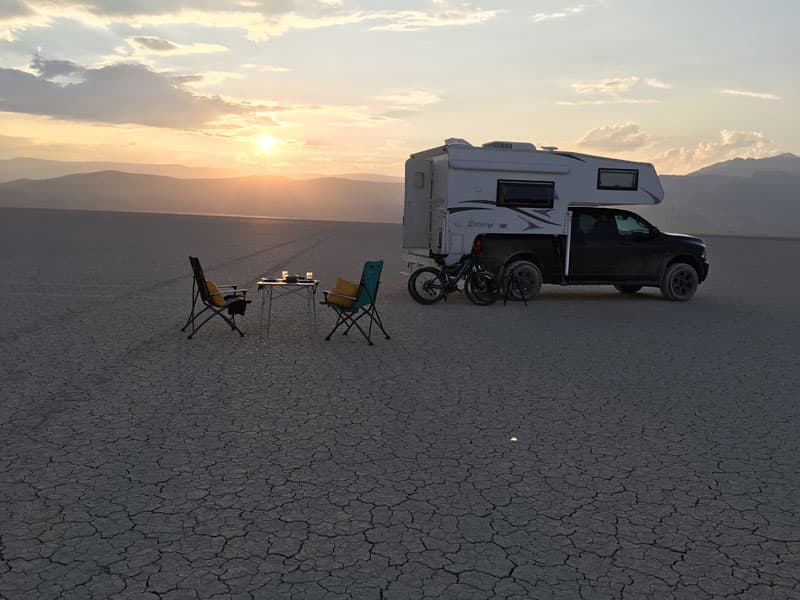 This felt like camping on the moon!  In the center of the Alvord Desert, with nobody else in site as far as we could see, it was peaceful and surreal.  You have to watch the weather when camping here so that you do not get caught in a thunderstorm or downpour.  This was a September day so the weather was perfect and not too hot.  We set out our table, a bottle of wine, and dinner.  We felt like we had the entire landscape to ourselves.
Forrest Atkins
Turtle Creek Campground Eastern Sierra, California
2011 Ford F-250
2014 Phoenix Custom Camper
Camera Used – Surfacebook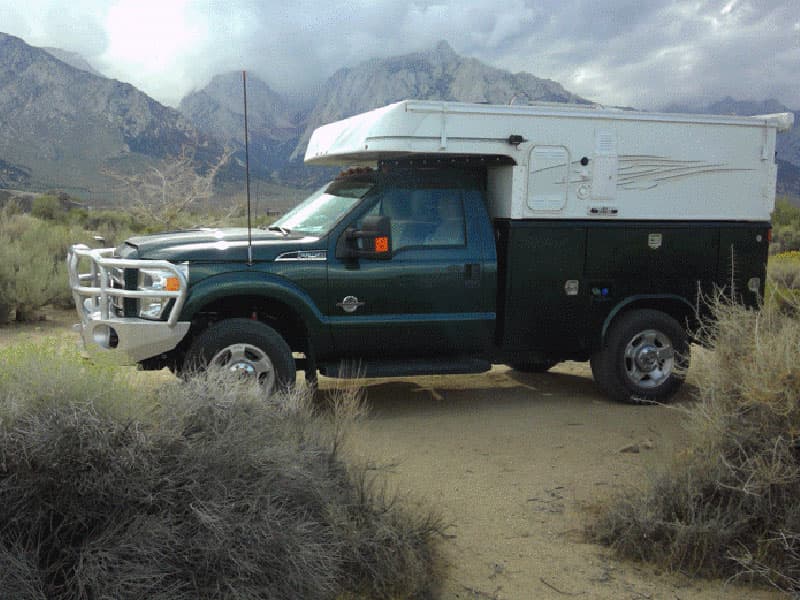 Storm clouds over Alabama Hills today should make for great sunrise shot tomorrow.  I was up before dawn, drove over to a scouted position, setup up my camera, and waited and waited!
Kevin Burkhart
Near Ajo, Arizona
2015 Ford F350
2016 Lance 995
Camera Used – Nikon D7000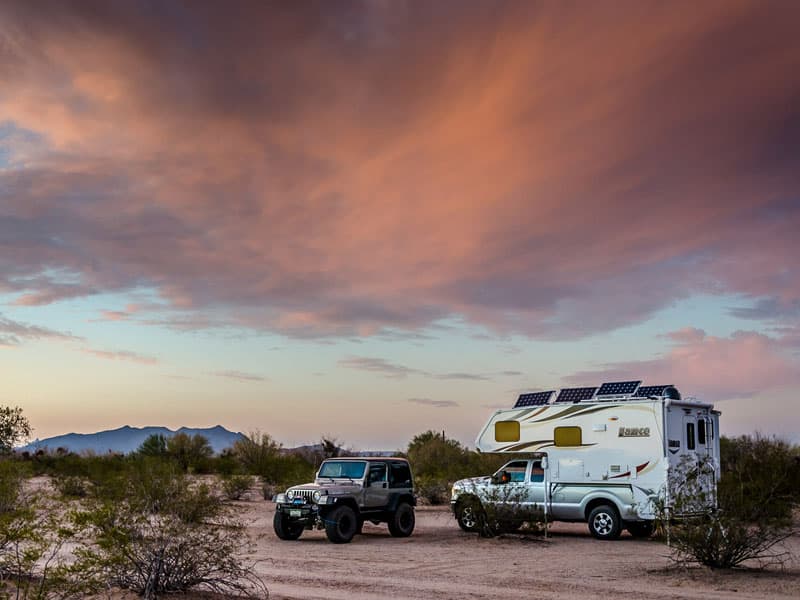 We camp for a couple winter months in various boondock campsites around Arizona.  Since the nights are long, and often cold and windy, we like to enjoy our camper and electronics in the evenings.  I designed and installed ample solar to make sure we have plenty or power, even in bumpy weather and short days of winter.
Mark and Sheryl Anderson
Ranger Lakes Campground in State Forest State Park, Colorado
2008 Chevy 2500
2012 Lance 855S
Camera Used – iPhone 6S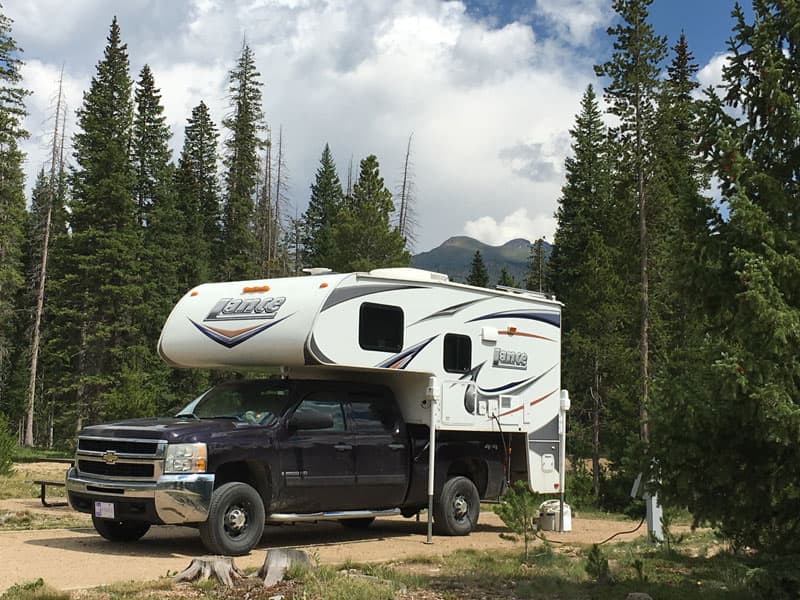 We like to get out of the heat at the end of our Kansas summers and head north or west to cooler climates.  This year we decided to travel through Rocky Mountain National Park and explore State Forest State Park near Walden, Colorado.
This area is known as the Moose Viewing capital since Shiras Moose were introduced in 1978.  We only spotted one moose and it was nearer to Grand Lake, but we were happy to have found this beautiful, well-maintained, quiet campground.  We enjoyed sitting by the campfire surrounded by the mountains and the short hike to a trout-filled mountain lake.
Jim ODell
Yankee Fork Gold Dredge, Custer, Idaho
2013 Ford F350
1997 S&S 9T
Camera Used – Google Pixel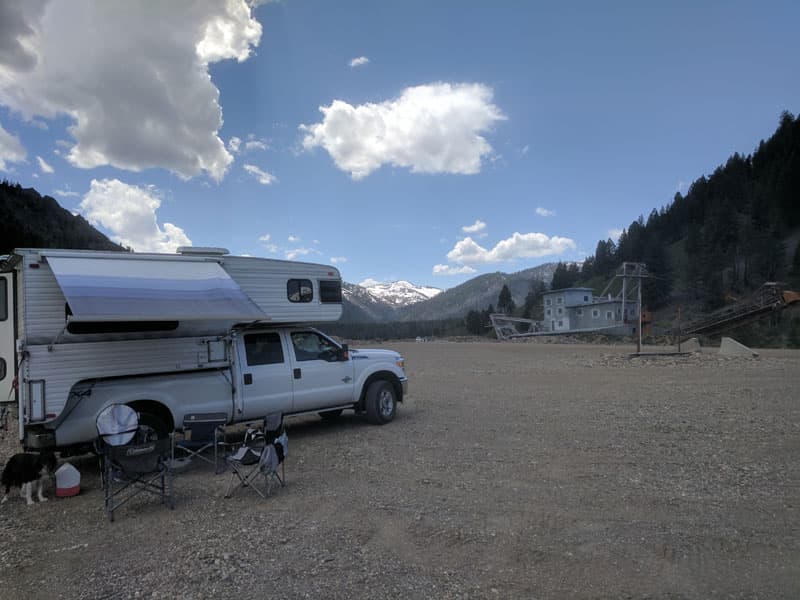 We went on vacation in Idaho this early summer.  Custer, Idaho is not off the beaten path, but we love having lunch in out of the way places with our camper.  We have owned the camper since 2000, and it has seen many things.
Shelley McQuillin
Stillwell, Ohio
2016 GMC 3500
2018 Lance 975
Camera Used – Samsung Galaxy S6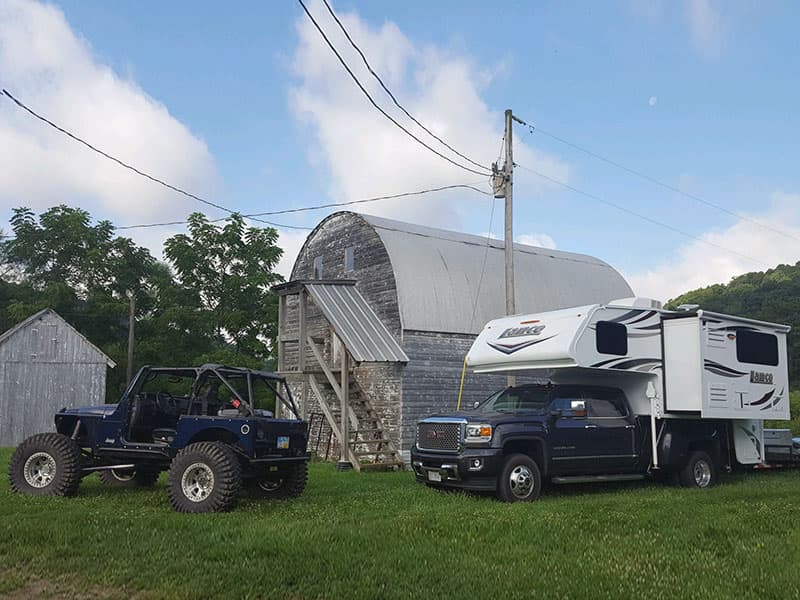 My husband and I love to travel to different areas with his Jeep.  Our new truck camper gives us much more freedom to travel to the out-of-the-way places and still have the comforts of home.  With the camper, we can hit the road right after work, park for the night, and hit the trails first thing in the morning.  More time on the trail makes us very happy.
John and Kathy Morrissey
U.S. 287, just north of Rawlins, Wyoming
2012 Ford F250
2011 Lance 830
Camera Used – Galaxy S6 Active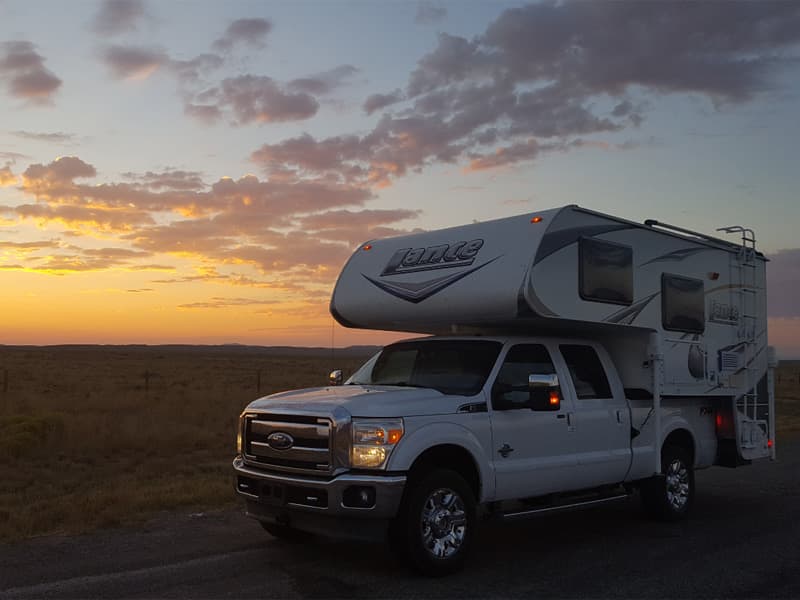 We took a road trip in August of 2017, which included watching the total eclipse in Casper, Wyoming.  After a sleepless noisy night boondocking at Little America on I-80, we decided to continue our road trip early that morning.  As soon as we turned north on US-287 toward Casper, we pulled over to enjoy this amazing sunrise.
Bill Sunbury
Muley Point, Utah
2013 Chevrolet Silverado
1998 Shadowcruiser
Camera Used – Phone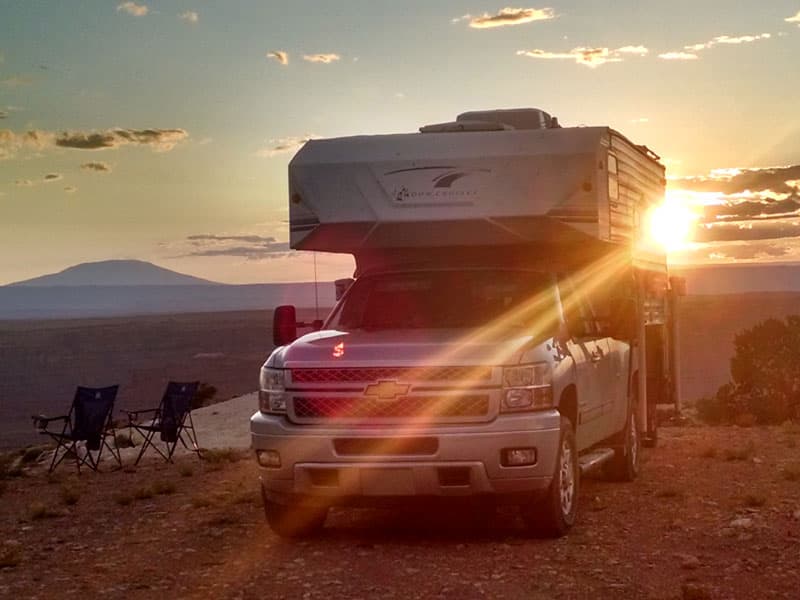 We were ending the last of our three month camping tour and starting to head home when we decided to go back to Muley Point to boondock one last night in paradise.  We have camped there a couple of times before and after driving Moki Dugway.  Beautiful place!
Beau Monaghan
San Diego County, 33.034445, -116.398141, California
2016 Ram 3500
2016 Arctic Fox 992
Camera Used – iPhone 7+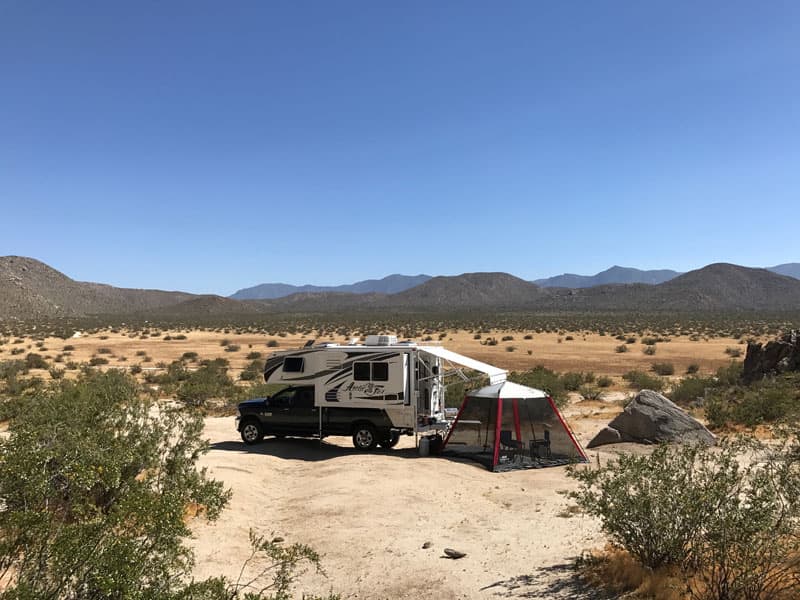 This was taken May 13th.  It was a weekend after a large holiday and no one was there.  It is open land with no fees and it has a beautiful view.  It was just me and the dog.
Jack McCormick
Dayton, Nevada
2006 Chevy 2500
Lance 835
Camera Used – iPhone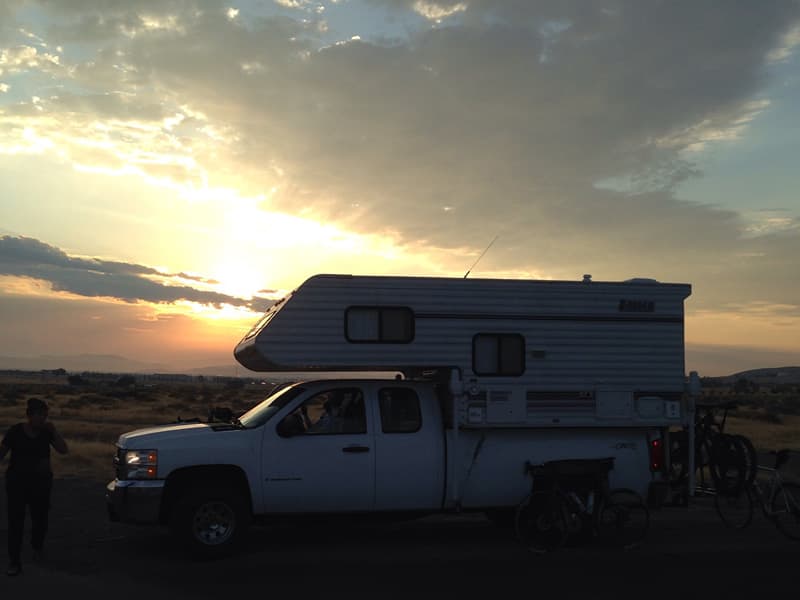 I decided to try to ride my bicycle across the state of Nevada in two days.  Using Highway 50, The Loneliest Road, it is a little over 412 miles.  My girlfriend drove the camper to keep us supplied with food and water along the way, and also to camp in at the halfway point for the night.
We left the California/Nevada state line at 3:30am.  We were to meet the support truck at first light after the first 50 miles.  This photo was at sunrise the first time we saw the truck.  We were out of water and food, so it was a much welcome sight.  We ended up riding 206 miles a day for two straight days, and camped the second night on the Nevada/Utah border.
Frank Poole
Mittry Lake, Yuma, Arizona
2016 Ram 5500 HD
2016 Arctic Fox 990
Camera Used – Phone Samsung 7e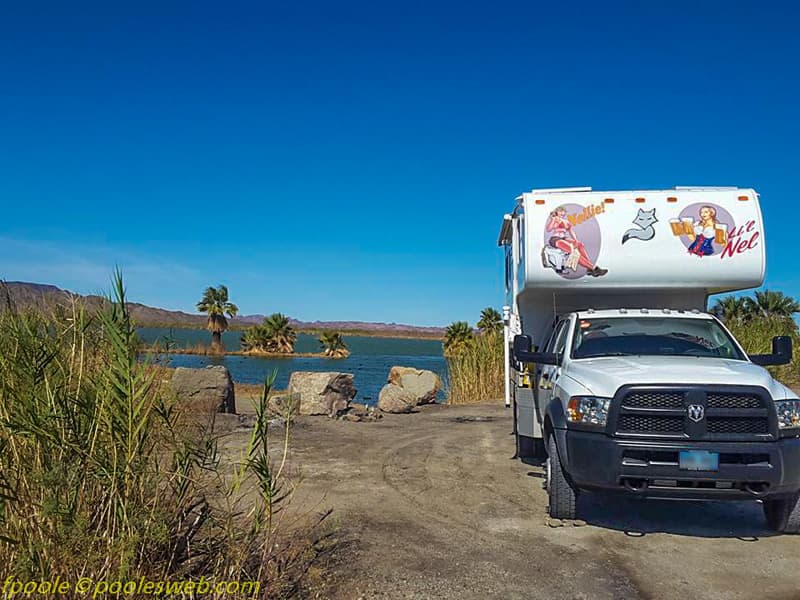 This is a little known lake.  There were dirt roads which demanded it to be checked out.  I felt like I was in the tropics with water and palm trees.  I kept looking for the Hula Girls, but I'll keep looking for the rest of my life because it's not happening today.  Nice place.  The sites are a little sparse on the lake, but I lucked out.  Fun.
Sandy Schmidt
Rabbit Valley, Colorado
2006 Toyota Tundra
2015 Four Wheel Camper Hawk
Camera Used – Nikon D7100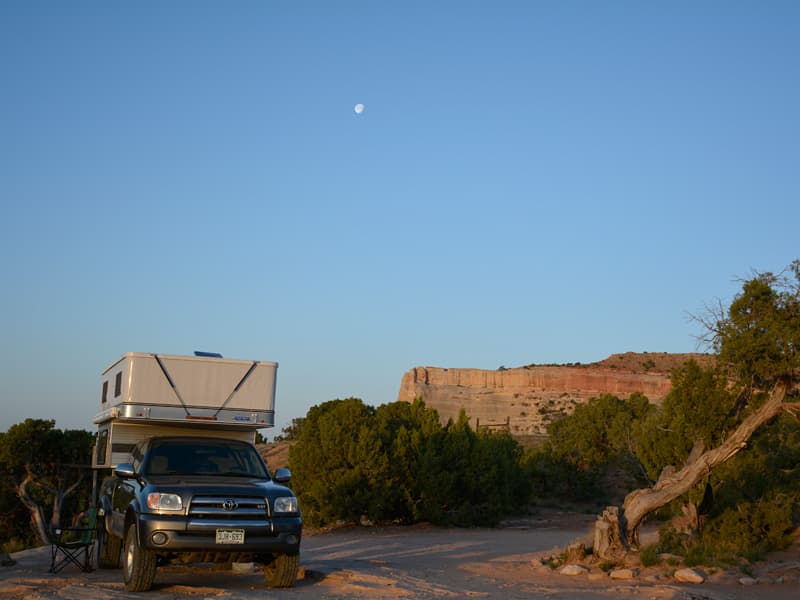 This spot is the reason we got a truck camper.  We used to camp closer to the highway because we couldn't get our pull-behind trailer back further.  Once we discovered this spot on our mountain bikes it was all we could think about.  It totally lived up to our expectations.  We get to overlook the Colorado River and feel very remote with only a few other campers in the area on the weekdays.
MG Slingerland
Norway
1992 Scania 93 M
2016 self-made camper
Camera Used – iPhone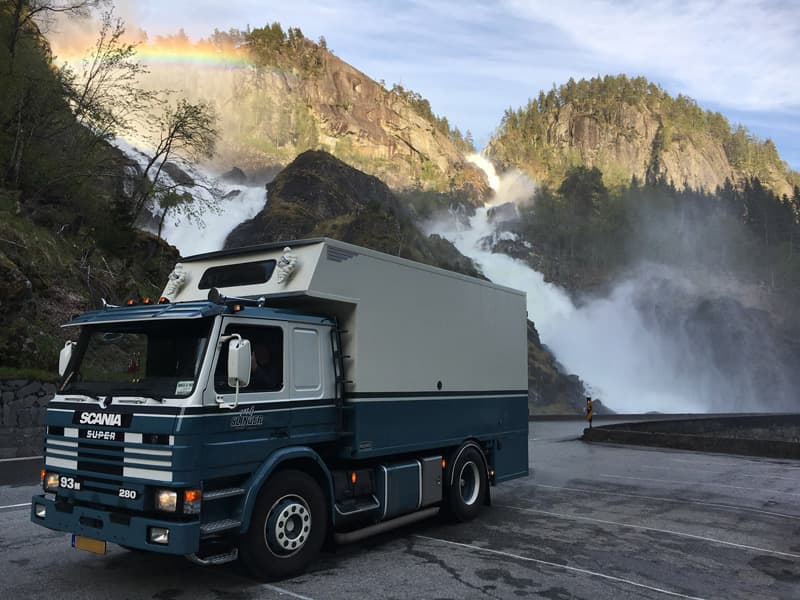 We bought the truck in France in a bad state.  We restored it ourselves in Holland.  We bought the swap body in 2015, shortened it ourselves, and made a camper inside it.  We use it for holidays and camping.  We can even live in it if we want.
Tammy Barbour
Costa Rica
2008 Toyota Tundra
2010 Palomino Bronco
Camera Used – Google phone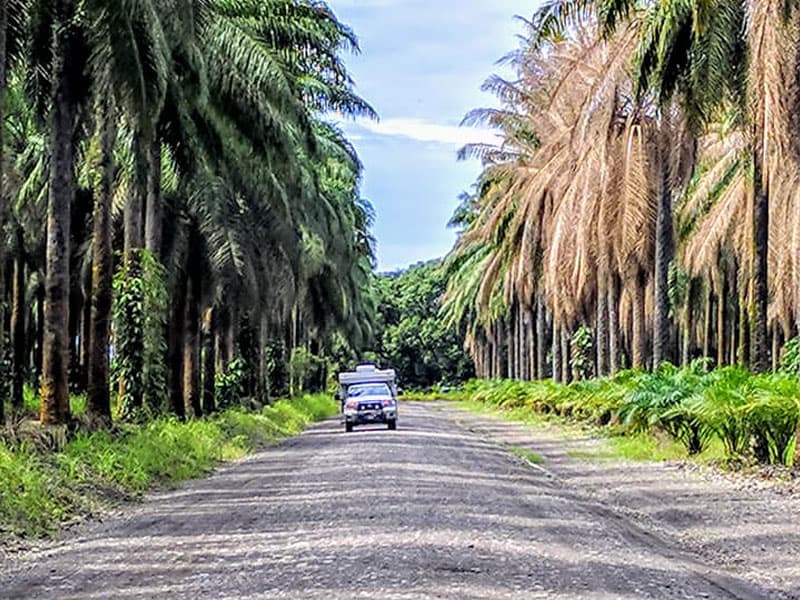 We are on a one year plus journey driving the Pan American Highway from Tennessee to Patagonia in Argentina.
Joan Thompson
Hayden Valley, Yellowstone National Park, Wyoming
2011 GMC Sierra HD 3500
2013 Lance 1191
Camera Used – Samsung S5 phone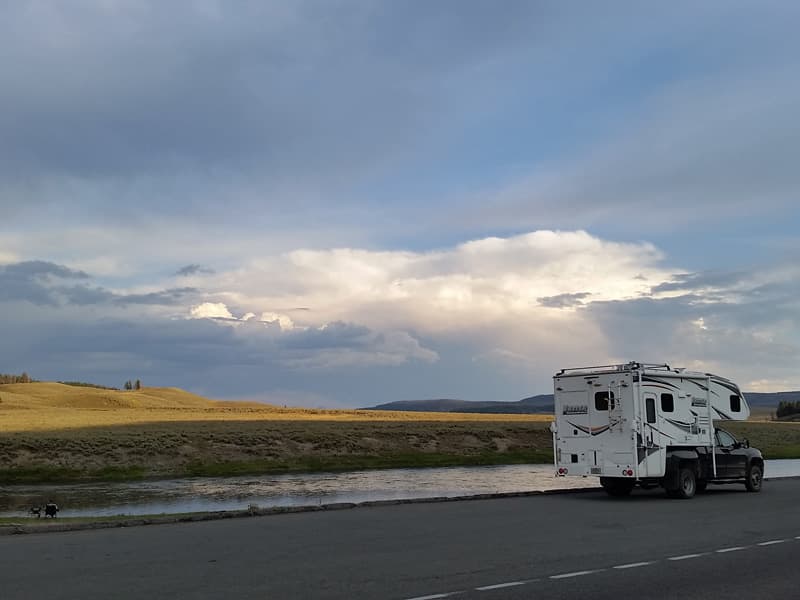 My husband and I have a love/hate relationship with Yellowstone.  Having worked there years ago in both summer and winter seasons, we have been fortunate to know it in quieter times, and it holds many memories.  Yet when we return from time to time, we usually come away disappointed, hating the crowds that seem to be everywhere, even in the off-seasons.  We love the park, but we hate the crowds.
This summer, after enjoying the eclipse in central Idaho, we realized that our most direct route home was to drive through Yellowstone.  We decided to compensate for the crowds by seeking out solitary places at dawn and sunset.
This shot was taken in Hayden Valley one evening.  There was a grizzly jam at the north end of the valley, and we drove right on past.  We've seen grizzlies in Hayden Valley before.  We were looking instead for a quiet spot to take our chairs down to the river and watch the sunset.  We found it here.  The chairs (and my husband) are visible in the lower left corner.
K. Pawley
Arches National Park, Utah
2005 Silverado HD
2016 Four Wheel Camper Grandby
Camera Used – Sony Alpha 5100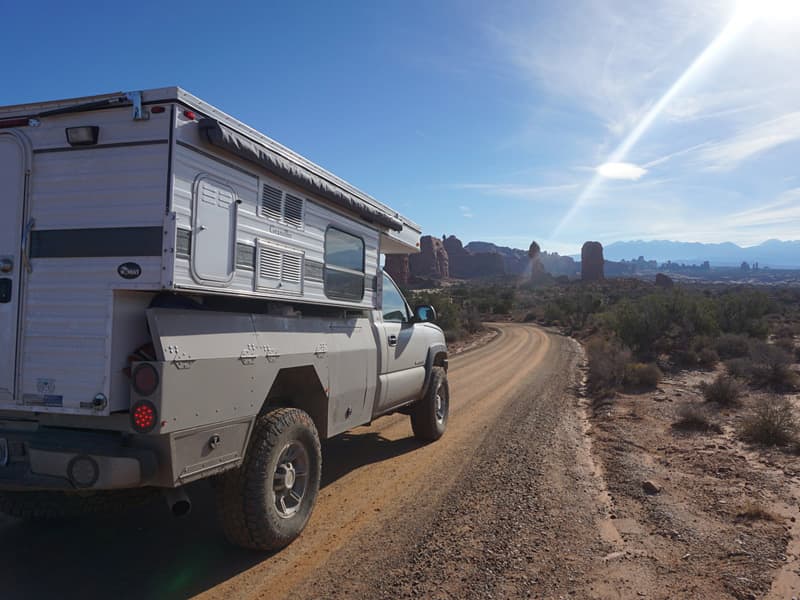 In October 2016 my wife and I quit our jobs to travel the Americas.  We'd only been on the road for a week or so and were camping on BLM land outside Moab and Arches National Park.  While sitting around the fire that night, I was looking over the maps and noticed the small dirt road that passed our campsite appeared to wind its way into the National Park.
Turns out BLM RD378 (Willow Springs) is one of two alternate entrances into the park.  We're always looking for excuses to avoid pavement, and this was a more direct route to boot!  The washes and slickrock ledges on the BLM portion of the road made for a fun morning and a far more dramatic entry into Arches than the main gate.
Joe Zecca
Meat Cove, Cape Bretton Island, Nova Scotia
2011 Chevy Silverado 3500
2012 Arctic Fox 1140
Camera Used – iPhone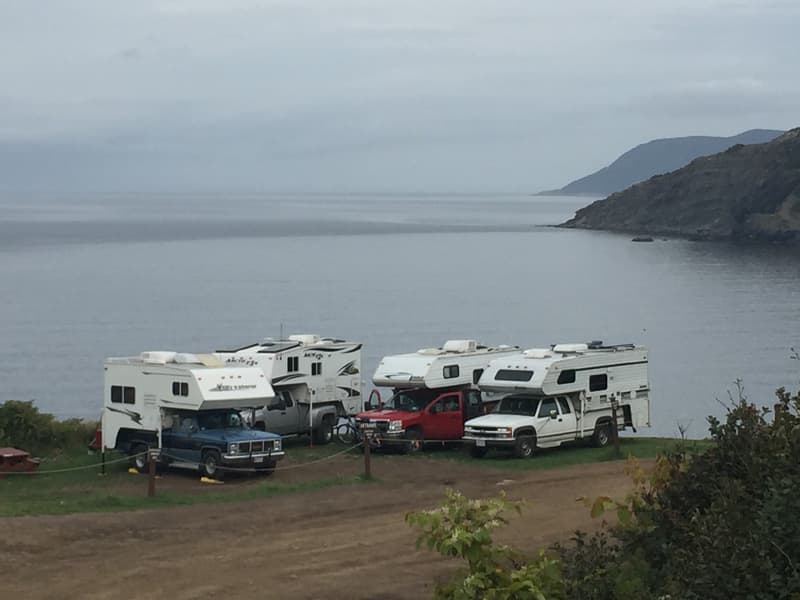 The photo shows four truck campers parked on the edge of the cliff, over the ocean, at Meat Cove, Cape Bretton Island, Nova Scotia.  We were all touring Nova Scotia caravan style, and this was the northernmost point of our journey.
Shannon Taylor
Pinery Provincial Park, Lake Huron, Ontario
2012 Dodge Ram 2500
2015 Adventurer 80RB
Camera Used – Canon 5D Mark III, 16-35mm F2.8 lens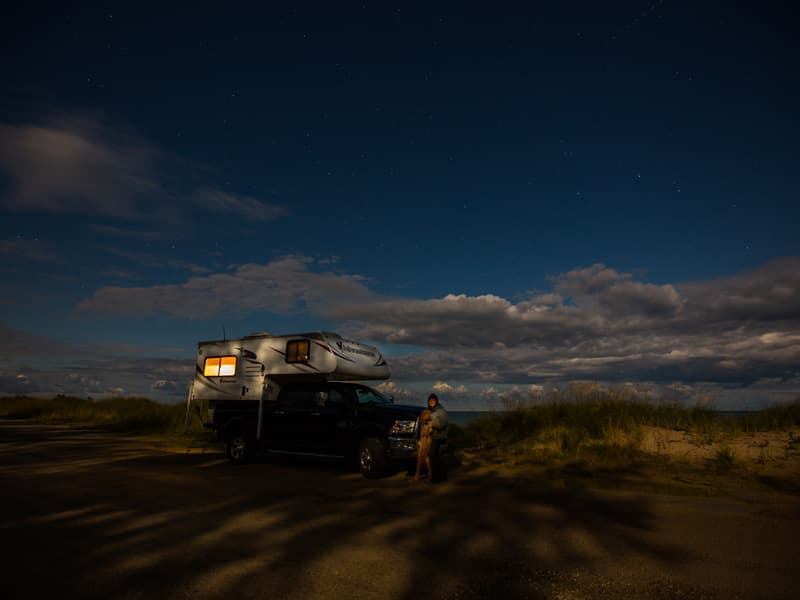 My golden doodle, Sully, and I spent the night watching for the Northern Lights.  A nice dark sky and many clouds prevented seeing much light.  This did not prevent me from enjoying every moment of my home on wheels.
Denise Barber
Light house on Cape George, Nova Scotia
2011 Chevy 2500
2006 Lance 815
Camera Used – Samsung Galaxy 6
While at Cape George, I met a couple in a Class A from Germany.  They arrived in South America three and a half years ago and have been traveling the Americas.  I extended an invitation for free parking at my property if they end up in my area (they did look up my town on the map).  I may have some international dry camping guests in my future.
To participate in the 2018 Truck Camper Magazine Calendar Contest and be considered for a Behind the Shot feature, click here.  To see the photos entered so far, click here.