We are very excited about the 2018 changes to our annual TCM Calendar Contest.  First, there will be two calendar votes.  The initial vote will narrow the choices down to 24 finalists.  The following vote will determine the 13 winners (12 months plus the cover).
The second change is the, "Behind the Shot" series.  When you submit your photo entries, you're invited to share the truck camping story behind the image.  You don't have to send a story with your photo, but you can.  A select number of these stories will then be featured in Truck Camper Magazine.
For Behind the Shot Part 1, we are featuring photos and stories from Death Valley National Park in California, Top of the World Trail in Utah, Goosenecks State Park in Utah, the Buffalo National River in Arkansas, and Robbers Cave in Oklahoma.  Get that truck camping bucket list out now.
To participate in the 2018 Truck Camper Magazine Calendar Contest and be considered for a Behind the Shot feature, click here.
Darcy Hubbard
Ubehebe Crater, Death Valley National Park, California
2014 Ram 3500
1998 Lance Legend
Camera: Samsung Galaxy S6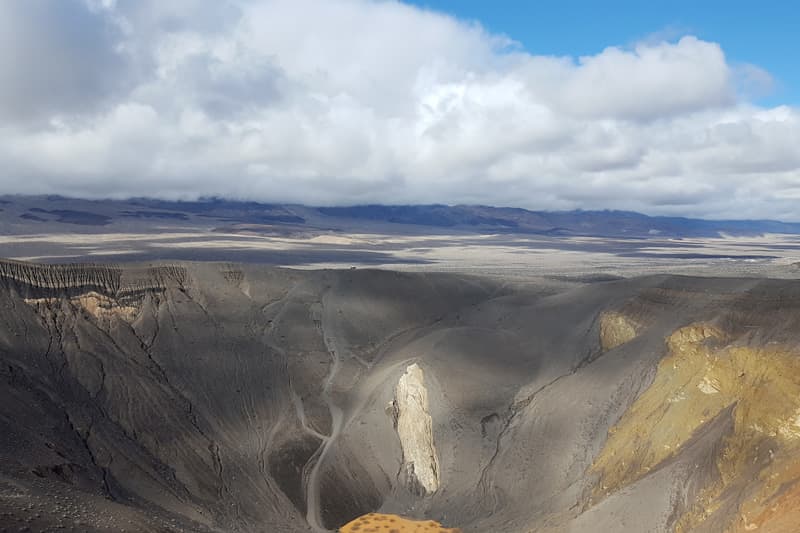 "There was a big storm with lots of flooding in Death Valley in February 2017.  They closed the road out to Mesquite Springs where we were camped.  It was so fun being "trapped" with my son and our camper.  We had Ubehebe Crater all to ourselves for the day.  That is actually our rig on the opposite side of the crater.  We hiked the rim."
James McCoy
Top Of The World Trail near Moab, Utah
2003 Dodge Ram 2500
1990 Hallmark LaVeta
Camera: Canon T5i DSLR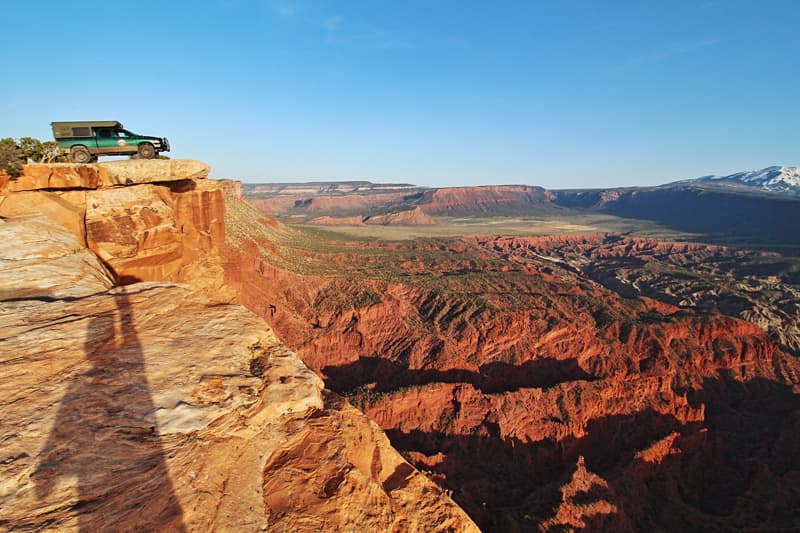 "In April 2017 I went to Moab, Utah, to check out the Easter Jeep Safari.  Before I got there I explored the backcountry in the Delores Triangle on the Colorado/Utah border.
Then, I decided to try and get my truck camper up the Top Of The World Trail.  It's a fairly moderate trail for a Jeep, but the truck camper throws in a different challenge.
I knew it would be a slow and careful technical ride.  It was rough in four-wheel low for over four and a half miles.  I went from about 4,800 feet to 7,000 feet at the trail's end.
The reward would be one of the most amazing views in the area, peering down 2,000 feet into the Fisher Valley and Onion Creek with vistas to the snow covered LaSal Mountains and 12,331 foot Mount Wass thirteen miles south.
I stayed up there for three days and two nights.  Each day dozens of Jeeps from the Safari came up for the views, but scurried down before dark.  Sunsets, the full moon, stars, and sunrises were all mine with the comfort of my camper.  It would be a tough trail for a big truck camper, and not for the faint at heart."
Charles and Jeannie Coushaine
Goosenecks State Park, Utah
2001 Ford F350
2012 Chalet DS116RB
Camera: DJI Mavic Quadcopter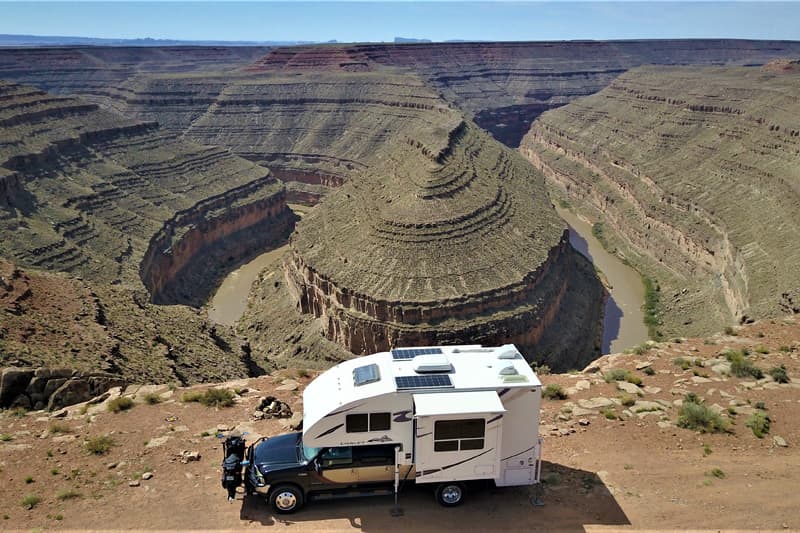 "We were traveling all over Utah to visit the places we missed the first time.  One of these places we went to was Goosenecks State Park.   From their website, "It is an impressive example of an entrenched river meander in which the San Juan River twists and turns through the meander flowing a distance of over six miles while advancing only 1.5 miles toward Lake Powell."
Camping is on a first come, first served fashion, so there are no reservations.  We drove along the rim of the river bank and found a spot to camp.  We found a great spot, and after applying for and receiving my drone permit, I flew over the twisting river to take photos!"
Sean Engle
Steel Creek, Buffalo River National Park, Arkansas
2016 Ford F350
2017 Northern Lite 10'2″ EX CDSE
Camera: iPhone 6s
"Buffalo River is the first river in the United States designated as a National River in the National Park system.  We love everything about it, especially the upper section of the river which is surrounded by a National Forest. This picture was taken at Steel Creek with a beautiful bluff in the background.  The famous Buffalo River trail is nearby which travels over 40 miles along the upper Buffalo River."
Sean Engle
Robbers Cave, Oklahoma
2016 Ford F350
2017 Northern Lite 10'2″ EX CDSE
Camera: iPhone 6s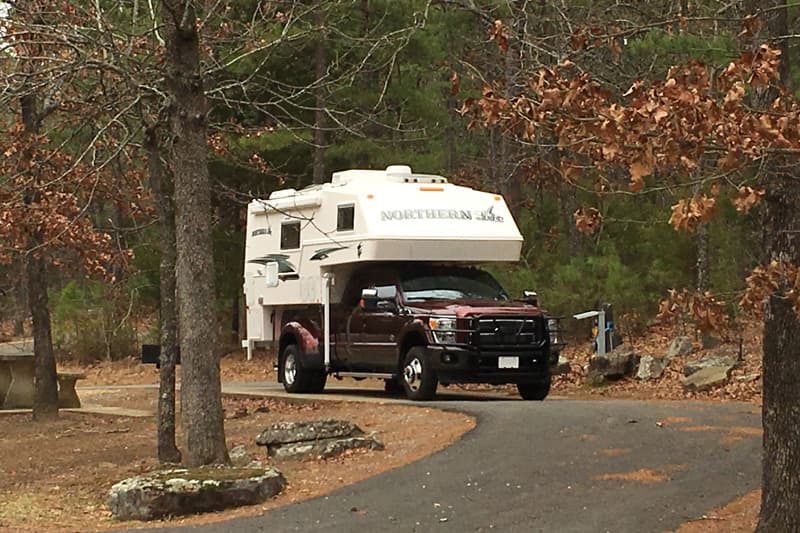 "Late one evening after walking for a few miles around Robbers Cave state park in Oklahoma we both stopped walking as we neared our campsite.  We thought our truck and camper paired together looked really good in the fading evening southern light.  So, I took a picture real quick."
To see the photos entered in the 2018 Calendar Contest, click here.  To participate in the 2018 Truck Camper Magazine Calendar Contest and be considered for a Behind the Shot feature, click here.