For Behind the Shot Part 7, we are featuring photos and stories from the Beartooth Absaroka Mountains, Rio Grande Gorge, Valles Caldera in the Jemez Mountains, the Magdalene Islands in Quebec and more!
To participate in the 2018 Truck Camper Magazine Calendar Contest and be considered for a Behind the Shot feature, click here.  To see the calendar entries entered so far, click here.
Thomas Compton
Oak Harbor, Ohio
2005 Chevy Silverado
2011 Palomino Bronco 800
Camera Used – Nikon D7100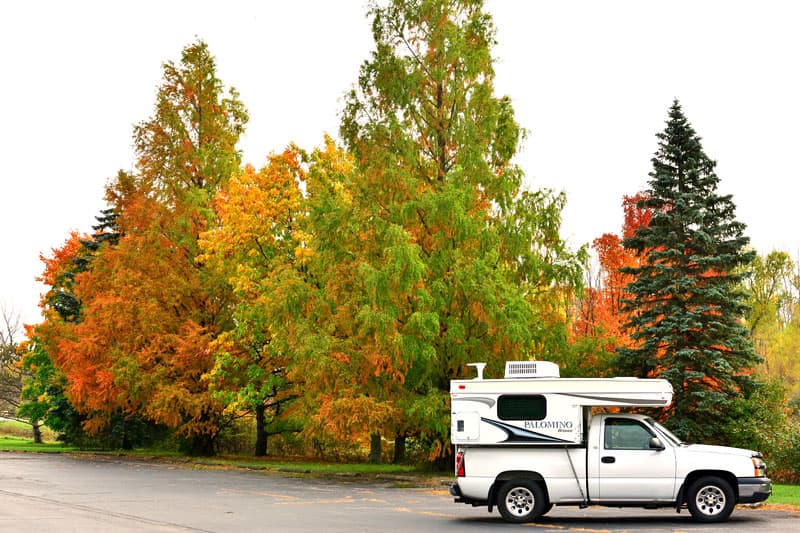 My spring birding and truck camping trip got delayed because the truck needed new brake lines.  So I took it in the fall.  Little did I know how fabulous the fall colors would be.  This was taken at Magee Marsh Wildlife Area in Ottawa county, outside the migratory bird center.
Erica Moser
Salida, Colorado
2009 GMC Sierra 3500HD
2002 Adventurer 810WS
Camera Used – iPhone 7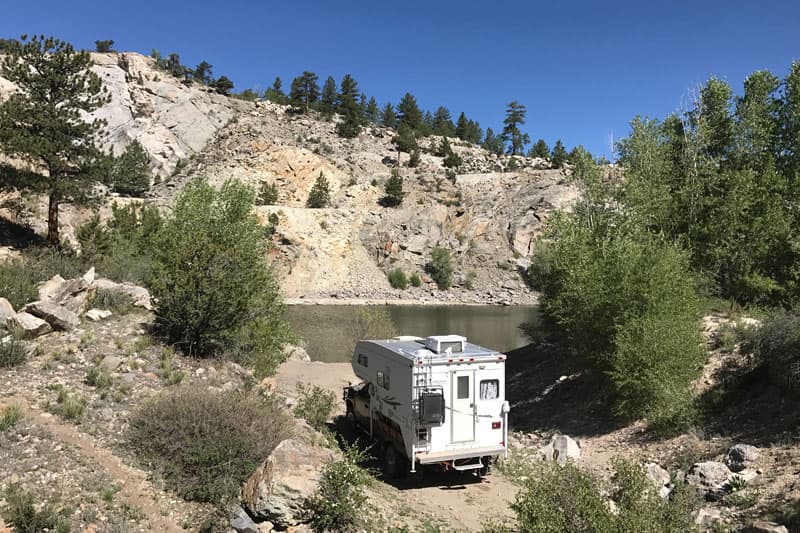 My husband and I were down on the Arkansas River for a weekend of river surfing.  Usually we just drive into the National Forest at night to find a spot to camp.  We headed up earlier than normal, so we decided to drive further than we usually do to try and find a good spot.
We kept taking turns at forks in the road and ended up by ourselves in this beautiful secluded rock quarry.  It's too bad we didn't have our fishing poles.  Our dog enjoyed fishing in the water in our place.
Janet Joki
Park Station Campground, Erin, New York
2016 Ram 3500
2016 Northstar Laredo
Camera Used – iPhone 6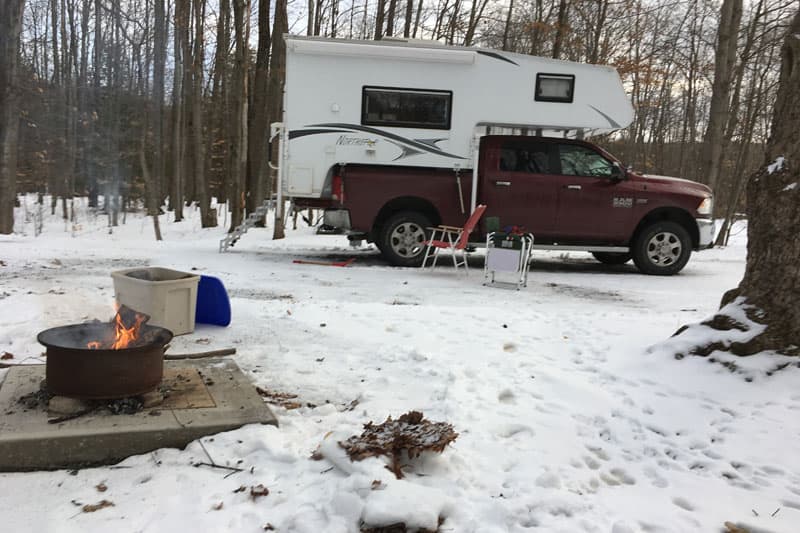 Living in upstate New York it always feels like our camping season is too short.  This year we decided to start early by camping at one of our favorite nearby campgrounds on New Year's Eve.  The caretaker had to plow the road to get us in.  We were the only two people in the park.  This may become an annual tradition!
Wayne Erhart
Beartooth Absaroka Mountains, south central Montana
2002 Dodge Ram 2500
2017 Northstar 950SC
Camera Used – Samsung Note 5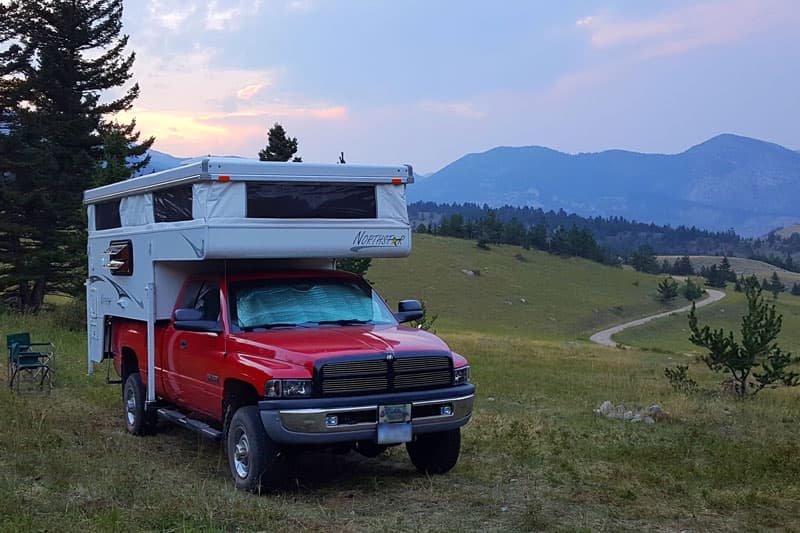 My wife and I have been camping here at the Beartooth Absaroka Mountains on and off for several years now.  It's a great place to camp and ride our four-wheelers.
Richard Fite
Cathedral Valley, Capitol Reef National Park, Utah
2006 Ram 3500
2011 Arctic Fox 990
Camera Used – Samsung Galaxy S3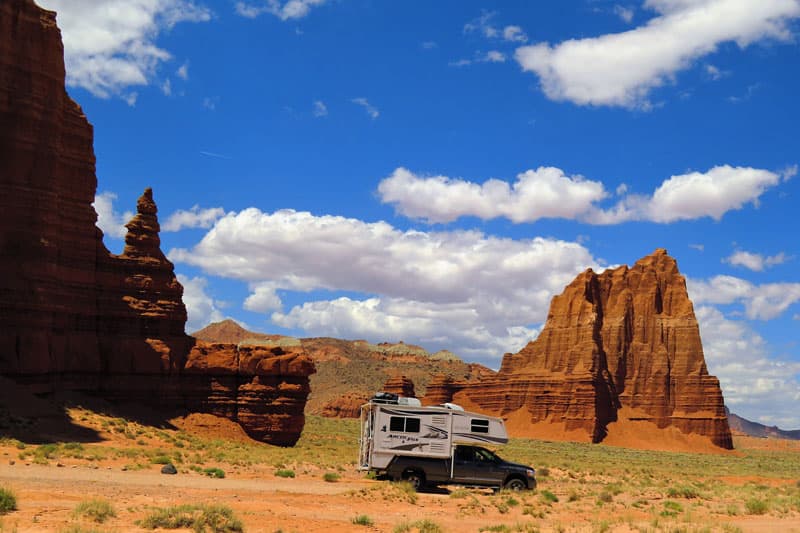 We were camping at Capitol Reef National Park in early May and learned about a 20+ mile off-road trek into Cathedral Valley.  The road was marginal, but the scenery was spectacular.  This photo was taken at the Temple of the Moon with the Temple of the Sun in the background.
Mary Morton-Johnson
Moab, Utah
2004 Dodge 3500
1997 Lance Legend
Camera Used – iPhone 7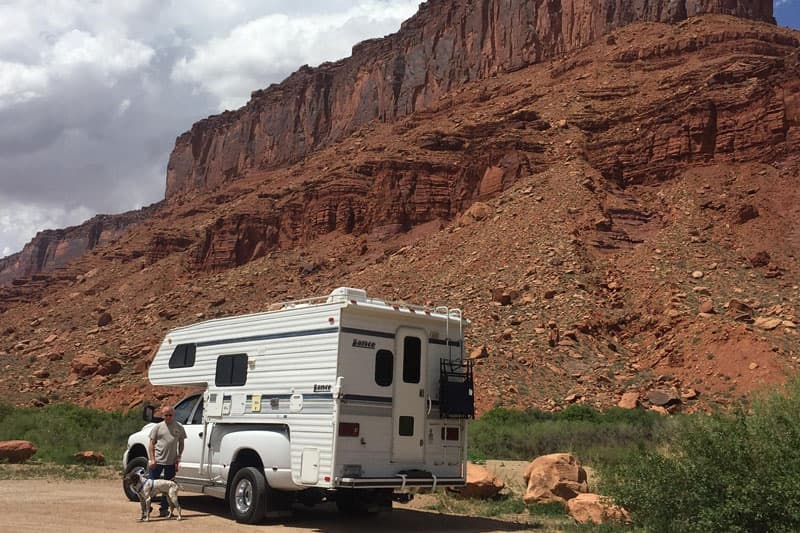 This picture was taken three days into my 68 day, 10,350 mile road trip that I mostly did by myself with my dog.  My husband was with me for the first two weeks.  We were leaving Moab and took the scenic road rather than the interstate.  This was the first stop along the way.  My road trip was a dream come true for me.  My plan was to visit the twelve remaining states to complete all fifty in my lifetime, which I completed.
Steve and Jen House
Valles Caldera, Jemez Mountains, New Mexico
2015 Ram 3500
2016 Eagle Cap 1200
Camera Used – Cell Phone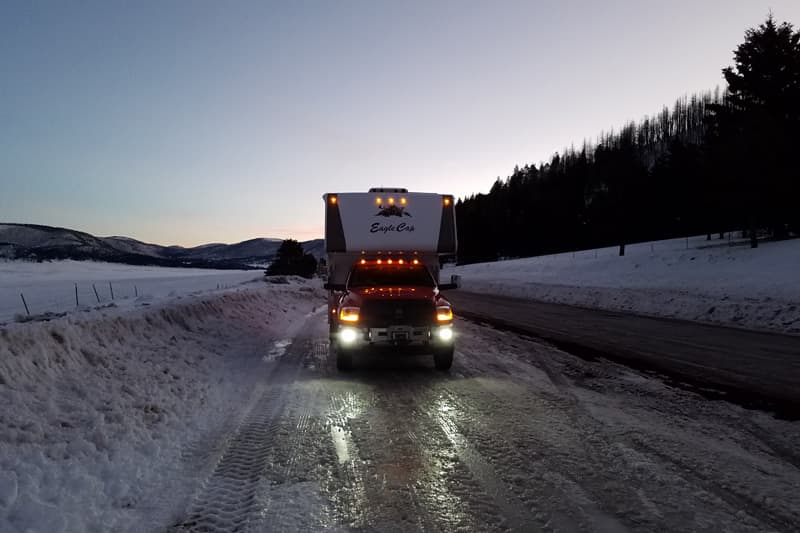 This was after an early morning winter sunrise and taking wildlife photos.  It was 2-degrees that January morning.
Manon Mireault
Vermillion Cliffs south of the Navajo Bridge, Arizona
2016 Ram 3500
2012 Arctic Fox 990
Camera Used – Nikon P100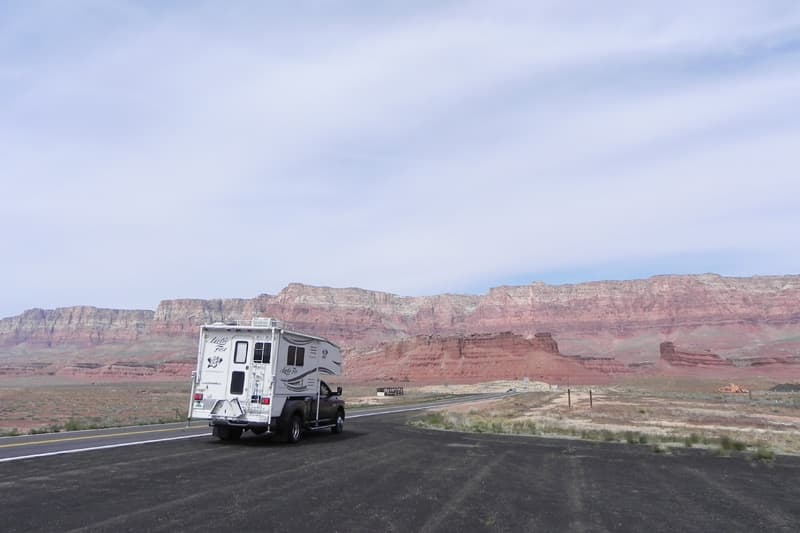 It was our first trip after my husband retired in January.  We decided to see the American Southwest and the wonderful landscapes of New Mexico, Arizona, and Utah.  I was stunned by the beauty of the pink cliffs, the wideness, wilderness and the impression of being so small and out of time.  We stopped to hear the silence and enjoy the moment.
Donald Thompson
Magdalene Islands, Quebec
2016 Ford F250
2010 Travel Lite 890 SBRX
Camera Used – Samsung S6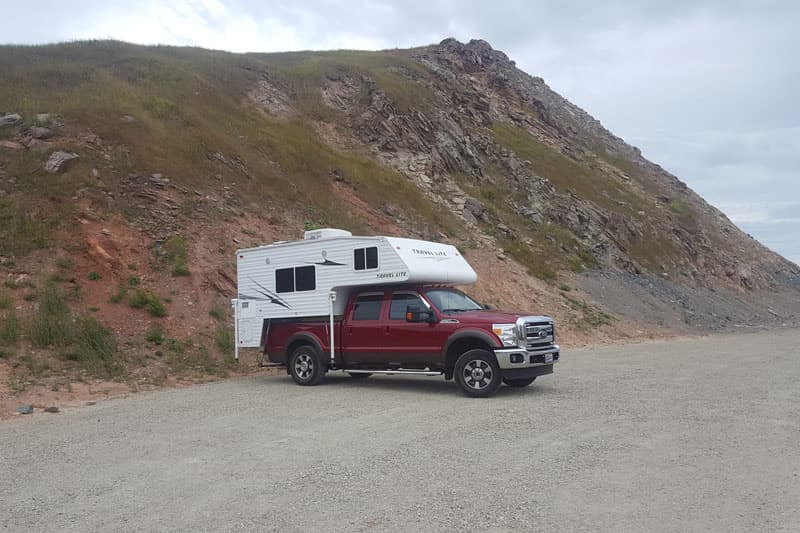 My wife, Heather, and I live on Prince Edward Island and decided to take the ferry from P.E.I. to the Maggies for a short holiday.  The landscape was very interesting, and not just a big sandbar.  We climbed any small mountains (big hills) that had a path.  It was a great place for a relaxing holiday.
Shawn McMillian
Mountain View turn out, Grand Teton Nation Park, Wyoming
2016 Ford F250
2009 Pastime 800FDS
Camera Used – Nikon D90
This photo was taken from our favorite turn out on the Teton Park road.  We always stop and just stare at the mountains for a half hour.  You just can't help it!  Two years in a row we have arrived to find the air perfect, the sky blue, and the turn out deserted.  Maybe one of these years we will arrive early in the morning to watch the sunrise.
Sarah Lyon
Dixie National Forest, Utah
1997 Ford F250
2004 Lance 1030
Camera Used – iPhone 6s Plus
After a long day of visiting Bryce and Zion National Parks, we were looking for somewhere to spend the night.  When road tripping, we never make reservations, preferring to play it by ear and follow our own interests and whims.
We ended up in the mountains of the Dixie National Forest and pulled into a small roadside campground.  We were the only people there for several hours until an RV with a family from Germany arrived.  We all got to know each other around a campfire that night and enjoyed some beers, laughs and the camaraderie of fellow travelers.  It was a wonderful night – the kind you can only experience while camping.
Ashleigh Parker
Winter Park, Colorado
2015 Ford F250
2014 Palomino HS-6601
Camera Used – iPhone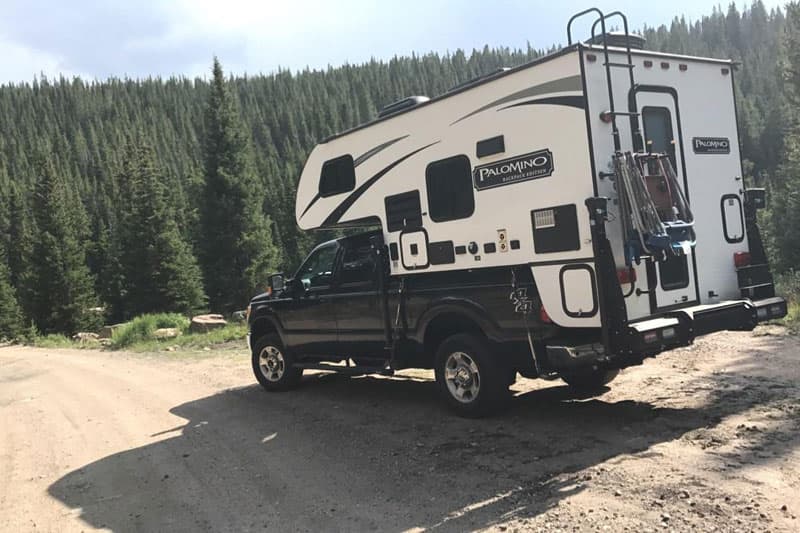 We decided to drive up the old Moffat Tunnel Trail near Winter Park ski area.  I was having a good time, but everyone else was a bit worried.  My granddaughter, Ashley, got out and took this picture.
Tom Warren
Lake Louise, Alaska
2013 Ram 3500
2013 Eagle Cap 1160
Camera Used – iPhone 7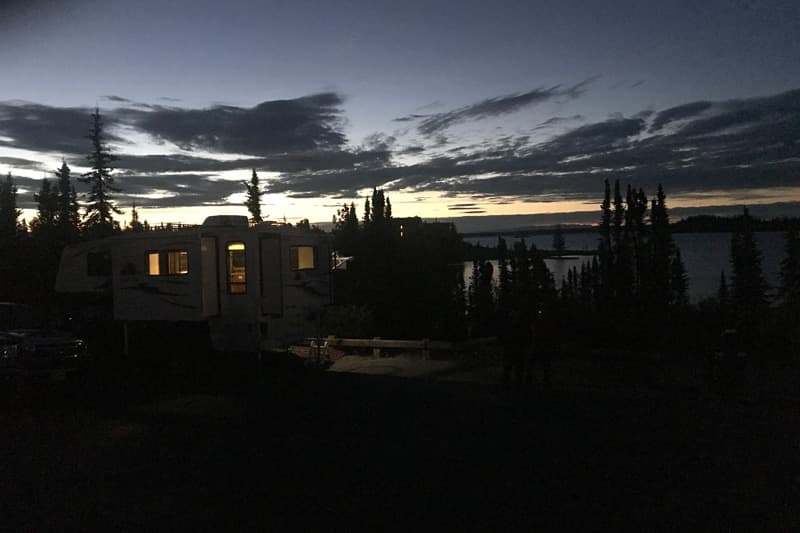 My brother came up to Alaska from Northern Michigan for a fishing visit.  We spent a week in a state forest campground on Lake Louise, about 180 miles north of Anchorage.  The weather the entire week was outstanding.  This picture was an evening sunset as we were relaxing at the camper with tasty Alaskan Brewing Company Glacier Bay IPAs.  We could not resist in trying to capture the moment and of course my focus was the Eagle Cap for an entry for the calendar contest.
Ron and Kristen Zerbst
Keweenaw Peninsula, Upper Michigan
2002 Chevrolet Silverado
1989 Valor Dakota
Camera Used – Go Pro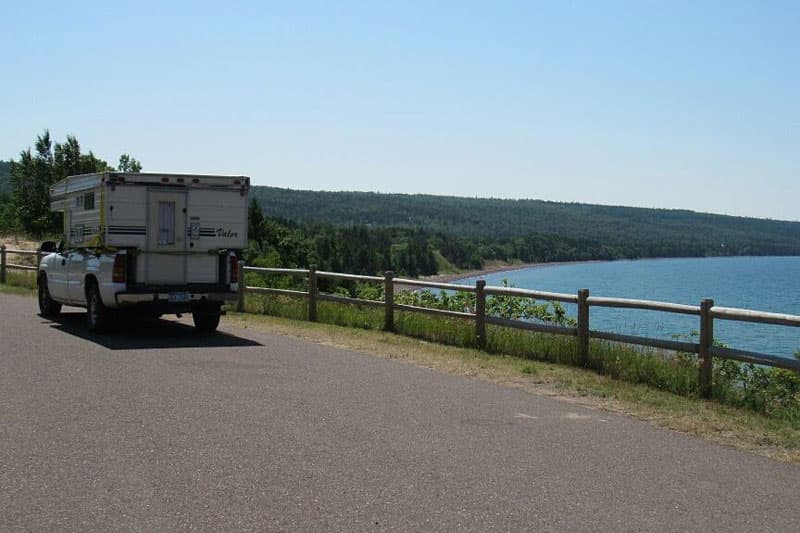 This picture was taken after a great overnight camp in Copper Harbor, Michigan.  We were heading back south on M26 and we were talking about all the spots we thought would be great for an overnight boondock spot.  There are miles of country roads with beautiful beaches.  This picture is our pick for our favorite spot with an amazing overlook outside the small town of Eagle Harbor, Michigan.  Just beautiful!
Sam and Lisa Pounds
Dirt road near Navajo Reservation, Utah
2017 Ford F350
2018 Arctic Fox 990
Camera Used – Nikon AWS 120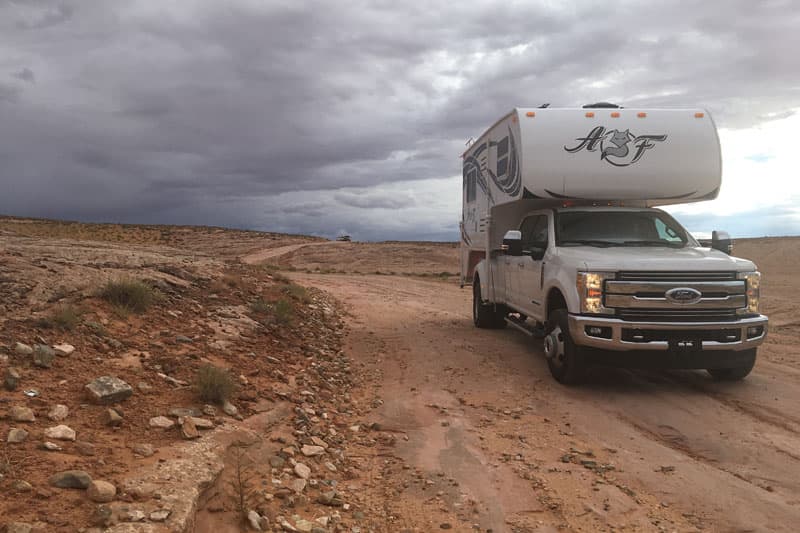 We were traveling to southern Utah and were stopped by a DOT employee and told there was an accident ahead and the wait would be three to four hours.  We promptly turned around and followed the local drivers down an old dirt road that eventually came out on the other side of the accident which allowed us to get on our way.
Wes Morrison
Big Bend National Park, Texas
2010 Chevy 3500
2005 Lance 981
Camera Used – Galaxy S6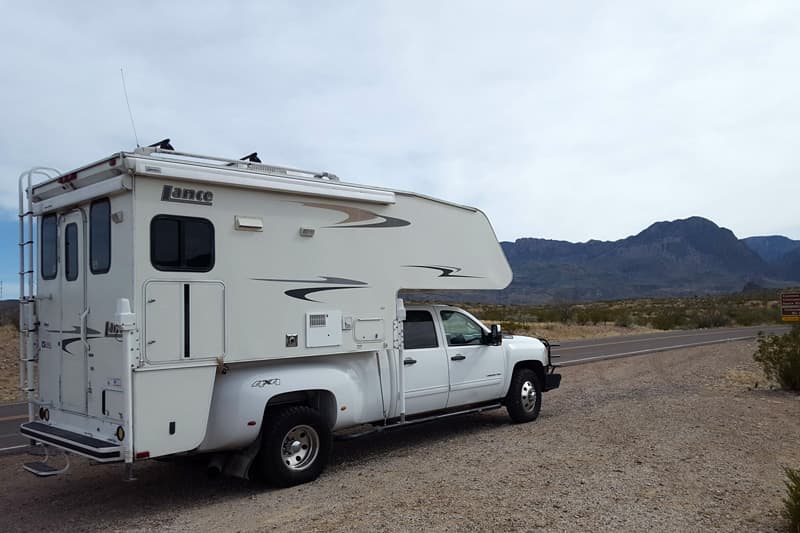 We stayed four days in Big Bend National Park.  Amazing views!  We could see for 50 miles.  We put off making the trip for years before finally doing it.  We wish we would have gone much sooner.
David and Teresa Pabor
Antelope Island State Park, Utah
2015 Ford F350
2017 Arctic Fox 1150
Camera Used – iPhone 6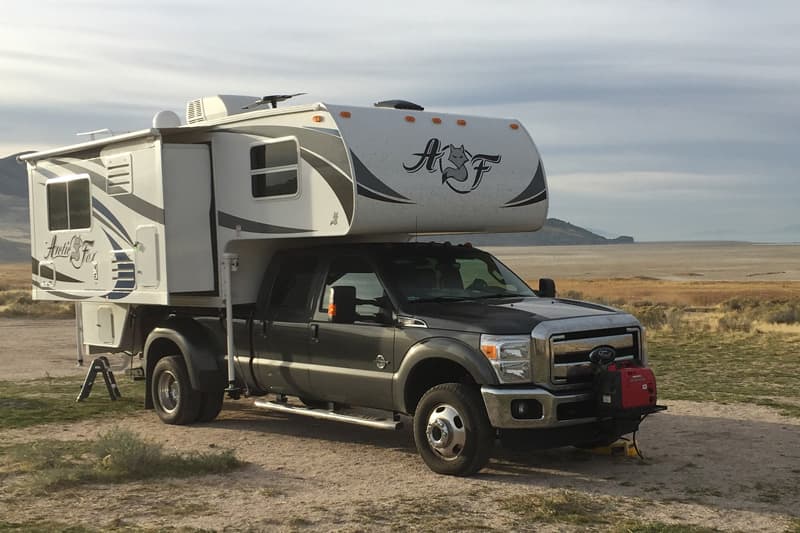 I asked my wife to pick an easy place to pull off the Interstate traveling south from Idaho into Utah.  It took quite awhile to get to this spot since it was pitch black when we left the hard road.  The campgrounds at Antelope State Park are not well developed or anywhere near hard pavement.  We were lucky to find this spot in the darkness.  We had no idea we would wake up to a view of The Great Salt Lake.  What a nice surprise!
Jeff Earl
Mammoth Lakes, California
2007 Ford F350
2003 Fleetwood Elkhorn 11J
Camera Used – iPhone 6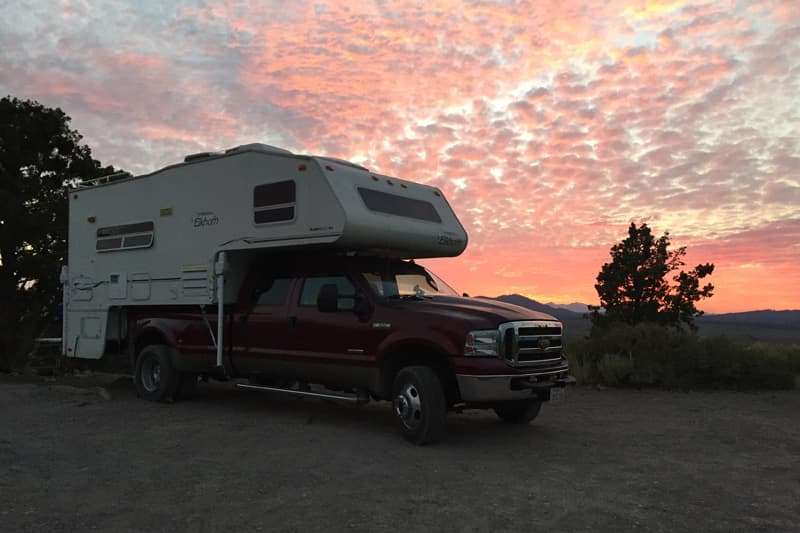 After a day of hiking, we hit the hot springs, made dinner, and watched one of the most beautiful sunsets we've ever seen.  Mammoth Mountain is in the background.  This was one of the first trips where we dry camped the entire time.  Getting away from crowds and exploring the path less traveled is why we love the truck camper.
To participate in the 2018 Truck Camper Magazine Calendar Contest and be considered for a Behind the Shot feature, click here.  To see the photos entered in the contest so far, click here.