For Behind the Shot Part 5, we are featuring photos and stories from Portsmouth Island, Inuvik, Five Springs Falls Campground, Prince Edward Island National Park, Lake Havasu City, Mono Lake, Picacho Peak State Park, Recompence Shore Campground, Teanaway, Coronado National Forest, Knob Lake, Assateague Island, Lake Powell, Sprague, and Gifford Pinchot National Forest.
To submit a photo into the 2018 Truck Camper Magazine Calendar Contest and be considered for a Behind the Shot feature, click here.
Corey Barnett
Portsmouth Island, North Carolina
2014 Ram 3500
1976 Coachmen
Camera Used – iPhone 7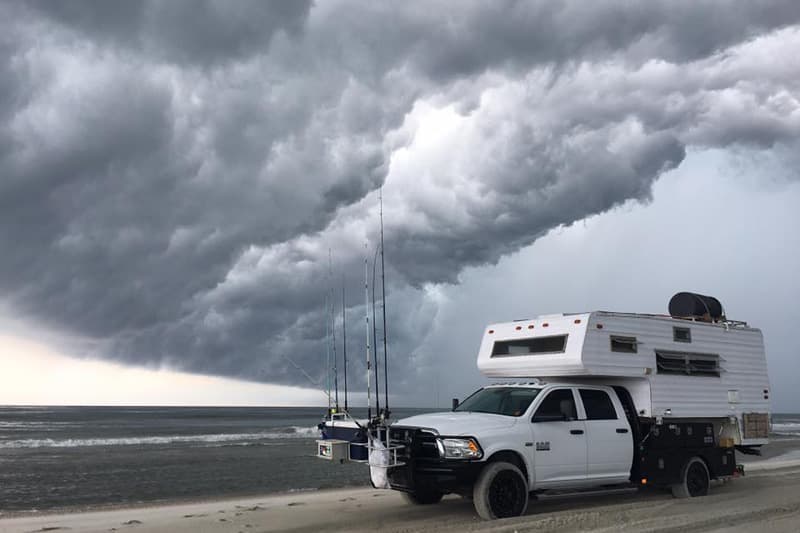 "We had been camping at Portsmouth Island for three nights in 100-percent humidity, no air conditioning, no wind at night, and a really hot camper.  We had battled giant mosquitoes, big gnats, and biting green flies the entire trip.
We drove through 10-inches of marsh water for half a mile to get to the village and hiked all of it while constantly swatting all kinds of biting flies.  We hiked a mile long trail that was full of more biting flies than we had ever seen.  Finally, we ran through hundreds of giant Japanese hornets buzzing on a trail and got lost trying to frantically get back to our camper.
After four days of pure hell, we were waiting for the ferry back to the mainland and this insane storm blows in.  It blew away tents on the beach.  That's when I captured this photo.
Then we got a call from the ferry saying that we were late and would be stranded on the island for another day if we didn't get back within ten minutes.  We booked it down the island to the ferry as fast as possible to get away from this death trap of an island."
Zeb Farmer
Inuvik, Northwest Territories, Canada
2005 Ford F350
1979 Alaskan Camper
Camera: iPhone 6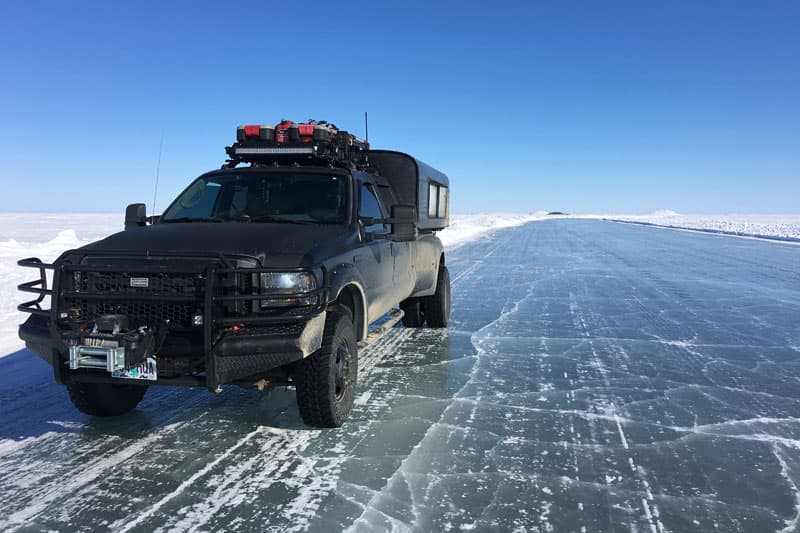 "We bought the camper at the end of January.  It was in poor condition.  We spent the following eight weeks rehabilitating it (down to the studs in some areas).  Then, on April 1st, we headed to the Arctic to drive the Dempster Highway and the ice road between Invuvik and Tuktoyaktuk in the Northwest Territories.
This was the last year they are going to maintain the ice road, as the finally completed a land bridge.  So, it was either do it by the end of April or take that one off the bucket list."
Grete Stageberg
Lake Havasu City, Arizona
1996 Ford F250
2002 Bigfoot 25C8.11
Camera: iPhone 7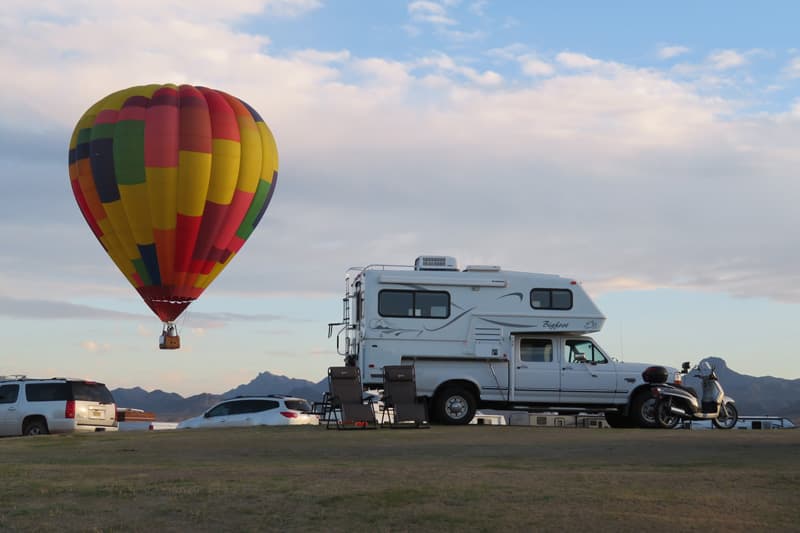 "My husband and I both retired on the same day.  We hit the road in our truck camper four days later to explore Washington, Oregon, California, Nevada, Arizona, New Mexico, and Texas.  Our entire trip was 2½ months long and was our first, but definitely not our last, extended road trip in our camper.
While on the road we learned of the Havasu Balloon Festival and Fair in Lake Havasu City, Arizona.  We made a reservation to dry camp at the festival site so that we could take in all the festivities.
Our site was at an unused golf course that they had opened up to RV parking for the festival.  When we arrived, the area's host was thrilled because she saw our truck camper.  She had a premier site for us since our rig was so small.  Much to our surprise and delight, she directed us up to an old putting green up a small hill, where we had a commanding view of both the lake and the festival venue.
As we were setting up our camp site, one of the neighboring Class A motorhome owners – who had arrived before us – mentioned the host said they couldn't park on the green, and they were curious why we were able to.  Well, let's just put it this way, the host said no large RVs on the green, just small rigs like ours.  Needless to say, we were especially thrilled to have a truck camper that weekend.
The winds were rather unpredictable during the festival.  As hot air balloons floated overhead all around us we began running across the field toward our camper to watch the balloons dip and run on the lake.  What a surprise it was to get such a perfect photo while running across the field."
Tim and Connie Murnin
Five Springs Falls Campground, Wyoming
2002 Ford F250
2002 Lance Lite 815
Camera: iPhone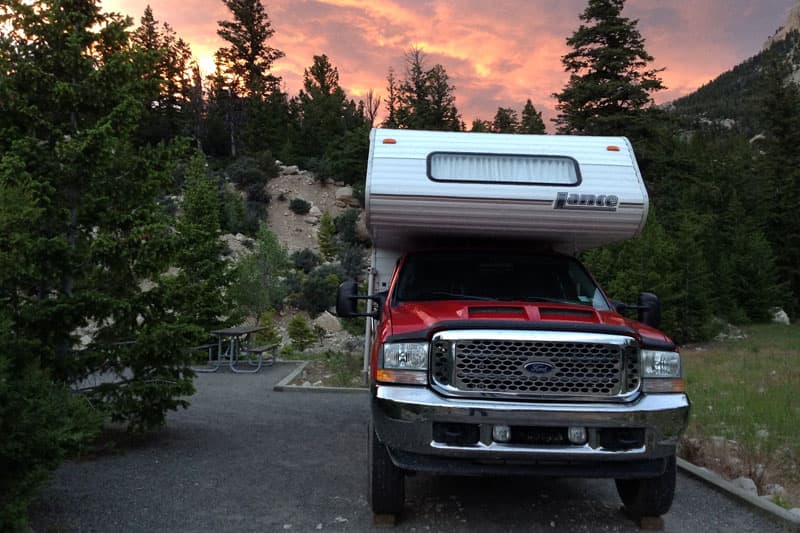 "We had just come down over the Bighorn Mountains and were looking for a place to camp.  We saw a sign for camping just three miles off the road.  Little did we know that we would be driving switchbacks back up the side of a mountain!  Luckily we didn't meet anyone coming down.
Once we got to the upper campground, we realized that the ride back up the mountain was well worth it.  The view at Five Springs Falls campground went on as far as the eye could see and the sunsets were beautiful!  There was no one else there.  We've been back a couple times since then, and were able to finally snap the picture as we were treated to the sunset."
Gary Goyette
Prince Edward Island National Park, Canada
2016 GMC Sierra 3500HD
2012 NorthernLite 8-11 SE
Camera: Olympus TG-860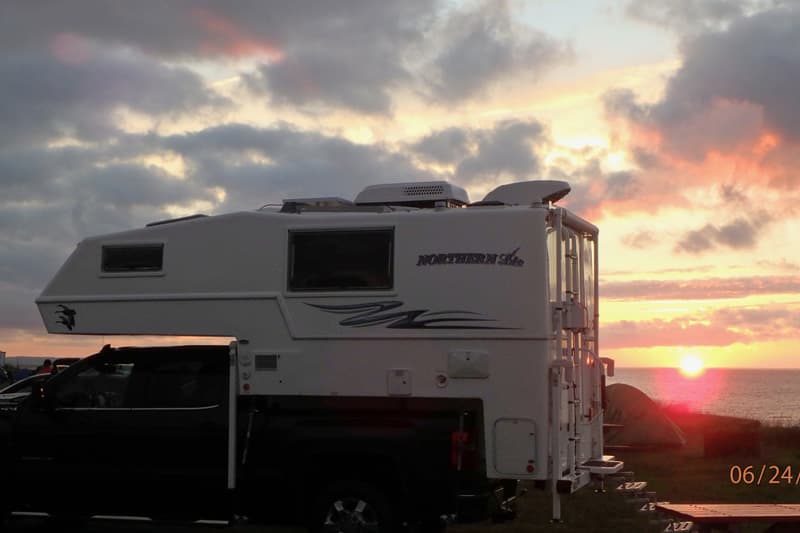 "This photo was taken at sunset at the Prince Edward Island Cavendish campground.  We spent five days here on a cliff overlooking the beach.
Our trip was four weeks traveling up to east coast of Maine, New Brunswick, Nova Scotia, Prince Edward Island, and the Gaspé, Quebec.  Our favorite was Prince Edward Island.  Without really planing this trip, we discovered all national parks in Canada are free this year for Canada's 150 year anniversary."
Mark Turpin
Mono Lake, California
2015 Toyota Tacoma
2015 Four Wheel Camper Fleet
Camera: iPhone 6+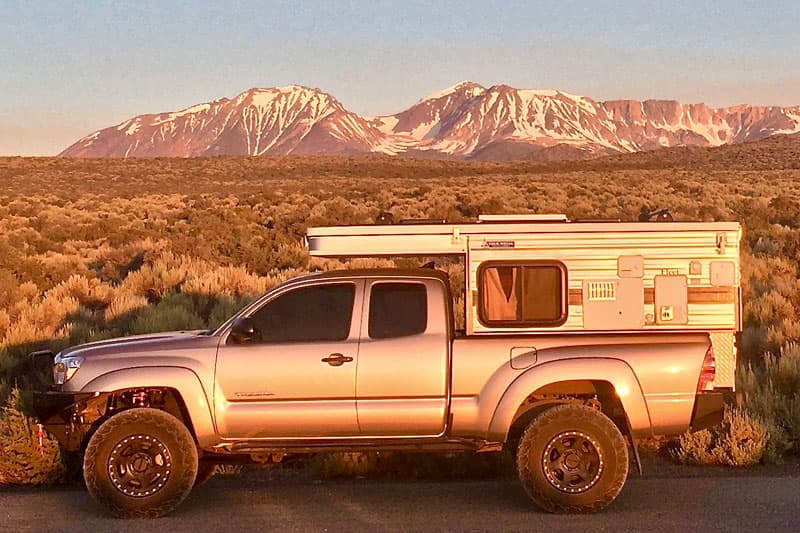 "This shot is looking west toward Tioga Pass from the desert around Mono Lake.  We always camp here when we're climbing in Tuolumne Meadows or in the Eastern Sierra along Highway 395.  It's usually just us, the enormous lake, and the sun coming up in the morning over the desert."
Tony Polvino
Picacho Peak State Park, Arizona
2016 Ford F150
2015 Travel Lite 770R
Camera: Samsung Galaxy Smartphone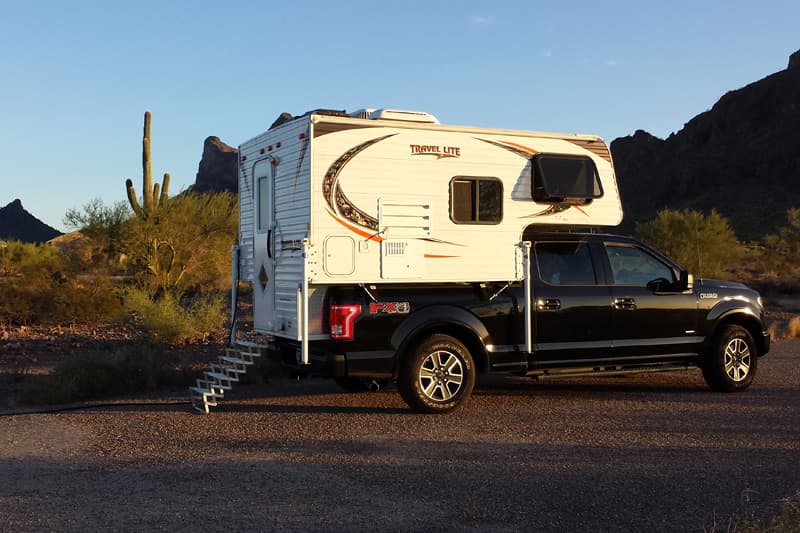 "This photo was taken in the early morning at Picacho Peak State Park, Arizona.  We were on the rebound of our cross country trip in November.  It was a great stop for a day as we inched our way back from California to our home in Pennsylvania.  This beautiful park is located off of route I-10 just southeast of Phoenix."
Bruce Tinkler
Recompence Shore Campground at Wolfe's Neck Farm, Freeport, Maine
2013 Ford F350
2013 Lance 1181
Camera: iPhone 6s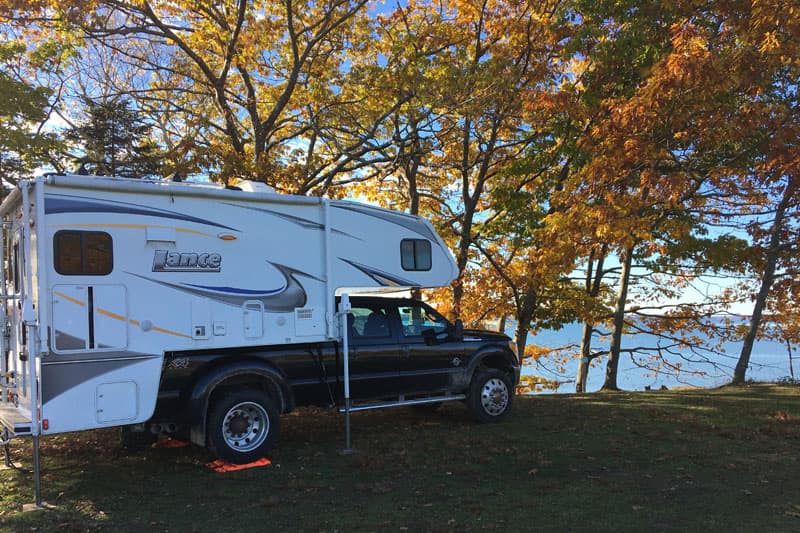 "This is the first place I actually met and got to know truck campers.  Recompence Shore Campground in Freeport, Maine was one of the places the North-East Truck Camping Jamboree had their gatherings.
At the rally, we were welcomed as outsiders, and not yet truck camper owners.  We were invited into campers which were lived in; not shiny new on a show room floor.  We got to know people who have become our friends.  We were invited to share a meal with the group.
Since then, they have moved on from this place, but my wife and I continue to go back.  It is wonderful because you can go at any time of year leaving payment at the office in an envelope when you arrive.  We go in November because that is when the Jamboree met there.  Maine is wonderful for camping in November.  The crowds are gone, and it is peaceful.  This photo is from our trip last fall."
Rick Stolz
Teanaway, Washington
1997 Ford F250
2002 Four Wheel Grandby
Camera: Kodak Easy Share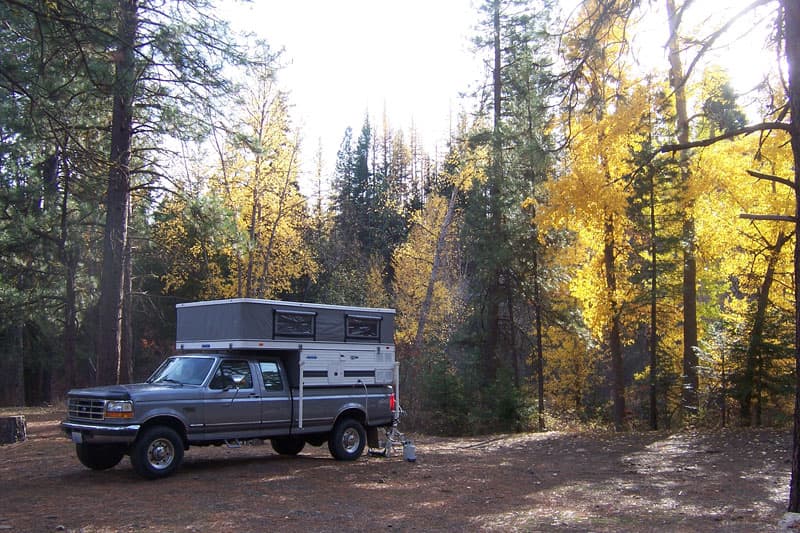 "I decided to take a week off and do some camping in October to see some of the fall colors.  My dog and I packed up the camper and headed east out of Seattle to the Teanaway, Washington area.
I found a nice spot along the Teanaway river.  There were wonderful fall temperatures in the mid-60s during the day and the low 30s at night.  I have lots of memories around fall and hunting with my dad.  I really enjoyed the peace and quiet of the camper and having a warm place to sleep at night."
Terrill Graham
Coronado National Forest, Arizona
2016 Toyota Tacoma
2015 Four Wheel Swift
Camera: Canon T5i Rebel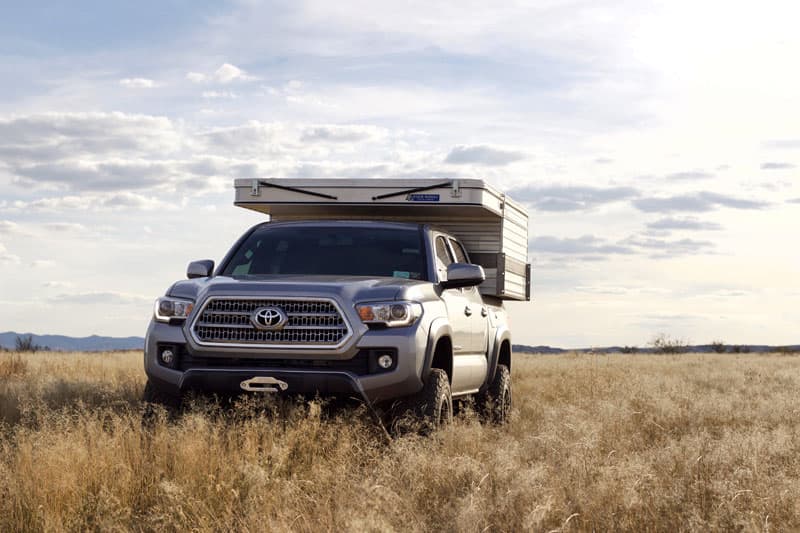 "While attending a military training event for the US Army, we decided to pull over and walk (ruck) a few miles to the range area.  After taking a few steps I decided to look back and make sure the lights on the truck went off.  What I saw took my breath away and I understood the love between man and truck."
Tom Warren
Knob Lake, Alaska
2013 Ram 3500
2013 Eagle Cap 1160
Camera: iPhone 7s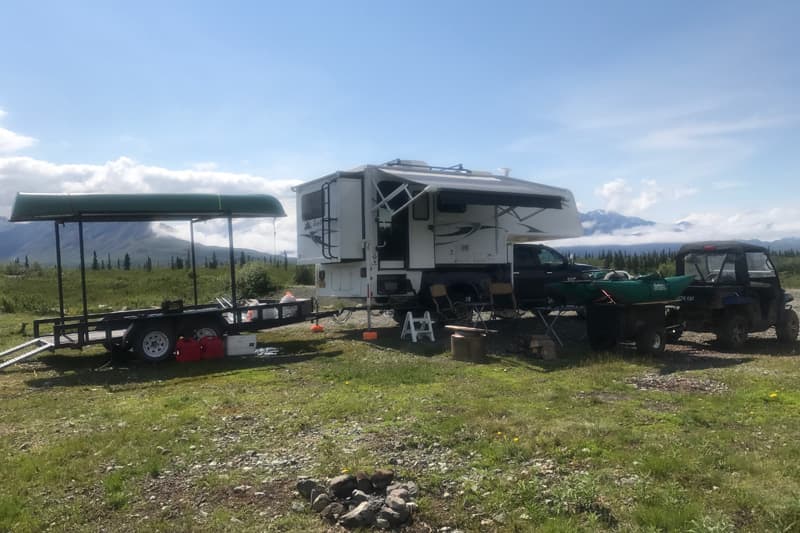 "This was a photo shot during our recent 4th of July six day camping weekend when the sun finally made an appearance.  The rain was constant from Saturday until Monday. This is one of many of the places we like to camp as there are trails for ATV/UTV riding and many lakes for rainbow trout and arctic grayling fishing.
This location can get a bit crowded because it is a great spot for traveling tourists to overnight along the Glenn Highway in Alaska.  This is a free boondocking spot which is also a great blueberry picking location later in the fall.  It also sees many hunters in September."
Chuck and Jodie Ramsey
Assateague Island National Seashore, Maryland
2012 Chevy Silverado
2014 Adventurer 116DS
Camera: Olympus Stylus SP-100EE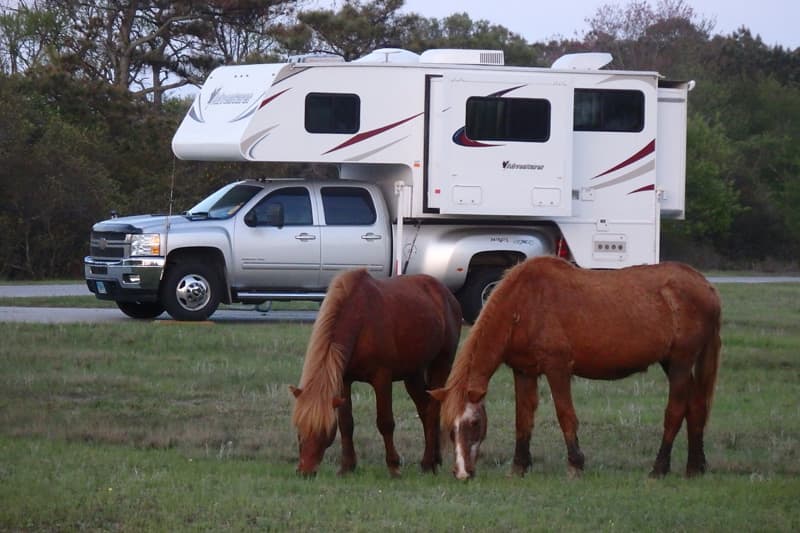 "We were heading out for an evening walk during our visit to Assateague Island National Seashore Campground and noticed several people gathering near our truck camper.  We turned around to see what the people were looking at; low and behold, there were two wild horses grazing next to our rig."
Sarah Bosick
Lone Rock, Lake Powell, Utah
2016 Ford F-150
2010 Hallmark Guanella
Camera: LG phone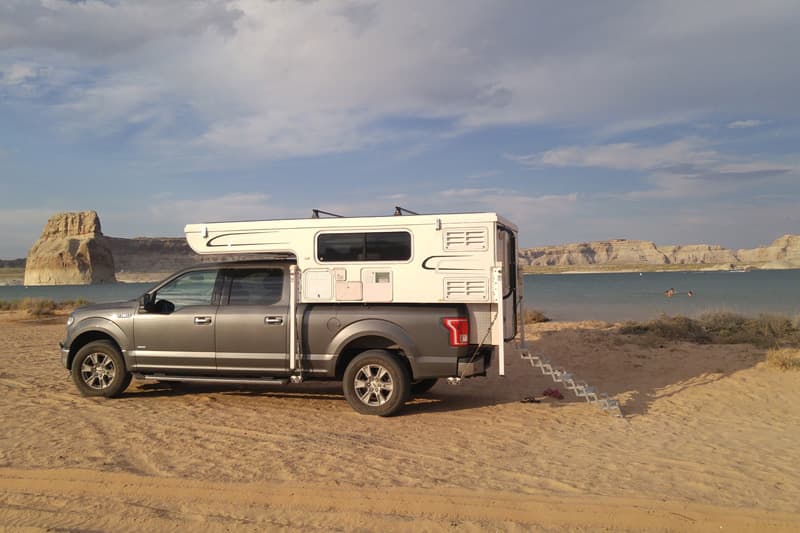 "Our family of five just finished a tour of Antelope Canyon when we found Lone Rock.  It was the perfect place to relax and cool down.  The kids spent hours swimming in the lake."
Amy Langdale
Sprague, Washington
2003 Silverado 2500
2001 Hallmark Ute
Camera: iPhone 7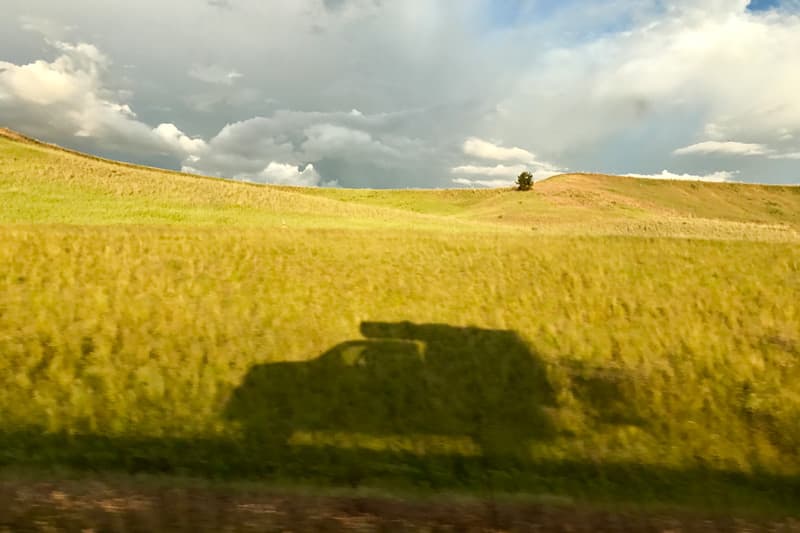 "My family was on the way from Southern California to Banff, Canada. We were driving through Washington state during the "Golden Hour" and I was fortunate enough to see our campers shadow on the beautiful prairie grass surrounding us!"
Peter Hampl
Gifford Pinchot National Forest, Forest Road #23, Mt. Adams, Washington
2010 Ford F150
2017 Northstar TC650
Camera Used – iPad
"We were driving from Takhlakh Lake Campground to Trout Lake, Washington on Forest Road #23 in the mid morning.  We came around a corner and there she was in all her glory at 12,281 feet, Mt. Adams."
To participate in the 2018 Truck Camper Magazine Calendar Contest and be considered for a Behind the Shot feature, click here.  To see the photos entered in the 2018 Calendar Contest so far, click here.