For Behind the Shot Part 12, we are featuring photos and stories from Monument Rocks, Yosemite National Park, Buffalo Gap Grasslands, and many more!
There are less than two weeks left to enter the contest! To participate in the 2018 Truck Camper Magazine Calendar Contest and be considered for a Behind the Shot feature, click here.
Piet Jan van der Bas
A838 Canisbay Loch Eriboll, Scotland
1997 Landrover Defender 110 HCPU
1994 Shadow Cruiser 700
Camera Used – Sony Cybershot DSC-HX5
I was on the road around Loch Eriboll in beautiful weather.  The next day I had beautiful weather near Kylesku, Scotland.
Joe O'Brien
Badlands overlook at Buffalo Gap Grasslands, South Dakota
2001 Dodge Ram 2500
2003 Northstar Laredo
Camera Used – Kodak Z812IS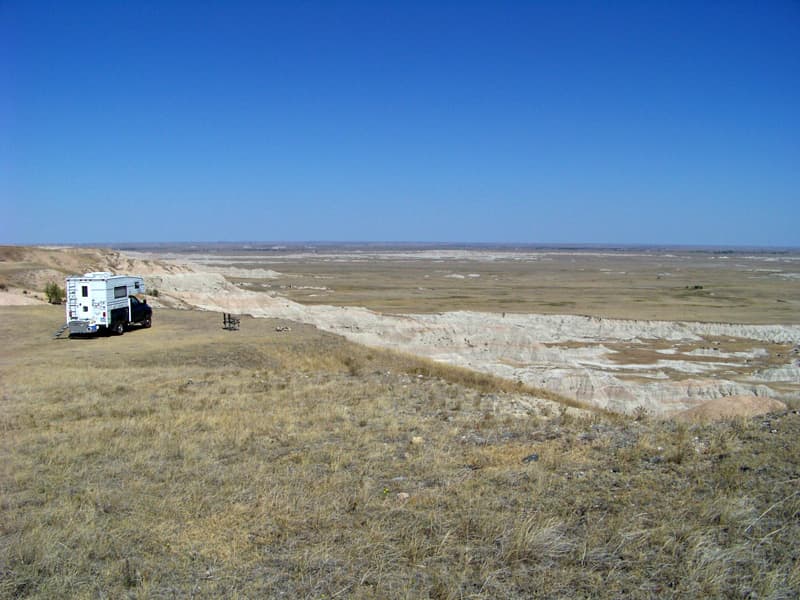 On our way to Yellowstone we discovered free camping in Buffalo Gap Grasslands, South Dakota.  We dry camped with an overlook of the beautiful, other world landscape of the Badlands for three days.  It was the best stay ever.  There were a few other campers and plenty of room.  No one was within a half mile of our camp.
Larry Routt
Monument Rocks, Kansas
2005 Ford F-350
2004 Lance 820
Camera Used – Nikon 5000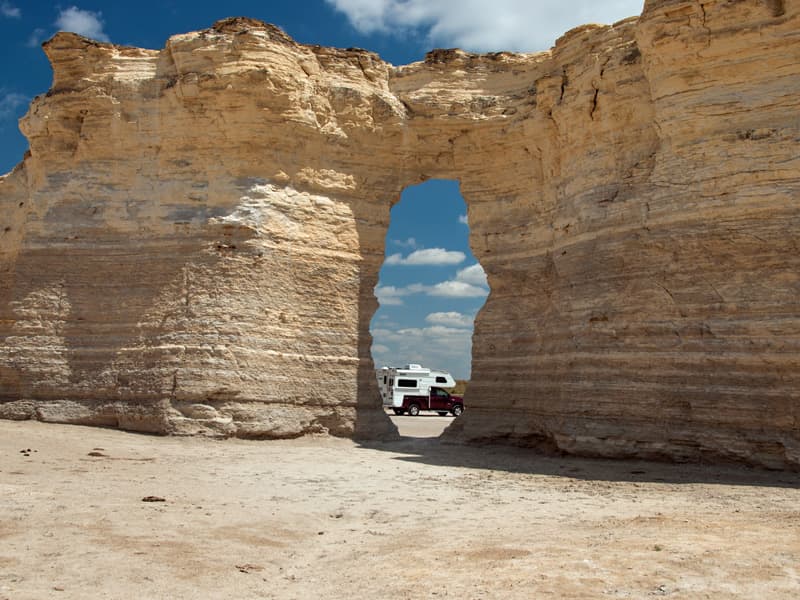 In the 13 years we have had our truck camper we have crossed the country several times and always avoided going through Kansas.  This year we decided to fill in the blank spot on our map, gritted our teeth, and went into the Kansas prairie.  Boy, were we surprised!
We enjoyed the Tall Grass National Preserve, Mushroom Rock State Park (the state's smallest park at only five acres) and finally, the coup de grace, Monument Rocks in west central Kansas.
The monuments and arches are on private property, but the owners allow access to the area.  There are even signs pointing the way.  It is otherworldly to drive through the prairie and then come upon this scene.  When I show the pictures to others, the response is always an incredulous, "This is in Kansas?!".
Bill Sunbury
Muley Point, Utah
2013 Chevrolet Silverado
1998 Shadow Cruiser
Camera Used – Phone
We were ending the last of our three month camping tour and starting to head home when we decided to go back to Muley Point to boondock one last night in paradise.  We have camped there a couple of times before and after driving Moki Dugway.  Beautiful place!
John Palmieri
Taylor Pass with Mt Conundrum in the background, Aspen, Colorado
2005 Chevy Silverado 2500HD
2014 Palomino HS-8801
Camera Used – iPhone 6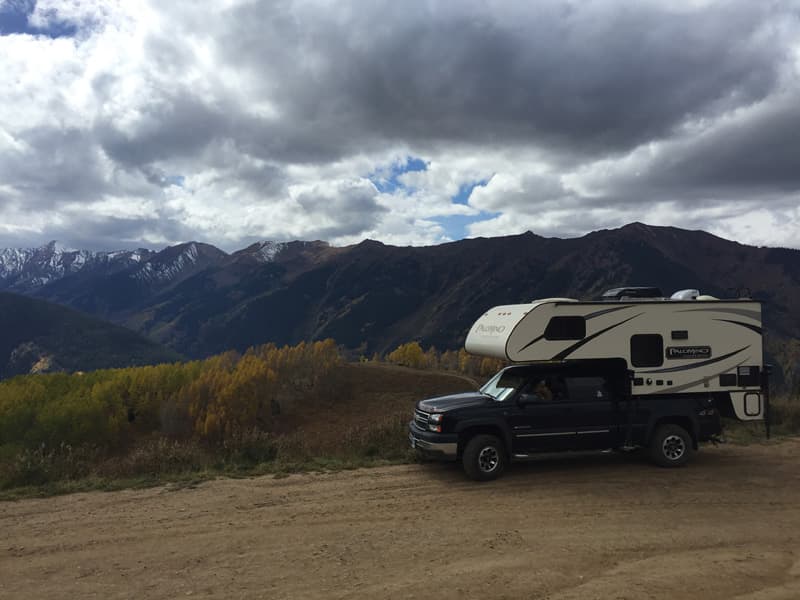 My wife and I started truck camping last year.  We are both U.S. Army Veterans.  This picture is in front of Ashcroft townsite in Aspen, Colorado, in front of Mt Conundrum.  We boondocked on the beginning of Taylor Pass.
Steve Henry Herman
Off Richardson Highway, approaching Gulkana Glacier, Alaska
2016 Ram 2500
2003 Northern Lite Classic
Camera Used – Sony Cybershot DSC-HX60V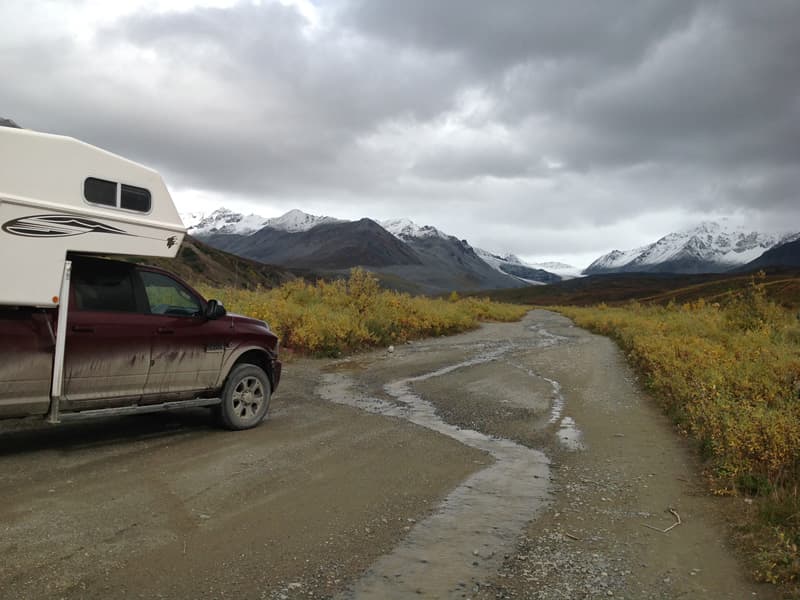 One of the high points of our 12-week long, 13,400 mile trip from North Carolina to Alaska and back were the days spent on the 130-mile long unpaved, pot-holed Denali Highway.  This road and some rainy weather is responsible for the messy appearance of our rig.  We followed a side road of the Richardson Highway that ran directly toward the beautiful Gulkana Glacier.  The road runs for several miles through a wide, flat plain that, in mid-August, was covered with bright red and yellow wildflowers.
Mark Larson
Highway 1, between Palmer and Glenallen, Alaska
2017 Ram 3500
2016 Arctic Fox 811
Camera Used – Samsung Galaxy 8+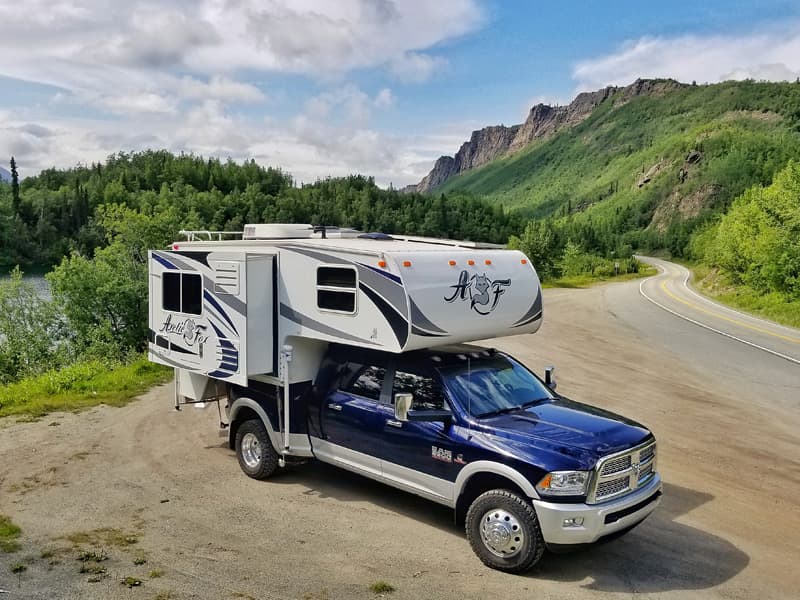 This is on Highway 1, between Palmer and Glennallen, Alaska.  We had stopped to make lunch, eat, and take a short nap.
Peter Mason
Malheur National Forest, near John Day, Oregon
2013 Ford F150
2010 Four Wheel Hawk
Camera Used – Nikon D810 14mm lens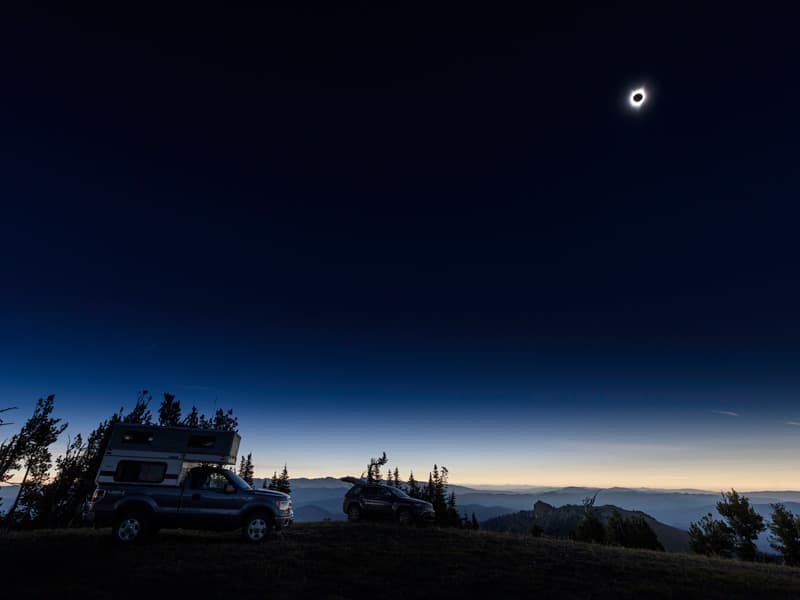 I was looking for a suitable viewing location in the path of totality, so I drove up a logging road looking for a spot to boondock.  All of the first come, first serve campsites were already taken.  I stopped at the first pull-out and spent the night.
The next morning I proceeded up the road passing numerous other campers.  Fourteen miles in, the last quarter-mile required four-wheel drive low.  Finally, at the summit of Vinegar Hill, I was the second person to make camp.  The summit was at 8,017-feet and had a great view.  For the next four days, we waited as a few more hearty campers arrived.  Finally on August 21, 2017 at 10:23am the black sun appeared, and then the corona appeared. It was a magical two minutes.
Matthias Haenisch
Lastours, France
2017 Toyota Hilux
2011 Four Wheel Camper Wildcat
Camera Used – Sony A7R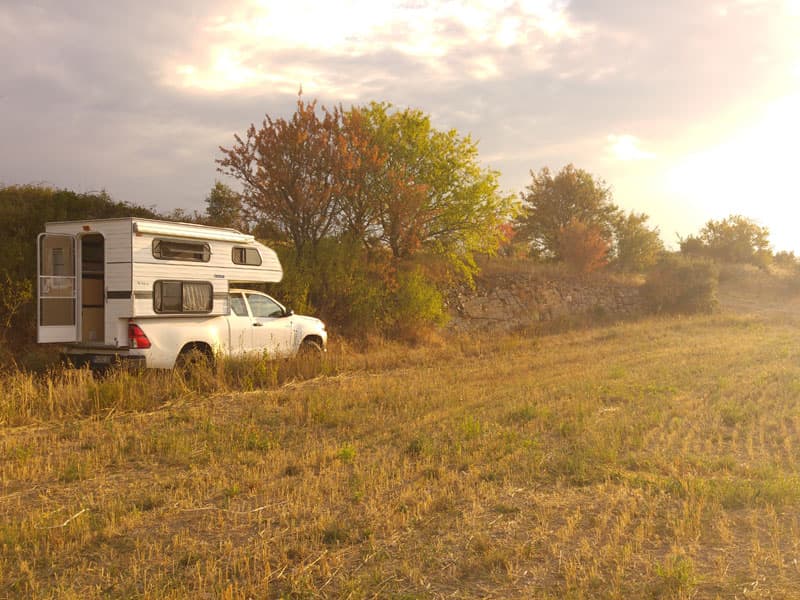 Morning sun after a very peaceful night near the vineyards of southern France.
Alice Tyser
Collegiate Peaks Campground, Colorado
2008 Dodge Ram
2013 Adventurer
Camera Used – Panasonic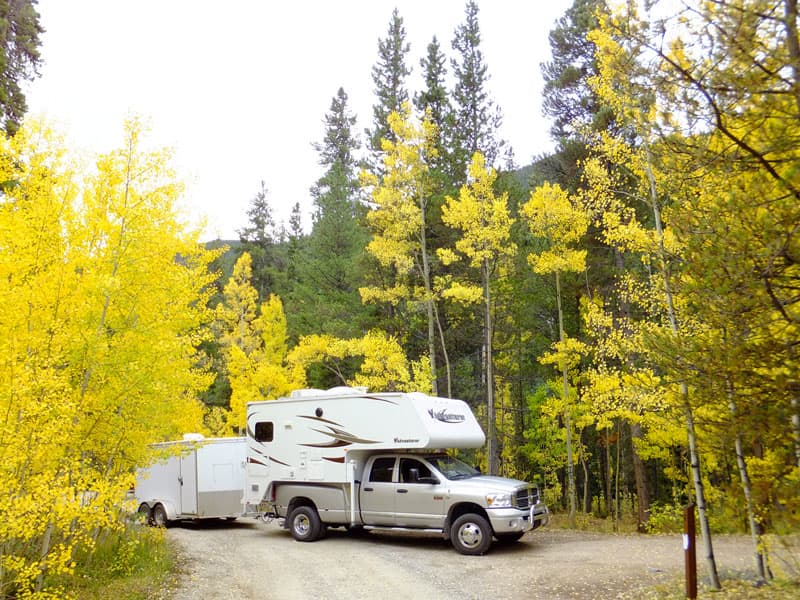 We were camping at Collegiate Peaks Campground and snapped this photo when the Aspens were at their peak.
Ralph Pilkington
Cypress Hills, Sasketchewan
1997 Ford F350
1999 Lance 1030
Camera Used – iPhone 4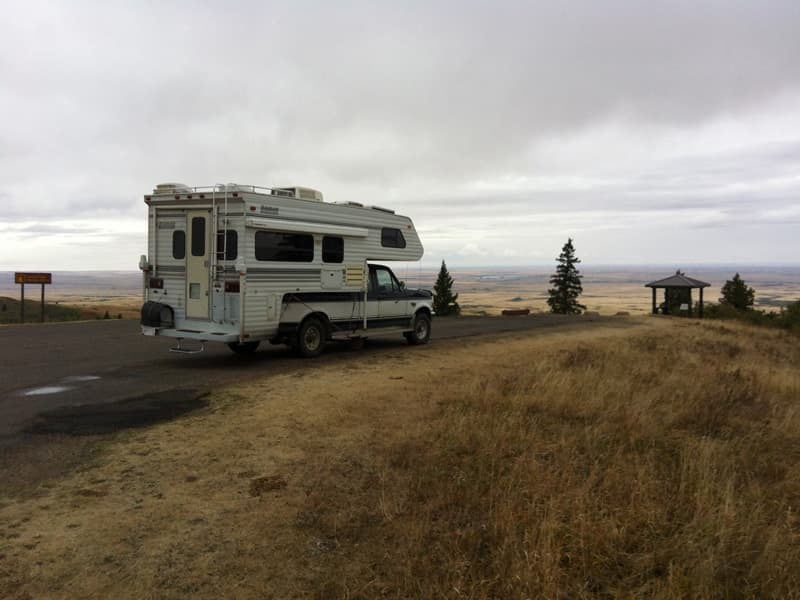 We were waiting for the season's last star gazing presentation with the park's 95 power telescope, so we decided to take in the sights.  This is southern Saskatchewan from 3,500+ feet, taken in the afternoon in their Dark Sky Preserve.
Pat and Phil McEachen
Yosemite Falls, Yosemite National Park, California
2000 Ford F350
2008 Okanagan
Camera Used – iPhone 5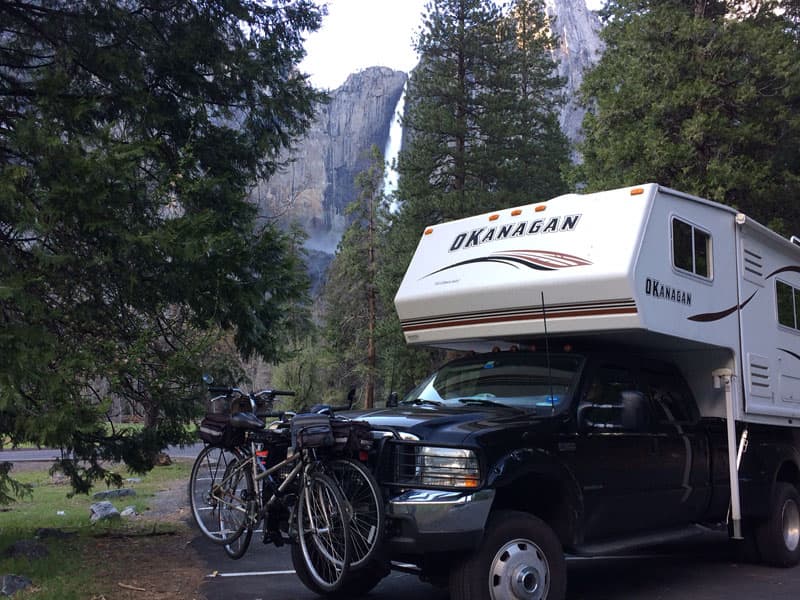 We spent the spring of 2017 traveling through California and the Pacific Northwest.  Wherever we went, the rivers and waterfalls were spectacular due to the high spring run off.  Our first trip to Yosemite left us awestruck.  The Merced River was teeming with water.  This picture shows our camper with Yosemite Falls in the background.  This was a trip we will never forget!
Wayne Page
Monument Rocks, Kansas
2016 Nissan Titan XD
2007 Four Wheel Camper Hawk
Camera Used – Canon 6d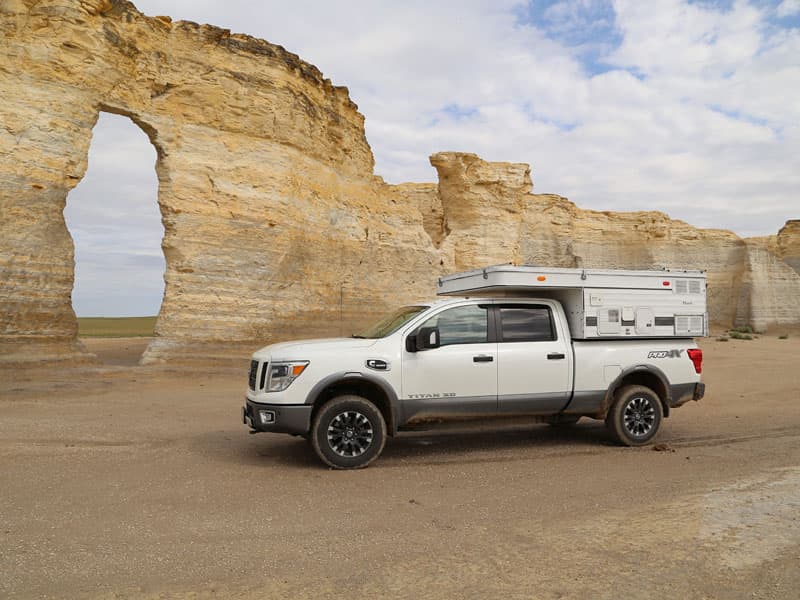 I had stopped my Monument Rocks several years ago when heading out to see the last Indian battle site in Kansas near Scott City with my F150.  This June my son and I stopped by again on the way out to Denver to meet some friends flying in from Germany.  It had just rained earlier in the day and the dirt roads were slick.
With a high crown and deep ditches in some spots, I feared sliding off, getting stuck, and delaying our plans to pick up friends at the airport.  My new Nissan truck kept us on track, even though it was sideways at times.  We got to our destination and then back to paved roads on time to continue our journey.
Mark and Debbie Case
Ludington State Park, Michigan
2004 Ford F350
2017 Palomino HS-2910
Camera Used – Nikon D5200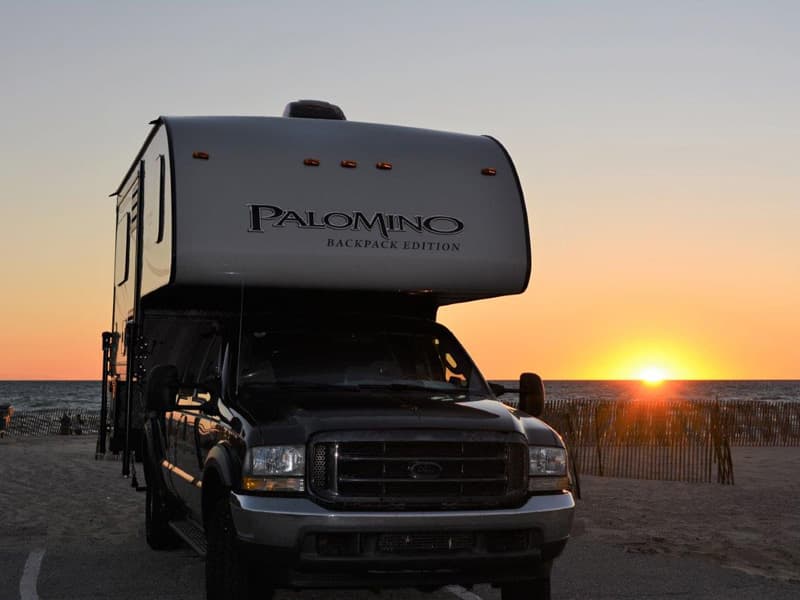 Pictured is our 2017 Palomino 2910 hard side camper on our 2004 Ford 350.  The landmark in the background is the Michigan Ludington State Park Beach house.  It was built in 1935 by the Civilian Conservation Corps.
Ludington State Park is one of the places that needs to be on every camper's go see list.  It is located along the west coast of the northern lower peninsula.  The park has approximately 5,300 acres and miles of sandy shore line.  On a clear day the view is endless for the Big Sable Point Lighthouse which is also located within park.
We were introduced to the park by friends 12 years ago and have continued to return each year.  We have always found new adventures and the park has never lost its appeal.  With hiking trails, sand dunes fishing and endless shoreline there is always something to enjoy.
Kathleen Oliver
Apache-Sitgreaves National Forest near Alpine, Arizona
2007 Dodge 3500
2015 Lance 1052
Camera Used – Canon EOS T6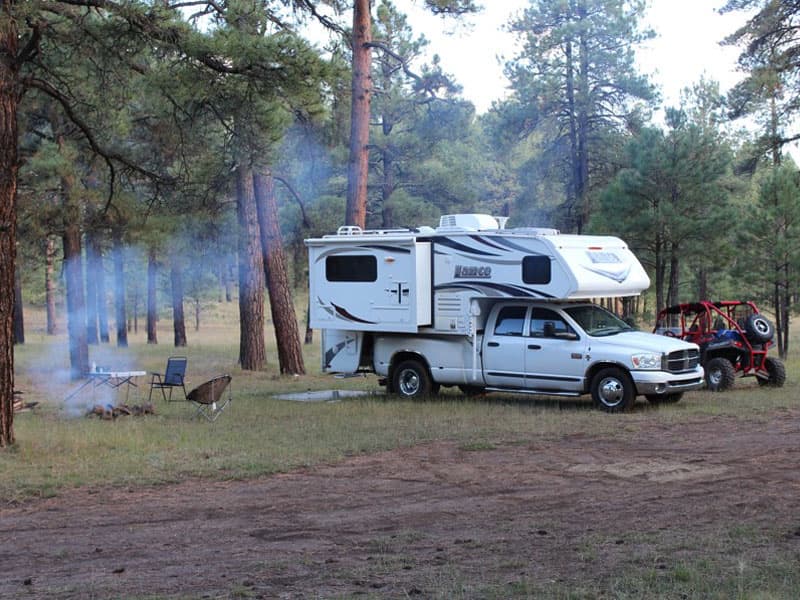 We went up to the forest south of Alpine, Arizona for a long weekend of camping and exploring on the Polaris RZR.  We saw a side road off Highway 191, so we decided to take a look.  About a mile down this dirt road, we found a lovely little area in the trees.  Other than a few other explorers riding by on their ATV/UTV's, we had the forest to ourselves!
Marian Muir
Icefield Highway, Alberta
2011 Dodge Ram 3500
2004 Snowbird 810
Camera Used – iPhone 6+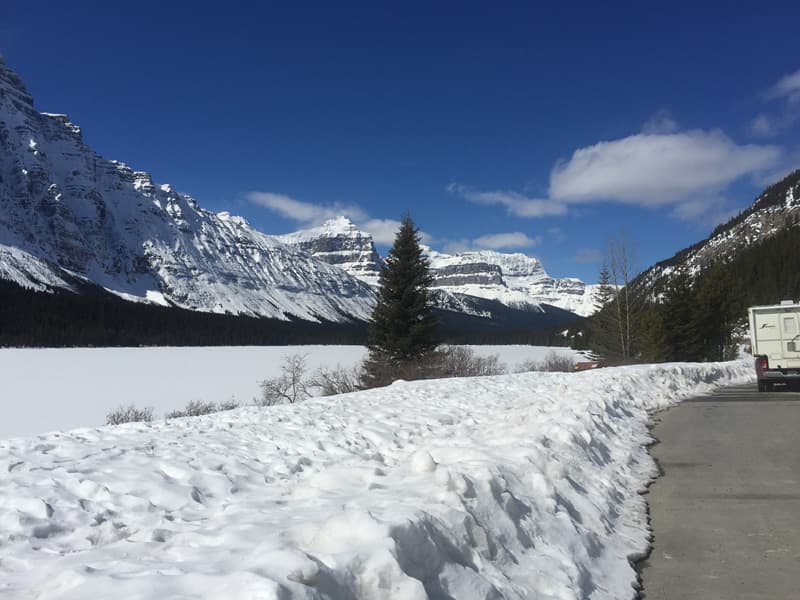 I didn't want a fuss for my 70th birthday so asked my husband to take me on a camping road trip.  It was the best birthday ever from nature!  We had sunny blue skies and spectacular scenery all the way down the Icefields Highway from Banff to Jasper, Alberta on April 2nd.
Dennis and Jeanne Truby
Bayfield, Nova Scotia
2016 Chevrolet 3500HD
2014 Lance 825
Camera Used – Pixel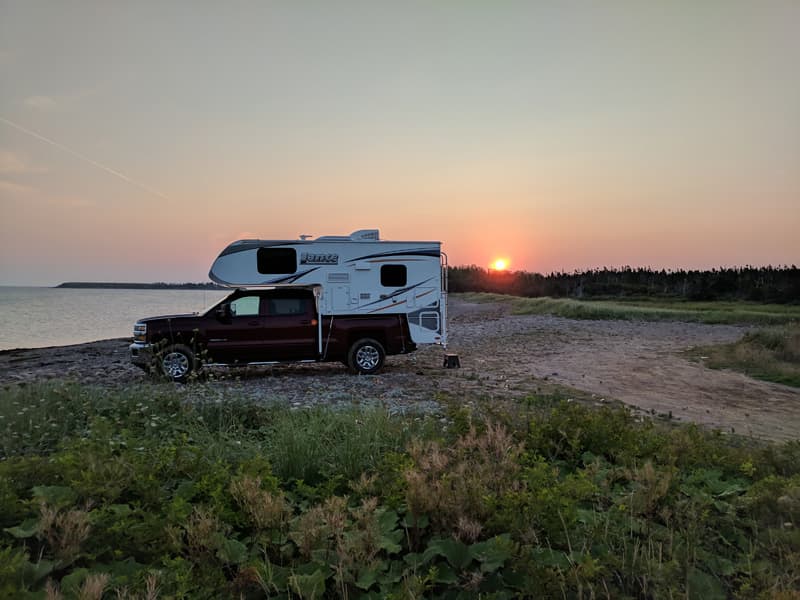 On our two week trip to Nova Scotia and PEI we were always looking for interesting places to spend the night.  We drove to the Bayfield Pier and thought we would spend the night there.  We went for a short drive after dinner and saw an unmarked two-track heading north.
We are always up for an adventure, so took the road and after about quarter-mile the road opened up on a rocky beach with an amazing view of the Northumberland Strait.  What a treat to watch the sunset on one end of the beach and sunrise on the other!  We were up early to see the sun peak out.  There is nothing like a truck camper for exploring and finding out of the way places to camp.  It was one of our favorite nights on the trip.
Holger Neumann
Highlands, Herðubreið, Iceland
2009 Toyota Landcruiser HZJ79
2015 Northstar 600SS
Camera Used – Canon EOS 60D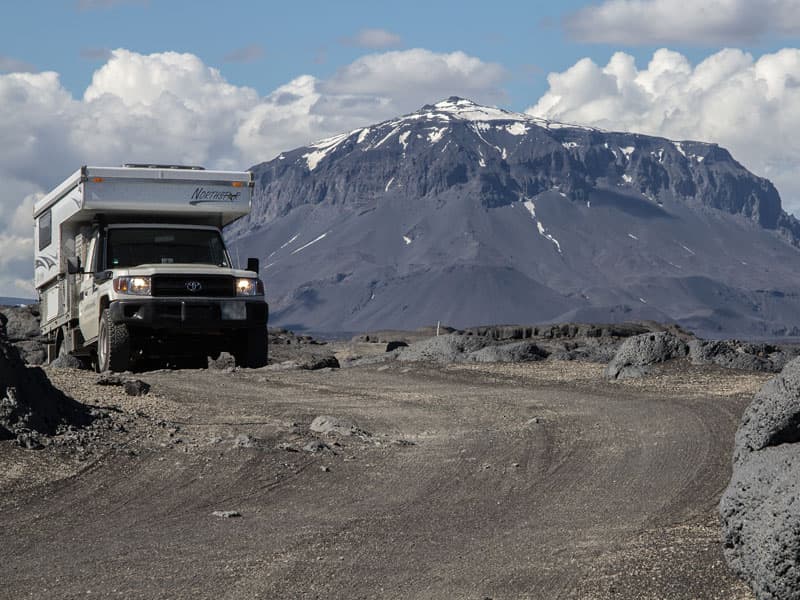 The queen of mountains, Herðubreið is in the background on a clear sunny day.  The mountain is about 20 miles away.
Ethan Aten
George, Washington
2016 Ram 2500
2003 Fleetwood Elkhorn
Camera Used – Galaxy S8
We left from eastern Wisconsin on a five week vacation and headed straight for the northwest.  On our way to Seattle from Spokane we stumbled on this free campsite one-quarter mile from the Columbia River.
Brent Koops
Devils Tower, Wyoming
2016 Chevy Silverado
2016 Four Wheel Camper Hawk
Camera Used – Canon 7D Mark II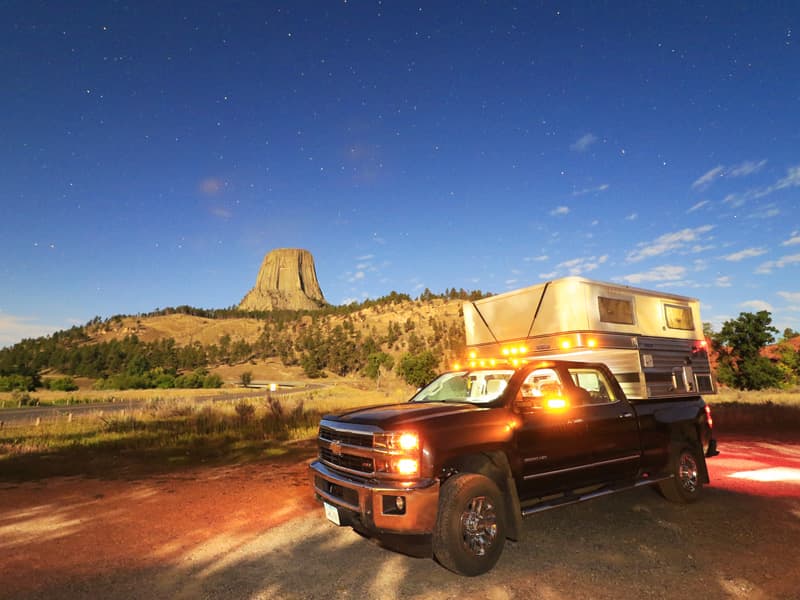 On the forefront of a trip through Wyoming, we stopped overnight at Devils Tower.  It was a cool, clear full moon night and we couldn't resist getting some nighttime photos with our rig at the base of the iconic monument.
There are less than two weeks left to enter!  To participate in the 2018 Truck Camper Magazine Calendar Contest and be considered for a Behind the Shot feature, click here.