Lindsay Buerger, Organizer of the 2016 Texas Truck Camper Rally, has sent us information about this 4th annual event hosted by Princess Craft Campers.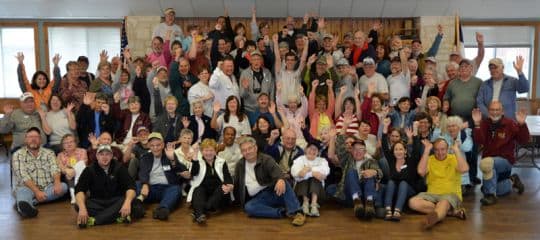 Above: Texas Truck Camper Rally attendees – click to enlarge
"The fourth annual Texas Truck Camper Rally will be held from April 14th through the 17th, 2016 at the Guadalupe River RV Resort in Kerrville, Texas.  This is the same campground where the rally has been held for the last two years, with great success.
To sign up for the rally, please call the Guadalupe River RV Resort campground at 830-367-5676 and reserve your campsite.  Then register for the rally on our website, www.princesscraft.com/rally.php.  Please register to let us know that you're coming!
We will have all the favorite activities of past years such as the camper tours, tech talk, and the chili cook-off.  We will also be adding a few new events such as a local beer and wine tasting!
Visit our 2016 Texas Truck Camper Rally website at www.princesscraft.com/rally.php to register and to get more information about the rally.  Please like us on Facebook to get our updates about the rally.  We hope to see you there!" – Lindsay Buerger, Princess Craft Campers