We packed clothes for all kinds of weather.  On our trip from Tennessee to Alaska, we had temperatures from near 100 degrees to below freezing.  We put our big feather comforter in a vacuum storage bag.  The vacuum storage bag made it so that we could store it under our mattress in the camper.   That way it took up a lot less room and could be stored in an out-of-the way place.  We are glad we had it because it came in handy on those cold nights when we were boondocking.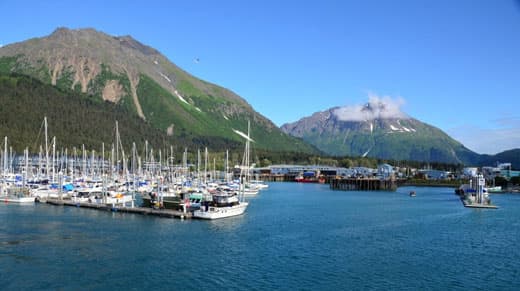 Above: Seward, Alaska's port
In Seward, many of the points of interest are within easy walking distance of Resurrection Bay Campground, where we stayed.  For those who prefer not to walk, there is a free shuttle service run by the city.
Above: The Mendenhall Glacier and the city of Juneau, Alaska
We enjoyed the visit and stay at Juneau.  The Mendenhall Glacier Campground was great.  The campground was the only National Forest campground that we have stayed at with full-hookups, including sewer.
If boondocking in Chicken, Alaska at the fuel station is not for you, they also have a campground there with electricity.  They produce their electricity by using two big generators.  They also have free wireless internet there.  The internet must be provided by satellite since there are no wires running to the area.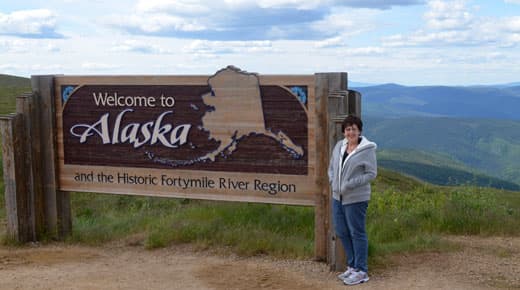 On our side trip up to Dawson City from Whitehorse, the route travels the Klondike Highway.  After reaching Dawson City, we had to ferry across the Yukon River to the Top of the World Highway and that eventually turns into the Taylor Highway.
Most of the route is a gravel road.  This route took us over the most gravel road we experienced on the whole trip.  We had roughly 130 miles of gravel road on this side trip but it was in very good condition.  We would enter Alaska for the first time on this highway.  We had arrived!