Mike and Debbie Timm have sent in the calendar of events for the upcoming 2022 Truck Campers at Mackinaw Rally.  The rally runs Thursday, May 19th until Sunday, May 21st in Mackinaw City, Michigan. Here is the rally information.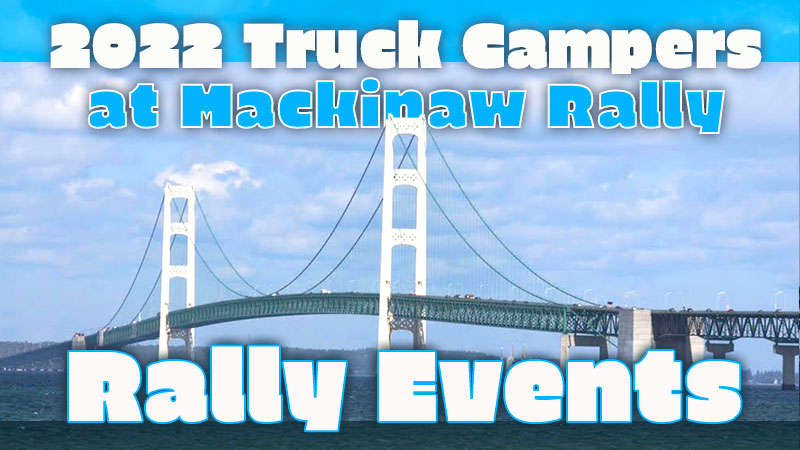 Truck Campers at Mackinaw Rally
Tee Pee Campground, Mackinaw City, Michigan
11262 US-23, Mackinaw City, MI 49701
Phone: 231-436-5391
Arrive: Thursday, May 19th
Depart: Saturday, May 21st
Organizers: Mike and Debbie Timm
Registration: Please contact Tee Pee Campground to make your camping reservation. The rally is under the group name of TMAC (Truck Campers at Mackinaw). The event registration is $25 per person, and under 12 are free. The cost is to cover Live Music and food Saturday night. Your campsite fee is on your own.
Here is the information about the rally from Mike and Debbie:
"We still have room for you to join us. Our rally is open to all brands of truck campers big, medium, and small. All are welcome. Please contact Matt at the Tee Pee campground (231-436-5391) to make your campsite reservation. Please let him know you are with the Truck Campers at Mackinaw group (TMAC).  Mark your calendars!"
Truck Campers at Mackinaw Rally Events
Friday, May 20, 2022
We will make a caravan trip on Friday across the mighty Mackinaw bridge and up to Tahquamenon Falls. It's about an hour's drive. We will see the new bridge to the island for all who wish to go. This will be most of the day, returning to the campground late afternoon.
Saturday, May 21, 2022
Saturday you can head up to the Mackinaw Fort, hang around camp, or do as you wish. There will be some crazy corn hole games and other stuff going on at the campground. The campground is just about one mile south of downtown Mackinaw City and right on the shores of Lake Huron. There are great views of the bridge, shopping, and some of the best fudge shops around Saturday night will be a group dinner and live music at the campground. There will be raffle prizes.
"For more information or if you have questions, feel free to contact us.  We're looking forward to seeing you!" – Mike and Debbie Timm
For a full listing of more events in 2022, visit our RV Shows and Rallies page.