For Behind the Shot Part 9, we are featuring photos and stories from the Dominican Republic, the Cherohala Skyway, Buffalo Gap National Grassland, and many more!  Click here to participate in the 2021 Truck Camper Magazine Calendar Contest and be considered for a Behind the Shot feature.
Bryan Burgess
Paint Creek Campground, Tennessee
2018 Ford F150
2018 Capri Cowboy XL
Camera Used – Phone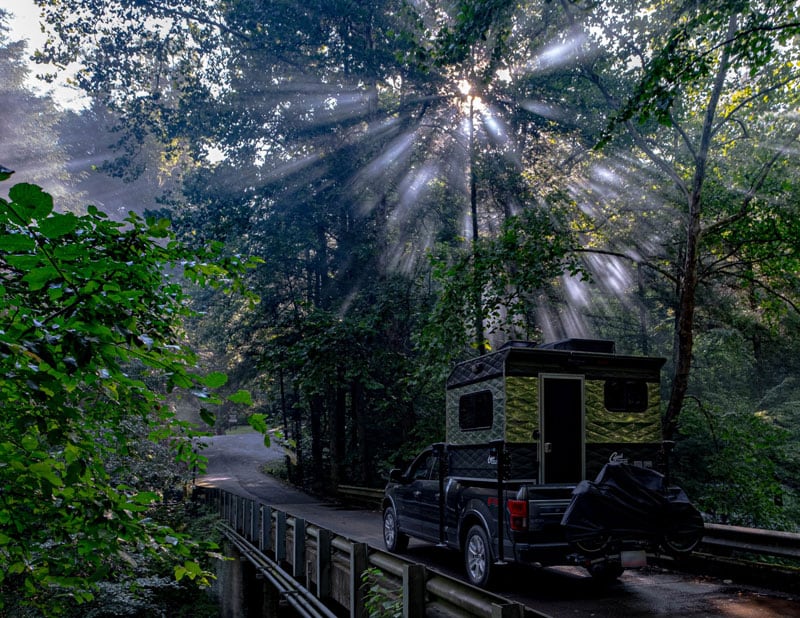 Sometimes you round the bend and are surprised by a beautiful fleeting moment.  This was one of those times with the misty morning light at Paint Creek Campground, Cherokee National Forest in Tennessee.
Leia Sutton
Blue Lakes, California
2003 Ford F150
1984 Lance 200
Camera Used – Samsung S8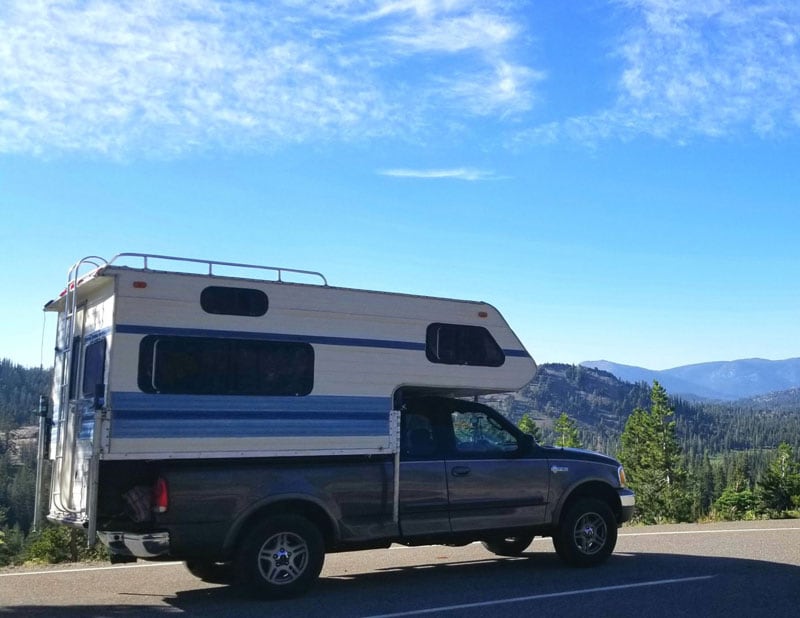 Exploring the Sierra Nevada area as a single gal.  This is my first camper and I have only had it a month.  Excited for new adventures!
Mario Delgado Malagon
Salinas de Puerto Hermoso, Dominican Republic
2008 Ford Ranger
1993 Mini Camper
Camera Used – iPhone 8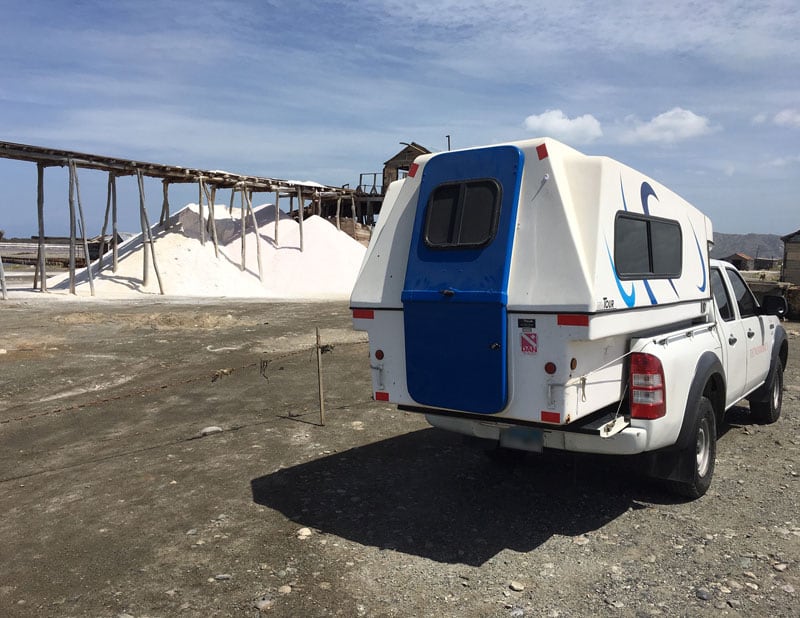 Salinas de Puerto Hermoso is a place that most of the people who like nature and photography should be.  It's right in front of the beach of Salinas with normal windy conditions of about 15 miles/hour every day.  It is one of the places in the Dominican Republic to practice windsurfing and kiteboarding.  I have been traveling to this place since I was a young man.
Ben Westling
Seiku, Washington
2002 Chevrolet 3500
2008 Lance 1131
Camera Used – iPhone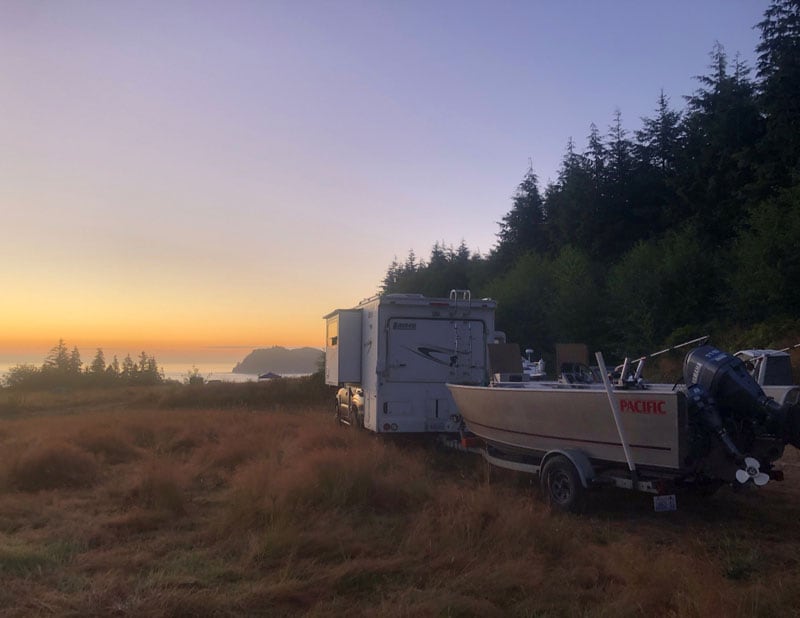 My dad and I hauled his boat with my (and my fiance's truck and camper) for a long weekend fishing trip out of Seiku, Washington.  Their campground was full, so we camped in the overflow lot that had this spectacular view, which I think was better than the regular camping area.  I caught this sunrise photo the morning we were leaving as it was a clear, beautiful morning which doesn't happen often in this area.
Craig Vogler
Santeetlah Forest Road, North Carolina
2018 Ford F150
2019 Palomino Backpack
Camera Used – Nikon D5600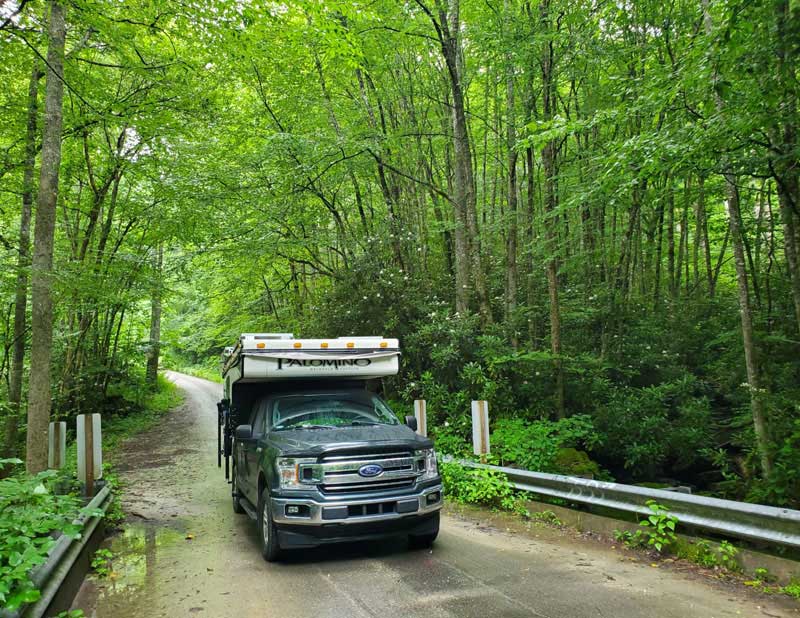 I was out looking for dispersed camping off the Cherohala Skyway on a 12-mile dirt road in the rain.  My solar panels had greenery hanging off them when it got into a narrow green tunnel.  I popped into this open area with a bridge and a cascade waterfall with the rhododendrons blooming.  I stopped and took some shots.
Stephen Ladd
Northern California Coast
2017 Chevy Silverado 3500 HD
2017 Northstar 850SC
Camera Used – iPhone 11x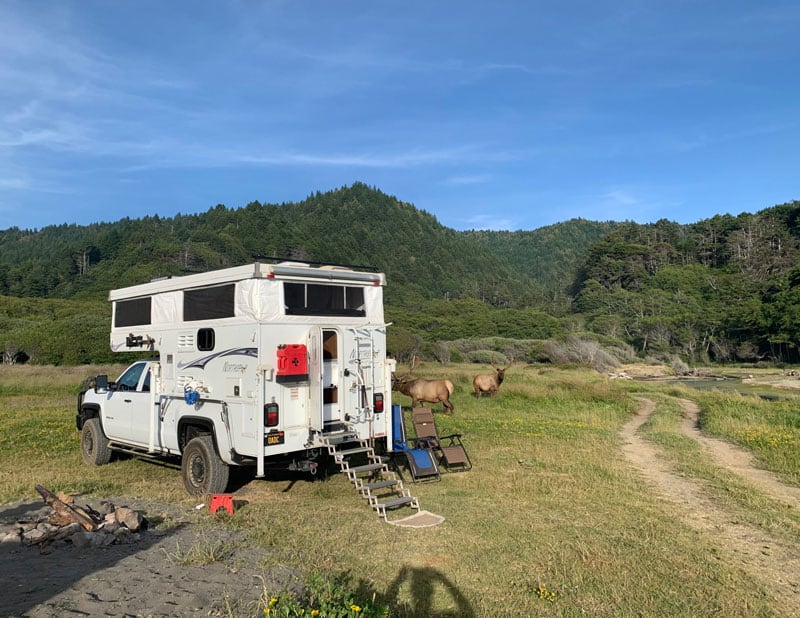 My wife and I were up north to spend some time with our daughter, her husband, and our grandchild.  We left for a couple of days to go boondocking and found this great spot right on the beach.  We were visited by two elk staying for a couple of days.
Kelly Womack
Badlands National Park, South Dakota
2018 Ram 2500
2020 Bundutec USA Free
Camera Used – iPhone X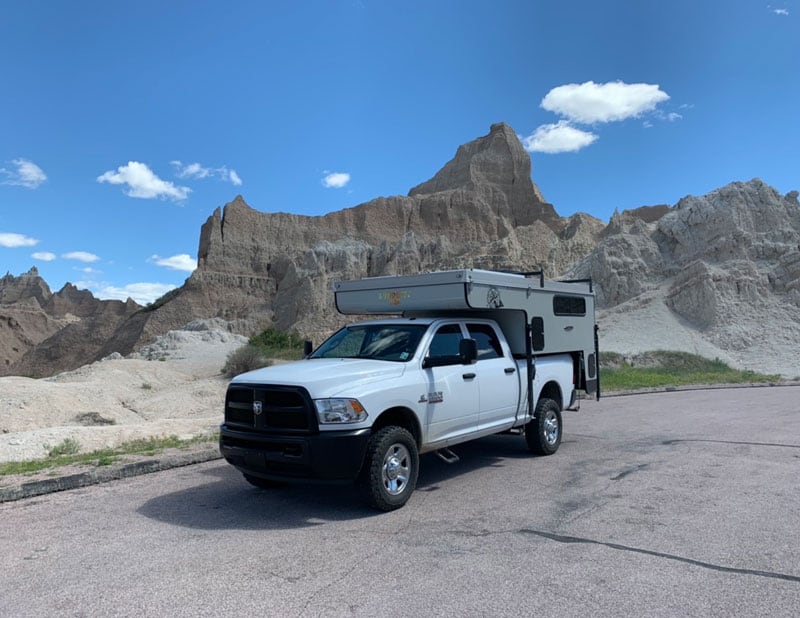 While driving through the Badlands National Park we stopped to take a few landscape pictures.  Making our way back to the truck the landscape framed our rig nicely, so I snapped a picture.
Jim Sprung
Association Island RV Park, Henderson Harbor, New York
2011 Ford F-350
2011 Palomino Maverick
Camera Used – iPhone X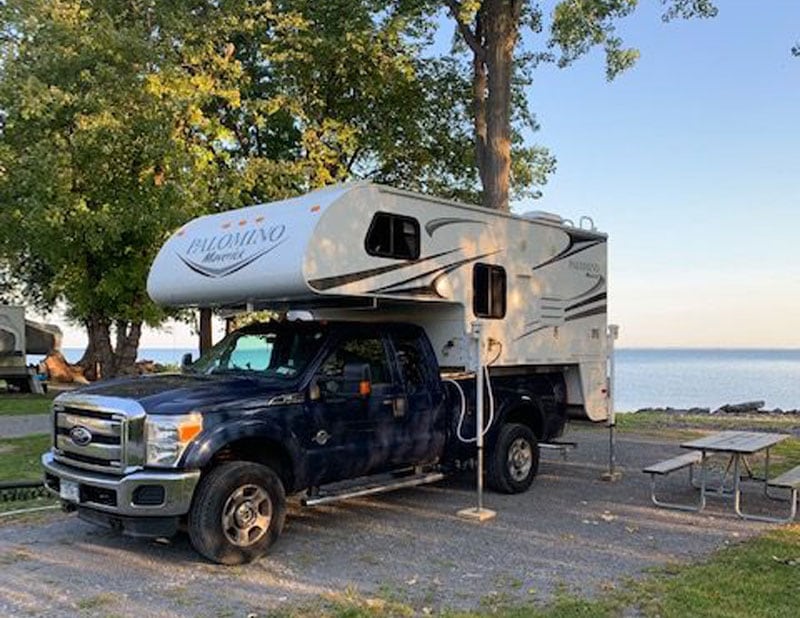 One of our favorite RV parks is Association Island Park. It took a while to get a waterfront site, but it was worth the wait!
Ann-Margaret Hedges
Alpine Loop, between Silverton and Ouray, Colorado
2011 Chevy Silverado
2018 Travel Lite 690
Camera Used – Nikon D800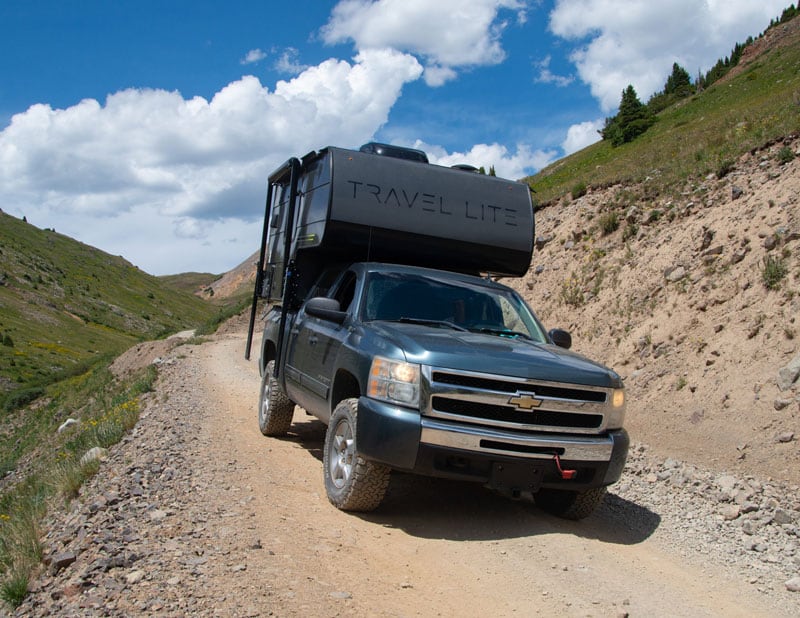 We drove our camper to Colorado last summer and decided to return this summer to check off more bucket list items.  One was to drive Alpine Loop from Silverton to Ouray.  Our campsite was in Ridgeway but we thought we would have an adventure by spending the day driving the back mountain route of Alpine Loop.  It was some of the most beautiful scenery.
We made it a little over halfway, but the road got progressively more challenging.  We eventually had to turn back to prevent damage to the camper or getting stuck.  Nonetheless it was a fun adventure and we have many beautiful photos to document it.
Ed Evans
Slocan River, British Columbia
2012 Toyota Tundra
2019 Lance 650
Camera Used – iPhone 7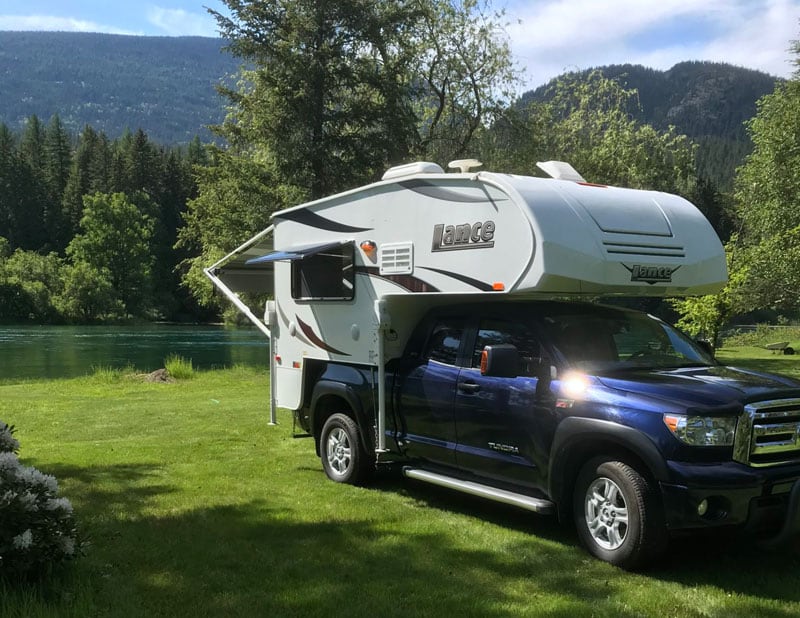 My buddy invited us to his home on the Slocan River and had us park on this nice grass right of the waterfront.  He mentioned how good the camper looked on the truck so I had to get the shot.
Tim Zeh
Green River, Wyoming
2019 Ram 3500
2019 Arctic Fox 1150
Camera Used – Panasonic FZ200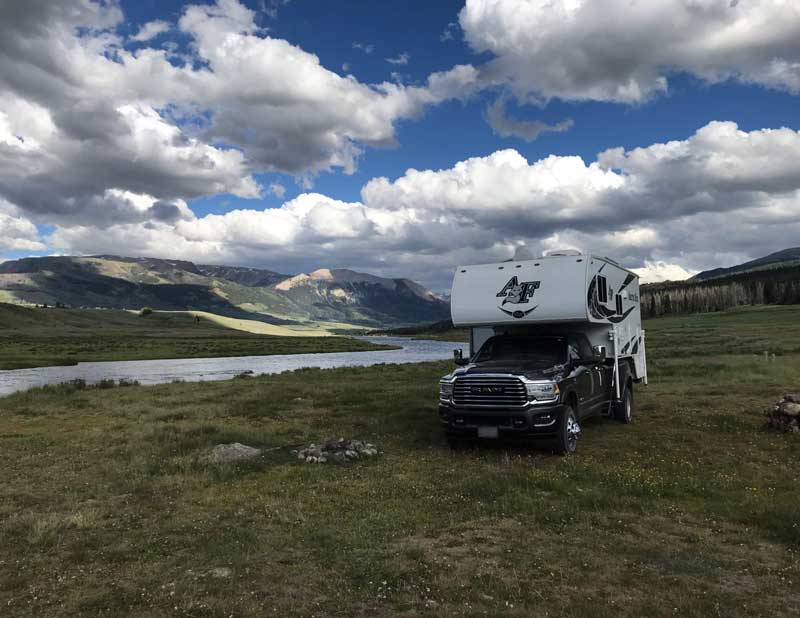 After spending a couple of weeks exploring Wyoming, I decided to go trout fishing along the Green River west of Pinedale.  I drove up 30 so miles on Route 352 to Green River Lake.  The last 15 miles were gravel and there were plenty of places to disperse camp.  I made it up to the Green River Lakes and checked out the campground there.  Having gotten my fishing license I decided not to explore more but drive back to a recommended fishing spot where the Roaring Fork River entered the Green River.  There was a really nice campsite that I claimed and set out to catch some trout.  Well, I had steak for supper and managed to get this incredible picture about 8:30 that evening.  Wyoming is amazing.  I'm definitely going back to spend more time.
Edith Horn
Buffalo Gap National Grassland, South Dakota
2018 Ram 3500
2019 Northern Lite 10-2EX Limited Edition
Camera Used – iPhone 6S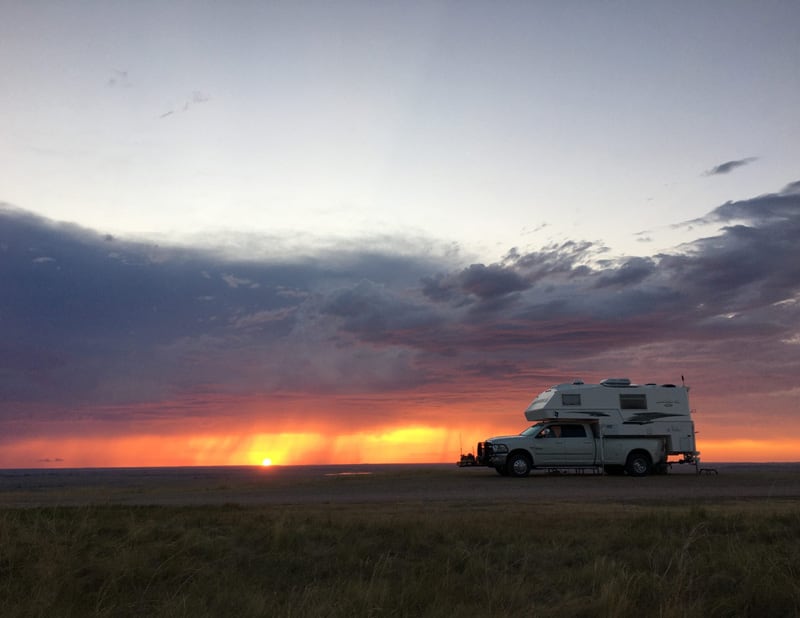 After spending three months work camping just outside Custer State Park, I needed a place to decompress, so I headed out to Buffalo Gap off 240, six miles south of Wall, South Dakota and just outside of Badlands National Park.  I stayed up late that evening star gazing, so it was no surprise I did not hear my alarm going off.  Thank goodness my eyes popped open anyway.  To my amazement, I saw this gorgeous sunrise.  It was raining off in the distance and there were also lighting strikes.  I tried to capture that, but just wasn't fast enough with the camera.  Needless to say, I was blessed to watch this glorious event unfold before me.
Brian Hockensmith
Assateague Island National Seashore, Maryland
2010 Dodge Ram 2500
2016 Wolf Creek 850
Camera Used – Galaxy A51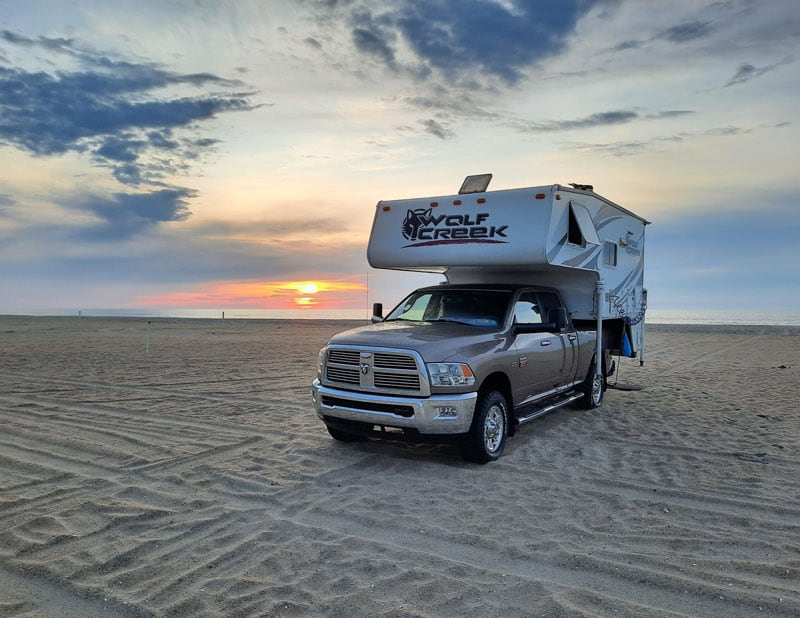 My wife and I had spoken to several people and read various articles about on-the-beach truck camping.  We did further research and made some phone calls to the national park prior to heading out on July 21st.  We were excited to be going on vacation to an isolated location which seemed to be a perfect getaway, especially during a pandemic.
This photo was taken as the sun was rising after spending our first night on the island and having endured a whopper of a storm.  We caught a lot of fish and thankfully, didn't get stuck in the sand!  The entire experience was awesome and we would highly recommend this type of remote camping.  Just be sure to remember your bug spray, fly swatter, shovel, and sunscreen!
Terrill Graham
Dolly Sods, West Virginia
2019 Toyota Tundra
2016 Four Wheel Camper Swift Shell
Camera Used – Phone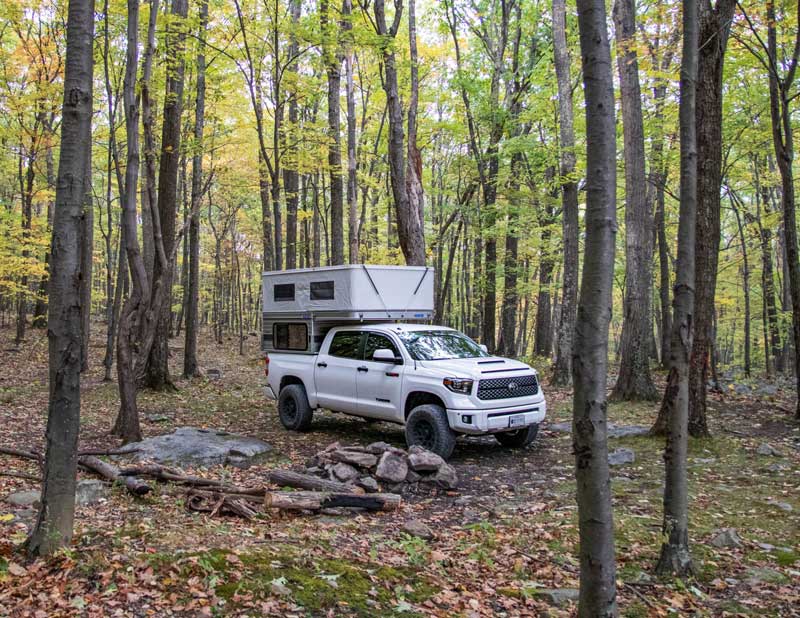 When heading up to a popular backpacking area in the Dolly Sods Wilderness of West Virginia we noticed a few campfire rings off of route 75.  While we planned on spending most of the day hiking in the wilderness, the views of the fall foliage from this site quickly gained our main focus.  We spent our evening by the fire listening to the birds off in the distance.
Click here to see all of the photos entered so far in the 2021 TCM Calendar Contest. Enter your truck camper photos today!