For Behind the Shot Part 7, we are featuring photos and stories from the Sweetwater Mountains, Winter Park Ski Resort, Valley of the Gods, and many more!  Click here to participate in the 2021 Truck Camper Magazine Calendar Contest and be considered for a Behind the Shot feature.
Anthony Helmick
Winter Park Ski Resort, Colorado
2015 Chevrolet Silverado 2500
2011 Northstar TC650
Camera Used – iPhone 7
We always ski Winter Park on Christmas Day.  This year we got to stay in our camper in the parking lot Christmas Eve.  This was about 6:00am before we hit the slopes.
John Graves
Sweetwater Mountains, Bridgeport, California
2008 GMC 2500
2020 Lance 825
Camera Used – Phone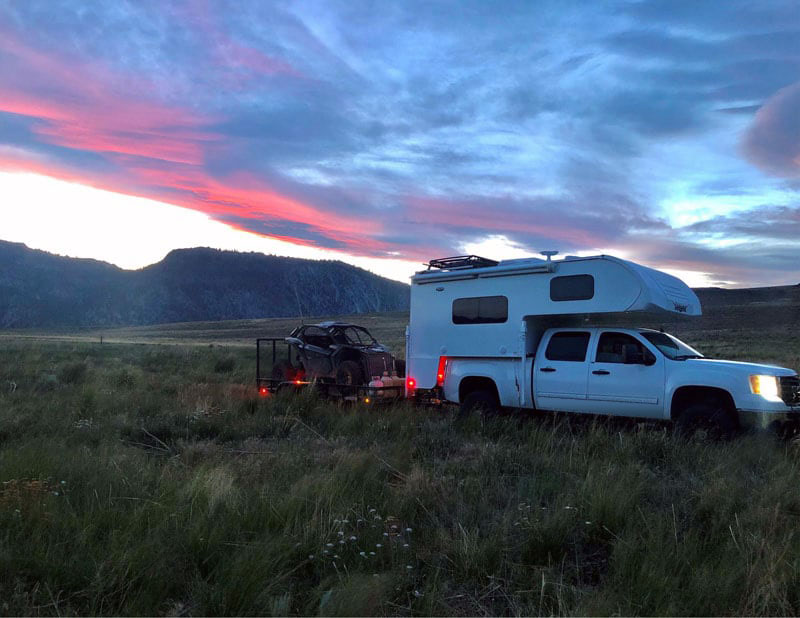 We go to the Sweetwaters to recreate a few times a year.  We have been in the winter and summer, but have never actually camped there.  We were headed to a higher elevation to camp, but it was getting dark and the higher we went, the colder it was getting.  On our way to the high elevation camp spots, we noticed this overgrown Jeep road that was leading into a canyon.  We stopped to enjoy the sunset and take this photo before heading into the canyon.  We ended up finding a great lower elevation (7800 feet) camp spot at the end of this road.
Zachary Von Berg
Sweetwater Mountains, Desert Creek, Nevada
2013 Ford F-250
2020 Arctic Fox 865
Camera Used – iPhone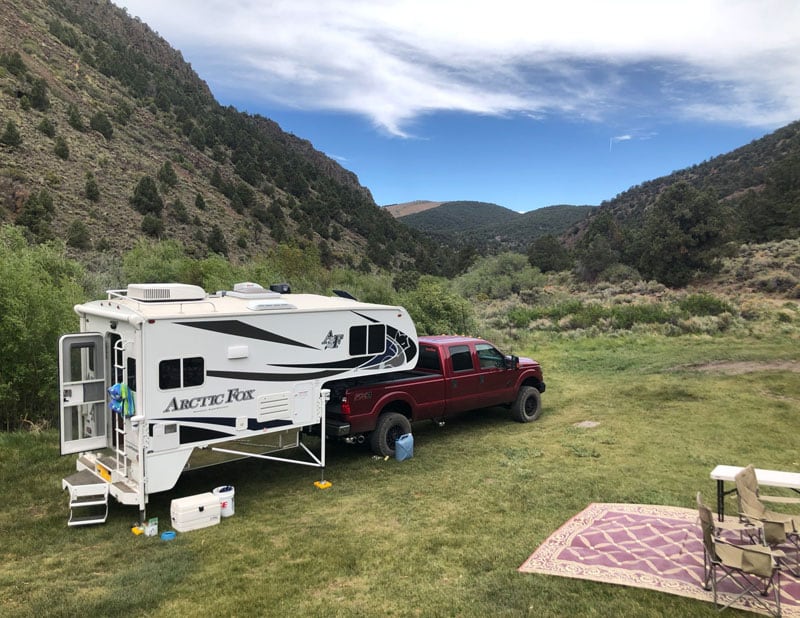 This picture was taken looking at the Sweetwater Mountains the day before I proposed to my girlfriend.  It's right along Desert Creek about 45-minutes off the main highway.  We took our first camper here for one of the first trips and came back for a weekend away during Covid.
I took the picture while standing on top of a five foot tall boulder in the middle of this small grassy meadow.  The boulder made for a great foundation and windbreak for a fire pit.  It snowed the next day.  On the last morning, we woke up to a sheep drive right through the middle of our campsite.  The trip was a success; five days and one engagement.
Ed Schulz
Walls, South Dakota
2020 Chevy 3500
2016 Arctic Fox 990
Camera Used – iPhone XS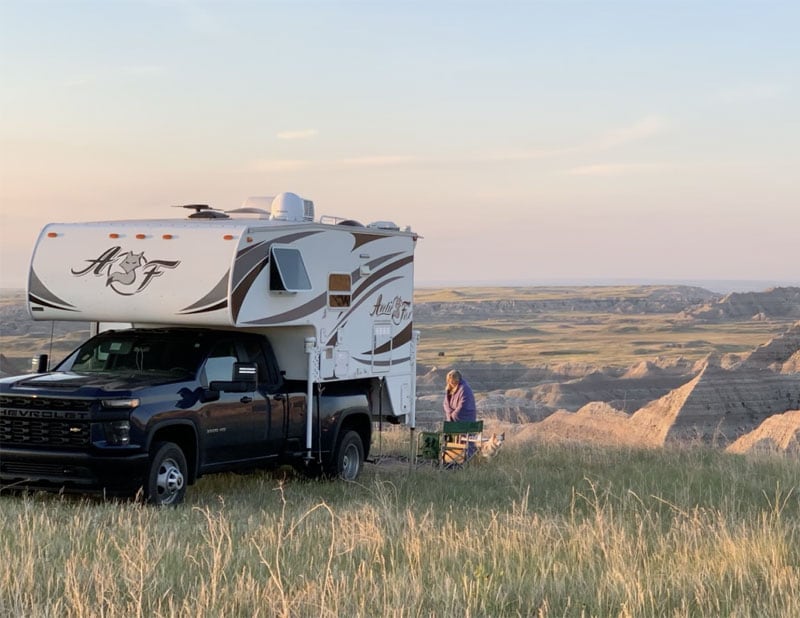 We were on our honeymoon and stopped to visit the Badlands National Park. The campground at the park was full so we started looking around and found a boondocking spot south of Walls.  It was in a cow pasture on a cliff overlooking the National Park.  It was one of the best spots we found on our trip.
Gary Anderson
Valley of the Gods, Mexican Hat, Utah
2018 Chevy Silverado 3500 HD
2019 Lance 865
Camera Used – Sony DSC-HX50V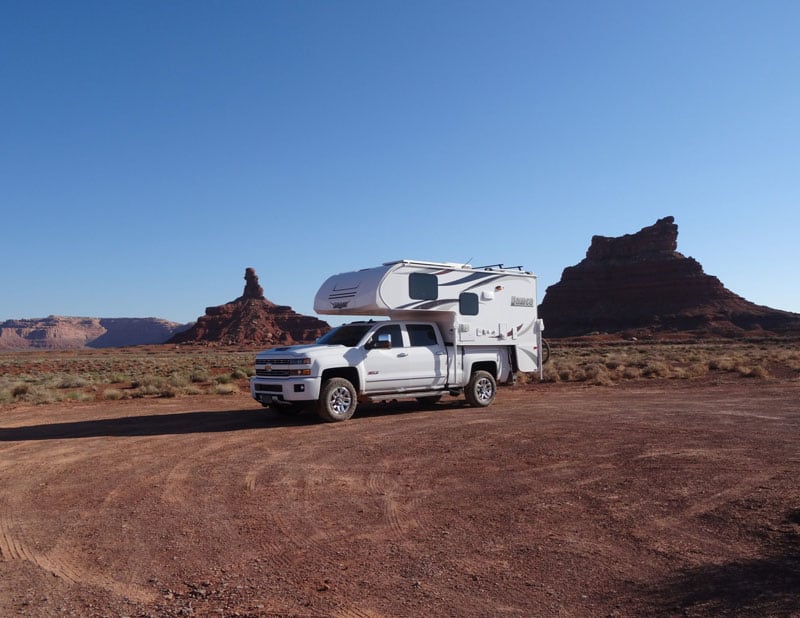 We chose to go into Valley of the Gods from the West entrance.  It's a very dicey four wheel drive road on that end.  We passed two Jeeps and were surprised to see us coming.  It's a narrow road with lots of twists and turns.  There are also some steep dry wash crossings.  We camped that night in an area surrounded by Red Rock Monuments.  I found the spot by searching Google Earth.  We were off the main road and had the place to ourselves.  Valley of the Gods is BLM land with dispersed camping and it is not very heavily used.
Erwin Greven
Hurricane, Utah
2002 Chevrolet Silverado 2500HD
2002 Lance 921
Camera Used – Canon SX610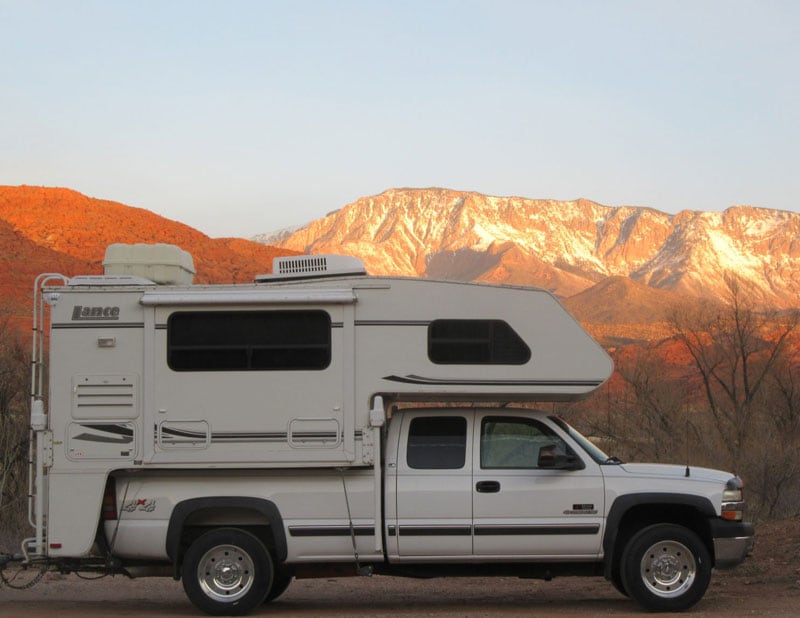 This picture was taken the morning we left to go home from the Winter 4×4 Jamboree in Hurricane, Utah.  It was taken along the road out of the Hurricane KOA just as the sun was coming up.  We decided that it would probably make a nice picture.
Jon Holder
Highway 101, Oregon
2017 Ram 2500
2016 Palomino SS-550
Camera Used – iPhone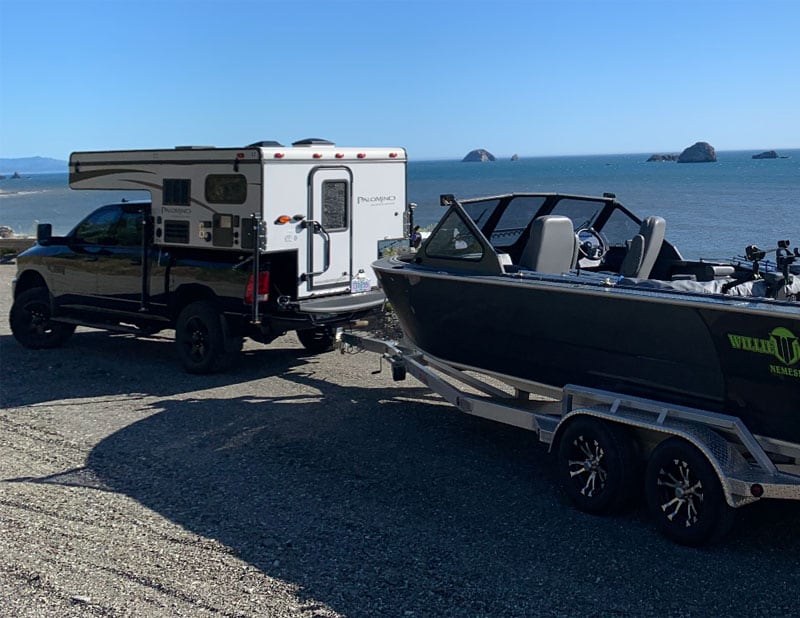 I was headed south on the beautiful highway 101 in Southern Oregon going to the famous Rogue River.  I stopped to appreciate the view with no plans of taking a picture of my rig, but couldn't let that opportunity go to waste.
Click here to see all of the photos entered so far in the 2021 TCM Calendar Contest. Enter your truck camper photos today!