For Behind the Shot Part 6, we are featuring photos and stories from the Hotel California, Lake Shasta, Bear Lake State Park, and many more!  Click here to participate in the 2021 Truck Camper Magazine Calendar Contest and be considered for a Behind the Shot feature.
Avi Meyers
Lake Shasta, California
2019 Ram 5500
2018 Cirrus 920
Camera Used – iPhone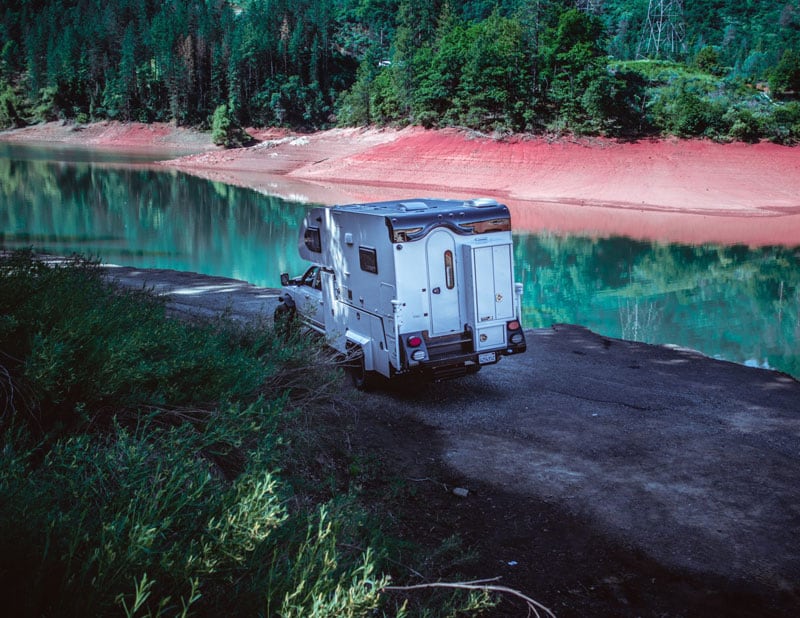 I decided to finally break my Covid-19 quarantine and take my newly completed truck camper on a shake-down trip to Oregon. I stopped at Lake Shasta for a photoshoot because the contrasting colors were just too gorgeous to pass up.
Ken Atamaniuk
Bruel, Alberta
2012 Ram 3500
2016 Lance 855S
Camera Used – iPhone 8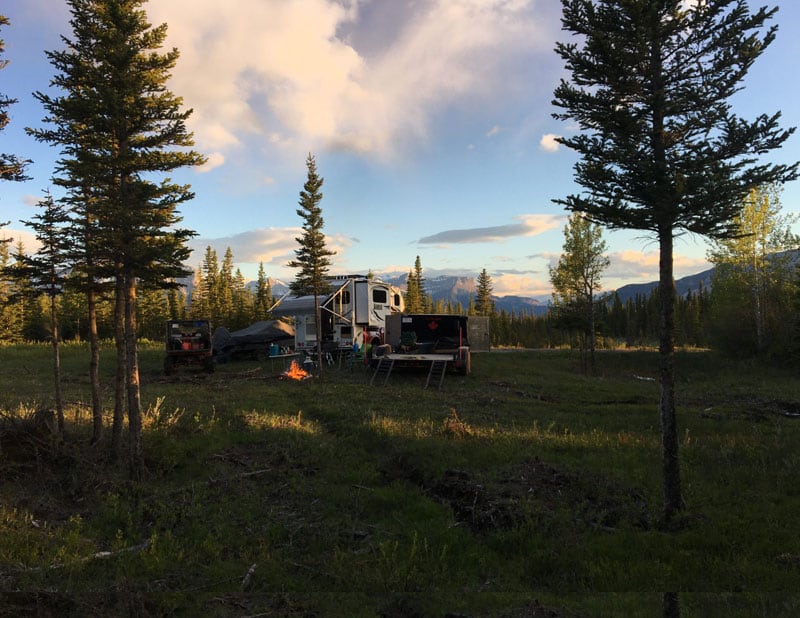 Me, my wife, and our pup had a few days to get away here in Alberta so we went to William A Switzer Park for a couple of days of camping and fishing. We decided to take an extra day and go to Bruel where there is free camping and some dunes to play on.
This picture is down a horrible dusty, muddy not taken care of road what-so-ever. There were only six units that we saw and about ten people, which was really nice. This is just where we ended up setting up to camp. It's a place before Jasper Park and it's so nice to be out there.
Wendy Gould
Todos Santos, Baja California, Mexico
2016 Ford F250
2016 Palomino HS-8801
Camera Used – Huawei p20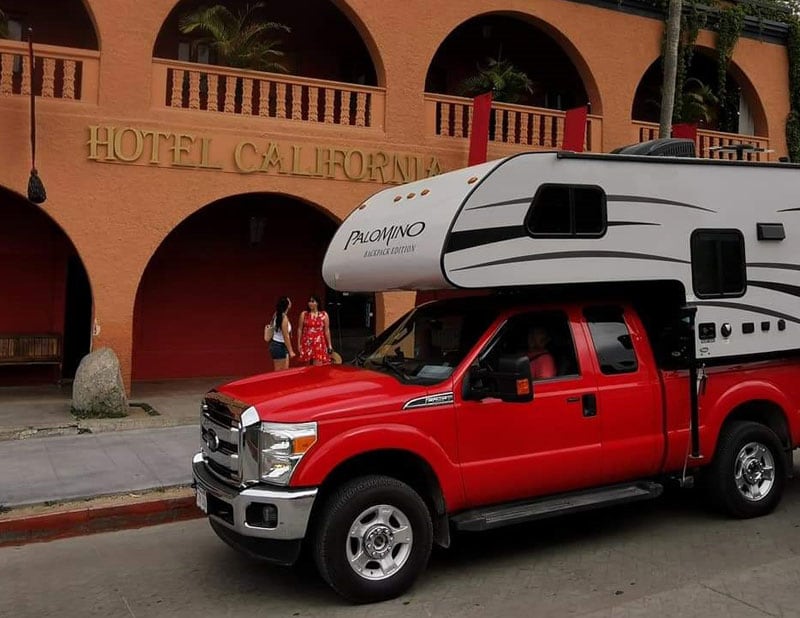 Welcome to the Hotel California! There may be a dispute as to whether this Hotel California was the one that The Eagles sang about. When we drove along "a dark desert highway, cool wind in my hair" we definitely felt like we were at the right one.
When deciding to tour the Baja Peninsula we knew that a stop at Hotel California in Todos Santos was a must. Getting a photo of our truck and camper in front of the hotel was a bucket list photo.
Arla Beneke
Monument Rocks near Scott City, Kansas
2004 Ford F350
2017 Lance 825
Camera Used – Samsung S9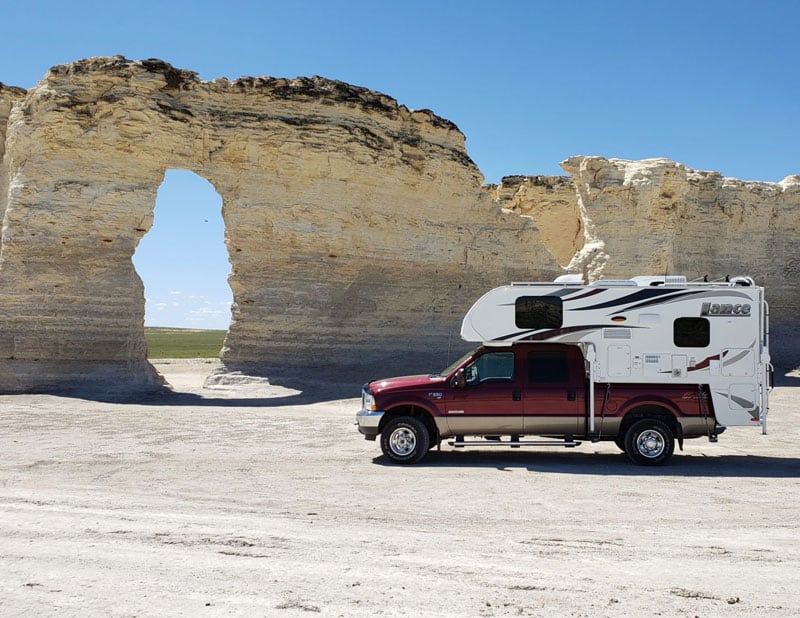 Monument Rocks opened several years ago and looked like an interesting place to visit. One week while on furlough we loaded up the truck camper and headed to western Kansas to check it out and get a quarantine break. This is the first photo I have taken this way as opportunities are rare not to have other people or cars all around.
Jim and Irene Thompson
SE Colorado canyons
2016 Ram 3500
2001 Kodiak K-99
Camera Used – Canon 7Dmk2 camera, 100-400L mk2 lens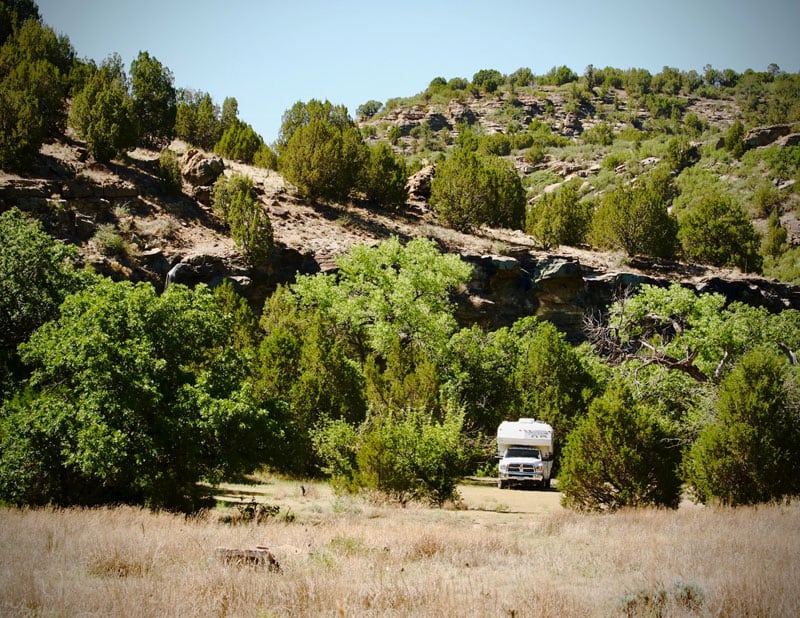 Here we are at one of our favorite boondocking sites.
Mike Wyant
Alabama Hills, California
2019 Ram 5500
2020 Host Mammoth
Camera Used – Samsung Galaxy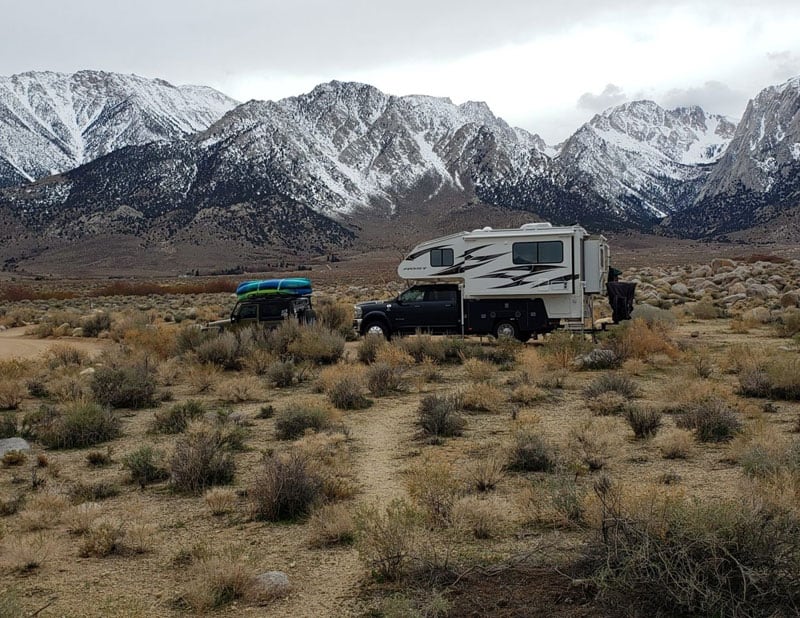 This was from our inaugural trip with our new truck and camper. Cold and windy, very few campers, but we loved it!
Zack Von Berg
Canby, California
2013 Ford F-350
2020 Arctic Fox 865
Camera Used – iPhone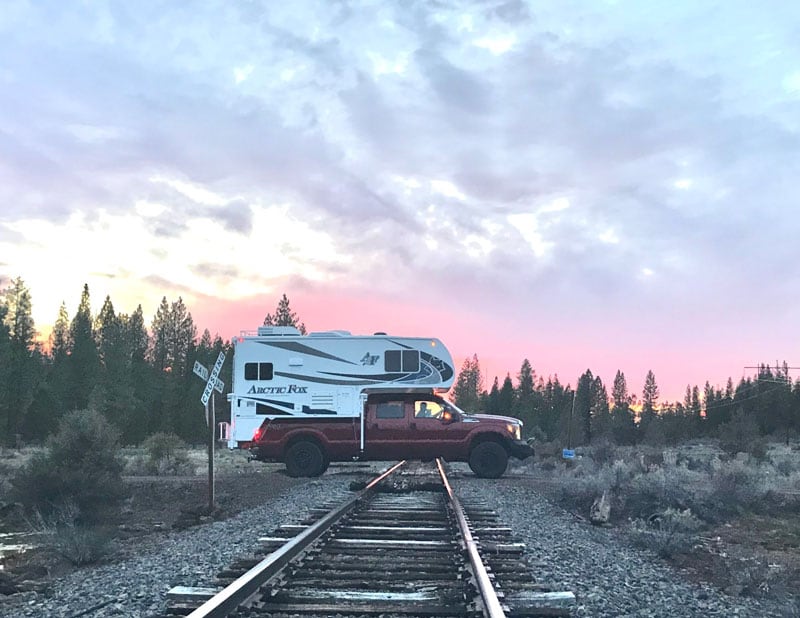 We found this road on our way to Washington state a year ago. It led to a pond with abundant wildlife.
About a 1/4 mile before the turnoff to this pond were some train tracks. It couldn't be a major route. The tracks lacked rust so we knew a train or two was passing by from time to time. Along with the standard deer and waterfowl, there were wild horses inhabiting the area. We backed our camper up about 150 feet from the watering hole and watched the wildlife for four days and four nights.
This was our first official boondocking trip with the new 2020 Arctic Fox 865. The picture was taken by my girlfriend, Niki, on the day we arrived. The big dog is in the backseat laying down, but if you look closely you can see the silhouette of me and our little dog, Lucy, in the front.
Gary Anderson
Bear Lake State Park, Idaho
2018 Chevy Silverado 3500
2019 Lance 865
Camera Used – Olympus TG-6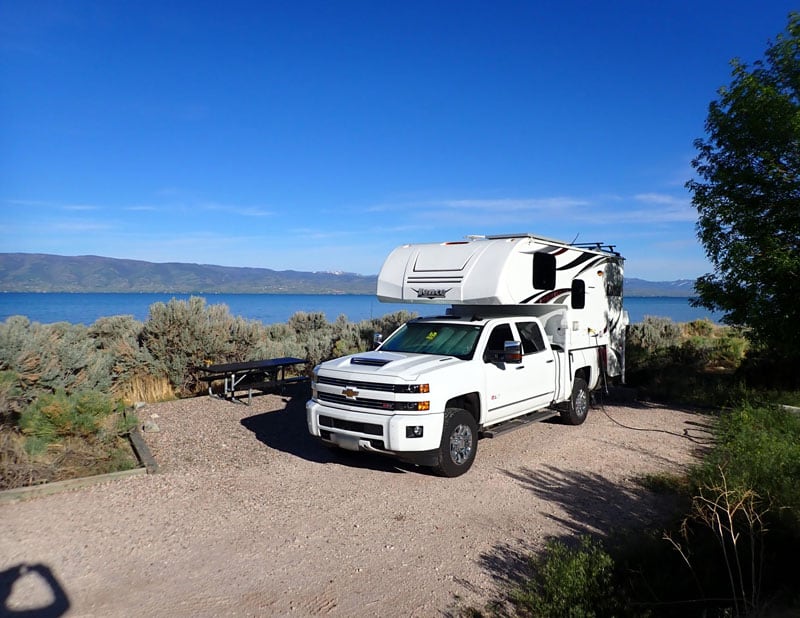 We had just arrived at Bear Lake State Park in Idaho and parked. I took a walk around the campground and looked back over our campsite. The white truck and camper against the blue lake was just too good of a picture to pass up.
Clifford Craft
Mojave National Preserve, California
2017 Chevy
2006 Lance 815
Camera Used – Samsung S10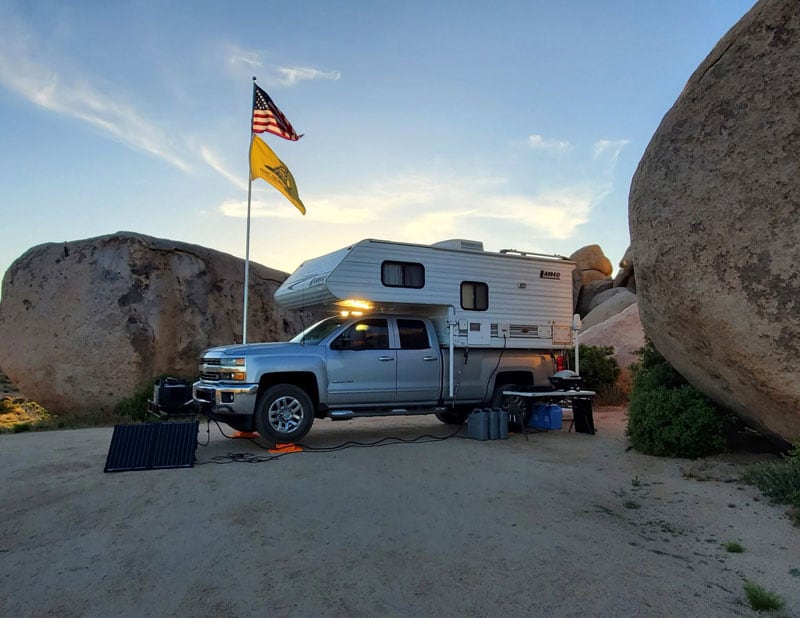 This is my wife and my secret Covid hideaway in the Mojave Preserve. We did two weekends in a row out in the beautiful, cool desert. It is surrounded by huge boulders, so it's both private and quiet.
Click here to see all of the photos entered so far in the 2021 TCM Calendar Contest. Enter your truck camper photos today!