For Behind the Shot Part 5, we are featuring photos and stories from Algonquin Provincial Park, Lone Pine, Sam Houston National Forest, and many more!
Click here to participate in the 2021 Truck Camper Magazine Calendar Contest and be considered for a Behind the Shot feature.
Kami Golembeski
National Forest, Florida
2011 Ford F350
2019 Northstar Igloo U
Camera Used – iPhone 10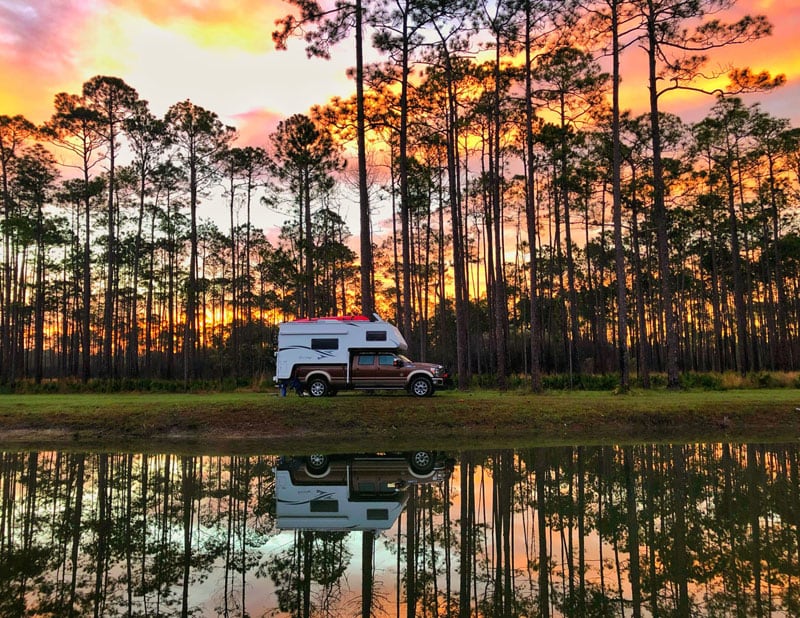 Wildlife sightings and bird songs are among many of the gifts that Mother Nature graciously gives at the beginning of each new day. On this day, she also gifted us with a stunning sunrise. The colors are painted the sky in a way that even the most skilled artist could not capture. Even this photo does not do it justice.
We were pleasantly surprised by all the beauty that the National Forest in Florida had to offer. We are grateful to live full-time in our truck camper and experience the gifts of nature.
Roger Gedminas
Titus Canyon, Death Valley, California
2008 Toyota Tundra
2017 Four Wheel Camper Hawk
Camera Used – iPhone 8+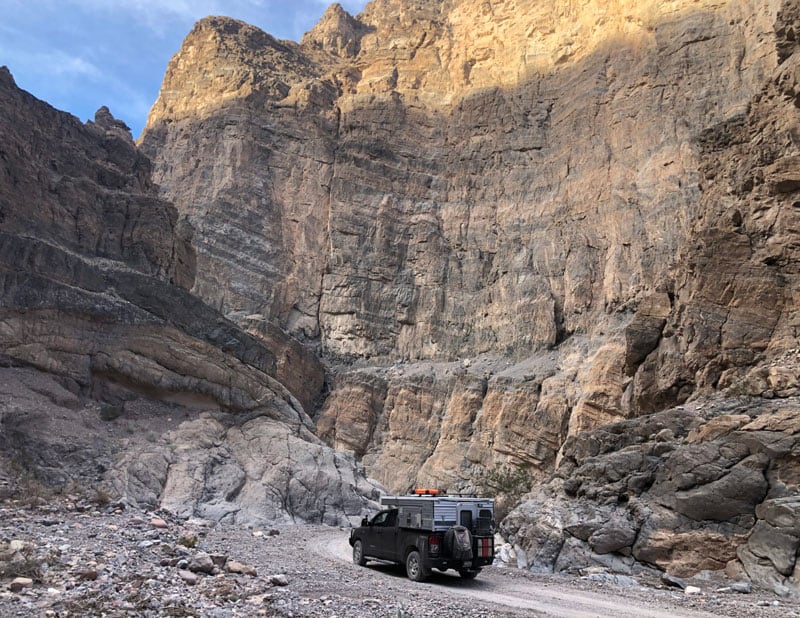 Days before the Covid-19 lockdown of 2020, I took my nephew from Ohio who was recovering from surgery on a tour of Death Valley. From Southern California we did Trona Pinnacles (A+), Furnace Kilns, Wildrose, Titus Canyon, Rhyolite, Ubehebe Crater, Sand Dunes and Race Track. In Titus Canyon, another 4×4 said "well you get the heaviest rig award". My camper and truck did perfect. To sum up the trip, my nephew said that he could not believe places this beautiful exist where we could have them to ourselves! It was President's Day weekend and I told him "this is super crowded."
John Graves
Lone Pine, California
2008 GMC 2500
2020 Lance 825
Camera Used – Phone
We live in the small ski town of Mammoth Lakes, California which has an elevation of 8000 feet. This winter was an unusual one for us. In February we had only received 100 inches of snow since November. Last year this time we already had 400 inches of snow. The temperatures are now in the 60s compared to the 20s and 30s.
The whole town is back in summer mode. Camping, hiking, fishing, climbing, biking, and all dirt motorsports are back in season. We wanted even warmer weather so we drove 2.5 hours south to Lone Pine and camped in the Alabama Hills for four nights.
Reginald Lafrance
Algonquin Provincial Park, Ontario
2004 Chevrolet Silverado
2006 Bigfoot 9.4SB
Camera Used – iPhone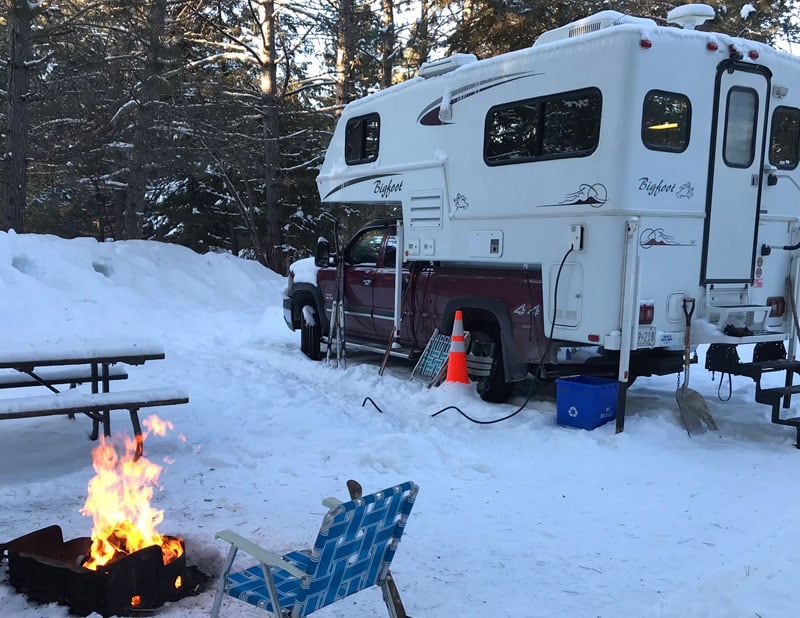 Every winter we enjoy camping in Algonquin Provincial Park in Ontario, Canada. Heated showers and washrooms are opened. We get 30-amps and water is available in the laundry room or washrooms only.
Hiking, snowshoeing and cross-country skiing trails are well maintained. A nice skating rink with a warm shelter is enjoyable even during the evenings. There were about 20 rigs: travel trailers, fifth wheels, motorhomes, tents, and yurts, but the best rig is a truck camper!
Randy Pike
Keystone Ferry Landing, Coupeville, Washington
2011 Ram 3500
2018 Arctic Fox 811
Camera Used – Phone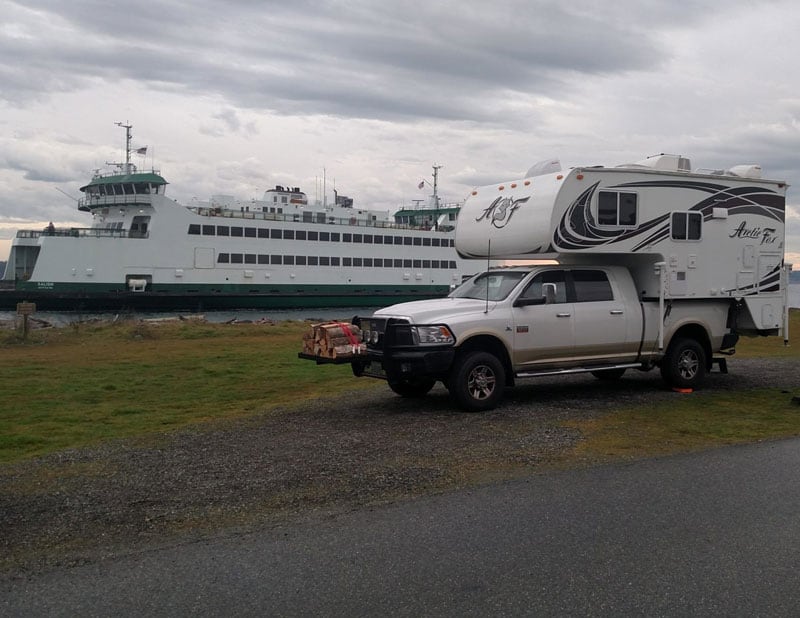 We were camping close to home, just about five miles away.  The view is great!
Wes Morrison
Sam Houston National Forest, Texas
2015 Chevrolet 3500
2015 Lance 1172
Camera Used – Phone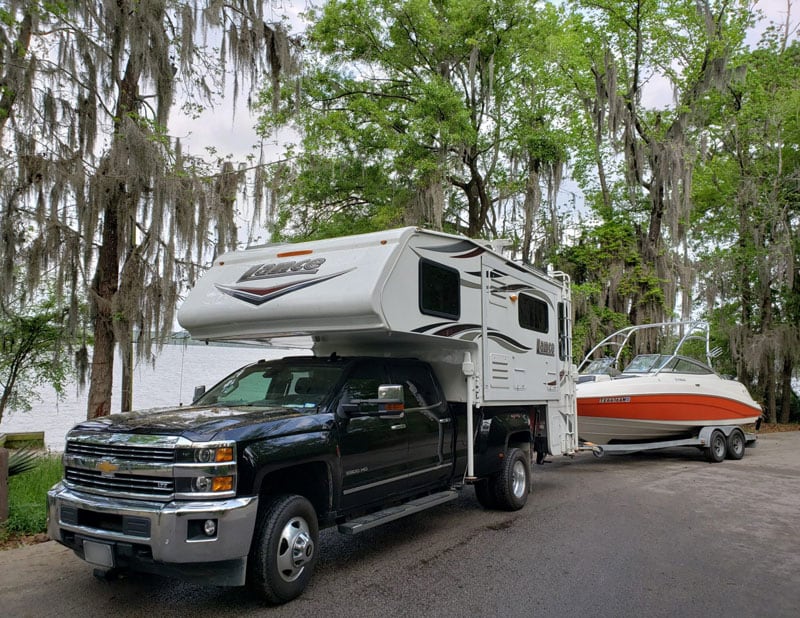 We turn a lot of heads pulling our 23′ boat behind our Lance. It's a great set up.
Click here to see all of the photos entered so far in the 2021 TCM Calendar Contest. Enter your truck camper photos today!