For Behind the Shot Part 4, we are featuring photos and stories from White Sands National Park, Reno, Four Sixes Ranch, and many more!  Click here to participate in the 2021 Truck Camper Magazine Calendar Contest and be considered for a Behind the Shot feature.
Owen Wellington
Joshua Tree South BLM, Indio, California
2013 Chevy 2500
2013 Lance 825
Camera Used – iPhone 7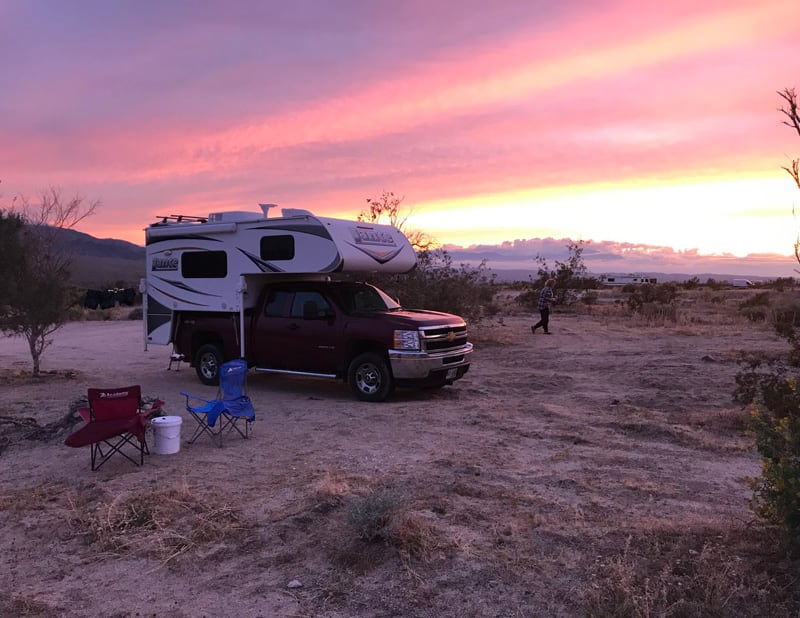 We were traveling west on Route 10 and headed towards Joshua Tree National Park.  We turned up the road towards the park and decided to wait for the morning to enter.  We found a clean camping site on BLM land and just relaxed.  After dinner the sunset capped another beautiful day of being on the road in out truck camper!
Sally Puckett
White Sands National Park, New Mexico
2004 Dodge Ram 2500
2106 Cirrus 800
Camera Used – iPhone XR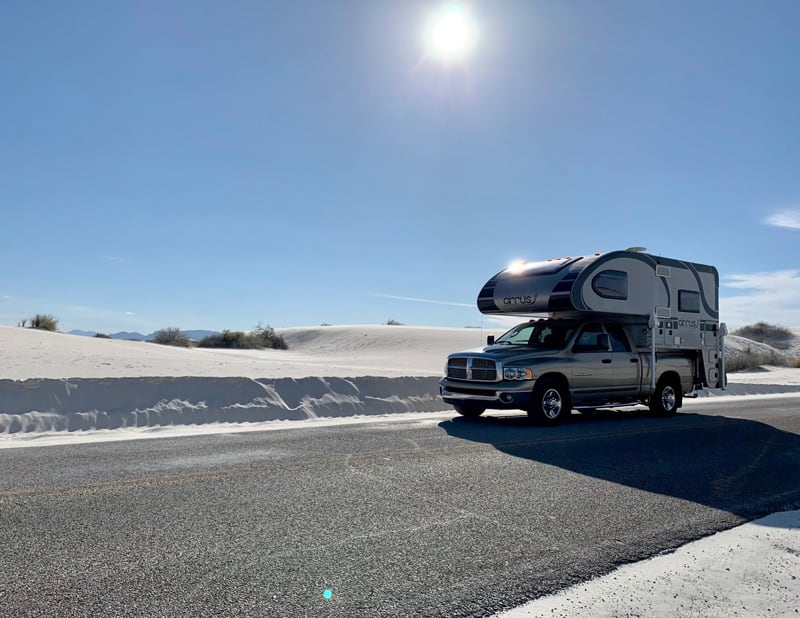 We visited White Sands National Monument on our March 2020 vacation.  My picture was taken on the main road right outside a parking area.
Brady Newsom
Reno, Nevada
2019 Ram 2500
2020 Capri Retreat Anniversary Edition
Camera Used – iPhone 11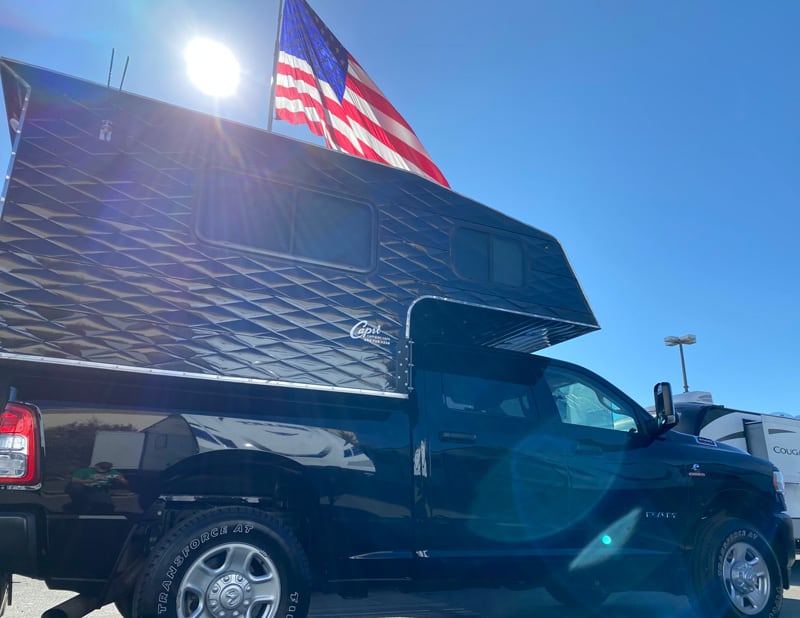 I was delivering an RV to the dealership in Reno.  As I was walking back to my truck I realized the flag blowing behind it.  I just kinda stood there for a minute to enjoy it.  Definitely one of my favorites.
Frank Niehus
North of Phoenix off I-17, Arizona
2007 Ford F-350
2013 Lance 1172
900RZR
Camera Used – Samsung phone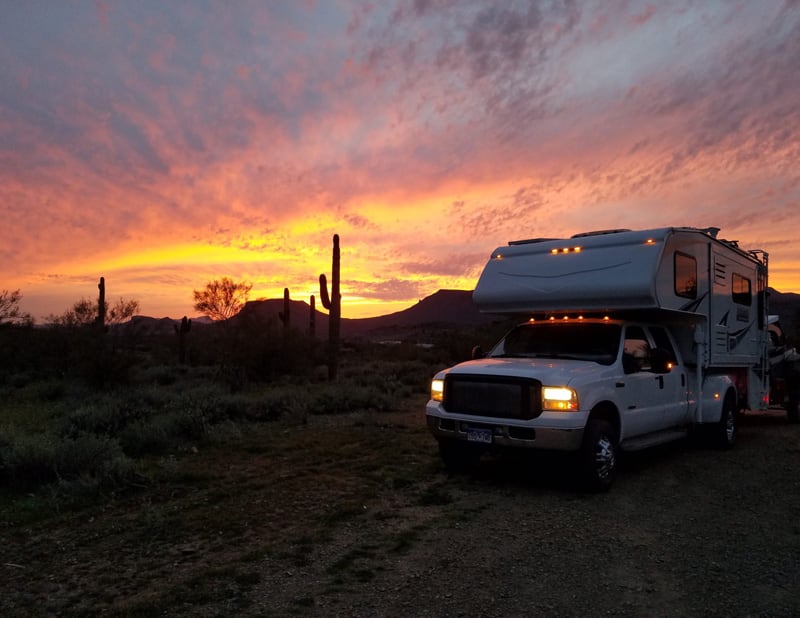 Here's just another Arizona sunset in the desert.  We were on our yearly trip snowbirding all over southern Arizona.  I was riding my 900RZR in the desert with friends from Phoenix.  We are so spoiled being able to park or camp on BLM land for free in the most beautiful country in the world.  Three years ago we spent a total of $33 to camp in the three months.  The $33 was because we were at a Lance camper rally for three days, but we could dump and take on water so that $33 was worth it.
Al Cowan
Four Sixes Ranch, Guthrie, Texas
2009 GMC 2500HD
2014 Northstar 8.5 Adventurer
Camera Used – iPhone 6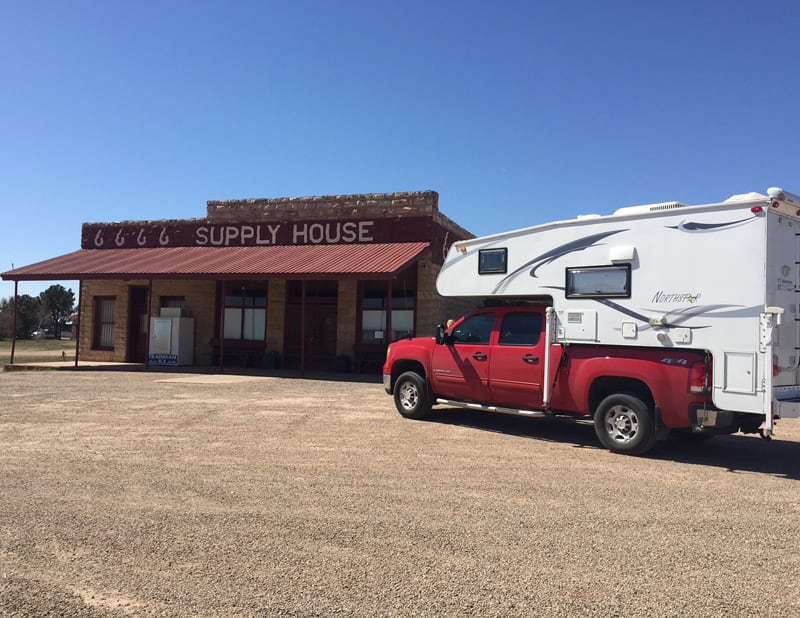 I've always had an interest in the big ranches of Texas and their histories.  On our return trip this February from the Rio Grande Valley of Texas, we had the opportunity to route through Guthrie, Texas to visit the legendary Four Sixes Ranch.  It was established in 1900 by Captain Burk Burnett and encompasses 350,000 acres.  Legend has it that the ranch was won in a card game with a hand of four sixes and thus the 6666 ranch brand was started.
Click here to see all of the photos entered so far in the 2021 TCM Calendar Contest. Enter your truck camper photos today!