For Behind the Shot Part 3, we are featuring photos and stories from Pismo Beach, Death Valley, the Sabine River, Kit Carson, and many more!  Click here to participate in the 2021 Truck Camper Magazine Calendar Contest and be considered for a Behind the Shot feature.
Ted and Jan Werner
Harshaw, Arizona
2011 Ford F-550
2019 Northstar 12STC
Camera Used – Canon PowerShot SX40HS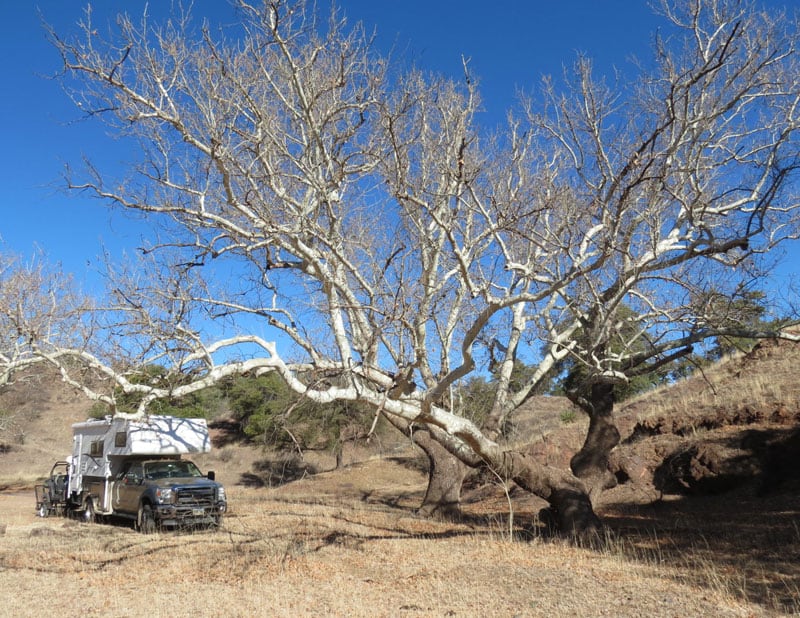 In February, Jan and I were camping in Patagonia, Arizona and passed this site near the old town of Harshaw while riding by in our Polaris RZR.  The shape of the Sycamore tree branches cried out for a photograph.  After breaking camp we brought the camper towing the ATV, and parked beneath the Sycamore.  The early morning sun and the leaf-less branches created a great shadow pattern.
Dion Childs
Pismo Beach, California
2015 Ford F-250
2005 Bigfoot 2500
Camera Used – iPhone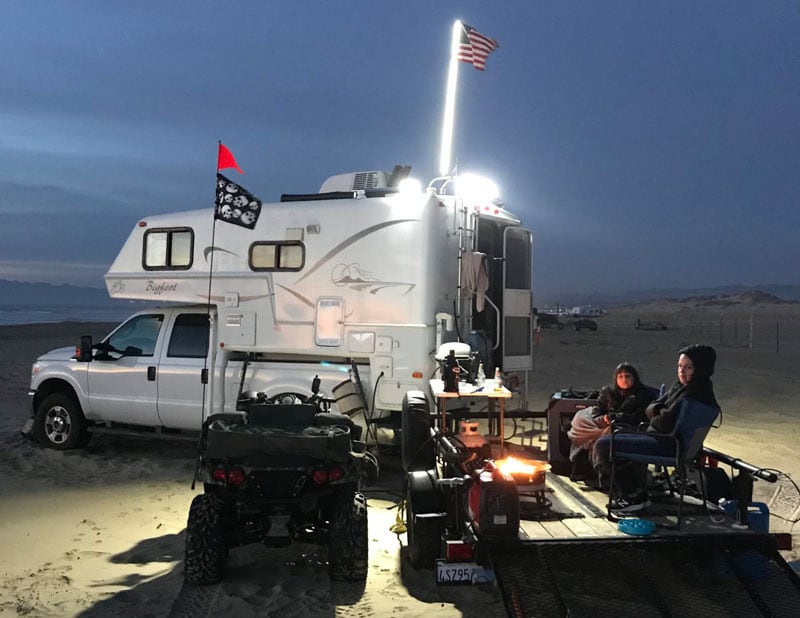 We went to Pismo Beach, California to spend time with family testing out my new Polaris 570.  I love camping on the beach with my family.
Dan Berkeley
Kit Carson, Colorado
2015 Ford F-250
2015 Alaskan 8 ft
Camera Used – Nikon D3400 18mm lens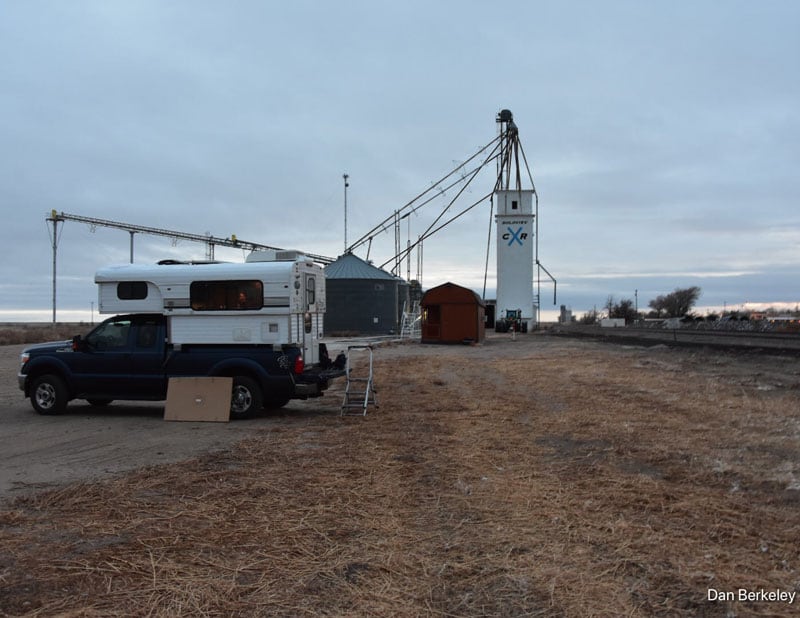 This was taken in Kit Carson, Colorado, near the Colorado/Kansas line where I was to meet steam engine UP4014.  I drove out the night before to meet the engine at 10:00 the morning of November 23, 2019.  We were between snow storms.  It was about 20 Fahrenheit and very cool.  Before the train arrived, about 100 cars joined us there.
This was boondocking, and well worth the trip.  The Alaskan camper kept three of us warm, comfortable and happy. Because the town was small and the crowd polite, we were able to see it up close and touch it.  When the whistle signaled "time to leave", you could feel it in your chest.  Ed Dickens and his crew were very kind to us.
Buddy Love
Sabine River, Haslem, Texas
1995 Ford F-350
1999 Lance 1030
Camera Used – Nikon 3000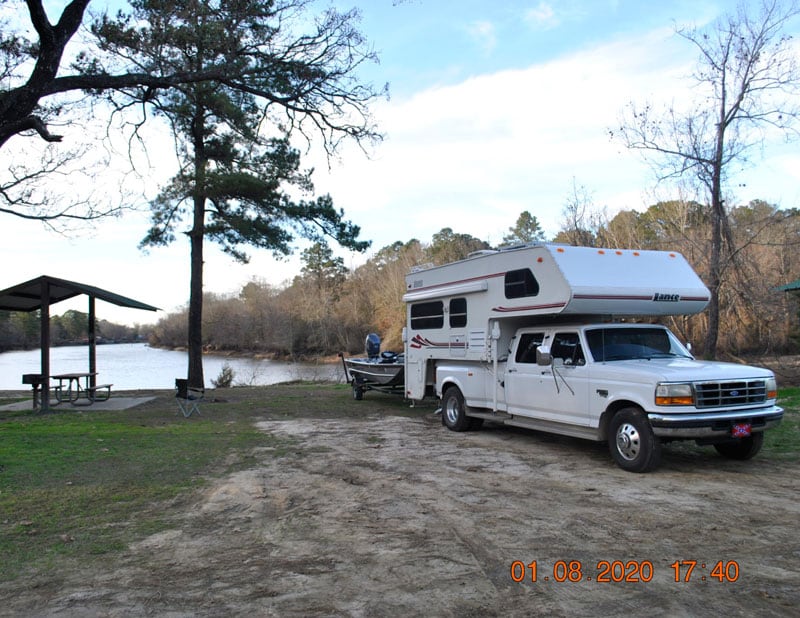 Crappie fishing on Sabine River (upper Toledo Bend lake) using our Lance 1030. Boondocking at Swede Johnson park right on the water. Campers can boondock here for free up to fourteen days.
Neil and Yoly Mullen
Berthoud Pass, Highway 40, Colorado
2016 Ram 2500HD
2018 Travel Lite 840 SBRX
Camera Used – Phone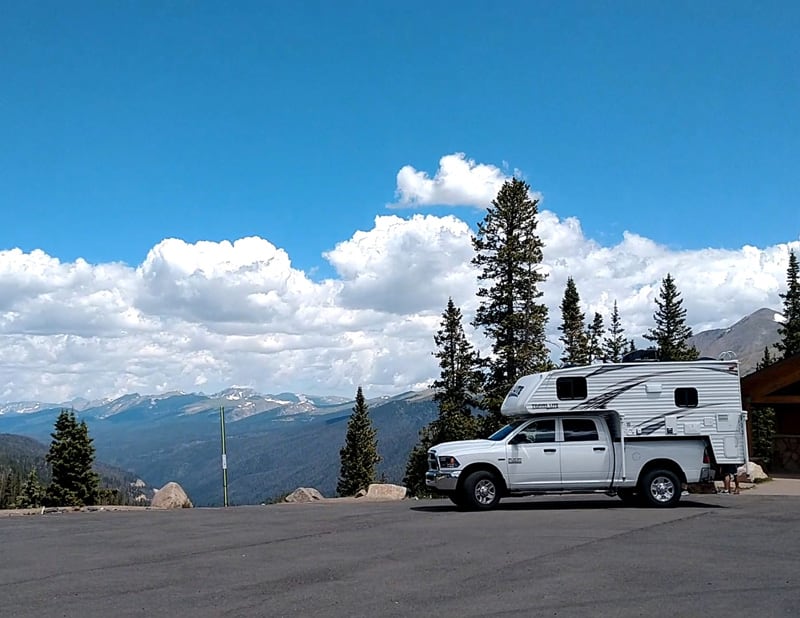 Here's a stop on our Gaining Altitude video series in our unsuccessful attempt to escape the summer heat and humidity of our Georgia home. The outside temperature when this photo was taken was 88 degrees Fahrenheit.
Jared Sund
Death Valley, California
2016 Ram 3500
2019 Eagle Cap 1165
Camera Used – Nikon D7500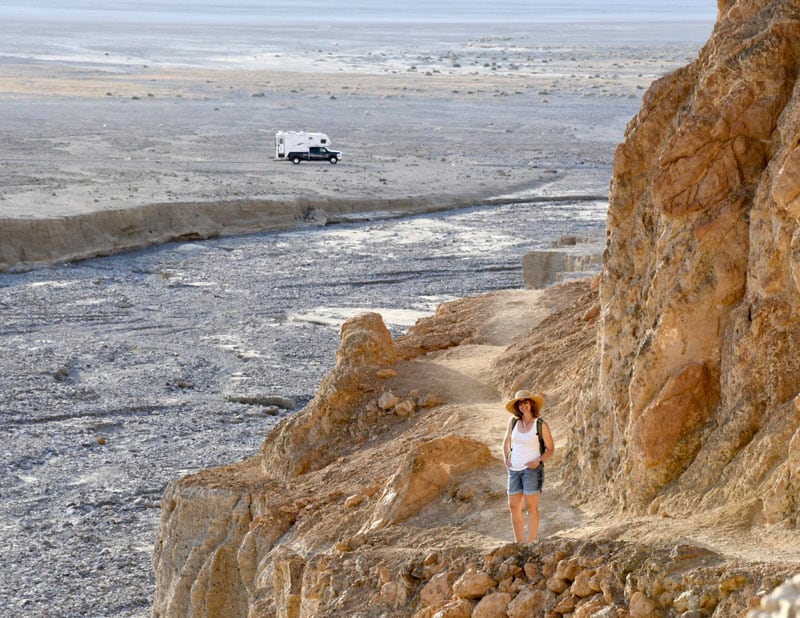 We're just closing up nearly six months and over 18,000 miles traveling around the country. We were leaving the LA area, north along I-5 heading home to Portland, Oregon. We happened to stop for some good Mexican food at Bowersbank, just east of Bakersfield on I-5. After looking at the map, we decided to backtrack back east and spend one more weekend out visiting Death Valley before pushing north back home. We wanted one more weekend in the warm sunshine before returning to the cold north.
One of the hikes we did over our time in Death Valley was the Golden Canyon trail. As we were coming out of the canyon, you could see our truck and camper sitting alone alongside the road. It looked like a Tonka truck sitting out there all by itself. I snapped a couple pictures with Candice on the trail and the truck in the background. Pictures like these show the truck camper lifestyle we enjoy so much.
Todd Smith
Escalante National Monument, Utah
2018 Toyota Tacoma
2019 Real Lite 1600
Camera Used – Samsung S7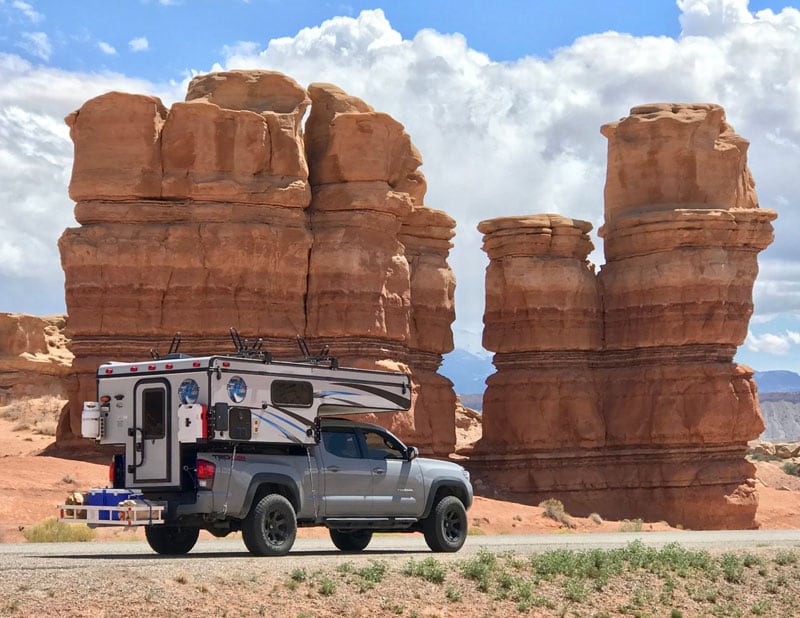 After months of setting up our new Tacoma truck camper combo we were on our maiden voyage to southern Utah to to spend 17 days in the backcountry. We managed to find some spectacular country that simply blew our minds. The beauty was everywhere we looked, exceeding all of our expectations that we had been dreaming about for months.
We managed to set up camp in a different location every night with a different backdrop to enjoy, cooked some amazing meals over the campfire, and sat looking at the star for hours. This us time was just what we needed to reconnect with mother nature and to be reminded how lucky we are to enjoy this lifestyle chasing our dreams and looking for adventure.
Gary Usher
Withlacoochee River Park, Dade City, Florida
2017 Ford F-350
2015 Lance 1172
Camera Used – DJI Phantom 4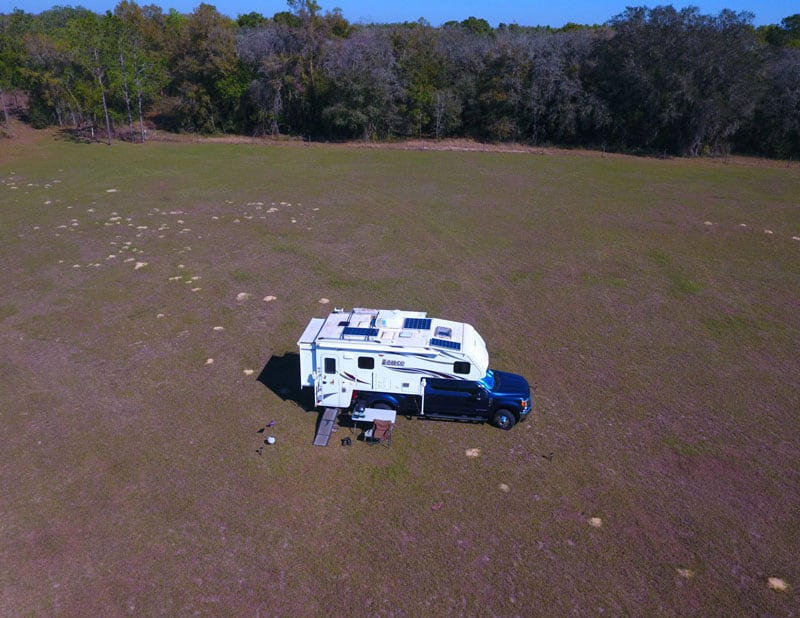 Withlacoochee River Park borders 875 square miles of Green Swamp in west central Florida. There was lots of wildlife and it's a great place to bring the telescope. There is plenty of camping in the area as well as some nice state parks.
Michael and Joanne Gibb
Michigan's Upper Peninsula
1996 Ford F-350
2007 Arctic Fox 805
Camera Used – Canon T7i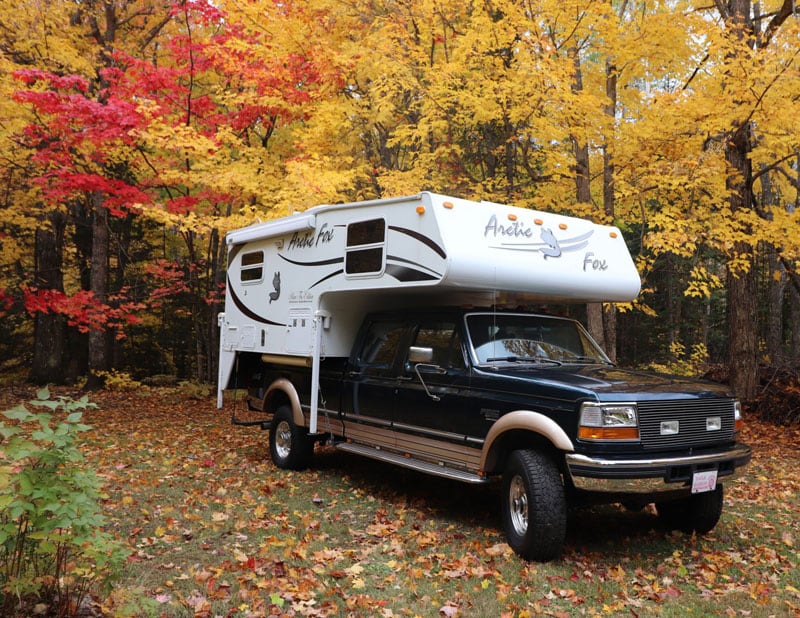 We live in the UP of Michigan and there are many logging and forest roads that you camp on and be all by yourself. It is especially beautiful in the fall with all the colors and peace and quiet.
Gail Cotton Michaud
Lajitas, Texas
2019 Ford F-250
2019 Cirrus 820
Camera Used – iPhone 8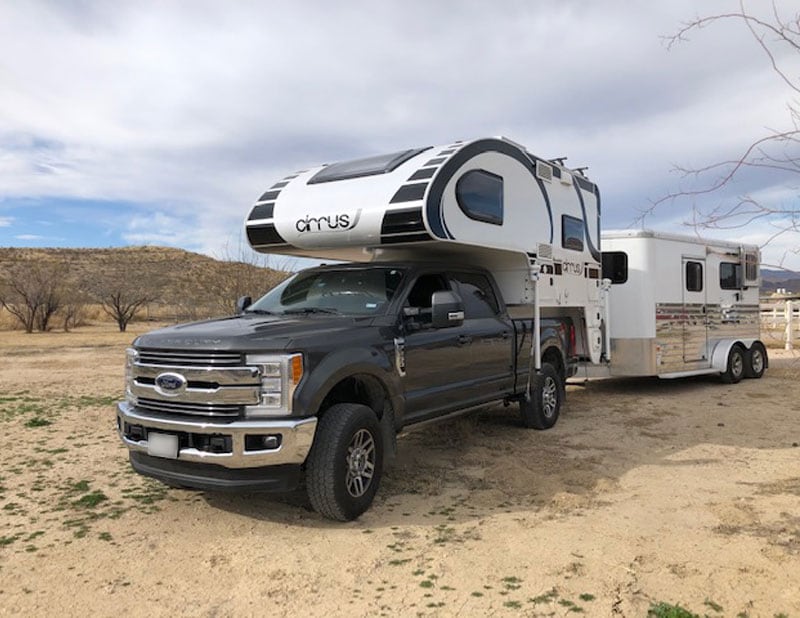 The photo was taken in Lajitas, Texas in February 2020. Some friends and I planned ahead and began our ten day adventure with our horses, driving from the Dallas area all the way down to the Mexican border, stopping in Lajitas. In 3.5 days, we rode our horses 75 miles, returning to our campsites each evening. Other days we did some hiking by foot without the horses.
After a long research process, we purchased our camper in March 2019 because my husband wants to take a two month driving trip from Dallas, out to the West Coast, up to Alaska, across the Canadian Rockies and end up in Quebec for a couple of months, then back to Texas. My husband is not a horse person, therefore, we thought the camper would be a great fit for both of us. When my husband wants to camp, we take off and when he doesn't go with my horse and me, I take the camper and horse trailer.
Click here to see all of the photos entered so far in the 2021 TCM Calendar Contest. Enter your truck camper photos today!