For Behind the Shot Part 2, we are featuring photos and stories from Santee Wildlife Preserve, Sea Rim State Park, Capulin Volcano, and many more!  Click here to participate in the 2021 Truck Camper Magazine Calendar Contest and be considered for a Behind the Shot feature.
Kami Golembeski
Santee, South Carolina
2011 Ford F350
2019 Northstar Igloo
Camera Used – iPhone 6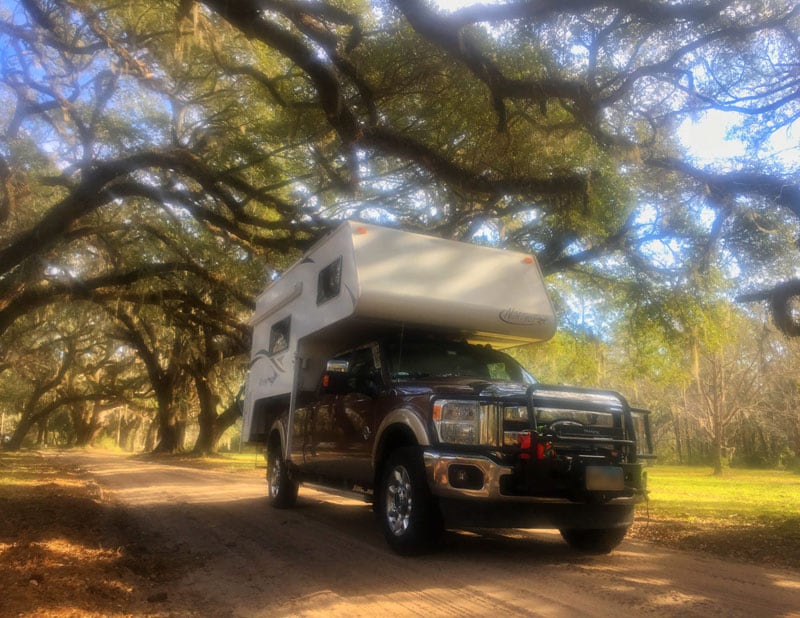 Kevin and I have been living full time in our truck camper, Rosie The Big Brown Truck, for a year now.  This photo was taken when we stopped to spend a few nights in the Santee Wildlife Preserve in South Carolina.  The old live oak trees, draped heavy with Spanish moss, provided cooling shade and a great back drop for this photo.
When camping here, we took long walks and saw amazing wildlife.  At night the coyotes sang us to sleep.  There were a few other campers.  One was even from our hometown in Vermont!  Small world.  You never know who you are going to run into when traveling.
Ken and Donna Pastorius
Sea Rim State Park, Texas
2015 GMC 3500
2012 Arctic Fox 1150
Camera Used – iPhone X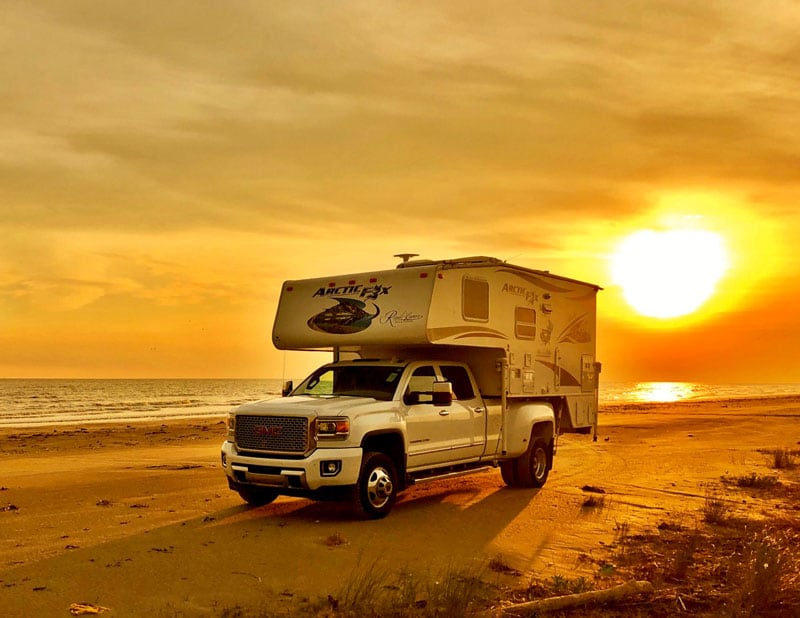 During the winter months, we love to roam the southwest.  Texas has so many beautiful State Parks, that we purchased a State Park pass.  We plan to visit many of the favorite ones before moving further west.  We spent the night on the beach, overlooking the Gulf of Mexico at Sea Rim State Park.
Richard Shedd
Lone Pine, California
2004 Chevrolet Silverado 2500HD
2020 Lance 825
Camera Used – Phone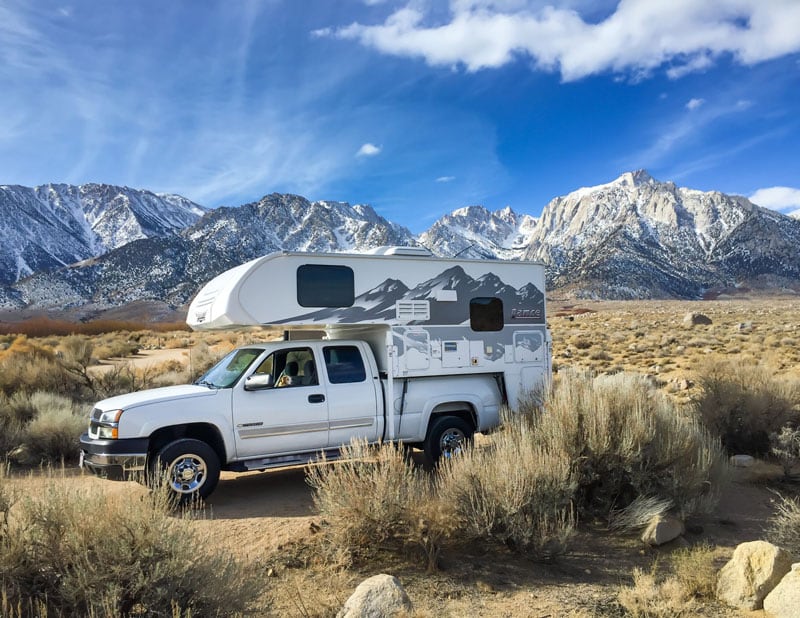 On the way to Death Valley, we camped a couple of nights just outside Lone Pine, California.  The Mountain Scene graphics on our new Lance 825 truck camper nicely complemented the eastern slope of the Sierra Nevada mountain range in the background.
Kyle Glazier
Breckenridge, Colorado
2007 GMC Sierra
1997 Hallmark Milner
Camera Used – Google Pixel 3 XL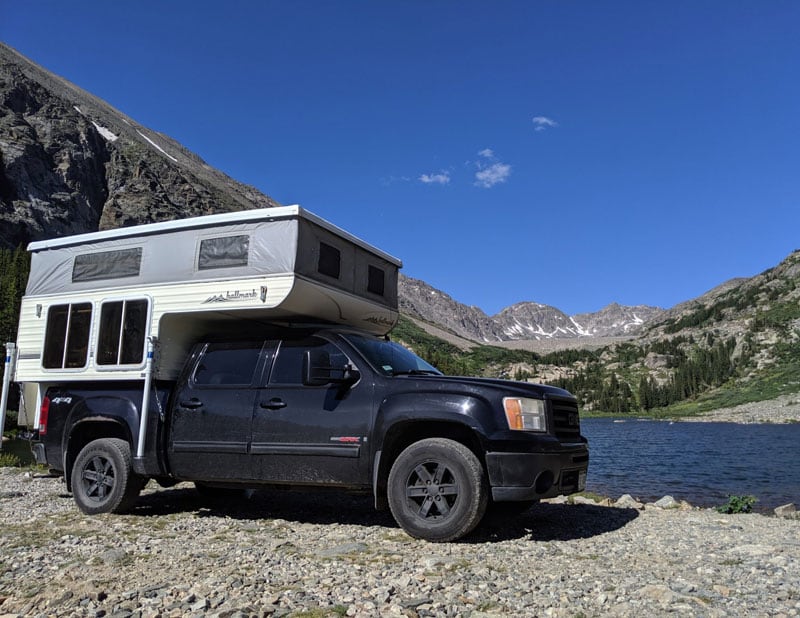 It was our first time taking our new camper and new German Shepherd puppy camping.  This is just south of Breckenridge, Colorado.  The campsite's elevation is roughly at 11,500 feet.
Tim Davis
Capulin Volcano, New Mexico
2018 Ram 3500
2018 Arctic Fox 811
Camera Used – iPhone 7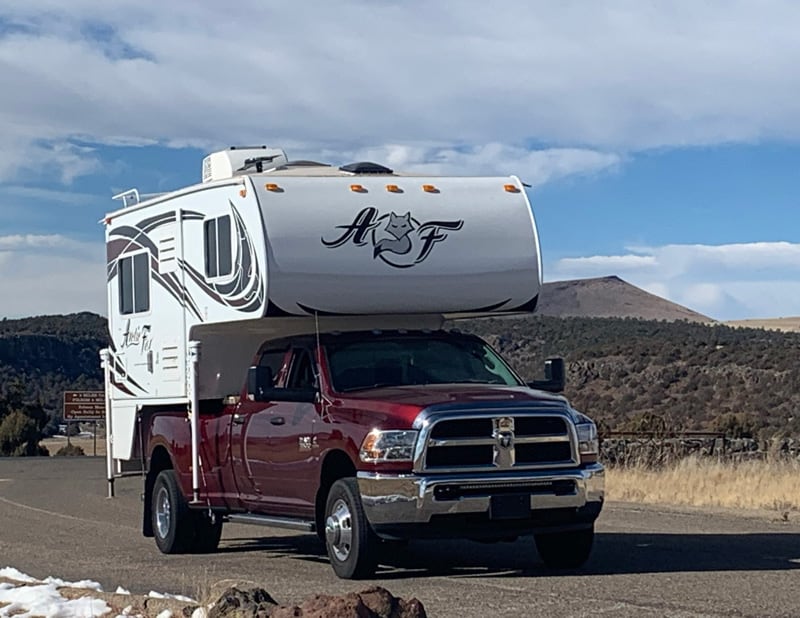 We went out for an early January 2020 trip and stopped to look at the Capulin Volcano.  Unfortunately, it was a closed road going up because it was washed out.
Dave Snapp
Fruita, Colorado
2012 Ram 3500
2017 Lance 1172
Camera Used – iPhone XR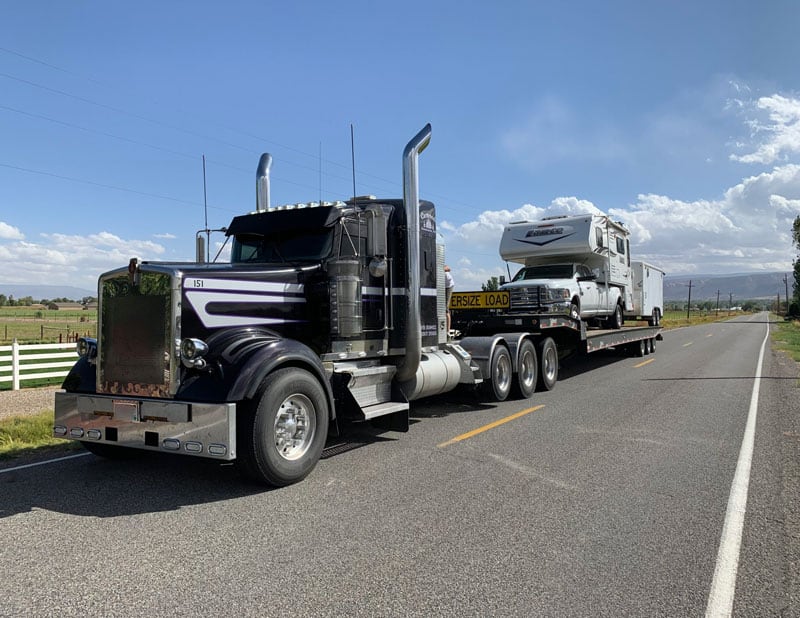 This is how we got home from a trip to Capitol Reef State Park in Utah.  After having a new heavy duty transmission installed in the truck we went for a break in run.  Little did we know the break in turned into a break down 25-miles from Capitol Reef.
After four hours on the phone with Good Sam and State Farm, neither would come get our trailer, nor would they get us home.  The rig could only go (not us) and only to nearest repair facility which was two hours in the opposite direction from home.
So our friends came and picked us up with the big truck.  Interesting story.  Been there done that, don't need to do it again!
Michael Lutestanski
Chipley, Florida
2019 Ram 3500
1994 Lance 300
Camera Used – iPhone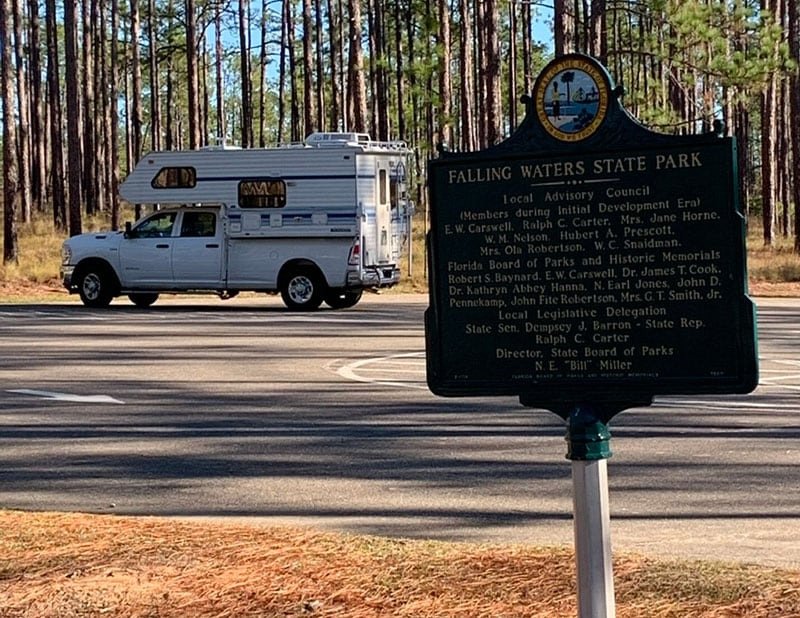 Returning home from Texas after Christmas I had to find a place to stay with power to recharge the batteries.  Falling River State Park had the only working bathrooms with showers in the area.  Most campgrounds still don't have bathroom facilities because of last year's hurricane.  Chipley, Florida is near I-10 west of Tallahassee.
Click here to see all of the photos entered so far in the 2021 TCM Calendar Contest. Enter your truck camper photos today!