For Behind the Shot Part 13, we are featuring photos and stories from Death Valley, the Missouri River, Santa Fe National Forest, and many more!
Click here to participate in the 2021 Truck Camper Magazine Calendar Contest.  The final day to enter photos is next Friday, October 16th.
Ruthie Ralls
Carter Ferry, Missouri River, Montana
2009 Chevy Silverado 2500HD
2005 S&S Montana Bitterroot
Camera Used – Canon Rebel T3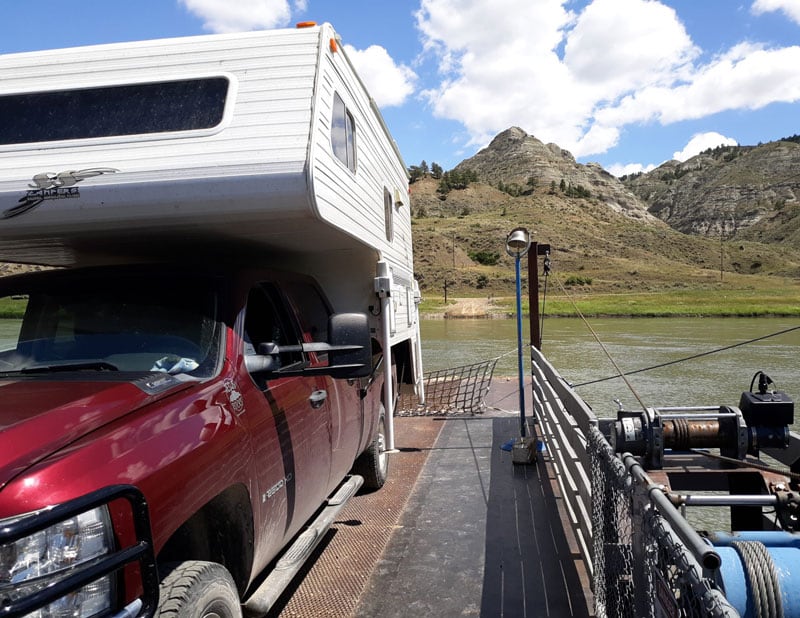 We went to Jordan, Montana to purchase this S&S camper and went on to the ferry crossing on the Missouri. I had read about it on Geocaching.com. We found geocaches along our route.
Patty Duvlea
Rainbow Mt, Richardson Highway MP206, Alaska
2014 GMC 3500
2016 Arctic Fox 1150
Camera Used – iPhone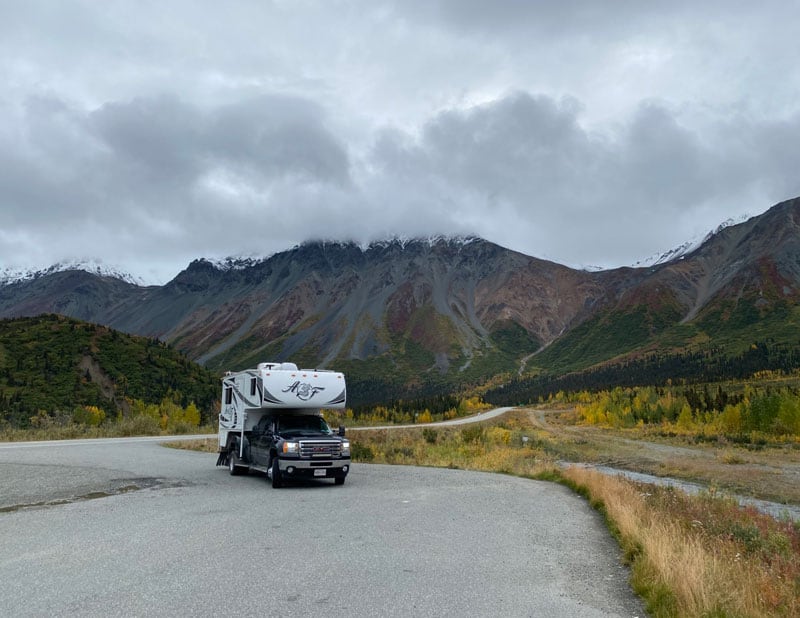 On the way to Valdez to go salmon fishing, I stopped for a quick break. The colors on the mountain change with the movement of the sun and the time of the year.
Lisa J Finkle
Portage Le Prairie, Manitoba
2009 Chevy Silverado
2006 Maverick Palomino
Camera Used – Sony A7R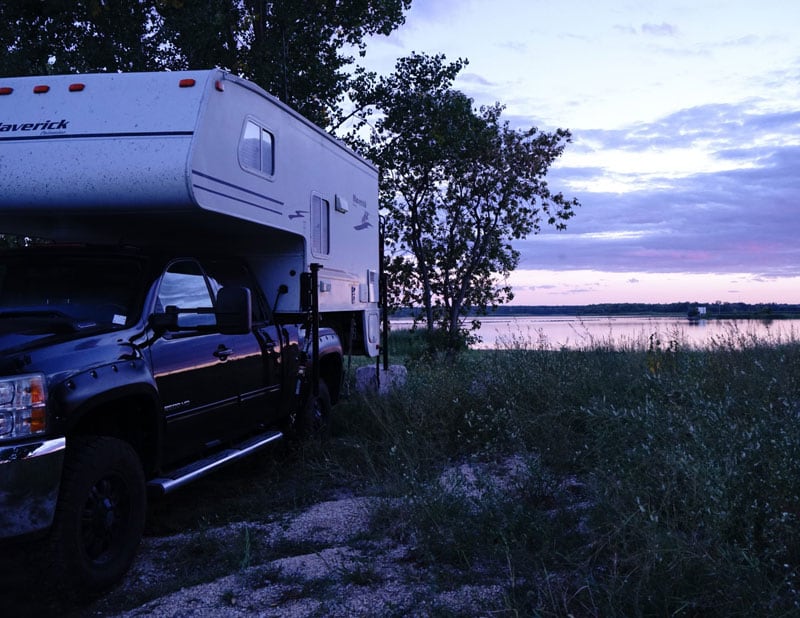 This summer we drove across western Canada in our new to us truck camper. After a long day of driving, we were looking for a spot to stop and found this just off the Trans Canada Highway 1 in Portage La Prairie, Manitoba. We took in the sunset and made some supper before driving on. It was exactly what we needed to recharge and drive on.
Steve and Liz Creighton
Recapture Reservoir, Utah
2016 Ford F350
2017 Lance 1172
Camera Used – Nikon 35mm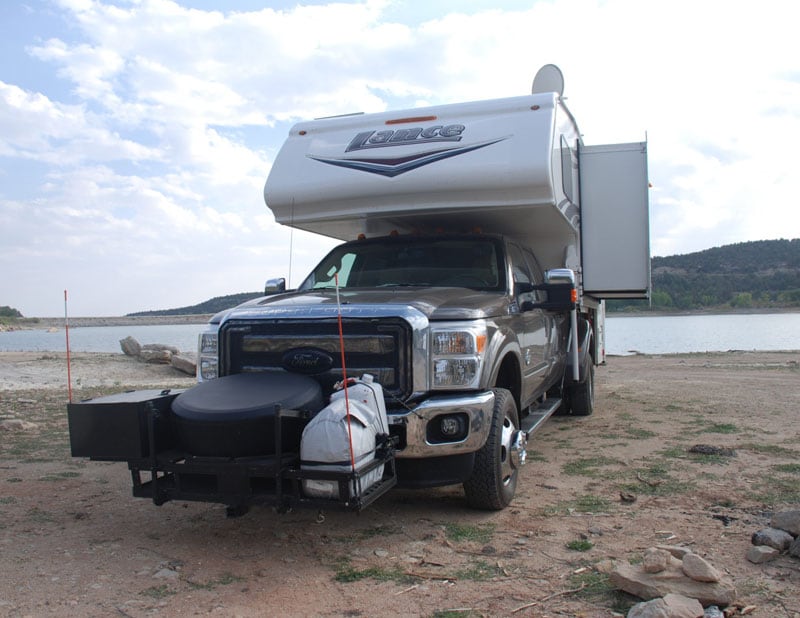 Looking for a place to boondock for the night on the way to Monument Valley, we came upon this gem. There was beautiful boondocking on either side of the lake with many spots.
Craig Dingman
Santa Fe National Forest near Cuba, New Mexico
2000 GMC 2500
2000 Lance 815
Camera Used – Smartphone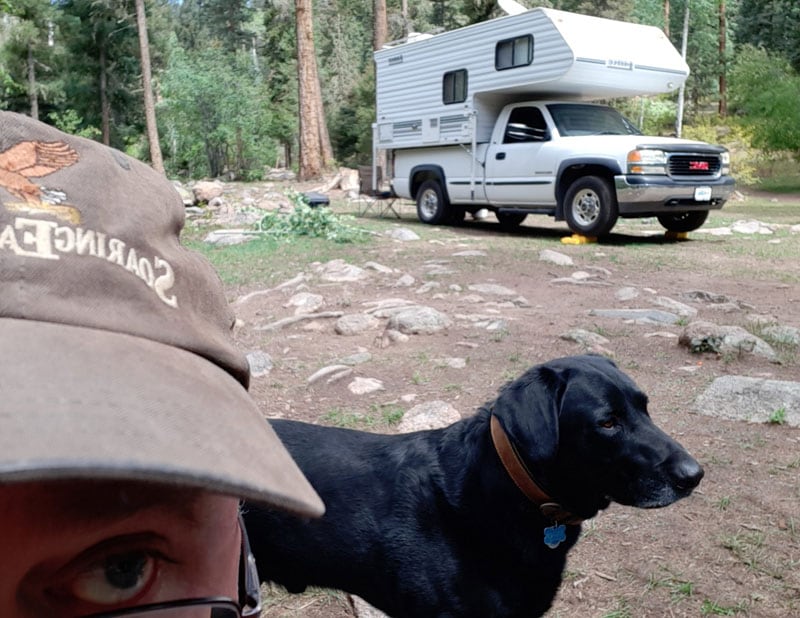 Camping along the Rio de Las Vacas, I took this picture just for fun. Tucker had his eye on some cattle grazing. That night I was awoken by a mouse on my chest. After screaming like a girl (no offense ladies), I somehow convinced myself it was just a dream. Evidence left on my counter proved it was no dream.
Gary Freedman
Death Valley near the Artists Palette Trail, California
2019 Ford F350
2020 Northern Lite 8-11 LE
Camera Used – Canon 60D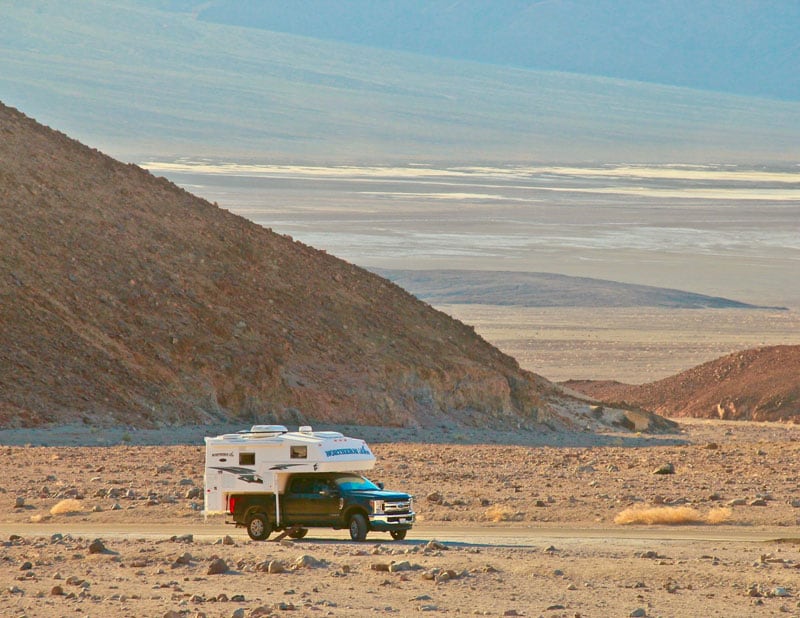 My wife and I were camping in Death Valley after a visit to the Arizona desert. We stopped to hike a bit of the Artists Palette Trail. I paused to take a breath and looked back at our rig; a very small camper in a very large landscape. I've lived in California for over 50 years, but had never visited Death Valley. It's wonderful… at the right time of the year!
Tim Zeh
Big Horn Mountains, Wyoming
2019 Ram 3500
2019 Arctic Fox 1150
Camera Used – Panasonic FZ200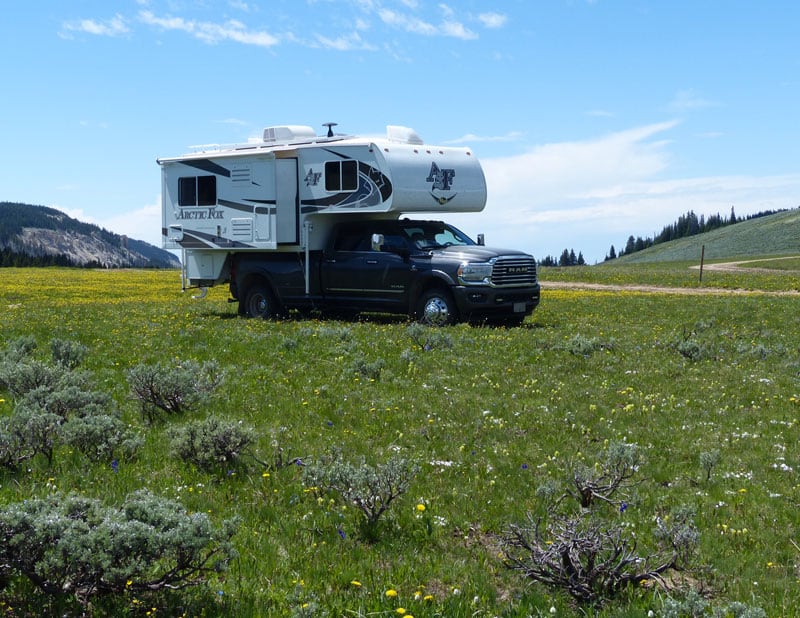 After a day of driving from the Thunder Basin National Grasslands, north of Gillette, Wyoming to Sheridan I decided to spend the night up in the Big Horn Mountains. I found a couple of dispersed campsites on Rt14 west of Burgess Junction. When I got up there, I stopped to ask a couple of guys coming out of the Forest Service Road if there was any good camping up the road. They said it was very crowded.
I asked if they knew of any other spots. They asked if I had a dog and I said no, I didn't bring my dogs with me. They said I was welcome to camp near them up in the alpine meadow. So I followed them west on RT14 to the FS10, Hunt Mountain Road. We drove a couple miles up the road to the field of wildflowers. What a beautiful location.
Derek Davis
Eureka Valley Sand Dunes, Death Valley, California
2020 Ford F450
2021 Lance 1172
Camera Used – iPhone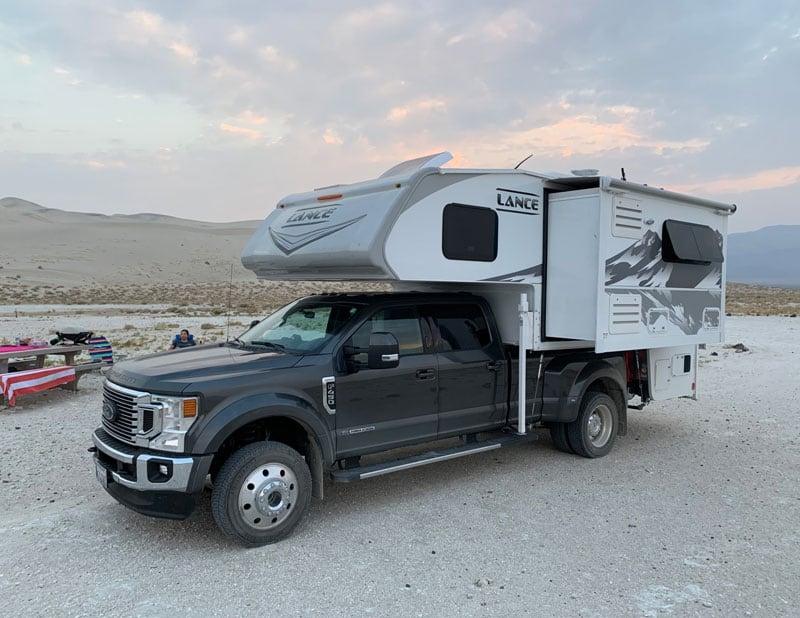 We travel to the eastern Sierras and Death Valley several times throughout the year. This year we were up against a record-setting heat wave and historic wildfires. We could only stay at our campsite in Death Valley until 10am as it was already over 100 degrees at that point. In fact, just three days prior to our visit Death Valley, an all-time record temperature of 130 degrees was set!
However, our new Lance 1172 provided a cool escape with its onboard generator and air conditioning!
Eureka Valley Sand Dunes is a serene and amazing spot. Look it up and check it out next time you're thinking of a fun place to camp. It's just two hours from Mammoth Lakes, California!
Brad Tinker
New Zealand
2005 Ford F150
2007 Lance 815
Camera Used – Samsung S20+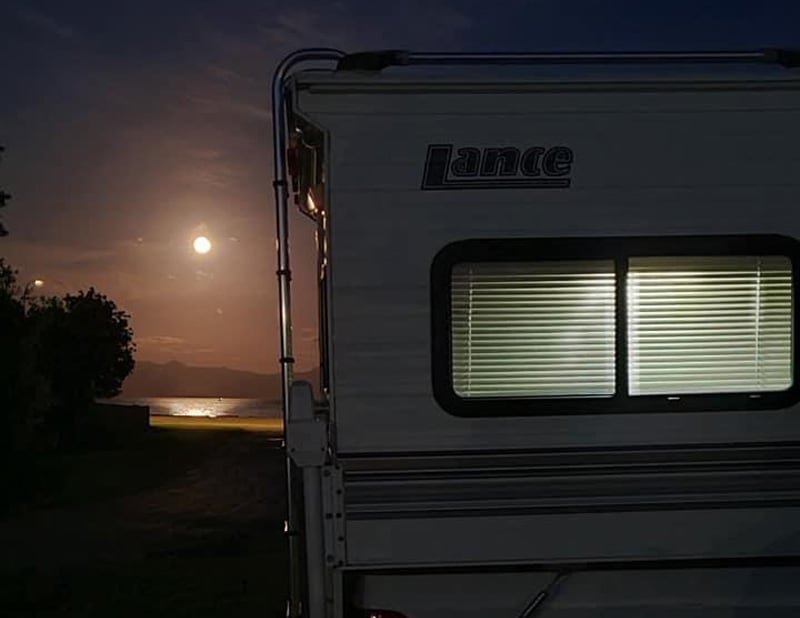 Here we are freedom camping on the side of the Firth of Thames in the North Island of New Zealand. We walked back to our Lance after dinner and then had drinks at the country pub. It was a beautiful still night with a full moon and calm water which makes for a good photo.
Nancy Roberts
Shell, Wyoming
2020 GMC 2500
2020 Palomino Backpack Edition
Camera Used – iPhone 8plus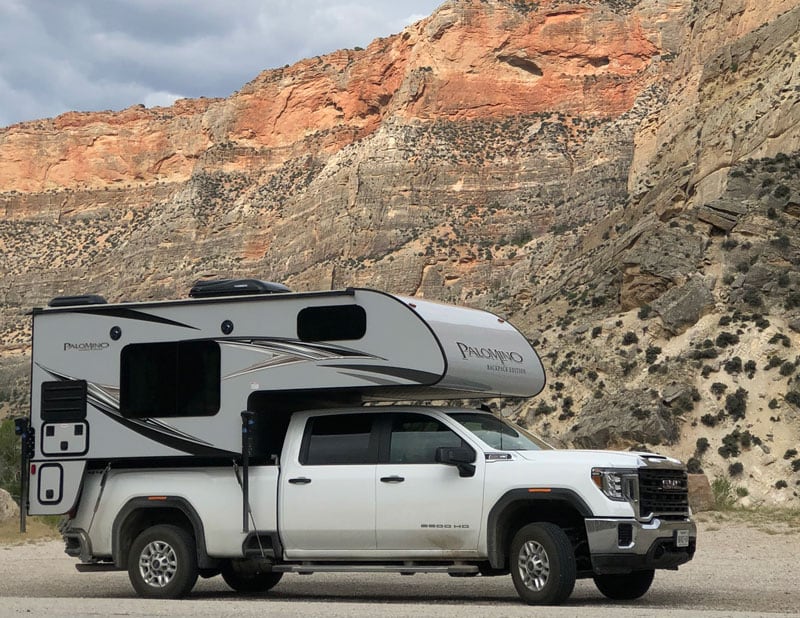 I love Wyoming and the Big Horn Mountains. The elevation is around 4,000 feet. This was taken on the way back from my first trip through Montana. It was a beautiful week.
Kelly Hooton
Savannah, Georgia
2017 Ford F-450
2020 Eagle Cap 1200
Camera Used – Canon EOS 5DSR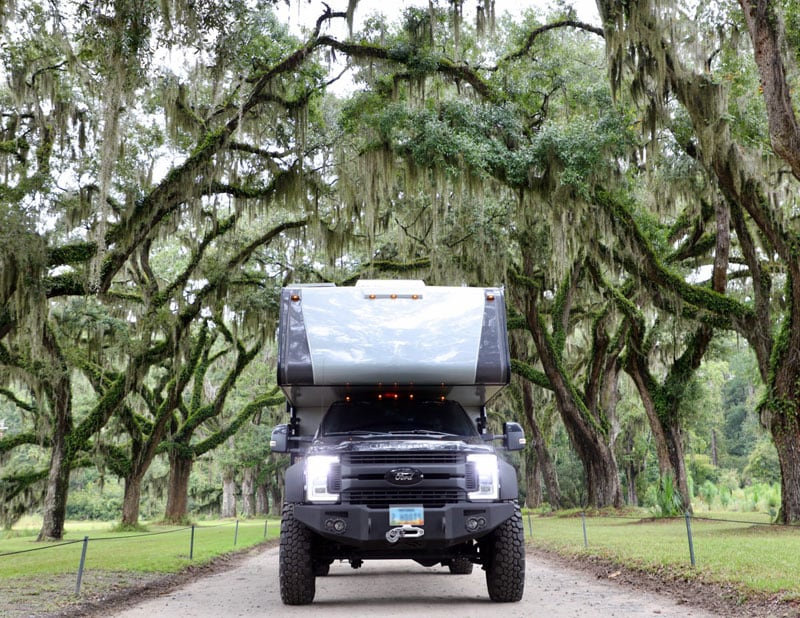 This photo was taken at the Wormsloe Plantation built-in 1733 in Savannah, Georgia. We did the full tour and walked around the property. It also had a cemetery there for the founders kin. The plantation is still owned by the original founder's descendants.
When we walked around the marsh area, what we first thought were bugs crawling all over the ground, when we looked closer, were indeed little land crabs. They move quickly from side to side and hide in little holes in the ground if threatened. It is a beautiful place to visit.
The Spanish moss growing on the oak trees that cover the road to the parking area is quite the experience. We recommend a visit to anyone traveling in the area.
Click here to see all of the photos entered so far in the 2021 TCM Calendar Contest.
Enter your truck camper photos today.  The deadline is next Friday!