For Behind the Shot Part 12, we are featuring photos and stories from Dinosaur National Monument, Lake Crescent, Antelope Reservoir, Vancouver Island, and many more!  Click here to participate in the 2021 Truck Camper Magazine Calendar Contest and be considered for a Behind the Shot feature.
Gaston Belanger
Arizona
2017 Ram 3500
2017 Northern Lite 9-6 Q SE
Camera Used – Kodak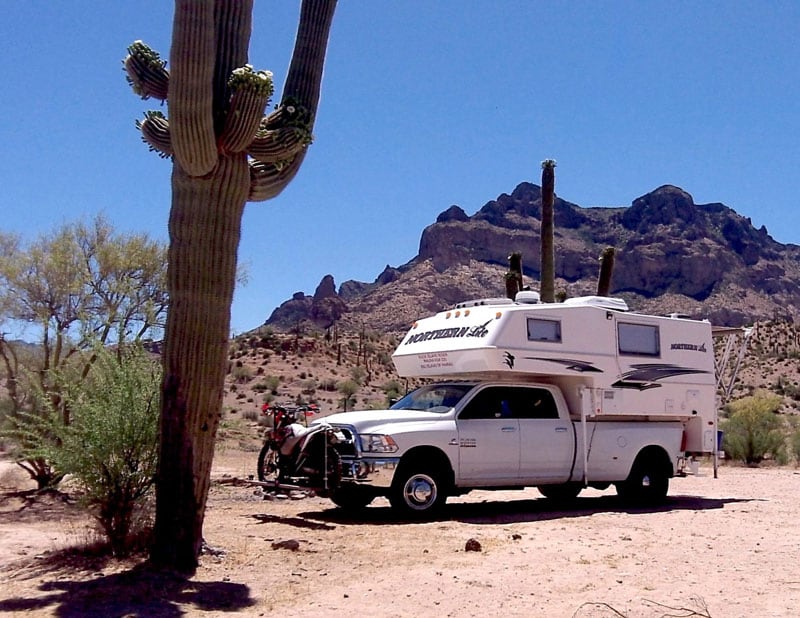 I stopped to have lunch and walked around a bit and as I passed that big Saguaro cactus. A swarm of black African Bees boiled out of that small hole and attacked me. I ran faster and longer than I ever have, slapping my face and head silly to keep them off me. After about 200 breathless yards they backed off. If I had tripped and fallen exhausted, they would have killed me. Try that at 79 years old!
Bill Bryant
Near Dinosaur National Monument, NW Colorado
2015 Ford F450
2009 Lance 992
Camera Used – Canon 5d Mark IV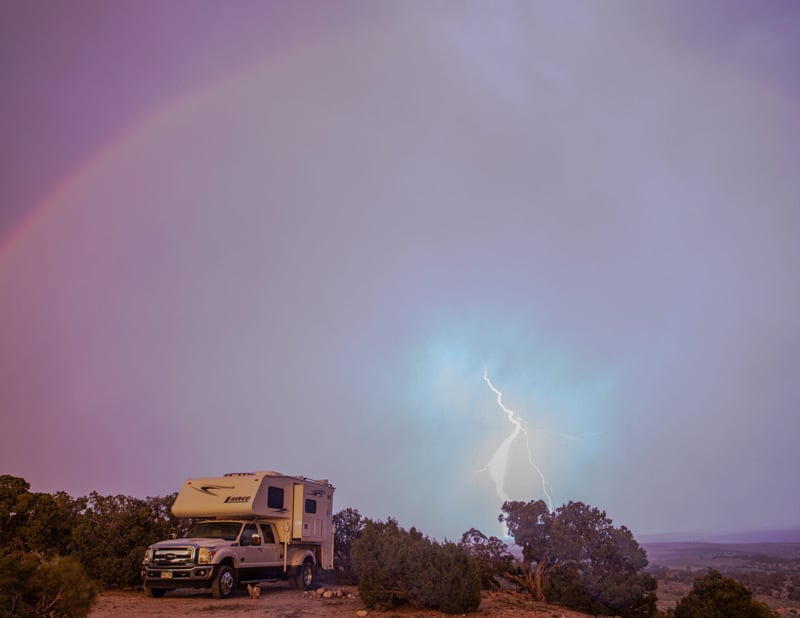 We had just set up camp for the night on a ridge top with a great view, just north of Dinosaur National Monument, when a thunderstorm started moving towards us. I was fighting the increasing wind and taking photos of the camper under a beautiful rainbow when BAM! A lightning bolt struck the ground a little too close for comfort. I felt the hair on my arms stand up, and took refuge inside of the camper. I didn't realize until later that I was lucky enough to capture the lightning bolt in one of my images.
Marty Heaney
Big Hole River, Montana
2012 Ford F150
2020 Palomino SS-1251
Camera Used – iPhone 11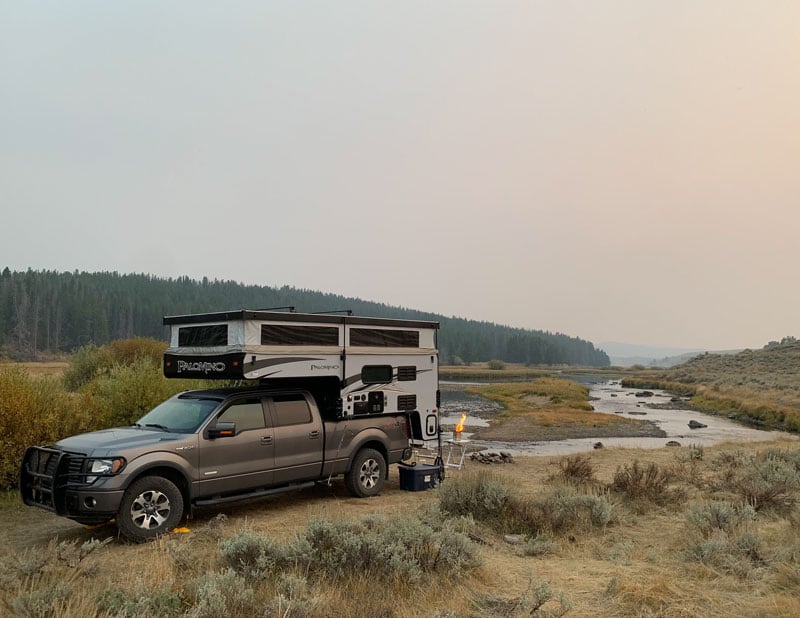 This photo was taken just before sunset. The smoke is the result of several forest fires. The area is a small section of BLM ground which allows for camping without any designated sites. The Big Hole River shares its name with the valley it winds through and sits at approximately 6,000 feet in elevation. Temperatures can easily swing up to 35 degrees in a matter of hours.
The river is free of dams and one of the only bodies of water in the lower 48 that maintains a sustainable population of grayling. I spent the better part of my teenage years working on cattle ranches near Wisdom, and 40 years later I still look forward to any time I can spend in the valley of 10,000 haystacks.
Horacio Cesconetto
Chubut Republica, Argentina
2015 Toyota Hilux
2015 Northstar 700SC
Camera Used – iPhone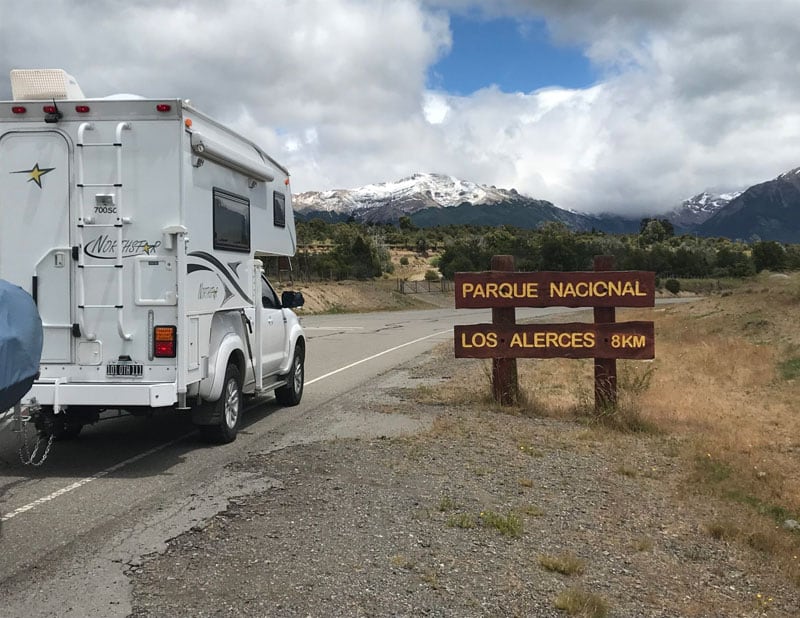 I was on vacation and entering Los Alerces National Park.
Angie Scott
Antelope Reservoir, Oregon
2014 Chevy Silverado 3500
2016 Northern Lite 8-11QSE
Camera Used – iPhone XS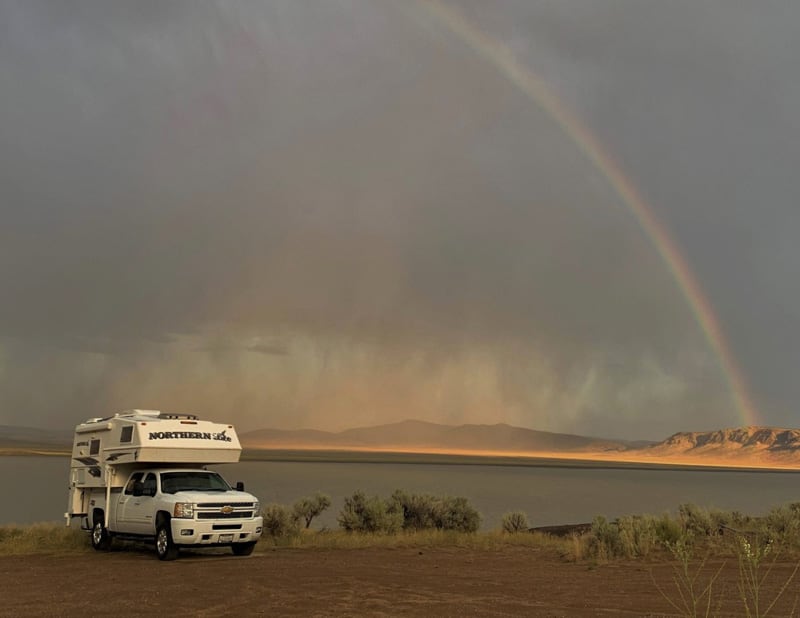 On our way home Idaho, we stopped for the night at one of our favorite places in southeast Oregon called Antelope Reservoir. It's BLM land off of Highway 95. It was hot and humid, but very peaceful! Antelope can usually be seen grazing in the fields on the opposite side of the lake. This day, however, there was a storm brewing close to the hills next to the lake; there were ducks and geese on the water but no larger wildlife to be seen.
The sky was full of beautiful, majestic clouds and I was happy that I had my cellphone to use for shooting photos. I usually bring my Nikon on any truck camping journey, but this was a business trip so I left it at home.
The storm was moving fast, so we hurried inside our truck camper, shutting vents and large windows. It was not a minute too soon. Thunder, lightning, wind, and rain were upon us. It did not last long, maybe 20 minutes.
The storm had passed and the sun was peeking through the clouds so we ventured outside to survey the landscape. It was gorgeous! The water was calm and very dark, and there was even a rainbow!
Nathalie Blackburn
Rivière-Ouelle, Québec
2017 GMC Sierra 3500
2012 Northern Lite Sportsman
Camera Used – Nikon D500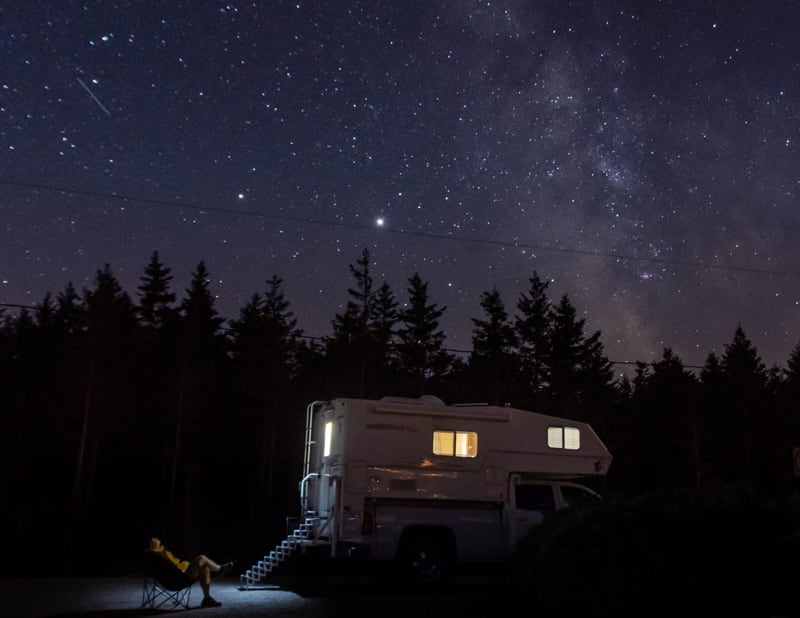 We were observing stars and the Milky Way on a beautiful late summer night. It was on the edge of a pretty beach in the small village of Rivière-Ouelle in Quebec.
Michael Shapiro
Bristol Head, Colorado
2017 Ford F350
2012 Lance 992
Camera Used – Phone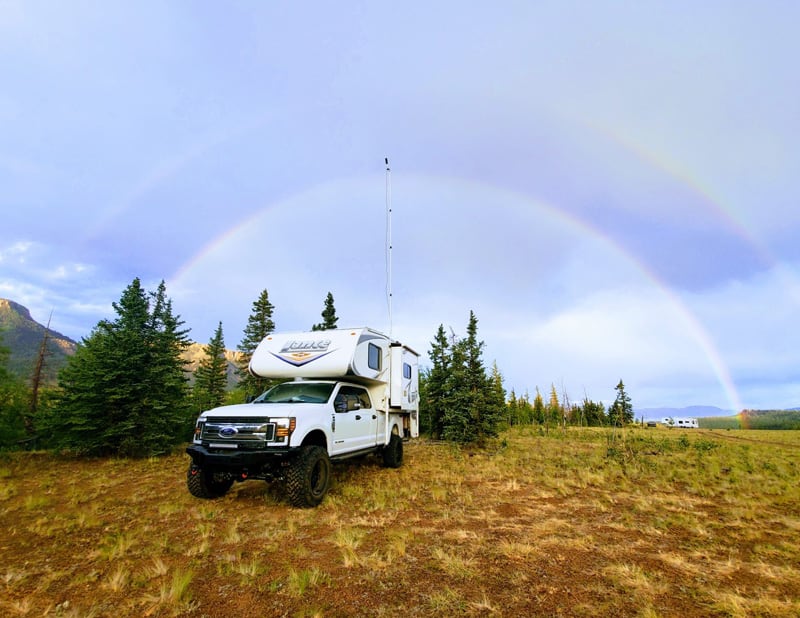 We went on a three week trip traveling the continental divide from New Mexico through Colorado. When we were boondocking outside of Bristol Head we saw an incredible double rainbow which looked surreal.
Laura Warrington
Hog Park Reservoir, Wyoming
2019 Chevrolet Silverado 3500
2013 Northern Lite 8-11Q SE
Camera Used – Kyocera cell phone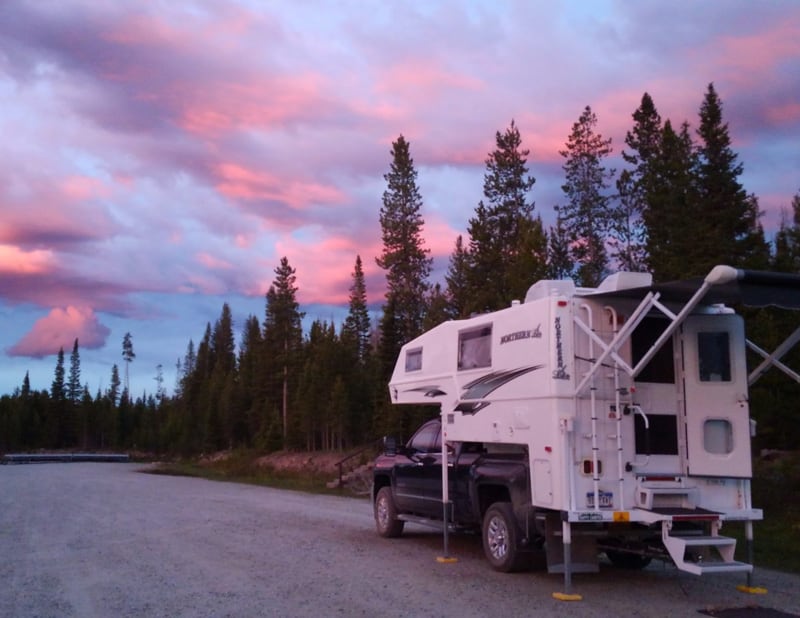 Many years ago, we camped at Hog Park Campground in Wyoming. This year, we decided to go back for some early summer camping. Because of the 8,400 elevation and late snowfall, the campground was not officially opened. However the boat ramp for the reservoir was open for fishing, so we set up camp in the picnic area near the boat ramp. We were the only ones there for four days. Sunsets over the reservoir were beautiful. Wildlife was abundant to include moose, deer, hummingbirds, and bald eagles.
DJ Spantgos
Rend Lake, Ilinois
2001 Chevy 3500
2008 Bigfoot 25C 10.6
Camera Used – Smartphone iPhone 8+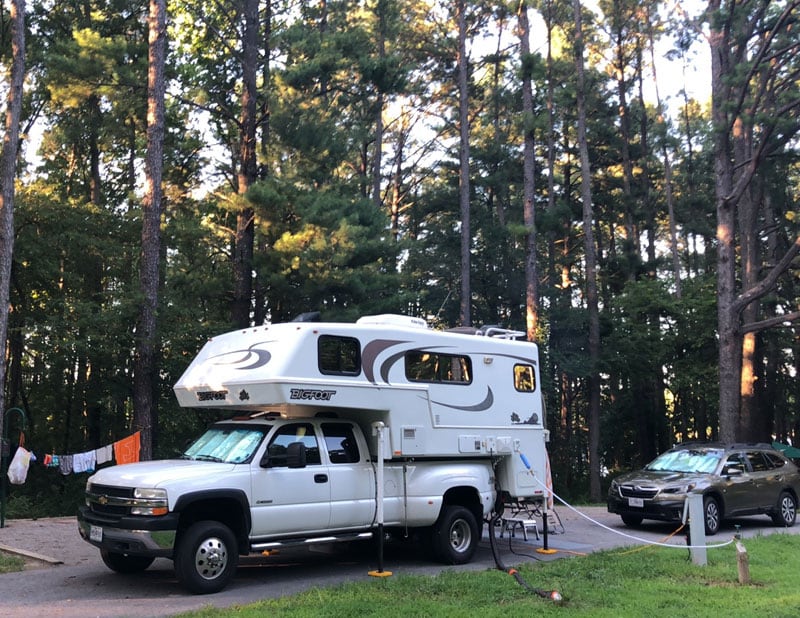 This is south Sandusky campground on Rend Lake in southern Illinois. We fell in love with the pines in this campground. Full hookups with lots of space – what could be better?
Jan Dinnocenzo
Capitol Reef National Park, Utah
2017 Ford F250
2017 Lance 850
Camera Used – iPhone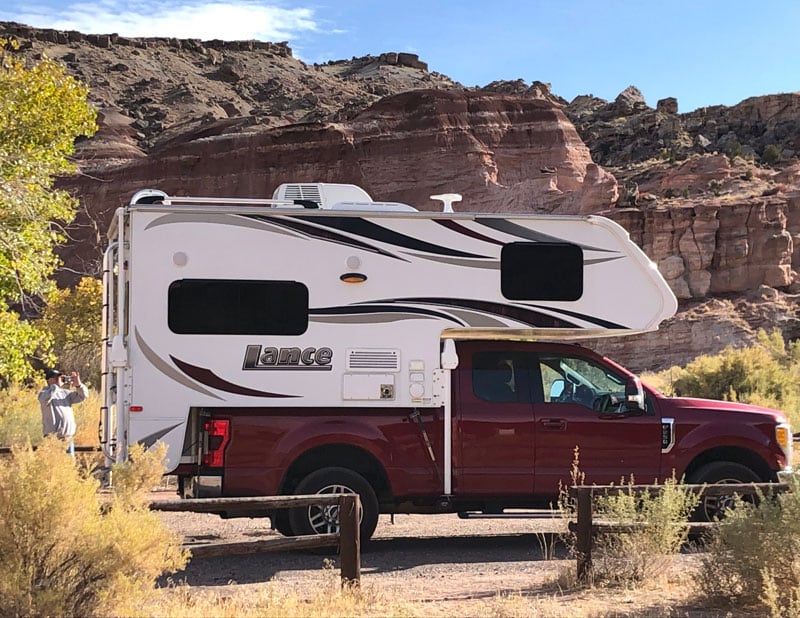 After touring Capital Reef National Park, we wanted to get a campsite in the park, but found they were all full. We traveled a little further down the road and discovered a beautiful pull-off to boondock. It was in BLM land just off the road with no one around. We set up camp for the night, set our chairs up outside, and looked up at the cliff just above us to discover a small cliff dwelling right above our site. Since it was our first time boondocking we were a bit apprehensive because there was no cell service and very little traffic. As it turned out, it was one of the most memorable sites we have stayed at to date.
Debbie Bishop
Buffalo Gap National Grassland, South Dakota
2019 Ram 3500
2005 Lance 845
Camera Used – iPhone 8 Plus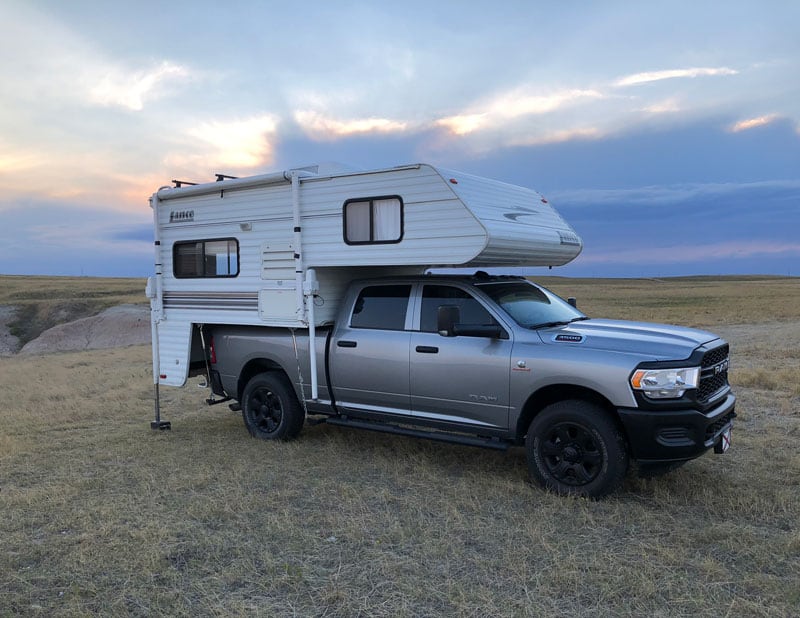 This was our first trip with our truck camper. We traveled through 12 states and drove 4,000 miles. This was the best camping spot hands down. The Nomad View Dispersed Camping area in Buffalo Gap National Grassland just outside Badlands National Park is on a bluff overlooking the badlands and the views were amazing. Best boondocking ever.
Dennis Cooper
Tofino, British Columbia
2002 Ford F350
2001 Corsair 10'2″ Excella
Camera Used – iPhone 4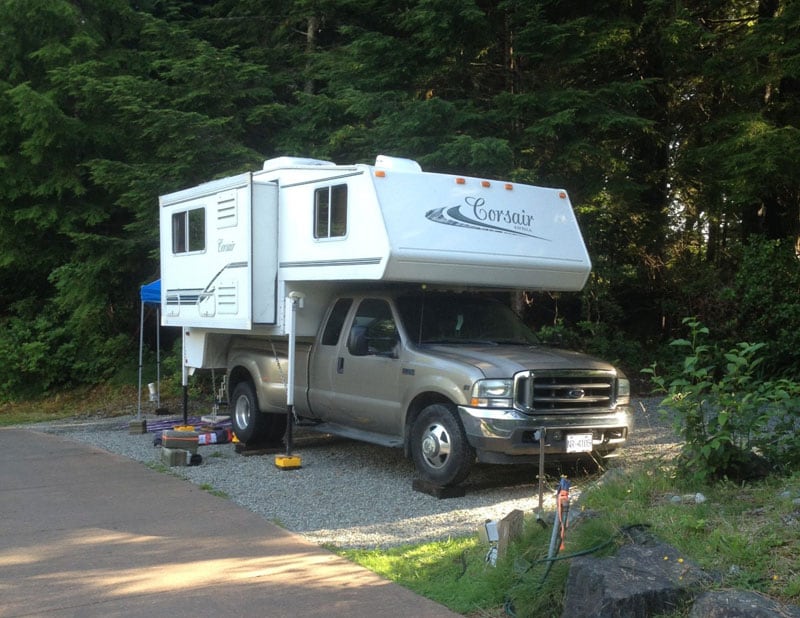 We have owned several RVs. Years ago we started with our first rig, a 1975 Ford F250 and 8-foot camper. We have progressed through a couple of fifth-wheel trailers. Then, we thought a Bucket List cross Canada road trip in a truck and camper would be a great adventure. In early 2020, we found an older Ford F350, low mileage, complete with a Corsair Excella slide model camper. It appeared to be just the rig to hit the open road!
Who knew that Covid-19 was about to change the world and everyone's plans? After being isolated for most of the year, we ventured from our Salmon Arm, British Columbia home to Vancouver Island to get a short trip in and to try out the rig. This picture was taken in Tofino. We hope to be able to travel safely next year. Safe travels to all truck campers.
Andre St-Laurent
Cote Nord, Quebec
2011 GMC Sierra
2015 Northern Lite 8-11
Camera Used – Phone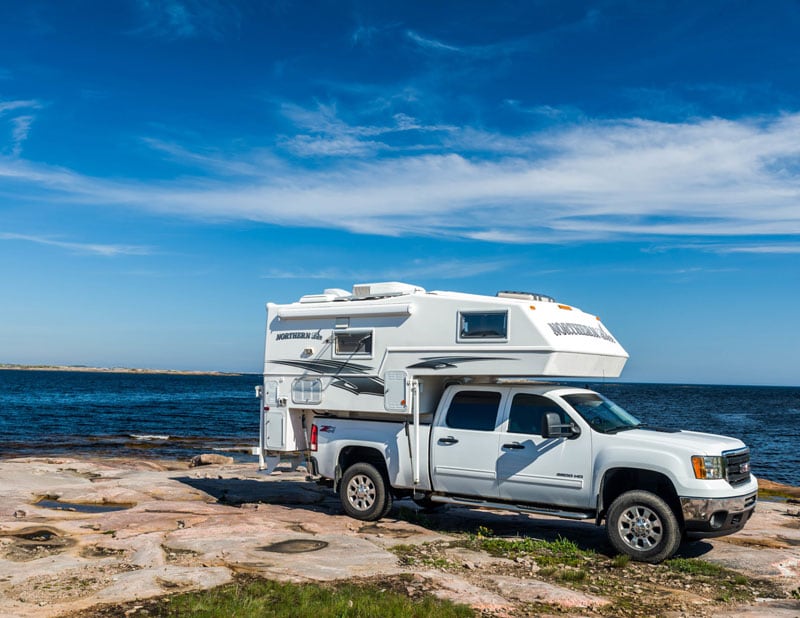 We went on an east coast road trip east coast. Here we are sleeping on the rock just above the tide.
Jim Goodrich
I-40 east of Albuquerque, New Mexico
2006 Chevy 3500
2008 Lance 1191
Camera Used – iPhone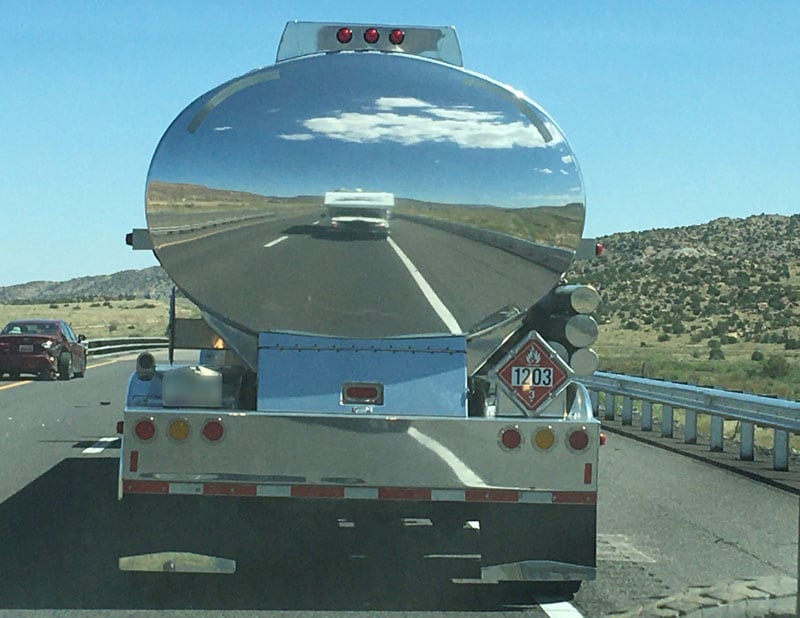 We were stuck in stopped traffic eastbound on I-40 (wreck on far left) behind a shiny tanker trailer.
Michael Walker
Lake Crescent, Washington
2016 GMC 3500
2017 Northern Lite 10-2
Camera Used – iPhone 7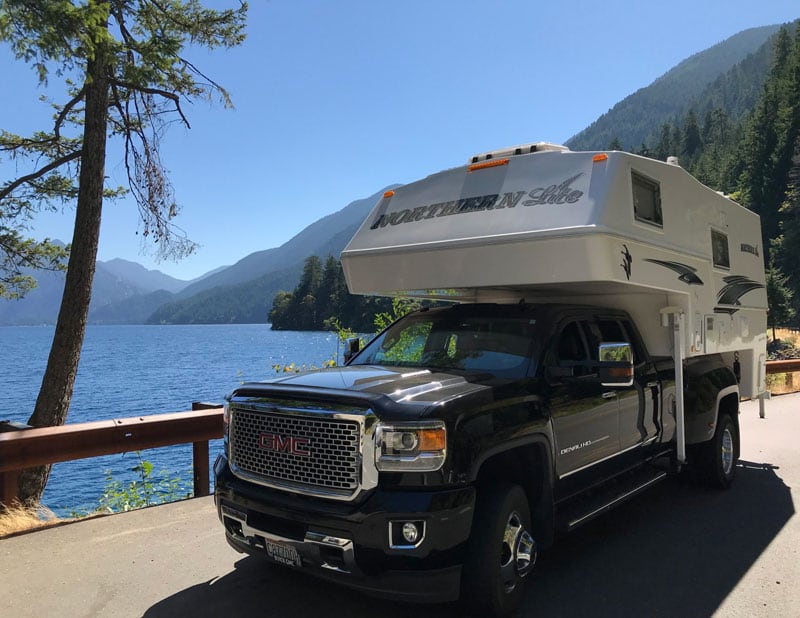 We were camping in Sequim, Washington exploring the Olympic National Park area with friends in August of this year. When we left to drive down to Forks, Washington, the drive took us past Lake Crescent. It is truly a beautiful lake and the surrounding area is gorgeous. We pulled over near the west end of the lake near one of the boat ramps. I couldn't resist taking this shot.
Terry Gfeller
Horse Creek, Dubois, Wyoming
2015 Ram 3500
2013 Lance 865
Camera Used – Phone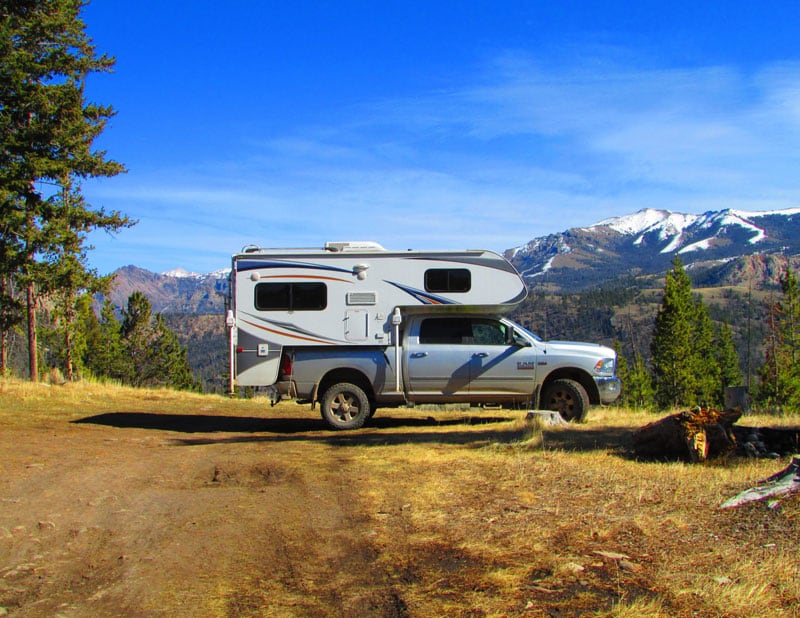 It was windy and cold, but I had a great view camping on Horse Creek Road. In a month-long camping trip, I might stay two or three nights at a campground. It is usually only when I'm in route from or back to home. The rest of the time I boondock at places like this that I find when exploring backroads.
Ralph Goff (aka Ramblin' Ralph)
South of Lake Tahoe, California
2006 GMC 2500 HD
2001 Lance 845
Camera Used – Panasonic DMC-ZS50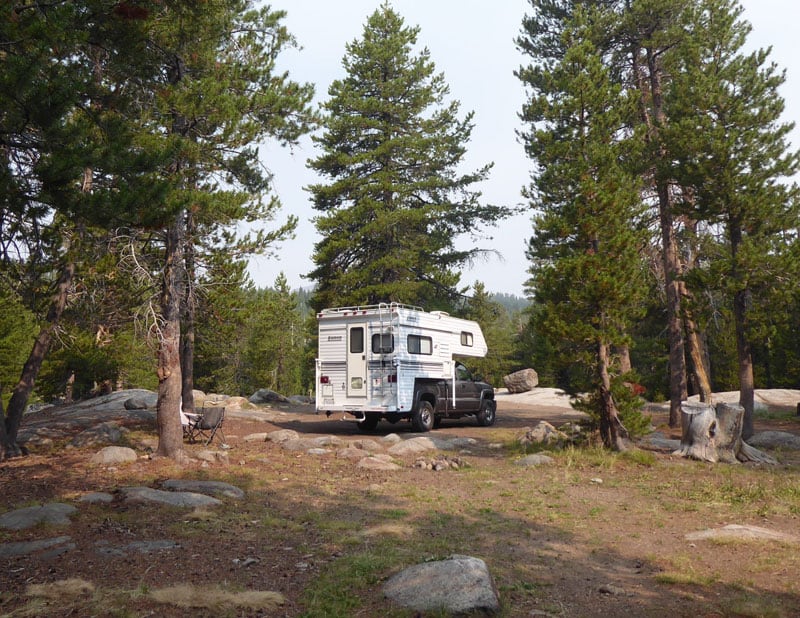 I'd been camping in various spots in a popular boondocking area south of Lake Tahoe, California, alongside Blue Lakes Road. I came across this very secluded one, and spent a couple of nights there before the weekend crowd came in.
Andrew Howard
Shiprock, New Mexico
2001 Dodge Ram 2500
2001 Starcraft Field and Stream
Camera Used – Nikon P900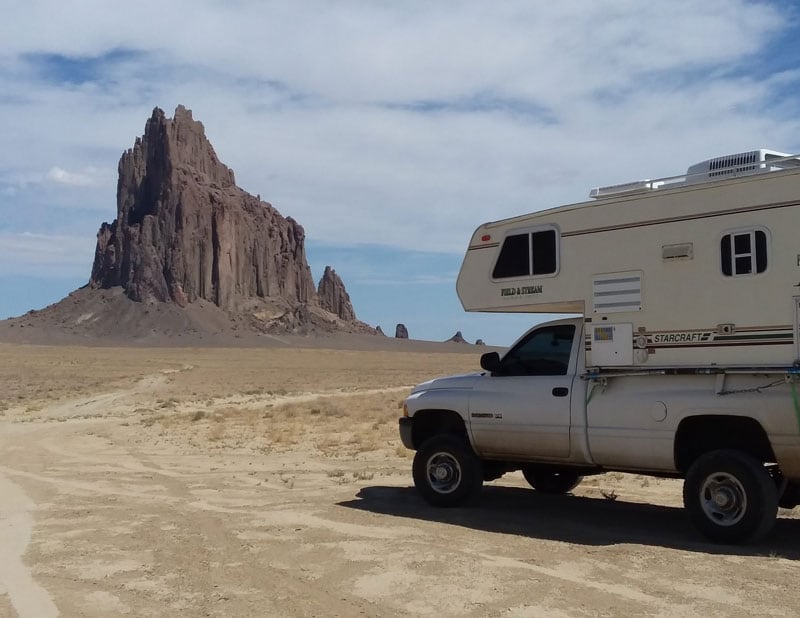 This photo was taken at Shiprock, New Mexico in July of 2020.
Randy Ray
Percy Priest Lake, Tennessee
2011 Ford F-450
2016 Lance 1172
Camera Used – iPhone SX Max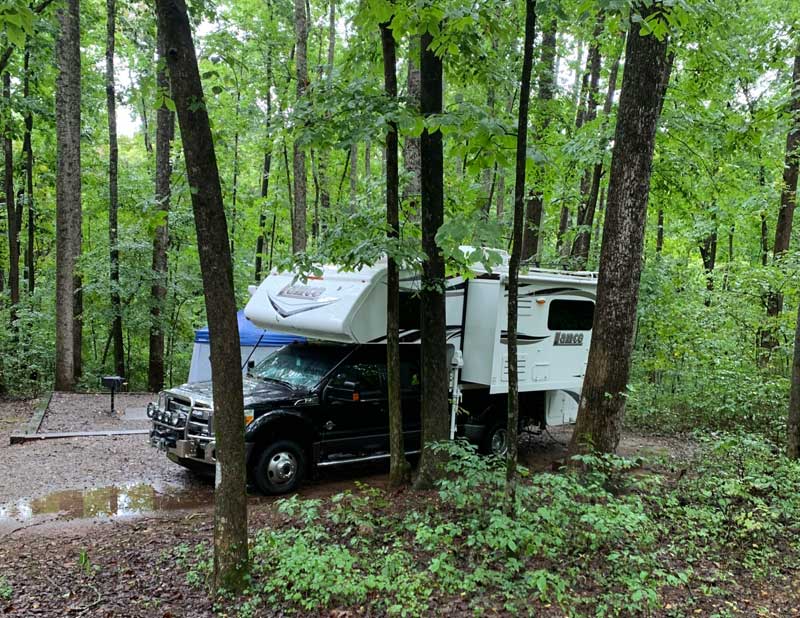 We were at Percy Priest Lake in Tennessee at the Poole Knob campground. It had been so hot there with lots of bugs. On this day it rained all day long, which cooled it down a good bit. It's a very nice place to visit.
Click here to see all of the photos entered so far in the 2021 TCM Calendar Contest. Enter your truck camper photos today!