Doug and Tammie Baughman, organizers of the Midwest Truck Camper Group, sent in the following report and photos from the Midwest Truck Camper gathering in Branson, Missouri.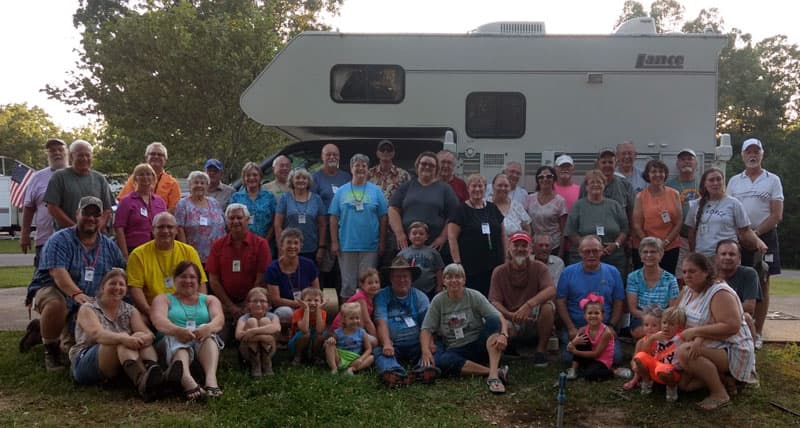 "We had a good showing of campers this year at the Midwest Truck Camper and Friends Rally/Reunion in Branson, Missouri.  We had twenty-two rigs from across the Midwest converge at Treasure Lake RV Resort.
Several rigs arrived a few days early to start this annual reunion.  Everyone has so much fun that they come early and stay late.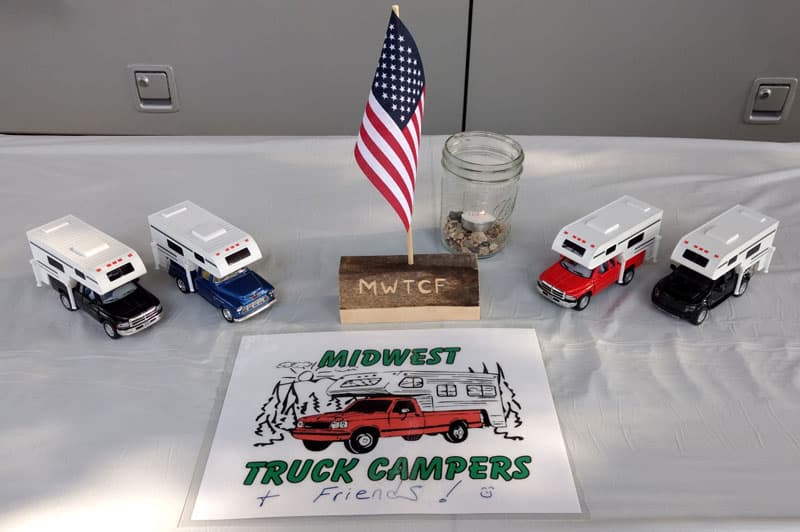 Above: You can order the Ford truck camper and the Dodge truck camper toys on Amazon.
On Tuesday rally attendees stopped past our camper to register and get the itinerary to see what we had planned for the week.  Every meal was a themed potluck.  With campers, potlucks are always great meals to enjoy.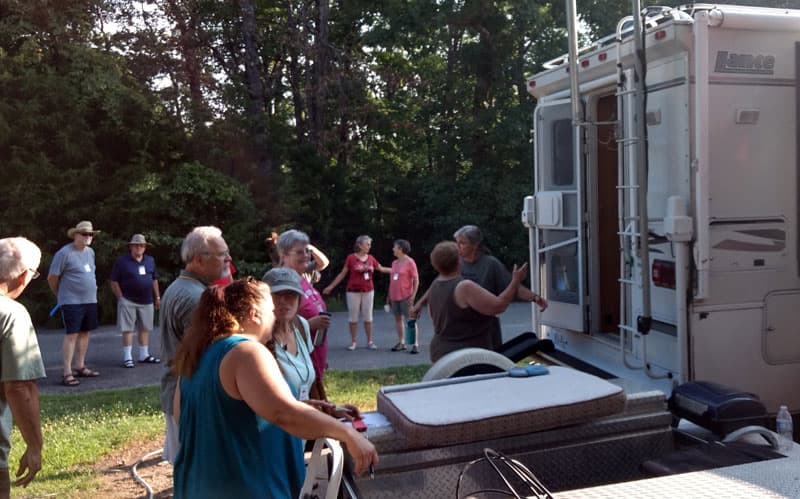 Wednesday we started off the day with Open House rig tours.  We are all like little kids when it comes to checking out the rigs to see what type of mods others have done to their campers.  A few potential newbies stopped by to get some information from true truck camper owners.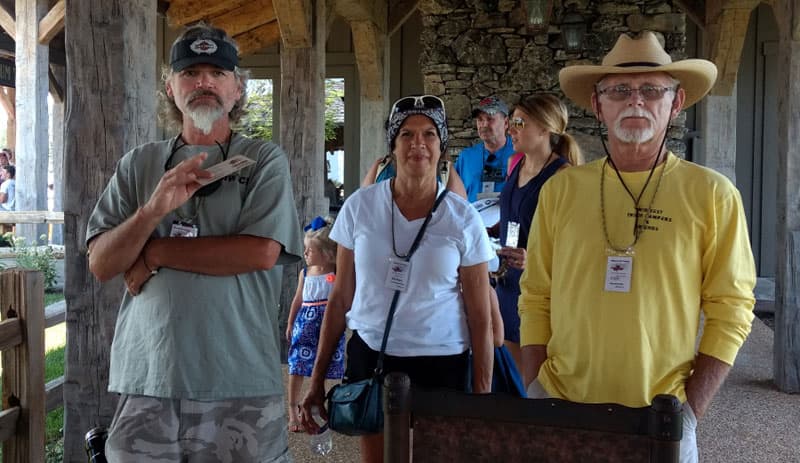 A group of us went to Top of The Rock.  We took the golf cart tour and museum tour.  We had a Mexican potluck supper that evening and then sat around and talked.
On Thursday morning we went to Grandma Ruth's for cinnamon rolls.  You better go there hungry or plan on taking some back to the camper with you.  The cinnamon rolls are big.
We then listened to John Fullerton sing cowboy country songs.  John is big into classical country western songs and folk songs from the 1880s through the 1950s.  John's favorite is singing Roy Rogers.  We all had a great time.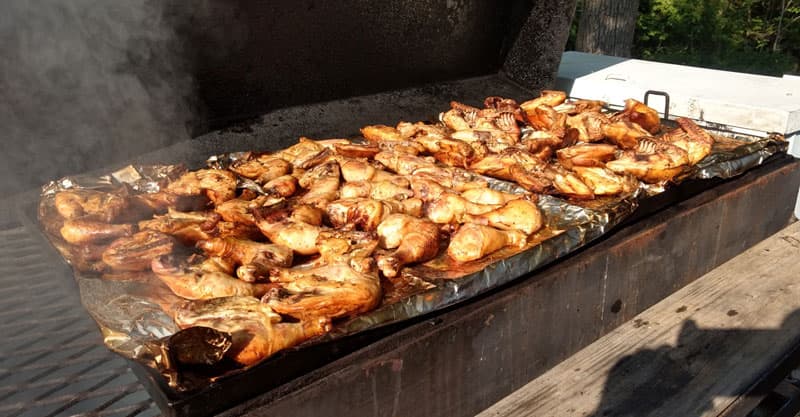 That evening we had another family style picnic potluck supper.  Jim Bennett took the time to smoke the chicken and polish sausages that he donated.  We greatly appreciated that.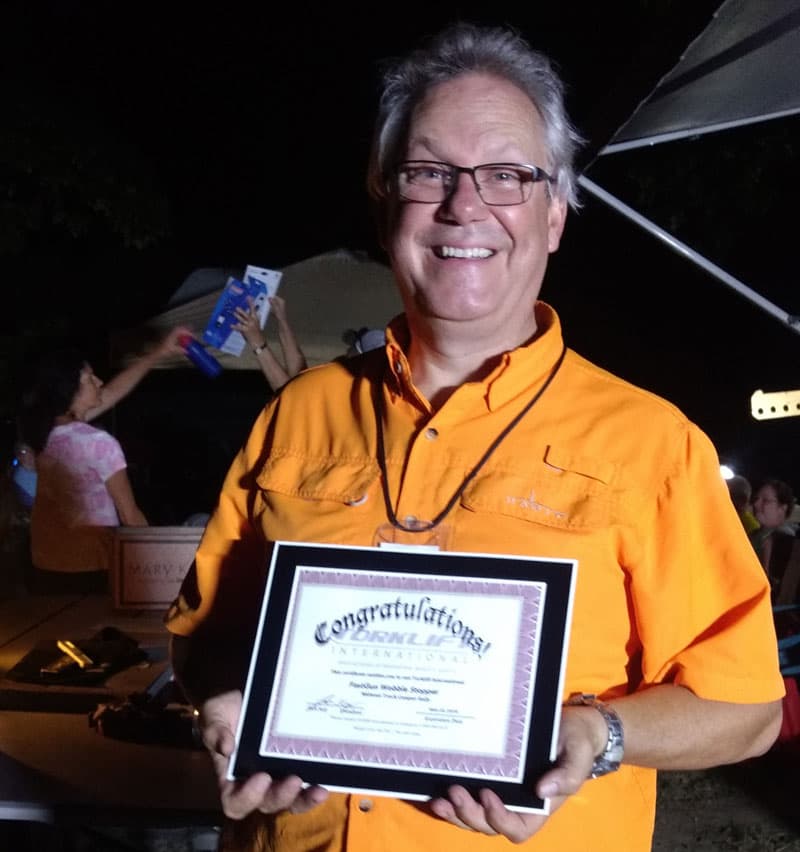 After supper came the free raffle.  We had several people who helped us get it all set up.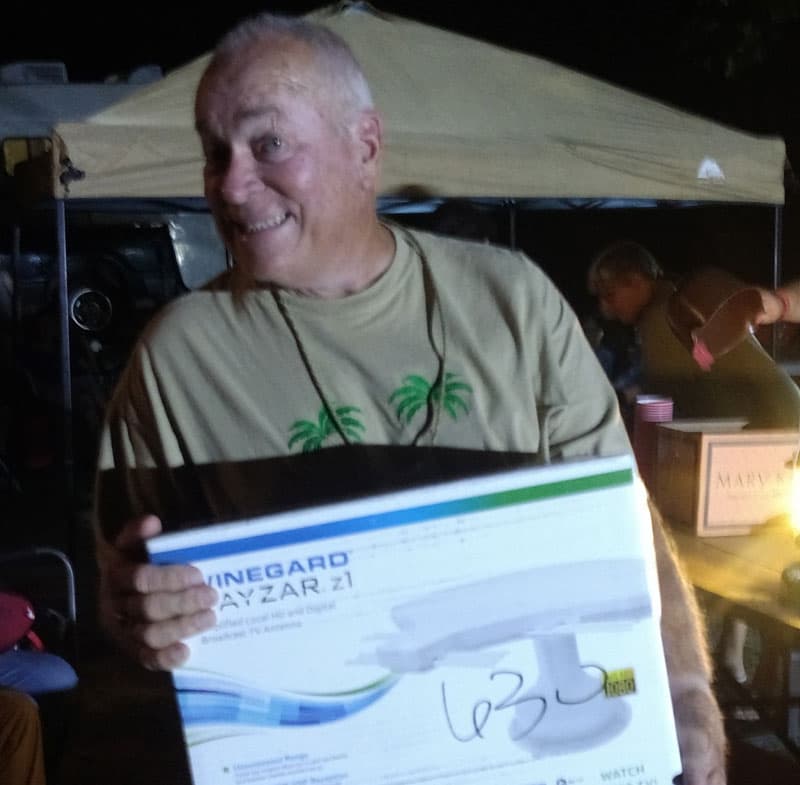 Several folks sat around for a little while after the raffle and chatted before they called it a night.
Friday morning started off with a seminar at 9:00am.  There were donuts and cold juice provided by Diane from SkyMed.
Everyone was free for the afternoon to check out the town, relax in their campers, or hang out and chat.  In the evening we had another potluck supper.  A few people were starting to say their goodbyes because they were pulling out early in the morning.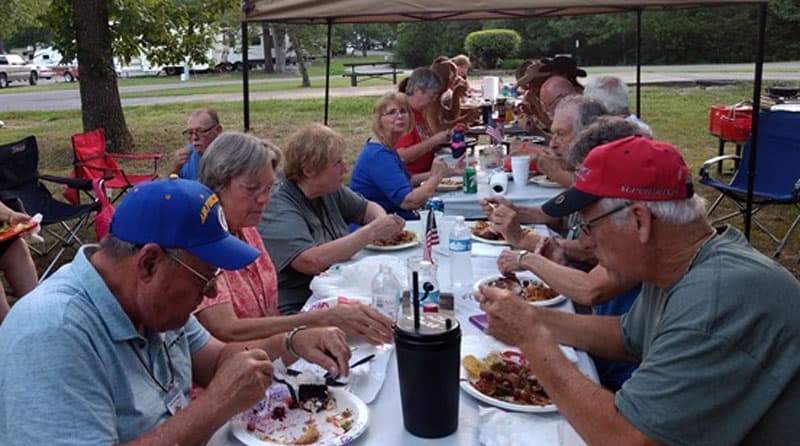 Saturday morning was the going away breakfast of Hickory smoked ham, biscuits and gravy, and scrambled eggs.  We had a newbie in the group who came from Oregon via his new home in Missouri.  He brought his homemade wok burner and made some awesome food.  He fit right in with the group, and he is more them welcome to come again.  Then after the meal people started saying their goodbyes.
We look forward to next year's Summer Reunion of Friends.  A sneak peek was given to those who attended this Rally/Reunion for where the 2018 event will be.  The rest of you truck campers will have to wait until we post the date and time and whereabouts of 2018's next great adventure.  You can keep up-to-date with this event on our website, as well as for a full review of the rally and more pictures."