Doug and Tammie Baughman, organizers of the 2016 Midwest Truck Camper Rally, sent in the following report from the recent truck camper rally.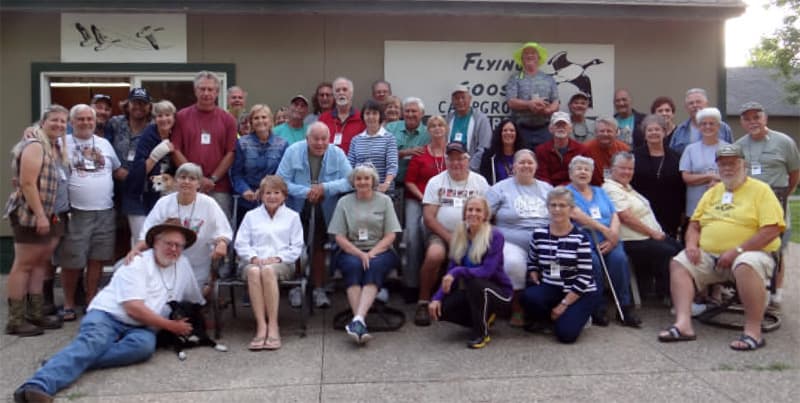 "The 2016 Midwest Truck Camper Rally started off this summer with many truck campers converging from the southern states and caravanning to our farm in Iowa.
After a good old fashioned sweet corn feast and a reunion of friends, six different rigs caravanned north to the Flying Goose Campground near Fairmont, Minnesota.  With our caravan of seven, and four already setting up camp, we were excited to get the party started.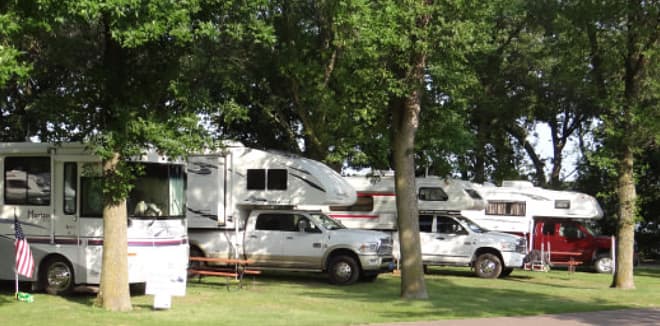 The next morning was the first official arrival day of the rally.  Many helped prepare that evening's meal and by mid-afternoon the rest of the twenty-eight rigs started to arrive.  We had a spaghetti supper with salad and french bread for all of those dusty travelers that had been driving all day.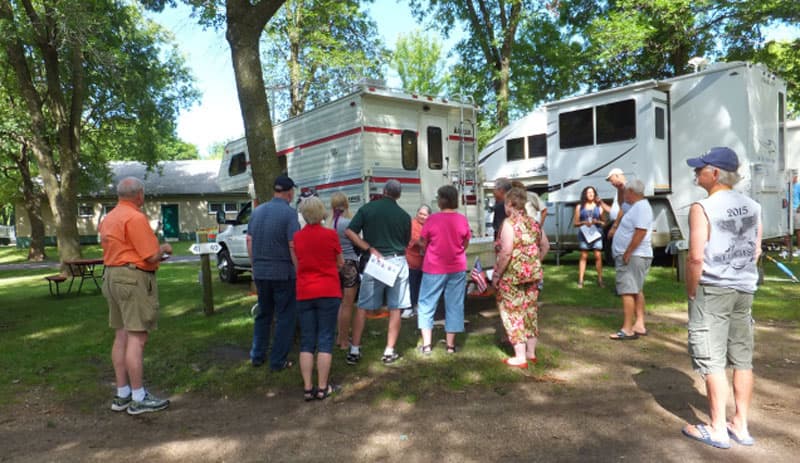 Tuesday started off at 10:00am with Open House Rig Day.  Truck campers love to share their different modifications and improvements.  This went on well into the afternoon.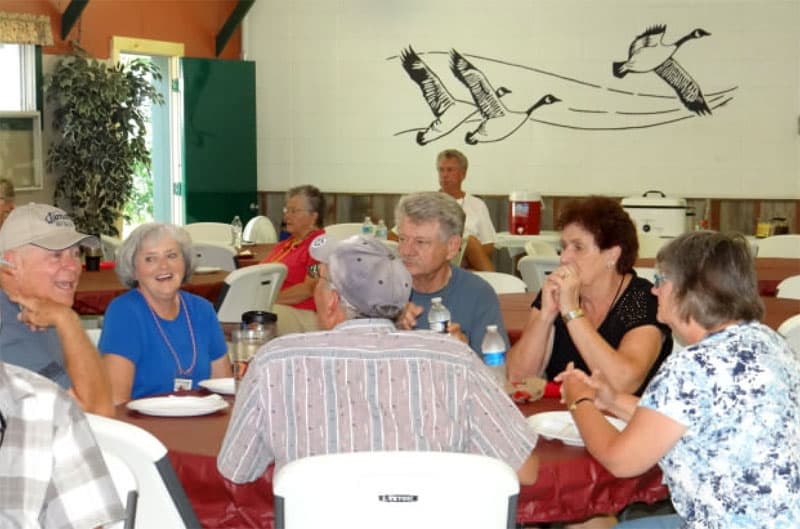 A potluck supper was on the the agenda for the evening meal, which is another thing truck campers know how to do well.  The spread of different dishes from different parts of the country were enjoyed by all.
After supper, the owners of the campground gave everyone a hay rack ride around the park.  The owners stopped the tractor by the campground flagpole and asked everyone to recite the Pledge of Allegiance to our nation's flag and all the men and women who served it.  As an American, this made me feel very proud.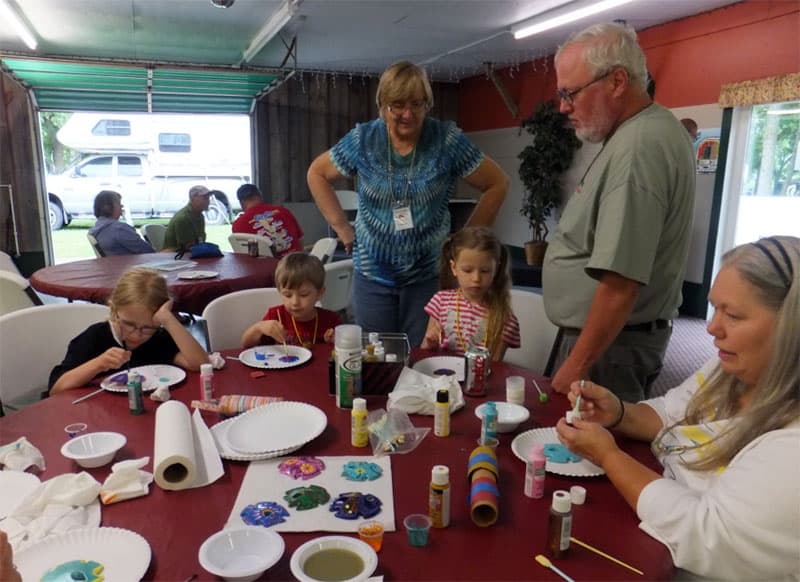 Wednesday morning, our biggest day, started off at 8:00am with Hobby Day.  We asked those who attended to share their interest in their hobbies.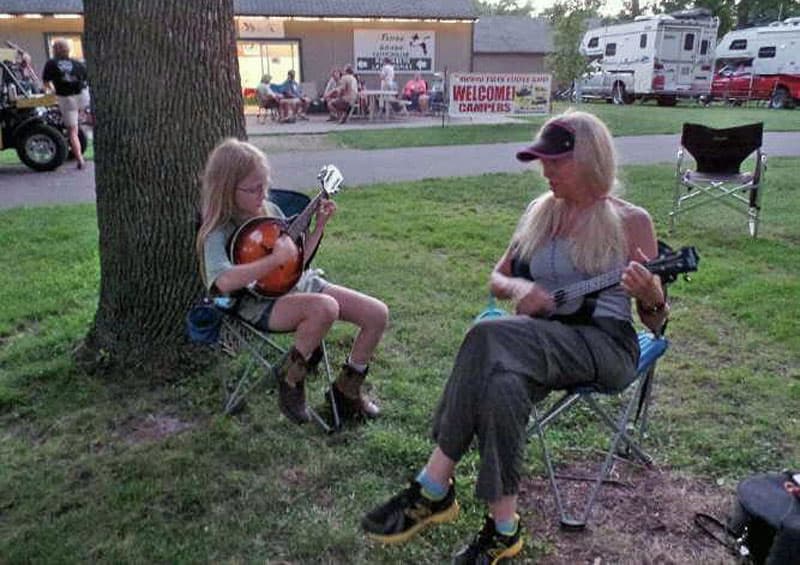 We had a couple woodcarvers, some sea shell painters, someone who taught us stringed instruments, and someone who taught us to loom different projects like pot holders, scarves, and even a blanket.  Many of the attendees sat down with the lady who brought the sea shells and did their own painting projects.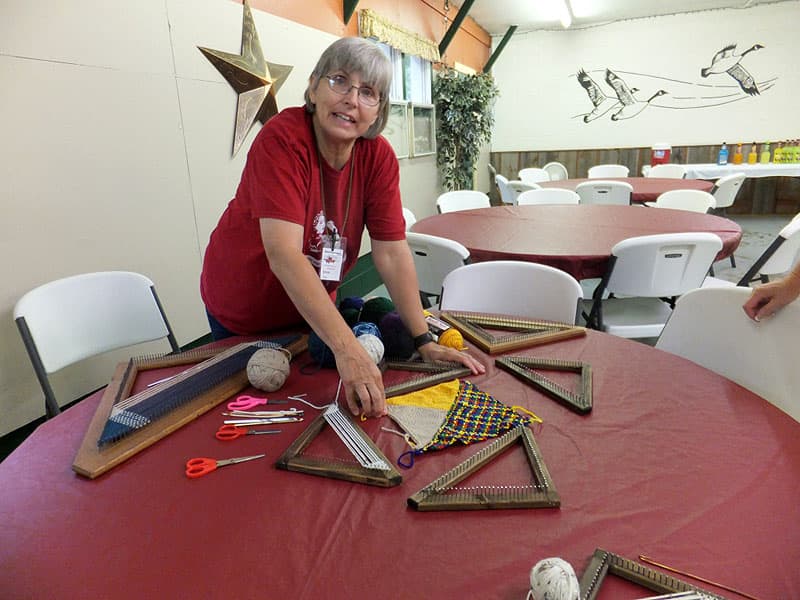 At noon, many gathered around the grill to snack on steak, chicken, sausage, and hot dogs for our picnic potluck.
After lunch, the Wagon Masters provided free entertainment for the entire group by getting locked out of their caravanning wagon.  Everyone was trying their different keys and trying to figure out how to get in.  A locksmith was finally found.  After an hour of amusing jokes and a two-and-a-half-pound sledge hammer, the locksmith finally got the broken lock open.  He suggested that we not use it again.
After the show, it was on to Bingo and fruit smoothies.  John Bull was our caller and most all of the group came out for a good time.
On Wednesday afternoon we had our miniature golf contest with Denny and Myra from Minnesota winning a $50 Walmart card and two Midwest Truck Camper T-shirts.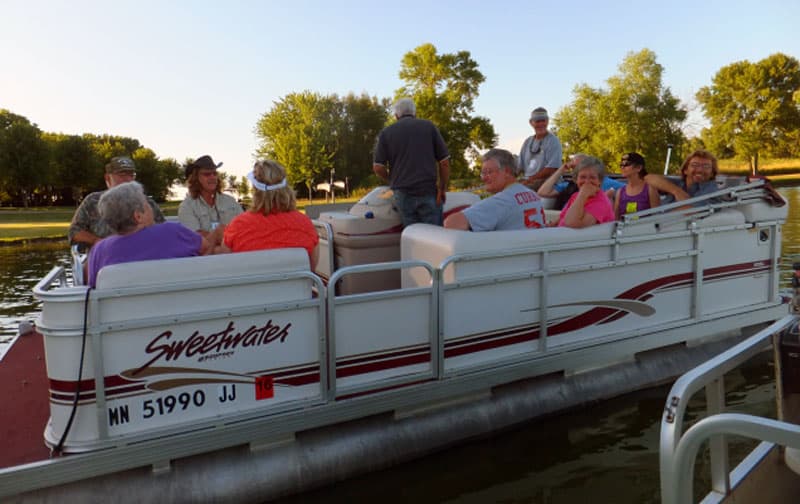 After the potluck supper that night, we took two pontoon boats for a ride around the outside of the entire lake.  It was a very beautiful lake and a nice change of scenery.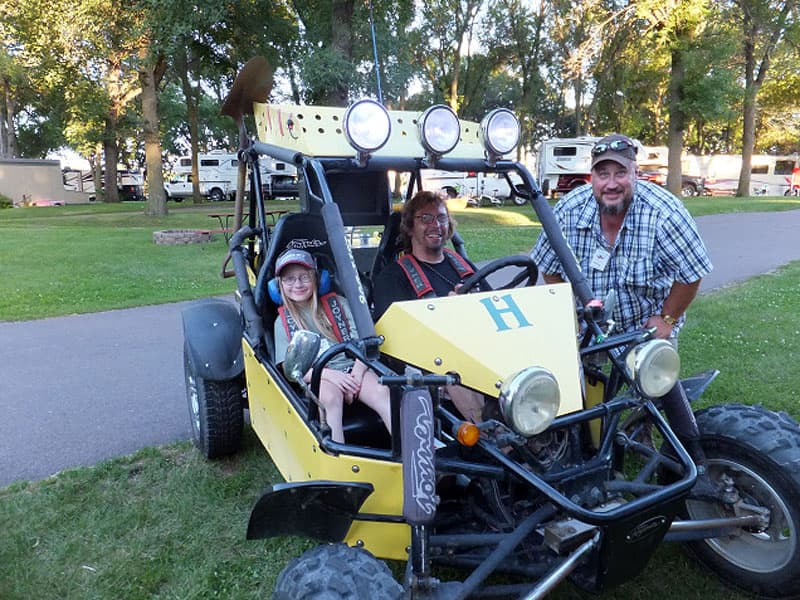 When got back to the campground, our new friends, Peter and Trish, were giving dune buggy rides like they did the previous night.  A big thank you to them for their generosity and their help to create entertainment and memories for those at the rally.
That evening there was a big campfire with most everyone sitting around, swapping stories, and creating memories until the wee hours of the morning.
Thursday was supposed to be a seminar that had to be cancelled at 5:00am due to a family emergency.  With a little re-organizing, the campground owner and friends of his spoke about the history of the campground.  Being a farmer, the owner also talked about their farming operation.
On Thursday afternoon, Gus and Marcia from Florida gave a narrative slide show from their Alaska Trip of 1,600 miles and a ton of pictures.  What beautiful photos from a beautiful place!  Thank you, Gus and Marcia.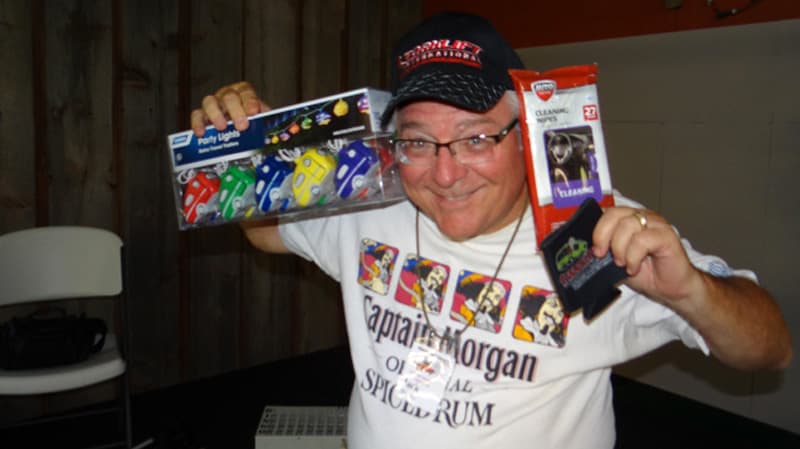 Thursday evening was the best potluck supper yet and raffle night.  Everyone was excited this year.  The MSRP value donated by companies was $4,500 – the highest value yet.  A big thank you to all of the companies that donated this year.

The rally attendees all looked like little kids in a candy store putting their free raffle tickets in the cups hoping to win a prize.  What fun we had.  Everyone went away with something.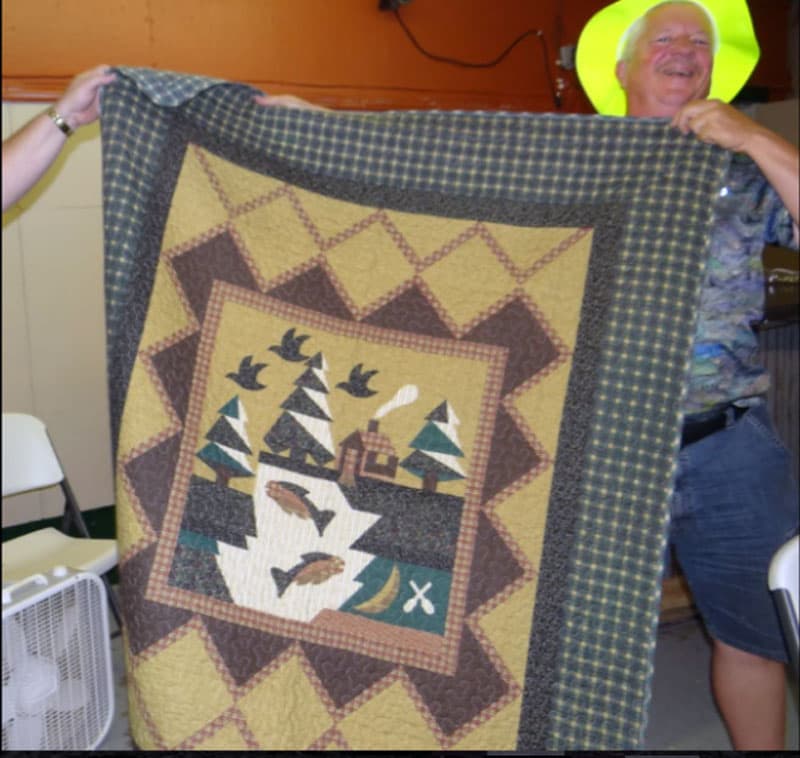 Randy and Sonya from Florida were the winners of our yearly quilt give away.  Peter and Trish from Washington were the winners of the "who came the farthest prize" with a special Midwest Truck Camper plaque and a Walmart card cash prize.  For the second year in a row Ken and Lorraine were the winners of the sign contest, with a Midwest Truck Camper plaque and another Walmart card cash prize.

Friday morning was the farewell breakfast, an Iowa smoked and grilled ham, biscuits and gravy, and oven backed scrambled eggs.
Tammie and I want to thank everyone that came to the Midwest Truck Camper Rally this year.  What an awesome group of people!
The campground owners, Gary and Linda, who are farmers by trade, saved this beautiful campground from being turned into a home subdivision.  We are grateful they chose to purchase the campground and keep the tradition of providing a great place for family's to come and enjoy nature, and the camping experience.
We encourage those of you traveling through southern Minnesota and need a place to camp for the night look up the Flying Goose Campground and tell them the Midwest Truck Campers and Friends sent you.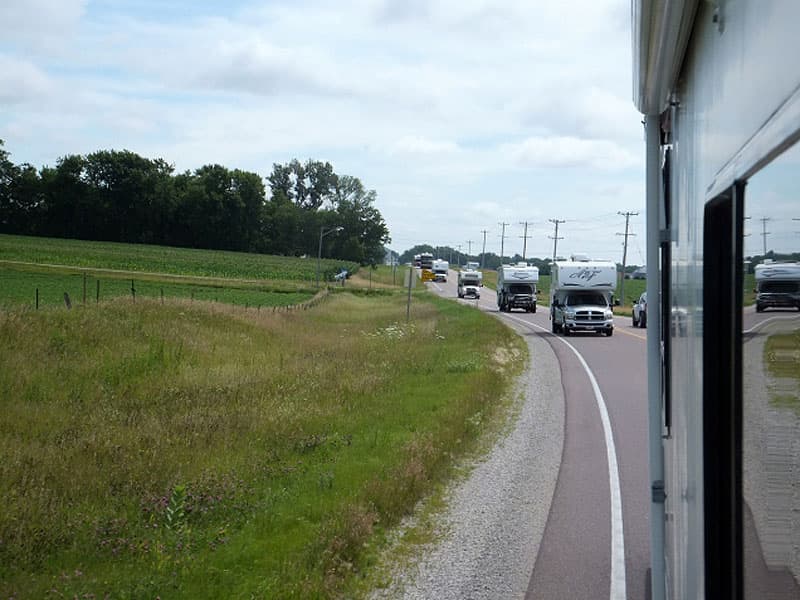 The fun did not end there.  After the rally, rigs caravanned back to our farm in Iowa.  You should have seen the heads that were turned as we went through all the small towns.  We honked and waved at many of them.  It was a cool site to see.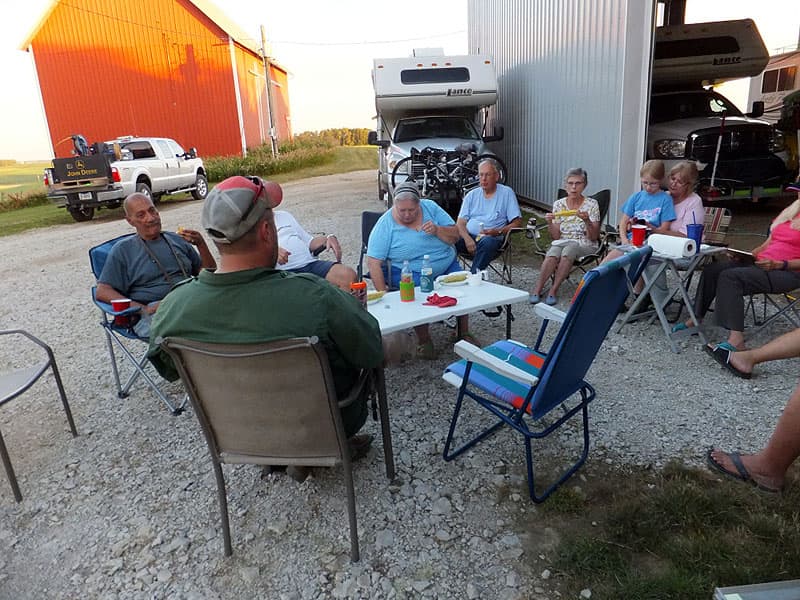 We had a fun time on the farm showing people what we do for a living.  It was great to sit down, relax, and unwind.  The group took our family out to our local favorite restaurant and bought us a prime rib supper.  Thank you!
Remember to help out your fellow camper.  Your kindness will be returned in the future.  Life's Short.  Go camping!
For a full write up and more pictures visit our website: midwesttruckcampers.wordpress.com/2016-mwtc-rally".  – Doug and Tammie,  Wagon Masters of Midwest Truck Campers and Friends