Anne and Joe Brown were out on the road in their 2014 Ford F-450 and 2011 Chalet DS116 rig for a little over 15 weeks; 111 nights to be exact.  Thanks, Anne and Joe, for sharing this fun report from your cross-country trip this past spring.
15,493 Miles and 111 Nights To Be Exact
By: Anne and Joe Brown
In early April, we bought a 2014 Ford F-450.  Joe had been wanting a larger truck for a while and this one just sort of fell into our laps.  Happily the F-350 ended up with a truck camper friend.  After having new Torklift tie-downs, bump stops, and air bags installed, we were ready to hit the road.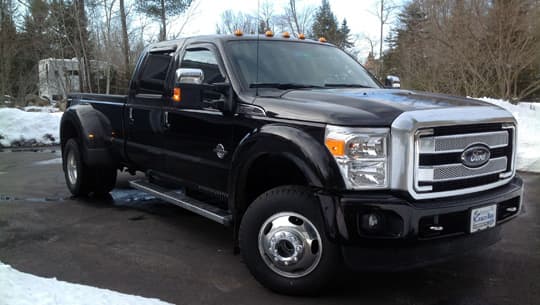 We met up with a few truck camper friends on a shakedown cruise at Scussett Beach on Cape Cod Canal.  It was a good thing to test all systems before hitting the road as we "ran out of propane".  Read that as, "we forgot to turn the bypass valve on and discovered the inverter has two switches, one of which was off".
Once again we headed to Alaska, did our usual side track, and never got there, but we get somewhat closer each time we try.  We started with a few days at Assateague Island National Seashore in April before the Mid-Atlantic Truck Camper rally.
From there we went to Xtreme Campers in North Carolina to get the new rear view camera working and then drove through North Carolina, Arkansas, and Mississippi staying at mostly State Parks or National Forests.
What can you say about Texas other than it is huge, has very fast roads, and is full of fascinating geology?  Visit Caprock Canyons State Park if possible and walk the trails around the canyons.  Watch out for bison as you go.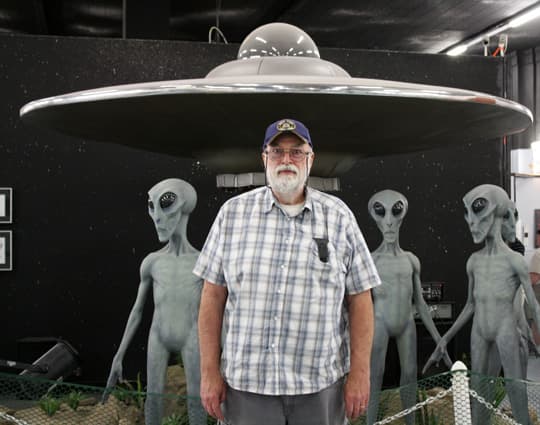 Yes, we played tourist in Roswell, New Mexico stopping at the International UFO Museum and Research Center.  It was campy and lots of fun.  Joe liked his bodyguards.
The Valley of Fire BLM land near Carrizozo, New Mexico is worth the miles to get there.  You can walk out into lava fields and see cactus in bloom.  Two recommendations by a park ranger were El Morro and El Malpais in New Mexico.  Both had long walks around towering bluffs with native petroglyphs and "graffiti" left by Spanish and early settlers.
My most favorite place this year, and a true highlight, was Chaco Canyon National Historical Park in eastern New Mexico.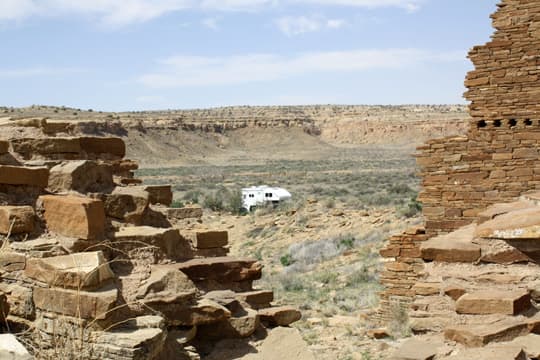 Getting into the canyon is an adventure.  It is a twenty-plus mile bone-jarring, washboard road in from the north and a twenty-plus mile equally rough road going out to the south.
Even driving as carefully as possible, we still managed to take such a large bump that we put a cosmetic crease in the side of the camper where it hangs over the tailgate.  Worth it?  Every bone-jarring bump, yes.
To be able to walk among ruins of a civilization that thrived from 850 to 1250 A.D. was pretty special.  Camping in the desert with no man made lights in view was awesome.  Go if you get the chance.
Also, always look down as well as up.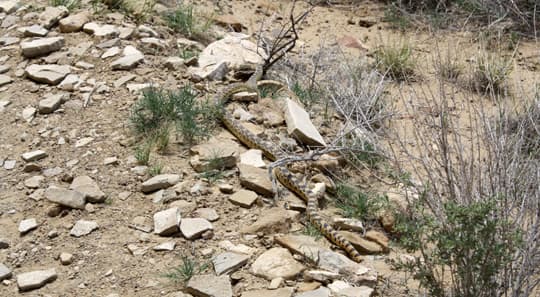 We also visited Canyon De Chelly in Arizona and the south rim of the Grand Canyon.  At Lake Powell we had our first experience driving on sand.  We probably did everything you aren't supposed to do driving on sand, but we did make it back out without getting stuck.