The first official Truck Camper Magazine video in 6-years presents the amazing people and heart warming spirit of truck camping from the 2019 Gettysburg Northeast Truck Camping Jamboree.  Giddy up YouTube.  We're back!
Rewind the proverbial video tape eleven years to the 2008 Mid-Atlantic Truck Camper Rally.  The magazine was just over a year old and I decided to dabble in video production.  In glorious 4:3 standard definition, our first video is now a treasured time capsule of old friends and fond memories.
I went on to make a few dozen videos over the next few years; truck camper rally reports, camper walkthroughs, lifestyle adventures and more.  I eventually realized that we got more readership when we published articles than videos.
When we polled our readers on this topic, we discovered that a lack of high-speed internet access was the primary culprit.  Readers living in rural areas or traveling on the road just didn't have enough access to high-speed internet to watch videos.  And with that revelation, I all but stopped making videos in mid-2013.
Oh the irony.  Right about that time smartphones, cellular high-speed internet, social media and YouTube converged and exploded to create the YouTube universe we know today.  Suddenly everyone was watching HD video anywhere and everywhere on their smartphones.  Did I catch on to this phenomenon and change course?  Nope.  I stuck to my guns, and typed-up article, after article, after article.
Fast forward to late 2018 and readers started to throw tiny pebbles at my truck camper's window at night.  "Hey Gordon!"  Pling!  "When are you going to make videos again?"  Pling!  "We're not going to stop throwing tiny pebbles…"  Pling!  "Until you start making videos!"  Pling!
I finally got the message.  Truth be told, I have been itching to get back into video production for some time.  I even bought a new camera system back in April and have been learning it ever since.  After my hiatus, my video chops are a bit rusty.  Where should I start?
"Why don't you make a video at the 2019 Gettysburg Northeast Truck Camping Jamboree?  It would be like old times."  Angela has a way of saying things that I can't refute.
So here it is – my first real video for Truck Camper Magazine in over 6-years.  I made a few mistakes (especially with the sound) but I'm fairly happy with the end result.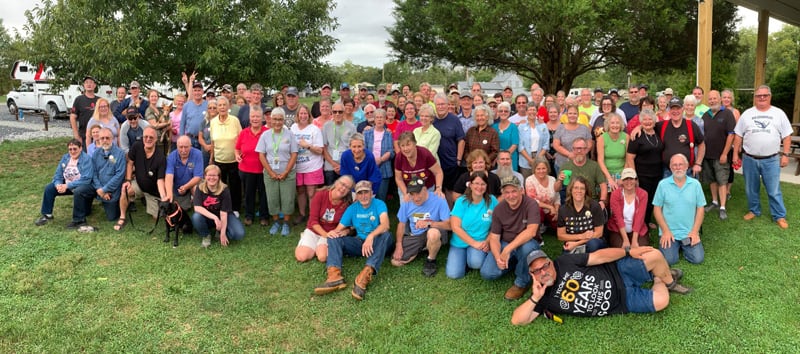 Above: The whole gang at the 2019 Northeast Truck Camping Jamboree at Gettysburg Campground
Thank you to everyone at the Gettysburg Truck Camper Rally who went in front of the lens to share their stories.  Not everyone made the cut due to self-inflicted sound issues (sorry about that), but you helped me get back in the video saddle.  Thank you, thank you, thank you!
Feel free to check out more TCM videos on YouTube.