TCM readers voice their interest, pros, and cons about Palomino's potentially groundbreaking HS-2912 patio feature.  The clear results and passionate comments are a must-read.  The readers have spoken.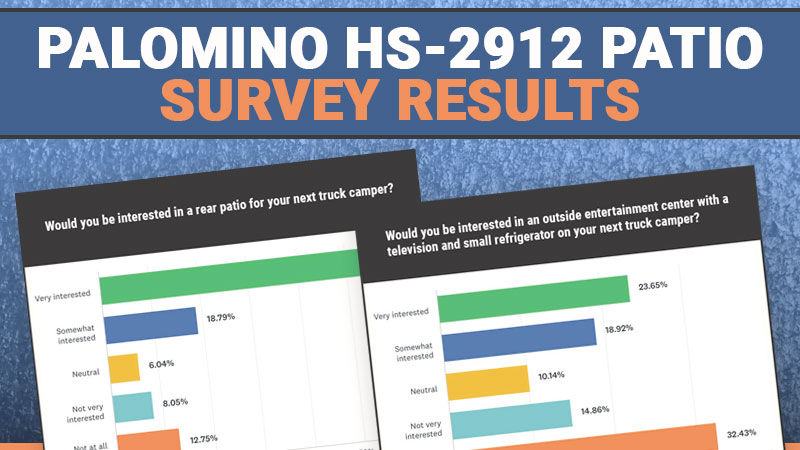 On Tuesday we announced the all-new Palomino HS-2912, the first production truck camper with a fold-down patio system.  Prior to the announcement, Palomino voiced their interest in surveying our readership about this pioneering feature.
What follows are the results of that survey.  Due to the sheer volume of responses, we start with the two multiple-choice questions and follow up with the open-ended responses.  Who knew there was so much interest – positive and otherwise – in a fold-down patio system?
1. Would you be interested in a rear patio for your next truck camper?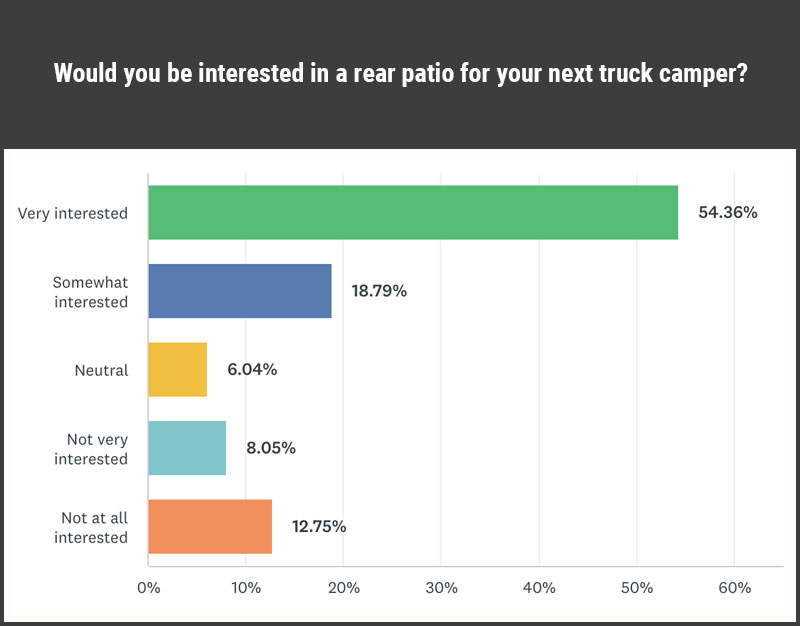 2. Would you be interested in an outside entertainment center with a television and small refrigerator on your next truck camper?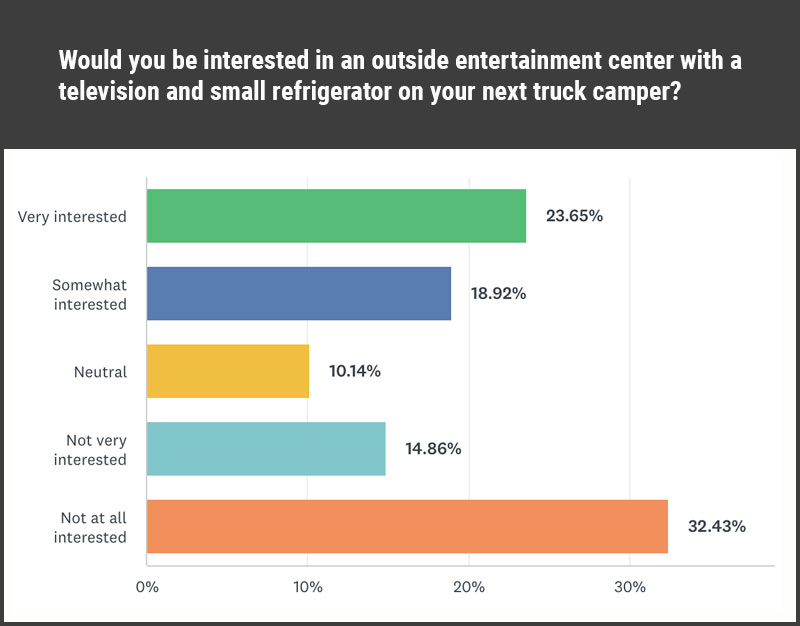 3. If you were loaned a Palomino HS-2912 patio camper, what would you use the patio for? Please be specific about hobbies or events where you might deploy and use the patio.
Lounging…..Perfect entertainment center.
#1. Sit and enjoy the outdoors. #2. Eat outside. #3. Work on hobbies of sewing, knitting and wood carving. #4. Allow the cats to come out on their leashes. We spend a lot of time sitting outdoors now.
My dogs and me! I Love this!!! I seriously considered a can with drop-down patio. Finally a truck camper with one! Genius!!!
I would use it for morning coffee, relaxing in the sun, sitting by a propane fire pit, watching rally races, dog kennel. Basically, I would use it for everything
Oh goodness, everything! The first place I'm going, Camping on The Battenkill Campground in Vermont! My family has been camping there since the early '80s, we always get a site right on the river! Morning coffee would just be spectacular out there! Then breakfast, a good book when my daughter is napping, nothing beats the sound of the river and just relaxing! My daughter is going to love the porch to play on too! Oh goodness, it would just be spectacular!
Morning coffee. Eating snacks outside and dinners with wine and stars.
Viewing platform preferably over or near water.
Sitting outside watching the sunset and a place for our dog to hang out too! I love it wish we would of waited for this model we have 2021 have the 2901 and love it.
Anytime I did not want to be on the ground in rain or snow.
I'd try it if we were camped along the beach or Columbia River. View towards the back…..be really cool. Next summer we plan on Alaska. I'd hope we'd have some great views from the patio on that trip.
Apres Ski. When can I order one?
For me … relaxing and pets area.
It would be great for morning coffee, evening wine, and cigars. Would be a great place for a better vantage point where one could back up to the fence to view a Motorsport event or Albuquerque ballroom fiesta.
We live in Colorado and presently have an Eagle Cap 850; 2016. We find that we spend most of our time outdoors and nearly all of our meals, morning coffee, etc. at an outside table. The patio is an AWESOME concept.
Wouldn't use it. Would rather be down on the ground.
Not sure how I would use it. Need To try one out. Like the fridge and tv option.
Morning coffee, evening lounging, most meals in good weather, maybe grilling.
I would mainly see using a patio when there was something objectionable about the ground outside of the door, such as mud or an infestation of snakes or other critters. With a way to close the back end (someone needs to develop an after-market mesh gate), it could also be useful with small kids or pets. And it might be a useful place for a person to sleep in a small tent if there was some reason they did not want to be on the ground.
Likely dining and relaxing. Seems like a good mudroom if rigged with steps.
A place to sit and drink beer and eat. It also looks like a good place to keep small dogs off leash and secure in a campground. Fishing off the patio would be neat if you could park close enough to the water.
I can't imagine I would use it for anything that I couldn't use the ground below it for
Probably invite my wife's old college buddies for a state park camp out and use the patio as a karaoke stage. It looks perfect for that!
Photography, night sky watching, dining.
Having coffee or a soda with my wife. Reading, playing games, and just enjoying our Wyoming outdoor climate.
I love the patio on my toy hauler. It gets you up above the dirt and creepy crawlies on the ground and keeps our 2 dogs corralled. I'm pretty sure the dogs like the extra height too.
Just relaxing if that's a hobby?
Lakeside camping, a clean, level, controlled space for outdoor relaxing. It's a great way to let small kids or pets outside but still be in a controlled and restricted space.
Back up to a stream or lake, cast out a line, and open a beer.
Tailgating at football games.
Sunrises, sunsets, parked for lunch at Oxbow Bend in Grand Teton NP (and many other places). Sitting up often puts one up into a breeze to keep airborne bugs down and gives a better view.
We use our camper to go destination boating. We're usually around sand that get everywhere. The patio would be great to hang out on at night and stay out of the sand.
We spend a lot of time at the beach. This would help keep sand out of the camper. Otherwise, it gives a nice area guaranteed to flat and level regardless of where we are parked.
BBQ & DIne, play guitar.
I would use it every chance I got; camping, car races, fairs, music festivals.
To hang out and eat, drink coffee in the morning.
Sitting, sleeping under, and viewing the stars, since, obviously, the giant Dobsonian telescope gets set up on the patio before anything else even can happen. Isn't that what everyone prioritizes first at their campsite? LOL. Outdoor cooking is a close 2nd to astrophotography. My wife would prioritize useless stuff like tables and chairs, a stove, strings of patio lights, etc.   So, I have to compromise a little. Adding hunting blinds and ghillie walls to the rails is also an immediate idea that came to mind for a deer and duck shack-on-a-truck. I'd find a way to put up a tubular tent frame for mosquito netting with a Velcro seal to the exterior camper wall so the back door could be left open as long as weather and privacy permit.
I would go out to the boundary waters and camp out next to the water. The patio would let me enjoy the view while grilling some burgers or smoking some ribs. It would make for a great home base to come back to after fishing and hiking around.
Eating outdoors without having to have a picnic table. Great for boondocking.
Sitting out and having coffee.
My funeral procession.
BBQ.
Simply relax on the beach out of the sand.
You go outside just to sit, have drinks, eat dinner, watch the sun go down or up…have coffee in the morning…a place off the ground that you can feel safe from creepy crawlies…even might put up a screened-in porch so them dadgum skeeters can't get you. Great idea.
Tailgating. Outside view while sitting on the patio off the ground. Watching the night skies and watching the morning sunrises (and sunsets). First with a cup of Java and later with a glass of Burbon and a fine cigar with my sweetheart with a glass of white wine.
I don't see it being beneficial at this time for the places we camp and use our camper. I can however see how it would be great for many people and many various events. Great option!
Have to see it first.
I would set up a table and chairs on the patio for outdoor dining during the day, and bedrolls for sleeping under the stars in good weather. Possibly setting up a propane grill on the patio.
Fishing at the beach.
I would use the patio in conjunction with a full awning and detachable curtain-type screen room. Picture that set-up in your advertising and you won't be able to build them fast enough.
Cooking with a propane grill. Small table & chairs for eating and playing games. Playing guitar.
Back up to a beach. Oregon coast. Love the sunsets.
Camping and glamping.
Motorcycle parking.
I wouldn't use it.
Hopefully taking in a nice view with some nice shade provided by the awning.
Sitting around camp – love to do so now, and having a raised patio makes it all the better.
I would park backed in at Torrey Pines Beach and deploy the patio over the rocks that go down to the beach. Perfect views for lunch and a day at the beach.
Dining outside, watching tv. Basically as a porch. We are wanting to trade our toy hauler this winter for a truck camper and we had discussed how we would miss our patio…
Sitting.
Hanging out. Just in a standard provincial campground, keeping everything (including the dog) out of the dirt.
Portable grill outside on the patio. Bring a fold-up table and use it to do work. Great spot for a simple nonaerobic workout: push-ups, sit-ups, yoga.
I would use the patio with lawn chairs and a table to cook and eat outside. The table would also be used to play cards and enjoy being outdoors.
If it was raining then maybe grilling.
The patio is not appealing to me. I camp with an antique car club. We congregate in groups too large for the patio when we're in the campground. It's also a pain to unhook my car trailer, which I'd need for clearance for a patio. If I unhook I also have to stabilize the trailer with jacks to get cars in/out without tipping. More trouble than it's worth – for me.
I would deploy the patio just as I would an awning. Its setup would be part of the total package!
Daily living and relaxation up off the ground. Would be nice to be backed up to a stream or lake fishing off of too.
Would have some nice camp chairs to relax and watch sports. Having quick access to the bathroom is great. Never really excited about outdoor TVs and kitchens on the side of trailers but this is appealing. If there's an awning room attachable to the awning that would seal the deal.
Watching the sunrise over Seiku, WA from our favorite camp spot. Listening for deer & elk in the woods after dark with a glass of wine. Setting up our spotting scope to see mountain goats. Watching cross-country riders at Spokane Sport Horse Farms Horse Trials! So many possibilities!
Currently, I own RL-1608/P-1251. Travel with CLAM shelter and use it every trip in all weather conditions for human and large dog meals, coffee time, reading, and general relaxation. Anticipate patio use would be very similar. Bugs and inclement weather might be a deterrent for use.
Wow. Who would have thunk it! I've thought about building such, a patio off my truck camper, as I've watched them appear on trailers and 5th wheels. Many a time, sitting or even standing on the ground is not acceptable. In the wilds of Texas, our alert terrier alerted us to an incoming snake. We have endured wet, muddy, and unacceptable foliage conditions just to sit and watch the sunrise or set. I already know 4-5 places I would dearly love having this feature. Next to one of 3 river banks where we can sit and enjoy the sounds of nature without the ground pests. High up on several mountains, where we can sit and absorb the scenery, regardless of the rain-induced mess. The only drawback I can see is the energy and time required to put the patio up and down. I don't want my wife so tired out that she cannot cook my supper.  Line-X the patio floor. You should think about Line-X for the roof.
I can't think of anything.
Camping at the beach, it would be great to sit out without tracking sand inside.
Open-air living space, on a nice day and out of the mud on a rainy day, playpen for kids or pets. Install a pop-up tent for an extra sleep area.
I wouldn't use it. The purpose of a camper is to CAMP, in nature, not to emulate a bricks and mortar home. No need for a party deck.
Can't see any use for the patio, I am outside all day hiking and exploring, when I come back I want a cooled space to eat without insects.
Relaxation and letting the dogs have a special place without being tied up.
I currently own a 2020 Real-Lite HS-1914. I am very excited about this new model. I envision that my family would use the patio in many ways, but especially in those situations where the ground is wet, muddy, sandy when you would like to stay clean and dry, but be outdoors. It would be great for kids, dogs, sleeping out under the stars, an overlook for sports or other events, etc.
Just for not sitting on the ground.
I camp off forest service roads. Finding spots to use the patio might be a challenge off of my home turf, but maybe not. I'd use the patio for smoking cigars.
Permanent outdoor living space, off the ground so no worries about bugs, scorpions, etc. We already use our 14′ Toy Hauler Travel Trailer deck as a dining room and living room, the inside is kitchen and bedroom.
Seems great for hanging out in general. Excellent choice for beach and sandy areas camping.
General sitting out without having to worry about putting out a rug to keep from tracking dirt into the camper.
Mostly dining and lounging, especially when traveling with my dog.
NASCAR Races for grilling and partying. When it's raining and the ground is wet. If the ground is not suitable (rocky, wet, etc..) For my pets to be outside but still be contained. When deploying all my ground gear(carpet, chairs, coolers) is not practical like at a festival parking lot or concert.
It would be in constant use for sitting, relaxing, reading, tv & BBQ! Unless we were making an overnight stop we'd always use it and likely sometimes even then.
It would be great to have a patio like that when camping on a beach.
I will use the patio for outdoor dining. Most of my camping is done in Western Oregon, where you are usually in the mud, most of the time.
I would use it for 3 primary things. First, an open space for my dog. This is perfect for dog owners to have more space. Second, I would use it as a workspace with my laptop. I'd take a folding table and use it for working since the inside does not have a dinette. Third, it would make a nice area for my 11-year old to sit and have some independent space. I love this concept, not sure I can afford it though. I'm a single mom.
Eating, playing games or cards.
Just sitting out there reading a book, taking in the nature outside. I can always be found on my porch at home. There is just something about the air, the sounds, the sky, etc. I guess I could sit in a chair on the ground, but it isn't the same.
We are state park campers usually. The patio would be a lounge area for us. A photo of how rear awning shades patio. Can the patio be used for grilling?
We have 2 small dogs so a built-in playpen first comes to mind but watching movies after dinner or football but most of all to be able to enjoy the scene of where you are backed into instead of just that little window…this is awesome
As a novelty to sit and have a few drinks or read, or if it was muddy on the ground. Or if it gave a great view. Seems kind of silly.
Entertainment and star gazing.
Dry camping for Jeeping trips, or stays in Quartzite and in scenic locations where it could be a nice place to relax and take in the sights.
Only as a place to view the scenery or cook on a grill. It's great to hang the patio off a cliff or creek bank.
I wouldn't use it.
For small dog exercise area and/or space to sit and read or work on needlework.
Sitting out in the afternoons and morning, eating or relaxing. Great place to prepare food such as grilling.
This is revolutionary; I would trade my Wolf Creek for this camper. I am a fan of hard-side non-slide, and the patio changes everything. I would use it for fishing, enjoying nature, extra camping space off the floor; the possibilities are endless.
General relaxing – reading, coffee, etc. The biggest use would be getting out of the small space of a truck camper but not having to completely leave. Having had a Fuzion 424 toy hauler with a side patio we found we didn't use it much since the inside was so big and comfortable, but on our Lance 992 we would have use the patio a ton to get out of the more cramped quarters without being on the ground with the bugs or farther away from our "resources" inside the camper like more coffee or our books.
I would always deploy and use the patio – it would be part of the set-up. The only exception would be during a purely overnight stop while in transit.
Nothing & nowhere. Can't envision a scenario where I would use this.
Morning breakfast outside, all meals in good weather.
Morning breakfast, lunch, lounging in the late afternoon after hikes, etc, cooking dinner at night, sitting to watch the stars and listen to the stream. Generally, be outside but not have to climb stairs to go in and out of the camper.
At first blush, we were very interested in the patio concept and spent over an hour going back and forth through the photos and text. What, exactly, we'd ever use the patio for was our biggest sticking point. It would be nice (thinking of the spots we most often camp) to wander out there in the early morning and have a cuppa while sitting in a chair and enjoying that fresh morning air… and we're musicians, so it would surely be a nice spot to play a little morning music. Not much comes to mind though beyond that. We are concerned about the difficulties of that with a boat trailer behind it, and the size of it may well preclude getting into the majority of sites we delight in. We wonder about adding some side curtains to the patio to make it a bit more usable in rainy weather… AND wonder if making it smaller (like the Palomino camper that inspired your venture here, or a cross between the two) wouldn't make it MORE attractive. The outside TV has zero interest to us. The 110v refrig makes it nearly useless. I'd think a 110v/LP gas would be much better or even gas only… by not 110 only.
BBQs and play area for the pups.
Seems like it would be used on most trips.
Outside space, stargazing, dining, and cooking, staying off the ground when in ant/scorpion/snake areas and when the weather makes the ground mushy, fishing staging/flytying, and just being.
Beach camping, allowing enjoyment of the outdoors without bringing sand inside. It will be remote, thus needing a generator.
Probably just sit and enjoy the campsite. Its convenience is undeniable.
Entertaining, listening to music. Perhaps using a portable induction cooktop to cook.
I would use it to prevent other campers from walking by or through my camp. It would also work as an area to keep pets away from people or other animals
I would use it for grilling/cooking.
Motorcycle racing events, enjoying the evening in Colorado after doing trails in the jeep.
Just general hanging out. Nice to be off the ground especially during or after rain! Great for boondocking!
Mainly for being outside and off the ground in foul weather. Likely would be used for dining and/lounging. See additional feedback below.
Washing off… pets, kids, self. I'd rig an exterior shower through one of the rear compartments. Would be good for spending time outside barefoot.
Dining, cooking, sitting watching the sunrise.
Relaxing.
We have a three-week trip to Colorado planned in the spring. The patio would be great to lounge on after a day of exploring.
I would just use it to hang out.
Relaxing and a spot to sit and bird watch and take photographs if we had it deployed in a natural area while boondocking or near the water.
Patio next to the water. Sitting area for races.
I would use the patio with comfy camp chairs for relaxing off the ground at a campsite. Also for grilling on a small barbeque. also for sleeping outdoors on warm nights.
I would use it for extra living space. A screened-in option would be nice.
Eating meals on a folding table, movies after dark with popcorn, coffee in the morning, naps in the sun….to name a few. I would also cheerfully pay for a screen curtain to add to the patio awning to make it more user-friendly in mosquito weather.
I can't think of a single reason to have a patio or to put all that extra weight on the back end of a truck camper. Your patio is the ground you have under your tires.
Keeping boots, fishing gear, and waders outside and out of the way. Also a gated space for dogs.
I would watch the sunset/sunrise on the beach and at the lake.
I cannot think of any.
Sitting and drinking beer. Eating. Maybe cooking.
Just being able to sit up there, and see things.
4. Do you have any other feedback for Palomino about the HS-2912? Please be constructive.
I think this camper is pretty neat and a good concept. I think an addition of an awning for the patio would be the bee's knees. I also like the sofa substituted for the dinette. It's a good-looking camper and it's got me dreaming.
Please add an awning above the patio.
It sure has me thinking about having another truck camper great concept guys all other brands will be trying to copy this I guarantee.
An option to make the patio the main entrance to the camper could be great. Use the same set of steps – just choose regular entrance or patio entrance. Also, a full-size awning over the patio would be fantastic. Shoot – since dreaming is cheap – how about a soft side enclosure like European caravans and trailers have? That could double the usable space in most weather conditions. Great innovation! Good job!
It looks like you guys are moving in the right direction. I am on my third Palomino and love your products. Your innovations are awesome.
Besides the PATIO, the tankless water heater is a GREAT idea!! The Line X cap and the front window are nice as well. Double door concept —GREAT!! Suggestions: Use Wago electrical connectors where possible. At least as options, use Easy Start on the A/C unit. Offer a solar package and an Automatic Transfer Switch with Surge Guard protection. I would be more than excited to pay for these extras!! As far as transports, contact me; I have the solution for you!! I am really excited for your company—you have a winner here. I am retired USMC (aviation) and also have nearly 20-years in corporate aviation maintenance. I have other quality ideas for you if you are interested. Wanna take my Eagle Cap in on trade????
Some removable canvas enclosure walls for the awning over the patio would make great extra space during inclement weather.
Innovative…I like the concept of no slide/patio…..Just sold an 1172 and would be interested in a no slide large camper like this.
Are there steps from the deck to the ground so visitors don't have to go they the unit to access the deck?
I think a portable grill and a fire pit that quickly connects to camper propane would be a cool option.
It seems a bit gimmicky. Perhaps it would be useful if you had a pet or a small child who needs an enclosed outdoor space.
We're not tv people so a tv outside doesn't do anything for us but the fridge I love! I'd love to see a dry bath but I can overlook that for the porch! I'd really love to see a screen room option for the porch too! Also, a flip-down bunk over the dinette or couch would be amazing!
I just want cold-proof, nothing on the roof but solar collectors, plenty of lithium batteries – boondock all the way.
I appreciate the attention and excitement here but I'm looking for something much lighter and less expensive.
Yes, enclosed toilet paper holder so toilet paper stays dry!
Honestly, I'd love this side door, no slideout TC as being an option without the back patio. The entertainment area would make great outside storage for a Honda 2200.
Good idea with non-slide for this model. Most newer truck campers don't want a dually, so keeping the unit under 3300 wet is ideal. Please add the option of a diesel heater instead of traditional propane.
Good quality sound system, or at least a soundbar to go with the outside tv.
Wouldn't want an outside tv or entertainment center. Waste of space on a small camper. Need storage for longer camping trips instead. Also, we go camping to escape the tv and screen life we live in to explore nature.
Bigger bathroom. Dry bath option. Have a 2902 and would love a model with a dry bath.
I love love the sofa over the dinette. I also would prefer a larger shower rather than the outside frig which I probably would not use and the storage area, the larger shower wins hands down.
I'm not particularly interested in the patio concept, but I'm glad to see innovation. My main wish for Palomino is that they made overall higher quality campers. Pairing the innovation with a higher-end product line would be great.
Nice idea, but see no use for the refrig and tv. Possibly antenna jack out there, but would rather keep the space consumed for indoor storage, closet or dry bath.
Perhaps it's just me but I feel that the excessive space taken up with the side entry and the external entertainment area cabinets negates the extra interior space that a 10′-8″ camper floor should provide.
We're definitely not the target market for HS-2912, since we do a lot of serious backcountry bushwhacking up old mining and logging roads in the mountains and it's simply way too big & heavy for that. So the answers to questions 2 & 3 can't be considered representative. On the other hand, HS-2912 is quite innovative, and it's easy to see it how it could appeal to a majority of truck camper owners. My dad would have loved the swing arm TV – he could watch the ball game and keep an eye on the kids at the same time.
It doesn't fit into my lifestyle. I either tow a boat or an I closed trailer w/toys including kayaks.
Show the rear awning over the rear patio. Any way to make the rear patio removable for a trip?
No dinettes.
Love it. Would go for the 12vdc/120vac fridge both inside and out as we currently have in our Outfitter Apex 9.5. The Novacool 7.5 cubic foot is great. Two of these would be awesome. Definitely go for a better battery and four-way inverter/charger option with plenty of solar. In the picture, it looks like you could fit two fridges side by side in the rear. I'd go for it with plenty of solar and lithium batteries. Put a fold-up counter at the base of the bed on that wall to give more counter space. Hopefully, the oven is optional as I would go for more storage instead of the oven. The article didn't say what size fridge/freezer was on the inside.
So many ideas for a canvas tent & cots when friends/family want to visit.
I think a dual lithium battery or a single large lithium battery would be better.
I would like the outdoor fridge but not the tv.
I believe a retractable awning as standard equipment over the patio will make sales pop fast. It's an inexpensive manufacturing item and I'd be surprised if you didn't recoup a 50-70% margin on an awning.
I would be interested in solar options and the option to delete the entertainment system on the porch in favor of more storage room. I don't see myself using an outdoor tv like that very often although the refrigerator could be nice for extra food storage I suppose.
Great camper design.
Would have to see one.
What is the weight and what is the warranty?
I love the simplicity of my SS 1240.
Not really sure if you need a fridge and tv out on the patio…better use of the area is to store your lawn chairs and table so you can use them on the patio, you could put a screened-in tent in the storage areas also… too few storage spaces…I would want an open storage bin.
One slide would bring it over the top!
I love the innovation and courage to expand the normal, even if this one doesn't fit my needs. More important to me would be if the couch slightly reclined (even if the seating area was pushed out slightly when reclining). Or the addition of some swing-up footrests (or better yet both!).
Add this option to a 4 season truck camper.
Telescoping leg supports under the trailing edge of the patio will be a huge improvement in stability and confidence, especially with the camper off the truck. Supporting weight is one thing, but handling side thrusts with people moving around on the deck will be necessary to prevent jack-destroying wobble. Just the hinged swing-down telescoping jacks that are used on tag-alongs should do the trick; deploy out from each of the two outer corners at 45 degrees for maximum stability.
Would be great to have an option to add screens to the awning over the patio, which would turn it into a nice little screen house.
Wish it had a dinette for eating and sleeping.  TVs are changing (shape/size) so rapidly that a dedicated compartment may become outdated in just a few years. – Mini fridge is only ok. But a second RV fridge may be nice. – How about a sink in the outside compartment. Nice to wash hands when eating on the patio. – Ps. After seeing pics of yours, I don't think I'd buy a new truck camper without one. Really, I love the floor plan of my 14-year-old Thoroughbred. Took out the dinette and put in a second couch. 14 feet wall to wall! Makes a huge rear living area for bigger families. Great job on floor plans guys.
Love to see it in person.
Need recliners due to back problems.
Make separate shower and bathroom without the slide-out.
You could add to the design by having a zip-up enclosure on the patio to extend the living space to be somewhat weatherproof. At first, I thought the two doors thing was silly but I now understand they are a necessity in this unique design. I like it.
I have had a Lance unit in the past, but the steep and narrow steps ended up being too hard on my arthritic knees. But using the new Lippert-style swing-up steps looks to be a great innovation!
I prefer a mid-bath, a 12v compressor fridge, theatre seats, and excessive lithium batteries that can run the air conditioner.
Hopefully, it is not too long to prohibit towing. We are wanting to trade our toy hauler so we can haul our boat or an ATV. With a toy hauler, you can't pull a boat behind.
For me, it's not a practical setup. Prefer a dinette with a proper table. The steps are not practical to access when in parking lots or along the roadside or rest stops.
I think it's a really cool idea. Though I personally won't be looking at one until my next stage in life (ie retirement). Currently, I have an 8′ pop-up and 1/2 ton truck (long box) for more mobility/flexibility, and I'll continue to prioritize that for a while yet.
With no table there is essentially no cooking space inside.
The TV would not interest me as much as the refrigerator as I almost exclusively boondock. I don't watch TV now when camping and doubt I would watch TV outside in this unit.
I rather have a dry bath than a patio. Just don't see the need or desire.
I much prefer long non-slide campers and side entry is appealing since my car trailer is always connected. Unfortunately for my use case the patio would add weight and consume space better used inside the camper for me. I'm impressed with the innovation though.
We would be full-timing and not interested in the outside entertainment center but the fridge option open opens up possibilities for a small freezer for sportsmen or full-timers. Very cool concept.
I would prefer a bigger tv and no refrigerator. I can step inside to get drinks or have a cooler between camp chairs. The biggest tv with the best picture you could install would be the way to go IMO.
I'm a little concerned about counter/prep space without a dinner table. Fold-out tables from the armrests don't seem like they would be the right height/strength to do things like chop veggies for dinner. Hard to tell from the pictures here what counter/cooking prep space looks like. Similar thoughts on the patio: would be great to set a grill up out there but no obvious sturdy table for it. Would be amazing if the door/cover hatches for the tv/fridge outside could somehow connect to turn into an exterior table? Then those doors don't sit open blacking the view!
Like: side entry, steps, sink, and couch. Dislike: patio TV, fridge (duplication in limited camper space). Unsure: two entries (space utilization), patio awning/cover. Appreciate: camper innovations.
Everything revolves around iPads and cell phones. If we have cell signal or wi-fi we do not need the tv. Sitting outside, the last thing on my mind is watching tv. If we want a cold drink, a small outside chest refrigerator/ freezer would be helpful. The other space could accommodate fishing, sightseeing, a slide-out tray upon which a Coleman stove may fit.
I would rather see more room in the bathroom and give up the outside fridge. A 24 ltr Engle 12vdc cooler, plugged into a 12vdc outlet and sat on the patio deck, under the TV, would allow for a shallower compartment and more room in the bathroom.
I'm very interested in its 4 season capability. This includes how well it provides creature comforts during the winter such as heat, fresh water, hot water, and the ability to store and dump the grey and black water. I also value the quiet of nature, so I'm very into battery life, power management, and solar options. I am also very interested in its ability to store all my outdoor adventure gear such as Kayaks, Rocket Boxes, and even outdoor cooking and cleaning equipment. I'm currently looking at switching my factory truck bed with a SherpTek truck bed. So I am interested in Palomino's compatibility with SherpTek. But one of the features that has me interested in the Palomino brand is the skylight above the master bed. I miss watching the stars as I fall asleep at night.
The steps are great, and the interior look is lovely.
The step up to the bed is too small and only allows the use of the left leg. Less propane is not desirable. No dining table is a minus, planning to plug in or run a generator constantly is a no. That lower compartment for a portable generator seems cumbersome.  It looks like you have to deploy the patio to get it out and then go through 2 doors and down the steps to take where it can be used. The patio is too small even if I liked it. I prefer the interior space of a slide.
Just wish it came in for a short box truck.
As a current Real-Lite HS-1914 owner I appreciate the couch to retain additional sleeping capacity. Please add a hinged door to access under the kitchen sink and clean up wires/plumbing/floor in that area to enable storage/trash can, etc. Open up the entertainment area to allow a larger TV (I mounted a 32″ Roku on a new mount), improve the cabover hatch doors to stay open while accessing contents, provide a hatch and/or hinged access on the step to cabover for maintenance items like batteries and fresh water tank drain (wood screws strip out and show poorly).  If no rear ladder is provided, install a hatch in the cabover to access the roof so you don't have to carry a separate ladder.  Provide an easy to set up grill post mount for the patio over the rail, marine style.  For the outdoor entertainment area provide a griddle/work table on a rack.  The refrigerator should be on a rack with sliders (not everyone plugs in to shore power these days).
Check out the Overlanding community they have this stuff down pat.  Integrate a rail system on the roof to safely and securely add solar panels without roof penetrations.  Reconfigure the sink position to allow for a toaster oven between the sink and the stove.  Put a hinge on the hatch cover below the entertainment system as it is difficult to reach anything in that cabinet without removing the entire panel.  Make access to the overhead cabinets over the sink easier as there is a lot of dead space in the middle.  Provide a waterproof toilet paper holder in bathroom.  Will you have screen doors for both doors?  Need an auto-close feature on both screen doors with protectors on the lower half for kids and animals. Provide a 12 dc a/c that could be powered by batteries/solar. Will the rear biased COG mandate a dually?
BTW – Factory recommendations for 2910/1914 should really be a dually as a single rear wheel diesel 4×4 crew cab typically doesn't have the payload and tire/rim capacity to accommodate the weight.
Incorporate Lagun mounting positions for the couch for flexible eating and work environments. You need digital thermostats to run heat and a/c systems (they can be separate if need be). I have other ideas if you are interested to pursue further. My background is Six Sigma Process Improvement, Construction, and Sourcing. I would be happy to provide first-hand feedback with a user perspective and a quality focus. Thank you for listening. Steve
Need solar and lithium options.
Indoor toilets and showers are for sissies. An outside shower with a privacy tent is great. A composting toilet works fine for me. I use a five-gallon bucket lined with plastic bags and toss the bags into our green boxes. Dumping black water is a hideous business. I am done with that after 40 years of RVing.
I hate slides. They make the camper hard to keep warm in the winter and cool in the summer, and they are another point of failure and need motor and seal maintenance I'd prefer to avoid. I came very close to buying a truck camper as my last RV, even considering a fully bespoke build, but ended up with a (hard side, custom-built) travel trailer for the rear deck. Next time I change rigs, HS-2912 is top of the list!  I would not be interested in a version with slide-outs though. Mods I would make (factory or otherwise) would be, solar and lithium, cartridge or compost toilet to add black capacity to the gray tank, 12v appliances, an induction cooktop, marine diesel heater to replace the furnace, and then remove all propane to make space for that. My existing rig has 300Ah lithium and 600W panels and only needs shore power after 3 days without sun. It's a great setup I want on any future rig. Considering a second alternator to charge the batteries on travel days, and the new domestic 12v AC.
Love the front windows. Also, the sofa looks very comfy and usable.
For enjoying all God has made for us to see. Even in the rain all high and dry. Thanks, Palomino.
The outside refrigerator either needs to be a DC model or be on an inverter. Without being a DC or having an inverter it is difficult to preload/cool items.
I wish they would Line-X the roof, too.
I love the idea. I've wondered why this hasn't been done before. I have a Torklift Ultra Deck on my Lance and love it but your deck is MUCH better! It also provides a level of security for my outdoor gear rather than having that stuff on the ground.
The outside fridge needs to be propane as we mostly camp in the forest with no available 110ac and running even our Honda 2000 is to loud. Better battery, solar, inverter options would solve that and we'd want those anyway.
I wish you would have toured the bathroom in the article.
I would like to see a canvas kit for the enclosure of the patio for adding an additional sleeping area.
I would not use the outdoor TV or fridge but could use the space for storage.
Prefer a dry bathroom with toilet, small sink, and shower.  I want a microwave, an outdoor shower, in addition to a queen bed.  I would like dining area to fold out to a queen guest bed, like a tv or hook up for a tv, & want an electronic canopy on the side.
I wish you didn't offer the outdoor TV at all. Who wants to listen to your neighbor's TV when camping? Not why I go camping. Not sure where the food, dishware, etc. is stored. Because our food choices support our good health we need to stock up when we can and we have many supplement containers.
Most interested inside door. Like access from the passenger's side as safer. Accustomed to parking in the back of lots so not concerned about entry blocked by close vehicles.
We use our dinette extensively. The sofa with little pull-out tables doesn't offer enough room for computers and working materials.
I would look into a single slide model with a patio. Will add weight, so make dually brackets standard also, it will sell.
I would be interested in a side door, with the patio, but not sure about the weight of this camper on a SRW 1-ton truck?
I like it. I wonder if a lighter and smaller camper would benefit as it would really open up the space. I like the idea of putting all the options on the unit and keeping it simple. I could adjust to the TV and fridge outside.
It takes up too much space. For me, many campsites don't have the additional length required for the patio. One of the benefits of a camper is that it will fit in spaces larger RV's won't.
As usual, there is a large counter space in the bathroom for make-up, hair, and primping…and virtually NO kitchen countertop for food prep.
Great idea and design! Very exciting change. It wasn't mentioned in the article, or I missed it if it was, it looks like an awning also is included for the patio. That is a must-have.
Rather than an entertaining system, options for extra storage would suit me best. We don't go to nature to watch TV. I would rather have an external cooking area than an entertainment system.
It is a fabulous idea. We live full time in our fifth wheel but entertain the idea of a truck camper for being able to take off on "vacations" at times. The patio would definitely make going back to a small space for medium-term living more palatable. Such an excellent idea!!
I like the couch instead of the dinette and that there are no slides.
If I ever bought a new camper it would HAVE to have theatre or barrel chair seating. No flexibility on that. I presently run with an 8 cubic foot fridge and would hesitate to get anything smaller. I would also strongly prefer factory solar panels (300-400+ watts?), although that's not a deal-breaker since I could add those.
The patio is the silliest idea I've ever seen for a truck camper. I go places to see and shelter in my 8801. More cabinets are needed. Metal under the door entrance for mounting stairs, not a 1″ strip, (no bumper). If I would step up to the near 4000 lb. weight, I would leave the truck camper to a pull model. That type of weight in any truck is crushing. You have a nice camper, simple compared to the price, but crude compared to a cirrus. No Idea what you could be thinking with this patio idea. Not needed whatsoever for where this type of unit goes. Go back to concentrating on storage space and shelter. I don't think you've ever really gone camping in one of these.
Even though it's not for me, I would mount some kind of ground support system when deployed. Someone will put too much weight on it and snap a cable or tip it.
I don't think a refrigerator is important. Its' not that far to walk, but you need storage for your patio accessories like tables, chairs, etc. I personally would want a 12-volt ice maker.
I love the side entry concept, but for some campsites, it may be a hindrance. Perhaps a way to access the patio from the ground. An awning to cover the patio would be great, especially for wet weather.
Again – we spent a LOT of time looking this whole article over. We currently have an Adventurer 86FB so there was a lot to compare. In our shorter floorplan, we have much more counter space in the kitchen and we've come to enjoy the Dream Dinette in it. We like the central bath because when ONE of us is up, the bath door can be left open – totally separating the dark sleep area from the kitchen/living area. Aside from that we see a LOT of Palominos up here in Northern WI… and are very interested in them. A shortened back patio (5 feet, maybe?) would seem to fit the bill better than the longer area… and it would be very nice, indeed, to be able to sit out on THAT during more inclement weather. Whether we'd bite on the HS-2912 or not, we've certainly got Palomino on our radar for our next truck camper.
My complaint with most truck campers is bigger grey tanks. A 20 gal grey tank takes this out of any placement on my wishlist as I boondock exclusively and nothing less than 30-35 is doable.
Love this patio idea. Have seen it on toy haulers. Unfortunately, the weight of this camper puts it out of our truck class.
I would remove the TV for increased storage (folding patio chairs and table). Line those compartments so wet or dirty adventure gear can be placed there. The patio refrigerator looks like an afterthought. I would install a 12v cooler-type, maybe on glides to pull it out. I like the sink and the tankless water heater. Change the sofa to a fold-up model so we can bring in bicycles and I'll get rid of the toy hauler.
This camper is going to require a dually. Make the swing-out standards to help newbies get away from the notion any truck will haul it. Just include them in the price. I think this camper's greatest appeal will be to non-traditional truck camper owners.
I wonder if the rear awning could be turned into a tent/topper for the patio. Perhaps that would make it more secure? But that's nitpicking. Great job on the design.
I would like to see bump-outs used to expand the camper interior.
I think a roll-up door or a prop-up door to shade the tv might be nice. I would also like to figure out a way to grill and cook back there, still might want the 3-way fridge inside but cooler back there. I am big about not wanting to have to run a generator.
Love the side door and step system. The wet bath looks the same as my 8801 which does not work well. Make the counter smaller, put the toilet next to the sink, and have a much bigger shower area. Put in a retractable door and get rid of the shower curtain and sliding door.
Very cool to see this in production!
Assuming the awning covers the entire patio, consider some kind of screen walls to keep bugs out.
Deploying the side steps in a tight parking space after shopping for groceries may be an issue.
This rig is too big for my interests. I would prefer to live/relax on the ground – near a fire pit or under our side awning (I have an SS-550).
I would like to see a sofa in a slide-out instead of the dinette. But not sure if that is structurally possible. If that combination was offered we would be first in line to buy one.
I would rather have more space in lieu of the outside entertainment, like a bigger bathroom and a bigger grey tank.
Love it! What a great bunch of new ideas to bring to the market. I actually prefer that it's a non-slide camper that will fit in a long bed pickup that isn't DRW.
You need to get away from using OSB in the construction.
Make a screen room for the patio.
I think the extra refrigerator is superfluous given the refrigerator in the camper. I would rather see the bathroom extend into that space and add kitchen space.
Again, the patio is a novel item but for the average mindset of a person that owns a truck camper, it is a waste of precious weight capacity for the rig. Not to mention the fact that one of the biggest benefits of owning a truck camper is the compact footprint for the vehicle and camper. The patio takes up precious real estate needlessly.
The front kitchen is one of the least desirable layouts. Very little counter space rear or side kitchen would be a home run. Black and grey tanks need to be bigger as well.
I wish I could be more constructive, but it looks like you nailed it 100%. I can't wait to see one in person.
Not of interest for a single person and adds too much weight. I like the sofa but longer would be better. More options in the solar area. Seems a little behind! I wish the low point drain was outside so could be used without taking off the camper.
I'd like a larger fridge to work on gas, and the inside is nice. I'd use the lower space for a cooler and beer.
Click here to read more about the all-new Palomino HS-2912.