This week's Question of the Week was, "Do you have a truck bed liner for your truck camper rig?"  We also asked if the bed liner you have impacts loading, unloading, or any other facet of using your truck camper.
Here are the graph results: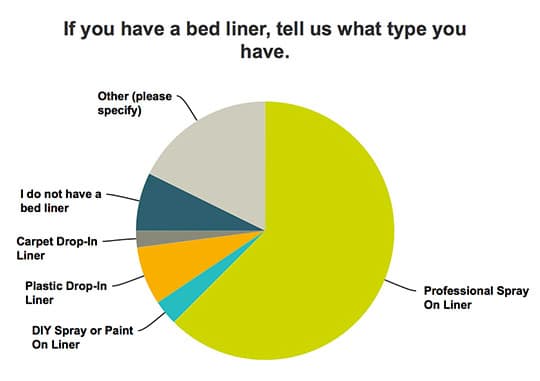 The majority of the "Other" responses were for factory bed liners followed by rubber bed mats, and horse stall/stable mats.  This carries over to the next graph.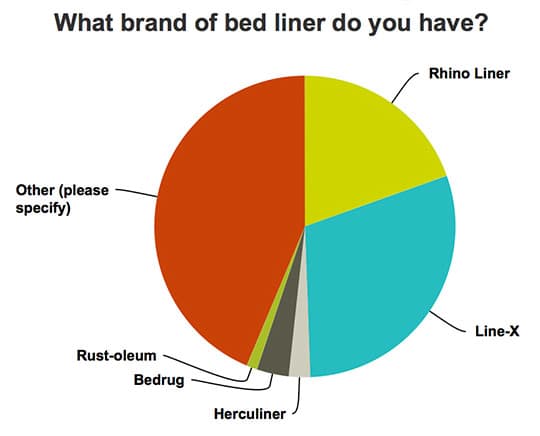 Again, the majority of "Other" responses were for factory bed liners.  In retrospect, we should of had "Factory Bed Liner" as a choice for both questions.  Other bed liners and mat brands mentioned include Dee Zee, York PI Load Lok, Armadillo, Turbo Liner, Dual Liner, and Vortex.
Here are the text responses:
"I would not have a truck without a spray-on bed liner.  I use my truck for a lot more than just truck camping.  With a spray-on bed liner cargo doesn't slide around and there are no scratches to worry about.  I also think it helps eliminate some small dents." – Rodger Greene
"Liners have not impacted my loading of the camper.  I've read other posts that warn about the truck camper sliding around on a bed liner due to the slipperiness of the material.  I've gone over many rough roads with it and I've had very little movement of the camper at all." – Rex
"It is a plus to have a rubber mat on top of the bed liner.  This makes sure the camper does not move.  I have had no problem loading with a rubber mat and bed liner."  – John Kerritt
"My bed has a spray on bed liner.  I also have made a tapered spacer that sits on top of the bed, with the rubber mat on top of the spacer.  The taper spacer is used to make the camper level with the sides of the truck bed.
I took quarter-inch plywood and made a spacer one and a half inches high in the back and a quarter inch high on the cab end.  I screwed the plywood pieces together and load the tapered spacer as one unit.  Now the camper/bed clearance is less than one inch on each side." – Gary Gadget
"I appreciate the protection the bed liner gives to the truck bed.  We also have a rubber mat so that helps as well.  We have never had a problem with the camper shifting, but I'm not sure if the liner, the mat, or both (or neither) gets the credit for that.
Fortunately, we have a little breathing room between our Eagle Cap 850 and the truck bed, so the liner does not affect loading and unloading.  If I only had an eighth of an inch to spare, I'd never get it on the truck!
The only problem I've had with the liner is that a couple of the screws that secure the liner to the back of the cab have wriggled free, but the liner is still quite secure.  As far as weight goes, I weighed the fully loaded camper on the truck at a CAT scale before our first four-week trip and the weight was fine." – Anne Marie Lewis
"Previously, I had a plastic drop-in liner and it worked fine, but a Dee Zee rubber mat is much better in my opinion." – Fred Patterson
"I traded my single cab that had no bed liner for a crew cab that had a spray-in bed liner. Both trucks were Silverados.  The first time loading I was able to get the truck and camper lined up.  Maybe I just got lucky.
I still use a rubber mat under my camper from a suggestion that I picked up while researching before I put the truck and camper together.  I don't see any difference in having the bed liner except it's nice to have a little protection for the truck when the camper isn't on the truck." – Wayne Machann
"I do like the bed mat.  It seems to give the camper a non-slip surface, a little more floor insulation, and less scratches on the floor of the bed." – Tony and Michelle Tabacchi
"We bought our truck second hand and it came with one of those plastic drop-in liners. We found that the camper would slide back on the liner so we threw it away.  There haven't been any more problems." – Tricia Mason
"We have a 2003 GMC Sierra 2500HD extended cab and a 2007 Adventurer 810 WS. The camper fits the truck with the liner in place and the slick plastic actually assists in squeezing by the truck's wheel wells if we are a tiny bit out of alignment.
The camper sits about 3/4″ higher due to the corrugated surface of the liner floor.  The only down side might be that the liner offers a bit less friction than the original painted box surface to keep the camper in place while traveling.  Tie-down checks should always be a part of any stop anyway." – Pete and Julie Marshall
"My Dodge came with a full bed plastic drop-in liner.  I found the camper, even when tied down, would slide around since it was smooth plastic.  I removed it and had a liner sprayed in.  The spray-in liner is so much better.  There is no more movement nor does the bed get dinged up.
I have painted three silver guide strips (center and where the edges of the camper should be located to center the camper) which makes it easier to load the camper.  I plan on making a guide frame from one inch boards so that I can more easily center the load each time.
The camper only clears the box side by a half inch instead of the one inch I had before, so I may need to add something to lift it another inch.  If I do, it will be solid rubber as used in horse trailers." – Harry
"I keep a plastic drop-in liner in my truck as the ribbed floor helps in loading and unloading my snowmobile off the truck in winter.  The skis slide very well on the ribbed floor, allowing the sled to move on and off the truck almost perfectly.  I had a spray-in liner on a different truck and the sharp carbides on the skis stick like crazy, or slice up the spray-in liner.
I keep the drop-in liner on the truck in summer just because storing a plastic liner takes space that I don't have.  I also like the protection the liner provides.  The camper can move a little on the plastic liner, but you have to watch your tie downs.  So this year I've added a rubber bed mat on top of the plastic liner when truck camping and hope that will give it extra traction.  It's a liner that works for both ski-dooing in winter and truck camping in summer." – Don Closson
"I have a factory spray-on bed liner, plus I bought a rubber mat liner because, with the new 2014 F350 dually, the older Lance truck camper contacted the cab clearance lights.  I also had to add a three-quarter inch plywood to obtain more clearance off the lights." – Paul Roberson
"I have a Line-X sprayed-on liner that goes up over the truck bed rails, and a rubber mat under the camper to keep the unit from sliding around.  I use my truck for more than just carrying my camper, so a liner helps protect my bed from nasty scratches and dents from moving loads.
The liner does not impact my loading process as my Wolf Creek camper does not have a full basement with a floor up over my wheel wells.  The sprayed-on liner protects my $50K truck investment, which looses enough value on its own." – Allen Jedlicki
"I've owned a number of trucks, all with bed liners, including spray-on, plastic, and a Bedrug.  By far the best is the Bedrug. The Bedrug fills in the corrugated bed floor so that is painless to crawl around on the bed.  It has no impact on our camper use.  The only thing I had to do was on stitch that portion of the rug that covered the tailgate, which is removed for camper loading.  I put snaps on the tailgate rug to secure it to the truck bed when the camper is off.  Our next truck will definitely have a Bedrug." – Jim Goodrich
"It does not hinder loading and unloading.  It does protect the bed from being scratched. Plus I use a horse trailer mat in the bottom for stability.  The mat in the bottom helps preserve the bottom of the camper." – Jim and Billie Kaufman
"We had an OEM plastic bed liner on our last truck.  Our Polar 990 tended to move around somewhat.  We recently purchased a 2014 Ford F-350 with the factory spray on bed liner and found that the camper still would move.  The solution was a rubber Bestop bed mat – under $100 and the problem is solved!" – Al and Pat Nicholson
"I also have a bed mat (don't remember the manufacturer) about 3/8″ thick and made of recycled tires.  A bed mat is recommended by Arctic Fox.  Neither have had much of an effect on loading or unloading.  The mat gives the camper a nice flat surface to sit on and l think it helps keep the camper from shifting around." – Dave
I also use a quarter inch thick bed mat to protect the camper from my Gooseneck hitch in the bed." – Scott Vallie
"Yes, I like my bed liner.  It in no way has anything to do with loading or unloading my truck camper." – Tim Chapell
"Currently I don't have a bed liner in my truck, and I'm not sure if I really want one.  The stock Ford bed has drain slots in the front, yet a bed liner does not.   When camping with heavy rain I would think that water would pool up in the front and start to soak the wood on the front of the camper floor.  Just a thought." – Glenn
"I have a BedRug liner.  I also purchased a thick rubber floor mat that I lay on top of it for my Lance 992 to sit on.  I was concerned that possibly the camper would want to slide around if put directly on the BedRug.  With the rubber mat in place I've had no issues whatsoever.  I've been a full-timer for the last three and a half years.  I normally take the camper off once a year as it makes truck servicing, such as tire rotation, much easier.
I always do a inspection of both the underside of the camper and the truck bed each time to check for any issues.  I'm impressed with how well the BedRug and mat have worked.  Both still look like new with no visible wear.  It has been a great combination." – Dale Wilmot
"We've had Line-X bed liners professionally sprayed into our last two trucks – a Tacoma with a fiberglass shell covering the bed, and our Silverado.  We would not consider owning a truck without a spray-in liner.  They protect the bed, make cleaning easier, look good, and make maintaining a truck easier.  I also have a one-inch pad in the bed of the truck that was sold at Tractor Supply for horse stalls.  This improves the cushioning between Line-X and bottom of camper.  There's no impact on loading and unloading our Lance." – Francis Maineri
"I had a factory Ford bed liner in my 2001 F350 with a Fleetwood Angler camper.  When backing up to load the camper, the sides of the bed liner would often catch the camper.  I also had problems with that camper rubbing my truck's roof when hitting bumps in the road.  I added a rubber bed mat on top of the bed liner to help space up the camper over the truck's cab.
When I purchased my 2007 Lance 861, I removed the factory bed liner and rubber bed mat to reduce weight and the camper sat lower in the bed (since I did not have a clearance problem over the cab).  Immediately I noticed the camper shifting and sliding on the smooth bed surface when braking or turning.  Back went in the rubber bed mat, which solved that problem.
The problem I have now is the top front lip of my bed is getting dented on both left and right sides where the camper makes contact on the thin sheet metal.  I am thinking of affixing a strip of heavy gauge aluminum angle across the front bed lip to prevent further damage." – Justin Hinds
"Plastic bed liners scratch up your finish due to the constant movement in the bed.  Pull a bed liner out of a three year old truck and you will see bare metal spots.  If you must run a bed liner, spray some protection in the bed." – Gary Usher
"I put a spray in liner in my Ford F-350 dually when I bought it.  The only reason was to protect the bed.  But, the best thing I did was to add a piece of horse stall mat for the camper to rest on.  There is no movement or sliding from the camper.  I have dented the sidewalls with my excellent loading procedures, but I am happy with the set-up." – Everett Baird
"When we bought our truck it had a drop in plastic bed liner which is best for impacts (from wood, stone, etc), but it is also very slippery.  When we were going to get a truck camper, it was highly recommended by our dealer to remove the drop-in liner and get a sprayed-in one instead.  This combined with our thick bed mat would provide the optimal combination to keep our truck camper from moving.  So far it has!  I highly recommend this combination." – Charlie Coushaine
"I had a bed liner sprayed in when the truck was new since I use it as a household truck, for hauling firewood, lumber, bricks, sand, etc.  When hauling the camper, I also use a loose mat liner on the bottom of the bed to raise the camper above the bed side walls.
The camper has scraped some of the liner off the side of the tail gate area.  I have also scraped the sides when unloading in a hurry.  The thickness of the liner material is not the problem on the tailgate.
My camper moves significantly on long trips due to wind from any direction.  It will move side to side and back all in one trip.  I don't think the mat or liner matter.  Other than protecting the truck bed when hauling a camper, I don't think liners have any consequence." – Jim Hood
"I started using Rhino Liner in my truck beds about twenty-five years ago.  I wouldn't consider owning a truck without a Rhino Liner.  Before I put my truck camper on a gooseneck trailer, I had no problems loading or unloading it with the liner in place. In my humble opinion, I think all truck manufacturers should put a spray-on liner in every truck they make." – Robert Hicks
"I have both a spray-on liner and horse trailer/stall mats.  I have a 2002 Ford F350, four wheel drive, diesel, long bed truck.  About that year the truck manufacturers raised the cab heights requiring something in the bed so the camper overhang didn't rest or bounce on the cab.  The mats work just fine to raise the height and prevent the camper from sliding around, though they do weigh a lot and are awkward to move in and out.
The spray-on liner helps resist scratches and rust.  My 2002 Northern Lite has a tight fit in the back and along the sides, so I have lost some fiberglass where the tailgate knobs rub.  Someone needs to sell loading and protective guides to help when lowering the camper into the truck bed, though I could probably make something with the a saw, some wood, and old carpet.  With respect to the mats, if you have the ability to move them in and out as needed, I highly recommend them." – Harv Keene
"I do like my bed liner as I use my truck for other things besides my camper.  To a small degree, it impacts loading as I try to keep the camper up a little higher to clear it." – Rochelle Berg
"Being a spray-in, it doesn't effect bed space.  I also have a bed rug that really helps keep the camper from shifting while driving." – Steve
"I have used nothing (slides around), plastic liner (really slides around), rubber mat (helps a lot), and now a Line-X and rubber mat, which is the best yet!  Spacers up front will also help prevent rotation." – Phil
"I have a Ram 3500 with factory spray-in liner.  There is no impact on loading or traveling.  It does a good job of protecting the bed from any damage from the camper." – Ron
"I do not like plastic slip-in liners.  I had one, and it was always moving, noisy, and took the bed paint off, causing rust.  I have an older camper, so I have a 3/4″ horse bed mat on top of the floor and, therefore, no camper shift.  The only impact is the tailgate latch pin/bracket.  I must be aware of that as it is the only restriction on loading." – Monte D.
"I love the Dee Zee liner.  It does not impact loading, unloading, or handling.  It provides a nice cushion for the camper and was recommended by Adventurer." – Paul Turner
"A Rhino Liner works great for me because of the non-skid quality that secures my camper like it's glued, so to speak.  Also there is no rust, scratches, or other damage. I am very satisfied." – Bob Robinson
"In ten years of use, our Line-X has absorbed a lot of wear while protecting the bed from corrosion.  It's unnoticeable when loading." – Len Lewis
"Yes, I like the bed liner.  Northstar suggests a standard rubber mat over the bed liner to keep the camper from moving around on the liner.  This helps quite a bit.  I have no problems with loading or unloading the camper." – Firman Schiebout
"A rubber stall mat doesn't hamper loading.  It helps lesson movement and seems to make the camper ride better." – John Gobershock
"I had a Line-X sprayed in my truck when new.  It does take a slight amount of width and some additional weight, but I believe was worth it." – Bob Hubbs
"I would not ever use a plastic liner.  They are like having ice in your bed.  If I used anything it would be a spray-in rubber type.  I use a rubber mat and I sourced some rubber striping that I attached to wheel wells with double sided tape.  This system works very well." – Eric Anderson
"We have a short bed GMC in which we carry our Lance 861.  We had an insert type bed liner, but substituted a rubber pad for it.  We felt that the plastic bed liner would allow movement, so we substituted a rubber pad.  It has worked perfectly." – Walter and Gail Hotz
"I was surprised that you didn't list Dual Liner as one of your choices.  This liner can be mailed to your house as it comes in five pieces.  The sides and tailgate covering are your traditional plastic liner, while the floor is a rubber mat.  I am very pleased with this liner and this is the second truck I've had it in." – Stephan Rebensky
"The spray-on liner was recommended by the manufacturer to reduce movement of camper.  I have been very pleased with it as I remove the camper unless traveling.  It has not scratched or peeled despite being on some very rugged forest service roads." –  Bill Peters
"I have a Line-X bed liner and love it.  With my last two trucks, it was the very first thing I did within days of purchase.  It should come as standard equipment.  It has no impact on the camper loading/unloading process.  It probably does help a little in keeping the camper in place, but it still moves a little until it settles in place during the drive." – Henry Nelsen
"Other than the bed liner, I use a rubber floor mat.  This stops the camper from sliding and also provides some cushion with potholes.  I also have a couple of triangle type guides to help in guiding the camper down when loading.  Both of the ideas above, the rubber mat, and the triangle guides, have come from your readers.  Thanks for having such a great website." – BPN
"Line-X liner was sprayed in far thinner than advertised.  It has chipped out in several places.  It provides lots of friction to help hold loads in place.  It stains easily.  It is not a problem for camper loading." – Tom Adams
"I really love Rhino Liner.  I was really amazed on how they installed the product in my truck bed.  I first had Line-X installed in one of my work trucks.  After I got my truck I went to the job site, and started throwing lumber into the bed.  The liner tore off in a big area.  I took it back to have it reinstalled and all they did was fill in the area that was torn.  I did not except that kind of shabby work to be done on my new truck.  I took my truck to have Rhino Liner put in.  They simply tore the Line-X out and took a grinder to the bed, and told me that it was the proper way to install a spray in liner.  Eight and a half years later and I'm still satisfied with the work they preformed." – Ed Henry
"We like our Dual Liner.  It can't get scraped off and it's installed in less than an hour." – John and Cathy
"In my opinion, the spray-in bed liner is the best way to protect your truck bed.  Mine has been in since the truck was new.  I can load lumber, cement blocks, and other building materials and not worry about destroying the bed.  In the past I have seen truck beds rusted out from the drop-in bed liners.  That made my decision to go with a spray-in liner.  I will go with a spray-in liner again when I get another truck." – Bud Brown
"My Lance camper has a slick bottom, and my Torklift tie-downs specify a non-slide mat. My pickup box also has reinforcing ribs stamped into the rear of the box.  The two layers of stable mat lets the camper bottom clear the reinforcing ribs, and keeps the camper from sliding around." – Philip Tron
"In addition to the Rhino spray-on liner, I have a custom rubber truck bed mat.  I have also added a softer high density foam rubber mat under the top rubber mat.  It has helped but not completely stopped the shifting.  My theory is, at highway speeds, the front of the camper is lifting like a wing, especially in a head wind.
I spend extra time being particular about getting the camper centered.  I am using good quality hold downs (spring loaded on rear) adjusted to the proper tension, but it always moves.  I don't know if can be stopped without installing a bracket.  I would like to hear other truck campers ideas on this." – Grant Smith
"I have used a spray-in liner for past three trucks.  It just keeps the bed nicer, especially when camper is not loaded from moving rocks, bark chips, etc.  The truck is a part-time farm truck.  I also use a three-quarter inch pad under the camper for a better ride." – Bob Nelson
"I am very happy my bed liner.  I got it just prior to our first truck camper trip.  We sprayed it on our fourteen year old truck bed, which had been lined with plywood, and it looked great.  Prior to spraying, they sanded off any rust spots and flaking paint.  Now, it looks brand new and professional." – Grant
"I add a 4-foot x 8-foot x 1/4"-inch thick aluminum plate.  I had a plastic bed liner and the camper would move all the time.  The steel sliders under the camper seem to glue the aluminum.  Now it is fine." – Richard C Raymond
"The Line-X liner adds very little dimensionally to the bed size, but a lot to the durability. Many loads of stone, removed by shovel, showed almost no wear to the appearance of the liner." – David Schmitt
"I have a Rhino Liner to protect truck bed from rust and a rubber mat to provide small cushion to the base of our camper." – Steve Gomez
"I have had zero problems with the camper moving.  The bed did get slightly damaged somehow by the camper and was repaired at no cost by Rhino Liner.  This is the second truck I have had the liner in and I am completely satisfied." – Tom Andersen
"I have a truck bed mat.  A drop-in truck bed liner is not recommended because the camper can slide and bounce." – Ron Richardson
"I use a plastic drop-in bed liner and I also use a rubber bed mat for the camper to set on.  The combination works well.  The only issue I had was the rear upper corners of the bed liner would catch the camper when backing it into the truck and bend the plastic liner.  A few self-tapping screws took care of that issue." – Scott Ridgway
"The truck came with a plastic drop-in liner.  I hated it.  Cargo would slide around to the point anything in the bed of truck had to be tied down.  The camper slid in nicely but I was cautioned that the camper had a tendency for movement, which would create extra wear on the camper.  That seemed like a great excuse to trade the plastic liner for a rubber mat.  The rubber mat is no problem for loading or unloading." – Dee Bartel
"We had a dealer installed plastic drop-in liner in the truck.  When we bought the camper, it caused no problems.  But then we read about other campers concerns with it being too bouncy and also the slick surface would cause problems.  So, we removed it and bought a heavy rubber bed mat from Tractor Supply.  It is not slick at all and probably helps reduce any sliding of the camper. We have had no problems." – David Miller
"I'm very happy with the Herculiner bed liner.  It was economical to purchase compared to a professionally installed spray-on liner.  However, there was a lot of prep work. Rolling it on was easy.  It has lasted a year with no degradation.  It does not affect the camper since I also use a rubber bed mat.  Also, I don't think it weighs much in its dried state." – Bill Carroll
We had an unusual number of readers answer this week's question without leaving their names.  We do not publish unattributed responses.  If your response is not found above, please email us at [email protected] and we will add your response to the post.