If you ever wondered what folks are towing in the utility trailers behind their truck camper rigs, here's a sneak peek at what's in the box.  Here's a hint; anything, everything, and things you would never expect.
This week's Question of the Week was, "What kind of utility trailer do you have, and what do you do with your utility trailer?"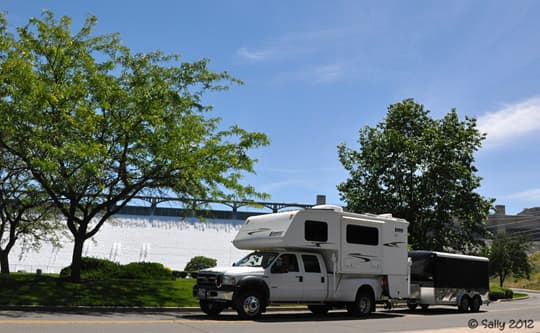 "I have a 14-foot tandem-axle enclosed cargo trailer.  It carries our pop-up canopy, lawn chairs, the grill, the all-important cooler filled with refreshing beverages, and massive quantities of firewood.  Our truck has no place for a spare tire when the camper is on it, so the spare is in the trailer, too.  We still have plenty of room for our ATV should we want to bring it along.
Our Lance, even though it is a large camper, has about the worst exterior storage on the planet, probably because one compartment has the on-board generator.  We are lost without our cargo trailer to carry all of our goodies.  Just ask our Fall Colors camping buddies.  They will vouch for that." – Sally Stomberg, 2006 Ford F550, 2006 Lance 1991, 2006 Wells Cargo Cycle Wagon
"We have a Pace American Outback 10-foot V-nose.  We carry our motorcycle, bicycles, and kayaks on the roof.  We also carry various camping supplies.  We're not the type who sit in a camper.  We enjoy our outdoor activities.  The utility trailer offers us the flexibility to do what we enjoy." – Steven Sternberg, 2013 Chevrolet 2500HD, 2012 Palomino Maverick, 2015 Pace American Outback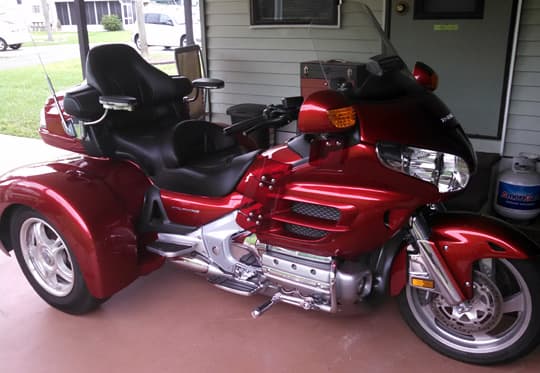 "We just purchased a 7′ x 10′ enclosed trailer to pull our newly purchased Honda Goldwing Trike.  We bought the trailer mainly to transport our motorcycle from our home in Pennsylvania to our winter place in Florida, but I am sure we will take it other places." – Dennis Berry, 2000 Ford F350, 2013 Lance 950S, 2015 Arising 710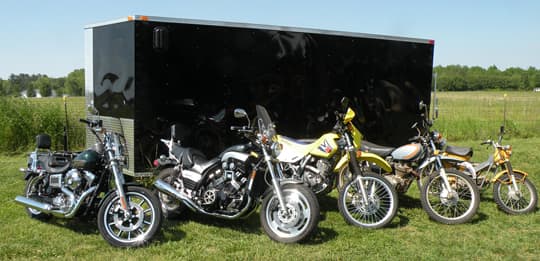 "I have a P&T 8×16 dual-axle full-width pointed-nose covered trailer.  I made removable motorcycle and bicycle racks so I can carry three motorcycles and three bicycles at the same time.  With racks removed, I can haul furniture, lawnmowers, small tractors, four wheelers, or a small car, for other uses or for repair.
I go to motorcycle rallies, historical, patriotic, steam train events and locations, ghost towns, rodeos, air shows, state and federal parks, Civil War, Revolutionary War, military parks and battlefields, and scenic locations.  With racks removed, I can use it for hauling furniture, or a small car, large mower, or small tractor.  I am an amateur radio operator, explorer of sorts, hunter, and photographer.
A trailer lets me take extra supplies, or equipment and travel machines.  Sometimes large parks don't allow motorized machines.  That's when I ride a bicycle that has a large basket for carrying drinks, snacks, cameras, or extras.  All of this can be locked safely inside and kept clean.  Extra gas cans, washing supplies, maps, water, tools, helmets, clothing, boots, spare tires, generators, and fishing or hunting gear can be taken, but not all at the same time!" – Bill Strickland, 1996 Ford F250, 1999 Lance 845, 2015 P&T 8×16 dual axle
"I mainly use my enclosed trailer to haul a 1998 Chevy Tracker.  Also included is a SAT system, 36″ television, DirecTV box, laptop station, printer, ham radio, CB radio, battery bank, extra propane, water, firewood, and tools.  I also have a special storage area for adult beverages, and general camping stuff.  I have a back door ramp with an awning on the curb side.
Traveling with a large camper poses some problems.  We could unload the camper and use the truck, but wide hips and length makes it a challenge for parking in touristy areas.  The tracker fits just about anywhere, and with a lift-kit and four wheel drive, it easily gets into the back country.  Being slightly mobility challenged, being able to get closer to stuff is great.
I recently had this setup in the Black Hills of South Dakota.  The challenge is that the unit is now 47′ long." – Bob Nelson, 2015 GMC Sierra 3500, 2013 Arctic Fox 1140, 2013 Mirage 16×8.5
"The trailer is 28-feet, all aluminum, and with one foot of extra height.  We carry two Model T cars plus the parts and tools most commonly needed to keep them running.  Model Ts, especially the earlier cars, are quite tall – about 6'8" with the roof up – so a high door opening is helpful.
We're in two Model T clubs in Ontario (example, ontariomodelt.org), which are chapters of the International club (modelt.org).  We take our cars to 'T' tours, often run out of a campground or a dry camping area, where we drive them each day on arranged routes avoiding the main roads. It's a chance to socialize, drive the cars, and see local sites of interest. It's quite a lot of fun.  We carry a second Model T so our son can attend tours and drive, too." – Fred Mottashed, 2012 Chevy Silverado 3500, 2008 Lance 1055, 2011 Lightning
"What I carry depends on where we are going and who all will be with us, but it can include fishing gear, kayaks on a top rack, hunting gear, generator and gas, small ladder, large coolers with frozen water, lawn chairs, grill and propane, bikes and gear (tools, pumps, panniers, etc), spare trailer tire, screen room, games, the grand kid's toys, etc.
The primary reason was to carry kayaks and fishing gear, and then it turned out that we could carry so much more." – Phil Bolding, 2012 Ford F350, 2016 Northern Lite 8'11" QSE, 2008 Carry-On Cargo 5×8