If you ever wondered what folks are towing in the utility trailers behind their truck camper rigs, here's a sneak peek at what's in the box.  Here's a hint; anything, everything, and things you would never expect.
This week's Question of the Week was, "What kind of utility trailer do you have, and what do you do with your utility trailer?"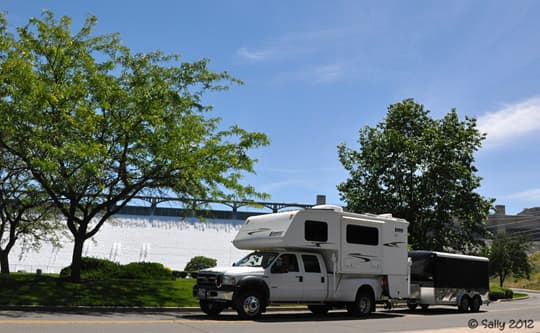 "I have a 14-foot tandem-axle enclosed cargo trailer.  It carries our pop-up canopy, lawn chairs, the grill, the all-important cooler filled with refreshing beverages, and massive quantities of firewood.  Our truck has no place for a spare tire when the camper is on it, so the spare is in the trailer, too.  We still have plenty of room for our ATV should we want to bring it along.
Our Lance, even though it is a large camper, has about the worst exterior storage on the planet, probably because one compartment has the on-board generator.  We are lost without our cargo trailer to carry all of our goodies.  Just ask our Fall Colors camping buddies.  They will vouch for that." – Sally Stomberg, 2006 Ford F550, 2006 Lance 1991, 2006 Wells Cargo Cycle Wagon
"We have a Pace American Outback 10-foot V-nose.  We carry our motorcycle, bicycles, and kayaks on the roof.  We also carry various camping supplies.  We're not the type who sit in a camper.  We enjoy our outdoor activities.  The utility trailer offers us the flexibility to do what we enjoy." – Steven Sternberg, 2013 Chevrolet 2500HD, 2012 Palomino Maverick, 2015 Pace American Outback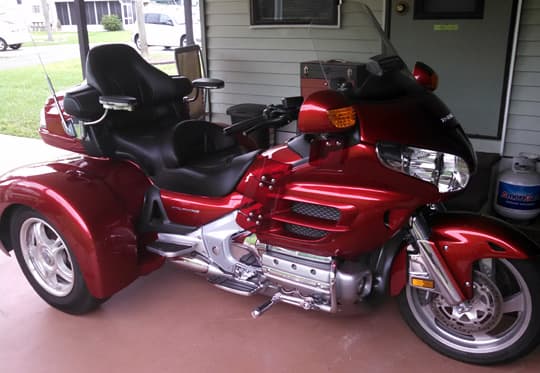 "We just purchased a 7′ x 10′ enclosed trailer to pull our newly purchased Honda Goldwing Trike.  We bought the trailer mainly to transport our motorcycle from our home in Pennsylvania to our winter place in Florida, but I am sure we will take it other places." – Dennis Berry, 2000 Ford F350, 2013 Lance 950S, 2015 Arising 710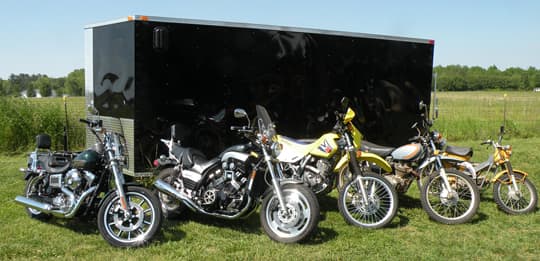 "I have a P&T 8×16 dual-axle full-width pointed-nose covered trailer.  I made removable motorcycle and bicycle racks so I can carry three motorcycles and three bicycles at the same time.  With racks removed, I can haul furniture, lawnmowers, small tractors, four wheelers, or a small car, for other uses or for repair.
I go to motorcycle rallies, historical, patriotic, steam train events and locations, ghost towns, rodeos, air shows, state and federal parks, Civil War, Revolutionary War, military parks and battlefields, and scenic locations.  With racks removed, I can use it for hauling furniture, or a small car, large mower, or small tractor.  I am an amateur radio operator, explorer of sorts, hunter, and photographer.
A trailer lets me take extra supplies, or equipment and travel machines.  Sometimes large parks don't allow motorized machines.  That's when I ride a bicycle that has a large basket for carrying drinks, snacks, cameras, or extras.  All of this can be locked safely inside and kept clean.  Extra gas cans, washing supplies, maps, water, tools, helmets, clothing, boots, spare tires, generators, and fishing or hunting gear can be taken, but not all at the same time!" – Bill Strickland, 1996 Ford F250, 1999 Lance 845, 2015 P&T 8×16 dual axle
"I mainly use my enclosed trailer to haul a 1998 Chevy Tracker.  Also included is a SAT system, 36″ television, DirecTV box, laptop station, printer, ham radio, CB radio, battery bank, extra propane, water, firewood, and tools.  I also have a special storage area for adult beverages, and general camping stuff.  I have a back door ramp with an awning on the curb side.
Traveling with a large camper poses some problems.  We could unload the camper and use the truck, but wide hips and length makes it a challenge for parking in touristy areas.  The tracker fits just about anywhere, and with a lift-kit and four wheel drive, it easily gets into the back country.  Being slightly mobility challenged, being able to get closer to stuff is great.
I recently had this setup in the Black Hills of South Dakota.  The challenge is that the unit is now 47′ long." – Bob Nelson, 2015 GMC Sierra 3500, 2013 Arctic Fox 1140, 2013 Mirage 16×8.5
"The trailer is 28-feet, all aluminum, and with one foot of extra height.  We carry two Model T cars plus the parts and tools most commonly needed to keep them running.  Model Ts, especially the earlier cars, are quite tall – about 6'8" with the roof up – so a high door opening is helpful.
We're in two Model T clubs in Ontario (example, ontariomodelt.org), which are chapters of the International club (modelt.org).  We take our cars to 'T' tours, often run out of a campground or a dry camping area, where we drive them each day on arranged routes avoiding the main roads. It's a chance to socialize, drive the cars, and see local sites of interest. It's quite a lot of fun.  We carry a second Model T so our son can attend tours and drive, too." – Fred Mottashed, 2012 Chevy Silverado 3500, 2008 Lance 1055, 2011 Lightning
"What I carry depends on where we are going and who all will be with us, but it can include fishing gear, kayaks on a top rack, hunting gear, generator and gas, small ladder, large coolers with frozen water, lawn chairs, grill and propane, bikes and gear (tools, pumps, panniers, etc), spare trailer tire, screen room, games, the grand kid's toys, etc.
The primary reason was to carry kayaks and fishing gear, and then it turned out that we could carry so much more." – Phil Bolding, 2012 Ford F350, 2016 Northern Lite 8'11" QSE, 2008 Carry-On Cargo 5×8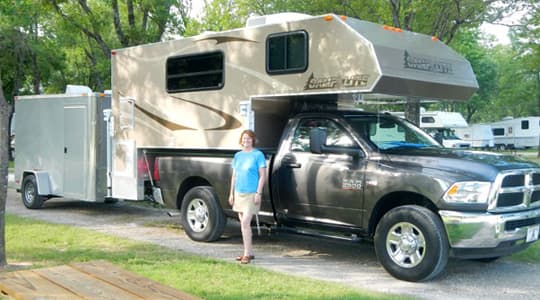 "We use a locally made 6'x10′ Rocket City enclosed trailer.  We carry a 650cc Suzuki Burgman scooter, two reclining chairs, spare tire for trailer, spare tires for scooter, helmets, crash gear, camping oven, camping grill, spare gas bottles, aluminum folding table, small plastic folding table, Sportbrella, umbrella stand, oil change kit, four-plastic bins in their own rack (extra clothing and food storage), second umbrella that goes under the mosquito tent to add support to it, sewer hoses and gear in two five-gallon buckets, several toys (gloves, balls, flying discs), twelve-gallon portable black-water tank, old piece of a trampoline as our outside rug, and I am sure a few more items.
When we first got a truck camper in 2005 for a trip to Alaska.  We tested it out in Florida and quickly discovered that we hate unloading the truck camper to drive the truck around for sight seeing and the like.  So we bought a small 150cc scooter to tow behind us on a flatbed trailer we already owned.  We used that scooter for 2,700 miles of site seeing in Canada and Alaska. We then upgraded to a maxi-scooter that same fall of 2005.
When we bought our 2013 CampLite 10.0, we knew we wanted to haul it with us and keep it protected from the elements.  Also, the trailer allows us to carry a lot more stuff with us.  There are no storage problems with our combination!" – Delos O'Neal, 2014 Ram 2500, 2013 Camplite 10.0, 2013 Rocket City Trailer 6×10
"My design is for transporting a Ural sidecar motorcycle.  I have storage for tools, reloading equipment, and for Cowboy action shooting.  We also carry a sewing machine, storage, and a fold down table for sewing and quilting.  We have folding bunks for our grandkids.
The utility trailer allows for additional storage and working area for both our hobbies better than any other RV form.  With the truck camper, sidecar motorcycle, and utility trailer, we have the flexibility that no other RV system would allow." – Mark Harrison, 2005 Dodge 2500, 2016 Northern Lite 10.2 on order, Designing a 16×7

"I have a 18-foot Triton with a 5-foot V-nose trailer.  I carry a 2012 Polaris 900XP, 2012 KTM 300XC, 2004 Polaris 500 4 wheeler, fishing poles, lawn chairs, riding gear, and other fun stuff for the mountains of Wyoming.
We dry camp most of the time in the Rocky Mountains.  The enclosed trailer keeps our gear clean and dust free.  We also added a fold down bed like the ones seen in toy haulers.  This gives us a bench seat during the day and more sleeping room for guests.  We added an RVQ grill inside to grill out of the weather, if needed, or during National Forest outdoor fire restrictions.  We had the trailer built with a drive on drive-off ramp, and a side man door.  This gives us plenty of cross ventilation for cooking and hanging out during bad weather." – Bernie Butler, 2014 Dodge 3500, 2015 Lance 1052, 2014 Triton 18-2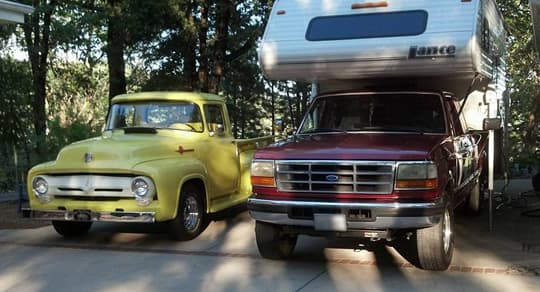 "We tow quads when we go riding and will drag race a Chevy LUV when I get it ready.  I got the trailer from Sport Trailers is in San Bernardino, California.  They are a great place.  Check out their website. They will customize to your needs.

It's been very handy to have around.  Right now my son has it in Colorado.  He used it to move to a new home.  When camping/riding, the kids would sleep in it because the camper is too small for all of us." – Ron Williams, 1997 Ford F250, 2003 Lance 1010, 1991 Sport Trailers 20-foot
"We have a 12-foot enclosed trailer that we are going to haul three kayaks, three bikes, and firewood in.  Our first time towing the trailer is coming up in two weeks.
We bought the enclosed trailer as we had a standard utility trailer before, but it was hard to move kids in and out of college when you have to tie everything down and keep a tarp over the top in case of rain.  With the enclosed trailer, we just throw everything in and go. There are no more worries about things blowing out or getting wet." – Scott and Susan Mote, 1996 Dodge 2500, 2001 Lance 1030, 2008 12-foot Haulin enclosed trailer
"We tow our two Harleys.  And no, they're not cats.  They are motorcycles.  One is a Road Glide and the other is a 1200 XL Sportster.  We will take them and tour a given area for a day or two and then go to another area and do the same.
Sometimes we'll haul our bicycles and other camping gear that's easier to store and get to in the trailer then in the truck camper.  We don't even notice it's behind us when we're traveling." – Mark and Janice Mudgett, 2006 Ford F350, 2013 Eagle Cap 1160, 2007 14-foot Cyclepro V-nose with rear ramp door and slide door
"I have five box trailers.  One is for antique military equipment.  It carries a 1952 M-38 military Jeep and equipment.  One is for an antique chain saws.  The other trailer is for an antique farm tractor.  I restore and show antique equipment all over eastern United States." – Jim Kauffman, 2012 Dodge 3500, 2014 Eagle Cap 1160, 2010 Hallmark 28-foot Car Box Trailer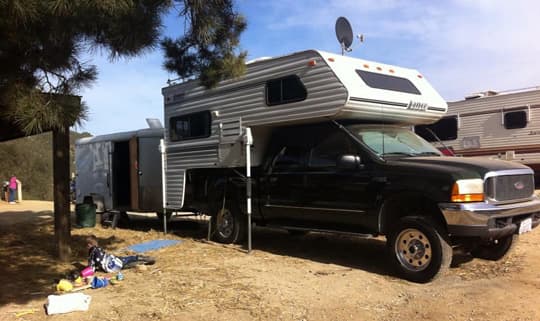 "I have a 12-foot V-nose trailer with drop gate.  I carry an ATV for the wife, and three dirt bikes for me and the kids.  I also have a fire pit, E-Z UP, all our riding gear like helmets, riding boots, and riding clothes, along with firewood, tools for a mobile shop, picnic table, and barbecue.
We got the enclosed trailer for dirt biking.  It parks on the side of our house, and keeps the bikes out of the sun when they're not being used.  It keeps the camper clean because we change in the trailer.  Dirty riding gear stays in the trailer.  When it rains we set it up like a living room or dining room.  On hot nights we play movies on the side of the trailer with the projector.  Kids from other camps come over to join our kids when it's movie time.
We have a portable heater inside to make changing comfortable on cold mornings.  It's also easier than an open trailer.  We don't have to worry about tying everything down or locking it.  Just lock the gate and go.  It also makes for stealth towing.  No one knows what's inside.
When the kids get a bit older, we will use it as their sleeping quarters.  I plan on cutting in a window and installing custom made foldable bunk beds.  We can still transport the bikes and, when in camp, they will use it as their room." – Elquin Daza, 2000 Ford F350, 2000 Lance 820, 2005 Interstate 12-foot V-nose
"I have a Freedom 24-foot enclosed trailer.  I have hauled Harleys, a 1963 Corvette, a 1962 Corvette, a Jeep, and ATVs.
With the truck camper and trailer option I am able to haul my car or motorcycles and keep them out of the weather while at a show or event.  It also provides a little bit of security at night and keeps wandering eyes away.  It is really nice to pull car or motorcycle out in the mornings after a rain or heavy dew and not have to spend time cleaning it up again.  It also provides a good lounge area on hot sunny days, and I have a place to stay in the truck camper, too. As my friend said, "I take my car, garage, and house with me." – Hugh Benscoter, 2005 Ford F250, 2010 Phoenix Camper, 2009 Freedom 24-foot dual 5000 pound axles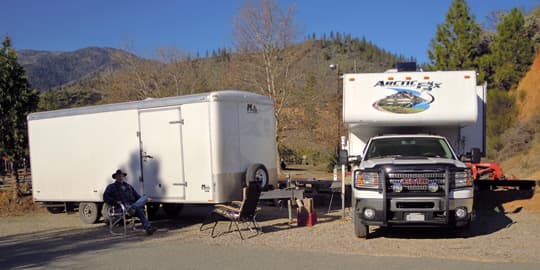 "We have an enclosed 20-foot, dual-axle, deck-over trailer.  We built cupboards in the front to have extra storage for all our riding gear and other various necessities.  Depending on where we are camping, we either have our two quads or a 14-foot aluminum boat and all our fishing/hunting gear in it for playing here in our home province of British Columbia.
When we head south to the United States we take our quads and our Harley Davidson ultra classic motorcycle.  That way we can set up camp somewhere and either ride our quads or use the Harley to do our shopping/site seeing without having to break camp everyday.
We got an enclosed trailer mainly for the added security and the extra space it provides.  It is nice to be able to lock all your toys out of sight when you leave for the day.  It also protects everything from the elements when we travel and the weather turns nasty.  It's also nice to have somewhere to change and hang up your riding gear or wet clothes at the end of the day.
Depending on the time of year, we are hunting or fishing or just enjoying the outdoors here in British Columbia.  We travel to the southern United States during the winter months, mainly in the states of California and Arizona, but we're thinking of heading to Texas next winter." – Ken and Jenn Burton, 2012 GMC 3500, 2012 Arctic Fox 992, 2010 Stealth Custom 20-foot deck over

"I originally had a 6×12 Wells Cargo Road Force trailer to haul extra gear such as generator, lawn chairs, etc.  I also hauled my dual sport motorcycle in it, a Suzuki DR-Z400S.  In 2012 I bought a larger trailer (8.5×20) to haul my Jeep.  It's a Haulmark Edge model, with a finished interior.  I now haul my dual sport motorcycles in it, rather than the Jeep.
I've been an avid dual sport motorcycle rider since 1994 and had a 6×10 enclosed cargo trailer to haul the bike.  My first enclosed trailer became my mini-RV.  I owned it for seventeen years.
I upgraded to a Desert Fox toy hauler in 2003.  In 2009 I downsized to a truck and camper.  After converting to truck and camper, I replaced the 6×10 with a 6×12.  In 2012 I bought an 8.5×20 trailer.  I had the 6×12 and 8.5×20 trailer concurrently for two years and sold the 6×12 in 2014, with the plan of replacing it with a 7×14.  Each trailer was used behind my truck and camper.
The 6×12 was used for local hauling for motorcycle outings, as well as behind the truck and camper for camping and motorcycle riding trips with friends.  I also used it to haul goods to auto swap meets and various shows.  The 6×12 was becoming too small for both of those uses.  In addition, a 6'-foot wide trailer is difficult to back up with because you can't see the trailer until its crooked.  The aforementioned drawbacks were the reason I sold it and wanted to upgrade to a 7×14.
The big trailer was primarily purchased to haul my Jeep in behind the truck and camper.  I did that once and decided the weight was too much work to drive on a long trip.  It was a borderline white knuckle experience, primarily due to the weight of the camper on the truck, plus 10,000 pounds of Jeep and trailer.
A month or so after selling the 6×12, I decided the big trailer would be my primary trailer for camping outings with my motorcycle(s).  It functions much better as my dual sport motorcycle hauler because it becomes my mini-garage when I am camped.  The big trailer has also evolved in to my mobile show display trailer, for events such as the Northwest Overland Rally in Washington State.
The big trailer will also make a very nice man-cave on extended trips.  I can envision a large television and a small sofa or recliner to kick back in and watch a movie.  I'm in the process of insulating the ceiling and adding a bunch of accent lighting to make it a man-cave.
I haven't replaced the 6×12 with a 7×14 yet.  For those looking in to getting a trailer, I'd highly recommend a minimum of 7-foot wide, so you can see the trailer width when backing up." – Doug B., 2009 Chevy Silverado 3500HD dually, 2010 Arctic Fox 811, 2008 Haulmark Edge 8.5'x20'
"The trailer is a car hauler and I carry my SCCA Touring 2 race car, Honda Recon 250 ATV, and my mobile garage of tools and spare parts.
I'm an Sport Car Club Of America (SCCA) Majors race car driver.  I primarily race in the South and Northeast.  Previously I would tow everything from track to track, drop the trailer, and then back and forth to the local hotels.
Now with the Palomino, I setup camp in the paddock and I'm able to take care of all my race needs while having the comforts of home only a few steps away.  Recently I was able to entertain many of my friends and competitors by projecting the big fight on the side of my trailer (using a long HDMI cable from the satellite dish on my camper)." – CJ Moses, 2013 GMC Denali HD 3500, 2014 Palomino Maverick 2902, 2007 24-foot Haulmark Edge Race Trailer
"I have a 24 foot enclosed race car trailer.  One at a time, we haul two original low mileage Trans AM cars that we show." – Charles Spray, 2002 Ford F350, 2001 Lance 1010, 1995 Pace American Shadow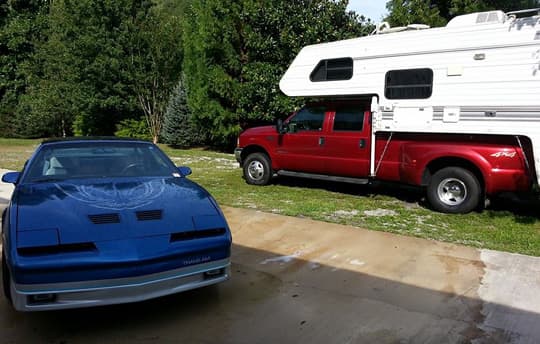 "We have a 2000 Chevy dually, with a 1998 Bigfoot 10.6, and our all aluminum 16' Thule utility trailer.  The trailer was used to transport my husband's motor bike and/or scooter, as well as two regular pedal bikes.  The generator was stored in there as well, plus a pile of other stuff.  We installed two louvered windows with screens, a Fantastic fan with a Max air cover, a wooden screen door, and a furnace.
Inside we had a folding dinette and a table under one window and a folding sofa under the other one. We also added overhead maple cabinets along the walls, a big storage box up front, and a big ward robe. The ceiling was painted white, the walls were wall papered, and the floor tiled.  The trailer came in handy as an extra dining room, a party shack or an overnight accommodation for friends when we were on weekend trail rides.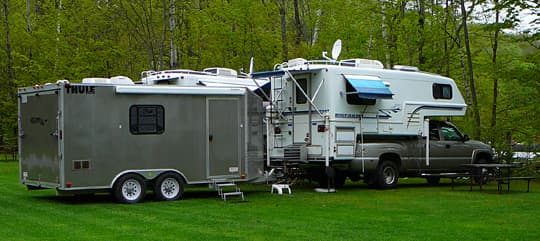 By the time we were done with that trailer, it would have been cheaper to buy a small toy hauler, and we would have had an extra bathroom and kitchen.  The picture above is from the Andover, Vermont 2007 Fall Truck Camper Rally, organized by Mike Tassinari." – Maaja Sutak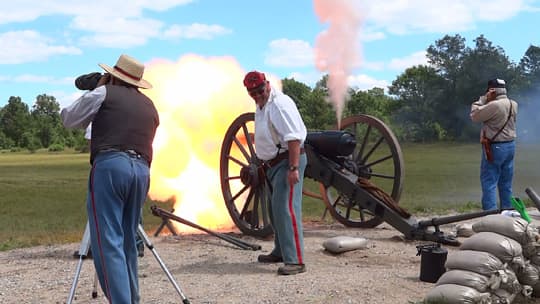 "We have a 1997 22′ Haulmark Thrifty Hauler car trailer.  We carry a Model 1861 ten-pounder Parrot Rifled cannon, artillery limber, ammunition, accessories, Civil War uniforms, and camping equipment." – John and Marylou Wells, 2011 Chevy 3500, 2012 Chalet Ascent S100F, 1997 22′ Haulmark Thrifty Hauler car trailer
"The 16′ 2014 Cargomate I have is used for hauling my new side by side UTV a 2014 Kawasaki Teryx4 LE.  I use it as a hauler, to bring my Teryx to trails and dunes in the Pacific Northwest.  My son and I like doing trips to Florence, Oregon and the dunes at least once a year.  We also take the trailer and camper to local trails and fire roads and do some rock and trail crawling with the Teryx." – Ever DeGuzman, 2008 GMC Sierra 2500HD, 2013 Northern Lite 811SE, 2014 Cargomate 16′