Readership feedback to the question of running boards was off the charts.  Literally 164 readers chimed in – and how!  Who would have thought that running boards would spark such a passionate response?
As you're about to see, the majority of TCM readers have running boards on their truck camping truck, and love them.  It seems that many of us have married height challenged wives who aren't about to pole vault, trampoline, or otherwise climb into our trucks.  No running boards, no truck camping accomplice.
Another often cited reason is the protection running boards provide from rock chips and other road debris.  That's a compelling reason for running boards that I'll be thinking about.  We've already added mud flaps for this exact reason.
I also found the comments about seat deterioration due to sliding out rather then stepping down quite persuasive.  Ten years ago we bought an eight year old 1998 Ram 3500 without running boards and the front seats were definitely worn on the outside edges.  It seems the running board to seat wear connection is no myth.
On the other hand, a good number of readers don't like how running boards get dirty and/or full of snow.  Another running board issue readers lament is how they subtract precious ground clearance for off-road travel.  Cost and weight are brought up, but mostly the dirt gathering and ground clearance are mentioned.
So will we get running boards now?  Probably, but I like to think, study, research, and otherwise mull around endlessly about these things first.  Just ask Angela!
This week's Question of the Week was, "Do you have running boards on your truck?"
"We have AMP Research PowerStep running boards.  My wife is short and needs a step to get into the truck.  We had a truck with the step bar and found we slipped off occasionally.  The AMP running boards are a secure step.  I like the power retract feature to help keep them clean.  Plus, the retracting feature does not reduce ground clearance." – Mike P., 2016 Ram 3500, 2017 Lance 1172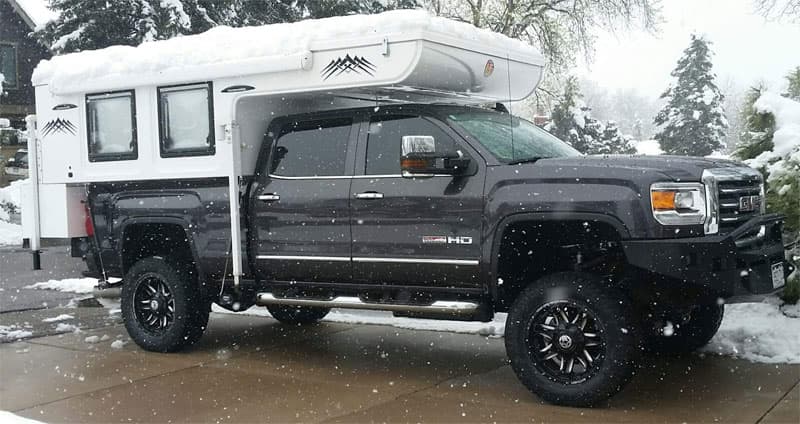 "Yes, we have running boards on the truck.  The running boards are from GMC.  The truck has a six-inch lift with oversized tires, so running boards are a must to get into the truck!" – Janet Schoenberg, 2015 GMC Sierra, 2015 Hallmark K2
"Yes, I have them due to a medical condition.  My previous truck, a 1994 Ford F250, did not and I did not feel the need for them.  I have the stock Dodge tubular running boards that go under the front and back doors of the truck." – Keith Wright, 2008 Dodge Ram 2500, 2014 Arctic Fox 990
"I have more than one truck (only one with a camper, though) and all have running boards on them.  They're great to step on, and/or to kick the mud on your boots off with, or to stand on when washing the windows or cab roof.  Their primary purpose for me is to keep cars in parking lots, when opening their doors, from dinging my sheet metal!" – Brian Horner, 2016 Ram 3500, 2016 Lance 1062
"I wouldn't be without running boards.  I have an extended cab.  I bought a pair of used ones off a Tahoe of the same year.  They bolt right on to the factory bolts.  If you had a crew cab, you would get running boards off a Suburban." – Steven Sternberg, 2013 Chevy 2500HD
"Yes, I have a Westin nerf bar style step on a four-wheel drive truck.  Since I want my 5'1" wife to accompany me on camping trips, I need a way to her to climb in.  The Westin nerf bars are not very heavy." – Jim Hunter, 2004 Dodge 3500, 2005 Arctic Fox 1150
"No running boards for me.  The truck isn't high enough to make getting in and out difficult.  Besides, they collect a lot of salty snow in the winter and add even more weight to a truck with a very limited payload." – Mario P,, 2006 Tacoma, Homemade camper
"We have factory running boards on the truck, and use them all the time.  I wouldn't be without them." – John and Marylou Wells, 2011 Chevy 3500, 2012 Chalet Ascent S100F
"Yes, I have dealer installed factory boards.  I don't know the manufacturer.  I like them except they are the chrome, not stainless steel, and they rust.  I would get stainless steel in the future." – Tim Biehl, 2003 GMC 3500, 2002 Lance 1161
"We have Lund steps and we love them.  I'm 63 years old with bad knees, a hip replaced, and I'm 5'7", so I'm not jumping into anything." – Bob Presto, 2008 Silverado 3500, 2008 Lance 1191
"We have running boards.  Our running boards were ordered when we special ordered the truck.  We and another couple were going out west in our previous truck.  She has MS and wasn't sure about getting into the truck, so we put running boards on it.  They are wonderful!  No more climbing (jumping) in for everyone.  So when we decided to get a new truck, the running boards were a no brainer." – Pat Bullock, 2016 Ford F350, 2001 Lance 1030