Truck Camper Magazine reader, John Wells, sent in this week's Question of the Week, "Do you ever camp in your truck camper at home?"  Thirty folks confess to camping very, very close to home.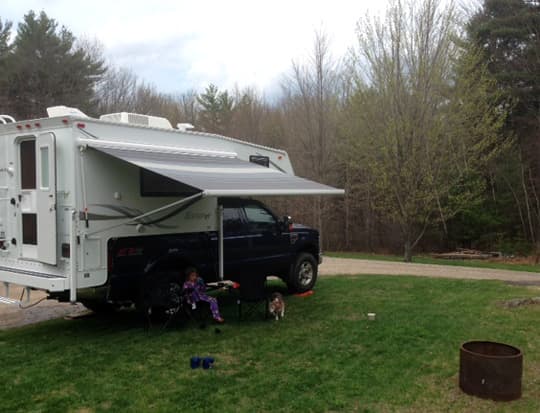 "Twice in the last month we have camped in the yard.  First was when the local campsites weren't opened yet and I had promised my five year old little girl we would go camping.  We mowed a section of the lawn, got the fire ring out and set up camp.  We cooked dinner on the camp fire and went to bed and watched the stars through the skylight.  Mom got to stay home since she wasn't feeling well.
Two weeks later, we found ourselves home before we wanted to be, so we continued our camping weekend in the driveway.  It doesn't matter how far you are from home, life is always good in the camper!" – Scott Polish, 2010 Ford F350, 2013 Northstar Laredo
"While I haven't spent the night in my driveway, I admit to spending some afternoons in the air-conditioned comfort of my camper.
There was, however, a time when I drove it five miles away or so to spend the night at the local state beach.  The campground is right on Pacific Coast Highway, which is a heavily traveled thoroughfare in these parts.  After about midnight the ocean's roar diminished and we were able to sleep soundly.
Nowadays we keep the boards always loaded inside and just jump in the camper for the short drive to the beach for our morning surf sessions.  It makes a great changing room and breakfast nook!" – Mark Obert, 1999 Ford F250, 1999 Lance 920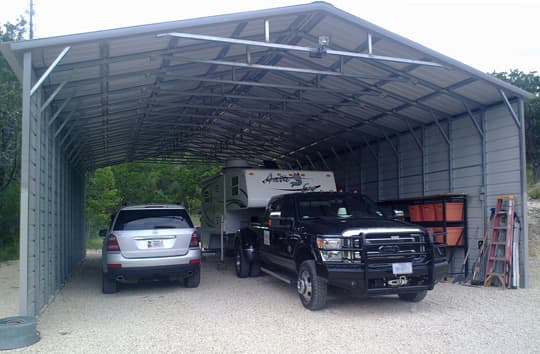 "I lived in it for three months while work was being done on the ranch house.  We are getting ready to do it again as we are having a major remodel along with converting the copper plumbing to PEX." – Don Pryor, 2011 Ford F350, 2009 Arctic Fox 1150
"My story is one of domestic nature.  Linda and I have been married for fifty-one years and dated for five years.  Okay, who cares?  Well, when the voices get loud and the dangerous, I head for my well designed RV space next to our home which has all the services including great mountain and valley views.  It's very quiet and less dangerous.
My wife is Irish, so you make your own conclusions.  I am of course an angel as per me." – Bob Robinson, 2002 Chevy 2500, 2010 Travel Lite 960RX
"Every spring we take the truck camper to a local area of Mark Twain National Forest.  It's just $5 a night to boondock and it's only three miles away from the house.  We go primarily to check that we have everything we need and to check out the camper itself.
We load the camper in the spring and leave it loaded until the fall.  If we have forgotten something, or think that we need something extra, we can run back to the house to get it." – Mark McBee, 1999 Dodge Ram 3500, 1983 Lance 700 (remodeled)
"My friend and I are apartment dwellers here in Los Angeles.  The camper is parked on the street out front.  It's not unusual for us to say, at 10:00pm or 11:00pm, "Let's sleep in the camper tonight".  We will even go to the camper just to watch a movie on the twenty-three inch television while there is a perfectly good forty inch television and comfortable theater chairs in the apartment." – Bill Cramer, 2006 GMC Sierra 2500HD, 1972 Tiltin Hiltin (almost fully restored)
"We used our camper when an ice storm knocked out power for a number of days.  We moved into the camper and had all the comforts of home.  We used the portable generator to maintain the refrigerator in the house during the day and then moved it to the camper in the evening to touchup the camper battery.  We were a little disappointed when the power was restored." – Bill Taylor, 2007.5 Chevy 2500HD, 2012 Lance 855S
"We use the camper for sleepovers with grandkids and trying out new mods.  I will also escape to watch television or to read in peace." – Donald Fairchild, 2008 Chevy Silverado, 2005 Sunlite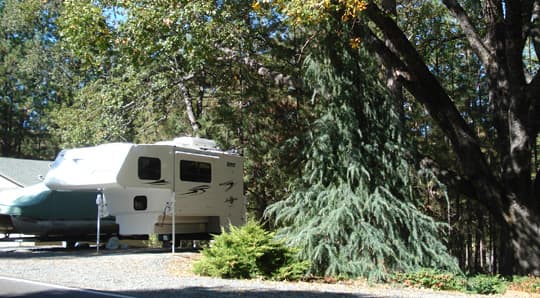 "Two times come to mind.  The first was several years ago.  It was our anniversary and we had no plans.  So I cooked Jim's favorite meal and decorated the camper with a tablecloth and electric candles and we ate in the camper, followed by a DVD.  Our camper, parked in the front of the yard, is surrounded by trees.

The second time was last August when we had to evacuate from the Rim Fire.  Not exactly our backyard, but we just had to go off the hill a little ways and camped for four days at a friend's ranch until the danger had passed our home." – Cindi Goodrich, 2006 Chevy 3500, 2008 Lance 1191
"When we first got our camper in 2010, we backyard camped a couple of nights as we had an infant and wanted to test whether we would have enough diapers and how she would react to a different bed.  Now we've moved to a house with a much bigger yard.  If we go backyard camping now, it'll probably be in a tent instead of the camper for a whole different experience." – Melissa, 2002 Chevy Silverado 2500HD, 1981 Okanagan
"We use our truck camper as a guest bedroom.  We have constructed an RV pad next to the garage with water, electric, and a Direct TV hookup.  It works great as guests have their privacy and can have coffee and juice in the morning at their leisure.  They shower in the house." – Warne Todd, 2000 Ford F250, 2005 Lance 981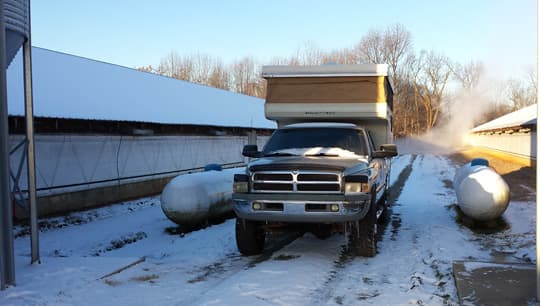 "We have a small poultry farm and the last time we used the truck camper near home was when we sold our chickens on January 30, 2014.  The temperature was down to zero degrees with snow and ice.  We stayed in the truck camper instead of going back and forth to the house.  We were only about 200 yards away." – Stephen Beal, 1999 Dodge Ram 2500, 1985 Scamper 080
"We use it when we have family gatherings when we have more people than beds.  We jump in the camper and leave the house to the guests." – Pete Clark, 2006 Dodge 3500 , 2008 Snow River 10-2 RK
"At least once per summer we take our camper about one mile around the corner to our friends' home (we share grandsons) and enjoy a weekend campout with all four grandsons, our campers, and the pool. 

We have also camped in the driveway a few times before we sold our Class C because it had air conditioning and our house doesn't.  We enjoyed a better night's sleep that way." – Chuck Bradford, 2010 Dodge Ram 1500, Jayco Sportsman 8′ pop-up
"We purchased our camper a little less than a year ago.  We knew it was an investment for when my husband was able to retire, which is in a year or so.  We wanted to go ahead and get it as to get it paid for before retirement.
Sometimes, on weekends, I will miss my husband and go looking for him.  I find him sitting in a lawn chair in front of the Fox Landing just looking and dreaming of times to come.  Sometimes we just sleep out there and dream about our future adventures.  We're hoping for many happy miles." – Rochelle Berg, 2013 GMC Sierra 3500HD, 2013 Arctic Fox
"We use the camper to escape visiting grandkids for a little sleep." – Robert Johnson, 1993 Dodge W250, 1989 Sunlite
"Yes, we camp in our backyard!  We have used our camper for overnight guests and, especially after we first purchased it, to figure out all the ins and out of it  Usually our first trip out in the spring is in our backyard because we can't get into any of the campgrounds due to the snow (especially this year)." – Cin, 2004 Chevy K2500, 1990s Skamper pop-up
"Whenever we have guests or out-of-town relatives stop by, we stay in the camper so everyone has extra room." – Phil Rodacy, 2012 GMC Sierra, 2006 Okanagan 90W
"When I have a very early start at work (2:00, 3:00, or 4:00AM), I will go sleep in the camper, in the driveway.  It's nice and quiet out there.  No pets, no kids, no phone ringing/door knocking, etc." – Ron Williams, 1997 Ford F-250, 2003 Lance 1010
"We spent three nights last summer camping in the driveway because our home air conditioner went out.  What a life saver.  My kids sleep in the camper when we have a full house.  It's cheaper and better than a hotel." – Rodger Greene, 2004 GMC 2500HD, 2012 Travel Lite 700
"Our grandkids were over and they remembered the their last camper trip with us, being able to sleep in the camper instead of a tent.  They talked us into camping in the yard and the camper wasn't even on the truck.  No phones or television, just something called a radio to entertain us.  There was lots of family bonding and story telling.  You need kids/grand kids to appreciate it." – Monte Dahlman, 2006 Dodge 2500HD, 1995 Skyline Weekender 10'
"Yes, I use it as an escape.  We have a pull through site for visitors and, about once a month, I just go camping there." – Bob Nelson, 2001 Chevy Silverado 3500, 2013 Arctic Fox 1140
"We'll go outside to start a campfire, fire up a grill, turn on the camper satellite radio and outdoor speakers, and open a cold drink." – Dave, 2008 Tundra, 2014 Travel Lite 770R
"We have used our camper as guest accommodations for visiting friends and family." – Scott Elliott, 2007 Ford F350, 2013 Chalet TS116
"I live full-time in my truck camper.  When I am parked at my home base, it becomes too tame, too fast, and I hit the road." – Magge, 2011 Dodge Ram 3500, 2002 Lance 1130
"I have slept in the camper at home several times and it's also my man cave.  I have drinks, food, water, hot water, and cable hooked up most of the time.  I even had a fire in the fire pit once.  Some laugh, but it's fun to camp in my yard.  It's also on the truck.  All fluids are topped off and it's ready to go in a few minutes if needed to be used as a FEV." – Jeff Hagberg, 2002 Ford F250, Travel Lite 800 SBX
"I just came back from the dark side (sold my Chalet XL) and have returned to minimalist camping in the camper shell, much in the way I started camping over fifty years ago.  Most of my destinations are high-country hunting and fishing trips.  The biggest challenge has been extended stays without heat.  I've been testing different bedding arrangements, which I verify by sleeping in the camper for a couple nights in the backyard.  Experience is the only confirmation of performance." – William Durkee, 2005 Toyota Tundra, 2007 SnugTop High-Rise Camper Shell
"I just used the camper this week in my driveway because my mom is in the hospital and I had been up over thirty hours straight.  My brother drove me home and used it as a spare bedroom with a private bath." – Jonathan Hight, 2001 GMC Sierra 2500 HD, 2004 Adventurer 810
"I love it!  I put dogs to bed in the house and sneak out to the driveway and sleep like a baby." – Damon Trumps, 1991 Ford F250, 1986 Lance 300
"A few weeks ago we had several rounds of storms pass through the midwest.  Just before bedtime all of the power went out in our neighborhood so we broke out the flashlights and made our way to the bedroom. A s I reached for my CPAP, I realized that it was mot going to work with out power and that I was in for a bad night's sleep.
That's when I remembered that I have another CPAP in the camper that runs on 12v and I have been looking for a chance to test out my newly installed 105W solar panel.  So off to the camper I went.  The single 120 amp hour battery had a full charge of 12.7 volts before turning on the CPAP and falling off to a good night's sleep.  When I woke up the sun was shining but I did not have a watch with me so I had no idea what time it was, so I crawled out of bed and checked the solar panel read out to find that it was 12.6 volts and charging at 1.5 amps.  Delighted with the test results, I went into the house to find out that it was only 5:30AM.  You have to love those long Wisconsin summer days." – Tom Strock, 2003 Chevy 2500HD, 1997 Coachmen Ranger 100