Truck Camper Magazine reader, John Wells, sent in this week's Question of the Week, "Do you ever camp in your truck camper at home?"  Thirty folks confess to camping very, very close to home.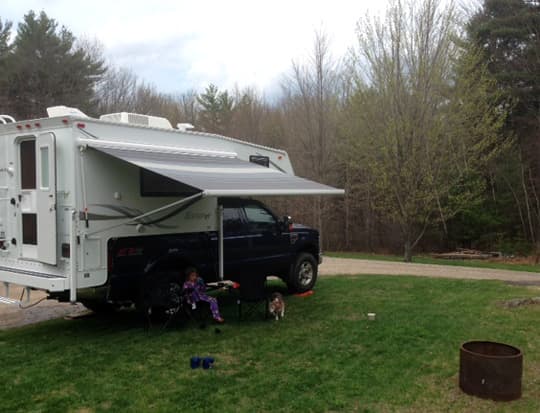 "Twice in the last month we have camped in the yard.  First was when the local campsites weren't opened yet and I had promised my five year old little girl we would go camping.  We mowed a section of the lawn, got the fire ring out and set up camp.  We cooked dinner on the camp fire and went to bed and watched the stars through the skylight.  Mom got to stay home since she wasn't feeling well.
Two weeks later, we found ourselves home before we wanted to be, so we continued our camping weekend in the driveway.  It doesn't matter how far you are from home, life is always good in the camper!" – Scott Polish, 2010 Ford F350, 2013 Northstar Laredo
"While I haven't spent the night in my driveway, I admit to spending some afternoons in the air-conditioned comfort of my camper.
There was, however, a time when I drove it five miles away or so to spend the night at the local state beach.  The campground is right on Pacific Coast Highway, which is a heavily traveled thoroughfare in these parts.  After about midnight the ocean's roar diminished and we were able to sleep soundly.
Nowadays we keep the boards always loaded inside and just jump in the camper for the short drive to the beach for our morning surf sessions.  It makes a great changing room and breakfast nook!" – Mark Obert, 1999 Ford F250, 1999 Lance 920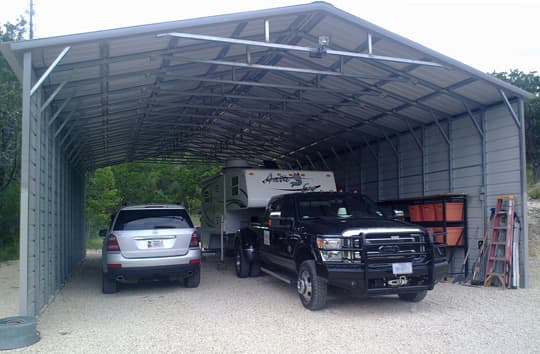 "I lived in it for three months while work was being done on the ranch house.  We are getting ready to do it again as we are having a major remodel along with converting the copper plumbing to PEX." – Don Pryor, 2011 Ford F350, 2009 Arctic Fox 1150
"My story is one of domestic nature.  Linda and I have been married for fifty-one years and dated for five years.  Okay, who cares?  Well, when the voices get loud and the dangerous, I head for my well designed RV space next to our home which has all the services including great mountain and valley views.  It's very quiet and less dangerous.
My wife is Irish, so you make your own conclusions.  I am of course an angel as per me." – Bob Robinson, 2002 Chevy 2500, 2010 Travel Lite 960RX
"Every spring we take the truck camper to a local area of Mark Twain National Forest.  It's just $5 a night to boondock and it's only three miles away from the house.  We go primarily to check that we have everything we need and to check out the camper itself.
We load the camper in the spring and leave it loaded until the fall.  If we have forgotten something, or think that we need something extra, we can run back to the house to get it." – Mark McBee, 1999 Dodge Ram 3500, 1983 Lance 700 (remodeled)
"My friend and I are apartment dwellers here in Los Angeles.  The camper is parked on the street out front.  It's not unusual for us to say, at 10:00pm or 11:00pm, "Let's sleep in the camper tonight".  We will even go to the camper just to watch a movie on the twenty-three inch television while there is a perfectly good forty inch television and comfortable theater chairs in the apartment." – Bill Cramer, 2006 GMC Sierra 2500HD, 1972 Tiltin Hiltin (almost fully restored)
"We used our camper when an ice storm knocked out power for a number of days.  We moved into the camper and had all the comforts of home.  We used the portable generator to maintain the refrigerator in the house during the day and then moved it to the camper in the evening to touchup the camper battery.  We were a little disappointed when the power was restored." – Bill Taylor, 2007.5 Chevy 2500HD, 2012 Lance 855S
"We use the camper for sleepovers with grandkids and trying out new mods.  I will also escape to watch television or to read in peace." – Donald Fairchild, 2008 Chevy Silverado, 2005 Sunlite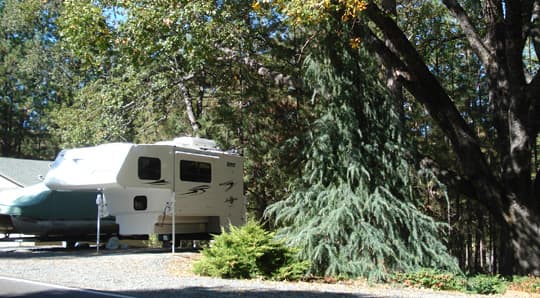 "Two times come to mind.  The first was several years ago.  It was our anniversary and we had no plans.  So I cooked Jim's favorite meal and decorated the camper with a tablecloth and electric candles and we ate in the camper, followed by a DVD.  Our camper, parked in the front of the yard, is surrounded by trees.

The second time was last August when we had to evacuate from the Rim Fire.  Not exactly our backyard, but we just had to go off the hill a little ways and camped for four days at a friend's ranch until the danger had passed our home." – Cindi Goodrich, 2006 Chevy 3500, 2008 Lance 1191
"When we first got our camper in 2010, we backyard camped a couple of nights as we had an infant and wanted to test whether we would have enough diapers and how she would react to a different bed.  Now we've moved to a house with a much bigger yard.  If we go backyard camping now, it'll probably be in a tent instead of the camper for a whole different experience." – Melissa, 2002 Chevy Silverado 2500HD, 1981 Okanagan
"We use our truck camper as a guest bedroom.  We have constructed an RV pad next to the garage with water, electric, and a Direct TV hookup.  It works great as guests have their privacy and can have coffee and juice in the morning at their leisure.  They shower in the house." – Warne Todd, 2000 Ford F250, 2005 Lance 981