Some folks love the holidays.  Christmas is their favorite time of year, and there are aren't enough Christmas songs, Christmas lights, or Christmas present shopping opportunities to be had.  Jingle bells, all the way.
I, on the other hand, am a grinch.  Christmas music is okay, but only in extremely limited doses.  Christmas lights are pretty, but only on other people's homes.  I like presents, but I'm not too keen on figuring out what people want, and hunting those objects down.  I enjoy seeing family and friends, but I really like having my own space afterwards.
From reading the answers to this week's question, it seems I'm not the only one on this last point.  Having your own space while visiting family over the holidays makes Thanksgiving, Christmas, and even New Years much, much better.  And when you have a truck camper rig, having your own space is as simple as parking in your family's street or driveway.  Oh what fun.
The holidays can also be the perfect time to visit otherwise crowded national parks, state parks, and campgrounds.  Don't try driving into Arches National Park for a campsite in June.  But in late December?  You'll probably have your pick.
Even better, the park won't be mobbed, and the season may put on a spectacular winter weather show that summer tourists will never see.  After reading the following responses, we are considering visiting our favorite national parks once more, in a very different season.
This week's Question of the Week was, "Do you use your truck camper over the holidays?"
"Absolutely!  When visiting the kids and grandkids, it is great to have a place to have grandparents time-out space!" – Jay Knight, 2009 Chevy 2500, Northstar Adventurer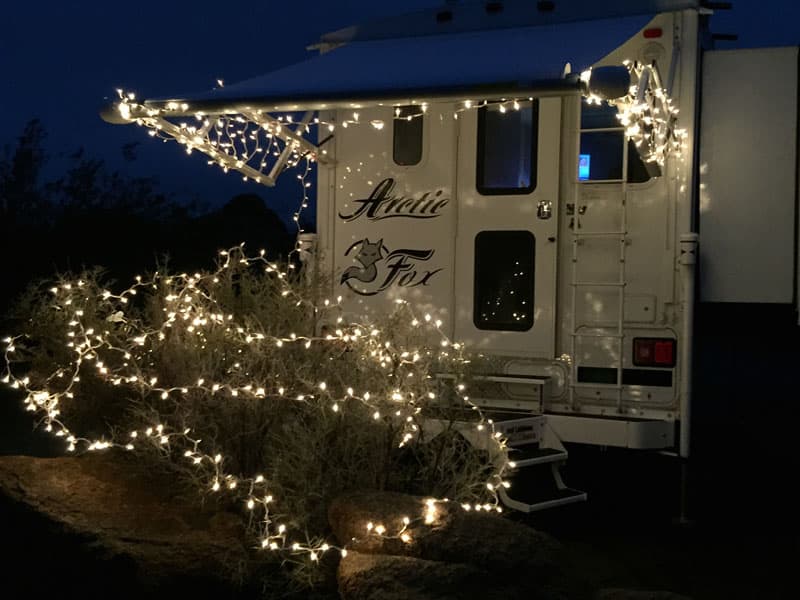 "I spent Thanksgiving at Lake Roosevelt in Arizona and Christmas at Jumbo Rocks Campground in Joshua Tree National Park.  I received two inches of snow on Christmas Eve.  It was cold, but very pretty." – Ray Mungo, 2016 Ram 3500 Dually, 2017 Arctic Fox 1150
"With a house full of guests, tons and tons of bulky foods (large ham, large turkey, lobsters, etc.), and a dog who at five just decided to try out counter surfing, I discovered a wonderful use for my camper over the holidays.
I brought in all the dinette cushions and the linen stored in my camper to create an additional bed in the house, and stored all protein and a few pies in the camper.  I didn't connect the battery and turn the refrigerator on since it was very cold outside.  I just placed things on the counter and table.
It worked great!  The food was safe, cold, and it lead to speculation among my neighbors that I was crazy enough to camp in the dead of winter.  Why anyone would assume that a pajama clad woman carrying a massive ham into the house in the early hours had actually slept in the camper is beyond me." – Michele McLeod, 2013 Ford F150, 2000 Travel Hawk 9.5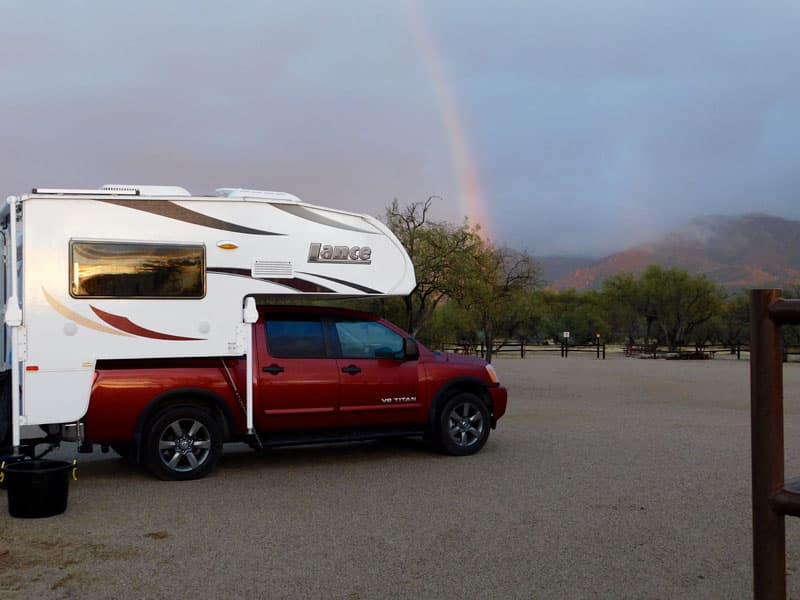 "I just spent New Years weekend in my truck camper at Catalina State Park in Tucson, Arizona with my best friend and our horses.  We ended up having a lot of rain and were inside the camper most of Sunday, but it was still fun.  We played board and card games, drank several cups of Mexican hot chocolate, and had some stove top chili for dinner.
We had a funny moment on Monday morning when somehow we both ended up locked out of the camper with the keys and our phones inside.  Instead of calling a locksmith, I remembered that my window over the kitchen sink broke a few months ago and we removed the window from the outside and gave my friend a leg up and through the window.  I don't think I'm going to fix that window now in case it happens again!" – Ashley Pollock, 2015 Nissan Titan, 2016 Lance 650
"As we own our own seasonal business, we are shutdown mode Turkey Day and Christmas.  New Year's Eve is another story.  This year we were in Apalachicola, Florida.  Past New Years have been spent in all of the southern or southwestern states.  Have a safe and healthy New Year!" – Robert and Pat Adams, 2011 Chevy 3500HD, 2013 Lance 1191
"Every year that we can, we go to my parent's house for Christmas.  They live in southern California.  My husband and I are from northern California.
We used to sleep in their cramped second bedroom upstairs on horribly uncomfortable pull-out couch beds.  Our aging bodies forced us to rent motel rooms.  We could finally sleep, but our pocket book was not happy!
Knowing that my husband would be retiring this year, we bought a truck camper in the spring.  For the first time at Christmas we went to my parent's place with our truck camper and slept in style.  We were so comfortable and we could have morning coffee with them in our pajamas!" – Angie Scott, 2014 Chevy Silverado 3500, 2016 Northern Lite 8-11 Queen Classic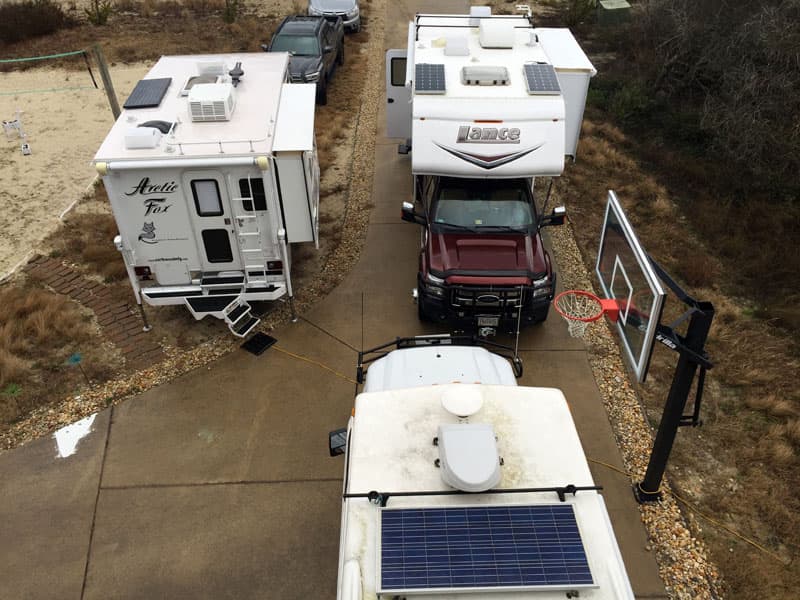 "As a family, we have Thanksgiving and Christmas Eve at one of nine family member's homes so that we can all enjoy the holidays together.  A ten year calendar was put together showing which family member is hosting one of these two events.
This Christmas Eve, eight of the nine families ended up in North Carolina, including the host family.  This brought more family members than could be bedded down in the home.  Three of the family members came to the event with their campers so that we all could enjoy the evening and remain there through Christmas day.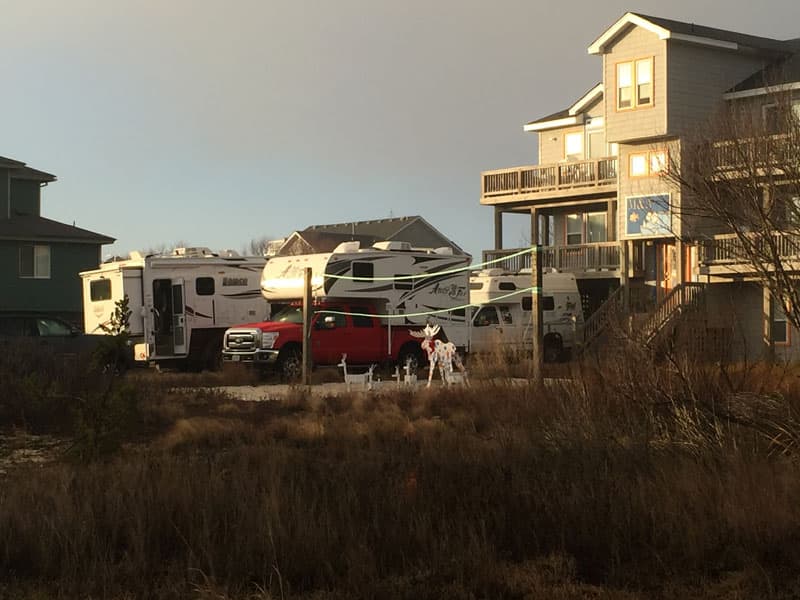 We had a great time together and, thanks to having the campers, a good night's sleep. There was an Arctic Fox truck camper, Lance truck camper, and a Tiger (same size as a truck camper)." – Donald Fox, 2015 Ford F450, 2016 Lance 1172
"No, but almost.  I make occasional truck camper trips northward toward the snow in January and February.  I have been tweaking the camper during the last couple of weeks to get ready.  We are traveling to visit family next Christmas and New Years and I will try to arrange to leave a little early and travel by camper." – Fred Patterson, 2013 Ford F350 SD, 2002 Lance 1161
"We drove to Toronto about two hours away from home and spent two nights in our truck camper at our son's home.  He had more guests than beds so we use our camper. It was already on the truck because we are going to take it down south to Florida for six weeks in January." – Dennis Snow, 2008 Ford F350, 2015 Palomino HS-2902
"Yes, I use my truck camper every Thanksgiving.  If the weather permits, I go to a local lake.  If not, I head south." – David Reese, 2006 GMC 2500HD, 2009 Northern Lite 8-11 Queen
"For New Year's weekend this year we drove from Connecticut to Rhode Island, and then to Massachusetts.  The first night we stayed in a Walmart, and then, in Massachusetts, we stayed in a campground.
We are geocachers, so we made about a 400 mile road trip to find geocaches along the way.  Having the camper made it easy for pit stops or to make coffee or lunch.  It was the first time winter camping in the truck and the first time dry camping." – David Drew, 2011 Ford F350, 2005 Travel Lite 1100RX
"We drove from south of Fort Worth to Liberty Hill, Texas, celebrated dinner with family, and then drove to Ruidoso, New Mexico for New Year's Eve with siblings." – Paul Roberson, 2014 Ford F350, 1988 Lance 930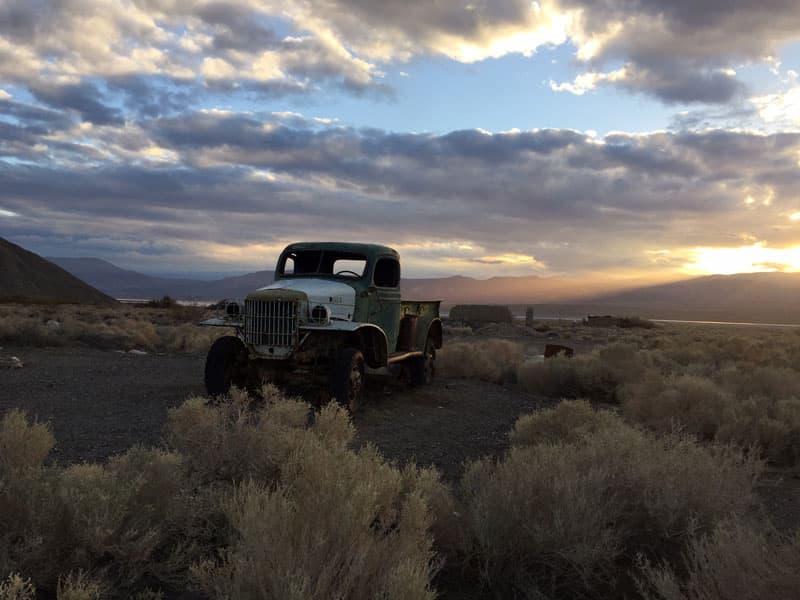 "With our house full of family over the four day Thanksgiving holiday, our two adult nieces stayed in our truck camper and had a great time being independent.
Christmas and New Year's week we used the camper to stay in Death Valley National Park.  We changed from two different campgrounds so that we could more easily explore different areas of that 95 square mile park with the Jeep that we flat tow.
We love the versatility of our truck camper!" – Bruce Allison, 2000 Ford F350, 2012 Adventurer 910FBS
"It gets used for the occasional Thanksgiving, depending on the dates of North Dakota's deer season.  After December 1st, using a truck amper in North Dakota or Minnesota?  You've got to be kidding!  It's likely to be too cold and there can even be too much snow." – Philip Tron, 2009 Chevy 3500, 2012 Lance 1050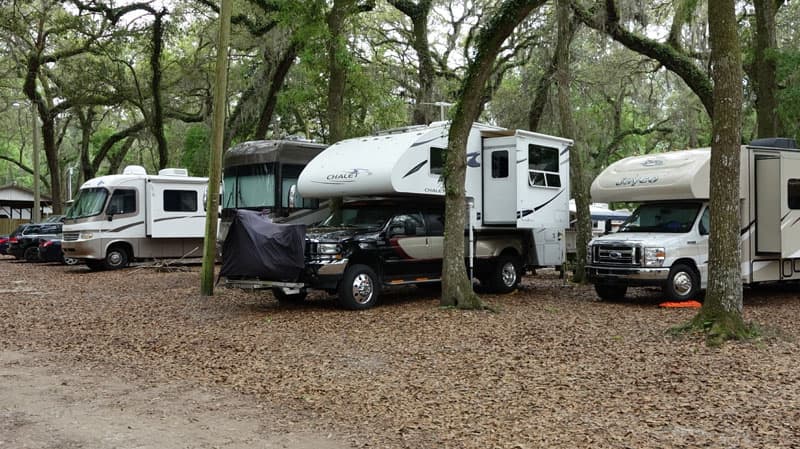 "This year we tried something different and took our truck camper to a Bluegrass Concert on Thanksgiving.  The concert was in Brooksville, Florida at the Sertoma Youth Ranch.  The Bluegrass Concert, held every year during Thanksgiving, runs for four days and has live Bluegrass music almost all day long.
They also had a huge Thanksgiving potluck feast where the turkeys were supplied by the campground and all the other fixings provided by the campers.  It was a great time and highly recommended!" – Charles Coushaine, 2001 Ford F350, 2012 Chalet DS116RB
"This was a banner year for us.  We made Doug and Tammie's Christmas rally in Branson, Missouri.  Then we spent the last two weeks of December in Orange Beach Alabama.
The campground was Gulf State Park.  We logged about 100 miles on the bike trails.  Orange Beach is a great place for all seafood taste.  We toured Fort Pickens and checked out the new campground on Santa Rosa Island for next year's visit." – Denver Woods, 1997 Ford F350, 2001 Lance 1121
"We have used our truck camper during Thanksgiving week to visit friends and relatives in southern Alabama and Pensacola, Florida.  We have friends who rent a beach house on the Alabama gulf coast during November.  We visit the whole week of Thanksgiving, eating, partying, shopping, and walking on the beach with them.  But we sleep in our camper.  They actually offer us a spare bedroom, but we prefer to sleep in our comfortable camper." – Buzz and Sherri Merchlewitz, 1998 Dodge Ram 2500, 2015 Hallmark Ute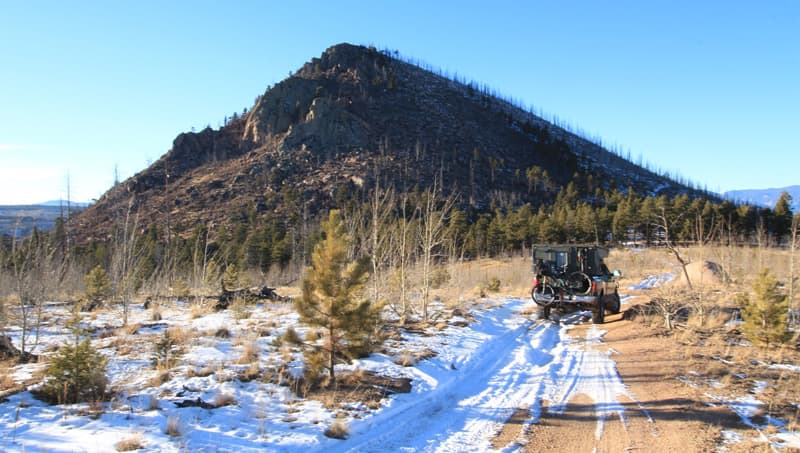 "This past New Year's Eve, I went camping out in Pike National Forest about twenty miles from home.  I took some off road trails to a place called Signal Butte.  I made a nice sirloin and shrimp dinner, and then climbed a few hundred feet to the summit along a snow covered trail.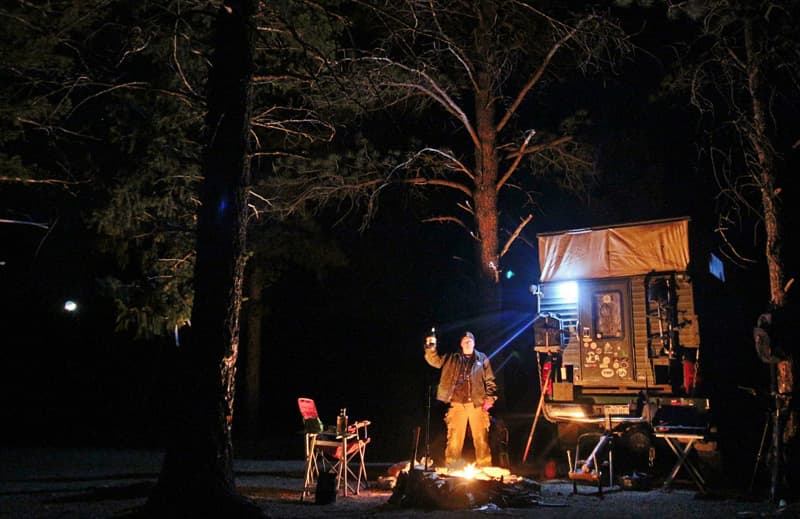 From there, I had an unobstructed eighteen mile view southeast to Pikes Peak where, at midnight, they launched a New Years celebration fireworks display.  It was very cool to see the top of Pikes Peak igniting in color like a volcano.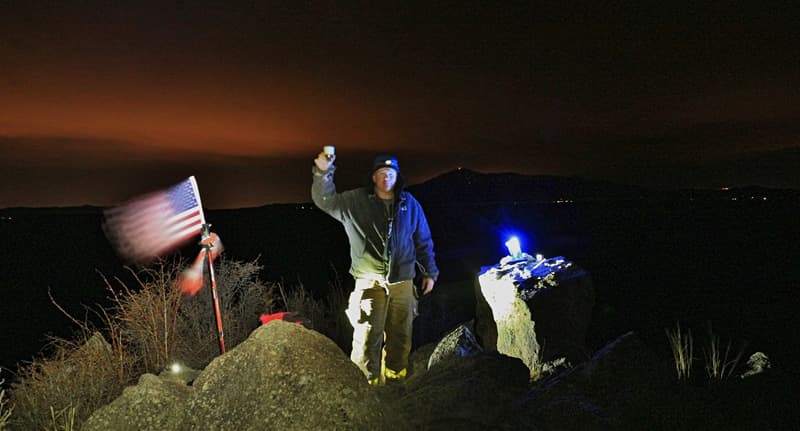 Then I hiked down for some campfire time.  The gas forced air heater kept the zero degree night comfy." – James McCoy, 2003 Dodge Ram 2500, 1990 Hallmark LaVeta
"Yes, I took the rig to see our daughter and family in Colorado over the Christmas holiday.  It took three and a half days to get there.  I stayed five days and it was four days back with a stop in Austin to visit my granddaughter.  I spent six nights in campgrounds.  It's wonderful traveling ." – Sam Tardo, 2002 Ford F250, 1997 Shadow Cruiser
"For over two decades, my wife and I have escaped for New Years, primarily to the Marin, California area.  Having camped in a tent trailer for over three decades, the New Years getaway was spent in warm and dry hotels.  Now with the camper, the last three New Years have been celebrated in RV parks.
This year we deviated from Marin and spent a few nights in a Redding area RV park.  Snow shoeing in Lassen National Park was considered, but as the highs were below freezing and the lows in the single digits.  So this warm weather couple stayed in the valley this New Years!" – Greg Chambers, 2015 GMC 3500, 2015 Lance 855S
"We overnighted at our son's house driveway for Christmas.  Then we took our grandchildren, Gavin (10) and Madison (12) camping in the snow at Kanaskat-Palmer State Park in Washington for two more nights.  The park had several other campers in trailers and motorhomes.  We were the only truck camper.  We all had a fabulous time hiking and enjoyed s'mores around the campfire." – Michael and Patti Woods, 2016 Ford F350, 2017 Arctic Fox 811
"We spent Thanksgiving at Manchester Beach, California.  We camped for three days at the KOA campground.  Everyone brought a dish, and the management provided 27 turkeys and potatoes.  We knew several other campers there, so it was a family atmosphere.  We had a blast, as the weather cooperated.  In 2013, we spent Thanksgiving in Death Valley, and it was a great time, too.  Truck camping is the way to go!" – Mike Kolinski, 2012 GMC 2500 HD, 2012 Four Wheel Camper Hawk
"We live in Georgia, and every year our son (who lives in Connecticut) has about fifteen family members come to his house for the whole Thanksgiving weekend.
We always bring our two dogs and our camper.  It is so much easier!  Not only does it free up a bedroom in the house, but we get to sleep on our own memory foam mattress, drink coffee at 5:00am if we want to, let the dogs out without waking up the whole household, watch the television shows we want, and sometimes just take a little break from all the activity.
After we leave that son's house, we head up to Massachusetts for a few days in our other son's driveway, and sometimes we go on to Maine to stay in my sister's driveway.  We love it!
The only difficulty is finding open campgrounds on the northern end of the trip.  There is nothing open in late November much above Harrisburg, Pennsylvania.  I always wish someone would come up with a campground guide that clearly marks the open-all-year campgrounds." – Audrey Ruccio, 2008 Ford F450, 2008 Host Everest
"We use the camper Thanksgiving weekend to go dirt bike riding in California's high desert near Barstow.  Occasionally, depending on where we're going, we will take the camper to a relative's house for Christmas, but did not this year." – Ron Williams, 1997 Ford F250, 2003 Lance 1010
"Living in Arizona means camping opportunities year-round.  We spend our summer weekends camping up on the Colorado plateau in the cool pine forests and our winters down in the desert.
This year we camped in western Arizona for Thanksgiving.  We setup camp on BLM land near Parker and Lake Havasu City and explored the mountain dirt roads with many old mines.
For Christmas and New Years, we drove down across the border and stayed in an RV park in San Carlos, Mexico.  Beautiful weather, strolls on the beach, and lots of bird photography in the local bay.
We can't imagine living in the north and having only a short camping season!" – Jorn Vangoidtsenhoven, 2008 Dodge Ram 3500, 2014 Camplite 8.6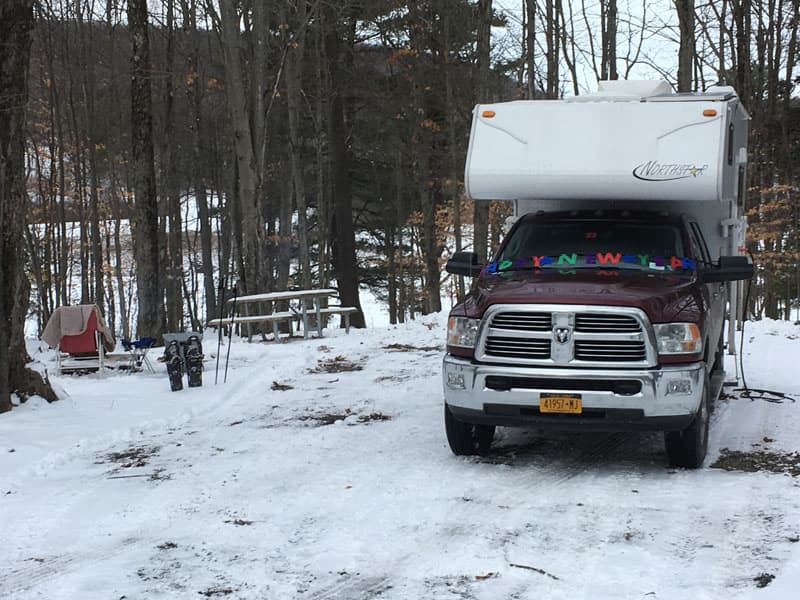 "My sister and I just rang in the new year by going camping on New Year's Eve.  What a great way to start the year!  We were the only campers in the campground!" – Janet Joki, 2016 Dodge 3500, 2016 Northstar Laredo SC
"I don't have any family here, and most of my friends take off for warmer destinations or family.  This time of year most of our coastal state parks in Oregon are generally pretty desolate, so I take about a week and head south from park to park.  I take long walks on the beach, meet new people, visit with local friends, and catch up on reading." – Greg Harlow, Dodge Ram D2500, 2005 Northern Lite Ten-2000RD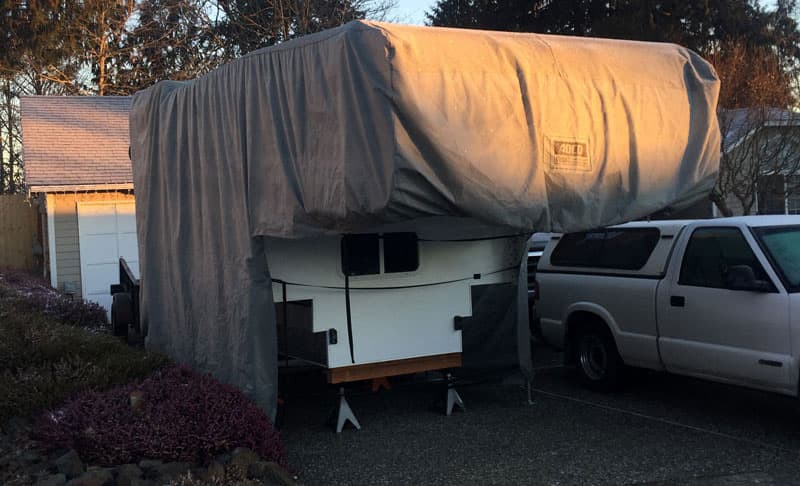 "When the time comes, we will definitely use our camper for visiting family during the holidays.  For now, our family comes to us.
My cousin and her friend use our camper which sits covered in our driveway.  All I have to do to get it ready is unbuckle the straps, open the slide, and turn up the heat.  They use the bathroom in the house as I have the plumbing winterized.  It's a terrific spare studio apartment." – Chris Burt, 1999 Ford F350, Arctic Fox 990
"We often travel four hours to spend either Thanksgiving or Christmas with family in Illinois.  My nephew lives in a rural area and has installed several RV electrical hookups.
Since temperatures are usually below freezing, we don't use anything water-related, but we can always go inside the house when needed.
We do not like imposing by staying in a family's home.  We also like having a place to unwind in a familiar space by having our own accommodations.  It's the best way to visit." – Shelley Pike, 2009 Ford F350, 2006 Lance Sportster
"We have not gone camping for several years during the holidays as more family has moved close by and we spend the time with them.
Prior to that, we camped during Thanksgiving for several years.  We would always stay in campgrounds in southern warmer areas and enjoy a meal with 50 to 150 fellow campers.  We always enjoyed the experience very much." – Tom Elliott, 2007 Ram 2500, 1999 Lance 835 Lite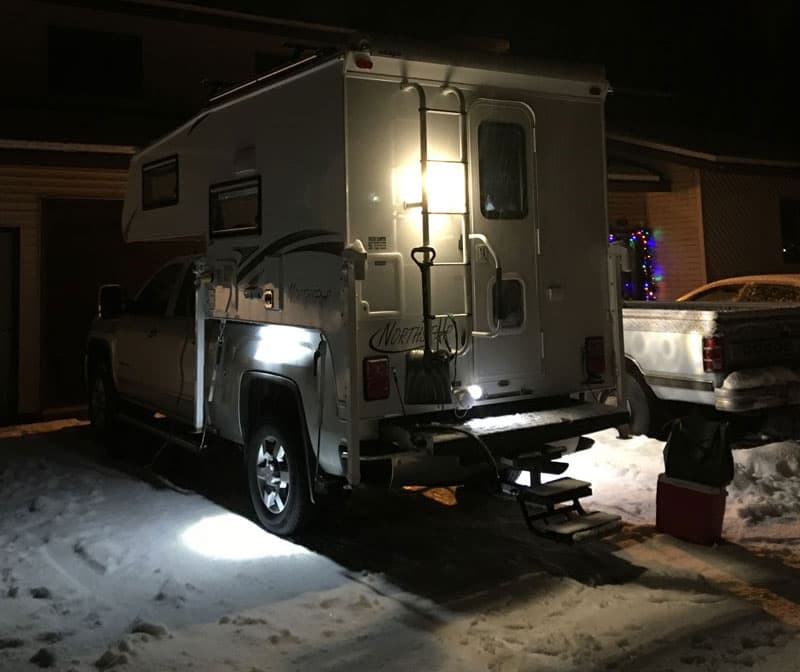 "This is our first year with truck camper, so we went to nearby friend's house on New Year's Eve.  After partying past midnight, we went outside to our camper parked on their wooded property.  Our dog was waiting there to greet us and we all slept soundly under the stars with snowflakes falling around us.  Though it was cold and snowy outside, our camper was toasty warm inside!" – Mike and Veronica Chase, 2015 GMC Sierra 2500 HD, 2016 Northstar Liberty
"We went to southern Arizona for Christmas and New Years.  We went to wineries and Tombstone." – Jeff Simonis, 2007 Ram 2500, 2015 Adventurer 89RB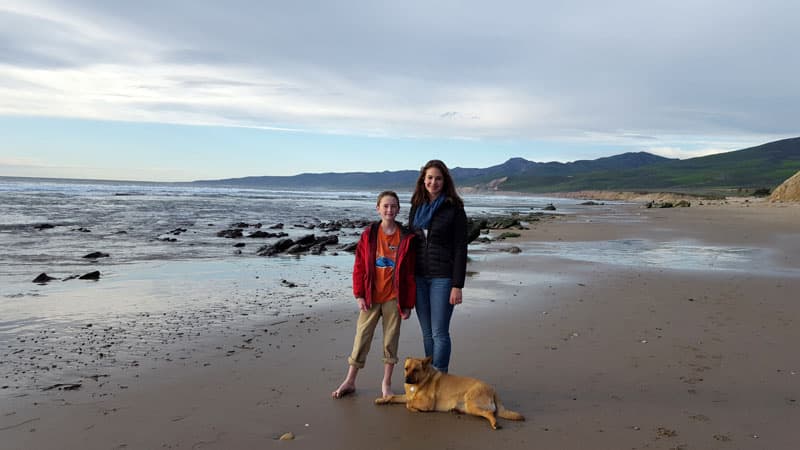 "Merry Thanksgivoween!  Since acquiring the truck camper (the gift that keeps on giving), our holidays have been totally transformed.
Holidays are so much more merry when camping!  Stuffing from the Dutch oven in a fire pit is outstanding.  We enjoyed that while camping at San Simeon State Park for the last two Thanksgivings.
There is so much space and so many activity options to keep everyone in the family happy.  There is no more being stuck in a house with the television blaring and a little too much togetherness.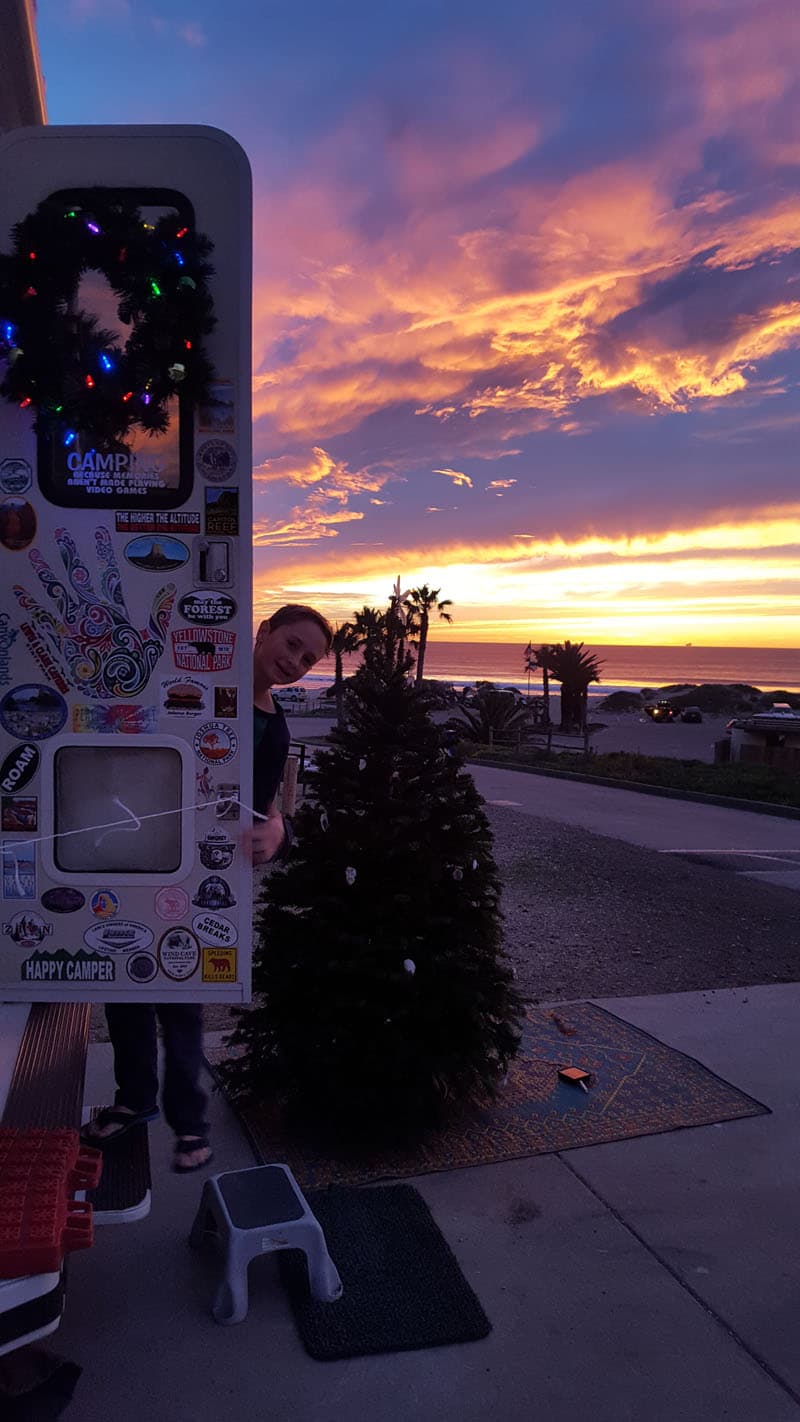 This Christmas and New Years was the best with nine days camping at the beach.  I bought a 6-foot noble fir on our way out of town and it traveled four hours flapping its branches while tied to the ladder.  We decorated it with shells, rocks, and stars we made from dried seaweed.  People admired our tree the whole time we were camped.
It was so fun to see all the folks who came to the beach on the 26th with the toys Santa brought them.  There were several shiny new surf boards, metal detectors, drones, remote control cars, and more.
I wish everyone could experience the gift of starting a new year in a beautiful outdoor landscape.  Easter egg hunts in the woods, at the beach, or in the Mojave desert are way more fun than at home.
Now I just need to figure out how to celebrate Halloween in the truck camper.  Maybe I should start a Halloween truck camper rally where folks decorate their rigs and kids go trick or treating from campsite to campsite.  Does this already exist somewhere in central or southern California?  If so, please let me know!" – Darcy Hubbard, 2014 Ram 3500, 1998 Lance Legend
"Absolutely!  This year we had to stay at the house, but typically we go camping Thanksgiving and Christmas.
Last Christmas we did the Grand Canyon, Zion, Bryce and Grand Escalante.  There was 18-inches of snow and closed roads for a day at Grand Canyon, -9 degrees at Bryce, and some really great winter jeeping out in the Grand Escalante.
Winter camping, especially during Christmas and Thanksgiving, is some of our favorite time of year to go camping." – Steven House, 2015 3600 Dodge Ram, 2015 Eagle Cap 1200
"After snowblowing and shoveling our driveway on December 23rd, we rolled out of Durango, Colorado and headed towards Moab, Utah.  Our goal was the Island in the Sky District of Canyonlnds National Park, northwest of Moab.
As we approached the visitor center early that afternoon, we could see that the gate was closed and the road going into the park had not been plowed.  Due to that area not getting an abundance of snow most winters, and the fact that they share the snow plow with several other parks in the area, it was going to be several hours until we were able to get to our campground.
We changed our itinerary and went to plan B, pulling into the deserted campground at Deadhorse Point State Park, which is not far away.  The campground was minimally plowed due to their snow plow breaking that morning.  The overlook views at this state park are breathtaking,  Highly recommended if you have the chance.
The next morning we headed to Arches National Park to a very nice campground located at the end of the road into the park.  The campground was only half open due to the limited number of campers in the winter, and we had the best spot at the end of the campground road.
Our campsite had a great view of the snow-covered LaSalle Mountains, as well as views in several directions of the red rock canyon country, illuminated by the late afternoon winter light.  It was spectacular!
We had planned that next morning to head to the Needles District of Canyonlands National Park to another quaint campground, but ended up hunkering down a second night at the Arches campground due to an ice storm and snow fall over night.
Christmas dinner was turkey and all the trimmings heated up over our campfire.  We also enjoyed our tiny Christmas tree in the camper, followed by Christmas movies.
We headed back to Durango the next morning, with blue skies and the sun shining, both of which we had not seen much of over the last four days.
This trip reinforced our winter camping theory of being flexible and changing plans if necessary, depending on the weather.  We had a very fun and relaxing weekend, and it was great to visit several parks in the off-season with minimal campers around!" – Jerry Harms, 2009 Ford F250, 2017 Northstar Laredo SC
"We stayed two nights in my kid's driveway.  It was the first time my wife stayed in the camper.  I use it a lot for bass fishing trips.  It was nice having our own space, but still spending quality time with the grandkids.  My wife didn't like the climb up to the bed, so I suggested building two steps instead on just the one." – Morgan Swisher, 2015 Chevy Silverado 2500HD, 2015 Wolf Creek 850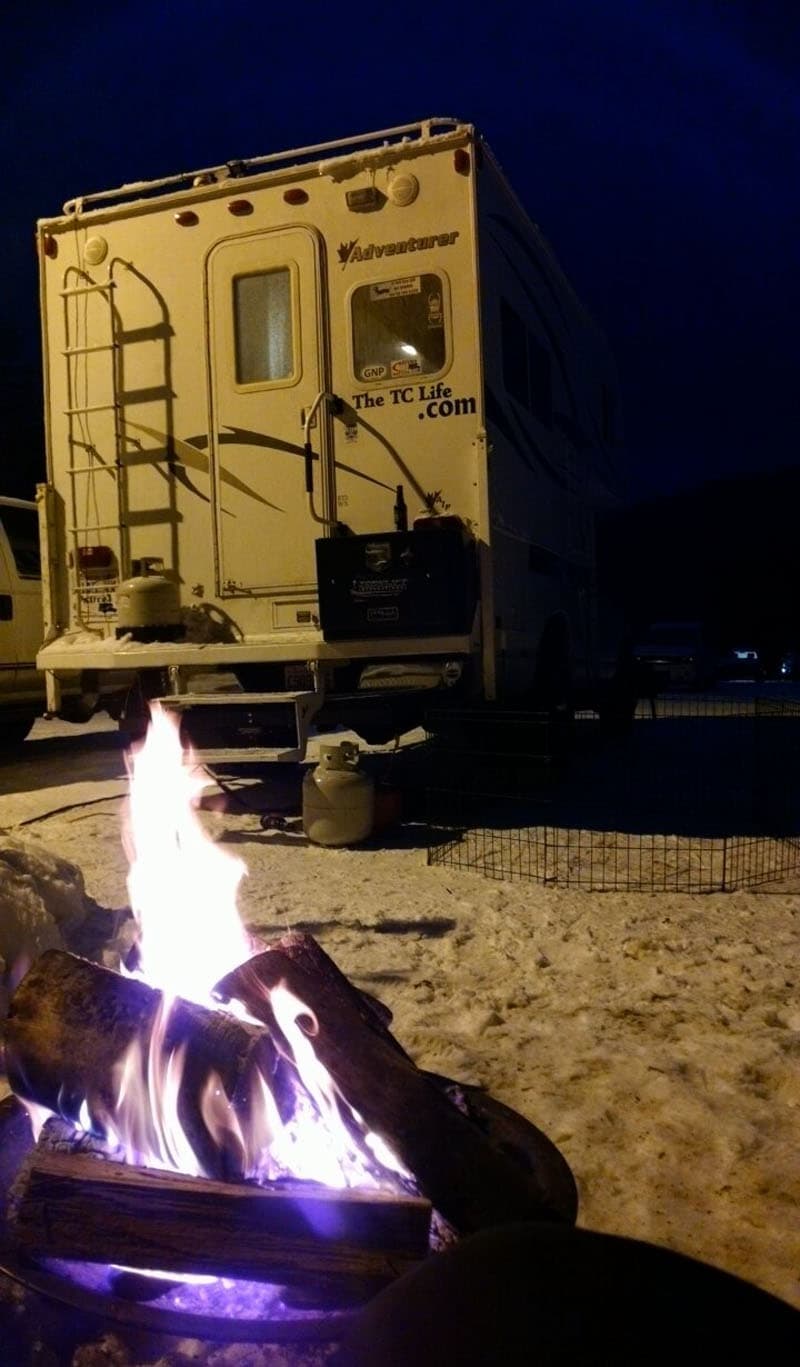 "We have made it a tradition to get our camper out for New Year's Eve.  For us, it is the only way to spend that holiday.
This year we spent New Year's Eve at a local ski resort, 49 degrees north.  For this trip we did have power hookups.  It dumped a bunch of snow on us New Years Eve and all day long on January 1st.  In the end we had just over a foot of fresh snow on the camper.
We had a fantastic time skiing the weekend away, and it was some of the best skiing I have had in a long time." – Rich Bain, 2004 Dodge 3500, 2010 Adventurer 810
"Long weekends over the holidays are the best time to camp.  This year we boondocked near Death Valley, California for the New Years holiday." – Rachael Hendricks, 2016 GMC 3500HD, 2016 Cirrus 820
"Does the heat going out in the house count?  Sure, the camper is a great insurance policy parked out back, and the Alaskan's furnace is brand new.  I better get the propane tank filled for the next round.  I now have renewed confidence seeing the truck camper sitting as if it's waiting to get going." – Linda Norman, 2015 Chevy Silverado 1500, 2016 Alaskan CO 5.5
"We use our camper when visiting family over the holidays." – Mike and Karen Champion, 2006 Dodge Ram 3500, 2016 Arctic Fox 990
"We always use our camper for the Canadian Thanksgiving weekend in October for our last trip of the season.  Most often the weather in the fall is awesome.  This year was not typical with -6C temperatures and snowfall warnings for all of the Rocky Mountains in Alberta.
We're looking forward to next year as it has become a real family gathering up in the mountains near Saskatchewan River Crossing in Alberta." – Steven Gasser, 2013 Ram 3500, 2003 Adventurer 90FWS
"Probably not what you were looking for but, yes, we use our camper over the holidays – for the refrigerator.  We don't have enough room in the house refrigerator for the holiday meals food and liquid refreshments." – Jody Smith, 2013 Chevy 3500, 2013 Lance 1172
"We seldom travel for the holidays.  Most of our family is in South Carolina.  If we were to visit, it would be for Thanksgiving and we would have to fly.
Our holidays are rather quiet, just my wife, son and myself with occasional friends over for dinner on Christmas or New Year's Eve.  That might change if we had grandchildren, but so far the right gal hasn't come along and swept or son off his feet." – David Pracht, 2015 GMC Sierra K3500, 1987 Lance LC900
"We often spend the holidays with Don's brother and his wife in North Carolina.  This year we left Maine on a yucky Sunday morning and spent two nights at Walmarts on the way down.
Our truck camper is perfect to take up the winding half-paved half-dirt road six miles from the main road to my brother-in-laws.  He sets us up nicely with electric, water, and wifi.  We stay in the camper and have breakfast on our own.
We spend the day with family, and return to the camper at night.  We had a great Christmas with them and left after we'd been there a week.  We spent New Years in a state park in Georgia.  We will get back to Maine in March." – Sue Graf, 2008 Ford F350, 2013 Arctic Fox 865
"Okay, let's be honest.  We had a 27-foot Winnebago Brave before we got our truck and camper.  We drove it towards the left bank; you know, California for Easter, and Arizona and the southern states for Memorial day.  Then, we had to have it repaired from a Oklahoma and Texas windstorm.
This year we got our truck camper and have been out on July 4th, Labor day, and Columbus day.  We had to rest and see our grandkids for Thanksgiving and Christmas so the answer to the question is well, not exactly." – RJ B., 2007 Dodge 2500, 2003 Palomino Maverick 1000
"I do not use my camper during the holidays.  It has been winterized and I have no need to use it until spring.  Living in northern Michigan it gets really cold during the holidays, and my family lives within four hours of me.  There's no need to break it out of storage." – Charlie Young, 2013 Chevy 2500 HD, 2004 Sun Valley 850SE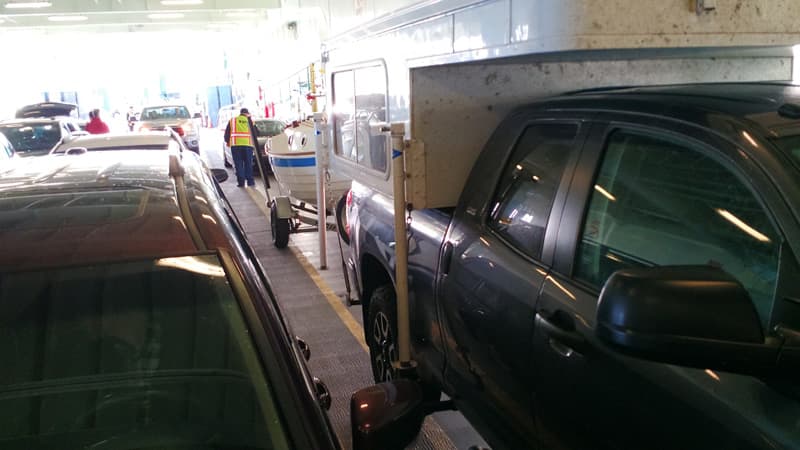 "Sure do!  Every year I travel with the camper.  Over this 2016/2017 Christmas/New Year Holiday I stayed in the camper 17 nights (19 days on the road)." – Dave Scobie, 2016 Toyota Tundra, 2015 Outfitter Caribou Lite 6.5