Some folks love the holidays.  Christmas is their favorite time of year, and there are aren't enough Christmas songs, Christmas lights, or Christmas present shopping opportunities to be had.  Jingle bells, all the way.
I, on the other hand, am a grinch.  Christmas music is okay, but only in extremely limited doses.  Christmas lights are pretty, but only on other people's homes.  I like presents, but I'm not too keen on figuring out what people want, and hunting those objects down.  I enjoy seeing family and friends, but I really like having my own space afterwards.
From reading the answers to this week's question, it seems I'm not the only one on this last point.  Having your own space while visiting family over the holidays makes Thanksgiving, Christmas, and even New Years much, much better.  And when you have a truck camper rig, having your own space is as simple as parking in your family's street or driveway.  Oh what fun.
The holidays can also be the perfect time to visit otherwise crowded national parks, state parks, and campgrounds.  Don't try driving into Arches National Park for a campsite in June.  But in late December?  You'll probably have your pick.
Even better, the park won't be mobbed, and the season may put on a spectacular winter weather show that summer tourists will never see.  After reading the following responses, we are considering visiting our favorite national parks once more, in a very different season.
This week's Question of the Week was, "Do you use your truck camper over the holidays?"
"Absolutely!  When visiting the kids and grandkids, it is great to have a place to have grandparents time-out space!" – Jay Knight, 2009 Chevy 2500, Northstar Adventurer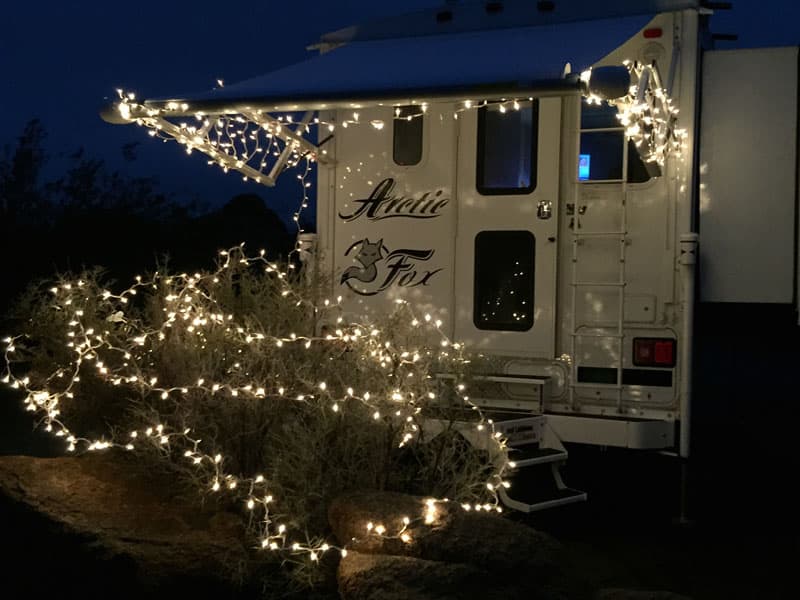 "I spent Thanksgiving at Lake Roosevelt in Arizona and Christmas at Jumbo Rocks Campground in Joshua Tree National Park.  I received two inches of snow on Christmas Eve.  It was cold, but very pretty." – Ray Mungo, 2016 Ram 3500 Dually, 2017 Arctic Fox 1150
"With a house full of guests, tons and tons of bulky foods (large ham, large turkey, lobsters, etc.), and a dog who at five just decided to try out counter surfing, I discovered a wonderful use for my camper over the holidays.
I brought in all the dinette cushions and the linen stored in my camper to create an additional bed in the house, and stored all protein and a few pies in the camper.  I didn't connect the battery and turn the refrigerator on since it was very cold outside.  I just placed things on the counter and table.
It worked great!  The food was safe, cold, and it lead to speculation among my neighbors that I was crazy enough to camp in the dead of winter.  Why anyone would assume that a pajama clad woman carrying a massive ham into the house in the early hours had actually slept in the camper is beyond me." – Michele McLeod, 2013 Ford F150, 2000 Travel Hawk 9.5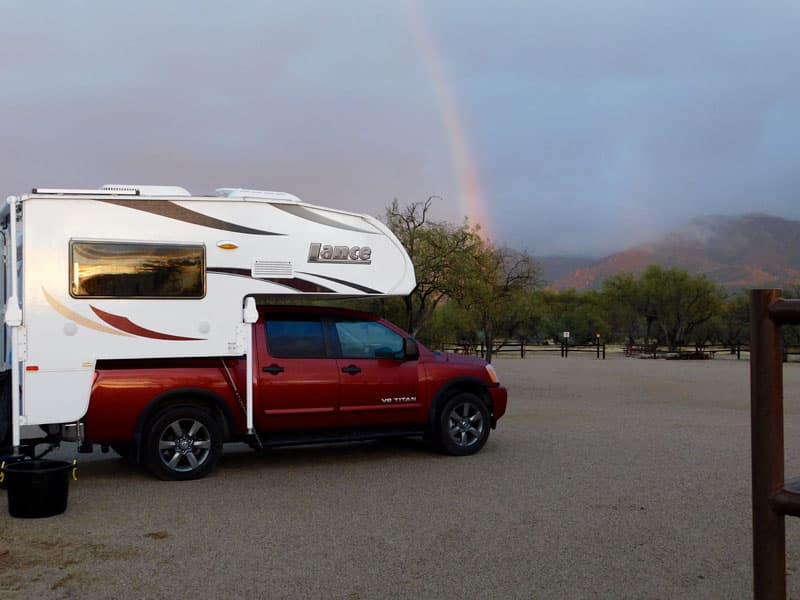 "I just spent New Years weekend in my truck camper at Catalina State Park in Tucson, Arizona with my best friend and our horses.  We ended up having a lot of rain and were inside the camper most of Sunday, but it was still fun.  We played board and card games, drank several cups of Mexican hot chocolate, and had some stove top chili for dinner.
We had a funny moment on Monday morning when somehow we both ended up locked out of the camper with the keys and our phones inside.  Instead of calling a locksmith, I remembered that my window over the kitchen sink broke a few months ago and we removed the window from the outside and gave my friend a leg up and through the window.  I don't think I'm going to fix that window now in case it happens again!" – Ashley Pollock, 2015 Nissan Titan, 2016 Lance 650
"As we own our own seasonal business, we are shutdown mode Turkey Day and Christmas.  New Year's Eve is another story.  This year we were in Apalachicola, Florida.  Past New Years have been spent in all of the southern or southwestern states.  Have a safe and healthy New Year!" – Robert and Pat Adams, 2011 Chevy 3500HD, 2013 Lance 1191
"Every year that we can, we go to my parent's house for Christmas.  They live in southern California.  My husband and I are from northern California.
We used to sleep in their cramped second bedroom upstairs on horribly uncomfortable pull-out couch beds.  Our aging bodies forced us to rent motel rooms.  We could finally sleep, but our pocket book was not happy!
Knowing that my husband would be retiring this year, we bought a truck camper in the spring.  For the first time at Christmas we went to my parent's place with our truck camper and slept in style.  We were so comfortable and we could have morning coffee with them in our pajamas!" – Angie Scott, 2014 Chevy Silverado 3500, 2016 Northern Lite 8-11 Queen Classic