Eighteen Truck Camper Magazine readers share their truck camping eclipse stories and photography.  Some saw it from home while others traveled great distances.  The plans for 2024 have already begun.
This week's Question of the Week was, "If you saw the eclipse while truck camping, tell us about your eclipse experience."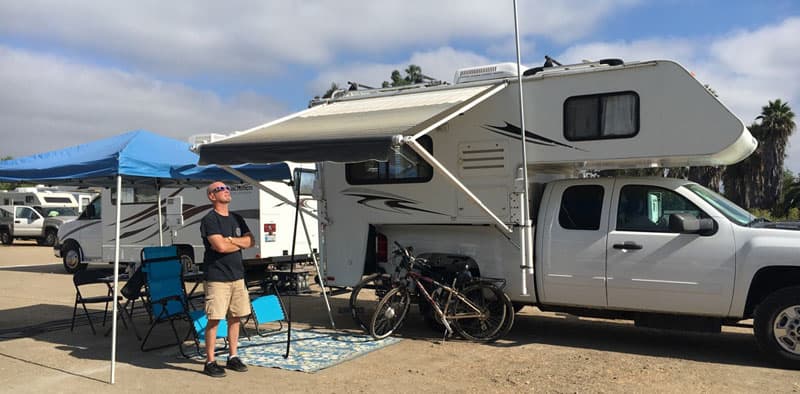 "Rich and I spent the weekend at the Summergrass Bluegrass Festival in Vista, California.  It was a great weekend of music and jamming followed by the eclipse.  We viewed the eclipse with glasses and shared them with others around us." – Lisa and Rich Thornton, 2013 Chevy Silverado, 2007 Lance 845

"We camped at Sweetbrier Train and RV park near Scio, Oregon.  We were with friends from Germany who brought a beautiful telescope to complement our cameras and drones.  About 200 people shared the experience and we witnessed one of the most remarkable total eclipses.
Several folks were serial eclipse watchers who felt this was a special one!  It was our first, and the most incredible aspects were the darkness, the beautiful solar prominences and diamond ring, and the corona that was so large.
The temperature plummeted, Venus was the first planet that appeared, and there were so many stars as well.  It was really dark!  I highly recommend going to one if the opportunity calls!" – Michael Hamilton, 2014 Tacoma, 2014 Four Wheel Camper Fleet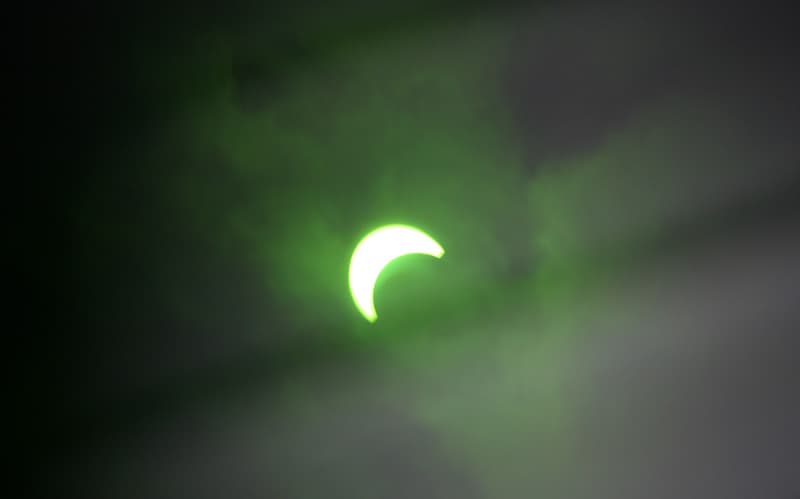 "I was at home cleaning the camper from our last trip out and had completely forgotten about the eclipse.  My wife emailed me about it and that set off a flurry of activity for me.
My first thought was to look at it through my welding helmet, which worked fine.  Then I thought about taking pictures through it.  Holding a welding helmet with one hand and trying to maneuver a camera with a telephoto lens with the other wasn't working too well, so I set and aimed the welding helmet on some planter basket frames in our lily bed.  That's how I was able to take the pictures you see.
It was somewhat a funny way to get the photos, but they say necessity is the mother of invention." – Lyle Tremblay, 2006 Bigfoot 9.4SB
"We were visiting our son and family – driveway camping in Troutdale, Oregon.  The eclipse started at 9:06am and ended at 11:38am.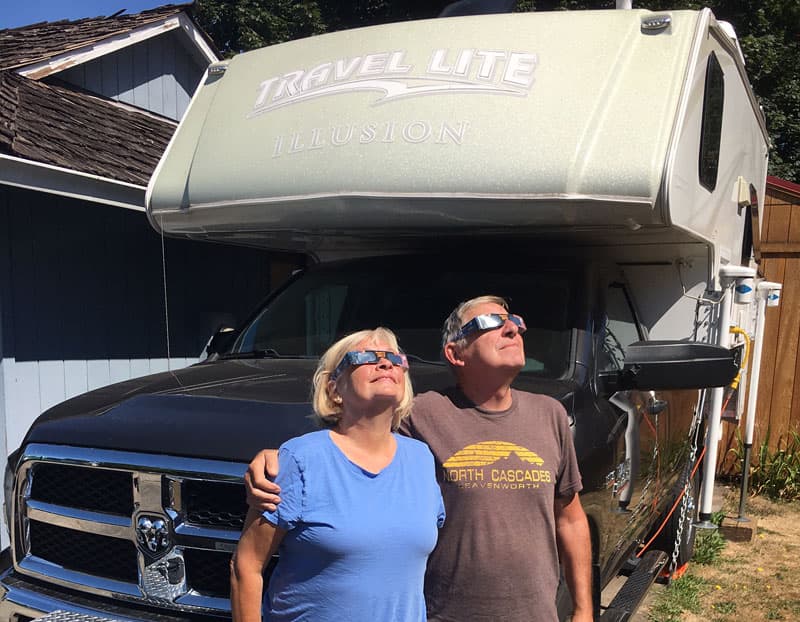 We had the free eclipse glasses from the library; kind of like the 3D movie glasses.  We also had a welding shield and the neighbors had pinhole cameras.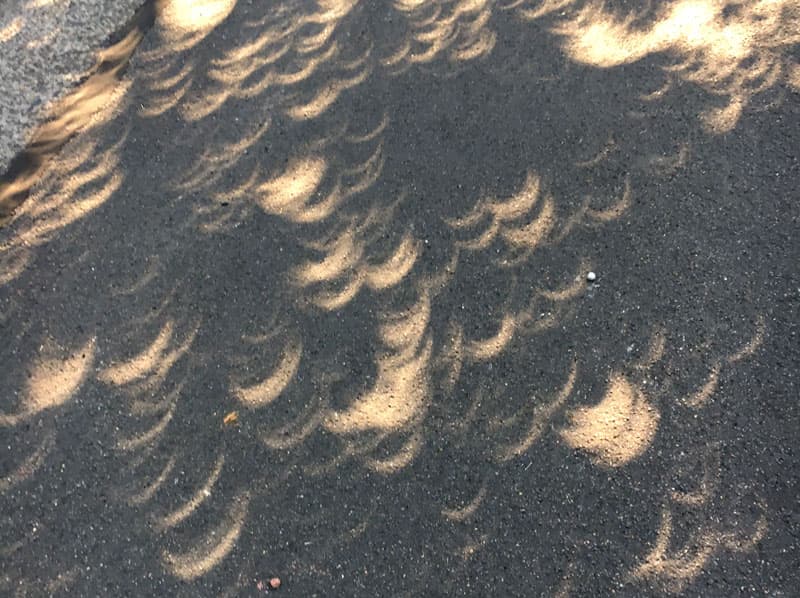 We all ended up in the street sharing glasses, viewing equipment and stories!  It was so much fun; an impromptu block party.
We decided not to drive to the path of totality because of the traffic.  Boy were we glad we stayed home.  Roads were still traffic jammed hours and hours after the eclipse ended.
A big thank you to the Gordon and Betty Moore Foundation for providing free, safe eclipse glasses to the libraries across the US." – Janet and Jim Manis, 2014 Dodge Ram 2500HD, 2015 Travel Lite 960R Illusion