Walnut Valley is a five day festival that brings in entertainers from all over the world.  We have only been able to attend once, but will go back.  They have five stages going at the same time and the music officially goes from 9am to midnight.  If you play, be sure to bring your instrument to join in on jam sessions.
The music festivals have a fee for camping and an admission fee.  You get best rate if you are staying for the entire festival." – Victoria Buie, 2007 Dodge 3500, 2012 Lance 1050S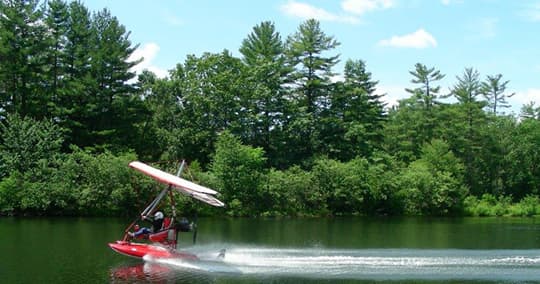 "I have camped at the Yankee Ultralight FlyIn in Greenland, New Hampshire.  My brother-in-law flies an Ultralight Trike and he introduced me to various fly-ins.  Last year, I camped at this Fly-In along with Rich and Denise Snyder.
Although it is not totally free ($20 a night or $70 a week), all the activities are free including nightly bands, watching flights all day long, talking with the owner fliers, etc.  It's a fun time!" – Cheryl E Lane, 2006 Toyota Tundra, 2009 Outfitter Apex 8.5 (have switched to a 2006 BornFree Motorhome)

"We regularly camp at the four-wheeling events we organize.  Plus we have camped at the Overland Expo and the British and German equivalents.  It's boondocking at our four-wheeling events, and otherwise camping is paid as part of the entry price." – Steve Blackman, 2007 Ford Ranger, 1991 Shadow Cruiser Sky Cruiser 1
"We go to the Northwest's Rowing Regatta, the National Park of Lake Superior Foundation meetings, and various trail races on the North Shore of Lake Superior.  There are several sled dog races in the Lake Superior area.
The rowing regatta alternates between Kenora, Ontario, and Lake Elmo, Minnesota.  My wife rows and I run officials in my boat.  The NPLSF meetings are held in the parks annually.  I cover aid stations with Amateur Radio for the trail races and the sled dog races.
All of the events are in a boondocking situation.  We are self contained." – Dave Miller, 2012 Ford F350, 2003 Bigfoot 10.6E or custom Spacekap Classic
"I have not gone to any events with my camper.  However, there is a hot air balloon event in western Massachusetts in the fall that would be perfect for truck camping." – Tom Chappuis, 2006 Dodge Ram 3500, 1989 Lance 9000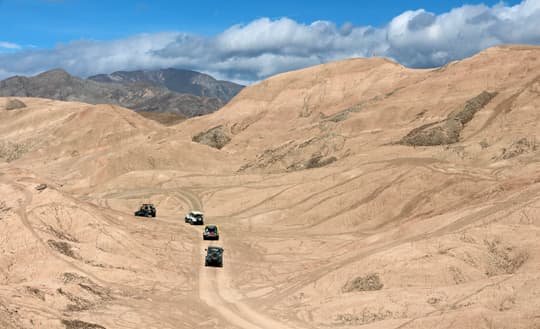 "We go to the Tierra Del Sol Desert Safari sponsored by the Tierra Del Sol Four Wheel Drive Club of San Diego, California.  We just attended the 52nd annual TDS Desert Safari.  It is held the first weekend of March every year in the Truckhaven hills area about three miles West of the Salton Sea at the intersection of S22 and Holly Road.  This is the largest off road rally in the Southwestern United States.
The show attracts thousands of attendees in all kinds of RVs (including many truck campers) towing every imaginable type of off road vehicle.  The vendor area and obstacle coarse are impressive as are the Saturday night fireworks show.  Saturday morning starts out with a Jeep run with hundreds of vehicles taking part.
The event is put on to raise money to help keep the desert trails open to off road vehicles.  If you like to go off road, then the TDS desert Safari should be on your bucket list.
The base camp coordinates for registration: N 33 15 .691 W 116 00.857.  The headquarters and base camp is twenty-three miles East from Christmas Circle (Borrego Springs) on S-22 or 3.0 miles west of state highway 86.  It's all free boondocking.  If you want to go on the organized run or take part in the raffle there is a $57 vehicle fee." – Rex Carroll, 2004 Ford F350, 2006 Alpenlite Cheyenne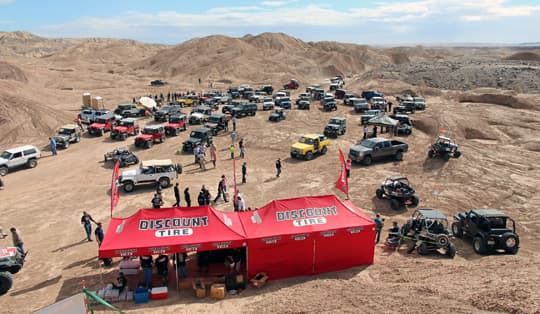 "Each summer I compete at the antique tractor pulls and shows around New England and New York with my 1958 Friday Special Heavy Duty tractor.  I go to the Washington County Fair in Schuylerville, New York.  The fair runs Monday through Sunday.  I usually get there two days early so I can enjoy the peace and quiet and do some cooking on the grill.  The fun part of cooking on the grill is that we can get creative with our foods.  When my friend Dennis Smith comes with his Lance camper, he will cook with a Dutch oven.  People can't believe some of the things we cook, but when we invite friends and strangers to dinner, a wonderful time is had by all." – George Randall, 2012 Ford F350, 2000 Lance 915
"We attend the Idaho Rally.  The YouTube video here, http://www.youtube.com/watch?v=xpOWMDoICdk, is taken by one of the competitors on Stage 11 of last year's rally.  This special stage is a little over seven miles.  The folks and vehicles you see are the volunteers.  The rally is very similar to the European rallies.
A staged rally is a motorsport that requires competitors to depart a point at a given time and arrive at another point within a one minute window.  That is called a stage.  Normally, after a stage, the next part is called a special stage.  Competitors depart on the special stage at a time determined by their original start time that day.  The goal on the special stage is to get from the start to the finish as fast as possible.  The special stages are run on dirt and gravel forest service and county roads.  A typical rally will be run over a two day period with six to eight special stages each day.  There is time allotted for service a couple of times a day.