Our Question of the Week this week was, "Have you ever camped at an outdoor event?".  Fifteen readers shared their experiences camping at events.
"We have gone to the Albuquerque Balloon Festival.  It's an annual balloon festival that launches hundreds of balloons from the Rio Grande Valley in Albuquerque, New Mexico.  There is boondocking at the Sandia Casino for free.  The casino provides space for RVs and provides a cheap shuttle to the balloon grounds for special events." – Larry Routt, 2005 Ford F-350, 2004 Lance 820
"Has anyone gone to Calgary Stampede?  It's a great show!  If you go to Airdrie, which is a town just north of Calgary, you can see the cowboys and cowgirls practice all week before the show.  You camp in the field with them and their rigs for free.
My daughter and I watched them practice on Friday.  Then we saw their show on Saturday until the fireworks.  Did I say free?  We also got to talk to the rodeo people and the clowns.  What a fun time.
It was also a great time to try out our solar panels and generator.  When we needed water for the camper, we went to the fire house and filled our tanks and dumped there for free.  It's a great trip and event for a truck camper." – Neil Steirer, 2008 Ford F350, 2008 Lance 1181
"We attend antique steam and gas engine shows that are more than just old iron.  They have activities for everyone in the family.  There is everything one can think of from small gas engines, to large steam engines, and all sorts of old time activities including black smithing, sawing of lumber, shingle mills, antique tractor pulls, and flea markets.  For ladies making quilts, there is wool being spun into yarn and a collection of things made over the past 150 years.
Being a family event, there are usually non-profit groups selling food and refreshments on the grounds.  There is entertainment day and evening to relax with when you need to take a break.
We bring a golf cart and generator since we camp where the trucks and trailers are parked.  Most shows have organized camping areas with no hook-ups, but parking out in the truck area insures peace and quiet at night.
Over the years, I also have taken my blacksmith gear and worked in the blacksmith shop at the shows.  There are literately hundreds of shows across America which can be found on the web by state.  We attend The Central States Thrashers Reunion in Pontiac, Illinois over Labor Day weekend, which is the second oldest show in America.  It's two miles off I-55 on Route 23, exit 201." – Gary Gade, 2011 Ford F-350, 2014 Lance 1181
"We go to N-SSA National Matches, Camp Grayling Historic Artillery Match, various Civil War reenactments and living histories, and various Moto Guzzi motorcycle rallies.
At N-SSA, the camping is free for members and guests.  At Camp Grayling, there is boondocking.  At the living histories, there is boondocking in the reenactor parking area.  Motorcycle rallies are usually held at some kind of campground, and there are fees are for the campsite, plus rally activities vary." – John Wells, 2011 Chevy Duramax 3500, 2012 Chalet Ascent S100F
"We stay at airshows. We will be staying at the Sun and Fun Airshow in Lakeland, Florida at the beginning of April.  There's nothing like taking in all the sights of the day's events and then heading back to the truck camper for meals and sleeping without going anywhere.  We are dry camping there for a week.
The airshow is the second largest airshow in the United States.  It sponsored by the EAA (Experimental Aircraft Association) and showcases the latest in aviation technology.  There are numerous aviation exhibitors from around the USA that attend.  The US Navy's Flight Demonstration Team, The Blue Angels perform throughout the week as well.
The event is at the Lakeland Linder Airport in Lakeland, Florida.  There is paid camping with membership to the Florida Air Museum".  – Mark and Janice Mudgett, 2006 Ford F-350, 2013 Eagle Cap 1160
"We go to the US Formula One Grand Prix in Austin, Texas.  I paid $1,070 for four nights for four general admission tickets – Ouch!" – Simon Carlton, 2004 Ford F350, 2009 Snowriver 9'6
"We go to the Missouri State Fair in Sedalia, Missouri, the National Traditional Country Music Association (NTCMA) festival in LeMars, Iowa, the Walnut Valley Music Festival in Winfield, Kansas, and Thresher's Reunion and Steam Engine Show, in Mt. Pleasant, Iowa.
State fair and music festivals are self-explanatory. The NCTMA festival is a smaller venue but has great entertainers from all around.  They will also have some big name people, such as LuLu Roman, Barbara Fairchild, Bill Anderson, High Road, etc.  Attendees are always welcome to join in on jam sessions, too.
The Threshers Reunion has things for all ages and interests.  They also have musical entertainment (Oak Ridge Boys, Statlers, etc).  There are craft booths as well as a huge assortment of steam engines and antique tractors.
Walnut Valley is a five day festival that brings in entertainers from all over the world.  We have only been able to attend once, but will go back.  They have five stages going at the same time and the music officially goes from 9am to midnight.  If you play, be sure to bring your instrument to join in on jam sessions.
The music festivals have a fee for camping and an admission fee.  You get best rate if you are staying for the entire festival." – Victoria Buie, 2007 Dodge 3500, 2012 Lance 1050S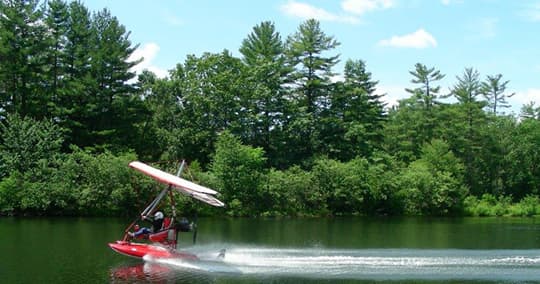 "I have camped at the Yankee Ultralight FlyIn in Greenland, New Hampshire.  My brother-in-law flies an Ultralight Trike and he introduced me to various fly-ins.  Last year, I camped at this Fly-In along with Rich and Denise Snyder.
Although it is not totally free ($20 a night or $70 a week), all the activities are free including nightly bands, watching flights all day long, talking with the owner fliers, etc.  It's a fun time!" – Cheryl E Lane, 2006 Toyota Tundra, 2009 Outfitter Apex 8.5 (have switched to a 2006 BornFree Motorhome)

"We regularly camp at the four-wheeling events we organize.  Plus we have camped at the Overland Expo and the British and German equivalents.  It's boondocking at our four-wheeling events, and otherwise camping is paid as part of the entry price." – Steve Blackman, 2007 Ford Ranger, 1991 Shadow Cruiser Sky Cruiser 1
"We go to the Northwest's Rowing Regatta, the National Park of Lake Superior Foundation meetings, and various trail races on the North Shore of Lake Superior.  There are several sled dog races in the Lake Superior area.
The rowing regatta alternates between Kenora, Ontario, and Lake Elmo, Minnesota.  My wife rows and I run officials in my boat.  The NPLSF meetings are held in the parks annually.  I cover aid stations with Amateur Radio for the trail races and the sled dog races.
All of the events are in a boondocking situation.  We are self contained." – Dave Miller, 2012 Ford F350, 2003 Bigfoot 10.6E or custom Spacekap Classic
"I have not gone to any events with my camper.  However, there is a hot air balloon event in western Massachusetts in the fall that would be perfect for truck camping." – Tom Chappuis, 2006 Dodge Ram 3500, 1989 Lance 9000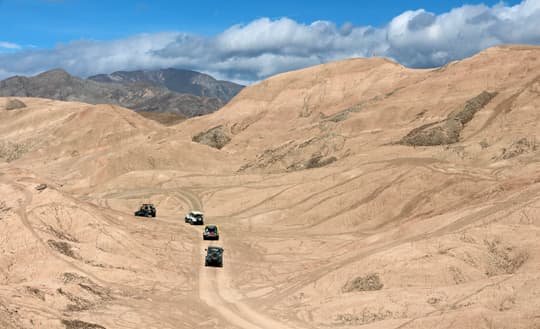 "We go to the Tierra Del Sol Desert Safari sponsored by the Tierra Del Sol Four Wheel Drive Club of San Diego, California.  We just attended the 52nd annual TDS Desert Safari.  It is held the first weekend of March every year in the Truckhaven hills area about three miles West of the Salton Sea at the intersection of S22 and Holly Road.  This is the largest off road rally in the Southwestern United States.
The show attracts thousands of attendees in all kinds of RVs (including many truck campers) towing every imaginable type of off road vehicle.  The vendor area and obstacle coarse are impressive as are the Saturday night fireworks show.  Saturday morning starts out with a Jeep run with hundreds of vehicles taking part.
The event is put on to raise money to help keep the desert trails open to off road vehicles.  If you like to go off road, then the TDS desert Safari should be on your bucket list.
The base camp coordinates for registration: N 33 15 .691 W 116 00.857.  The headquarters and base camp is twenty-three miles East from Christmas Circle (Borrego Springs) on S-22 or 3.0 miles west of state highway 86.  It's all free boondocking.  If you want to go on the organized run or take part in the raffle there is a $57 vehicle fee." – Rex Carroll, 2004 Ford F350, 2006 Alpenlite Cheyenne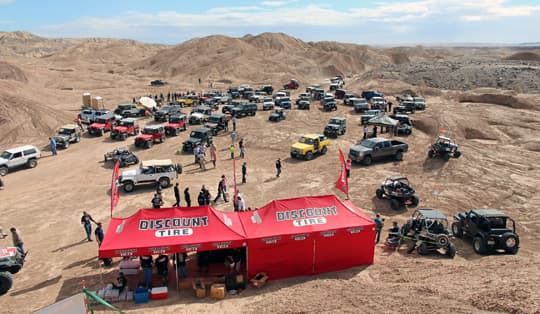 "Each summer I compete at the antique tractor pulls and shows around New England and New York with my 1958 Friday Special Heavy Duty tractor.  I go to the Washington County Fair in Schuylerville, New York.  The fair runs Monday through Sunday.  I usually get there two days early so I can enjoy the peace and quiet and do some cooking on the grill.  The fun part of cooking on the grill is that we can get creative with our foods.  When my friend Dennis Smith comes with his Lance camper, he will cook with a Dutch oven.  People can't believe some of the things we cook, but when we invite friends and strangers to dinner, a wonderful time is had by all." – George Randall, 2012 Ford F350, 2000 Lance 915
"We attend the Idaho Rally.  The YouTube video here, http://www.youtube.com/watch?v=xpOWMDoICdk, is taken by one of the competitors on Stage 11 of last year's rally.  This special stage is a little over seven miles.  The folks and vehicles you see are the volunteers.  The rally is very similar to the European rallies.
A staged rally is a motorsport that requires competitors to depart a point at a given time and arrive at another point within a one minute window.  That is called a stage.  Normally, after a stage, the next part is called a special stage.  Competitors depart on the special stage at a time determined by their original start time that day.  The goal on the special stage is to get from the start to the finish as fast as possible.  The special stages are run on dirt and gravel forest service and county roads.  A typical rally will be run over a two day period with six to eight special stages each day.  There is time allotted for service a couple of times a day.
The event has close to 200 volunteers.  We have to close the roads when cars are running a stage which means getting permission from the folks who own the roads.  We need volunteers stationed along a special stage at any place someone could possibly enter the course.
Other players that get involved are the County Sheriff personnel, EMTs, ambulance, fire, crash recovery, HAM radio operators, and many more.  My wife logs in arrival times, giving competitors a start time for the special stage, logging the actual start time, and timing them at the finish.  She also calculates their special stage time and passes that time to a scoring group.
We boondock camp in the area of the rally (as do many other folks).  The rally covers two days but we camp for four nights.  This year's rally is on a Saturday and Sunday.  We'll go on Thursday, using Thursday and Friday to set up camp, put out course markers and road closed information, communication checks, etc.  We stay over Sunday so that we can celebrate and relax before heading home on Monday." – Dave Erickson, 2011 Ford F350, 2006 Arctic Fox 990
"Here's a video we did while we were at the Blue Max air show with Gordon and Angela." – Charlie and Jeannie Coushaine, 2001 Ford F350, 2012 Chalet DS116RB