From fun, to funny, to down right outrageous, TCM readers reveal their truck and camper names.  Warning: Major snarf alert.  Do not drink coffee when reading this.
One of the many pleasures of publishing Truck Camper Magazine is never knowing what to expect in response to a particular question of the week.  It's also a bit of a high wire.  Imagine personally emailing an open question to a few thousand people and you get the idea.
This week we asked, "Does your truck and/or camper have a name?"  We thought it was an innocent enough question.  After all, how nutty can naming a truck and camper get?  Probably half the readers named their camper Fred or Skippy, right?
Well, not so much.  As you're about to read, our truck camping community is chock full of total knuckleheads.  As a fellow knucklehead, I understand the proclivity to nuttiness, but we had no idea how prevalent this affliction was, until now.  Brace yourselves!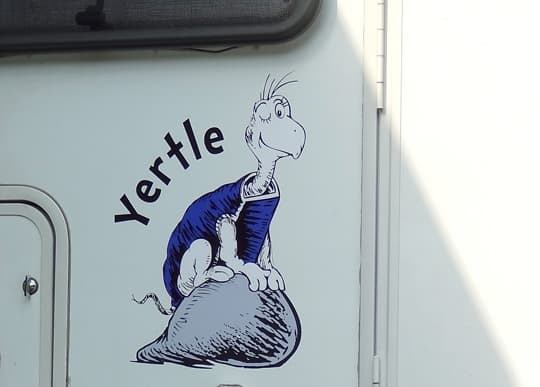 "Since I was a kid, I was crazy about turtles/tortoises.  My sister and I loved Dr. Seuss stories.  I had pet box turtles as a youngster, and my first one, and longest in captivity, was Yertle.
Since we carry our house on the back of our truck, the turtle connection seemed obvious.  And, since the most famous turtle to my generation was Yertle, and I found an artist willing to do the graphic decal, our Yertle was born.
To today's generation, and with a nod to the TCM Weight Police, maybe Crush from Finding Nemo would be even more appropriate for our rather hefty Chalet Ascent.  And who can deny that Crush wouldn't be a cool graphic as well!" – John and Marylou Wells, 2011 Chevy 3500, 2012 Chalet Ascent S100F
"Destination Unknown." – Paul LaMonte, 1999 Ram 2500, 2005 Lance Lite
"Rob and Sandy's Passion Pit.  It is like a motel room on wheels." – Rob Abear, 2015 Ford F350, 2015 Arctic Fox 990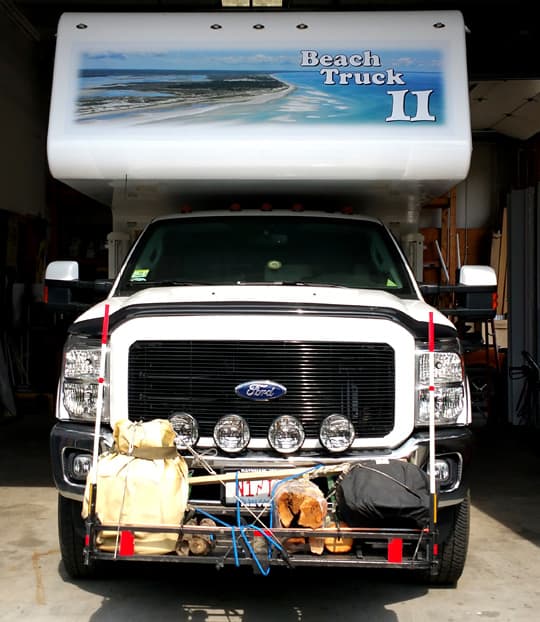 "Beach Truck II – The Roman Numeral II is because my 2008 Ford F250 was called 4X4 Beach Truck and was heavily modified in many aspects.  It even had an air brushed beach scene with "4X4 Beach Truck" on both rear quarters.
When I traded it in for the 2015, my wife insisted that I keep this truck (relatively) unmodified.  I Photoshopped a couple of nice pictures of our beach, added some text, and had vinyl installed on the camper.  The entire outside front of the main bed area is an aerial view of the beach with the words, Beach Truck II.  It came out great and really looks better than a factory logo." – Jim Duarte, 2011 Ford F350, 2013 Eagle Cap 850
"Our camper is named Anderson Funhouse, because of the AF logo on the front of the camper." – Eric and Linda Anderson, 2001 Dodge 3500, 2013 Arctic Fox 990
"We have a 'Lance On A Ford' – so our rig is called LOAF, and our blog is called LOAFin Around!" – Helen O'Kane, 2011 F350 Lariat, 2013 Lance 855S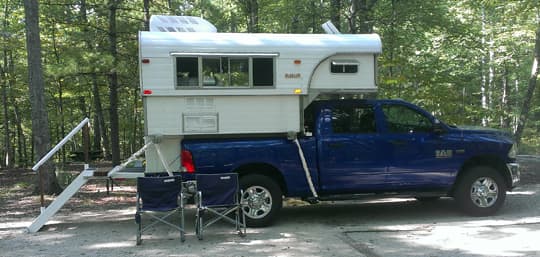 "We've only been truck camping for a few months.  An Alaskan cabover was the only truck camper that we considered.  From the very beginning we always thought of the camper as our house that we carried on our back, hence, 'our turtle'.  We soon found out that other truck campers were referred to as turtles, too.  Our Alaskan is Trixie the Turtle and she rides on Sam the Ram." – Fran and David Carlin, 2014 Dodge Ram 3500, 1988 Alaskan 8'
"It's the Camper Inn.  I named it that because camping out is backpacking.  My wife's trail name is Red Robin, and she through-hiked the Appalachian Trail in 2014.  That's camping out!" – Phil Jones, 2002 GMC Sierra, 2013 Northstar Laredo
"TajMaHut II.  Alcohol was involved in the naming of the original TajMaHut, a 1998 Holiday Rambler bumper pull." – Jeff Yarborough, 2005 Dodge 3500, 2009 Lance 915
"Josephine.  My mother, when amused by our antics, or when she found us particularly trying but in an endearing way, would say, "Okay Josephine!"  Why she did this was never explained.  There were no friends named Josephine in her life.  We think that our impatient Grandmother called our Mom that whenever our Grandfather (named Joe or Joseph) protected or coddled her.