What's the number one reason why guys turn their truck camping rigs around?  Because their wife told them to.  Perhaps not complying with this request explains the growing popularity of sofas in truck campers.
We had way too much fun reading all the reasons why fellow truck campers turn around.  In the mix we have a tourist stalking bear, a fresh grouper sandwich, The Royal Canadian Mounted Police, and pine nuts.  You can't make this stuff up folks.
This week's Poll and Question of the Week was, "Do you turn your truck camper around when you see something, or do you keep on truckin'?"
Here are the poll results:
Here are the written responses.  Some of these are quite funny, so be careful if you're drinking your morning coffee.
"Like you, Gordon, I never turned around. I would drive by antique stores, flea markets, farmers markets and produce stands, commenting to my wife, "I should turn around and go back." Of course I never did.
I will, however, make a U-turn for BBQ shacks especially around mealtimes. Or, for that matter, any other restaurant that is unique to the area we are traveling through; Cajun food in Louisiana, taco stands in New Mexico, or lobsters in Maine. In fact, it was a fish restaurant in Florida that indirectly led us to buy a truck camper.
We were piloting a 30 foot 5th wheel at the time when I saw the sign for fresh grouper sandwiches. I made a quick U-turn, pulled into the parking lot, and found there was nowhere to go. I told my wife we have to find something smaller, so we bought a truck camper." – John Skevington, 2005 Ford F350, 2006 Adventurer 810 WS
"I rarely turn my truck camper around and deviate from our charted course. However, on one beautiful driving day, I saw a sign for the next town boasting, "The World's Largest Rocking Chair" and, "The World's Largest Wind Chime". The signs were calling my name! So, out of character, I swung around and headed into town and were treated to many largest creations. The town was Casey, Illinois and its oversized charm should be on your bucket list!" – Charles Coushaine, 2001 Ford F350, 2012 Chalet DS116RB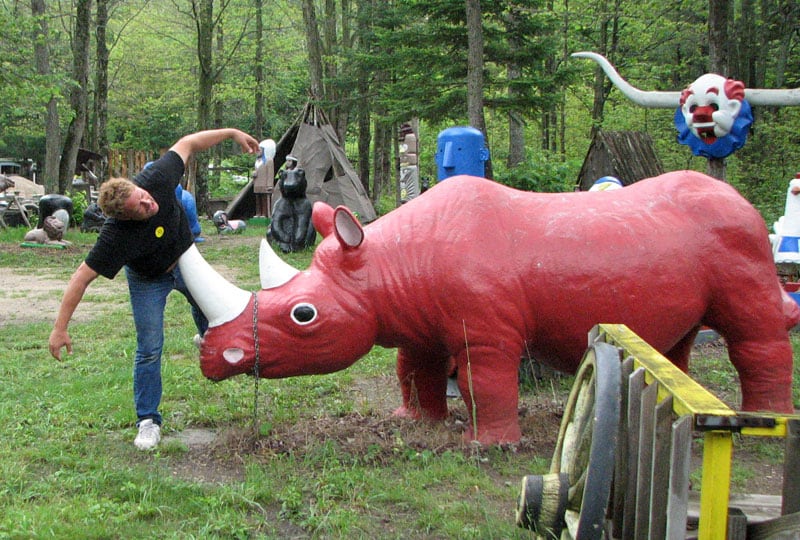 "One of the wonderful attributes of the truck camper is the maneuverability. I take advantage of it! I will turn around for interesting vintage vehicles and roadside attractions including a red rhinoceros, the muffler man, and the world's largest this or that, and the two headed calf.
I also stop for parks, active race tracks, caves, scenic overlooks, natural or man made wonders, a road that just looks like I should explore it, or any Kodak moment. But, I only do it if the weather is suitable and I am not on a mission to be at a certain place at a certain time. The world is full of fun and interesting stuff!" – Joel Nystrom, 1993 Dodge D350, 2006 Arctic Fox 1150
"Not very often. I seem to be destination oriented. I only turn around when there is something I really want to see, or when I get the look from my wife. You know that look. Then it's, "yes dear" and I will turn as soon as I can." – Scottie Rome, 2015 Toyota Tundra, 2015 Northstar TC650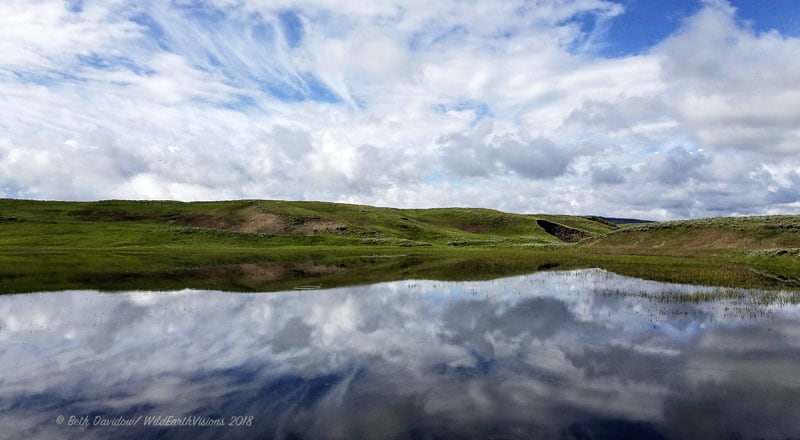 "Oh boy! Do I turn around! The only time I don't is if it is unsafe to do so, like on a freeway. I have been known to find the next exit to see something I've passed up!
As a professional naturalist and filmmaker, I'm intrigued by so many things; an interesting road kill, a cool geologic exposure, a pretty scene that begs to be filmed, or something that simply catches my eye.
I drove past this reflection in Hayden Valley because I was focused on being elsewhere in the park. I told myself to turn around because, why was in hurry to get somewhere when such beauty was right there at that moment? That's the point of a road trip – to be in the moment, to observe and experience what gifts it reveals!" – Beth Davidow, 2017 Ford F-250, 2001 Lance Lite
"Before owning our camper, I had a very bad habit. Once I was on the road, we drove stopping only for gas, food, and to get some sleep for the next day on the road. Now I find it hard to get myself to stop and enjoy the scenery. Instead it's peddle to the metal all day.