This week's Question of the Week asked for your truck camper shower upgrades, modifications, and techniques that improved your camper shower experience.
"You already have the quick dry towel.  Now, get the quick dry shower curtain!  The cheap plastic ones stick to you and eventually get mold. The quick dry curtains don't cling and they are washable.  This was a great improvement.
We have a wet bath, so we also put a wooden rack on the floor to keep our feet dry after showering and it keeps the shower cleaner.  The rack comes out for showering and goes back in after the shower.
As far as the water pump, I don't know why the manufacturer pumps are so noisy.  After market pumps are much quieter, and not very expensive.  I upgraded with a SHURFlo water pump.
Campground showers?  Yuck.  That is one of the main reasons to have an RV, to have your own clean bath/shower!" – Bill Tex, 2006 Chevy 3500, 2013 Eagle Cap 850
"I bought a good shower head shut-off so that the pump doesn't cycle when soaping up.  I also put up hooks for towels and a basket for shampoo, soap, etc.  When we're in campgrounds we very seldom use the showers." – Chip Collin, 2002 Ford F350, 2013 Chalet DS116RB
"The only thing I've done is to replace the stock shower head with the Oxygenics shower head.  I'm not sure how much water it saves, but the pulsing makes it feel like the water pressure is higher.  We got the white plastic Oxygenics and it leaks a lot when you put the shower in pause mode.  We plan to install our own water cut off to prevent this leaking.
For longer trips, when trying to save water, I soap up with a wash cloth first, and then only rinse off in the shower." – Bruce Tinkler, 2013 Ford F-350, 2013 Lance 1181
"I found it strange that one of the premier builders would leave out so many of the details that are required to use the bath.  Such as a toilet paper dispenser, a soap dish, or a mirror for shaving.
Not wanting to drill holes through the fiberglass stall, I used 3M command tape to fasten items to the fiberglass.  I take the truck off-road and the tape is amazing.  Nothing has fallen off.
I put up a tray to place other toiletries, but the stuff usually would get bounced out on the floor.  I now use a plastic tray and set it on the shower floor for travel." – Joe Ferraro, 2004 GMC Sierra 3500, 2010 Outfitter Apex 8
"I added an Oxygenics shower head with a shut off valve, replaced the vinyl shower curtain with a much nicer cloth-like shower curtain with new slides, and added an additional towel rack." – Dave Riddle, 2015 Chevrolet Silverado 3500, 2004 Host Tahoe DSDB
"Like TCM did on their camper, we installed the Oxygenics shower head with an on/off valve on the shower head.  This allows us to turn on the shower head only to rinse.  Probably the biggest factor in our shower quality is that we have a dry bath." – Gerard Pascazio, 2008 Ford F350, 2010 Eagle Cap 1160
"We modified the shower process instead of the facilities.  We think small campers are not big enough for a shower, so we take what you'd call a sponge bath.  We have a good sink where we can wash our hair and can fill it with warm water to wash from.  It may be only 85% as good as a real shower, but that's about 500% better than nothing.
We use the campground showers if they are available and decent.  If we lived in a hotter climate, we probably would use a solar shower with one of those special tents, or just go swimming.
Keep in mind that, before about 1920, most homes did not even have a hot water heater, let alone a shower.  Showers are rather a new fad.  Wash cloths still work." – Vince Kurpan, 2014 ProMaster, 2015 Custom Camper
"Just to be contrary, I don't use the shower in the camper, but have developed some strategies for campground showers.  We both have our own shower shoes; flip-flops we carry to the shower house and use in the shower.  We also carry our own shower head and wrench and, if possible, will swap out the head for our shower.
A small drainable all plastic basket holds shampoo, soap and razor, etc.  We have also learned that many health and fitness clubs will allow you to use their showers for a small fee." – Bonnie Belza, 2007 Chevy Silverado 2500HD, 2005 S&S Ponderosa
"I have a tip on drying off.  Use a wash cloth to do the initial drying to remove major part of water.  Follow with a towel.  The result is you get drier and the towel dries quicker.  I learned this in humid North Carolina summers where you shower to change the layer of water on your skin." – Paul Thutt, 2010 Toyota Tundra, 2014 Four Wheel Camper Hawk
"This is somewhat of an offshoot, but improving our shower has improved our entire truck camper experience.  We T'd off the fridge propane line and installed an interior hose bib by the dinette floor.  A six foot hose attached to a free standing Olympic catalytic heater allows us to move the unit within the camper and into the bath.
We have installed two clothes rods; one high to hang wet or snowy gear, and one behind the toilet for gloves and boot liners.  Our bathroom serves as a large clothes dryer.  Dry times range from three to six hours, depending on how wet the gear is.
We could not utilize our camper for skiing, hunting and paddling trips without this bath improvement.  The bonus is that the heater dries the wet bath after showers and keeps us above freezing without using the forced air system.  This has greatly enhanced our winter boondocking capacity." – JT More and Sue Jurf, 2004 Ford F-250, S&S Ponderosa 8.5
"First, we removed the bath/shower door completely.  Second, we bought lightweight Nylon gold quick dry material from Joann Fabrics. Third, we had numerous weights sewn into divided hem pockets to prevent movement.
Fourth, we installed Velcro onto the inside edge of the door opening and on the edge of the new curtain to prevent any water from escaping the shower area.  Fifth, we found a really neat shower head to do the job.
The curtain dries quickly when traveling with the bath area's large vent open.  Finally, when someone wants to use the "Johnny" the gold curtain color gives privacy or leaves the area for privacy.  The door was always in the way and now, without the door, we have less weight." – Bob and Linda Robinson, 2002 Chevy 2500, 2010 Travel Lite 960RX
"I ordered our camper with a custom built-in 10-gallon tankless on-demand water heater." – Vernon Rice, 2014 GMC 3500, 2015 Eagle Cap 11′ on order
"The first thing we did was install Shark Bite half-inch check valves in the hot and cold water lines to the shower.  Shark Bite check valves alleviate a lot of the shower temperature fluctuations.
Then we added the Oxygenics Shower Head (excellent addition).  Lastly, we installed an accumulator tank to dramatically reduce pump cycling.  We continue to be happy campers!" – Gary and Laurii Gadwa, 2012 Ford, 2011 Eagle Cap 950
"I am 6'2", and 195 pounds.  We have a dry bath.  With luck, Arctic Fox has a large skylight over the shower and I have standing room, but it's all but standing room only.
A few years back, my wife took a folding shower rod and installed it.  She left the old one in, but changed it to a pop-in/out.  The result is she has two rods to hang clothes and towels to dry.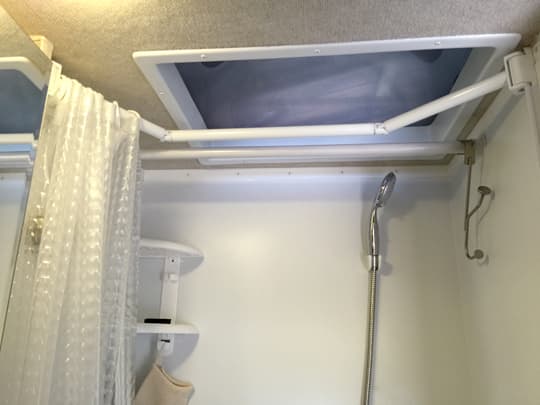 Even better, it allows a guy with 36″ arms to take a decent shower.  I don't hit the walls or smash my elbows.  It was the best $10 and forty-five minutes of time you will spend on your camper." – Donald Pryor, 2015 Ford F350, 2009 Arctic Fox 1150
"I have replaced the medicine cabinet.  Now I have one built by a friend of mine that's made out of Lexan.  It is larger, stays closed, and there is an edge that keeps things from falling out.  The mirrored cabinet face also seems to get less foggy than the factory mirror, and dries quickly.
I have a wooden rack on the floor to keep my feet off of the wet shower floor.  It works well during showers, dries quickly, and keeps me away from the little puddles that seem to accumulate even after I squeegee the walls and floor.
I tried the Oxygenics shower head but it was too big for my wet bath, hung too low, and I felt it used too much water during boondocking.  I returned to the standard type of shower head for now.  I am looking for a low-flow shower head more appropriate for boondocking.
I removed the incandescent light fixture and replaced it with an LED light. The light is above the shower head so it does not get water on it.  The LED light is brighter, and I think more natural, and it uses less DC.
I also have installed two hooks with foam adhesive tape for my squeegee and for my toilet brush.  I always squeegee the walls after a shower and the toilet brush is self-explanatory.
Lastly, though not relevant to the overall shower experience, I have installed a vent cover over the bath vent so that I can leave the vent open almost all of the time (except when it's freezing outside).  The shower enclosure dries more quickly and the vent helps keep residual moisture from developing into mildew." – Steven Cilenti, 1999 Ford F-350, 2012 Arctic Fox 990
"I made a shower curtain for the outside shower on our camper.  It consists of three suction cups, a six-foot length of PEX tubing, some string, some plastic curtain hangers, and a plastic shower curtain.
To make the enclosure, I put a suction cup on each end of the PEX tubing. Then I attached each suction cup to the side of the camper to form a semicircle around the outside shower head cabinet of the camper.
To keep the PEX from collapsing, I ran a string from the center of the PEX semicircle to the third suction cup which is positioned about two feet above the semicircle.  It is approximately centered between the suction cups attached to the PEX tubing.  I attached the clips and the curtain to the PEX tubing semicircle.
I have a nice, private outdoor shower stall (as long as it is not very windy).  It keeps all the dampness and moisture from the shower out of the camper.  This works best if the camper has a fiberglass exterior.
To improve the suction of the suction cups, I sanded the fiberglass in the area where I attach the cups with #1500 wet sand paper and then applied a good paste wax to the area.  I also wet the suction cups before sticking them to the side of my camper." – Arn Chamberlain, 2000 Ford F-250, 2004 Palomino Maverick 8801
"I mounted hooks on the outside of the closet door, just outside the shower to hang towels on.  We can reach them easily from the shower, and dry before we step out.  We also purchased a soap dispenser and found that helpful for soap/shampoos.
We took an idea we read from another camper, who suggested a tension rod that (in the Lance 825) went in front of the storage cabinets just over the table, for hanging towels after use to dry, preferably after eating.  It has worked very well for us.  We also added shelves inside the shower, although space is limited.
I'll admit to being initially apprehensive about the shower in the Lance 825.  You know what?  It's great." – Gerry Reeves, Ford F250, 2014 Lance 825
"The Arctic Fox had a ridiculous hard vinyl accordion curtain which would not allow you to move at all in the shower.  So, I installed a plain old shower curtain and now I can move around.  I also moved the shower head to the adjacent wall so it wasn't jabbing into your shoulder." – Frank Niehus, 2007 Ford F350, 2007 Arctic Fox
"We have a wet bath.  We installed an Oxygenics shower head, and replaced the wooden door with a swing out quilted curtain.  When swung out into the hall, it makes a dressing area.  I wove absorbent quick dry towels and bath mat.
We always take very quick showers to save water and we save the cold water until we get hot water to the shower.  We never the leave the gas hot water tank on.  When hot water is needed, we turn the burner on for nine to twelve minutes depending on the outside temperature.  This gives us enough hot water for two showers and the dishes without adding cold." – Don and Sue Graf, 2008 Ford F350, Arctic Fox 865
"We changed out the shower head to the Oxygenics, and replaced the shower curtain with the swing out curtain rod.  I couldn't stand the shower curtain touching me while I was trying to shower. Eww." – Sally Stomberg, 2006 Ford F-550, 2006 Lance 1191
"Last night was our first night in our new and first truck camper.  This very morning was our first shower experience in our new camper, although we have previous experience showering in our Tiffin 34-foot motorhome.  I am anxious to hear what others have done to improve the showering experience before we purchase anything for the bathroom.  We have already talked about a new shower head.
Thank you to all the folks who have written and contributed materials in TCM.  This magazine has been valuable in educating and guiding us in our journey of selecting and purchasing a truck camper!" – Carol Wright, 2015 Lance 1172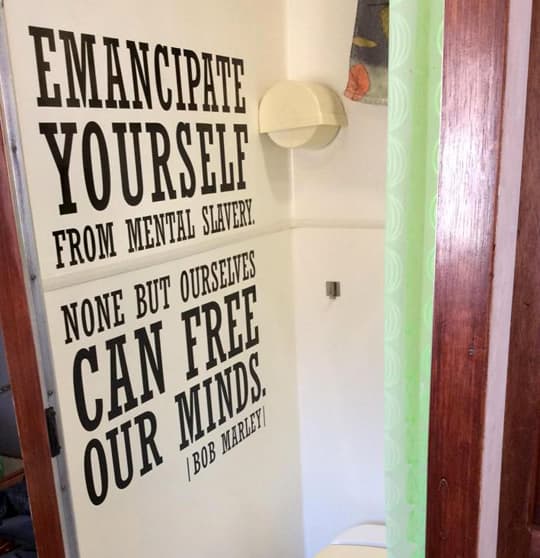 "Not much I can do to improve the extremely tiny fiberglass square wet bath.  I did add a wall appliqué (a favorite Bob Marley verse).  The entire length of the side wall says, "Emancipate yourselves from mental slavery… None but ourselves can free our minds."  Truck camping frees my mind for sure!" – Debi Szekely, 1999 Ford 350, 1976 Amerigo
"Since my campers shower is 2 feet by 2 feet, the only thing I could do to make it any bigger was to lose 35 pounds.  I am now working on another 35 pounds, so when I drop the soap, I can actually pick it up without stepping outside.  Outside the shower, that is." – Stan Johnson, 2009 GMC, 2012 Northstar Laredo
"Among other considerations, we purchased this Lance because we wanted a dry bath configuration.  Lance has a swing-out shower curtain rod with a conventional curtain, providing more space inside the shower.  After trying this out on our first trip, we decided to remove this swing-out rod because it allowed water to spill into the main part of the camper.
I installed a Shower Enclosures of America (SEA) curved unit that has a sliding door and completely seals the shower door area.  With the floor-sill design, all the shower water now stays within the basin and the camper remains dry.  The curved top provides as much or more space inside the shower as the swing-out factory rod.  This mod looks great and functions even better.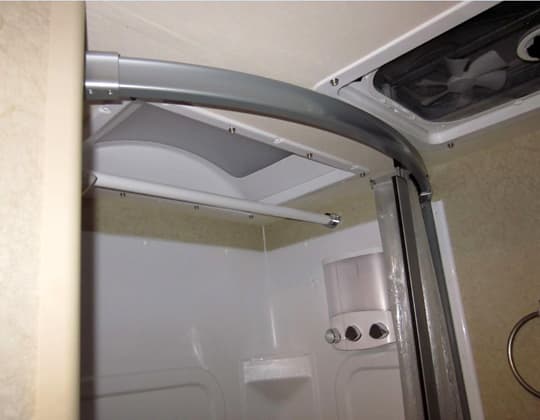 I also beefed up the under-basin support structure by adding extra plywood beneath the plastic basin along with some 2×4 vertical supports for increased tub stability.
We also changed the faucet from the two-knob factory version to a single handle mixer, installed a 100% shut-off valve in the shower head line to eliminate the dribble feature, installed a large grab-handle in the shower enclosure for safety and stability, purchased a Oxygenics shower head, and replaced the standard 140°F hot water tank thermostat with an adjustable thermostat, regulating the hot water to a lower (and less scalding) temperature.
No more campground showers for us!" – Gary Possert, 1998 GMC K3500, 2014 Lance 1050S
"I have never even attempted to use the shower in my camper.  Being 6′ tall and 300 pounds, I don't even fit.  I end up using the showers at the campgrounds, if they have any.  If I'm boondocking I just wait until I get back home.  If I'm gone more then three days, I'll wash up the best that I can with the kitchen sink or a hose outside.
I've thought about installing an outside shower, but I don't think it's going to happen.  I have been looking at getting a new pop-up style camper.  The bathrooms in the pop-up campers seem to have a little more room with the top half usually being a shower curtain.  Then again, maybe I'll just jump in the river." – Tim May, 1993 Dodge W250, 1987 Vacationeer 9'10"
"I love my shower in the Eagle Cap, but I wasn't happy with the shower curtain just stopping at the side wall.  I don't know why they skimped on the small aluminum I-beam rail and not continue it so the rail lets the curtain fall behind the toilet.
We were in Yakima in October and the factory directed me to Aubrey's RV parts in Union Gap.  They have a very helpful staff that took a look at what I was trying to accomplish, and found the parts.  I was out the door for under 12 dollars.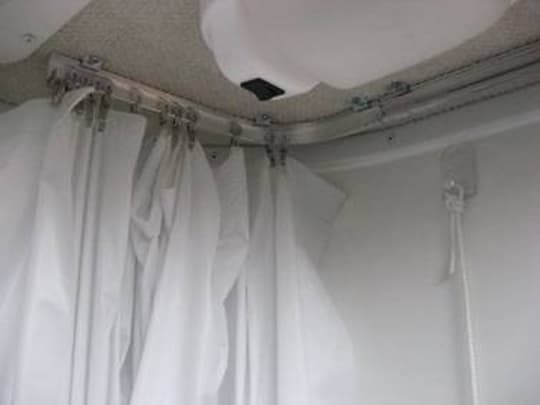 Above: I-beam rail added to back side of stall  so shower curtain fits behind toilet
I used a ball peen hammer to very slowly and cautiously bend the I-beam rail to get the same curve as the opposite side.  On the same wall of the curtain, I put a puck light for the late night bathroom runs.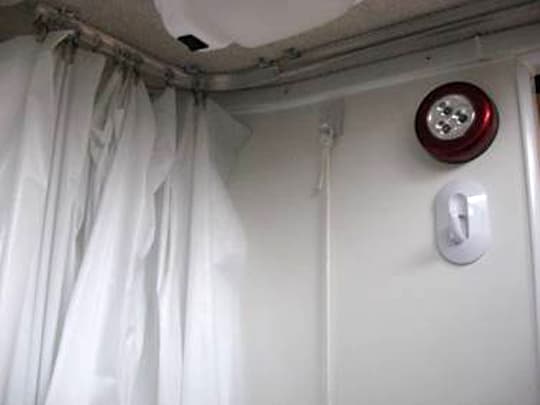 Above: LED puck light and towel holder hooks. The rope stretches to the opposite corner to hang towels while driving
I also installed two plastic hooks, one to hang a towel and keep dry while showering.  The other hook holds a rope that stretches to the far wall with another plastic hook to hold damp towels while driving down the road.  With the bubble roof window, it generates a fair amount of heat.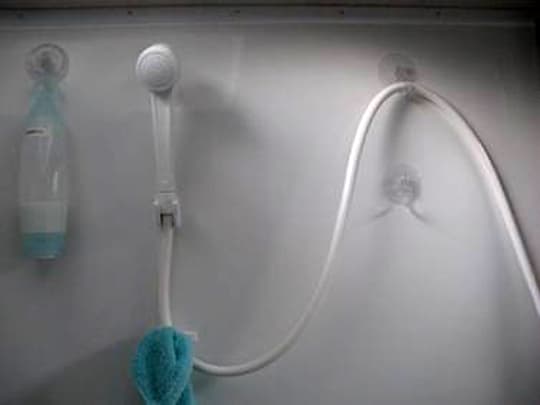 Above: Hook on the right to contain hose, left hook to hold shampoo, hand towel slips in easily through the hose holder.
I thought about changing the shower head, but the pressure is strong and the water is hot.  I did mount another hook high above the sink which holds the shower hose flat against the wall.  To left of the shower I have a hook to hold a squeeze bottle of shampoo.  I also added a soap dish on the right side of the sink just below the mirror.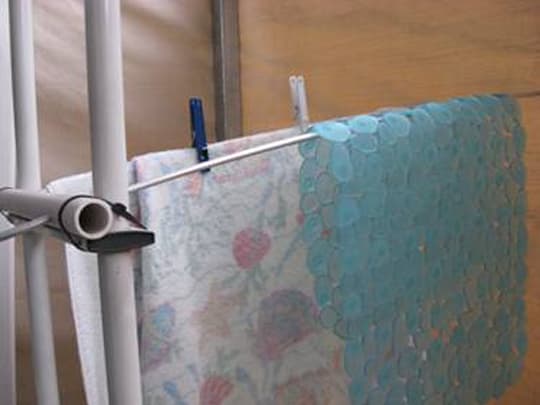 Above: ¼" aluminum rods inserted in pvc pipe connected to rear ladder for the outdoor drying rack
To dry the shower mat and towels before leaving camp, I have an outdoor rack consisting of two quarter inch aluminum rods that fit into a PVC tube which is attached to the rear ladder.  Swing open the door, drape over the rods, add a clothes pin or two and items are usually dry in about twenty minutes.
To clean the shower stall, I use a California Squeegee blade which makes short work of wet walls.  I store the blade above the mirror cabinet.  A couple of paper towels for the final wipe down and the stall is clean within six minutes.  I always try and park with the left wheels about one inch higher than the right.  It makes for better draining to the gray tank." – Roger and Elaine Odahl, 2008 Dodge Ram 3500, 2004 Eagle Cap 950
"We now have a wet bath.  Our next camper will have dry bath.  The factory curtain was a huge size, and would fit a full size house bathtub, so simply cutting it by two-thirds helped.  It was cheap material, but better than nothing.
After great amount of research, measuring, thinking, etc. we came up with Shower in a Bag from StayDrySystems.com.  They specialize in industrial shower curtains for hospitals and nursing homes, and are extremely high quality.  If installed properly the StayDry system will not leak, and it truly does preform like a tight sealing door.  Use stainless screws for the install, and order extra self adhesive wall channels." – Darrell Barkelew, 2010 Ford F350, 2008 Bigfoot