This week's Question of the Week was, "Have you upgraded your truck's shocks?"  We also asked about the resulting ride, and recommendations.
"We upgraded to Rancho 9000 shocks.  We bought them when we bought the camper in 2008 at about 15,000 miles.  Honestly, I don't feel much difference between the Ranchos and the stock shocks.  I'm on my third set (and am ready for the fourth set) of front shocks.  I'm still on the first set of rear shocks after about 80,000 miles.  The good news is that they carry a lifetime replacement warranty." – Jim Goodrich, 2006 Chevy Silverado 3500 Crewcab Dually, 2008 Lance 1191
"I have Rancho 9000 shocks and set them to the max.  They helped a lot.  It makes the truck ride a lot smoother.  I put 50,000 to 60,000 miles on my truck a year.  I had Ranchos on my last truck and it was the first thing I put on this truck." – Frank Mertes, 2006 Dodge 3500, 2007 Sunlite 955SD
"I just had to replace the shocks after a trip to Michigan, where the roads were terrible. The shop used OEM Ford heavy-duty shocks, plus an alignment – total cost $600.  He said the OEMs were better than after market shocks.  The new shocks definitely made a difference, so it was money well spent." – Jerry Klinken, 2004 Ford F350, 2007 Lance 1181
"I have Rancho 9000 XL shocks.  I have put them on my 2009 Ford F350 and 2011 Ford F350.  I just ordered a 2015 F350 and will have the dealer install the Rancho 9000 XLs before I pick it up.  The Rancho 9000 XL is an adjustable shock and it's a problem solver, especially for the bouncing and rocking that so often occurs.  Our Arctic Fox 1150 loaded unit is well over 5,000 pounds.  Add Torklift upper Stable Loads to the shocks and you have no need for anything else to stabilize your camper.  The 9000 XLs also come with a lifetime guarantee.  Invest in them." – Pryor Donald, 2011 Ford F350, 2009 Arctic Fox 1150
"The Rancho RS 9000s, nine position shocks are helpful.  I haven't had the adjustment above the fourth click from the bottom, but they do make a noticeable difference.  I would do it the same if I could do it over.  The Hellwig Big Wig sway bars front and rear also a great help in reducing the top heavy feel." – Jason Miller, 1999 Ford F250, 2014 Arctic Fox 990
"We upgraded from stock shocks to Bilstein 5100 series.  We realized a firmer ride with less shock fade over the stock shocks on rough pavement or off-road.  We've always upgraded the shocks on our trucks and will continue to do so.  With the added weight of a truck camper fully loaded and miles of highway travel and off-pavement driving, it's an investment well spent." – Cliff Kellogg, 2006 Chevy 2500HD, 1999 Apache popup
"The old shocks had 180,000 miles on them.  My new Rancho RS9000 shocks improved the handling a bit.  But, nothing improved the handling like the Hellwig Big Wig sway bar I installed.  Now my 9,000 pound truck and camper handle like a Porsche!" – Roy Bertalotto, 2006 Dodge 2500, 1998 Palomino Bronco 1200
"I bought the truck when it was four years old and it looked like they had been replaced.  No, I haven't replaced them thanks to a honest Big O tire store.  Last winter I was getting a small vibration in the truck, so I had the tires rebalanced.  There was no change, so I removed drive shaft, checked the U-joints and checked the balance.  All was okay.  It gradually got worse with more miles, so I stopped at a Big O and was going to try new shocks.  They said they weren't leaking and he didn't think it would help.  Well after 6,000 miles and six months of it getting worse, I found the outside rear tire was getting out of round.
Over all my 74 years, I have only got satisfaction out of one new set of shocks.  I will never again change, unless they are leaking or I need to go to heavier ones due to bigger loads.  Most of the time it's a big waste of money and time.  It's a great way for the shops to make a nice profit.  Save your money, if they are not leaking, don't worry." – Frank Niehus, 2007 Ford F-350, 2007 Arctic Fox
"We installed Bilstein 4600 rear shocks, but left the front set OEM.  Since the center of gravity moves aft with the camper, the rear shocks provide additional roll stiffness where it is needed.  Weighing showed that the front axle load varies only 40 pounds with the camper on or off.  These shocks made the truck more resistant to side-to-side sway and more stable during turns.  Any heavier duty shock will provide a rougher ride, especially with the truck empty.  The adjustable Rancho shocks can help this, but I didn't want to climb under the truck and reset shock settings, particularly on a trip where I set the camper off at campsites fairly routinely.  The Bilstein's offer me an acceptable trade.  The only time I even look at the shocks is when I replace them.
I did a shock test on my light-weight Jeep Wrangler several years ago, buying Monroe standard and heavy duty shocks, driving on each, and keeping the ones I liked.  Heavy duty resistance can be easily detected by hand, with the standard duty compressing much easier.  Ride quality was markedly improved with the standard duty shocks.  The heavy duty transferred road bump energy to the cabin with much more force, making the ride quite uncomfortable.  Heavy duty shocks might as well been replaced with a solid 2×4 as far as ride was concerned. 

So, my lesson learned – soft shocks, soft ride.  Stiff shocks, stiff ride, but improved roll stability.  Vertical impact loads are better dampened with softer shock absorbers, but applied loads (side and centrifugal forces) are better reacted by stiffer shock absorbers.
For me, the Bilstein's offered the best trade-off of these combined loads on my camper-laden truck." – Gary Possert, 1998 GMC K3500, 2014 Lance 1050S
"I installed Firestone airbags.  It helps control sway and bounce.  It was definitely worth the money.  I also like the fact that I can deflate the airbags when I take off the camper.  While nothing can completely counteract the road problems, devices like airbags will help." – Lars Larsson, 2011 Ram 3500, 2007 Arctic Fox 805
"Bilsteins are the best and really smoothed out and firmed up the handling after the stock shocks were removed.  I have Bilsteins on my race car as well." – Chuck Krause, 2011 Ford F250, Adventurer 89FB
"I recently upgraded the shocks to Bilstein 4600s.  The shocks improved the ride quite noticeably and, with the addition of Timbrens, the truck now rides level as well, with the camper on.  Going over bumps in the pavement and/or potholes when off road, has made a big improvement over the stock shocks." – Rick Jones, 2005 Chevrolet 2500HD, 2013 Wolf Creek
"I replaced the stock shocks with Rancho 9000s which are fully automatic shocks.  Then I went to Rancho 5000s and like them so far.  The 9000s were junk on my one ton dually.  I replaced them twice under warranty and they still leaked down.  So I went to 5000s and I like them so far.  They are not too harsh, and stiff enough to get the job done." – Ken Holmes, 2000 Ford F350, 2006 Starcraft Pine Mountain
"I went with the Bilstein heavy duty shocks.  They helped to smooth the ride somewhat.  I also have Torklift Stableloads to engage the overload springs sooner." – Sam Tardo, 2002 Ford F250, 1997 Shadow Cruiser
"I went with the Rancho 9000 XL adjustable shocks, and I love them!  I noticed a huge difference.  The rear is adjusted to the max setting of 9 with the camper loaded.  When the truck is empty I set the rear to 4.  The front loaded with the camper is adjusted to 7.  The truck empty the front is set to 3.  I have the Firestone air bags set to 35psi empty before the camper is loaded.  I love the Rancho 9000 XLs." – Rick Christensen, 2002 GMC 3500, 2013 Eagle Cap 1165
"I started out with air bags and stock shocks.  I later installed Bilstein heavy duty shocks, the blue and yellow version.  Yes, they made a major difference in rig bouncing. I recently installed Torklift StableLoads which provided additional improvement, but not as significant as the Bilstein shocks.  It's probably because the shocks had already eliminated a lot of the problem." – Ralph Goff, 2006 GMC 2500HD, 2001 Lance 845
"The Rancho RS9000 XLs definitely helped both on the road and off road." – Keith Reams, 2011 Ford F350, 2012 Chalet Ascent S95R
"I have upgraded my overall suspension system for carrying the over 4,000 pound Arctic Fox.  Upgrades include, Hellwig one and five-eighths inch anti-sway bar, Firestone air bags (digital) set at 40 with the camper, both upper and lower load stabilizers from Torklift, and Rancho RS9000XL (wireless).
No sway, stabilized in high winds, cracks in the roadway noticed in the steering wheel but not felt in the cab, and best of all, total control of the truck and the load.  Without the camper loaded, it's a stiff ride and cracks and other road anomalies are felt.  The front end of the truck is beefed up for a 20,000 pound winch on the front.  Now it's only used with the camper, but it is used once a week when the camper is not on to ensure all is working." – Cliff Cizan, 2010 Dodge Ram 3500, 2013 Arctic Fox 1050
"Very good question.  I have not upgraded the shocks on my truck.  I have installed the Torklift StableLoads to level the truck and have also installed airbags which I run at 50 to 60 psi.  I don't know for sure, but feel that the airbags may help dampen some of the roughness in the roads." – Eldon Rhodes, 2008 Chevy 3500HD, 2011 Lance 1050
"We don't have this problem.  Our cell is fixed to the pick up; therefore we are always traveling with the full load.  We replaced the original shocks, springs and crossbows by stronger OLD MAN EMU according to the weight of our truck camper.
I have two Medium OME 884 springs, two Nitrocharger Sport 90002 shocks in the back, 
two OME Heavy Duty CS045R crossbows, two Nitrocharger Sport 60006 shocks in the front.  With almost three years rolling on roads and tracks, with a total of 50,000 kilometers, we have had nothing broken or dislocated (only a tire puncture, with alignment and balancing)." – Frederic Amorós, 2011 Toyota Hilux, 144 CV, 2011 Azalaï
"My truck's shocks have been upgraded to the manually adjustable Rancho 9000XL shocks.  They are used in addition to rear air springs and a sway bar.  The Rancho 9000XL shocks tamed the sway while going down the road and around corners.  Side winds are not a white knuckled drive now, and they are especially effective when maneuvering slow on uneven surfaces.  They did not do much to tame the crunch of dropping in holes other than taming the sway.  I believe this is because 4,000 pounds on the back of a truck with load range E tires aired up to 80 psi is just going to be rough.  It is not the shocks fault, but one of the joys of riding in a truck with a truck camper on its back." – Jim Finck, 2001 Chevy 2500HD, 2004 Lance 1010
"The entire handling and ride experience was vastly improved when we changed to Bilstein 5100 shocks, added a Hellwig rear sway bar, and Airlift bags.  Unfortunately, I made all three changes at the same time after our first trip with the unit, so I am unable to determine which component had the biggest impact.  It was a genuine horror to drive before these improvements and now really is a pleasure.  Nothing short of a cushion of air under a vehicle could do anything with sections of New York's Lake Ontario Parkway and a couple of highways in Michigan, but our set-up tames most poor roads to an acceptable level.  I don't think shocks alone are the solution to controlling bucking and oscillation when dealing with heavy loads, but a major component in a stock or add-on system." – Pete Marshall, 2003 GMC Sierra 2500HD, Adventurer 810WS
"Back around 2000-2001, I installed a set of Bilsteins, and they are still working great.  I have 176,000 miles on my truck.  I'm very happy with my purchase.  They helped the truck a lot." – Ron Williams, 1997 Ford F250, 2003 Lance 1010
"No, shocks for us, but our truck camper is on the lighter side." – Linda Pruitt, 2006 Dodge, 2013 CampLite 10.0
"After 50,000 miles the OEM shocks were shot.  So, I purchased the Bilstein 4600 series online and installed them myself.  It was fairly easy.  The control returned and I am pleased.  I also have Torklift StableLoads, Ride-Rite air bags, and Rickson 19.5 wheels with Goodyear RV670s.  In order of overall ride/handling improvement, I'd have to say the the StableLoads helped the most followed by the 19.5s (primarily due to their stiff sidewalls).  I consider the shocks to be replacements due to worn OEM, and hope they will last longer before damping deteriorates.  The air bags are for load leveling and don't appreciably alter ride characteristics." – Mark Obert, 1999 Ford F250SD, 1999 Lance 920
"The Bilstein 4600 Series are a large improvement, although our OEM shocks were worn out already, so it certainly was an expected improvement.  I would definitely buy them again." – Bruce Allison, 2000 Ford F350, 2012 Adventurer 910 FBS
"The Bilstein 5100 shocks greatly improved the handling and ride and are worth every penny." – Gary Goyette, 2011 GMC 2500HD, 2012 Northern Lite 8-11 Queen Classic
"I have Bilstein #24-186070 and 24-186094 shocks.  I found that the shocks made a very small improvement.  I was removing nearly new shocks, with about 6,000 kilometers on them.  Getting a camper that loads the truck to near rated GVWR and dropping tire pressure from 73 PSI to 66 PSI made a big improvement.  Having springs working around rated load improved the big bumps and tire pressure adjustment made a huge improvement to small bumps and cracks in the road.  The rig is still stable, easily rolling around highway curves at recommended speeds, most 10 to 20 kilometers above the rated speed with no problems." – John Hallett, 2011 Dodge 3500, 2012 Arctic Fox 990 and 2014 Bigfoot LB 9.6
"Yes, I have Rancho 9000 adjustable shocks.  They helped.  I like that I can adjust them for a softer ride when I don't have the camper on my truck.  It's a very firm ride when its loaded." – Mike Borrego, 2005 Ram 3500, 2008 Host Yellowstone
"I have Rancho RS9000 adjustable shocks, Firestone air bags, and SuperSprings Overloads.  It's a great combination and fully adjustable.  I'd stay away from the RS5000 steering stabilizer.  It's just too light duty.  Upgrade to a gas filled stabilizer.  It's a little stiff right when empty, but absolutely a must when carrying a load." – Jim Hayes, 2008 Dodge Ram 2500, 2012 Palomino Maverick 2902
"I have 2.5 King shocks with Don Thuren valving.  In addition to the shocks, the stock Dodge suspension has been upgraded to a Kore front coils and Lorenz rear leaves.  It's a huge enhancement in handling and pothole deflection." – Dave Anderson, 2007 Dodge Ram 2500, 2000 Northstar TC800
"We bought a used RV.  The first time I drove it, it was all over the road.  I knew I had to do something to fix it.  After some research, I decided on Bilstein shocks, and a new steering stabilizer.  What a difference that made.  The wind and trucks no longer blow the rig around.  I would not have kept it if it couldn't be fixed." – Tom Watson, 1999 Ford E350, 1999 Four Winds 5000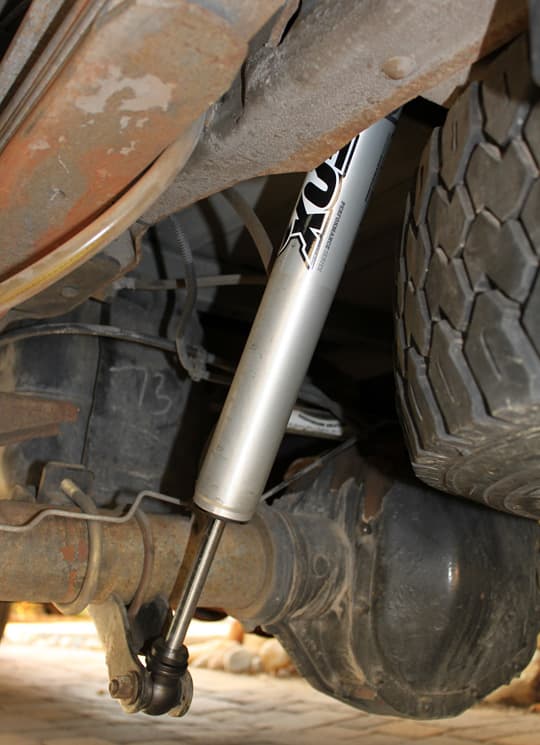 "I recently had to upgrade and replace the Rancho shocks that came with my 2004 F350.  After ten years of good service, they were feeling a little worn and had more than a bit of rust on them.  Having had excellent results with my Fox Shocks on my other vehicles, I had a set of the Fox 2.0 Performance Series IFP shocks installed.  I also replaced the weak looking factory steering stabilizer with a Fox steering stabilizer.
The heavier the vehicle, the less change you are probably going to notice from a new set of shocks.
That is because the shocks are going to be in a fairly compressed state to start with.  That said, the Fox shocks definitely made an improvement in limiting front to back rocking and made an even better improvement in dampening side-to-side swaying.  The most noticeable improvement in handling was from the new steering stabilizer.  The truck's steering seems more effortless and tracks better than it did before.
Other improvements you can make to improve the ride include a heavy duty sway bar, adjustable air bags and upgrading to 19.5″ commercial tires via a set of Rickson wheels. Since all-terrain tires tend to want to follow ruts in the road, switching to a steering tread for the front truck tires will also give you a noticeable improvement in the ease and comfort of steering. 

It's a bit off topic, but I recently replaced the faded, yellowing factory headlights with a set of OEM replacement headlights that I found on Amazon.  Besides making the truck look brand new, they dramatically improved the distance and brightness of the headlights.  The headlights cost under $100 and took about two hours to replace." – Rex Carroll, 2004 Ford F350, 2006 Alpenlite Cheyenne 950
"We have added a rear suspension kit.  Since I also use my truck for construction as I am self-employed, this helped out in both situations.  When the truck is loaded the suspension kit acts as a rubber stop, so the truck doesn't bottom out.  Since I only have a half ton four wheel drive truck, and an older camper without slides, this works perfect.  The only draw back is that when the truck is empty and I'm not hauling anything, it does ride a tad stiff." – Shawn Hartman, 2004 Chevy 1500, 1983 Travel Mate
"After I bought the truck used a few years ago, I bought four Monroe shocks.  They helped some in smoothing out the road, but I figure that I might need better for the load I have on the truck." – Jeff Hagberg, 2002 Ford F250, 2006 Travel Lite 800SBX
"I have Ranchos all around. The adjustable shocks are on the rear.  Rough road is the least of my problems.  The truck rides great.  I have a surging/lurching thing going on, after a bump, it wiggles fore and aft a little.  Cornering, stopping, and lane changes are all great.  It rides like it's on rails.  I also have airbags and E tires all around." – Richard McCormack, 2003 Dodge Dakota, 2015 Palomino SS-800
"I put on Rancho 9000 shocks to replace factory shocks.  I have shocks set on nine both front and rear, which greatly helped with cornering and sway. I  had extra springs added in rear.  I still feel pot holes, but after 12,500 mile trip we are pleased with results." – Dale Workman, 2003 Dodge 3500, 2012 Lance 1181
"After reading many reviews, I went with the Rancho RS9000.  I bought the truck used and I think it still had the stock shocks so it was pretty bad.  The Rancho 9000s made a big difference with the camper on.  Before, I was drifting all over the road at 55 miles per hour, now I can cruise along at 65 miles per hour and my hands are only damp instead of soaking wet.
The best improvement came with the camper off.  It's still a big old truck and never going to ride like a Caddy, but it's a much improved ride.  I like that I can dial the shocks dampening up with the camper on and then turn them down for a smooth ride with the camper off." – Scotty, 2005 Ford F250, 2005 Sun-Lite
"We put Monroe Gas Magnum shocks on all locations.  I had the same shocks on our 1999 rig and they performed well for 50,000 miles.  They are priced reasonably and were available locally.  They are made in the USA which is a plus in my book." – Dan Forry, 2004 Ford F-250, 2006 Palomino 1251
"I have Bilstein shocks. I have a great ride and handling, loaded or empty." – Gary Keenan, 2008 Chevy 3500HD, 2009 Arctic Fox 1150
"I haven't upgraded my shock absorbers, but fitted Firestone airbags about four years ago.  They level the truck and give a really nice stable and smooth ride both on and off road." – Chris Smith, 2008 Ford Ranger, 2006 Adventurer 76R
"I have Bilstein now, and I have had Rancho 9000s on my off-road truck.  I was less than impressed, so I decided to try something different.  I now have the Bilsteins and am also less than impressed.  I don't feel they added anything to the ride." – Sean Gaudette, 2006 Ford F350, 2008 Lance 992
"While we have not yet upgraded our current truck's shocks on our previous truck, (2002 Dodge 2500 quad cab), we replaced the originals with Rancho 9000 series adjustable shocks.  The Rancho 9000s made a huge difference in the ride of the truck with our camper (at that time Fleetwood 9U full wall slide out).
Both our current truck and the Dodge had/have airbags and, when carrying the camper, we would set the rears to 9 and fronts to 6 and it gave use a very smooth controlled ride.  The advantage being that when the camper was unloaded the settings could be changed to 1 (rear) and 3 (front) for a much less harsh ride empty.  I look forward to being able to accomplish the same upgrade on our current truck." – Stan Smelser, 2013 Ford F350, 2014 Lance 992
"The Rancho RS9000 XL shocks help keep the truck stable when hitting bumps, dips, pot holes and other bad road conditions." – Kevin Maynard, 2014 GMC 3500HD, 2014 Lance 855S
"The Bilstein shocks helped tremendously.  It rides great now with the camper on.  Empty it rides stiff." – Harvey Melcher, 2002 Chevy 2500, 2012 Lance 1050
"The Rancho 9000 XL shocks are adjustable.  They adjust firm in the rear and moderately firm in the front.  It is so important to note that I have also installed a Timbren Suspension Enhancement System, Hellwig Big Wig Anti Sway Bars front and rear and lower Torklift StableLoads.
The shocks were far and away better than the Ford stock shock.  In fact, two of the four stock shocks had gone flat by 8,300 miles.  I probably could have had them replaced under warranty, but they were junk!
The other suspension system enhancements have made for a great stable and smooth ride when the loaded camper is on.  When the camper is off, the ride is a bit on the rough side.  I usually don't adjust the shocks or change the StableLoads for the unloaded condition." – Gary Gadwa, 2012 Ford F350 2011 Eagle Cap 950
"We installed Ranch adjustable shocks and they have filled the bill.  It is a simple matter to turn them up when we have the camper on, and off when we do not.   They certainly have helped, but we don't think there is any magic." – Walt and Gail Hotz, 2005 GMC Sierra 2500HD, 2009 Lance 865
"I have upgraded my shocks to KYB Monomax shocks on both the front and rear of my two wheel drive truck.  I must agree with you on the terrible condition of most of the roads across this wonderful country of ours!  The KYB Monomax shocks seem to provide better dampening compared to the original style shocks I replaced.  They are not too stiff, not too soft, and they were affordable." – Buzz Merchlewitz, 1998.5 Dodge Ram 2500, 2007 Four Wheel Camper Grandby
"We have the Rancho 9000XL shocks which are a great improvement over stock.  It also allows a 1 to 9 adjustment on the shock.  A 9 with the camper on and a lower number depending on the application and whether or not Nancy is with me!" – Keith and Nancy Rivers, 2004 Ford F-250, 2012 Northern Lite 9'6″ Q SE
"I am still running the factory shocks at 80,000 miles.  No leaks and they still seem to work fine." – Erwin Greven, 2002 Chevrolet Silverado 2500HD, 2002 Lance 921
"The Bilsteins did very little as far smoothing the ride over bad roads.  They mostly improved handling around curves and stopping.  I think you would need some kind of active suspension for any great improvements on rough stuff." – Jim Murray, 2003 Dodge, 2013 Lance 855
"I went to Bilstein 5100s tuned for my particular truck and springs. However, this is a more complicated situation for some folks and not as easy as just changing shocks.  I changed the basics of my whole suspension.
The upgrade made a huge difference based on how I use my truck.  The beauty of the removable truck camper is just that.  Your truck can sherpa your camper around, and be removed to use as a truck or general transport off season.  So the suspension and shocks may work great with the camper on, then be totally different unladen.  That was my case for a while.  Camper weight smoothed out the ride, then when off – teeth jarring again. 

After researching, I changed out most of my springs to the tune of about $800 (parts only, I did the install).  I got some high-end variable rate coils for the front.  The rear main thick heavy load leaf was removed, and replaced with a mini pack of four thinner variable rate leaves.
The Bilstein 5100 shocks were valved for my truck and this spring configuration. 

The variable rate springs have a soft initial rate of compliance traveling down the road, making my three-quarter ton ride smooth like a half ton.  The shocks initial valving is matched to that.  But, hit a big bump or woop-de-doo and the spring compresses into a stiffer rate and the shock valving matches that too.
The system works great with camper or unladen.  The big difference noted unladen is still a fairly smooth ride.  It's still a truck, so don't go looking for a Cadillac ride, but pot holes, woop-dees, and expansion joints have been tamed, loaded and unloaded, and the truck retained its three-quarter ton capacity.
I did find that the mini pack in the rear will settle in a bit with camper weight, and I have an airbag system to assist them.

I could go on with how I have mine set up but, in a nutshell, this was the gist of my shock and suspension upgrade.  My camper is in the sub-1,000 pound range, so this might not work for everyone.  But the folks who run the lighter units, and go off road a bit, I highly recommend this approach." – Jim McCoy, 2003 Dodge Ram 2500, 1990 Hallmark LaVeta
"I have Bilstein 5100s.  At 85% of maximum weight, the factory shocks could not handle the weight, let alone the potholes.  Cornering at any speed was like riding on a marshmallow." – Stephen O'Neal, 2013 Chevy 3500HD, 2011 Alaskan 11'
"We have upgraded our shocks to Rancho 9000 series adjustable shocks, replacing OEM style GM shocks.  The Rancho shocks (known for their off-road specialties) have greatly improved the overall ride quality in our truck.  We do not have the optional in-cab adjustment control, but adjusting these shocks is a very simple operation.  If the trip we are taking is going to encounter a mix of roads, but nothing seriously off-road, we leave them at medium stiffness.  The lowest setting is for smooth, stiff for more control and less bounce.  The shocks themselves are much bigger in tube diameter than OEM shocks, and should provide years of use.
Utilizing these shocks, we have not needed any other helper stops or springs, and the truck remains level with or without the camper (2,400 pounds) in the bed, even walking over a height transition (at the edge of the road's shoulder, for instance) the truck will gently rock once or twice and return to the level position.  In the near future I want to install a steering stabilizer, for added control." – David Spangler, 2005 Chevrolet Silverado 2500HD, 2005 Lance 835
"I have been using Rancho 9000XLs since I did an pre-runner Rancho suspension on my 1998 Chevy Suburban.  Great adjustability with a lifetime warranty.  They normally last about 30,000 miles." – Roy Garland II, 2011 Ford F350, 2011 Outfitter Apex 9.5
"I have a fairly new F350 SD FX with Rancho shocks, so I think I am okay on shocks.  But, I purchased a rather heavy camper recently and made other suspension upgrades.  I put lower and upper StableLoads on myself, so it must be easy if I can do it, and I had a Timbren bounce installed. 
I know several people who have airbags but, after putting a Timbren on my truck, I would be interested in hearing what feature airbags have to make them preferable to a Timbren.
I just returned from a 1,200 mile round trip to Georgia without the camper on.  The upper and lower StableLoads and Timbrens did not change the original factory ride.  To be honest, I just installed the Timbrens and have not put the camper on yet.  However, the camper sat well on my truck with just the lower StableLoad, so I feel confident it will ride well with the additional upgrades." – Fred Patterson, 2013 Ford F350, 2002 Lance 1161
"We put Rancho 9000 XLs on our truck.  It was the best investment we made.  We were running with our original stock shocks which seemed to still be good, but the Rancho 9000 XLs are like night and day.  They made a huge improvement in the ride as well as sway of the camper.  I love the adjustability of Ranchos and would highly recommend them as well." – John and Hazel Green, 1990 Ford F-250, 2008 Northern Lite 10.2RR
"I need a truck and camper first." – Doris Maddox, 2004 Ford F150, Don't have a camper yet
"Before upgrading, I called the Monroe Shock home office in Michigan and talked to a factory tech specialist.  I explained the type of driving I do, which is mostly hard surfaces.  We discussed the weights of both truck and camper and he recommended Monroe Sensti-trac shocks.  After thousands of miles of driving, he was correct.  I also have Timbrens on the rear, so there's no maintenance whatsoever versus pesky air bag systems.  In addition, I have rear adjustable anti-sway bars.  All is good with my combination." – Bob Robinson, 2002 Chevy 2500, 2010 Travel Lite 960RX
"I have Rancho 7000s on front and Rancho 9000XLs on rear.  With the Arctic Fox 1150 being a heavy camper, the adjustable 9000XLs in the rear really help control the sway.  The adjustability helps you dial them up stiffer when the camper is on and soften them up when unloaded to make the trucks ride more bearable." – Jim Hunter, 2004 Dodge 3500, 2005 Arctic Fox 1150
"I upgraded the old F250's shocks right after we bought the new heavier camper this past spring.  Due to extensive off-road use, I purchased Rancho RS9000XL adjustable shocks.  The Ranchos worked great once I dialed in the right settings for both street and off-road.  Once the fake Ranchos that Ford puts on their FX4 Models fade away, I'll probably do the same with the new truck." – Jim Duarte, 2015 Ford F350 Super Duty, 2013 Eagle Cap 850
"There is a big difference with the Rancho 9000XLs.  They allow me to tune the ride to the load on the truck.  I use setting three when the truck is empty, and setting six when the camper is on board.  The loaded setting was trial and error, but I can actually feel the difference in the way the truck responds to highway seams when changing fro 6 to 7.  I love the Ranchos!  I also have StableLoads and rear air bags to really tune the ride." – John and Marylou Wells, 2011 Chevy 3500HD, 2012 Chalet Ascent S100F
"I put on Ranchos; RS999279 on the front, and RS999269 on the rear. Front set at 6 and rear set at 9.  I also put on some Tatman Wedgies, a homebrew of pieces of rubber inserted between the spring pack & the bottom overload spring. The bucking and the seams were pretty much tamed. I am not sure what upgrade helped the most but I am pretty much satisfied with the results." – John Bull, 2004 Dodge 3500, 2015 Arctic Fox 990
"KYB Mono Max.  Yes, the shocks help.  The shocks absorb and rebound faster than the stock shocks.  They also help with leaning and give a safer feeling of control." – Richard Van Koughnet, 2003 Dodge Ram 3500 DRW, 2006 Lance 1191