Why is storage one of the very first things people notice about a truck camper?  It's not because cabinets are cool.  It can't be for the thrill of drawers and pantries.  And exterior compartments don't exactly dance the jig either.  So what's so immediately compelling (or repelling as it may be) about the available storage in a truck camper?
Stuff!  Our precious stuff needs storage or we're not going anywhere.  Would you go camping in your truck camper if it were stark empty?  No clothes, food, tools, or toys?  Probably not, or at least not for very long.  Stuff and truck camping go together like, well trucks and campers!  Without one, the other isn't nearly as fun.
This is why I always ask, "Where do socks, underpants, jeans, T-shirts, and sweatshirts go?" when reviewing a truck camper.  Unless the industry wants to limit their customer base to nudist colonies and pet stores, smart and plentiful clothing storage should be a priority.  It's amazing how often this simple idea gets missed.
This week we asked a question to find out more about what clothing we pack for truck camping, and why.  Of course you're probably really here to see which Muppet won the favorite Muppet poll.  Here are the results: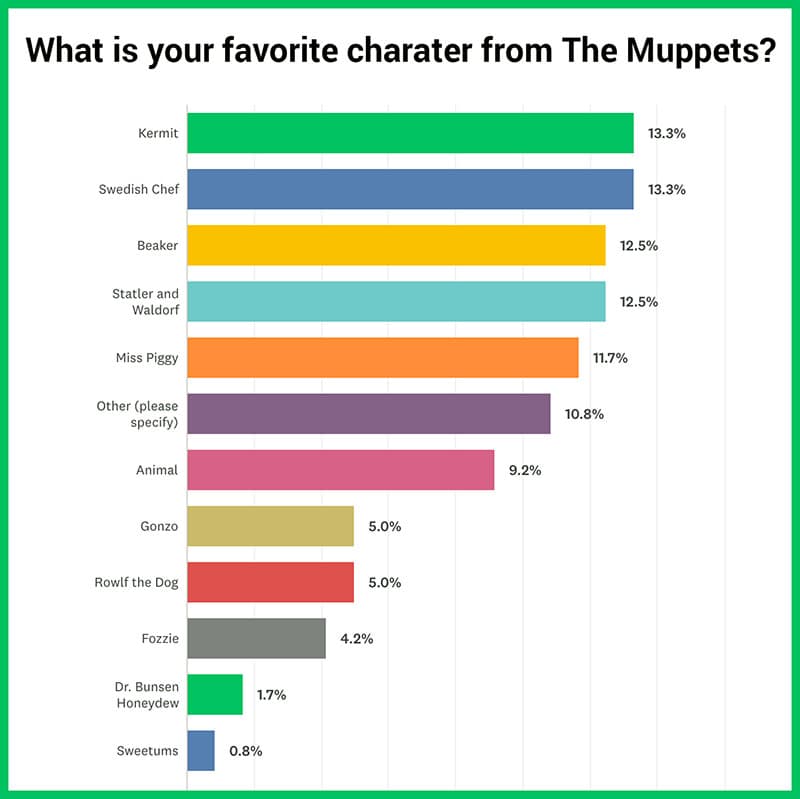 It's a tie between Kermit and the Swedish Chef!  Børk! Børk! Børk!
A few of folks said they never watched The Muppets (oh start now), or didn't like any of them.  Others voted for the Chickens and Rizzo the Rat, both worthy of favorite Muppet consideration.
A good number of people wrote in characters from Sesame Street; Cookie Monster, Bert, Ernie, The Count, and Grover.  I have no issues there, but this poll was specifically for The Muppet Show characters.  Besides, if you had to pick a favorite Sesame Street character, you can't forget Oscar the Grouch!
This week's Question of the Week was, "Do you bring your normal home clothes with you when you go truck camping, or do you have a separate and dedicated set of clothing for truck camping?"
"I always keep a separate set of clothing in the camper.  That set gets washed, returned to the camper, and is ready to go." – Carol Brockway, 2015 Chevy Silverado 2500, 2013 Northstar Laredo
"I carry a tuxedo with cummerbund and spats.  I've got to look good for my truck camping friends!  Seriously, I schlep clothes from house to camper." – Bob Lick, 2003 Ram 3500, 1993 Alpenlite 11-foot
"We keep a set of clothing in the camper for cooler weather.  We live in south Texas in the winter and travel north all summer.  We also keep canned food in the camper." – Dean and Judy Lonning, 1997 Dodge 3500, 2016 Northstar 12STC
"Mrs. Piggy reminds me of my ex-wife!  LOL.  We keep a couple light jackets in the truck camper in the closet and usually pack whatever we need for a particular outing.  My wife and I each have out own plastic tub we keep our clothes in.  With the limited space, that works well for us." – Daryl Davis, 1997 Ford F350, 2014 Palomino SS1500
"Other than the camper jackets that always hang in the closet, we bring our clothes from home.  We do not dress differently, but we do plan for activities and pack accordingly; hiking boots, water socks, snow shoes, etc." – Ben Hansen, 2006 Ford F350, 2005 Lance 981 Max
"When we arrive at home, we completely unpack our camper of clothing and foot wear.  We camp in many different areas.  Repacking with the type of clothing we need for a planned trip is best.  You may camp at an isolated place one time, and camp at a major city the next time.  Foot wear varies greatly depending on where we are going." – Gary Burgess, 1998 Kodiak 9-foot
"We keep a basic set of clothes, shoes and jackets in the truck camper but always bring seasonal clothes from the house and return them to the house (via the washing machine) after each trip." – Mark Joslin, 2006 Ram 3500, 2005 Lance 1181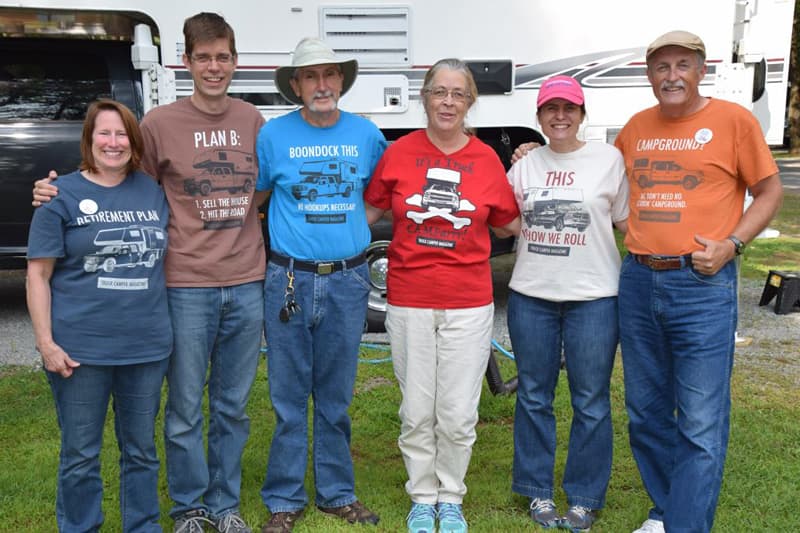 Above: Truck Camper Magazine T-shirts at the North-East Truck Camping Jamboreee
"We have three sets of clothing.  One set is up north in Connecticut, one set is down south in Florida, and one set is in the truck camper!
The three clothing sets are very similar, but vary slightly based on the average temperatures seen at the destination.  Our Connecticut clothes are heavier with longer pants and more jackets.  Our Florida clothes have more shorts.  And our truck camper clothes have a mix of both.