This week's Question of the Week, "What devices do you need to plug in and charge when you go truck camping?"
"I installed high power USB outlets for my phones and tablets, and additional 12-volt outlets for the television and fan.  I installed these outlets both in the truck cab and in the camper.  It would have been nice for factory installed USB and 12-volt outlets on the opposite side of the camper from the main power panel, which is where I put mine.
With almost all electronics now being USB, there is no excuse not to include USB outlets in campers.  While the little plug-in USB chargers can be used, it is much easier to have a USB power plug sitting there." – Bill and Francine Peters, 2013 Chevy Silverado, 2013 Four Wheel Hawk
"I pretty much installed what I wanted because my Shadow Cruiser didn't have much to start with.  AC outlets were fine, but we seldom use them since we are not connected to power much and have no generator.  I put a dual USB 2.1 amp outlet in the forward bulkhead where I could reach it from the east-west bed.  I do my night time reading on my iPhone and it's also our alarm clock.  I wanted to be able to have it plugged in while using it in bed and, if needed, charging overnight within arms length.
Under the bulkhead edge, on the opposite side, I mounted a four outlet 12-volt plug manifold that is wired through its own fuse directly to the battery.  This is used for additional USB adapters if needed and for plugging in a 12-volt computer charger.  There is too much loss using an inverter to just turn around and convert back to DC.  That location was picked because the computer can sit on the front seat/step area and lean against the wall for charging, or on the small shelf on that side of the camper.  That location is also close if we want to use the computer or iPad while charging at the dinette.
I may add one more 12-volt outlet towards the back of the camper, but I want to put a few more trips on the camper first.  We just bought it last July." – Jim Bollman, 2000 Ford F250, 2005 Shadow Cruiser, 8 foot soft side
"I travel with a laptop, an iPhone, an iPad, an electric toothbrush, and two cameras with rechargeable batteries; all of which need AC outlets.  My wife travels with the same, so we already have more devices than outlets.
I also have an inverter that plugs into a 12-volt outlet.  An extra AC outlet in the back of the dinette seat opposite where the present one is and an extra AC outlet by the kitchen sink sure would be nice." – Al Stebbins, 2006 GMC 2500, 2005 Northern Lite 8'11" Queen Classic
"For the laptop and walkie-talkies, I use AC.  The cell phone and camera uses USB.  My F350 has an AC outlet so, most of the time, we charge while driving.  We have never run out of outlets in the camper. The one we use the most is under the seating area in the dinette.  It could be in an easier location to get to.  We have used the AC outlet on the back of the camper to plug the truck in on a couple of very cold mornings (down around zero).  That makes starting a lot easier." – Dave Erickson, 2011 Ford F350, 2006 Arctic Fox 990
"I may add a 12-volt outlet to the outside rear of the camper.  One of my earlier campers had one and it was handy." – Philip Tron, 2009 Chevy 3500, 2012 Lance 1050
"What we have found, through the almost thirty years of RV ownership, is that the manufacturers seem to only do what is easy.  As an electrician, I have always added receptacles to every unit we have owned.  That being said, we use our camper for off-road, out of the way places to be unattached, unplugged, and unreachable." – Tom Elliott, 2012 Ram 1500, Outfitter 6.5 Lite
"I would like a 12-volt outlet on the outside to allow using a small 12-volt DC to 110-volt AC adapter.  Better yet, have the adapter built in." – Jim, 2003 Dodge 3500, 1999 Fleetwood
"Like many, we have an array of stuff to plug in.  It goes in spades for my wife and I as we are both Software Engineer.  We have a lot of gadgets.  For us, it's more than finding a plug somewhere.  It's more a matter of consolidated control panels located in an easily accessible location.  I know it can be done because, on some truck campers, I have seen it.  In one model they were all consolidated in a single cabinet on the wall at eye level.
On the outside, give me a dual plug on the two sides and the rear, and put them bottom center for access.  On the inside, put a plug everywhere you have a workspace, which would be above the dinette, either side of the bed, in the kitchen sink area, and outside and inside the television station area.  Ours is in the upper closet.  I am sure they could get by with fewer if they were better placed." – Don Pryor, 2011 Ford F-350, 2009 Arctic Fox 1150
"As far as 120-volt outlets, place one duplex at the head of the bed, one duplex at the foot of the bed, one duplex at the table, one duplex in the kitchen, and one duplex on the outside passenger's side.  For 12-volt DC, place one at the television, one at the table, and one on the outside passenger's side." – Philip Bolding, 2012 Ford F350, 1994 Lance 850 Squire Lite
"We travel with a lot of electronics; two cell phones, a laptop, and an iPad.  Of course they all have different plugs so we have to take care to rotate the chargers.  When we bought the Chalet, Bill Penney of Truck Camper Warehouse added a 12-volt to the kitchen area, one under the dinette, and one in the overhead.  There was already a 120-volt AC under the dinette, in the kitchen by the stove, by the kitchen island, and two by the bedsides. 

It would be much more convenient to have the 120 and 12-volt outlets just above the dinette table.  I would also like a 12-volt on each side of the bed.  I do think Chalet has done a good job with the regular electric outlets, but all manufacturers have got to start adding multiple 12-volt outlets." – Anne Brown, 2013 Ford F-450, 2011 Chalet DS116 RB
"I would like to see outlets for AC and DC along with television cable connections in the dinette and sink areas.  Also, I would like AC and DC on the left and right side of the outside of camper for lights, television, and such.  We love to sit outside by the fire and watch a movie." – Eric and Linda Anderson, 2001 Dodge 3500, 2013 Arctic Fox 990
"We have two solar panels to power two 12-volt dual outlets next to the television and another dual outlet at the table for our computer and phones.  We never run out of power.  Be good and be safe." – Sylvie and Jake Mathis, 1994 Dodge 2500, 2003 Northerlite 9Q Classic
"Since we mostly boondock off-the-grid, we don't have a lot of 120-volt plug-in needs in the camper.  The Adventurer comes with AC plug-ins that seem strategically located when we are plugged in.  We do not have a television in our camper.  We watch movies on the computer.  When the battery dies, it's time for bed.
The truck is where we want plug-ins.  We stack up phones and rotate plug-ins.  An inverter is hardwired into the truck.  It blows hot air on the passenger's feet when we plug in the DeWalt batteries (to run power tools on Passport in Time or wedding building projects) or computers.
We vote for a built-in inverter in the truck and more AC adapters for phones, especially in the back seat." – Bonnie Pascucci, 2011 Chevy 3500, 2011 Adventurer 86FB
"I need AC or 12-volt for the dish receiver, computer, hand held vacuum, iPhone, iPad, Garmin GPS, clip-on fan, and rechargeable flashlight.  And, I need 12-volt for the television.
Northwood did a pretty good job of installing AC outlets both inside and outside of the cabin.  I still use a power strip by the dinette so I can have more outlets.  Only one 12-volt outlet came with the camper next to the bed.  That is not enough.  I want one on both sides of the bed, by the dinette, sink, and on the outside of the camper.  Also, I want USB plugs on both sides of the bed and one by the dinette." – Steve Cilenti, 1999 Ford F350, 2012 Arctic Fox
"My laptop needs a 120-volt outlet near the dining table and one on each side of the bed.  Our cell phones and cameras need two 120-volt outlets in the bed area, kitchen, and dining table.  My boat batteries need one 120-volt outlet on each side of the camper, and maybe one in the back to hook-up the extension cord for the onboard battery charger." – Dave Riddle, 1997 Dodge 2500, 2006 Host 10.5
"No more.  I'm trying to become a Luddite." – Keith Rivers, 2004 Ford F-250, Northern Lite 9'6″ Classic
"We have two iPads, two phones, and one hotspot.  Some of these can be charged by USB, but more AC outlets would give us more flexibility.  In our camper, I would like to see two duplex outlets, fore and aft of the dinette, and two more, fore and aft of the galley.
We usually get along with a surge suppressor plugged-in to an outlet in the back to handle the chargers.  That leaves the front outlet by the sink to handle the coffee pot, microwave, toaster, or whatever else needs power.  It's a basic camper, so it isn't a huge problem as our expectations are modest.  But, a couple more outlets would help." – Al Hubbard, 2004 Silverado 2500HD, 2000 Starcraft Roadstar 8′ pop-up
"We travel with two phones, two tablets, one laptop, one 120-volt television, an ice maker, and some cordless tools that recharge from 120-volt.  We want 120-volt outlets in all the places you named.  We are currently using two extension cords to get power where we need it.  We also need outlets outside on the driver's side and rear for our outside power needs." – Ronald Ramos, 2003 Dodge Ram 3500, 2001 Adventurer 90RDS
"Presently it's two cell phones (two AC outlets, one on each side of the bed) and two laptop type devices (two AC outlets near the table).  But, keep your eyes open for updates.  What is it going to take to "plug-in" my own personal hot spot?  And, if you have that, you can watch television on your computer.  Then how about creating (or asking someone to manufacture) a plug-in strip with whatever types of plug-in ports you need? It might be a little extra project for the camper manufacturers." – Charla Schapfel, 2002 Chevrolet 1500, 2007 Lance 915
Editors Note: Most Hotspot plans offer between two and five gigabytes a month.  You would probably use that up very quickly watching television over the Hotspot internet service.
"I agree with you Gordon.  We need at least two more 12-volt outlets and two USB chargers in the sleeping area and dinette area.  We do not use a television in our camper due to the iPads, laptops, cell phones, etc.  It's a real pain to charge devices in the truck cab, not to mention the risk of theft in busy areas." – Eric Christie, 2004 Ford F250, 2012 Arctic Fox 990
"We do not have as many electronic devices as most people have.  We have two cell phones, a laptop, and a digital camera.  We installed a Pure Sine Wave converter for the times we dry camp and require 12-volt power for the computer.  We also have a generator for the 120-volt power.
We have owned several Lance campers and have no problems with the standard 120-volt and 12-volt outlets placed through out the camper.  All of our gadgets are small and portable and can be placed near a 120-volt or 12-volt power source.
Our Ford truck cab has four up-fitter switches on the dash that allow us to have additional 12-volt power points in addition to the standard outlets in the cab.  These additional power points allow us to operate our CB radio, GPS unit, and back-up camera.  At the same time, we can charge any of our 12-volt powered items while we are driving. 

I have noticed some units have a combo 120-volt AC/USB outlet allowing for the charging of gadgets using a USB plug.  This unit would be a convenient replacement for a 120-volt AC outlet." – Gary Gade, 2011 Ford F-350 SD, 2014 Lance 1181
"I mainly charge my iPhone, use my 12-volt television, and charge up the Mac and iPad.  When the weather is cold, my heated mattress pad is just priceless.  It lets me use a lot less propane to heat the camper.  I had an 80-watt solar panel system put in and it's been great.  The truck now works a lot easier as it now has help charging the battery.  On my current Alaska trip, I have been able to leave my heated blanket plugged in 24-7 and my bed has been toasty every time I get into it at night." – Roy Del Pozo, 1999 Dodge Ram 2500, 2013 CampLite 8.6
"In the 'What were they thinking?' category, I'd like to know why AC plugs are under overhead cabinets or under countertops above drawers?  I like the recent innovation of adding USB plugs next to an AC or DC plug however, the placement is particularly important and should be considered with user feedback instead of installing just anywhere." – Mike, trailer owner at present time
"I would like outlets by the bed for overnight medical devices and outlets in the bed area for my electric blanket for the Fall, Winter, and early Spring.  Lance has one outlet for the television, and one in the dining area.  They need more outlets on both sides of the bed and table." – Neil Steirer, 2008 Ford F350, 2008 Lance 1181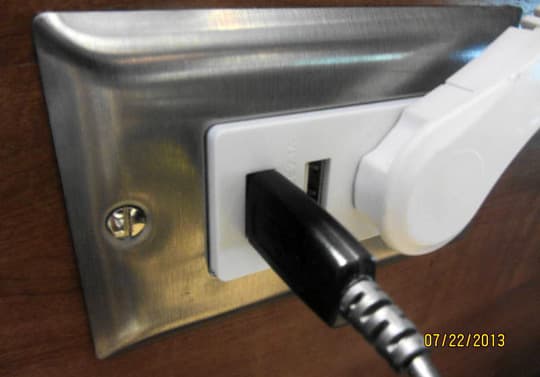 Above: The outlet came from Lowes Home Improvement Store and provides for a 120 volt outlet and two USB outlets.  Two outlets were installed, one outlet on the front left of the cabin and the other on the opposing side and placed to the rear of the cabin.
"We have two laptops that run on AC, two phones that run on AC or USB, two hotspots that run on AC or USB, one camera that runs on AC, one curling iron that runs on AC, one coffee pot that runs on AC, two electric razors that run on AC, and one television that runs on 12-volt.
What helps us out are the two solar panels on the roof of the camper.  They provide the energy to power most of our devices, not our Honda EU2000i generator.  The outlets are unique from the solar panels (see photo above).
When installing the additional outlets from the Pure Sigh wave inverter, four 12-volt batteries, and two-85 watt solar panels, I followed what Lance had done by putting outlets in the cabin (driver's side front and passenger side rear).  The logic is to locate the new outlets on opposite sides of the camper.  One is forward and the other is located to the rear of the cabin.  It works for us.  With this outlet configuration, we have ten outlets to charge our devices." – Paul Foster, 2005 Ford F250, 2008 Lance 845
"We pretty much boondock all the time.  When we are plugged in, we just use the 12-volt chargers.  We have iPhones, iPads, a Bose Bluetooth speaker, and a Camelback USB water purifier for day hikes.
I installed USB outlets on both sides of the sleeper, and also in the dinette.  The dinette also has cigarette lighter chargers.
Thanks for asking the question.  It's surprising that camper manufacturers aren't ahead of the curve on this.  It seems like more and more things charge on USB." – Rob Harris, 2007 Silverado HD, 2012 Northern Lite Sportsman
"I bring a phone and a computer.  12-volt is fine.  I don't need outlets in my camper, just in my truck.  My camper is a no electronics sanctuary.  Leave it in the truck if you need to plug in.  One of the best things about truck camping is when the phone shows, "no service".  Now we're camping!" – Bruce, 2003 Ford F-250, 2003 Hallmark Guanella
"I would go with Gordon and Angela's suggestions and make sure all AC outlets had four 120-volt outlets and two USB outlets each.  Plus, I'd like an outlet in the bathroom and at least a couple in the kitchen.  If that's impossible, give me a built-in charging strip that's usable underway.  I shoot television shows and have tons of stuff to plug in every night and during the day between locations." – Andy Rowe, 2015 Ford F350, Northern Lite 10'2″ CD SE
"I always have a phone charger if I am by myself.  That's no problem but, if my wife and a child is with me, things get more complicated.  I added an extra 12-volt plug.  The cabover has one and a 120-volt outlet.  I need two outlets in the cabover and I need at least two 12-volt outlets.  I have plans to add one more 120-volt outlet in the dinette area in the future.
There is a 120-volt outlet made with two USB charging outlets.  That's a neat idea.  I'm planning on using one.  The big box hardware stores have them for about $25.  I also have a built-in inverter that has a USB charger in it.  Having one more outlet and a 12-volt outlet would help with charging the phones and computers." – Jeff Hagberg, 2002 Ford F250 Ford SD, 2006 Travel Lite 800 SBX
"We have chargers for our iPads, smartphones, and two-way radios.  We also charge our laptops in the camper.  We have a small 130-watt inverter that has an outlet strip plugged into it so we can charge multiple devices.  If we have the generator running, the inverter passes the generator power through!" – Henry Huizenga, 2005 Chevy Silverado 2500 HD, 2004 Arctic Fox 860
"We bring one iPad, two iPods, one Macbook Pro, and two phones.  Most devices can be charged with USB outlets.  Having these outlets and a 120-volt outlet on each side of the overhead (in the night stands) and somewhere on the kitchen counter would be nice.  It would also be nice having separate 120-volt outlets prewired for use with an inverter for dry camping.  We camped on the beach for ten days on Cape Cod and didn't use or miss any of our electronics!" – Jeff Allen, 2000 Ford F350, 2001 Bigfoot 2500
"We need music and books.  Bose has a new portable music system that works with WiFi and there are six channels available.  Channel one and two are preset for radio stations out of Boston to keep in touch with stations back home.  Channel three has a radio station from Anchorage (getting psyched for an upcoming trip), and the fourth is for Pandora (we love Chicago and the Bee Gees).  Next is the Kindle Fire.  It is preloaded with at least four books, just in case one book gets boring. 

I have a 120-volt power plug at the table for the laptop and recharging the Kindle.  I also have power outside for those nights at the campground to listen to music while sitting by the fire and sipping a couple cold ones." – Ray Fair, 2013 Chevy 2500, 2012 Lance 825
"We have an iPad, laptop, phones, camera, and a feather weight sewing machine.  The camper has 12-volt and AC outlets in the cabover and the dinette.  I have a USB adapter that plugs in the 12-volt outlets.  Then I installed a 750-watt inverter in the dinette, mostly for the sewing machine, but also for any AC use.  I also have two 95-watt solar panels.  We do 95% dry camping.  We can sit for a long time with out power, and my wife can sew anywhere." – Kevin Hasch, 2013 Dodge Ram 5500, 2013 Lance 1172
"I spend anywhere from eight to twelve hours a day using my laptop for work.  I need the juice.  When looking for our first truck camper last year, it was evident to me that most of the manufacturers probably do not spend very many nights, if any, in their own units.
An AC outlet under the bedroom step?  No outlets in the dinette slide?  No outside outlet?  The first thing I look for are the outlets.  Where they are and how many?  I have a laptop and printer that require an AC outlet.  My two cell phones and a charger for AA batteries for my camera and flashlights can use either the 12-volt or AC.
I was lucky when looking for a truck camper.  My dinette area has one AC outlet and the only 12-volt in the camper.  I use a very good surge protector, not a standard power strip, to plug in the laptop and printer.  The 12-volt can handle the cell phones and battery charger, or I can plug them into the protector as well.
Previously, I had a fifth wheel that had AC outlets in the two slides.  It makes me wonder why manufacturers are not adding more.  During manufacturing it could not be that difficult to add more wiring for another outlet or two.  How about one outside just in case we might need it?" – Jim Caruthers, 2007 Dodge 3500, 2008 Lance 915
"I definitely need a way to charge my cell phone and my camera batteries.  We have an inverter to use while driving down the road in case we do not have power at our destination.  With my phone, I have the ability to access the internet as long as we have a cell signal.  And I don't go anywhere without my camera.  Sometimes I have two with me!" – Sally Stomberg, 2006 Ford F-550, 2006 Lance 1191
"I carry a laptop computer, phone (not a smart phone), Kindle, camera, and a MiFi hotspot, all of which can be charged either by 12-volt or AC.  Living full-time in my rig and lots of off-the-grid living, I use the heck out of my 12-volt plugs.  A double 12-volt in the kitchen prep area and a double 12-volt plug in the television/bedroom area would suffice.
There can't be too many AC plugs for my taste, although maybe that's not a good idea for fear of overloading the circuits.  I would be happy with AC plugs in kitchen prep area, near/next to the dinette, and on either side of the bed.  There has to be a double outlet in the bathroom, and also one over the sink." – Maggie, 2011 Dodge Ram 3500, 2002 Lance 1130
"I admit we take it all!  We both take an iPad and iPhone.  I also take my Nook.  These all use an AC outlet so we have a power strip for multiple plugs. When we have no electricity there is a 12-volt outlet near the floor and we use an inverter.  All those items hold a charge for days when not used heavily.  The kitchen plug in our Lance is difficult for me to reach; another reason for the strip.  We also have plugs on each side of the bed.  I cannot think of another place for a plug." – Peggy, 2005 Dodge 3500, 2011 Lance 992