Twenty-three fellow truck campers reveal their portable power stations, how they use them, and the challenge they represent to traditional camper battery and electrical systems. Could portable power stations take over?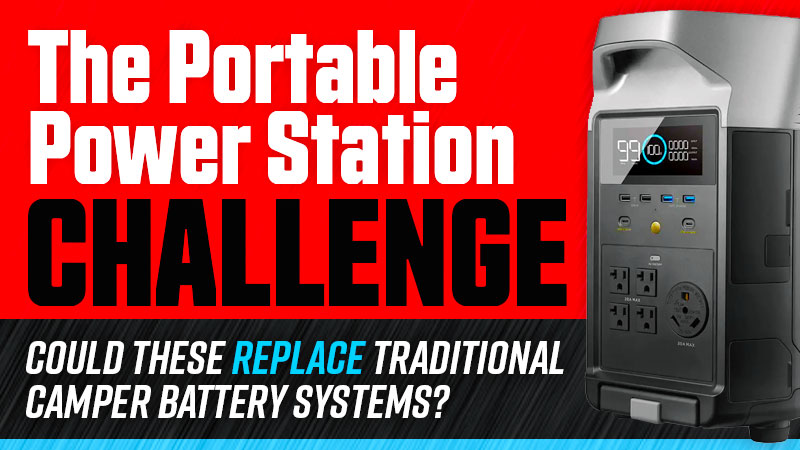 After reading the responses to our Portable Power Station Owner Poll, I have something of a prediction.
In the relatively near future, a significant percentage of the truck camper marketplace will eliminate traditional house batteries, converters, and solar controllers in favor of all-in-one lithium portable power stations.
This change will simplify and speed the truck camper manufacturing while simultaneously giving customers more capacity, capability and versatility than previously thought possible.
We have already seen several manufacturers choose portable power stations as their primary power sources. Like with the adoption of slide-outs (early 2000s), LED lighting (mid-2000s) and lithium batteries (mid-2010s), the greater industry is currently observing these early adopters. If the use of portable power stations sells campers, the greater industry will notice.
From the industry's perspective, portable power stations remain expensive, would require a complete redesign of their proven electrical systems, and haven't yet enjoyed sufficient pull-through demand from the public.
While all of that is true, portable power stations are coming down in price, becoming more adaptive (some have 30-amp outlets), and gaining popularity in the RV marketplace. Even better, the savings in purchasing and production will improve the industry cost analysis.
Together with the feedback we received, I believe the long-term answer is inevitable. These may be early days, but the portable power station challenge is coming.
For further insight, we polled fellow truck campers with portable power stations about how they use them while truck camping. Here are their responses.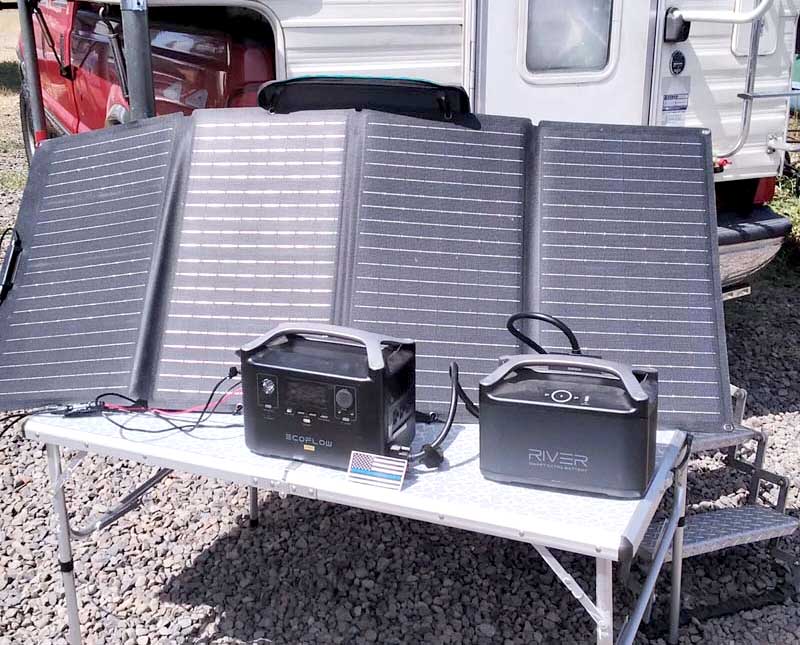 "I have the EcoFlow RIVER Pro (720Wh) with the EcoFlow RIVER Pro extra battery (an additional 720Wh). In my camper, I have set up an SPDT switch that allows me to switch between the camper house battery, off, or the EcoFlow power station (using the 12-volt socket.) When the EcoFlow system is switched in, it powers the whole camper.
The roof solar panels on my camper always charge the camper house battery, even if the EcoFlow system is selected on the switch. If I'm connected to shore power, the camper's charger will also still charge the house battery.
I usually boondock, so I don't hook up to shore power very often. I use the power station most of the time and use the house battery as a back up. I use a portable 160-watt Ecoflow solar panel to charge the power station as needed. I also use a 2300-watt inverter generator to charge it when I am in a hurry. I plug into the power station's 110-volt outlets as needed." – Glenn Patchett, 1999 Ford F350, 1993 Lance Squire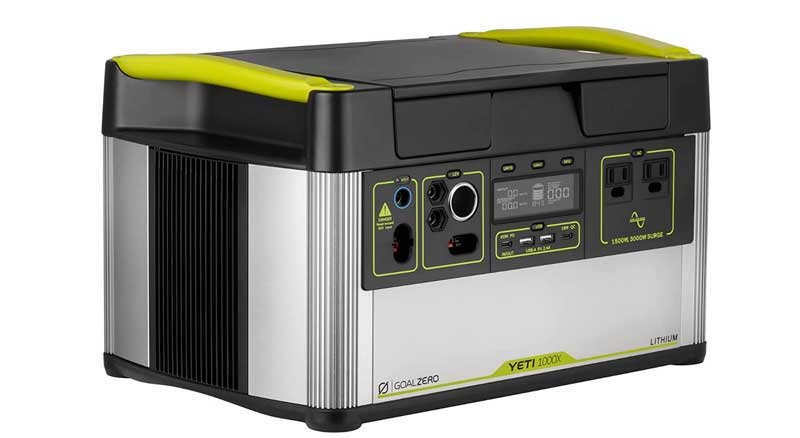 "My Goal Zero Yeti 1000 (1045Wh) portable power station has been flawless for three years. It powers our camper refrigerator. We charge everything off of it, and power the TV during bad weather." – Alan MacQuillan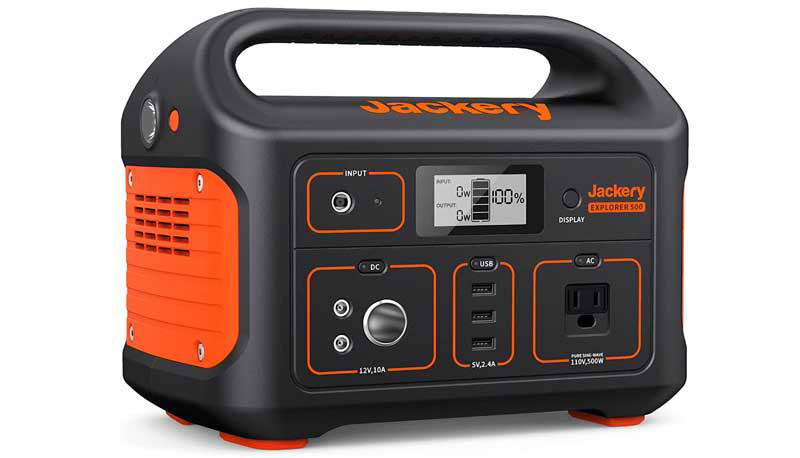 "I have a Jackery Explorer 500 (518Wh) portable power station and solar generator. The Jackery has enabled me to reserve campsites in parks without needing electrical hook-ups. Spaces are limited in parks right how, so being able to go without an electrical site has increased my options.
I perviously used a generator but did not like the sound, smell, and inconvenience of hauling fuel, so I got rid of it. Now I use the Jackery for recharging my phone, computers, watching movies, running fans and basically using lower voltage devices.
The Jackery can be charged with my solar panel. As long as the sun is shining, there is no limit to my stay. I also charge the Jackery at home and find it lasts for the duration of most short trips, even without connecting to solar.
The Jackery Explorer 500 is small in size, light weight, quiet, and convenient. It's also a great backup at home when the power goes out." – Heather Rutherford, 2016 Ford F-150, 2014 Camplite 5.7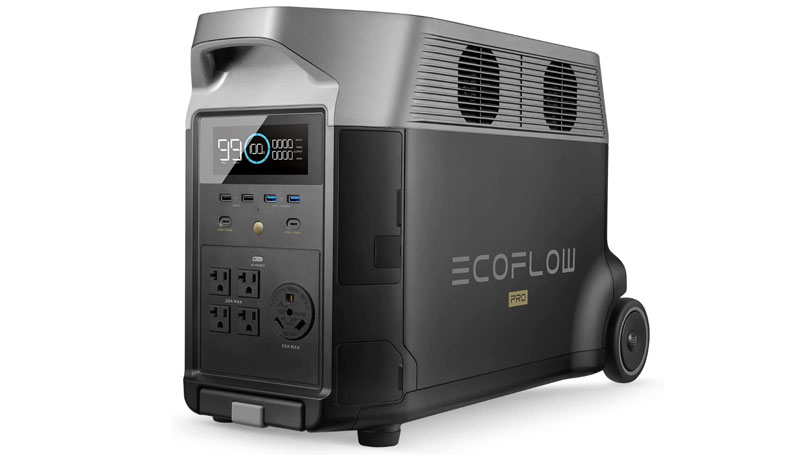 "I have an Ecoflow Delta Pro (3600Wh) portable power station with 400-watts of solar panels. With the Ecoflow Delta Pro's 30-amp connection, I can operate all of the camper's equipment for two weeks. I love it.
I installed the Ecoflow Delta Pro in the back seat of the truck. The 30-amp wire goes through the sliding rear window of the truck.
When traveling, the Ecoflow Delta Pro charges with the 12-volt 110-watt cigarette lighter in the truck. I will also be buying a 3000-watt Renogy inverter to recharge the Ecoflow Delta Pro." – Stéphane Bernard, 2019 Ford F-450, 2020 Arctic Fox 811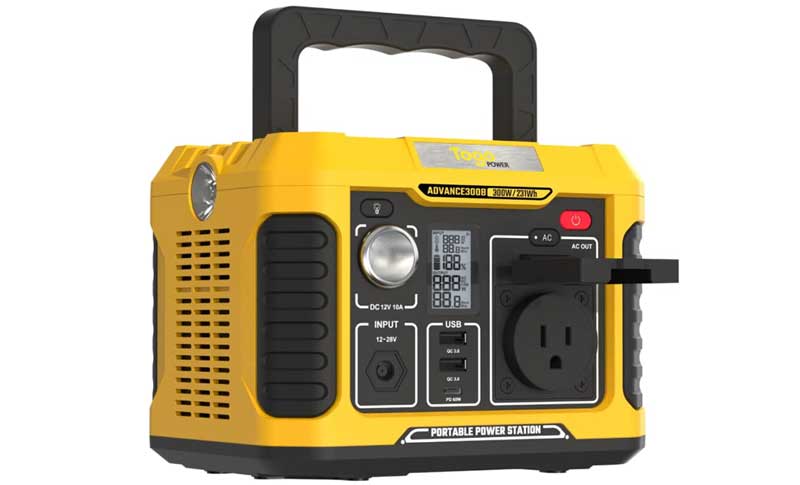 "I have a TogoPower (231Wh) portable power station with TogoPower portable solar panels. We use the TogoPower to power the TV, microwave and computers. The unit is also handy for portable power on our property. It is much more than just a camper accessory." – Tom Wells, 2019 Ram 3500, 2003 Eagle Cap 850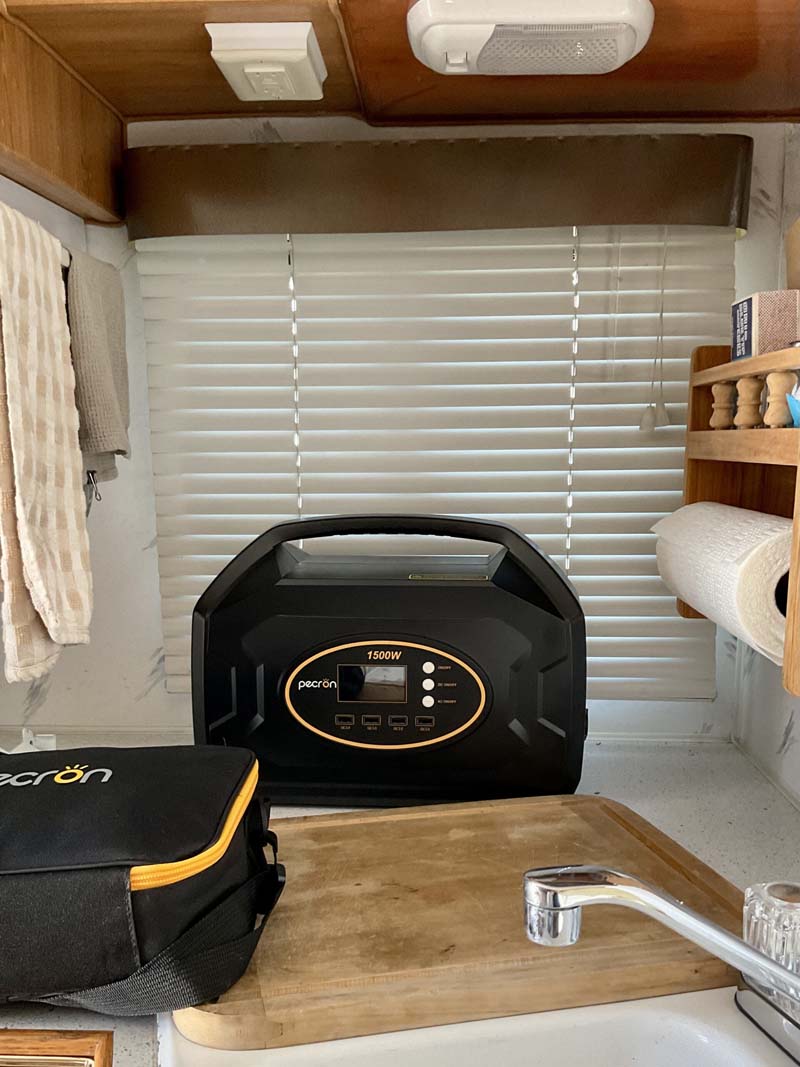 "I have a Pecron S1500 (1461Wh) portable power station and solar generator. I have also purchased Pecron's 200 watt portable solar panel array.
Due to the theft of my late great 1999 Ford F-250, I have not been on the road since getting the Pecron S1500 about one year ago. However, I have successfully tested it running my onboard microwave, even when connected via an extension cord. It also works when connected via Lance's shore power cord, but I worry about an unexpected overload due to the draw from the power converter.
I also use the Pecron S1500 to recharge our electronic gadgets via its USB connections. I have even used it twice in our home to keep our refrigerator running while the neighborhood experienced a power outage. The Pecron lasted the six-plus hours of the outage and still had charge left. More importantly, our food stayed cold and/or frozen)." – Mark Obert, 2022 Ford F-350, 1999 Lance 920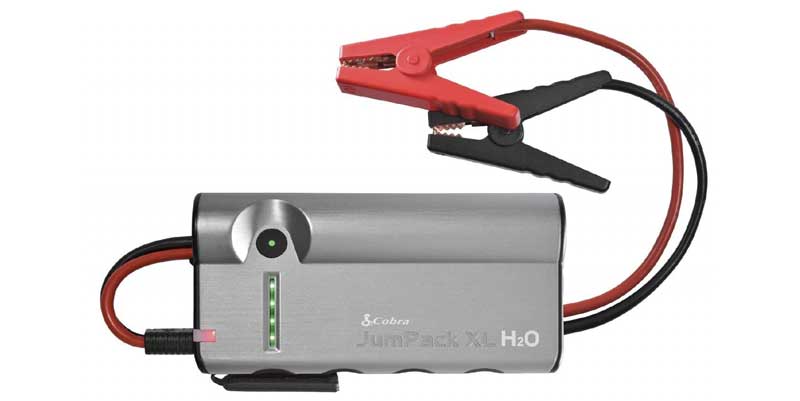 "I have a Cobra JumPack XL H20 CPP 15000 (44.4Wh) portable lithium battery. It's designed to start large V8 gas and diesel engines and has built-in jumper cables. I have it for peace of mind; starting a dead truck battery, and using as a temporary house battery. It can also be used for charging cell phones. It has an emergency flashlight and can be recharged via 120-volt or a 12-volt car charger." – Bill Tackus, 2022 Toyota Tacoma, 2020 Palomino SS-500
"I have an Inergy Apex (1100Wh) portable power station. The Apex has now discontinued and superseded by improved Inergy models.
The primary use is for powering my ResMed AirCurve 10 VAuto BiLevel CPAP machine. It's also used to power our 110-volt microwave and to charge our USB devices.
Over 95-percent of my use is overlanding and dry camping which can be very rough on equipment. I've used the Apex for several years with absolutely no problems. The case has an all aluminum plate, so it's extremely rugged." – Scott DeRieux, 2018 GMC 2500HD, 2018 Four Wheel Camper Hawk
"I have a Jackery 350 to power my CPAP machine and charge devices while dry camping." – Ron Thompson, 2004 Ford F-350, 2007 Arctic Fox 990
"I have a Goal Zero Yeti 1000 (1045Wh) strapped down in the storage space. I plug my shore power cord into the Yeti's 1500-watt inverter. Then all the AC outlets in the camper are live. Of course, I shut off the breaker for the camper's onboard converter/charger.
With the Goal Zero Yeti 1000 plugged into the short power cord, we can use a toaster, blender, Dish TV receiver, or whatever. I use a roof-rack-mounted Renogy 175-watt solar panel and a Goal Zero 100-watt portable folding panel to keep the Goal Zero charged. Be aware that the newer Goal Zero Yeti 1000X will not accept multiple inputs at the same time.
The Lance factory-installed solar panels are keeping the house batteries charged so they can power all the 12-volt loads. I can also use a Goal Zero car charging cable to recharge the Yeti from the house batteries if I need to." – Giles Blair, 2015 Ford F-350, 2018 Lance 1172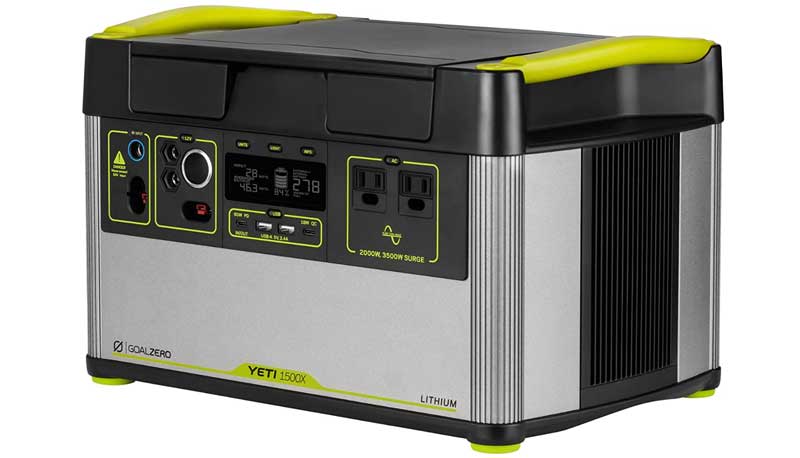 "I've used the Goal Zero 1500 for years while camping and at home when the power goes out. It has been great to charge power-hungry laptops as well as coffee makers and induction cooktops.
It's the best when we are Jeep camping with no power connections. It's so portable and powerful! But, there are a lot of cheaper competitors coming to the market. That may have me reconsidering the Goal Zero for a more reasonable option." – Marty Fritzsching, 2021 Ford F-150, 2021 OEV Camp X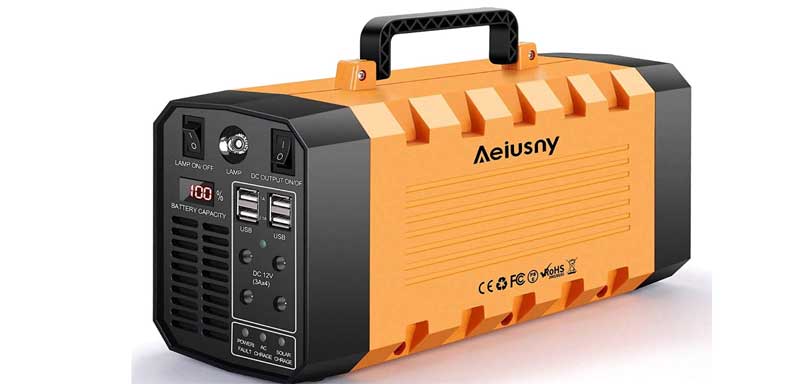 "We use our Aeiusny UPS-500AD to power our RV Starlink system. We also use it to charge our laptops, cell phones, and some other lower power-requiring equipment. When parked in the shade we can set the Starlink in an open area connect it to the Aeiusny and not worry about the 75-foot power cord that comes with the Starlink. We keep the Aeiusny charged using the folding portable 120-watt Aeiusny solar panel system." – David Pracht, 2015 GMC Sierra K3500, 1987 Lance LC900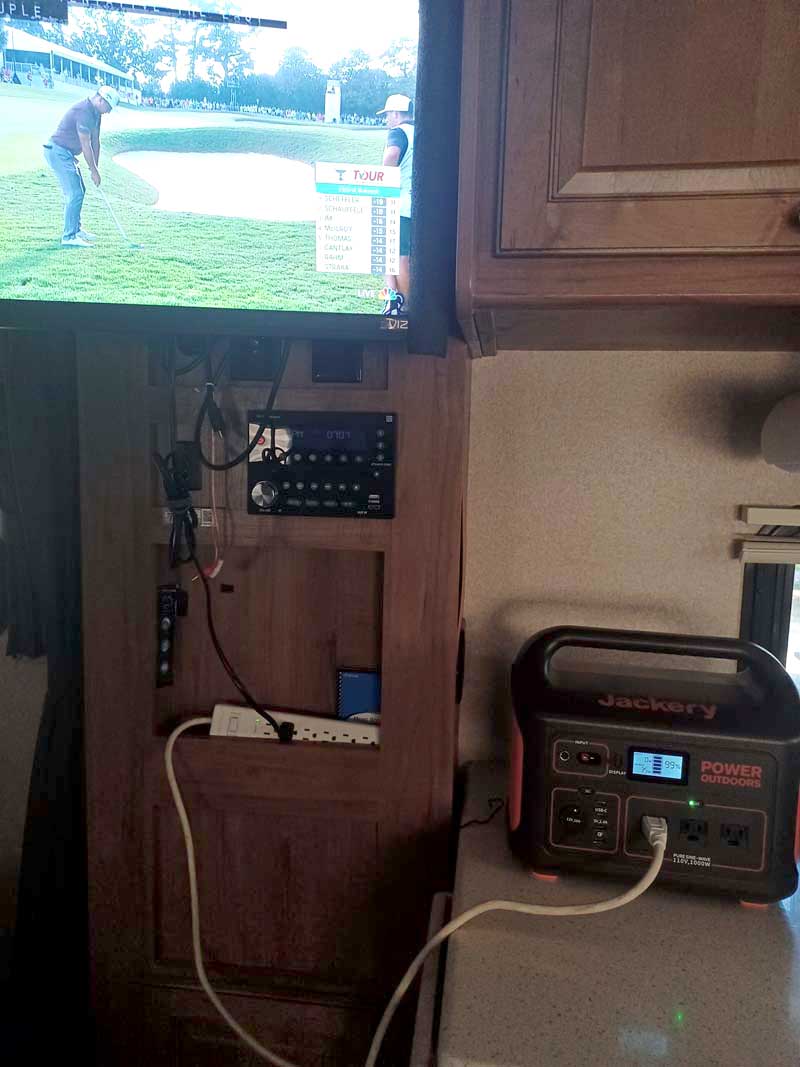 "I use a Jackery Explorer 1000 (1002Wh) for watching television and DVD movies at non-electric campsites. It is also great around the farm to expand my use of power tools. I have put it in the tractor bucket with a pancake air compressor to air up tires on four tractors and three trailers without having to take each item back to the shop." – Larry Walsh, 2006 Ram 3500, 2018 Palomino HS-690
"I have a Jackery Explorer 1000 (1102Wh) portable power station for charging devices and running a small refrigerator in our camper." – Kevin Macafee, 2015 Ram 3500, 2018 Bundutec Odyssey
"We use our Jackery 300 portable power station to power our electric bedding. With the bedding set to low, we have power all night. We also use the Jackery to recharge our cell phones and iPad." – Mike Mabry, 2016 Chevy 3500, 2015 Lance 855S

"I use a Jackery 290 portable power station to power my electronics, phone, GPS, Nook, and tablet. I have a portable gas generator that I have been using to power my lights, and am just getting into solar. I mainly camp off-grid for fishing and hunting." – Jerry Schickedanz, 2005 Ford F-250, 1963 Alaskan 8-foot NMCO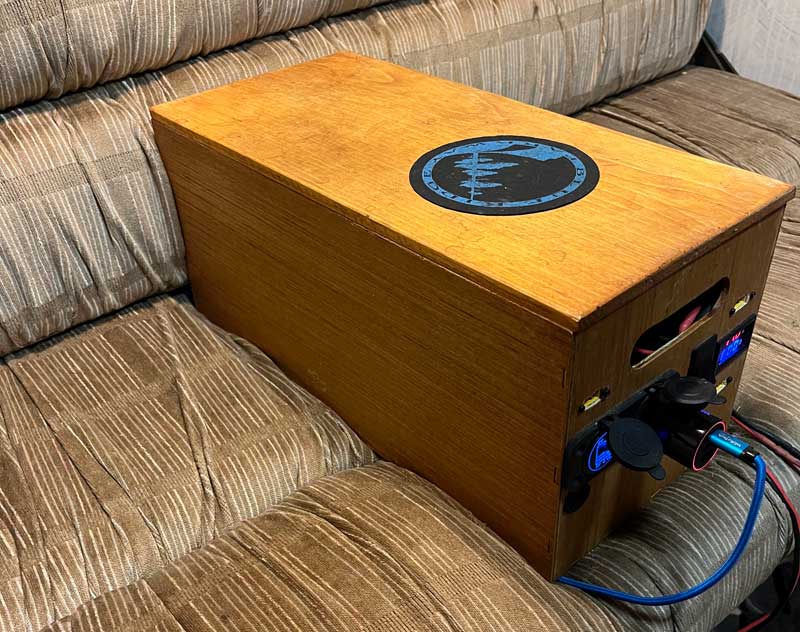 "I built my own (roughly) 195Ah portable power station using salvage 18650 Li-Ion batteries, an inexpensive BMS, and a DC-DC converter.
It can be connected to the solar panels when I have a surplus, and then put that surplus back into the lead acid batteries at a charge rate of 25-amps.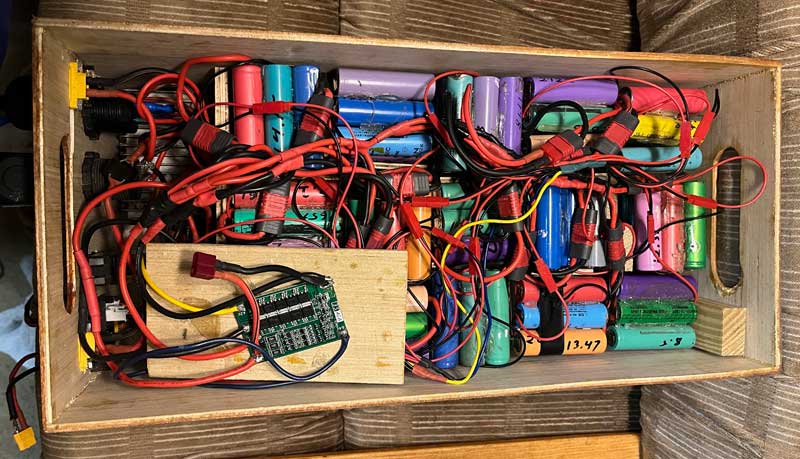 While lithium-ion can't be directly connected to a 12-volt system, it can be used as a semi-connected battery charger/storage unit. The secret is the 12v-13.8v DC-DC converter. It actually uses an input of 9 to 15-volts, which is a perfect fit for my box.
I probably have $90 in my portable power station.
The portable power station provides all the 12-volt power I need and, with the addition of an inexpensive pure sine wave inverter, 110-volt as well. However, mostly what I do is power my work equipment via direct 12-volt or a cigarette socket USB-C adapter. I haven't had any trouble with the adapter.
The "laptop brick" as I call it can run two laptops with external monitors for over a week along with fans, chargers, phones, etc.
It has handles so we can take it out to a picnic table to work if it's a nice day." – John Johnson, 1992 Caribou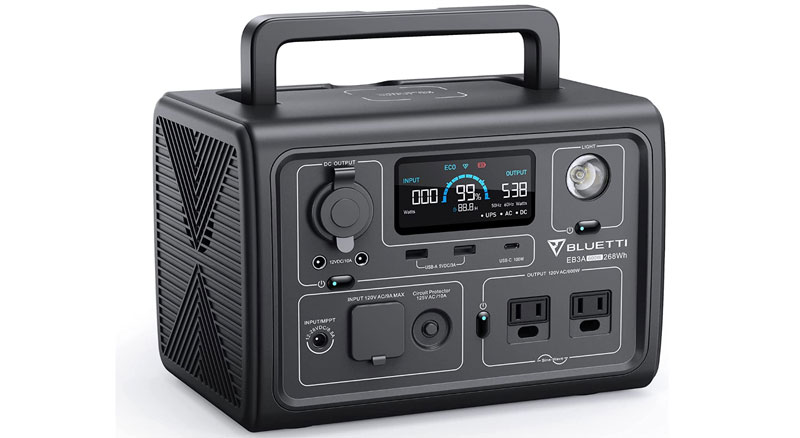 "My Bluetti EB3A (268Wh) portable power station is supplemental. It's mostly for running the 12-volt cooler in the cab when the truck is parked. It's also great for when we're setup away from the camper and need a little juice for a larger laptop or to run a small projector outside. It's only 268wh, but the inverter is normally 600-watts and power boost will allow coffee pots, vacuums, and non-sensitive appliances/tools up to 1200-watts by lowering the voltage. It feels like a toy sometimes, but it works like a pro." – Alex Hackenson, 2008 Toyota Tacoma, Custom 2012 A-liner Alite
"My GoalZero Yeti 1000 (1045Wh) keeps my small chest freezer in my cargo trailer cold when I'm away from shore power or a generator. The Yeti is good for about 12-hours of continuous use for the freezer. I also use it to power my Traeger barbecue when I'm at hunting camp." – Steven Cilenti, 2018 Chevrolet 2500, 2012 Arctic Fox 990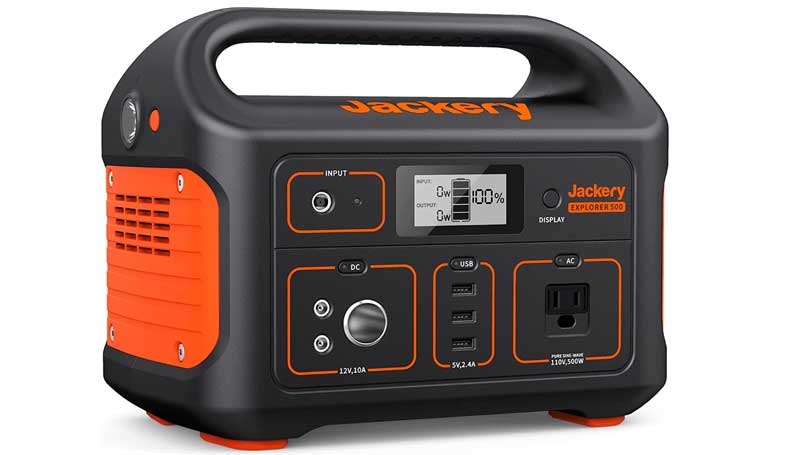 "I have a Bluetti AC200 (1700Wh), but I also carry a Jackery Explorer 1000, Jackery Explorer 500 (518Wh) and Montek 1000 (1010Wh) to give me a lot of lithium power and redundancy should one unit fail for some reason.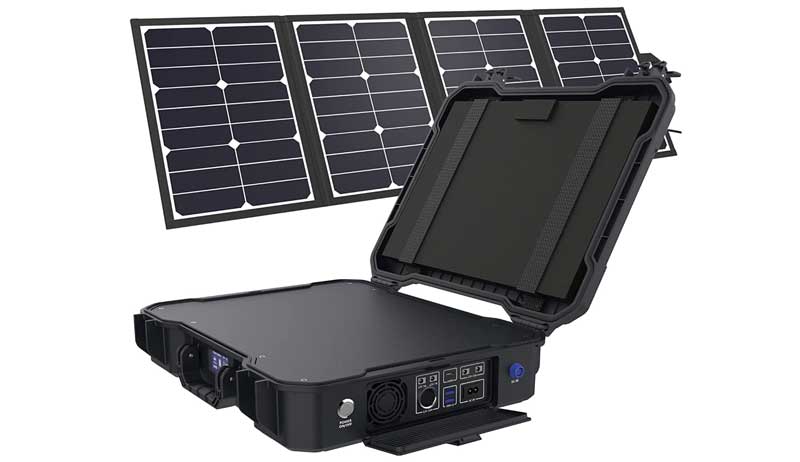 I use an appliance extension cord to connect directly to the camper's shore plug and then plug into the Bluetti AC. The cord is threaded under the front bench of the camper to the electrical cabinet.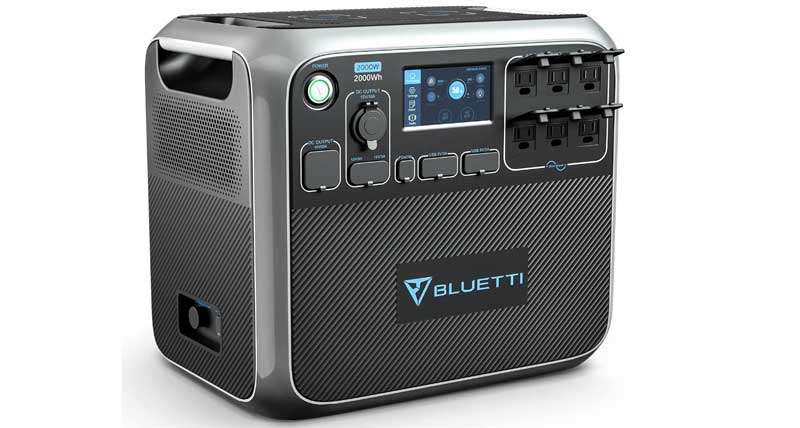 The Bluetti is located on the floor below this cabinet door. The refrigerator is located above this cabinet as well. I always unplug the 12-volt battery charger the manufacturer installed in the camper. I then switch the refrigerator to AC. Works great for hours." – Terry Ross, 2009 Ram 3500, Alpenlite Cimmeron 850
"The EcoFlow Delta (1260Wh) is our only camper power source, except for the diesel engine itself. EcoFlow Delta works great, can be charged by 230-volt power socket, solar panels or the truck." – Filipe Carvalho
"I have a FlashFish 300-watt solar generator for my CPAP." – James Barnes, 2017 Ford F150, 2017 Lance 650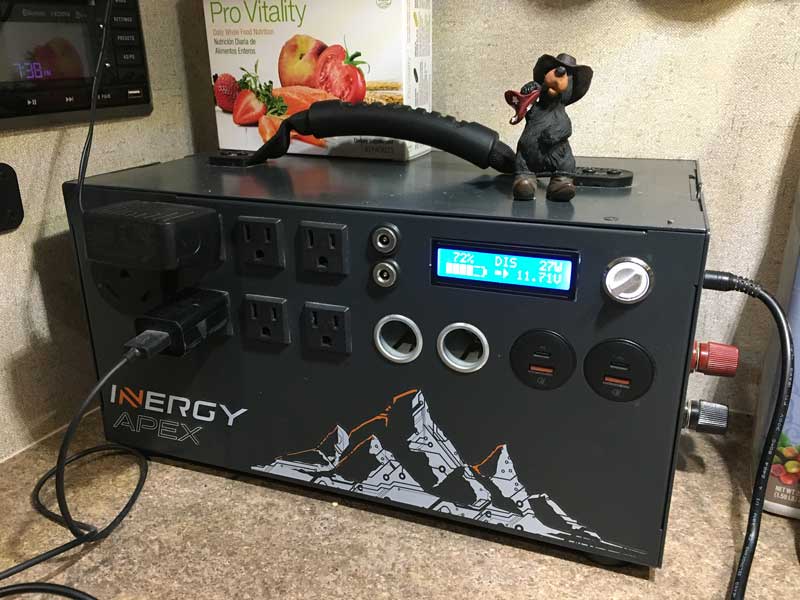 "I use my Ingery Apex Portable Power Station for charging my electronic devices and laptop. I also have three LED lights that came with my purchase using the USB connectors." – Edith Horn, 2018 Ram 3500, 2019 Northern Lite 10-2