Those who are fortunate enough to travel extensively have to be very careful about becoming cynical about the experience. After traveling cross-country five and six times, it's easy to think, "We've seen everything. Why would we go again?"
The answer is two fold. First, you haven't seen everything. You could spend the rest of your life exploring and not see everything. You certainly haven't seen everything under every season and weather condition – that's impossible. And everything changes over time, including your perspective.
Second, you go again to see your friends, and make new ones. Last year Angela and I explored a few more nooks and crannies in our great country, caught up with some good friends, and met some amazing new friends. Does it get better than that? I don't think so. That's why we go again.
In the spirit of the amazing people we have met, this week's Question of the Week was, "Who has been the most amazing person you've ever met while on the road truck camping?"
"While camping on the side of a great trout stream in the mountains of Colorado, we had a very scary moment when I came back to camper for some soup and coffee.
I looked out the window and our camper was surrounded by some well armed men. I decided to go out and talk to them and see if we were under attack.
It turns out they were Special Op troops who had been dropped off by chopper the night before. They were spending seven nights training in the mountains.
After letting them know that I had been in Special Ops of the Air Force in 1960s, I finally got out of them that they were from Fort Bragg, North Carolina. All of them had spent many tours in The Middle East. They ate all of my soup plus drank all of the coffee." – Ed Krech, 2006 Dodge 3500, 2011 Northern Lite 8-11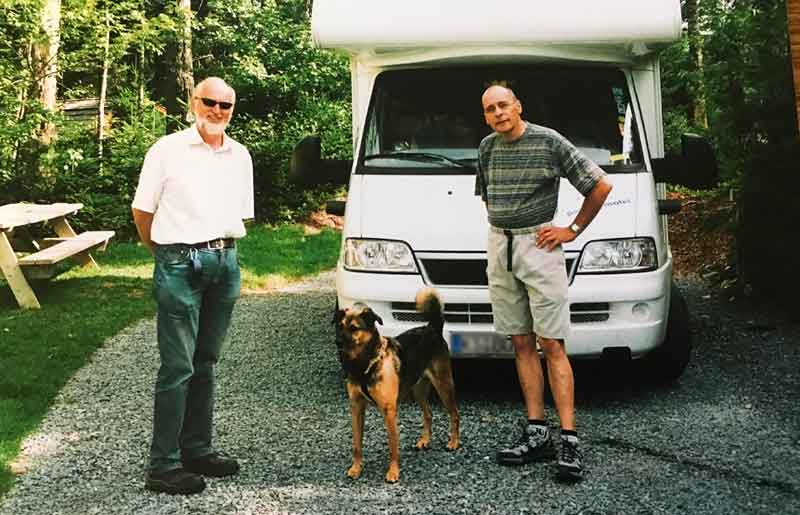 "In 2007, we wanted to drive to Cape Breton, Nova Scotia with our Northstar Arrow truck camper. After several days of scenery that was primarily trees, we decided to turn towards more civilization and go to Halifax.
At the KOA in Halifax, we met Bernd from Germany who was traveling with his dog, Mike. His trip started in Mexico, where his motorhome was shipped over. He had traveled up the west coast and across Canada.
Bernd was so interesting! He traveled to countries we never heard of. We shared travel stories, spent several days getting to know each other and decided to become pen pals. Up until last year, we exchanged many postcards.
Unfortunately, he passed away last year, but we have fond memories of him. In the picture above, Bernd is standing to the left and my husband, George, is on the right in front of Bernd's motorhome." – Susan Visconti, 2015 GMC 3500HD, 2016 Arctic Fox 990
"While we were in a grocery store parking lot in Tulum, Mexico we met an Argentinean professor of language and literature. His grand adventure of a road trip was to drive the Pan-American Highway from Argentina to Alaska with his wife and son.
His camper was a 1928 Ford Model A he converted into a pick-up that they all slept in! He admitted they had a lot of down time for repairs, and got rather wet in the rain, but he was the happy-go-lucky type and seemed to look at it all as part of the adventure." – Bruce Heimbigner, 2013 Ford 550, 2013 Phoenix pop-up
"We had turned off the Alaska Highway near Watson Lake. We were traveling down the Cassiar Highway returning from an enjoyable Alaskan trip. We decided to camp at a small isolated Canadian campground. A knock came on the door about 9:00pm.
I looked out the window and there stood a young man in bicycle attire holding a large empty water bottle. He asked for water and I gave him some since he seemed very thirsty. As we talked, I found out he was riding his bike from Prudhoe Bay to Argentina!
Cyrip Pintono is from Grenoble, France. Cyrip actually made it as far as Central America. That's over 12,000 miles. He had a medical issue and had to fly home. We were so impressed with him and his over 20,000 mile trip on a bike." – William Chiles, 2015 Ram 3500, 2013 Lance 1050S
"Our story is not inspiring as yours was, but it was exciting for us. We live in Coffee Creek, California. It's a beautiful little mountain community.
Several years ago, Merle Haggard committed to an outdoor concert at the fairgrounds in Siskiyou County about 60 miles from us. That was when funding for state fairs was cut way back, so he did the concert to help his community.