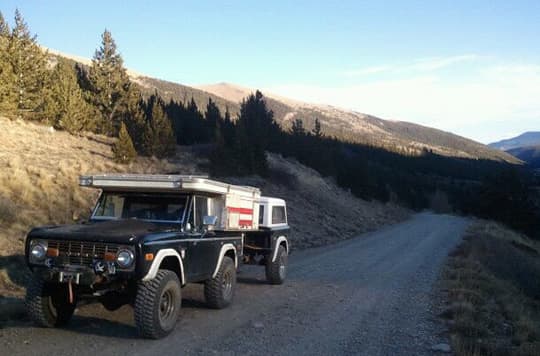 "I off-road camp a lot.  One instance in particular answers this question the best.  Two years ago while elk hunting in the Colorado Rockies it started snowing a fair amount on our second day out.  We weren't having much luck in the area, so we decided to move to a new location.  With two feet of snow on the ground we broke camp and traveled northeast up and over the continental divide, all on gravel back roads.  I spent most of that day in four-wheel drive low as I had an off-road trailer as well as my camper on the Bronco.  I'm also happy to say my Bronco has lockers in both axles, which were absolutely required to pull up the final narrow trail to our campsite.  So far, this is the most I've ever asked of my rig while camping and hunting.  It didn't let me down." – Kirk Inderbitzen, 1973 Ford Bronco, four-wheel drive truck, 1970's Four Wheel pop-up
"I live in Idaho and most of our camping is boondocking.  I've used four-wheel drive on some very steep, 8% to 12%, rough downhill grades.  My truck is an automatic.  In two-wheel drive high, first gear, I was having to use too much brake and the wheels would lock up.  Using four-wheel drive low range I was able to idle down the hill.
In the Spring, when the snow is melting, it's better to use four-wheel drive in the soft slick stuff especially when towing rather than trying it in two-wheel drive only to find you should have put it into four-wheel drive out in the middle of the mess." – Dave Erickson, 2011 Ford F350, four-wheel drive truck, 2006 Arctic Fox 990
"I've owned two older truck campers.  I had a hard side and a pop-up.  Both were hauled with my 1996 Ford F250 4×4.  I needed four-wheel drive when camping at the Texas Motor Speedway years ago.  It rained while I was there for a week and the four-wheel drive was very helpful.  You never know when you'll need it and I'm glad I did.
I now own a Timberlodge pull behind camper that I like a lot, but am looking at getting another truck camper.  I enjoyed carrying my second home around with me.  My trucks will always be four-wheel drive, too!" – Linda Lancaster, 1996 Ford F250, four-wheel drive truck, one hard side fully loaded, and a pop-up slide-in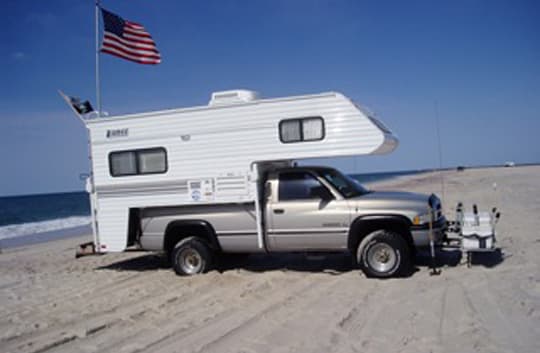 "I use my rig to fish the Long Island Beaches most weekends.  Four-wheel drive is a must on the beach.  Airing down and four-wheel drive is the way to go.  I also use my rig to camp in upstate New York.  Going up dirt roads in low range is another advantage.  Slow and steady.  I am able to use my rig more due to four-wheel drive." – Paul LaMonte, 1999 Dodge Ram, four-wheel drive truck, 2005 Lance 1025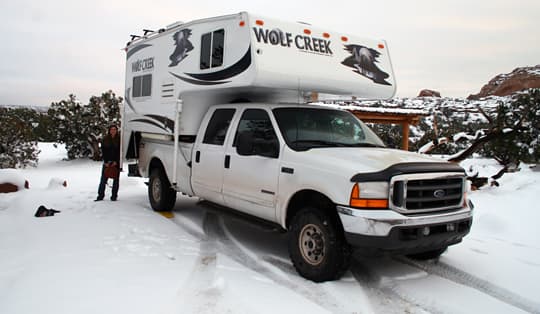 "Our main reason for purchasing a truck camper was to access the remote washes of the desert and for camping and traveling in the winter time.  I used four-wheel drive with our Northstar Laredo, Eagle Cap 800, and with our Wolf Creek 850." – Nolan Sturgeon, 2001 Ford F350, four-wheel drive truck, 2014 Wolf Creek 850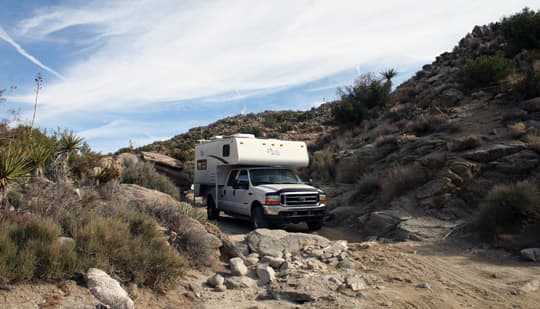 "I have used four wheel drive many times when driving conditions are snowy and slick in the fall and winter while hunting in eastern Washington. I have had all tires chained up when conditions require it.  We also use our pickup truck and camper to winter camp and cross country ski.  We enjoy the option of four wheel drive when needed." – Leonard Eagle, Jr., 2009 Ford F450, four-wheel drive truck, 2008 Okanagan TKS126
"When we travel in Baja we are a lot more relaxed with a four-wheel drive truck, a 12,000 pound winch, thirty gallons of extra fuel, and our tools.
And watch out for dry lake beds!" – Phil Rodgers, 2000 Ford F450, four-wheel drive truck, 2003 Lance 1130
"As far as I'm concerned, a truck is not a truck if it doesn't have four-wheel drive.  Why would I invest all this money into my multipurpose vehicle only to say, "Gee, there are some places I can't go because I don't have four-wheel drive.  Now I realize a dually can't go everywhere, but where I go, I don't want to be limited.  Since I've had my rig I have used four-wheel drive twice.  Once was in the sand at the lake while enroute to a campsite.  Another time was while I was retrieving my boat on a slippery boat launch. I'm sure glad I had four-wheel drive!" – Dr. Dee, 2008 Ford F-350, four-wheel drive truck, 2008 Lance 1191
"On several occasions while attending our church camp here in Alaska I have used four-wheel drive.  We are seven and a half miles off the Parks Highway at Lynx Lake.  It is needed about every other year depending on the weather.  We try to keep the roads up, but there are several places where there are mud holes (not puddles) that are slick and sometimes are at least of foot and sometimes deeper.  It never has stopped us though from enjoying the experience.  It has only made it better." – Darrell, 2012 Dodge Ram 2500HD, four-wheel drive truck, 2007 Lance 815
"I need four-wheel drive to cross I-80 over Donner Pass in January and February.  I also use it on any muddy road that makes the rear tires spin.  We camp fall to early spring, and not summer." – Mike Kolinski, 2012 GMC Sierra 2500HD, four-wheel drive truck, 2012 Four Wheel Hawk
To return to The Four-Wheel Drive Low Down: Part 1, click here.