While I was camping in Ocotillo Wells, I had to use four-wheel drive to drive to our campsite and to drive up on my leveling blocks.  Otherwise the rear tires would just dig in the soft silt/sand.  I could have aired down, but then I would have to air back up, and that can take a while." – Ivan, 1997 Ford F350, four-wheel drive truck, 1987 Western Wilderness Alpine 9'
"Most of our camping is on unpaved BLM and forest service roads in the West, so we often use four-wheel drive.  Most of the time it's four-wheel drive low range on steep down grades to keep my foot off the brake so the brakes won't over heat.
One road that comes to mind was Kleinschmidt grade on the Idaho side of Hells Canyon.  It was a white knuckle windy one lane road.  One section drops 2,200 feet in 4.9 miles.  Without low range to help slow us down, our brakes would overheat in no time.
Just two weeks ago we used four-wheel drive in the Eastern Oregon desert on a twelve percent grade into the Owhyee River canyon." – Brian and Chris Hagen, 2000 Dodge Ram 1500, four-wheel drive truck, 2014 Palomino Backpack 1251
"I do not currently have a four-wheel drive truck for my camper rig, but I have two other four-wheel drive vehicles and many years of experience off-roading.  I believe four-wheel drive could be very useful for certain truck camping situations, but there are some significant factors that anyone new to four-wheel drive trucks should consider before loading on a very large truck camper.
1. As mentioned, payload differences are often significantly different due to the weight and configuration of the four-wheel drive options.
2. A four-wheel drive truck is usually taller than its two wheel drive counterpart, even when loaded.  That puts the rig center of gravity higher, and thus affects handling more than a two-wheel drive truck.
3. The typical off-road style aggressive tires are often not high load range tires, and may wear very quickly when carrying a truck camper.  For highway driving with maximum payload, regular load range E tires are usually a better solution.
4. People who are experienced with four-wheel drive may be lulled into complacency by their unloaded experience and take a truck loaded with a camper into situations where it encounters what they would consider a minor amount of side slope.  But, with a camper loaded, the truck's center of gravity is now much higher than it was before, and a hill or rut that caused no problem unloaded could cause a tip over of the loaded truck.
5. Trying to go off-road with one of the larger campers and encountering dips or frame twist situations could result in damage to the truck or camper before you know it.  In the case of my Bigfoot, the most likely source of damage would be the rear overhang which greatly changes the departure angle.  It would be very easy to drag it on a transition or dip that, in unloaded form, you would never think twice about crossing.
6. Getting stuck in an off-road scenario could be much more interesting with an extra 4,000 pounds in the bed of the truck.  Creative jacking and tow strap solutions could be required.  The camper jacks themselves have been used successfully by some folks in these situations, but you have to have a strong camper.
7. Finally, the height of the rig can be a major impediment to off-roading.  In forested areas some of the trails will not have clearance for 11+ foot tall rigs.  On many four-wheel drive trails I have driven, it would be possible to get into spots where you could not go forward due to height obstruction, and could not turn around due to trail width.  This could result in backing up a long way in the worst case scenario. 

For happy off-roading with a truck camper, the owner would probably be best off with a lighter and smaller rig that has minimal rear projection.  One of the pop-up types is probably ideal.  I would not hesitate to off-road with one and, in fact, my next truck camper will probably be a four-wheel drive truck with that type of rig." – Mike Ellis, 1997 Dodge Ram 3500, two-wheel drive truck, 1997 Bigfoot 2500 10.6
"You know me.  Off-roading is the entire purpose of having the truck and camper.  After the Overland Expo, five of us (two truck campers), spent the rest of the week in the Canyonlands Maze district.  It was a blast!" – Larry Whitman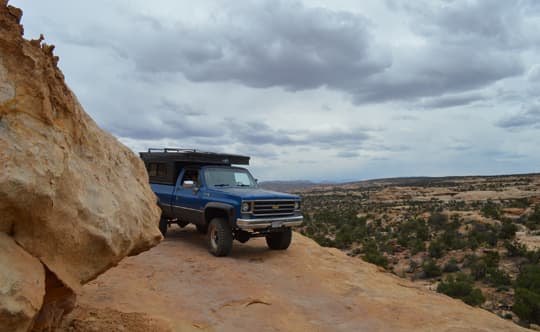 "Two years ago, we used four-wheel drive.  We had our Palomino pop-up camper on our truck, which was definitely not overly taxing for the truck.  We went to Capitol Reef, Utah.  My husband had scoured the area via Google Earth and found the perfect boondocking spot.  As we pulled down into the area of narrow, sandy, highly-intersecting roads, we realized the trailer with our Jeep was a bit much for the deepening sand.  We knew it was time to get while the getting was good.
We had to leave the truck to scout which of the five or so roads to go down to get back to the highway, and were immediately swarmed by flocks of huge biting flies (yes, flocks is the right term for packs of flies this size!).  We ran as fast as the sand would let us down the roads to find the right road out.  Then we jumped into the truck to get the heck out of there!  Let's just say, without four-wheel drive to pull us and the 8,500 pounds of Jeep and trailer out of the sand, they would have still likely not found our bodies today!
I won't tell you that just yesterday we took our new Lance camper for the first time boondocking.  We're still pretty new to this off-the-grid thing.  With the UTV and bikes in tow, we went out on a narrow dirt road (marked for RV camping – yeah, right!) and almost got to use four-wheel drive again.  It also looked like we were going to tip over at one point, but that's a different learning experience all together!" – Tracy Schuster, 2012 Chevy Silverado 3500, four-wheel drive truck, 2012 Lance 992
"When we take our quads to the sand dunes we need four-wheel drive to get in and out." – Bruce Moses, 2006 Chevy 3500, four-wheel drive truck, 2007 Lance 1191
"I have never needed four-wheel drive.  You just have to pay a bit more attention to the line you pick.  I am sure beach bums need it, but I am a more of a hills and hollers guy.  Thanks for the great site.  Keep on trucking!" – John Haughey, 1996 Ford F150, two-wheel drive truck, 1993 Shadow Cruiser