"It was our very first trip with our very first truck and camper.  We were in Kasha-Katuwe Tent Rocks National Monument in New Mexico.  At the end of the paved road was a sandy road with a wide pullout.  It was perfect for turning around!  I pulled in and stopped briefly to take a few pictures.  When I started up again I couldn't move forward or backward, despite several attempts.  The rear tires were in about four inches of sand and going deeper.
Then we remembered we had four-wheel drive!  I switched it into four-wheel drive and we were out of there in seconds.  I'll never get a truck without four-wheel drive.  Even if you're only stuck once, it's worth it." – Anne Marie Lewis, 2013 GMC 3500, four-wheel drive truck, 2013 Eagle Cap 850
"Colorado is full of hills.  To get away from the throng of campers you need four-wheel drive and nerves of steel.  A four-wheel drive pilot car is a big help as well.  Just two to three hours from Denver is some of the best four-wheel drive trails for a fifth wheel in the nation." – Bill P., 2013 Ford F350, four-wheel drive truck, 2007 Keystone Montana
"For me, it's nice to have four-wheel drive about four or five times a year when a situation makes it convenient to have it.  That said, I only have it because it came with the right truck.  If there were identical trucks, one four-wheel drive and one not, I'd probably take the two-wheel drive." – Al Hubbard, 2004 Silverado 2500HD, four-wheel drive truck, 2000 Starcraft Roadstar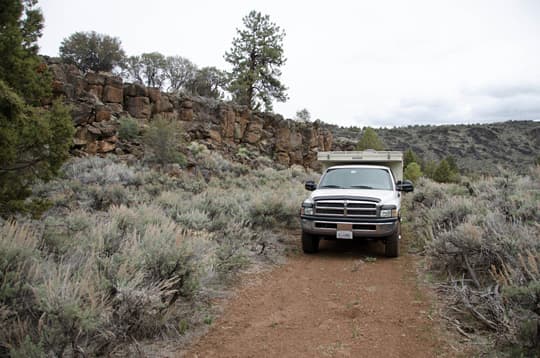 "Do I need it?  No.  Do I want it?  Yes. 

The Dodge is my third four-wheel drive truck.  Past trucks were an 1986 Ford F150 and 1979 Toyota.  I would not have a truck without four-wheel drive.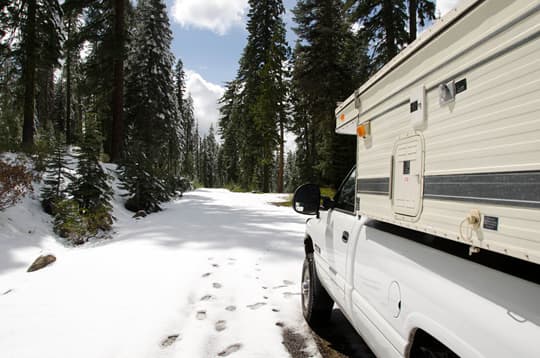 I enjoy exploring the back roads of northern California, Nevada, and eastern Oregon.  Four-wheel drive has allowed me to continue on down the trail to a nice camping spot, fishing hole, or ghost town that I would otherwise not be able to make in two-wheel drive. 

 I also find four-wheel drive helps where two-wheel drive would still make it, such as climbing a wash board hill.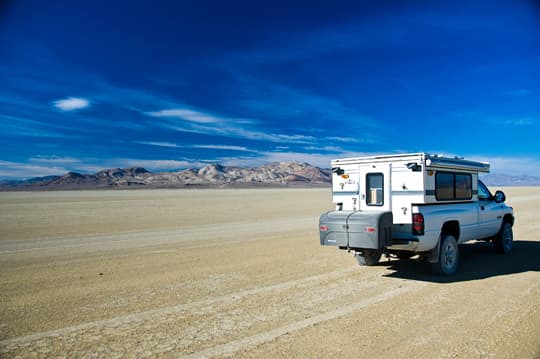 I can crawl up the hill in four-wheel drive eliminating any axle hop, making a much smother trip for gear and passengers." – Bill Rose, 2002 Dodge Ram 2500, four-wheel drive truck, 1996 Four Wheel Grandby
"Yes I've needed it.  I've been stuck in mud, sand, and on an icy boat ramp." – Bill Beck, 2011 Ford F350, four-wheel drive truck, 2009 Host Everest
"Several times I've used four-wheel drive, but the first time was the most important.  We tow a horse trailer and were camping with friends.  One friend had a one ton dually and a gooseneck trailer.  The site had a slope and the morning dew kept him from moving.  He even slid backwards.  I unhitched my trailer and towed him out using four-wheel drive low.  I did not spin the tires at all." – Don Norris, 2003 Chevy Silverado K2500HD, four-wheel drive truck, 2005 Travel Lite 800SBX
"Living in New Hampshire, I use four-wheel drive often.  I also rely upon it in muddy situations.  The low range comes in handy on steep hills when towing with the camper on board!  I would not consider buying a truck without four-wheel drive." – Allan Riley, 2004 Dodge 2500, four-wheel drive truck, 2008 Northstar 8.5 Arrow
"I would never buy a two-wheel drive truck.  If I only need four-wheel drive one time to get me out of a remote snow packed or muddy campsite after bad weather, I would consider it well worth the extra expense and weight." – Dale, 2007 Chevrolet 2500HD, four-wheel drive truck, 2012 Lance 992
"I would not buy a truck without four-wheel drive.  I have camped along a river bank with a trail of mud and potholes and needed to get back out after a rain storm.  I have also camped right out on the beach and forgotten high tide.  I may not use four-wheel drive a lot, but I don't want to walk forever for help." – Randy, 2011 Ford F150, four-wheel drive truck, I'm still tent camping, I've got my heart set on a pop-up camper
"We bought the rig for a trip to Alaska in 2015 and intend to travel the whole state in a four to five month trip.  That being said, we have traveled in bitter winter weather in snow that required four-wheel drive to make it through.   We were also in snow and mud this spring that we almost didn't make it through.  We have a truck camper to travel the road less traveled.  Don't we all?" – Tom Elliott, 2012 Ram 1500, four-wheel drive truck, 2013 Outfitter 6.5 Lite
"I do not have four-wheel drive.  Everyone I ever spoke to about four-wheel drive said they never use it.  I did not want the extra maintenance or the extra weight.  I have had my truck in snow and don't take it places where it looks like I could get in trouble.  My Grandfather used to tell me that if you need four-wheel drive you should not be there in the first place.  I also like the daily fuel economy of 19 to 23 miles per gallon on the highway and the 15 to 16 in miles per gallon in town.  So I will not ever have four-wheel drive on my truck." – Patrick Seals, 2002 Dodge Ram 1500, two-wheel drive truck, Outfitter Caribou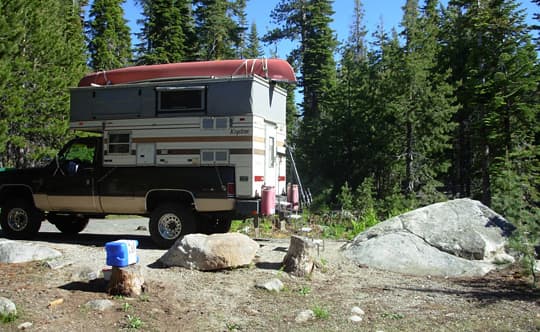 "I go camping five times a year, and used four-wheel drive on our last trip of the season since the road is very rough.  I have also been in the backcountry on logging roads with one to two feet of snow and tire chains on the front during hunting season.  My camper has been very reliable.  The pop up is great for gas mileage." – Mike Johnson, 1986 Chevy K30, four-wheel drive truck, 1987 Four Wheel Camper Keystone
"I pull a twenty-foot flatbed trailer with an off-road truck on it.  I often use four-wheel drive low to maneuver the truck and trailer around, especially on hills, to reduce wear on the transmission.  When my transmission failed going up the Grapevine, I was able to use four-wheel drive low to limp to the next exit and get off the highway where it was safe.