Last Tuesday's Question of the Week was, "Have you ever needed four-wheel drive while truck camping?"  We had so many responses that we have split up the answers into two parts.  To read Part 1, click here.
"For off the beaten path camp spots and getting on and off the road, I use four-wheel drive." – Butch Bird, 2001 Dodge 3500, four-wheel drive truck, 2000 Lance 1010
"On three memorable occasions I've been very happy to have four-wheel drive.  Living in the West, we have many national forests to choose from and, for each case, I was in need of four-wheel drive.

First, while on a late deer season hunting trip with my father in the Tahoe National Forest, we were crawling along on a deeply rutted muddy forest service road.  The ruts were so deep someone had cut a number of small logs and dropped them into the ruts.  It gave us just enough clearance with the help of four-wheel drive to make it through.

Second, my wife and I, our son, and our four-legged family member, Barkley, were in the Fremont National Forest in south eastern Oregon.  We were over 8,000 feet in elevation looking to cross into California.  We encountered snow drifts here and there.  As we hit California, the nice Oregon red graveled road turned to muddy chuck holes.  I decided to turn around.
Looking to my right, it was level and looked like hard packed dirt mixed with rock.  I made the swing and almost immediately started losing traction in two-wheel drive.  I opened the door and discovered I'd sunk almost to the running boards.  I stopped and threw the truck into four-wheel drive and started to rock back and forth.  We started to move and I just kept on the gas.  We made it out, which sure was a good thing, because it would have been a long walk and I would have never heard the end of it.

Third experience; again in Oregon.  This time we were in the Siskiyou National Forest. We were traveling along side the Rogue River from Gold Beach on the coast fourteen miles east to a beautiful state run campground called Quosatana.  A few miles along there's a private run campground at the junction of the Rogue and Lobster Creek.  We pulled in to take a look.  We were told there was camping on the gravel bar so we drove on down.  The gravel was somewhat soft so I shifted into four-wheel drive and we went through just fine, but we decided to go on to our old favorite Quosatana.
A few days later, when we crossed over the Lobster Creek bridge, we looked down and saw a head shaking sight.  In that same gravel bar was a large motorhome sunk to the body.  I sure wouldn't have wanted his tow bill.  It once again proves the saying; that a truck camper is the only true go anywhere, camp anywhere camping rig.  For us it will always be four-wheel drive.

There have been other needful times, but these were the most memorable.  Sorry no photos, we were always more concerned about getting out." – David Pracht, 1994 GMC K3500, four-wheel drive truck, 1987 Lance LC900
"We needed four-wheel drive in April of 2013 while camping in Monticello, Minnesota.  I arrived at the campground to find ten inches of snow.  I threw the truck into four-wheel drive and backed into my site on the banks of the Mississippi.  There I enjoyed six weeks of heaven." – Gary Smith, 2006 Ford F250, four-wheel drive truck, 2010 Palomino 8510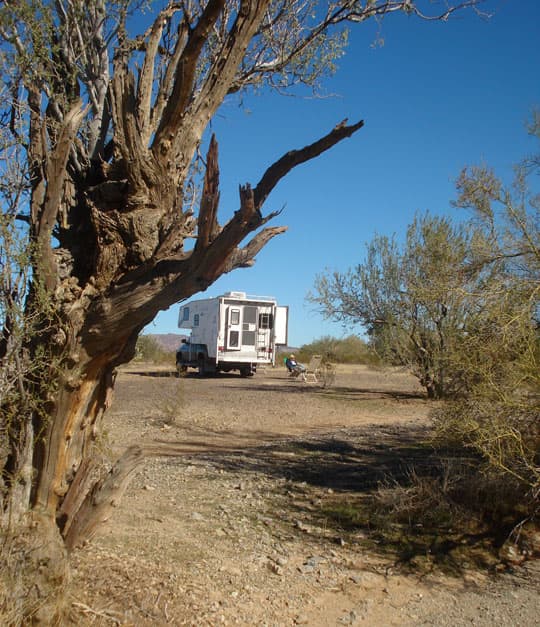 "Yes, I have used four-wheel drive in deep rutted sand out in the desert, deep snow on the highway, and on a slimy ramp when putting in the boat.  All in all, I'm glad I've had it!" – David and Lila Weinstein, 1999 Dodge Ram 3500 Ram, four-wheel drive truck, Arctic Fox 1150
"I used our four-wheel drive to camp on the beach at Race Point, Cape Cod, Massachusetts and on the beach at Cape Hatteras, North Carolina.  I use four-wheel drive low range to back under my camper.  There is no need to touch the gas pedal at all.  I also use it in New England snow storms without the camper." – Gary Goyette, 2011 GMC 2500HD, four-wheel drive truck, 2011 Northern Lite 8-11
"I've been pulled by my dad twice to get to his property.  When he built the house, he made the road better, and paved it.  He'll never let me live down that his Chevy had to pull out my Ford.  There's no problem now.  I've had to be very careful at Glamis to not get stuck, and have avoided Pismo Beach (we ride quads) because I hear many get stuck there.  I wish I had four-wheel drive for piece of mind.  Even when four-wheel drive is not necessarily needed, the low gears in four-wheel drive low can be useful when pulling a tree stump or a large boat up the ramp." – Ron Williams, 1997 Ford F250, two-wheel drive truck, 2003 Lance 1010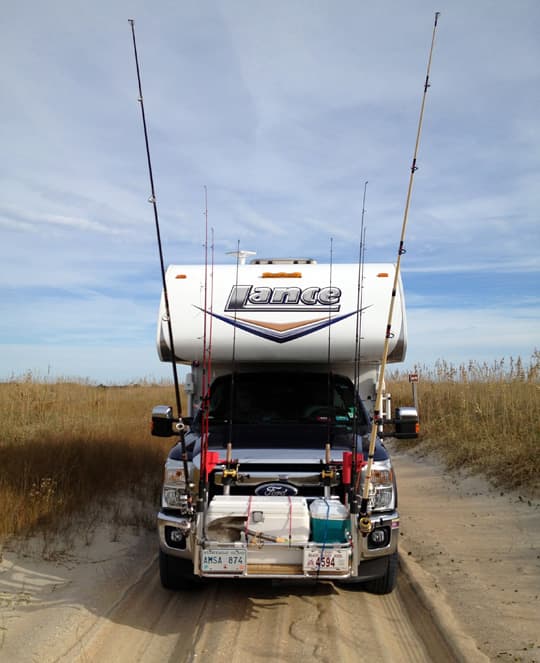 "We beach camp up and down the East Coast.  The more remote the better.  We are starting to think about our next truck and it will be a four-wheel drive truck and most likely a dually." – Bob Gray, 2011 Ford F350, four-wheel drive truck, 2012 Lance 992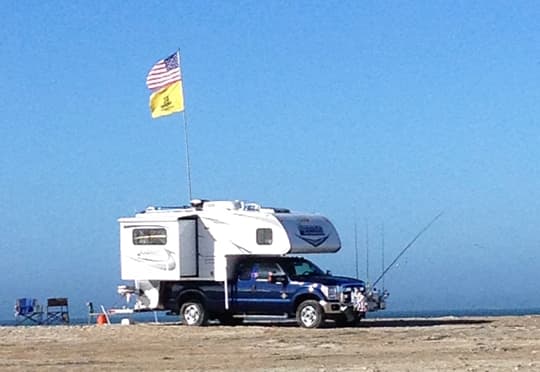 "The first time I used four-wheel drive I was in the Sand Hills of Nebraska and got stuck in the sand near a lake.  I was able to dig behind the wheels and back out of the situation.  The second time I was in the southeastern mountains of Arizona in January.  I was going up the mountain when there was a dip in the road and then the road took a hard left.  When I went around the corner I was suddenly confronted with snow on the road.  It was too late to stop.  I plowed forward and got stuck.  It was a couple inches of snow on top of about four inches of ice slush.
I thought I was doomed on this lonely road where we saw no one in twelve miles.  I dug out behind the wheels and then some folks came up behind me.  They were a great help in guiding me back out of the snow pack.  I think I would have made it through the snow if I had four-wheel drive." – John Bull, 2004 Dodge 3500, two-wheel drive truck, Had a 2004 Lance 920, have Arctic Fox 990 on order
"We live in Utah, and travel mostly in the West and Southwest.  We use our four-wheel drive in low range often, since we camp off-road a lot.  Four-wheel drive is not only for slippery road conditions, but many times low range and high clearance are needed to crawl up, over, or down challenging road conditions (no matter where you travel), which means four-wheel drive is used.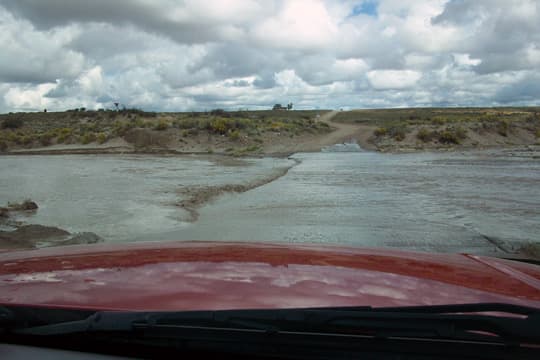 To buy a truck without four-wheel drive is short sighted, no matter where you live.  The incremental cost to both purchase and operate a four-wheel drive truck is minimal compared to the total cost of truck camper ownership and operating costs.  What four-wheel drive gives is capability, which immediately pays for itself the first time it is needed to get unstuck where you were not even aware you may have gotten stuck; even if it's in a campground, shoulder of the road, etc.
Trucks with campers are heavy and large vehicles that are prone to getting stuck, where just the truck alone would not.  Four-wheel drive is many times the get out of jail free card that no truck camper should be without." – Terry Rey, 2007 GMC HD, four-wheel drive truck, 2011 Outfitter Apex 8