Over 110 Truck Camper Magazine readers clearly demonstrate the unbeatable versatility of a demountable camper.  Drop the camper and haul goats!
Obviously we are preaching to the choir, but it's amazing to see all the ways fellow truck campers are using their trucks.  It starts with hauling 8-foot sheets of plywood, bags of gravel and mulch, and junk to the dump – then it runs the gamut.
It's also striking how many of us use our truck camping trucks as daily drivers (like we do).  This week's Question of the Week was, "How do you use your pickup truck when you're not truck camping?"

"Here on the ranch, I haul hay, sheet rock, lumber, and pull a 20-foot trailer with my John Deere.  I'll take it to the shop, or take a load of brush to the brush site, or pick up a load of raw materials for the manufacturing company I own.
My truck pulls any of the four trailers I own for various uses.  Yes, the truck is used and used daily and hard.  When we have a business trip and the camper is loaded, we also pull the trailer." – Don Pryor, 2017 Ford F350, 2008 Arctic Fox 1150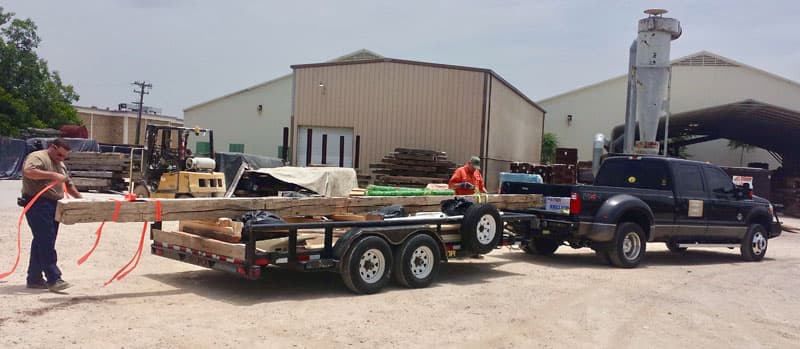 "A pickup is the Swiss-Army-Knife of vehicles.  I use the truck to commute to work, but I also use it to load up on stuff.  I have moved myself, my grown kids, towed equipment, loaded the bed with gravel, mulch, garden equipment, bikes, lawn tractors, and about anything else that can fit in the 5×8 space.
Years ago a friend said, "If you only have one vehicle, it should be a pickup truck".  I have followed that advice for about 30 years.  Even if I didn't have a truck camper, I would have a pickup truck." – Steve Merrill, 2009 Chevrolet 3500, 2007 Lance 992

"Since my F-150 is my only vehicle, when I am not camping, I use it as a daily driver for short and long trips.  I also use it as a garbage hauler and parts chaser.  I will tow my various antique Caterpillars to shows, one at a time of course, and never with the camper attached!" – Peter Oswald, 2015 Ford F-150, Northstar TC650
"We purchased our Ram truck to be used exclusively for our camper.  We consider the camper permanently attached and removed all four jacks.  We own another one-ton truck that is used for hauling purposes on our farm." – Jon Hancock, 2015 Ram 3500, 2016 Northern Lite 10-2EX CDSE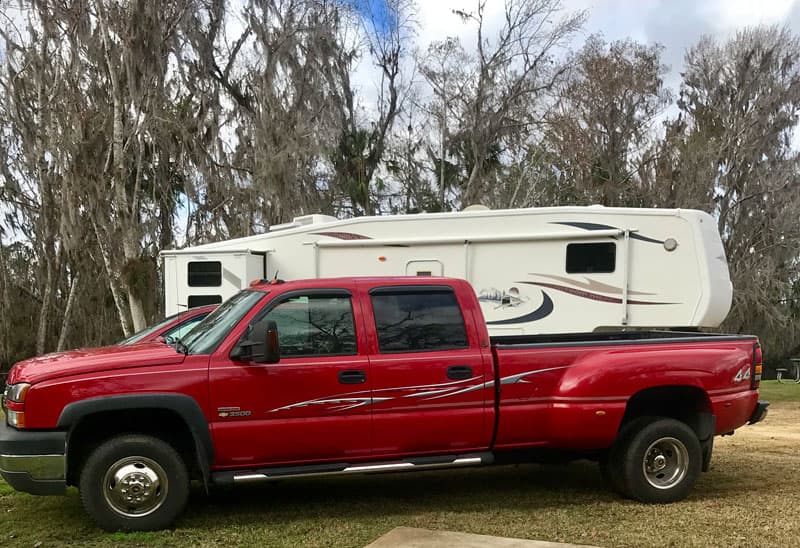 "I use my truck as a daily driver.  I'll take trips to Lowes and Home Depot.  I have even towed my father-in-laws big John Deere tractor to the repair shop with it.  I wouldn't be without a truck." – Gary Hughes, 2005 Chevrolet 3500 Silverado, 2015 Lance 1172
"Our big truck has only had the camper off of it one time since 2006.  That was to seal the camper's bottom.  As of our May trip, we have put 166,000 miles on the rig.  Our Toyota truck is used everyday for all kinds of rural chores from hauling wood to the wife's goats." – John Markwell, 2006 Chevy 2500 HD and 2005 Toyota Tacoma, 2006 Pastime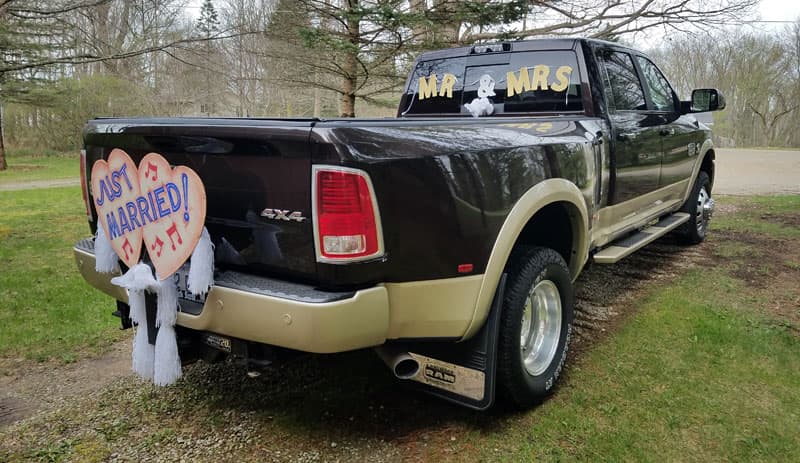 "When we get home from a camping trip we unload the camper and put on a hard folding tonneau cover.  To look at our truck you wouldn't know we use it to haul all the stuff that is too heavy, too large or too dirty to be in anything else.  We do take care of it, and keep it clean inside and out.
It was recently a great honor to use our truck, as requested, to chauffeur newlyweds from the church to a reception in their honor and of course the truck shined.  It was a 45 minute ride of passerby's honking and waving, many in trucks themselves.  The newlyweds loved it." – Bruce and Deb Van Aken, 2016 Ram 3500, 2012 Northern Lite 10-2
"More than half the year the camper is off the truck.  We have real winter here!  It hauls wood, dirt, fishing gear, boats, and ATVs.  I put a topper on it after camping season so the stuff being hauled isn't covered by snow and ice." – Randall Gilbertson, 2013 Ford F250, 2017 Wolf Creek 850