Thirty-one fellow truck campers recommend specific surge protectors and share shocking tails of low voltage, reverse polarity and open grounds. Two surge protectors out barked them all.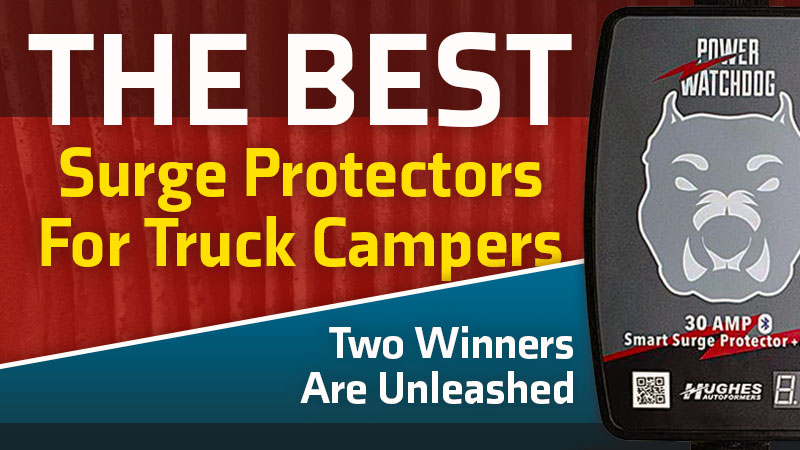 The results of our surge protector survey are in and the results point to two specific models; the Hughes Autoformers PWD30-EPO (portable), and the Hughes Autoformers PWD30-EPO-H (hardwire).
It may surprise you to discover that these products are real dog faces. Seriously, there's a rather ominous guard dog image adorning the fascias. Aesthetically, this is a far cry from the pedestrian surge protectors most folks dangle from campground pedestals.
More importantly, these two power pooches do tricks your old surge protector (and ours) can't fetch. First, they offer 3,000 Joules of surge protection with a replaceable surge/spike module should such an event occur. No more tossing the old bone and buying a new one. Just swap the module.
Second, they have built-in Bluetooth connectivity and a partnering Power Watchdog phone app to display the KWH, Watts, Volts and Amps. If there's a problem, it's detailed on the app. No wonder these two have become favorites with our readership.
Not to be completely outdone, Progressive Industries is still the most popular surge protector brand among truck campers, with the Progressive Industries EMS-PT30X still leading the pack. This is the same model that won our last surge protector survey five years ago making it the most time-tested and proven of the lot. No Bluetooth. No phone app. Just quality surge protection.
Here are the survey responses listed alphabetically by brand, starting with the winners, the Hughes Autoformers PWD30-EPO (portable) and PWD30-EPO-H (hardwired). Plug these into power.
Hughes Autoformers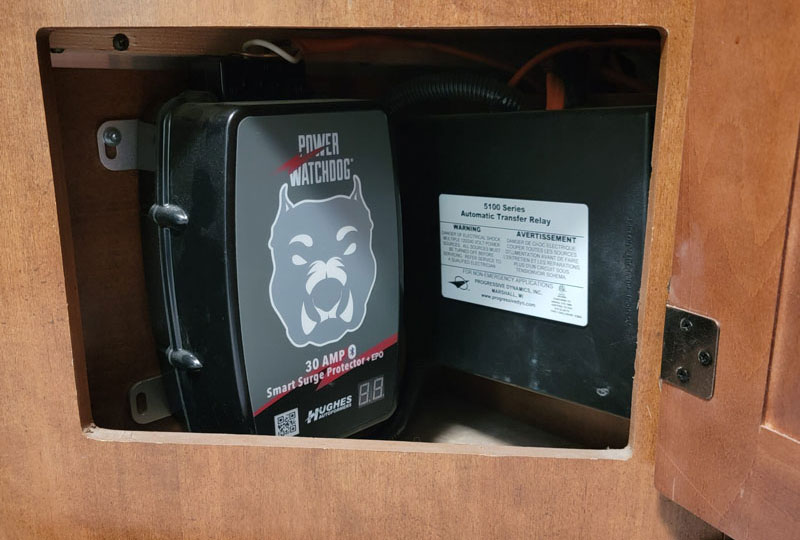 "I have a Hughs Autoformers Power Watch Dog 30 AMP Smart Surge Protector + EPO hardwired.
I stayed at a campground in July where the voltage drop was down to 110-volts with only my air conditioner and refrigerator turned to AC power. The Watch Dog turned off and alerted me to the issue.
Upon turning the refrigerator back to LP, the voltage was around 112-volts allowing me to run my air conditioner intermittently on low to cool the camper off. By this time, my outside air was cool enough to let my Fantastic fan pull outside air and stay comfortable enough for the night. I did not like running my air conditioner on that low voltage.
The surge protector is a worthwhile addition to my camper. I chose the hardwired version so that no matter where I'm plugged in, the camper is always protected, even when just parked inside my own garage." – David Stephens, 2018 Chevy 3500, 2014 Lance 1050S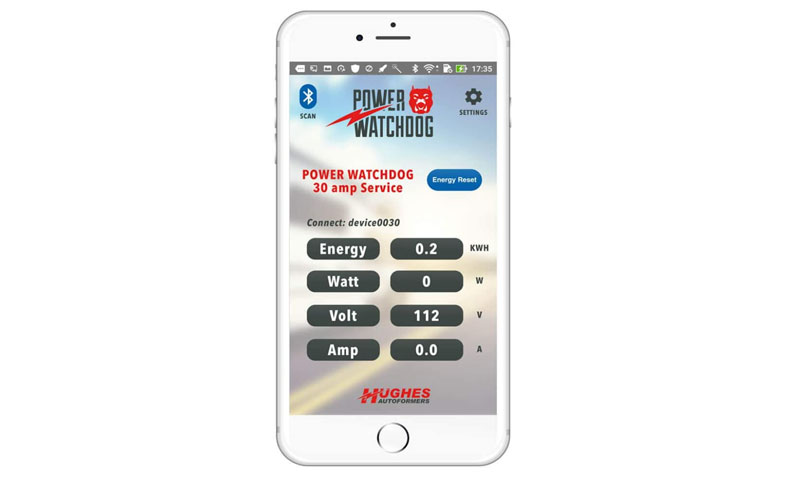 "I have a Hughes Autoformer PWD30-EPO 30. This is the 30-amp auto shutoff plug-in version. It is available in 50-amp and hardwired versions as well.
I live in southwest Florida. Our summer storms include a lot of lightning. My unit has saved me many times by shutting down when a nearby strike caused the grid power to surge.
It has disconnected the camper from overvoltage situations and even a few voltage sags. It even indicates via Bluetooth on my phone what the problem was. It showed a spike of 137-volts recently!
I love the app because of its real-time voltage and amp readings. It is easy to see what wattage each appliance is using. But my favorite feature is the ability to restart directly from the app. So when it's pouring rain and you have a big spike, instead of having to go outside and reset a breaker, you just tap a button and the power is back on. It's the same if you inadvertently pull too much current. It will shut you down before the breaker trips.
The Hughes Autoformer PWD30-EPO 30 is absolutely worth it! It protects my camper not only from surges but also the incorrect wiring that you see all too often in campgrounds." – Dale Wilmot, 2007 Chevrolet 2500HD, 2012 Lance 992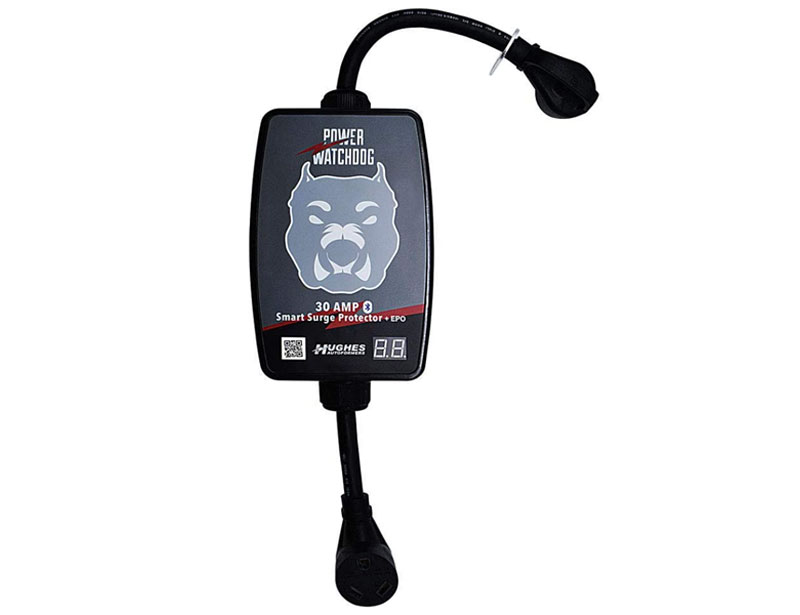 "I have a Hughes Autoformers PWD30-EPO 30-amp Watchdog.
It has turned off automatically due to overvoltage in a couple of campgrounds. It also alerted me in the app. I had the choice to reset it through the app or it would have reset automatically.
Hughes Autoformers PWD30-EPO Watchdog has a replaceable surge fuse, so if we get a surge like a lightning strike that blows the surge fuse, we just open the unit up and replace the fuse rather than buy a whole new unit. I carry a spare surge fuse with me so that I won't ever have to go unprotected.
Surge protectors are 100 percent worth it! They are expensive but, the equipment in our campers is a lot more expensive, plus we all carry a lot of power-sensitive electronics that are all a lot more expensive than a surge protector.
If it ever saves just one of those devices, it has paid for itself. I learned the hard way when I had my air conditioner unit damaged in an RV park. The service tech said my failure was most likely due to low voltage. My Watchdog might have saved the air conditioner unit. It's not just the cost of replacing the unit, it's also the hot camper for the rest of our trip." – Eric Beatty, 2005 Ford F-550, 2013 Eagle Cap 1165
"I have the Hughes Autoformer PWD30-EPO.
So far, we've been lucky. It has not been worth it yet as we've not had any issues. However, it's insurance that is well worth it. I can and have repaired a lot of things on the camper, but having to go in and replace electrical (that is largely buried) would be extremely painful and costly." – Bill Fuller, 2021 Ford F-550, 2021 Eagle Cap 1200
"I have a Hughes 30amp Power Watchdog.
Excessive amounts of current draw beyond the 30-amps in the camper had the Watchdog shut off power before the circuit breaker blew.
It is absolutely worth it." – Mike Cooley, 2016 Ford F-350, 2016 Lance 1172
"I have a Hughes Watchdog 30-amp that I purchased from Princess Craft in Round Rock, Texas. I have gotten the low voltage and open ground alerts. It's hard to say if it's worth it. It's like insurance. It's possible to be insurance poor." – Donald Womack, 2018 Ram 3500, 2020 Lance 1172
"I have a Hughes Power Watchdog 30A. It has not alerted me to any electrical problems. The Hughes Power Watchdog 30A connects by Bluetooth to your phone to give you KWH, watt, volt, and amp usage." – David Chapman, 2017 Toyota Tundra, 2019 Lance 1475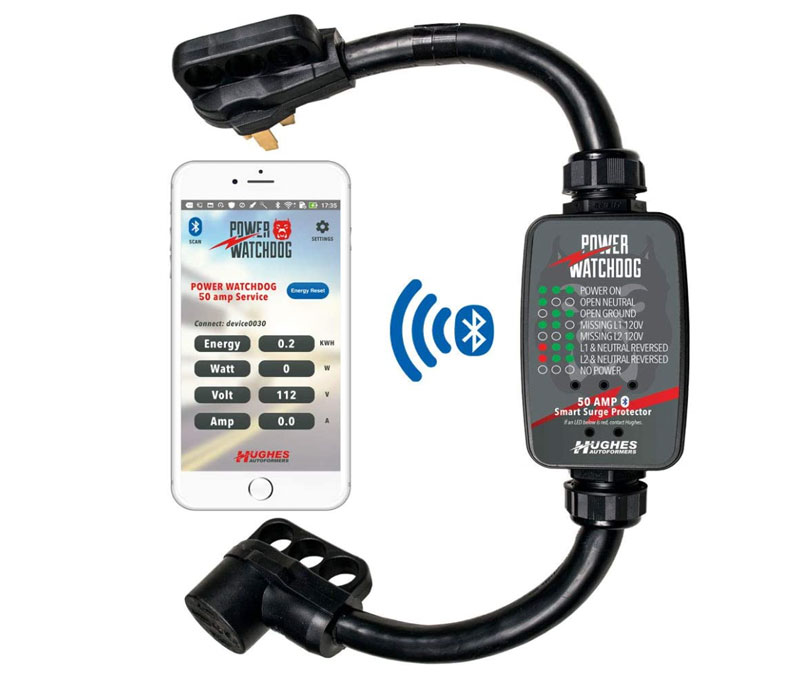 "I have a portable 50-amp Hughes Power Watchdog PWD50EPO, Bluetooth surge protector with auto-shutoff. As far as alerts, I have had a polarity issue. I did not use the offending outlet and moved to a different site.
Having a surge protector gives me peace of mind, plus I can monitor load in my camper of various devices." – Virgil Moore, 2018 GMC Sierra 3500, 2007 Arctic Fox 811
Progressive Industries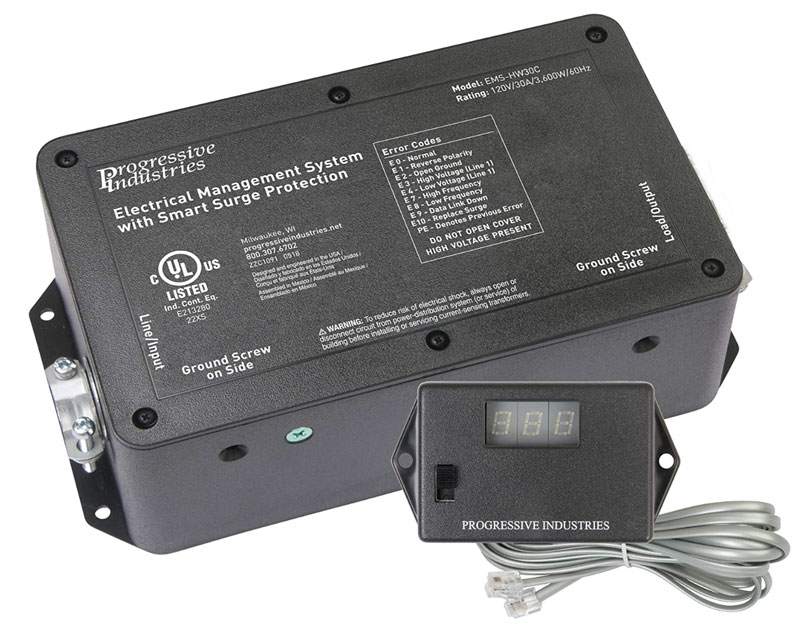 "I have the Progressive Industries EMS-HW30C.
I've had various pedestal problems in a variety of campgrounds as well as when I was moochdocking. The worst was my daughter's house in Tennessee where the hot was wired to the neutral through the whole house. I decided to just boondock instead of risking the electronics in my camper.
It's absolutely worth having a surge protector. I have owned multiple surge protectors. One did its job in South Dakota and protected our camper from multiple lightning surges. The storm fried the surge protector, but protected the camper. I bought a better portable one after that.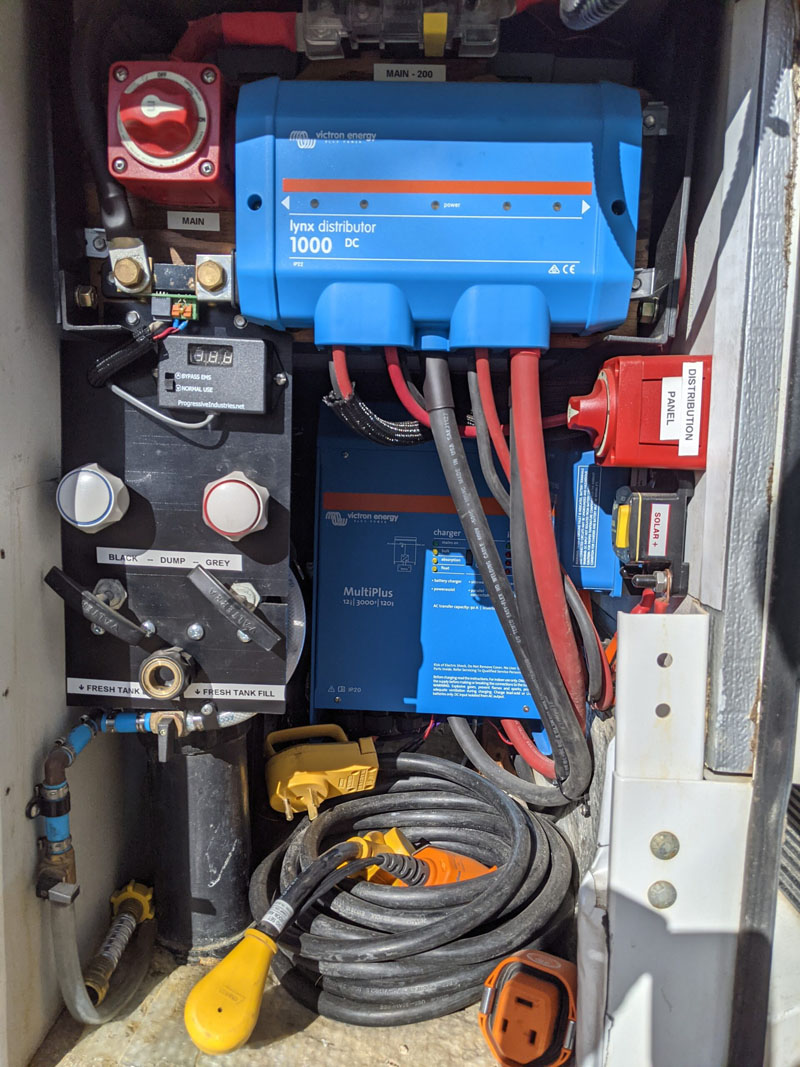 When I upgraded the power system in my camper I bought and installed a hardwired surge protector. It's always in place and filtering incoming shore power." – Mark Joslin, 2006 Ram 3500, 2005 Lance 1181
"I have the 50-amp Progressive Industries HW50C hardwired EMS surge protector. It has alerted me to both high (twice in one campground) and low voltage (multiple times in two campgrounds). The surge protector is hardwired and turned off the power until the voltage level improved.
I have bought a hardwired surge protector for the last three rigs and believe they are as important as the air conditioner.
Speaking of air conditioners, I was in a campground in Arkansas without a surge protector when they had a campground-wide electrical transformer malfunction. This caused a voltage surge and it blew out the capacitors in our air conditioner on a 100-degree day. A good surge protector would have prevented this uncomfortable failure." – Jim Finck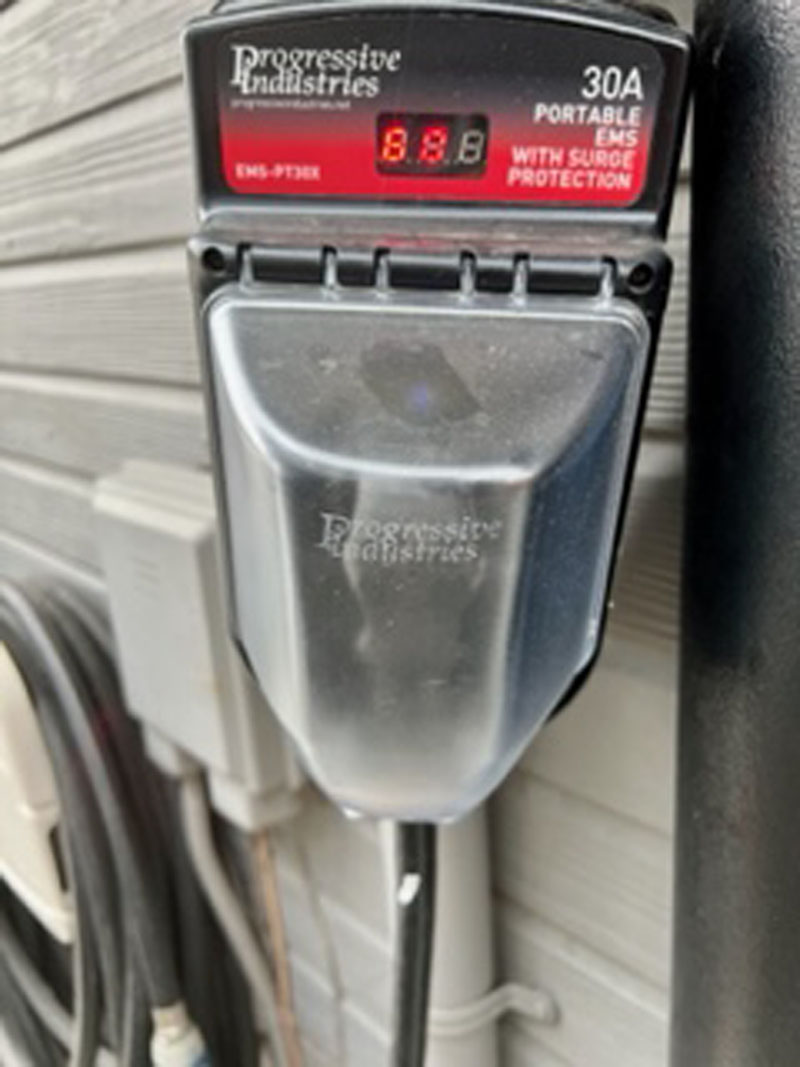 "I have a Progressive Industries EMS-PT30X.
It has shown error code E-4, which is low voltage. I didn't actually see when the low voltage incident happened as the error message was PE-4, which means previous error low voltage and the current-voltage was back to normal.
Having a surge protector is very much worth the investment. Replacing a surge protector with an electrical management system is far cheaper than repairing a fried power system in the camper, and much easier as well." – Allen Jedlicki, 2012 GMC Sierra 2500, 2014 Wolf Creek 850SB
"I have a Progressive Industries SSP-30XL 30-Amp Smart Surge Protector. I have not gotten an alert yet, but I have seen enough improper wiring to want one on my rig.
This model does the job for around $100. It will be a bargain if it's ever needed." – Danny Crain, 2016 Ram 2500, Camplite 9.6S
"I have a Progressive Industries EMS-PT30X.
We have been using the PT30X for five years like a religion, especially in campgrounds. We have seen several electrical pedestals that would cause Nikola Tesla to go into ploy-phase rotation in his grave.
It has indicated neutral/hot reversal. In that case, we changed over to the 20-amp circuit that was wired correctly. It has tripped off power to the truck camper on several occasions when the mains voltage went low, or the mains power for the entire campground glitched or failed.
It then monitored the mains power line until voltage levels were within parameters, before switching back to the ON state to restore power to the camper. Also, consider a chain and padlock for keeping it on the pedestal.
For less than $400, to protect $4,000 to $10,000 of electric equipment, it's a no-brainer. One definitely gets what they pay for in these devices. Lesser versions are just that.
The PT30X will not conduct power out until it has monitored the incoming power, which is within acceptable parameters, for 136 seconds. If an event occurs that is out of established operating limits, then the PT30X will not resume output until acceptable conditions have been established, and then it will start the 136 seconds countdown before switching to the ON state.
Here is a link to the PT30X manual." – Bill and Kira Jones, 2017 Ford F-350, 2018 Northern Lite 9-6Q SE
"I have the Progressive Industries PT30X.
We were staying for a quick one night at a fairly sketchy desert RV park and the surge protector suddenly cut our power. The indicators on the surge protector showed low voltage. We reset the surge protector and had no further problems for the rest of our brief stay.
Yes, having a surge protector is worth it! I have installed a built-in surge protector on our fifth wheel, and this protector has also given alerts and shut downs.
We've currently got a new truck camper on order, and have optioned a built-in surge protector on that as well." – Bruce and Kathy Allison, 2017 Ram 3500, 2012 Adventurer 910FBS
"I have a Progressive Industries, EMS-PT30X. When the weather cover for my surge protector (clear plastic piece covering plug) was damaged (hinges cracked), I contacted Progressive Industries and asked about purchasing a new one. Progressive Industries sent me a new cover free of charge. They have great customer service and my experience is a testament to the company in my view.
I have used my surge protector at every campsite and I have yet to receive an alert. The surge protector continually shows whether there are errors (E on display), amps, volts, etc., and will reportedly shut off and reset if any issues occur, but that has not happened yet since 2016 when I got it.
Having the surge protector is worth the price for peace of mind. I have used it in all RV parks, whether they looked good or are off the beaten path. I even use it at the 30-amp outlet I installed at my home in case I get a surge in power." – Todd Kidder, 2011 Chevy 3500, 2015 Lance 1172
"I have the Progressive Industries PT30X.
I have gotten low voltage alerts and have changed my campsite." – Kevin Presson, 1997 Dodge Ram 2500, 2011 Outfitter Apex 9.5
"I have owned four motorhomes and a Progressive Industries EMS HW30C is always my first upgrade. In the early 2000s, the inventor sponsored a seminar at a rally in North Carolina. For years, the devices were made in North Carolina, but the company has since been sold and they are now imported. I still have my original portable model, but for ease of use, I have since installed the hardwired models.
Although it's seldom memorable (thankfully), I have had low voltage and the rare bad pedestal. I had it trip for low frequency at a Yukon campground powered by a generator.
As I said, it's always the first thing I install. I had a motorhome with a built-in EMS system and I still added a surge protector ahead of the transfer switch. Are they worth it? A little peace of mind is enough for me." – Harry McClain, 2020 Silverado 3500, 2021 Northern Lite 10-2EX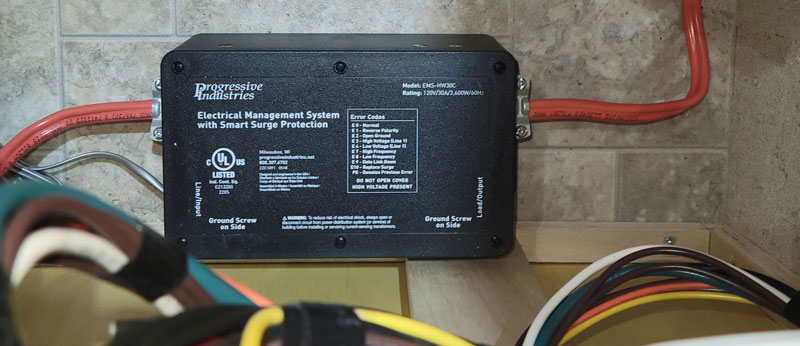 "I have a Progressive Industries model HW30C.
We stopped for lunch while traveling and were using the onboard generator for the microwave. After I started the generator, the microwave wouldn't work. I checked the display for the surge protector and it showed no power was available. The culprit was the breaker on the generator had tripped and, upon further investigation, I found we had left the water heater turned on. I turned off the water heater and reset the breaker and all was good.
I like knowing the camper is protected and having it hardwired in makes it easy." – Bruce VanAken, 2016 Ram 3500, 2019 Northern Lite 10-2EX LE
"I have a Progressive EMS PT30C.
Our surge suppressor alerted us to an open neutral and low voltage in our barn at home. We had just been connected to permanent power by our power provider. Fortunately, it was caught right away and no damage was done to our home appliances.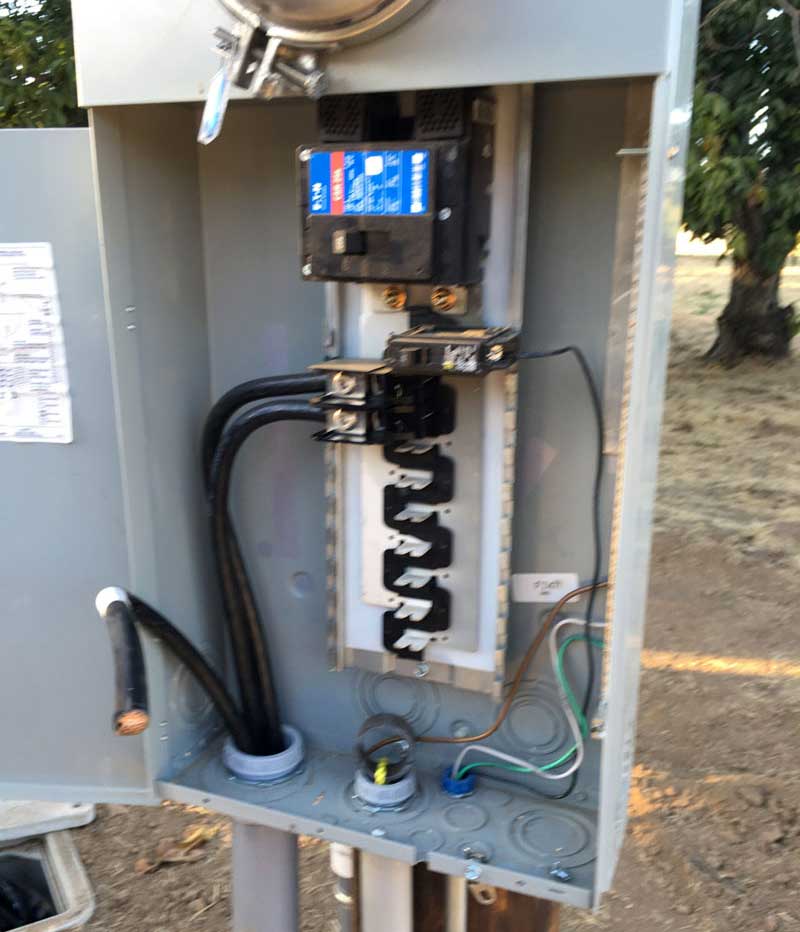 Unknown to us, our contractor did not have the right fitting to connect the extremely large wires connecting our main panel to our house panel. Then he forgot to return and fix the issue. It was easily resolved, but could have gone unnoticed had we not been alerted to the condition when I plugged our camper into its dedicated outlet using the Progressive surge suppressor.
Our surge protector is older. The new ones have a weather cover over the outlet but work the same. Having no neutral can burn up anything using a motor, so we were glad for the early alert.
It's definitely worth the peace of mind when traveling and staying at RV parks that look sketchy." – Greg Chambers, 2015 GMC 3500, 2015 Lance 855S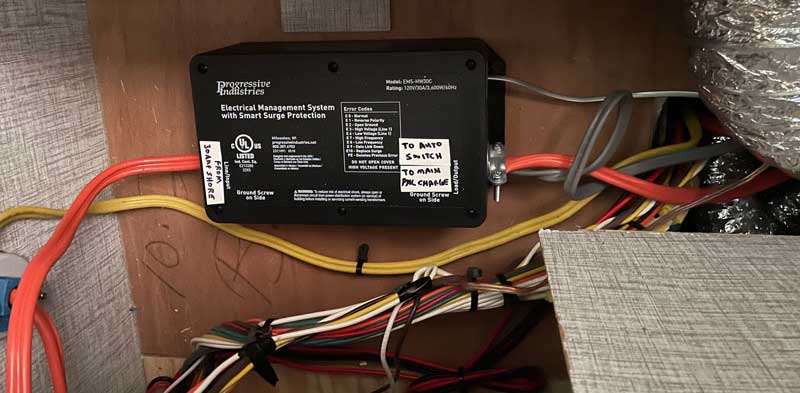 "I have a Progressive Industries 30-amp hardwired surge protector, model EMS-HW30C.
So far I was alerted only one time when I tried to use my Honda EU2000i generator to run my air conditioner. I have never had an alert at a campground, but it alerted me that there was an open ground and would not let the power flow to the camper.
On the generator, I needed to connect the common wire (white) to the ground (green) using the other outlet on the generator. It was a very simple solution that solved the problem.
I fabricated a wire that had a plug on it and connected the white wire to the green wire together and plugged it into the other outlet on the generator.
Yes, it is definitely worth having a surge protector. I now have a readout after connecting to power. The readout tells me the voltage, the current draw in amps, the frequency in Hertz, and any error code for the power supply." – Michael Shippy, 2016 Ram 3500, 2022 Northern Lite 10-2 LE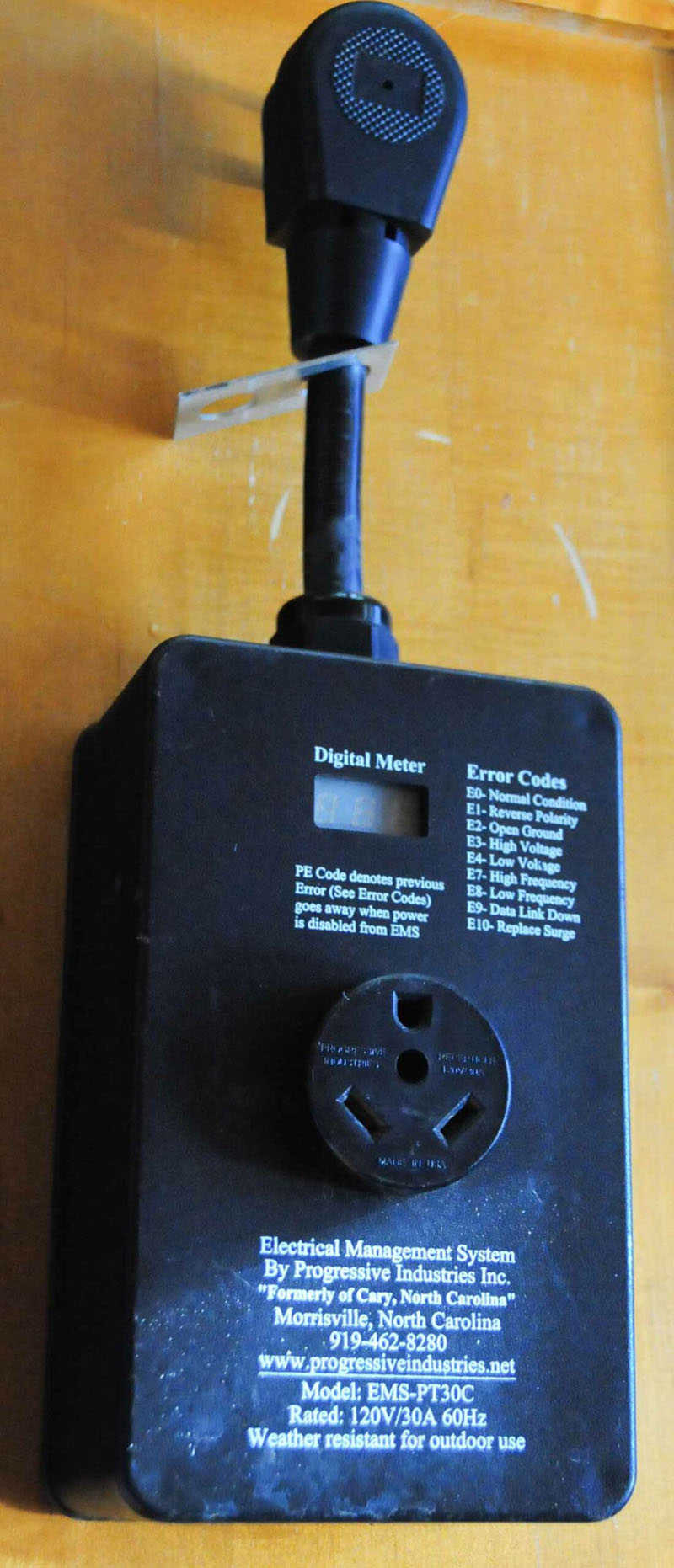 "I would suggest a change in terminology to, "Power Management System". Technically a "surge protector" guards only against surges. Power Management Systems protect against surges as well as low and high voltage and incorrect pedestal wiring.
We have used a Progressive Management System for decades. When it finally stopped working, they replaced it free of charge.
Since I was a working RV tech who occasionally did onsite service calls, I used our protector not only for our own camping but also to check campground pedestals. I have come across reverse polarity, open legs, low voltage, and, in one case, high voltage. It was simpler to show customers the reading on the protector rather than explain it with my meter.
The first step is always to disconnect from the pedestal and then have the pedestal repaired or move to another site. Pedestals are not do-it-yourself projects.
I think a protector is the single most important accessory every camper should own unless of course, you do not care about your truck camper. The photo above is of the one we have owned literally for decades, so it looks a bit different than the newer models." – Steve Savage, Ford F-350, 2019 Northstar Laredo SC
"I have a Progressive Industries EMS-PT30X 30A digital surge protector with weather shield. I bought it from Amazon.
We have owned our surge protector for five years. Only one time have we had an alert. It was for an open ground. We reported it to the campground and they immediately moved us to another site.
We feel that the safety value of a surge protector is well worth its cost." – Pat Bullock, 2016 Ford F-350, 2001 Lance 1030
Southwire Surge Guard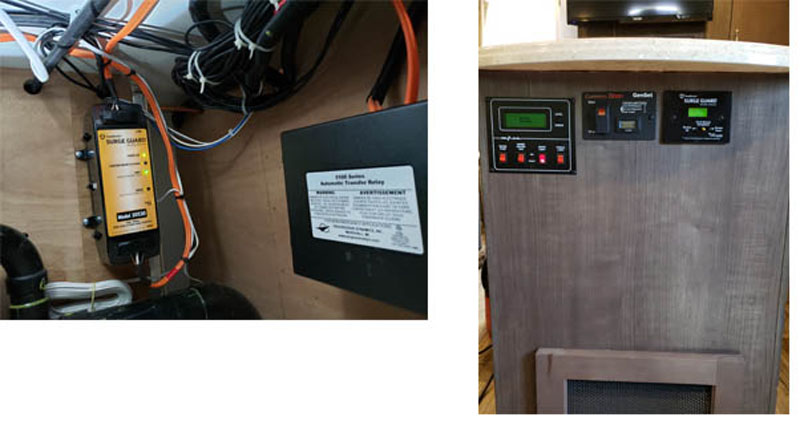 "I have the Surge Guard 35530 hardwire surge protector with the optional Surge Guard 40300 remote LCD display.
I have had open grounds and low voltage alerts. The nice thing about it is that I can monitor the voltage and current draw in real time. With the cost of the RV appliances and components, I feel it saves from roasting the electronics.
I mounted the Surge Guard 35530 in the basement next to the transfer switch and the 40300 remote LCD display at the end of the Eagle Cap 1165 peninsula. It's very handy. At a glance, we can monitor the incoming line voltage and our current draw.
Monitoring the current draw is especially useful when running the air conditioner. If you want to run the microwave or other appliances, you know when you are reaching your max current draw, which should only be 80-percent of the breaker. So on a 30-amp circuit, the constant draw should only be 24-amps." – Frank Mertes, 2018 Ram 5500, 2018 Eagle Cap 1165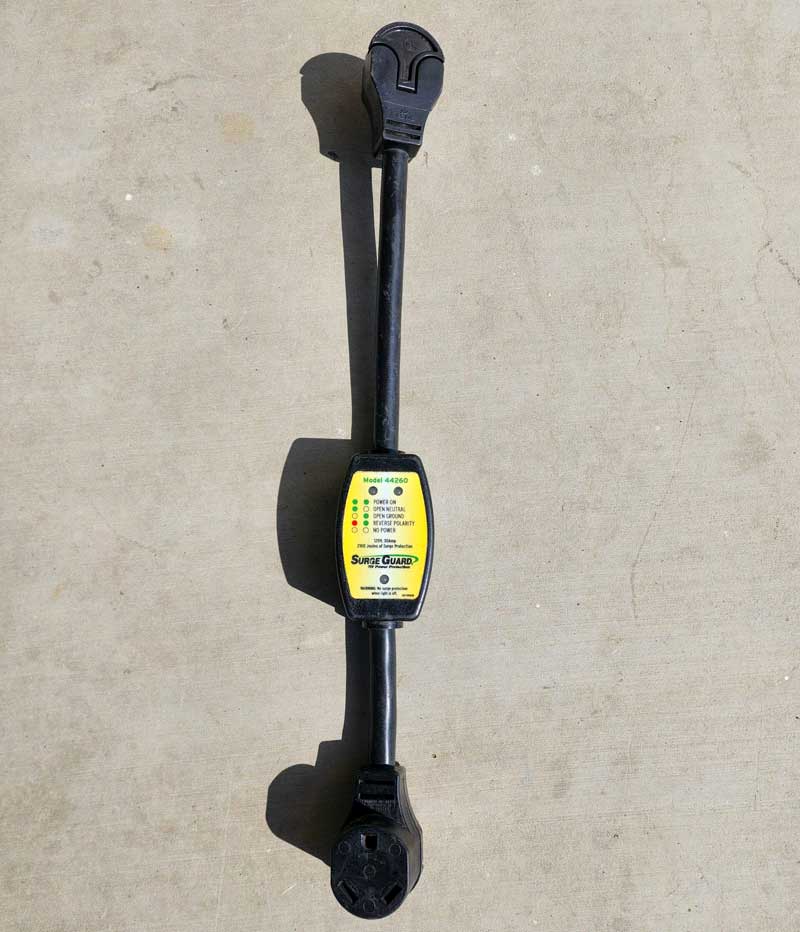 "I have the Surge Guard model 44260. It's available at Camping World, Walmart, Home Depot, RV Upgrades, and others.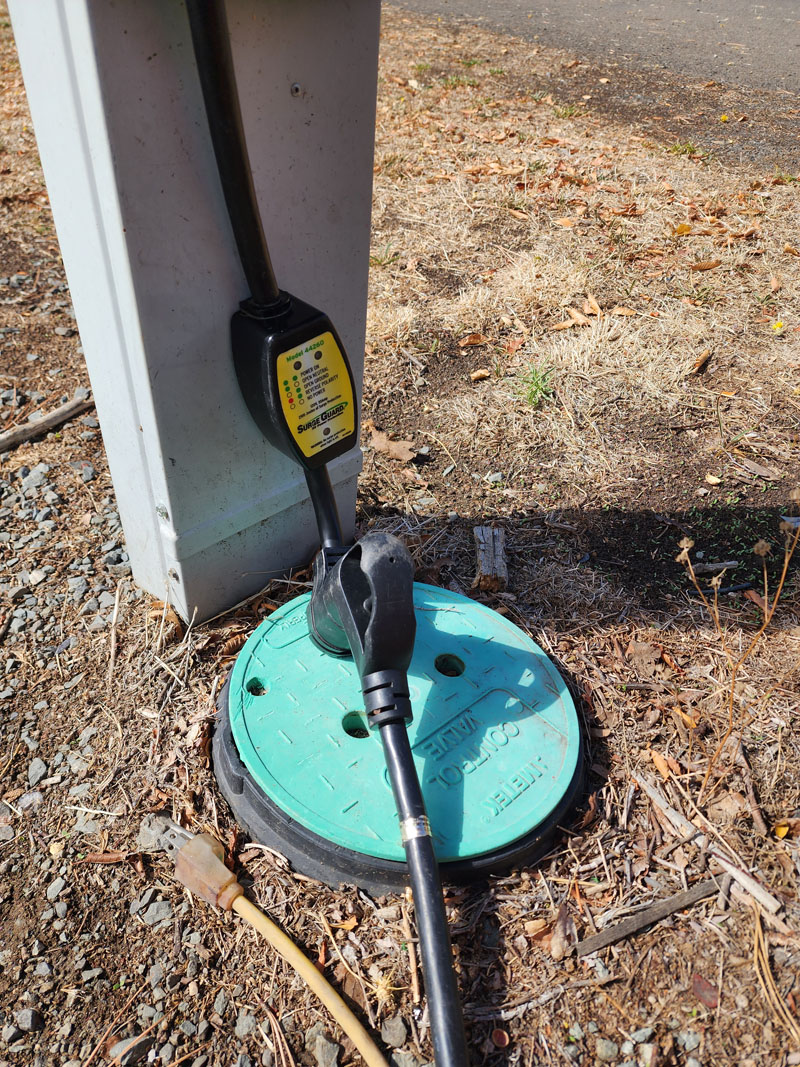 We have never been alerted by the surge protector of an electrical issue. That said, it's definitely worth having. We purchased ours with the new camper in 2017 to ensure the electronics on the camper are protected along with electrical equipment issue alerts." – Dave Riddle, 2015 Chevrolet 3500, 2017 Host Mammoth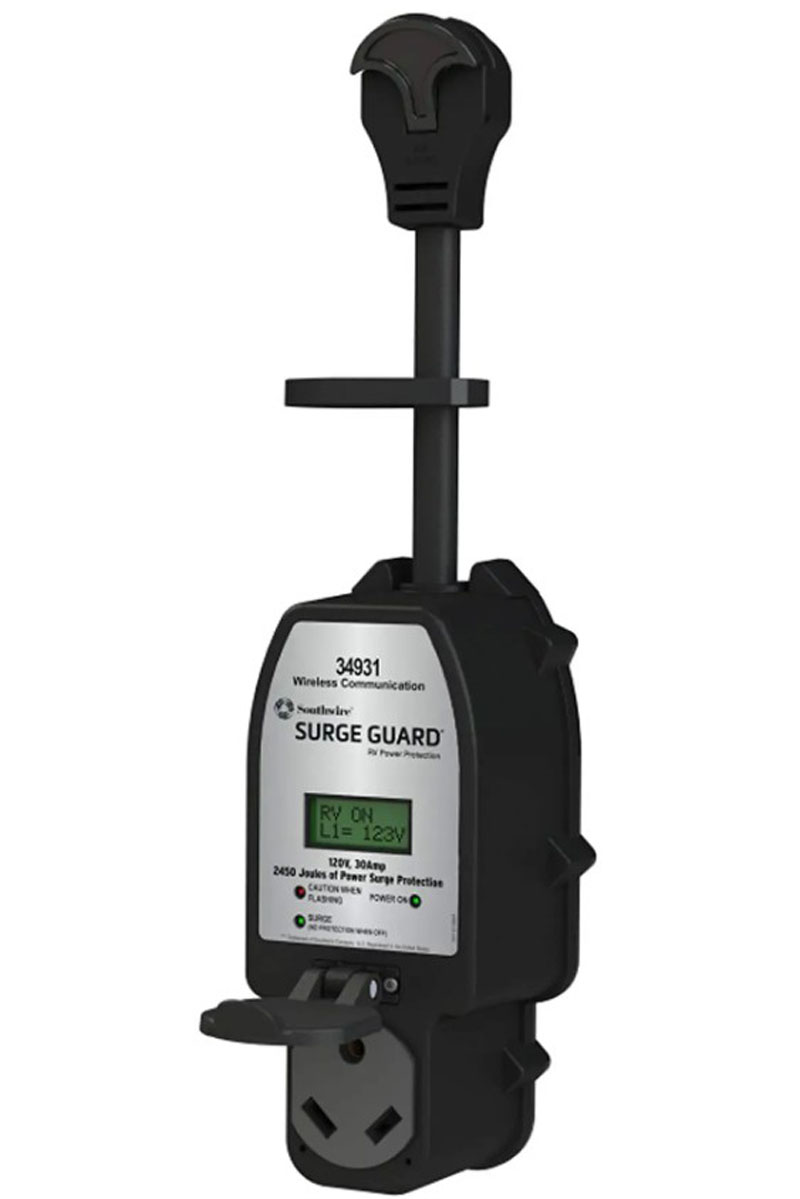 "I have a Surge Guard 30A model 34931. No alerts have been shown so far, but I don't stay in campgrounds too often.
I've used a surge protector on all three RVs I've owned." – Donna Lloyd, 2021 Ram 2500, 2021 Lance 825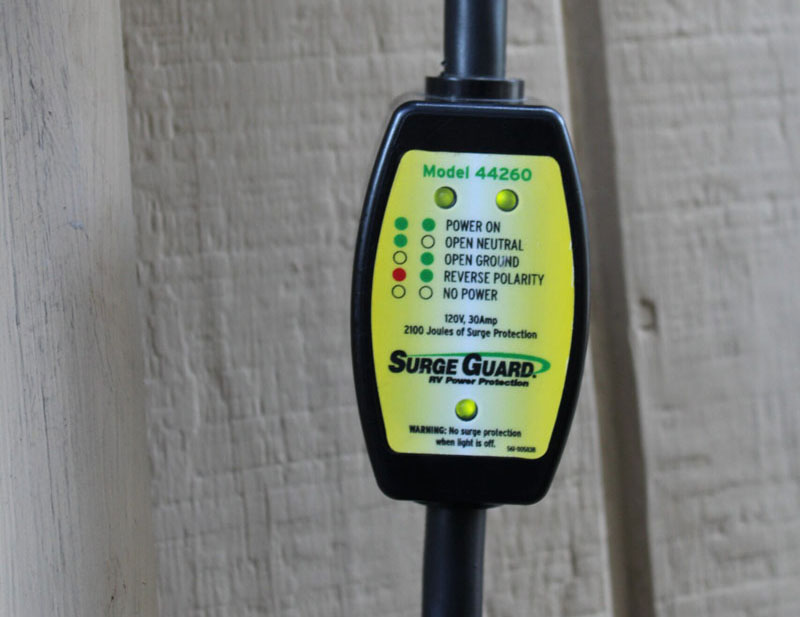 "I have the Surge Guard Model 44260, designed for 30-amp service or, as it says on the label, 2100 joules of surge protection. I purchased the surge protector brand at Camping World for $85.
I have been alerted numerous times for reverse polarity and one time for no power. One time we were at Cal Expo RV park outside of Sacramento. After being assigned a site my usual procedure is to plug into the pedestal to see if it works. Flipping the switch on, the red reverse polarity lit up. Turning the switch off, (which I always do and seems like no one else does), I went back to the office to get another site. Their response was "all of our pedestals work just fine."
As we were leaving the next day there was an electrician working on the malfunctioning pedestal. I asked if I had plugged my camper in what would've happened. He said, "You would have fried all your electronics."
Surge protectors are absolutely worth owning and using at all electrical pedestals. The first thing I do when pulling into a space is to check that the main switch is off, plug in the Surge Guard and verify no malfunctions. And then I bring out my brush and sweep out the bugs and cobwebs that most RV parks feel is not important." – Roger Odahl, 2008 Ram 3500, 2004 Eagle Cap
"I have the Southwire Portable Surge Guard 40300 remote LCD display with diagnostics.
I have never had an alert. It provides information indicating that the power is working correctly." – Jonathan Jenks, 2003, Ford, F-350, 2020, Northern Lite, 10.2 LE
Other Brands
"My surge protector is a Woods model e192912. So far we have been lucky. We have never had any problems. The protector is a lot cheaper than replacing all the appliances that it is protecting." – Frank Joly, 2014 Ford F-150, 1995 Bigfoot 1500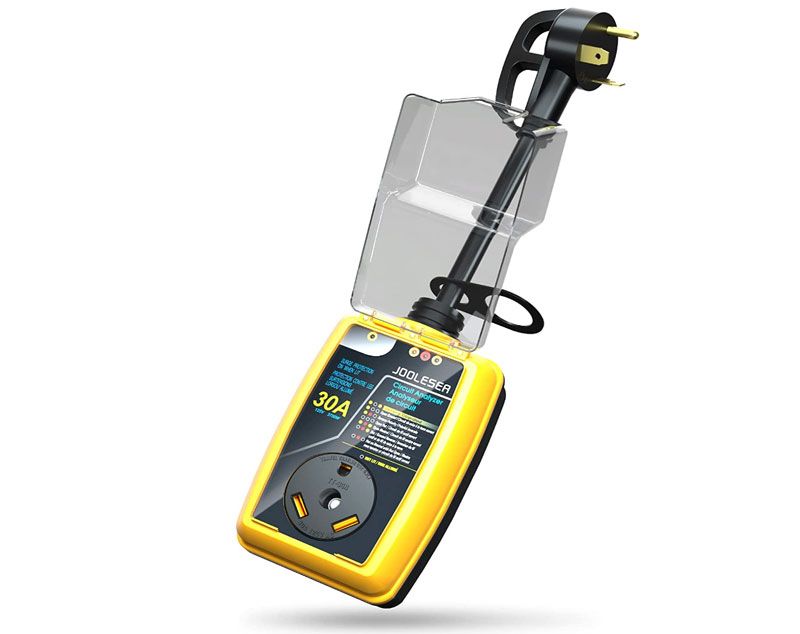 "I have a Jooleser RV Surge Protector 30 amp, model B09L4292TF. It is easy to read status LEDs with a legend to explain what the condition of power is.
This unit monitors with surge protection of 2100 Joules. It has an easy-to-use handle and an in-use waterproof cover. I also use a 30A to double 15-amp outlet adapter that allows me to plug in the truck onboard battery charger.
I no longer have to use the pedestal GFCI outlets that trip in the middle of the night. It is a big improvement and I could not be happier.
I have had several campground pedestal GFCI outlets that trip as soon as you flip the breaker for a test checkout. Without this surge protector and the adapter, I would have had to move or boondock without AC power. It sure makes low-maintained campgrounds a lot less risky to damage to my camper's converter or microwave.
Surge protectors are worth it. One burnt-up appliance and you've more than paid for a surge protector. "An ounce of prevention is worth more than a pound of cure". That's what my grandpa always said." – Kerwyn Shafer, 1998 Chevrolet K2500, 1995 Colorado Lite Craft
"I have a 30-amp SoftStartUp that reduces start-up current and features built-in surge protection. There have been no problems so far. It also allows me to run my AC on 120-volt on a 15-amp outlet." – Craig Schmidt, 2012 Silverado 1500, 2022 Palomino SS-1251
Click here to check out other products that fellow truck campers recommend.