We surveyed Truck Camper Magazine readers on their preferred portable vacuums for truck camping. 'Go Anywhere, Camp Anywhere' often means dirt everywhere. Here's what fellow campers use to keep clean.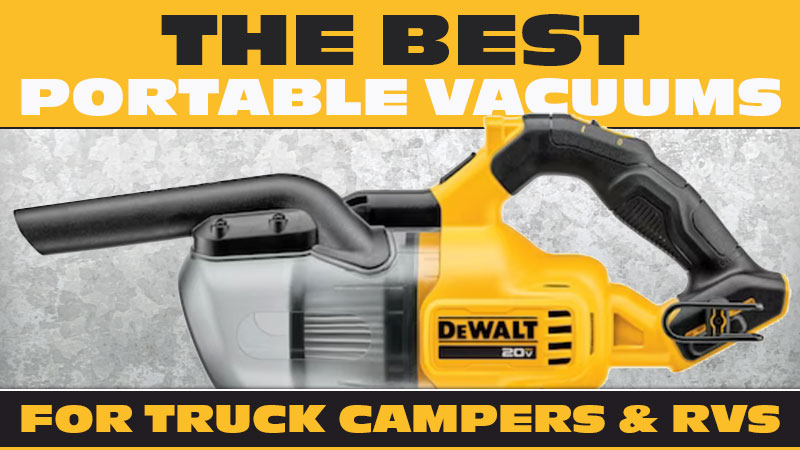 First off, kudos to readers Ralph, Tom and LaNae for saying, "Vacuum? We don't need no stinkin' vacuum!" All these fellow truck campers need is a mechanical broom and dust pan. This is an important reminder that more (and more complicated) stuff isn't always better.
For the record, we travel with a full-size sweeper and dust bunny collector, but have found some dirt-duty tasks better suited to a portable vacuum. It sucks, but it's true.
Studying the responses, it's clear that cordless power tool systems have gone mainstream for truck camping including products from Ryobi, DeWalt, Makita, and Milwaukee. Vacuum powerhouse Bissell also put up a strong showing, as did Black+Decker, Shark, Ridged, and Eufy, but the major cordless systems are the direction.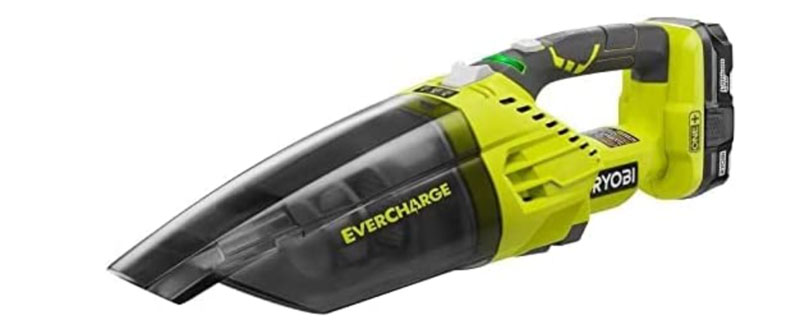 In our own camper, we regularly use a Ryobi P714K 18-volt cordless vacuum. We also use a Ryobi P3320 18-volt cordless fan. Both use Ryobi PBP005 ONE+ 18-volt 4.0 Ah lithium-ion batteries, for which we have two, plus a smaller 2.0 Ah version. When I turned 50 last year, a good friend gave me a Ryobi P117 12-volt charger for the 18-volt batteries further enhancing the system's off-grid versatility. As you read this, Angela is lobbying to add a Ryobi 18-volt drill to our Ryobi arsenal. You get the idea. We're a Ryobi truck camper. We should change our camper's red stripe to lime green.
If you've already invested in a cordless power tool brand, the obvious choice is to buy a battery-compatible portable vacuum (and fan, outside light, powered speaker, drill, etc.) from that manufacturer. From the responses, some cordless tool brands are more popular than others, but nobody said their vacuums didn't suck. The best choice is to find a brand and battery system you like and stick with it.
Here are the responses listed by brand.
Ryobi Portable Vacuums
"I have a Ryobi 18-volt battery-operated vacuum. The Ryobi works well for small stones and dirt. We chose this make and model purely because it shares the battery and charger with our other tools." – Tom Davidson, 1998 Dodge 2500, 2022 Capri Cowboy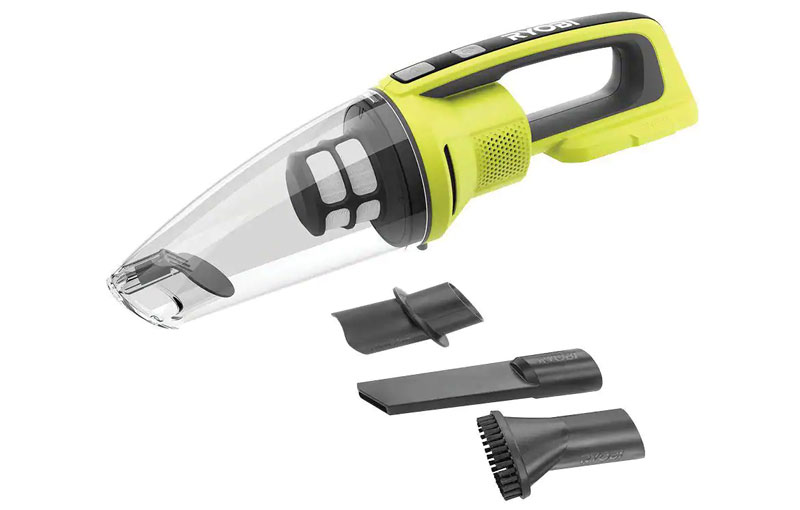 "I have a Ryobi 18-volt battery-operated hand vacuum. It's a small size, has powerful suction, and is easy to empty." – Esther Fiddes, 2001 Chevy 2500, 2005 Lance 915
"I have a Ryobi 18-volt battery-powered handheld vacuum. It comes with an extension tube and floor tool.
This vacuum is small enough to travel under our dinette and is as handy as a quick dust buster. It has power enough to clean the floor with a pair of vacuum wands and a floor tool attached. It also uses the same battery and charger as our portable fan, tire pump, and other Ryobi tools." – Stan Carman, 2016 Ford F-350, 2021 Northern Lite 10-2EXCD LE
"I have Ryobi 18-volt dust buster style vacuum. It's adequate and useful because I use the same 18-volt battery in other Ryobi tools." – Donald Womack, 2018 Ram 3500, 2020 Lance 1172
DeWalt Portable Vacuums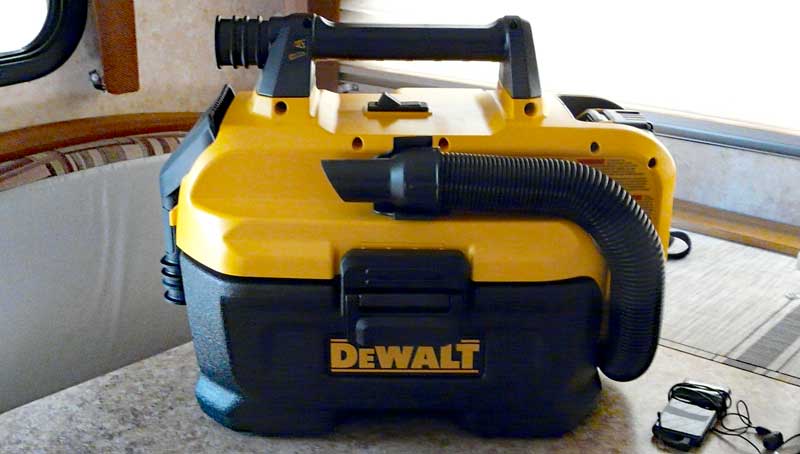 "I have a DeWalt 20-volt Max cordless wet-dry vacuum. It's available on Amazon.
I like this vacuum because it is powerful, wet-dry, with a reusable filter, and works with the battery system that I have and carry with me. The noise level is medium. It's lightweight, but the size is medium as it has a two-gallon tank capacity. The only downside is the price, at $180 Canadian for the tool only. It is pricier than the average vacuum.
A few years ago, I decided to go only with one kind of battery-operated tool set so I wouldn't have different batteries and chargers. After some research, I selected DeWalt for its power and array of various tools. After I bought my truck camper and decided to buy a battery-operated vacuum, the choice was obvious. While on the road, I carry a variety of tools all powered by the same type of batteries." – Alain Gilbert, 2020, Ram 3500 Dually, 2008 Bigfoot 30C1001
"I have a DeWalt half-gallon wet/dry portable vacuum that runs on a 20-volt battery.
I already have the DeWalt batteries. It has strong suction and a pull-out hose for corners." – Grant Johnson, 2009 Chevy 2500, 2020 Northern Lite 9-6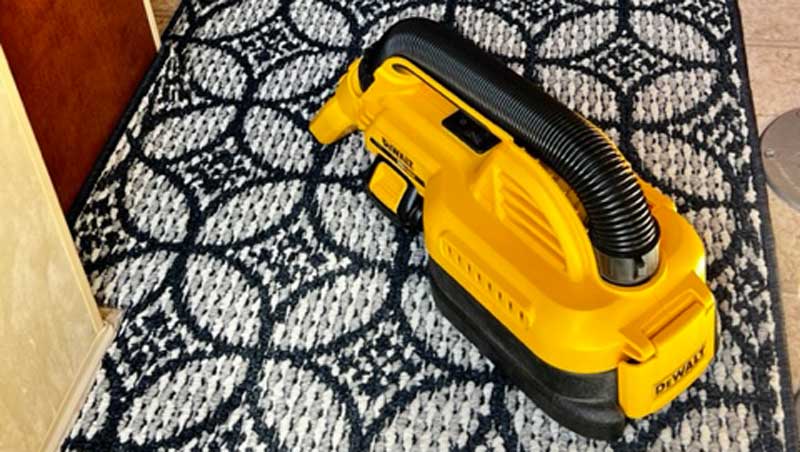 "I have a DeWalt 20-volt cordless half-gallon wet/dry vacuum.
We love the small size and versatility of our wet/dry vacuum. The battery lasts a long time, and the suction is incredible for such a small vacuum. It has a handy hose that can reach onto the far corners of any compartment or floor area. We travel with a dog and a cat, so the multipurpose functions of a shop vac are invaluable. We have the kitty's litter box tucked away in a cabinet area, so the small size and hose are great for quick cleanups. The 0.3-micron HEPA filter traps all of the dust and the lithium battery recharges in no time on the small charger!" – Allen Jedlicki, 2012 GMC 2500, 2014 Wolf Creek 850
"I have a DeWalt 20-volt Max Hand Vacuum. It's cordless for wet or dry surfaces. It has a half-gallon tank, washable filter, a separate DeWalt battery, and good suction. You can get it from Lowe's or Amazon.
I like that it's handheld and small. It works with DeWalt tool batteries and chargers. It's one of the best handheld small vacuums we've used." – Kristi Dreyer, 2018 Ram 3500, 2002 Lance 1121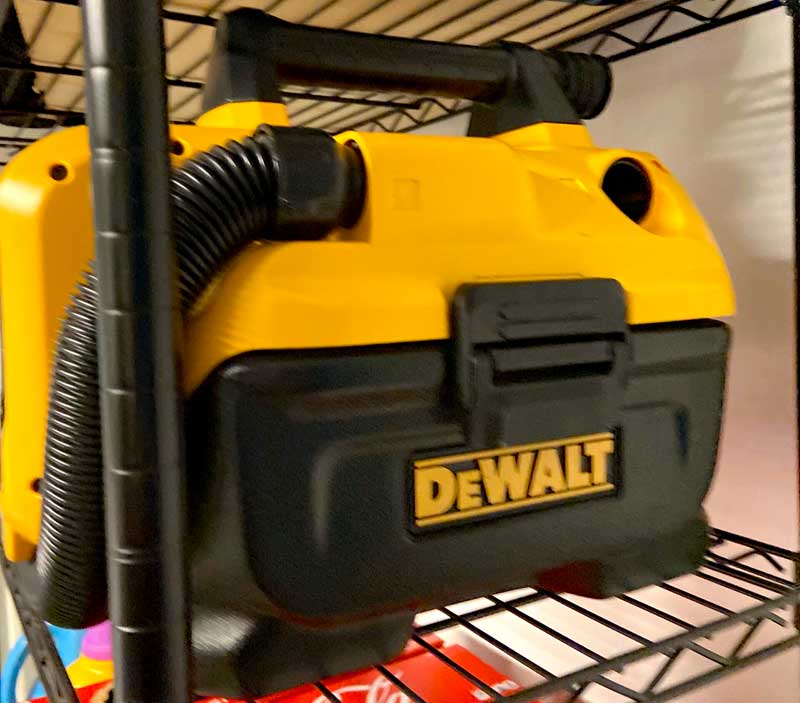 "I have a DeWalt 20-volt battery-operated vacuum. You can order it from Home Depot online. It's an awesome little vacuum that's very lightweight and a small size for on-the-go. If you use it a lot, you will need to bring the charger." – Scott Wyllys, 2017 Dodge Ram 2500, 2019 Palomino HS-8801
Makita Portable Vacuums
"I use a Makita 18 volt LXT lithium‑ion brushless cordless two-gallon HEPA Filter portable wet/dry dust extractor/vacuum kit (5.0Ah).
My rig is pretty simple. I use Makita lights inside and have a small chainsaw in addition to the vacuum. They all use the same 18-volt batteries.
The vacuum is wet/dry. I use it for general cleaning and to extract water from a simple indoor/outdoor shower. The water can then be emptied into my grey water collection can." – Jim Levi, 2020 RAM 2500, 2021 Ovrland 8 foot topper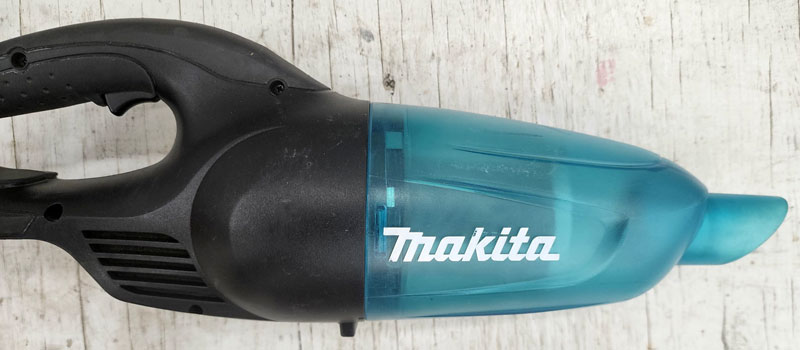 "We use a Makita XLC02 portable vacuum. It runs on 18-volt rechargeable Makita batteries. We carry a single battery charger for the batteries and hook it up to either shore power or to the inverter when recharging is needed. We have other Makita tools so purchasing a Makita made sense.
We like the small size and cleaning power of the Makita. It came with several attachments, including a crevice and floor tool, an extra length of tube for use with the floor tool, and a battery. As vacuums go, it isn't overly noisy and the battery has never run out before we're done cleaning. It's easy to clean and service and I expect that with its simple design and ruggedness, it will last for many years to come." – Dave Riddle, 2015 Chevrolet 3500 HD, 2017 Host Mammoth
Milwaukee Portable Vacuums
"I have a Milwaukee battery-powered vacuum. They are awesome! You can get it everywhere Milwaukee tools are sold. It's compact and powerful." – Gary Westhoff, 2020 Ford F-250, Lance 855s
"We carry a Milwaukee M18 compact vacuum. It is battery-powered and uses the same battery as the drill we with our manual jacks.
The vacuum was mostly selected to go with the existing M18 drill used on our manual jacks. We had been using a little whisk broom and it just couldn't get into some of the corners. The vacuum works well and the attachments work well." – Ken B., 1986 Ford F-250, 2003 Lance 815

"I have a Milwaukee M12 hand vac that uses standard Milwaukee Tool M12 lithium batteries. They fit any of the tools that normally live in our camper on a trip. Think portable fan, impact driver, etc.
Many online retailers plus Home Depot carry it. You can buy the bare tool if you're already into the 'M12 toolverse' and don't want/need yet another charger or battery.
It has great battery life, is not excessively noisy, and is easy to handle for a male or female. Best of all it truly sucks and is sufficient for dirt, gravel, and such from the Dalton Highway in Alaska, Dempster Highway in Yukon and Northwest Territories, plus Campbell and Klondike highways (also in the Yukon). It's been proven on more than 2,000 miles of gravel just for these routes." – Duncan Crawford, 2016 Ford F-350, 2020 Northstar 12STC
Black+Decker Portable Vacuums
"I have the Black+Decker dustbuster AdvancedClean cordless handheld vacuum (CHV1410L). It's a 16-volt powerful, durable, and transportable vacuum with good suction. The battery life is good, and it's cheap, too." – Mark Hutchings, 2021 Dodge Ram 3500, 2022 Lance 825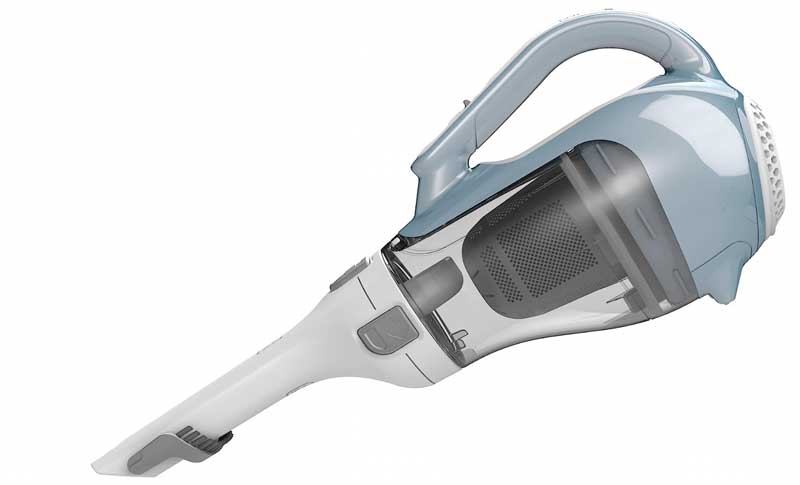 "I use mostly a broom and dustpan, but we also have Black+Decker dustbuster cordless lithium. We can charge whenever we have 110 volts available or a small inverter. With the lithium battery, the charge battery lasts forever. It has plenty of suction to pick up small rocks and pebbles off the floor. It fits easily under the sink and weighs almost nothing." – Ron Kelm, 2007 Ford F-350, 2004 Northern Lite 10-2000
Bissell Portable Vacuums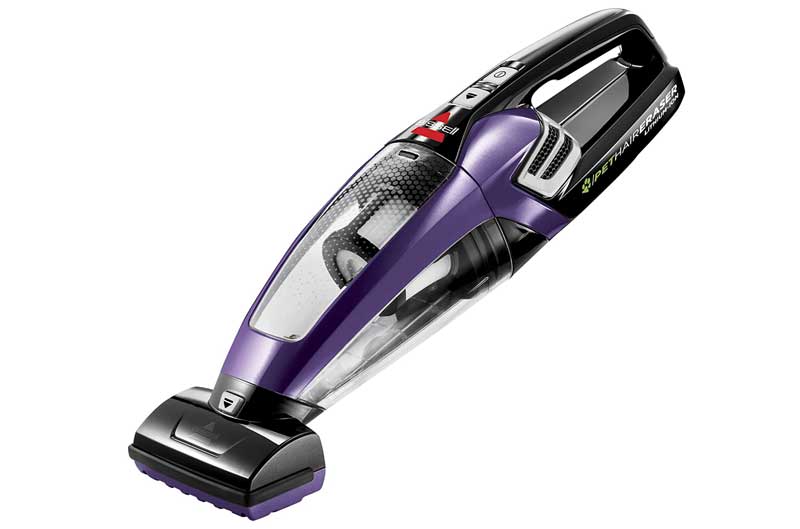 "We have a Bissell Pet Hair Eraser lithium-ion cordless hand vacuum. It's 14-volts and purple. We love this little vacuum. It's definitely not the cheapest one on the market, but it's worth the investment. It's small enough to store easily in our limited space, yet the battery is long-lasting and the suction is powerful. I can use the motorized brush on the upholstery to grab our pup's short hairs or grass clippings that come in on her paws or use it on the vinyl floors.
It picks up the debris on the first try. It doesn't spin it around and spit it back out the rear of the spinner opening as some vacs do. It also has a crevice tool which is easy to add onto the end and it gets into the tiniest spaces. It has a three-stage filtering system so dust isn't put back into the air. The large dirt tank is easy to empty and a tool bag is provided with the purchase." – Ceci Burklow, 2019 RAM 2500, 2022 Northstar 850SC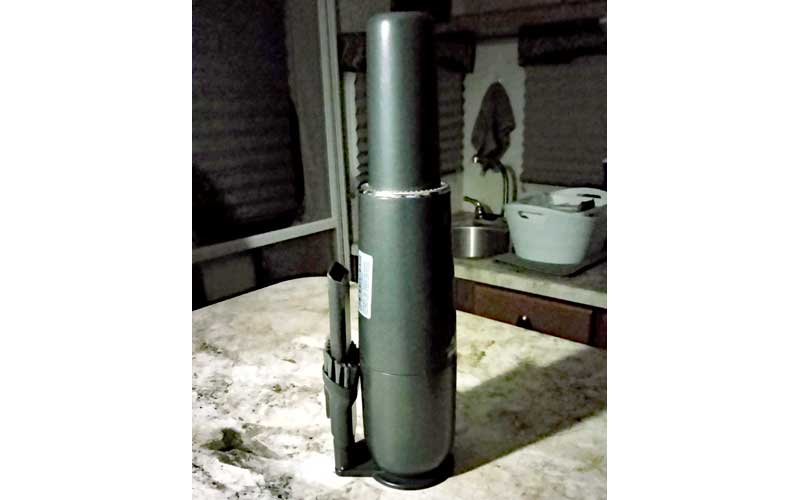 "We use the Bissell AeroSlim lithium-ion cordless handheld vacuum. It comes with a USB charging cord so we can charge it either in the camper's 12-volt system or in the truck if we are driving. We bought ours on Amazon.
We like this unit for the fact that we can charge it off the camper when dry camping. It has acceptable suction and is compact enough. It's easy to store and it has a pretty good run time between charges.
The replaceable/washable filter is a plus. Taking the head and filter off works great sucking the air from the vacuum seal bags.  It makes storing clothes items more compact and saves space. The only downside we've found is that the on/off button could be located in a different place as sometimes it can be bumped on easily." – Chris Perry, 2006 Ford F-350, 2021 Wolf Creek 890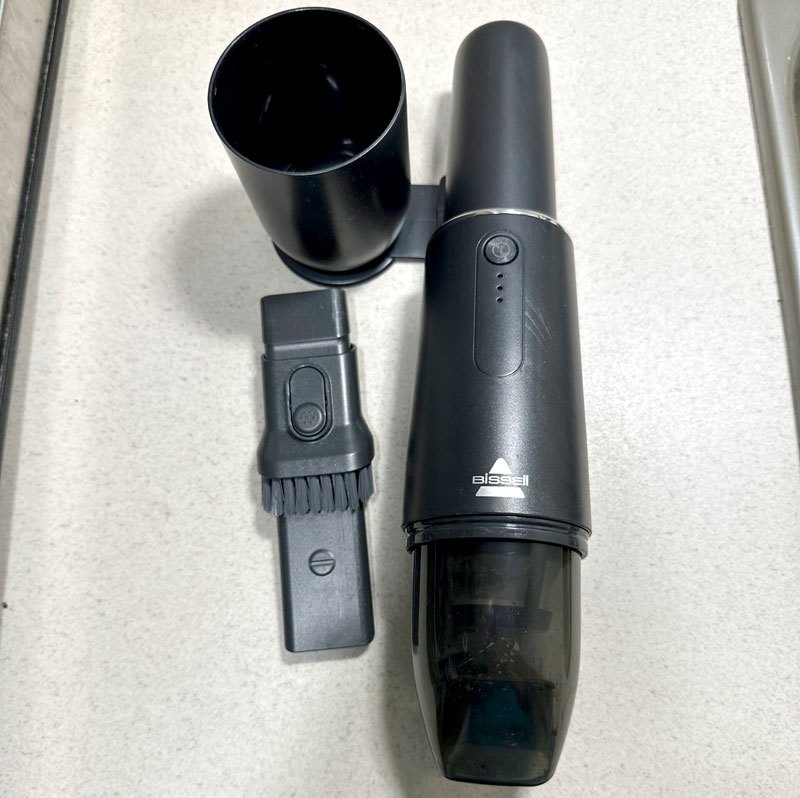 "I have a Bissell 29869. It has a lithium battery and charges on a USB cable. It is available directly from Bissell, Walmart, or Amazon.
We needed a vacuum that would recharge from either a 12-volt or USB outlet. Earlier we had a cheap one that worked, but it wasn't built to last. After it died, I found this one online. This is built much more robust and is serving us very well. It's very effective in vacuuming mosquitoes and other bugs as well as small jobs on the floor. I didn't include a ruler in the picture or measure it but I'd estimate it's 12 to 14 inches long." – Bob Claycomb, 2007 Dodge 2500, 2019 Northstar Laredo
"I have a Bissell hand-held pet hair eraser vacuum. It has a rechargeable battery.
The built-in brushes really pick up dirt in carpets. The attachment can reach into small spaces. It's pricey, but it's the best handheld I've used. It lasts for a while, but it's slow to fully recharge." – Andy Kelly, 2023 Chevy 3500, 2015 Lance 855S
Eufy Portable Vacuums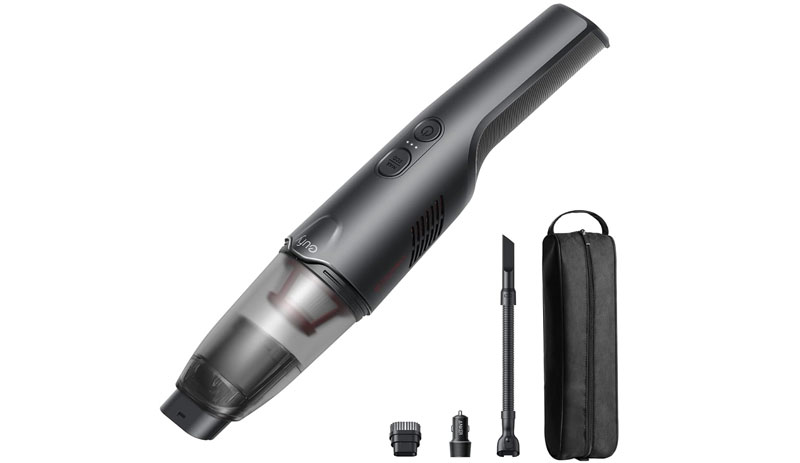 "I love my Eufy vacuum! I've only had it for a few months, but it works in the smallest places and on the floor. It has very strong suction in comparison with other handhelds. I have learned to clean it frequently as dust in the filter will stop it completely. But it works well and is small and convenient, so it is worth it. us.eufy.com. I have the HomeVac H30 at $199.99, but they have two other models that are cheaper." – Pat Bickel Jones, 2006 GMC 3500, 2017 Host Mammoth
"I have a Eufy H-20, 12-volt rechargeable cordless vacuum.
We had a great 110-volt Black and Decker dustbuster that we used when we remembered to take it on trips. We recently decided to get a smaller vacuum dedicated to the camper as we are doing more frequent and longer outings.
While I like the ergonomics of the small dustbuster handle a little better, the Eufy has been an excellent addition to our camper kit. It weighs under two pounds, has a small extension hose, charges very quickly, and comes with a storage bag. The LED light makes it easy to see the area you are vacuuming and the washable filter is simple to clean. It was a little pricier than some of the other models we considered, but the two year warranty helped. So far, it's picked up everything I've used it for; dirt, leaves, dog hair, crumbs. Hopefully, it does the same with sand at the beach this weekend." – Niko Levin, 2000 Ford F-350, 1997 Lance Squire 5000
Shark Portable Vacuums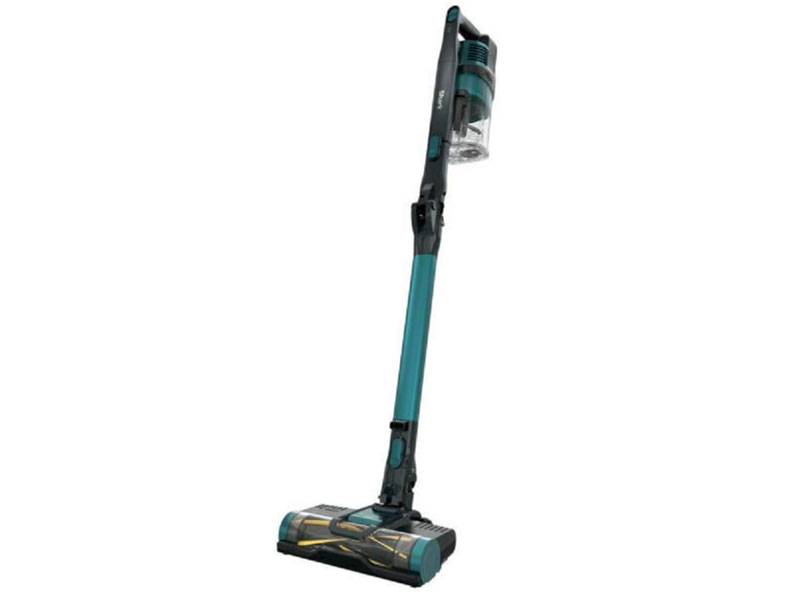 "I use a Shark Rocket Pro Cordless. It's easily recharged on the inverter. I am in Canada and bought it at a local store, but it is available at both Walmart and Amazon in the United States.
The Shark Rocket Pro is powerful enough to suck up cat hair and kitty litter. It comes apart easily for storage, can be converted to a handheld for cleaning the truck, and works equally well on carpet and linoleum floors. It has several attachments so you can get into the back of cabinets and tight corners. The handle is long enough to easily reach the carpeted ceiling. Have you ever been caught in a Death Valley sandstorm? It can also be used multiple times before it needs recharging" – Jenn Richardson, 2012 GMC 3500, 2012 Arctic Fox 992
"My RV's dustbuster had seen better days, so now I use a Shark rechargeable vacuum that I also use for small messes in my home. I bought my Shark from Amazon.
The Shark is much bulkier than a dustbuster but much better at cleaning the runner rugs on the camper's aisle." – Philip Tron, 2009 Chevy 3500, 2012 Lance 1050
Ridged Portable Vacuums
"I have a Ridgid brand three-gallon wet/dry vacuum with a 4 amp battery. You can get it at almost any Home Depot. It's a great little vacuum that we can hide away. The biggest thing is the lifetime warranty from Ridgid. Just sign your gear up and Ridgid guarantees it for life. It's an 18-volt battery-powered unit." – Mick King, 2020 Silverado 3500, 2023 Bigfoot 10.4
Other Portable Vacuums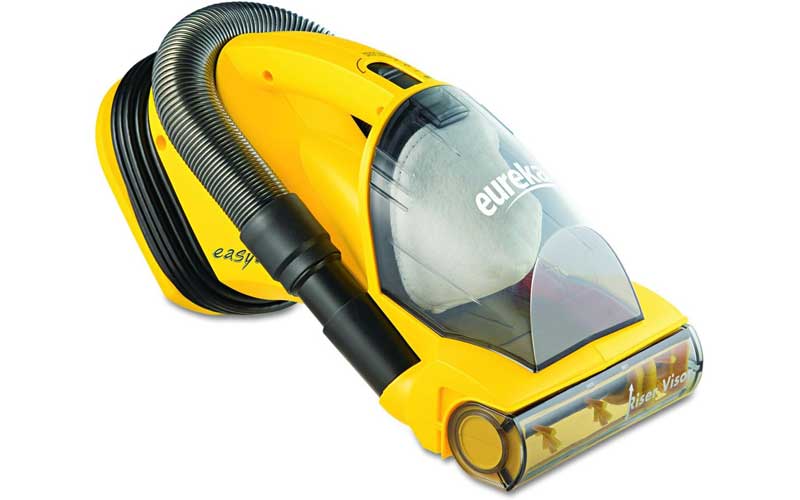 "I have a Eureka Easy-Clean 71B 110-volt corded hand vacuum.
Sadly this model appears to have been discontinued by Eureka and most cordless models do not have a power brush. Maybe search for it on eBay. If our Eureka dies, I would probably replace it with the Ryobi PCL700B cordless vacuum with a powered brush as I already have other Ryobi tools, chargers, and batteries.
The Eureka 71B is my hands-down favorite because it has adequate power, a motorized brush with a clever flip-up shield for vertical or horizontal surfaces (handy for upholstery), and an on-board hose and crevice tool for those inevitable stubborn spots. Emptying the dirt catcher is quite easy, and cleaning the filter is about average. The 110-volt feature is not a drawback for us as we have an on-board propane generator, but the vacuum could also be run with a relatively small 12-volt inverter if a generator or shore power is not an option." – John Wells, 2020 Ford F-450, 2012 Chalet Ascent S100F (Yertle)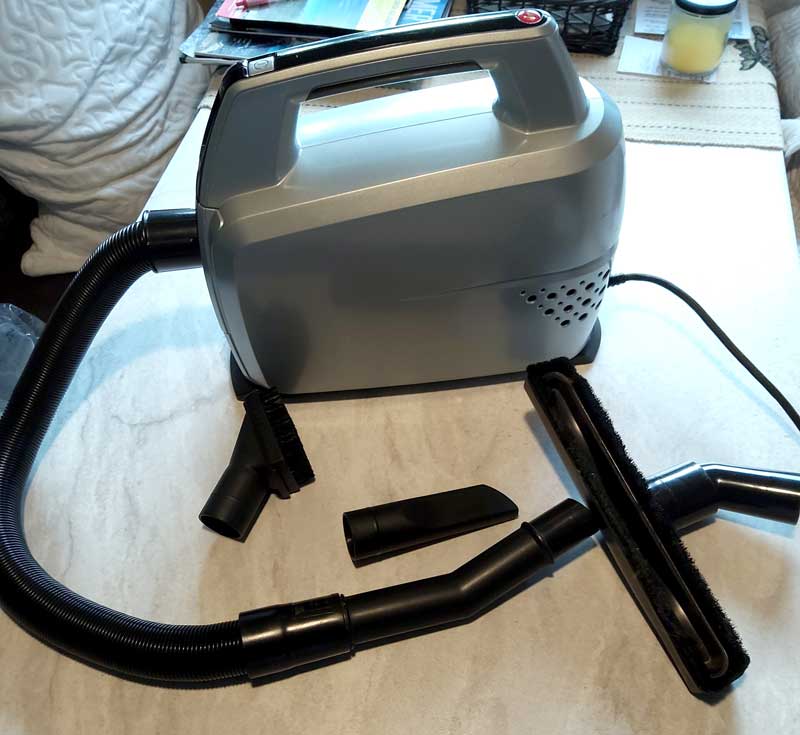 "I have a Hoover portable handheld 110-volt vacuum. The unit came as a package deal with the household canister vacuum. It works as well as the household vacuum. The suction is great and easy to clean up when we need to empty the disposable bag. The unit is very light and stores in the camper basement when not needed." – Joseph Colasanto, 2015 Chevrolet Silverado 3500HD, 2019 Eagle Cap 1165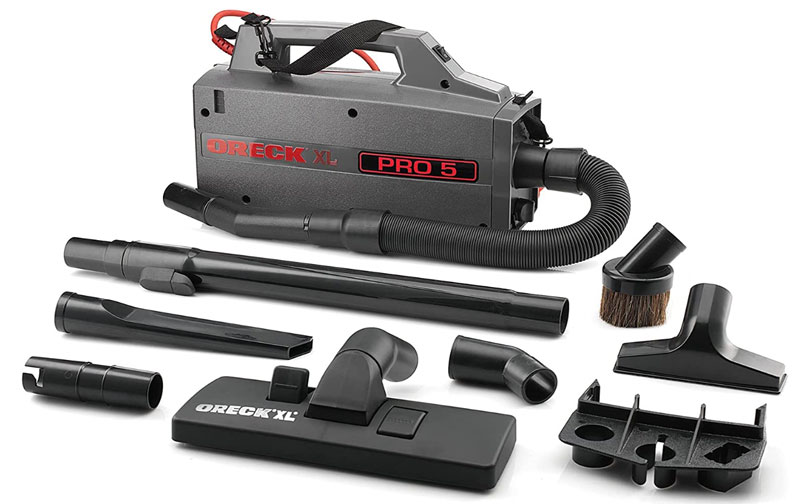 "I have 120-volt Oreck Commercial XL vacuum.
It is easy to carry with the over-the-shoulder strap. It's very powerful and useful in the camper, motorhome, and around the house." – Ed Stanford, 2018 Ford F-450, 2021 Arctic Fox 1140
"I have a Fanttik V8 Mate with a rechargeable battery via USB-C.
It lasts on turbo long enough to do a quick clean of the car carpets, cushions, and blankets. The regular setting is okay for crumbs and small messes. It comes with useful attachments and isn't terribly expensive. It has been durable and has lasted awhile." – Robert Kallhoff, 2019 Ford F-150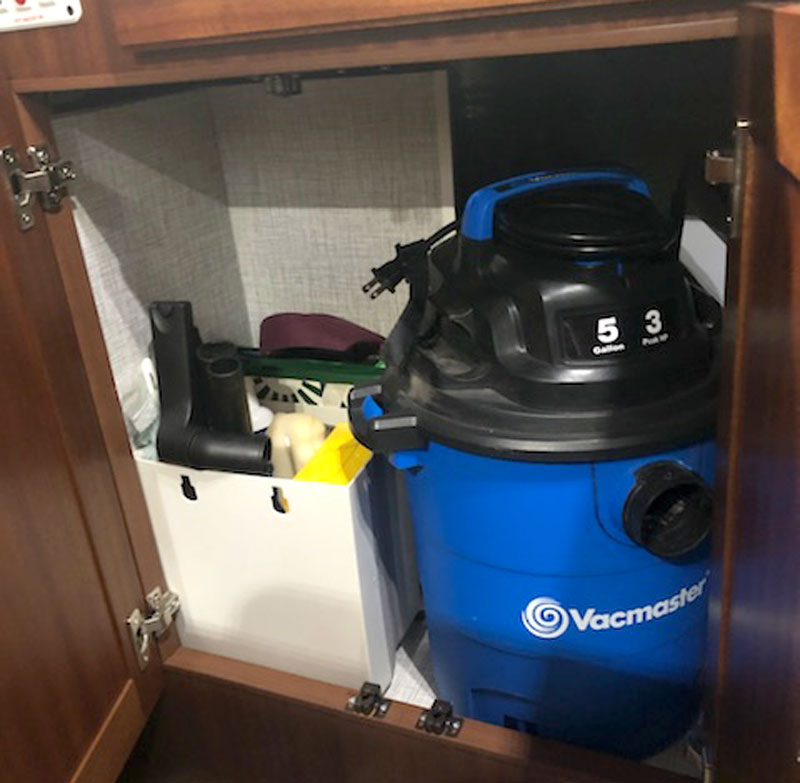 "I have a Vacmaster, 5 gallon, 3 peak HP poly wet-dry vacuum, (VOC507PF/309274039. It's a 120-volt plug-in model.
It's very powerful yet lightweight and compact." – Gary Elliott, 2021 Ford F-350, 2020 Northern-Lite 10-2 EX CD SE
"I have the Dyson 120-volt rechargeable vacuum. It's small with good suction and has a brush for the carpet. I also have a Bluetti 2000-watt-hour battery pack and a 2,000-watt inverter. With the Bluetti, I recharge the vacuum and my electric mountain bike with no problems." – Yves Lefebvre, 2020 RAM 3500, 2020 Bigfoot 25C9.4SB
"I have a Harbor Freight Bauer 20-volt cordless hand vacuum with floor and crevice tools.
We had a 12-volt corded vacuum but rarely used it because of the long cord and the hassle of getting it out and putting it away. That equals a dirty camper!
When we bought our toad (97 TJ) three years ago I needed a few tools for use in the backcountry. I'm not super cheap, but when Harbor Freight had a Mix and Match Sale it was a no-brainer. I bought a bunch of Bauer 20-volt battery tools; an air compressor, chainsaw, 1/2" impact wrench, and 5AH batteries. I was surprised at their power and how they held up over the years.
The Bauer handheld has been a perfect addition for the camper. The brush attachment cleans the vent screens of the cotton puffs. The crevice tool is self-explanatory, but the extension wand (tube) and floor attachment is the best idea. It's a floor vac and I don't have to bend over to use it." – David Denny, 2021 Chevy K3500, 2018 Lance 1062
Brooms
"I have a $9 broom and dust pan. I camp in my camper. There is no carpet, so no need for a vacuum. I removed and installed heavy-duty rubber garage flooring." – Ralph Bosse, 1996 Dodge 2500, 1994 Lance 480
"We carry a child's toy broom. It's lightweight and there's no maintenance. It's also easy to store." – Tom and LaNae Frew, 2020 Ford F-350, 2020 Arctic Fox 865
To see more products fellow TCM readers bring along camping with them, click here.