Twenty-two fellow truck campers recommend their favorite portable fans; 12-volt, 110-volt, and battery-powered. One hybrid fan completely blew the rest away.
Fans are not exactly a new technology, nor is their function particularly novel. However, there have been some important innovations with power, design, and portability, and one company seems to be the air apparent to the best portable fan for truck campers. Drum roll, please…
THE BEST:

Ryobi 18-Volt/120-Volt One+ Hybrid Fan

It's almost comical how many readers heaped praise on the Ryobi 18-Volt/120-Volt One+ Hybrid Fan (#P3320). What's even funnier to us is that we too have the same Ryobi 18-Volt/120-Volt One Plus Hybrid Fan, and love it. This summer we have used the Ryobi nearly every day in our camper.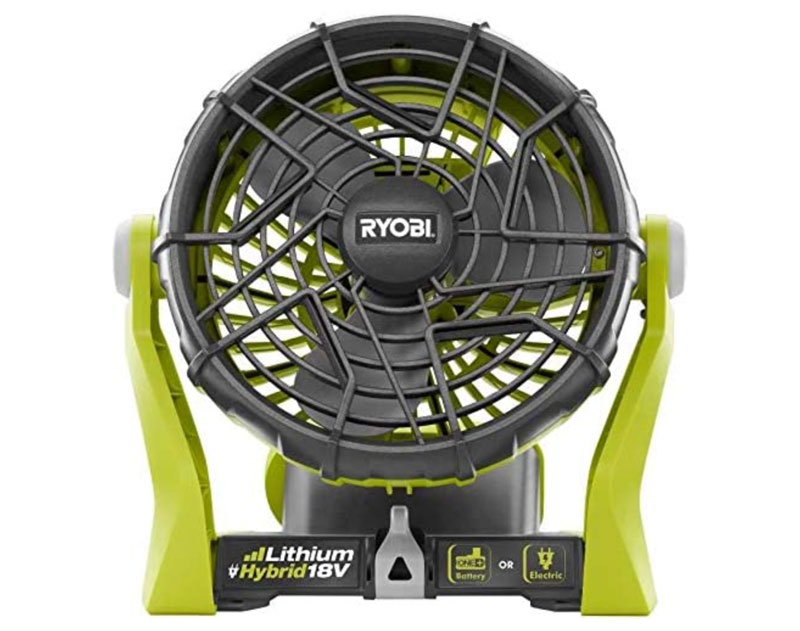 Above: The Ryobi 18-Volt/120-Volt One+ Hybrid Fan (#P3320)
About two years ago, Mikeee Tassinari – aka the Grand Poobah of the North-East Truck Camping Jamboree – had this same Ryobi fan at a camper gathering. When we admired his fan – "Say, that's a nice fan, Mikeee" – he practically made a late-night infomercial presentation. By the time he was done, Angela was completely convinced, and I might have joined Amway. "If you act now…"
Mikeee roasting aside, his fan recommendation was spot on. This fan is very quiet at its low speed, and moves a ton of air at its high speed. We regularly use it on low to sleep in warm weather and high during the day. Even better, our larger 4-amp hour batteries (sold separately, of course) run for about eight hours on low (there are also 6-amp hour batteries for those who want even more power).
Whenever we get 110-power, the Ryobi batteries are the first things we charge.  You can also get Ryobi's 12-volt charger if you want to keep them constantly charged while boondocking.
Thank you to everyone who sent in their favorite fans. Anyone who's done enough truck camping knows how vital these tools can be. Stay cool.
Here are the results:
"I have a Milwaukee 18-volt battery-operated portable fan. It's portable, quiet, and we carry the Milwaukee batteries for other tools. We normally get three nights out of one 9-amp battery at low speed." – David Hawes, 2019 Ford F-450, 2020 Arctic Fox 1140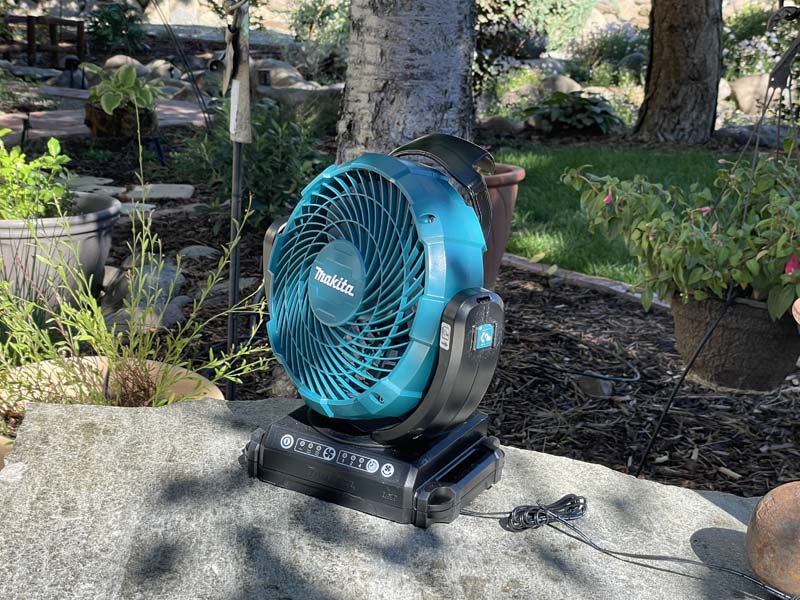 "I have a Makita DCF102Z 18-volt LXT fan. It works with LXT batteries or the UpBright 12-volt AC adapter.
This fan has three speeds, can articulate, and has a three-position auto shut-off timer. It also moves enough air and uses Mikita LKT batteries. I use the same batteries with my cordless drill to raise and lower my Hallmark camper. It also takes up minimal space in my camper. I store it in the wet bath." – Arthur Forman, 2021 Ford F-350, Hallmark UTE/Everest
"The Dewalt 20-volt Jobsite fan can be used with a cord or cordless, so it's perfect. It's a great all-around fan; quiet with excellent battery life and portability." – Mike Cabbage, Ford F-250, Lance 855
"I have a Ryobi hybrid fan that is both AC and 18-volt compatible. It was purchased at Home Depot. It's the perfect size and has good airflow. The dual power options work well for me." – Jonathan Hart, 2020 Silverado 1500, Sunlite converted to hard side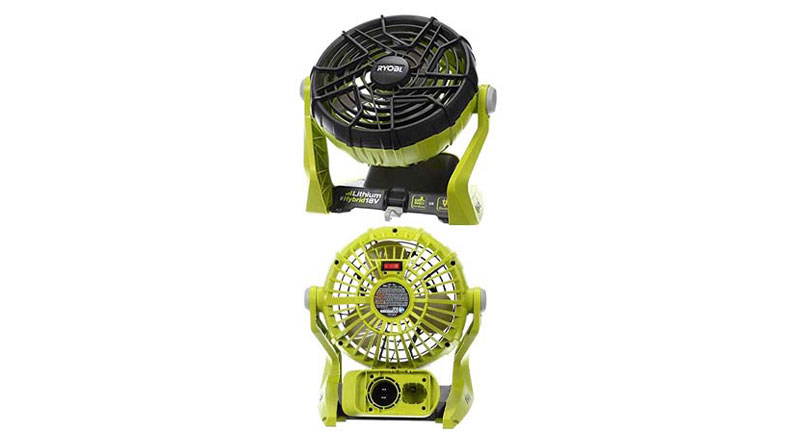 "I have a Ryobi 18-volt/120-volt One Plus Hybrid Fan.
It uses the same Ryobi 18 One+ batteries as my power tools. The fan will last all night on low using one of our 6Ah batteries. When we have 120VAC power, we can remove the battery and plug the fan in using an extension cord. It's the best of both worlds in one unit." – Frank Mertes, 2018 Ram 5500, 2018 Eagle Cap 1165
"I have a 120-volt fan that I clamp to a storage tray near the ceiling of the bedroom. It will either push hot air out of the bedroom in the summer or into the bedroom during cold weather.
The clamp mount makes it useful for everything from bedroom air circulation to once thawing my under-sink water pump. It's available at many places like Target and Fleet Farm." – Philip Tron, 2009 Chevy 3500, 2012 Lance 1050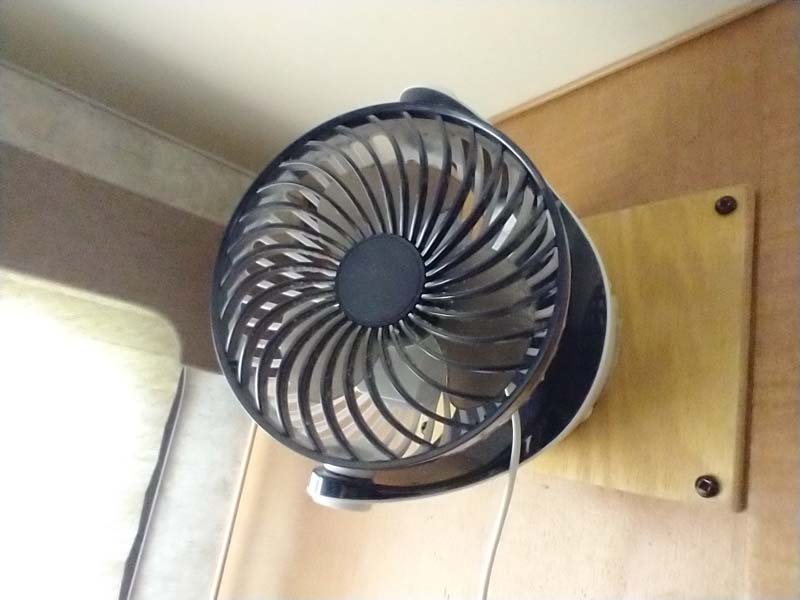 "I mounted a 12-volt USB two-speed fan on the wall next to the bed. The angle is easily adjusted. The fan is quiet and efficient. I highly recommend it. It's available on Amazon.
It's called an Aluan Desk Fan. It's a small table fan with strong airflow, quiet operation adjustable speed, and a head that is 360-degree rotatable." – Terry Fleming, 1999 F250, 2018 Adventurer 80RB
"We have a 110-volt Vornado from ACE Hardware. I like it for the low noise level, the volume of flow, and the R2D2 shape and design." – Mike Simpson, 2017 Ford F-350, 2017 Phoenix pop-up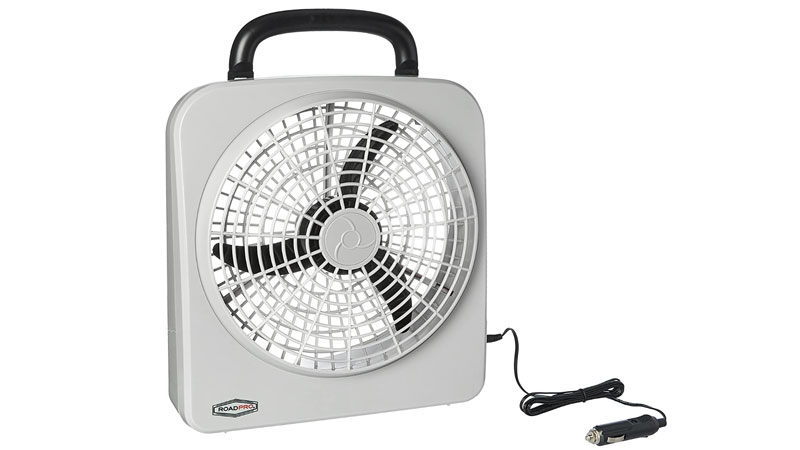 "We have a Roadpro RP8000 fan that is both 12-volt and D-cell battery operated. I bought it off Amazon.
We like to boondock in our truck camper, so this two-speed, 12-volt fan is perfect. It's only 10-inches square, but fits perfectly into my kitchen window over the sink. It's quiet. We have several outlets in our Lance 992, so we can move it around.
We have used it outside to try to repel mosquitos. I do have to tell you that removing the D-cell batteries is a struggle." – Russell Erbe, 2013 GMC Sierra 3500HD, 2021 Lance 992
"I have a Sirocco II fan. It uses 12-volts and it's very, very low on amp draw. It was built for sailboats so it's very quiet and powerful. This fan was made in Canada and backed by a very good warranty. It can be bought on Amazon, but we had a cheaper price from a marine supplier in Quebec City.
The fan is fully adjustable at any angle, has three speeds, and has a timer for two, four or six-hours." – Richard C Raymond, 2018 GMC Sierra 3500, 2014 Lance 1172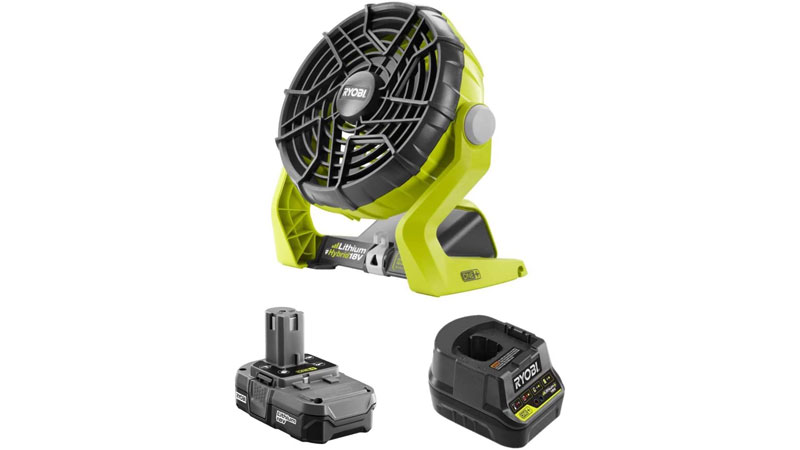 "I have a Ryobi 7.5-inch whisper quiet 18-volt One+ fan. You can get it from Home Depot or Amazon.
This fan is quiet, lightweight, very portable, has the ability to tilt and, with a 4 amp-hour battery, it will last a long time. I also carry various Ryobi tools, so I can share the batteries" – David Fradkin, 2017 GMC 3500, 2017 Lance 975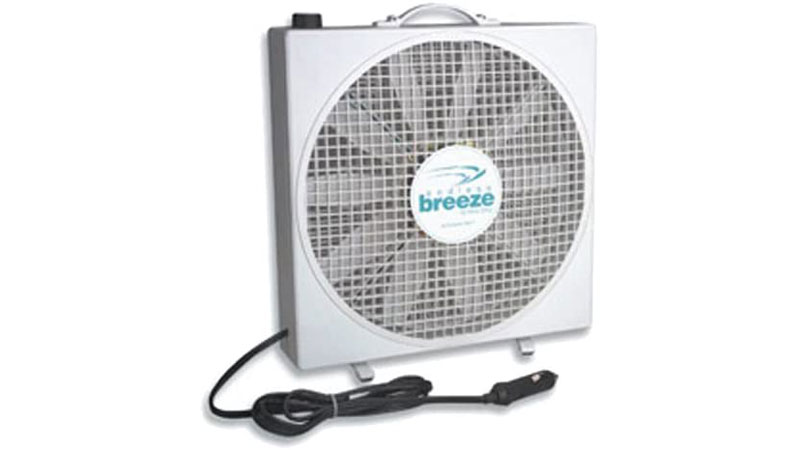 "We have a Fan-Tastic Vent 01100WH Endless Breeze 12-volt fan. It's 12-volt only. Fellow truck camper, Roy Garland, had one at a gathering and we ordered it via Amazon before leaving camp.
This is a more expensive fan than some, but it works great. It looks like most places are out of stock at the moment.
The Endless Breeze has low power consumption, decent air flow, and acceptable noise given that it's an open fan. It has a long cord, so it's easy to move around. We also can hang it by the handle." – Anne Brown, 2014 Ford F-450, 2020 Host Mammoth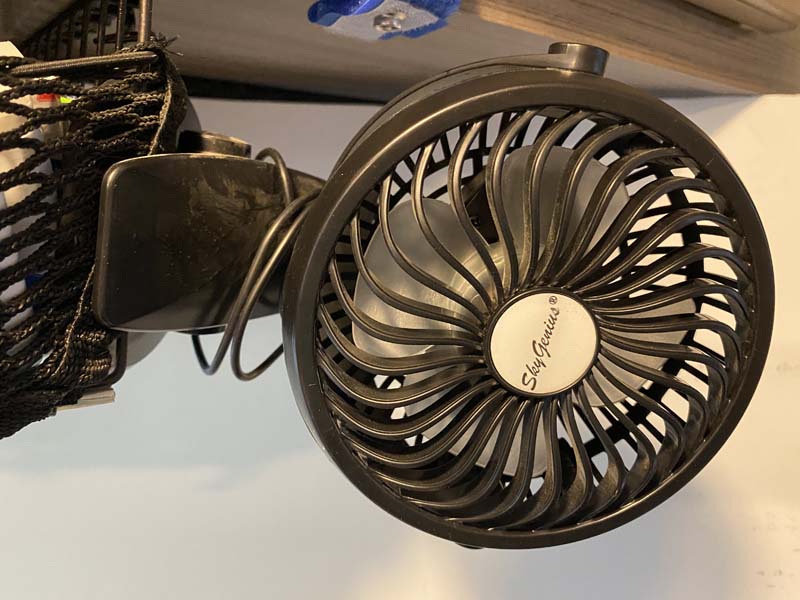 "We already had a Sky Genius, USB-powered (5-volt) battery operated fan. In September of 2021, we paid $19.99. It is a clip-on mini desk fan, 5-volt USB, and battery-operated (2600mAh). It has rotary speed control and will normally run for three to six hours depending on the speed.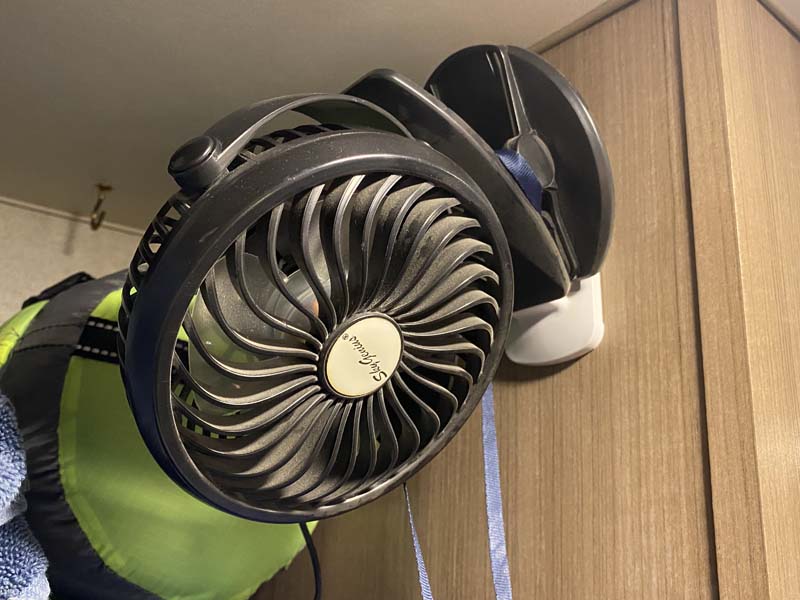 If we plug it into a USB port, it will run continuously. I even ordered a second one. As of July 2022, it's $23.99 on Amazon.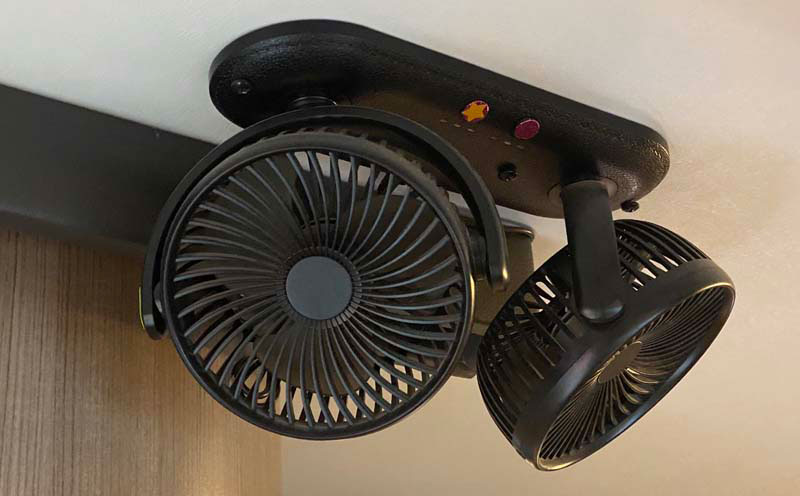 I also ordered the TriPole car fan, which is USB powered only. It is a desktop with dual fans that both tilt and swivel. The unit has independent control with a push button on/off and three speeds. Because of the higher current draw, it can run both fans on a standard USB at lower speeds only.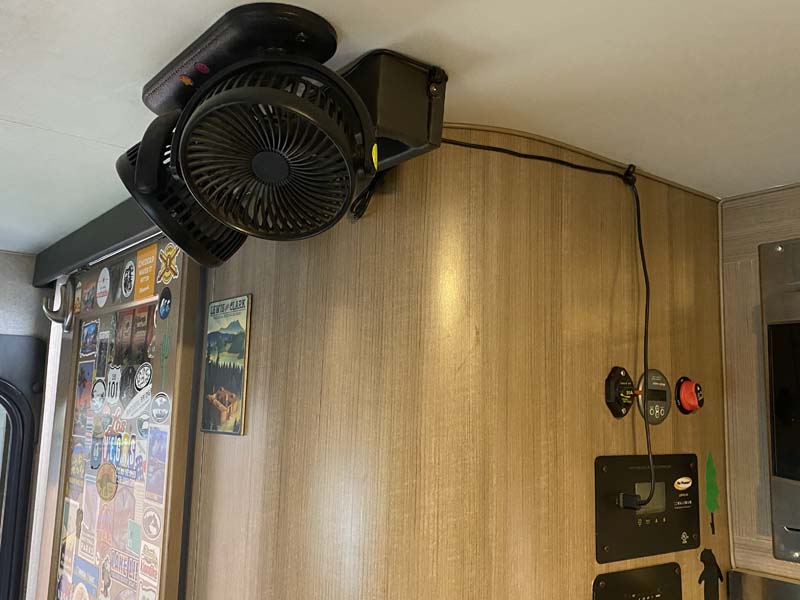 It requires a 2-amp USB port to run both fans at the highest speed. After looking inside, I mounted it upside down on the ceiling. In September 2021 it was $18.99. Now it's $29.99.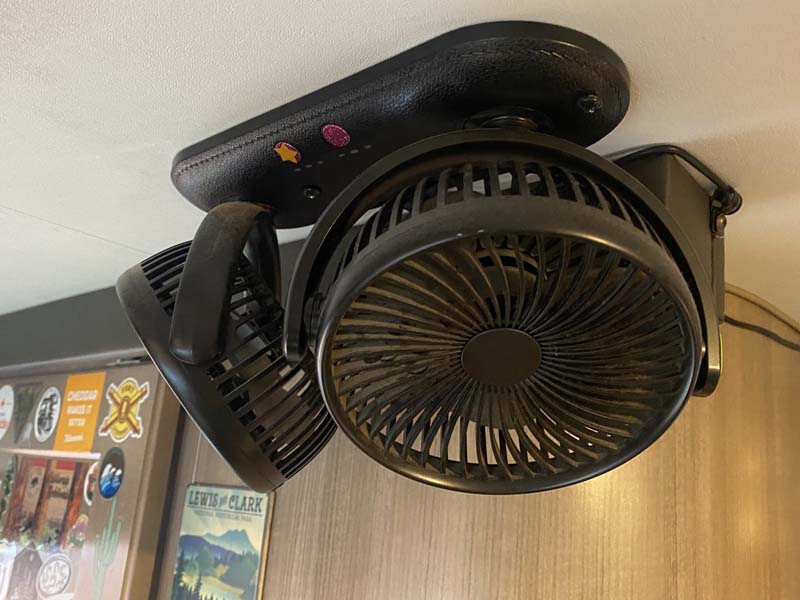 In September of 2021, we were returning to our home in southern Arizona and decided to camp in the mountains at Theodore Roosevelt Lake. It had been very hot driving through Kansas and New Mexico and we mistakenly believed that being in the mountains of northeast Arizona would give us some relief from the 100-degree temperatures that we had encountered earlier in the trip. WRONG! The temperatures at the lake were 100.
There were no electric sites. Running our generator so that we could use the air conditioner did cool the inside of our camper, but at the cost of extreme noise and vibration. By 10pm the outside temperatures decreased to 85 and I could turn off the generator and air conditioner. I turned on the roof fan and the one USB-powered battery-operated fan that we had. That fan was a lifesaver and I vowed to add more." – David Anderson, 2018 GMC 3500HD, 2020 Adventurer 89RB
"I have a Honeywell battery-operated fan. It also works on 110-volts. It's great for the cabover on warm nights. I purchased the fan at Canadian Tire, but it is also available on Amazon. I like this fan for its size and the fact that you can't even hear it running." – Bill Londry, 2018 GMC 3500, 2017 Adventurer 86FB
"I have a Rigid fan from Home Depot that's 18-volt and 110-volt compatible. I can use battery power or plug it in. Also, I can attach the USB inverter to the battery to charge any cell phones, etc." – Tommy LaPlante, 1994 Frontier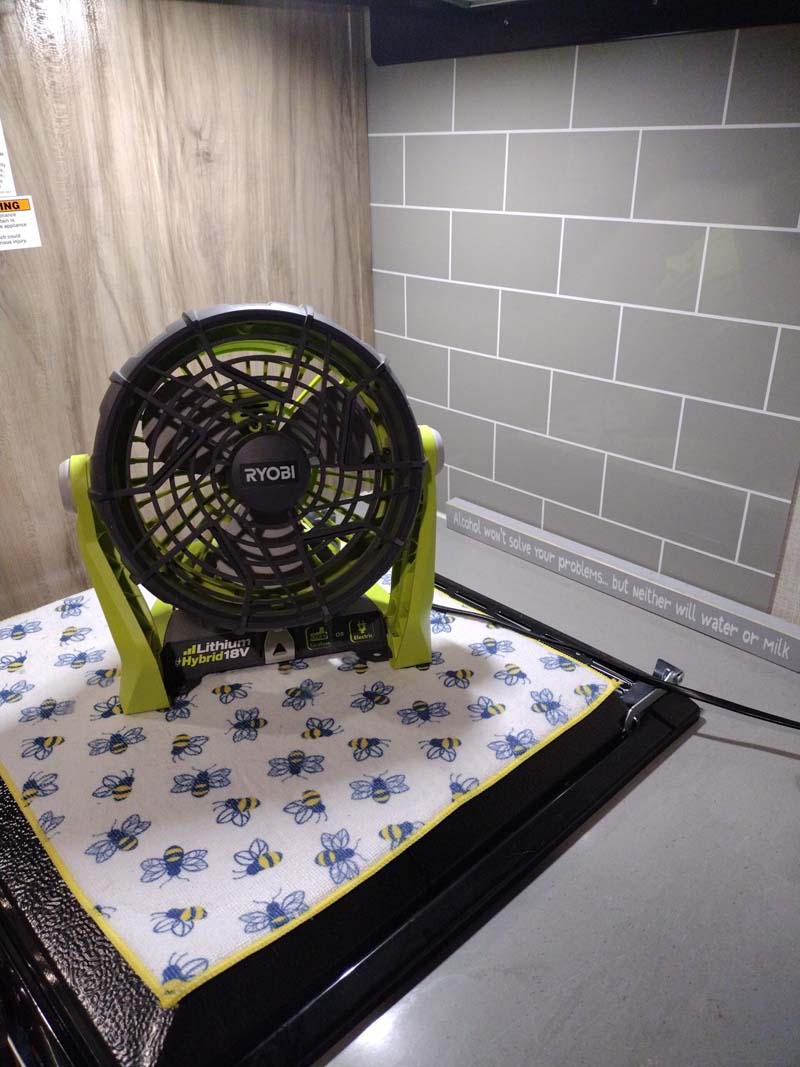 "I have the Ryobi One Plus 18-volt lithium battery or 110-volt hybrid fan (model P3320). It's sold at Home Depot and online. It's also sold directly through Discount Tool stores and their website.
This model can use either battery or 110-volt shore power making it convenient to move air boondocking or at a campsite with hookups. With the large four-hour capacity battery on low, we have approximately seven hours of run time.
The main reason for buying Ryobi over other brands is that we already have other tools using the same batteries that we carry on the road. With over two years of use, the quality so far is very good. The fan moves air in the bunk cabover area when it is placed on our countertop. We can also take the fan outside and pamper our Rottweiler "Lemon Moose" on hot days. In the camper, it makes a good addition to our vent fan." – Eric and Amber Willson, 2003 Dodge Ram, 2021 Palomino HS-2910
"We like our Opolar portable fan. The lithium battery is chargeable with a USB connection. There are three fan speeds, it's quiet, and very easy to adjust the direction of wind streaming. It also has a robust spring clamp as part of its base. It does the job nicely and is available online." – Thomas Kees, 2015 F-150, 2019 Northstar 650TC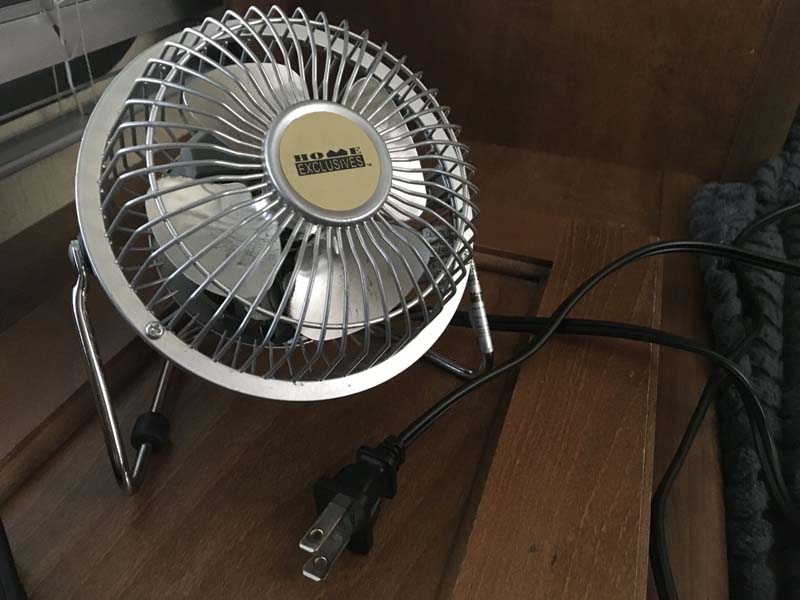 "I have a 110-volt plug-in Home Exclusive 4-inch high velocity fan that was made in China. I purchased it years ago at a Walmart somewhere. The air flow is decent. The volume is okay for something this small. The best part is that it is noisy in a white noise way which is useful for those inappropriately noisy campgrounds." – Larry Pearson, 2017 Ford F-450, 2018 Lance 850
"I have a Ryobi hybrid fan that uses a 18-colt Li-ion battery or 11-volt plug-in.
It's extremely durable. I accidentally lowered a lot of weight on the fan (in the upright position) and it was unaffected. It should have been crushed or destroyed. I don't know if it's the plastic or the design, but it is sturdy.
The comments online are brutal about the cost of the extension cord for 110-volt power. It's just a simple round female extension plug. I had one in the garage. Eye roll!
We boondock, so it pushes air in to be exhausted by the roof vent. For 2022, Ryobi has more fans; big, small and misting.
I also love the Ryobi DC battery charger which is not included. We are usually off-grid with solar. I find the Ryobi drill, handheld air compressor and handheld vacuum are other truck camper essentials that use the same battery.
I travel with a cat, and she likes the fan too. I like the hand vacuum for stray cat litter." – Beth Guth, 2018 Ford F-150
"We use two fans; a 12-volt Dewalt for portability and a 110-volt Dyson. The Dyson cools as well as heats. We use the heat in cooler weather in lieu of running the furnace and using propane. It performs well.
You can purchase it at Home Depot or any Dewalt seller. I have multiple batteries as I have many Dewalt tools. The fan is light, adjustable, and relatively quiet." – Phil Miller, 2015 Chevy 3500, 2019 Eagle Cap 1160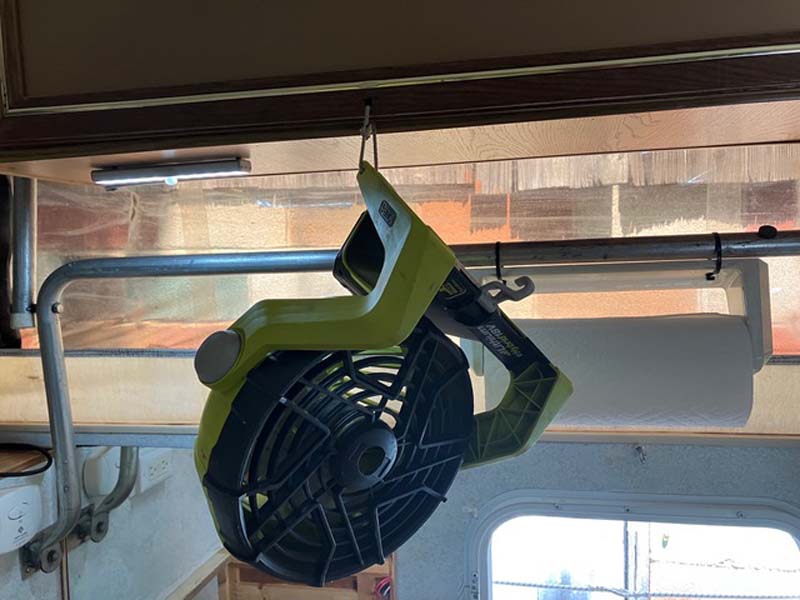 "We recently replaced our standard size roof vent (with underperforming 9-inch computer fan rig) with a 10-speed Maxx-Fan. It's a really nice unit that we have not yet fully experienced. I have thoughts of bringing in cold air on low during heating season and am open to experienced suggestions.
We also use a Ryobi P3320. This is a small powerful table-type fan that uses their One-Plus 18-volt battery or 120-volt shore power. The best part is putting a small battery in the fan and having it run out after we are asleep, akin to a timer. It is also accommodating with a base and hooks for different positioning sets.
We choose Ryobi because we have a 12-volt battery charger (yes, it boosts up to 18-volts). Also, utilizing those batteries we have the drill driver and reciprocating saw (great for camp firewood) on board.
We like it for its small size, two effective speeds, maximum flexibility to stand, multiple hooks/mounts and power sources." – Mark Zeisberg, 1994 GMC K2500, 1997 Shadow Cruiser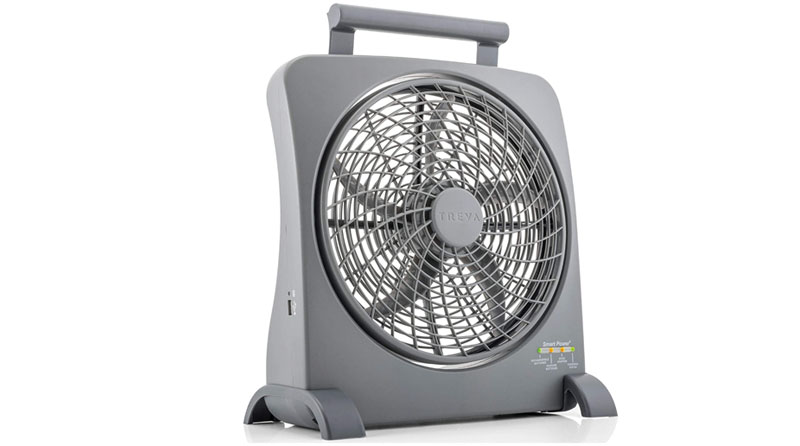 "We actually have two fans, and what we like about both of them is that we can use them with 110-volt shore power or rechargeable batteries.
We always carry the Treva 10-inch rechargeable fan. Not only can it run on the included 110-volt adapter, a 12-volt cigarette lighter plug, or the built-in rechargeable lithium batteries, but it can also use eight D-cell batteries. Not that I want to carry around that many D-cell batteries, but it's an option. The fan is thin, lightweight, and does not take up a lot of space.
More recently, we purchased a Ryobi 18-volt cordless hybrid fan, mostly because we already have several of their 18-volt power tools, batteries, and chargers. It also has the ability to run on 110-volt power.
We like the Treva for inside the camper because it is quieter. However, it does not have as much airflow as the Ryobi does on its high-speed setting. Hence, the Ryobi seems to be a better fit for outside when it is hotter and we need a fan using either the 110-volt power source, or the rechargeable battery." – Randy and Susan Bundschu, 2013 Chevy Silverado 3500, 2010 Lance 855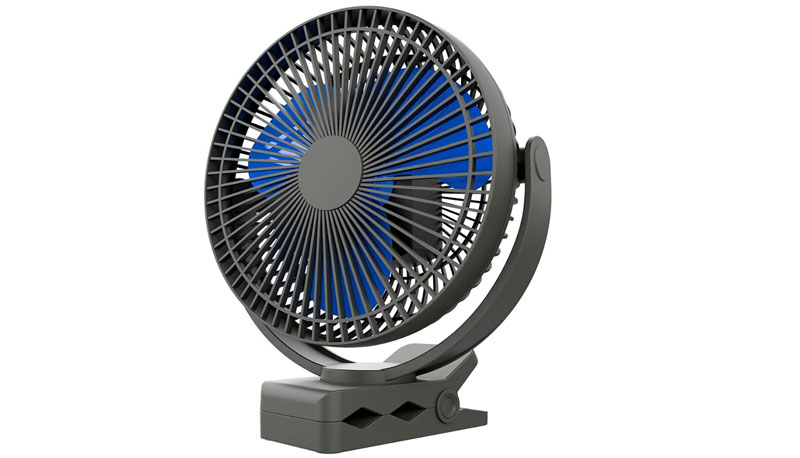 "I have a Koonie model WH 110/UBS charger. It's 5-volt with 2-amps of input. The battery is 10000mAh and the power consumption is 5.5-watts. I purchased it from Amazon.
Last night it ran from 10pm to 8am. This morning it still had 30-percent of its battery left! This fan is 8-inches with a clip. I clip it up by the bed and it keeps the air moving very nicely. It has four settings: low 30-percent, medium 60-percent, high 100-percent, and natural. The natural setting is like a windy day." – Judy Schwarz, 2020 Ford F-450, 2014 Lance 1050S